*affiliate links used
Happy Monday!  I hope you all had a nice Father's Day weekend!  I'm kicking the week off with two fun topics.. Amazon prime day and my girls' organized bathroom drawers.  They don't have much in common other than they are both topics of interest to me at the moment.. ha.  Do you wait to buy things during Prime Day?  I have a few outdoor rug options picked out on Amazon (our current rug is so faded from the sun!) so I'm watching close to see if they get marked down.  Let me know if you want me to share them!  Devices are all marked down (woot woot!) so we are picking up a new family iPad too.  Of course I always tend to naturally gravitate towards home decor during sales like this.  I just ordered these faux cherry blossom branches – they look beautiful and are such a good deal!  I rounded up some Amazon favorites you've probably seen in my house a time or ten along with a few items I have my eye on below!
(Head here to see all Prime Day Deals!)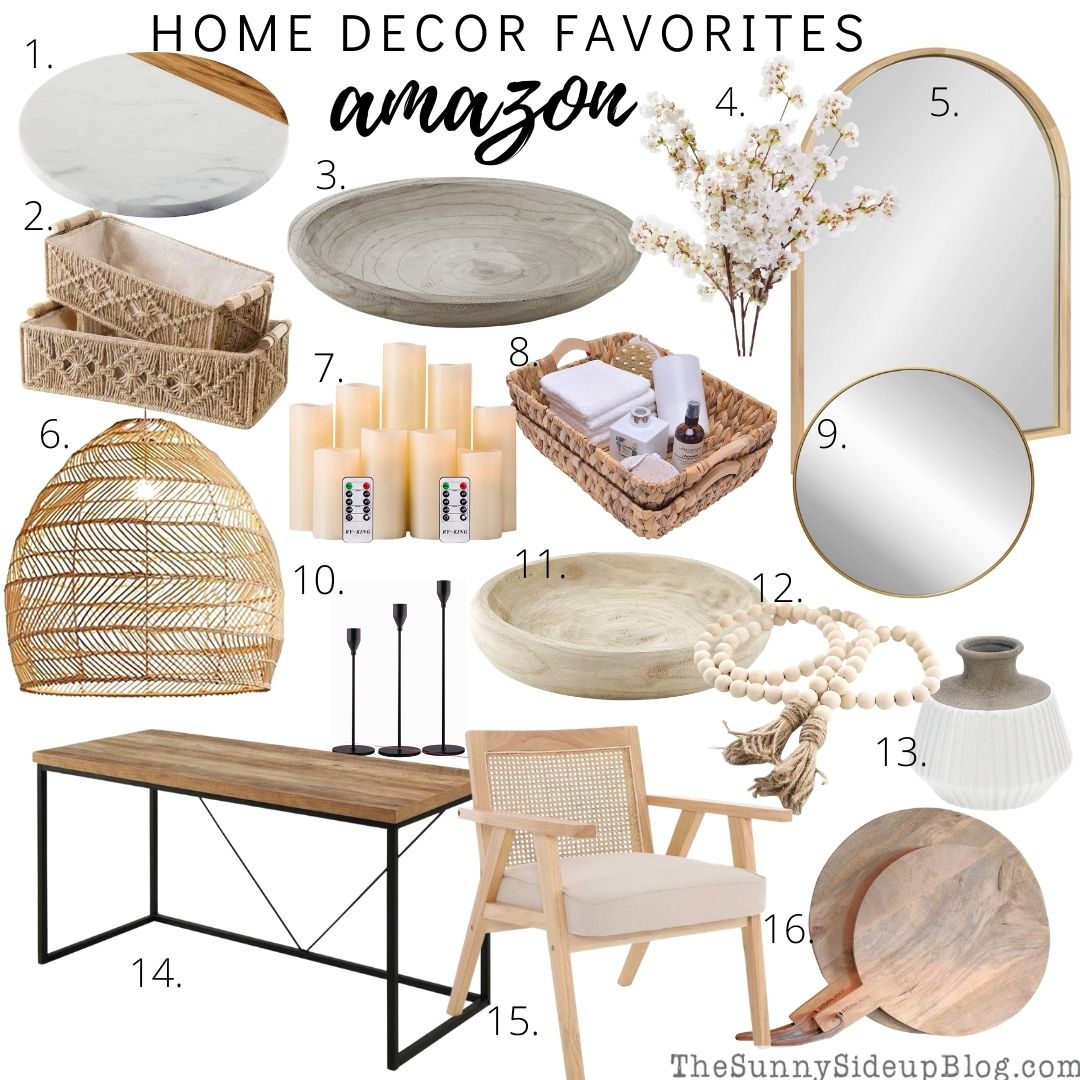 1- white marble wood serving board   2-  storage baskets  3- wood serving bowl
4-  artificial cherry blossom branches  5- arched wall mirror   6- bell hanging ceiling lamp
7- battery operated candle set   8- large storage baskets   9- round wall mirror
10- candle holders set   11- large wood serving bowl   12- wood bead garland
13- decorative vase   14- computer desk   15- arm chair   16- cutting boards
Ok.. remember our fun Spring Get Organized Challenge?  I was organizing like a mad woman and knocking spaces out faster than I could share them!  I organized my girls' bathroom drawers during bathroom week and never had time to post the pics.  My girls have surprisingly kept their drawers clean so I think we have found a few systems that work!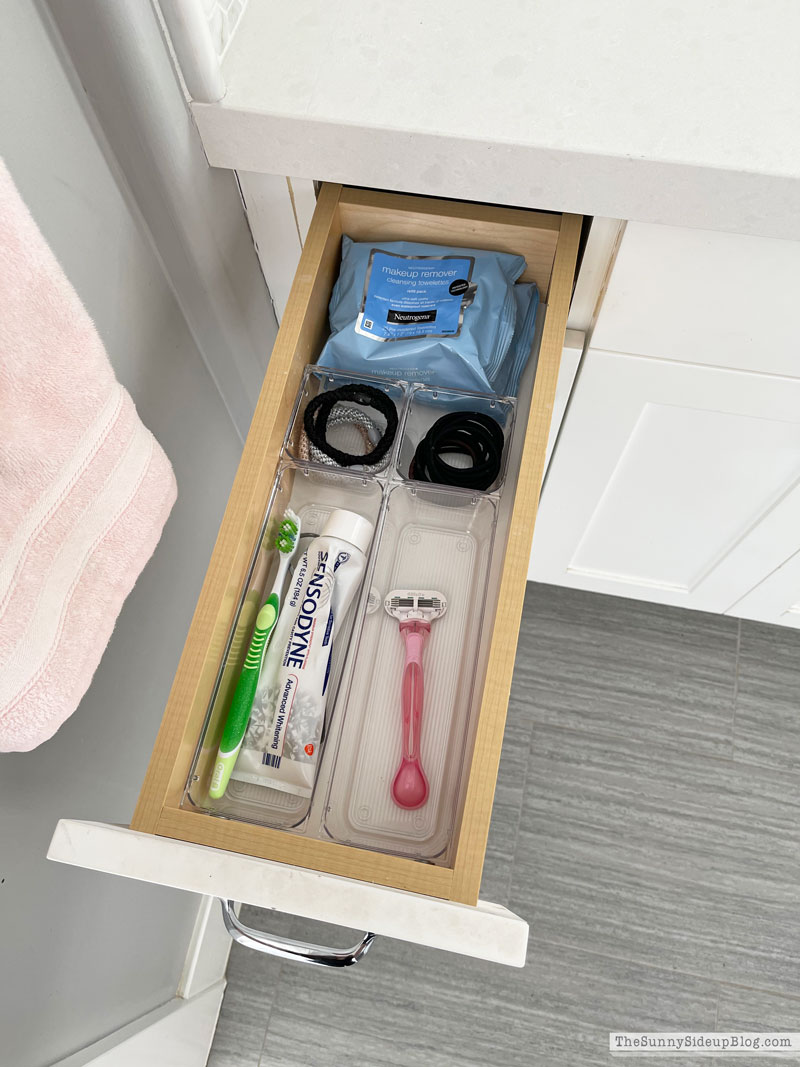 First up is Ellie's side.  I used a few different organizers including this 16 piece drawer organizer set.  They are very similar to the organizers I used in my bathroom drawers.  They are less expensive and the main difference I've noticed is that they are a little thinner and slip around the drawer a little more.  Nothing that a little putty can't fix!  (I use this museum putty a lot to hold plates on shelves, organizers in drawers, etc.)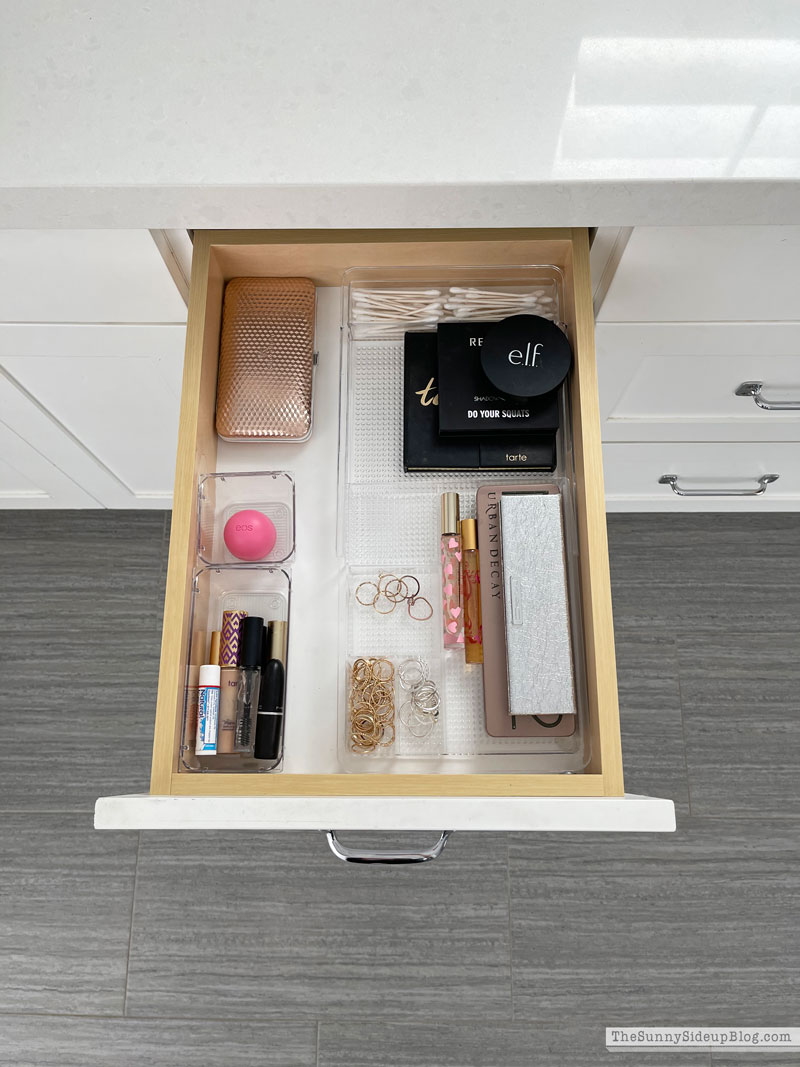 I also used these expandable drawer organizers to hold her make-up and small things like rings.  I love these organizers because you can easily make them fit whatever size of drawer you have since they expand top to bottom.  They are shallow so perfect for thin/small items.
This is a shared drawer so it holds a few random items like brushes and nail polish that my girls share.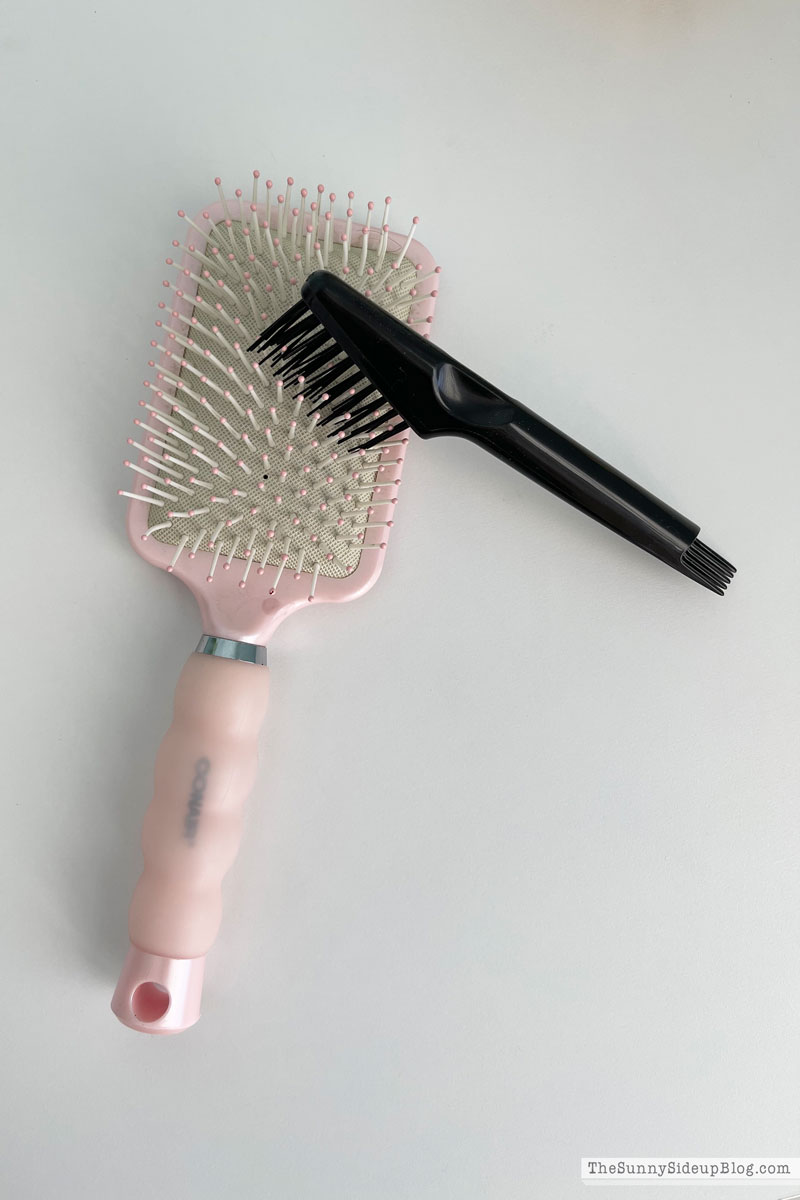 It also holds our favorite hair brush cleaning tool!  The best for cleaning hair out of brushes.  Trust me on this one.. we have lots of thick hair at our house. :)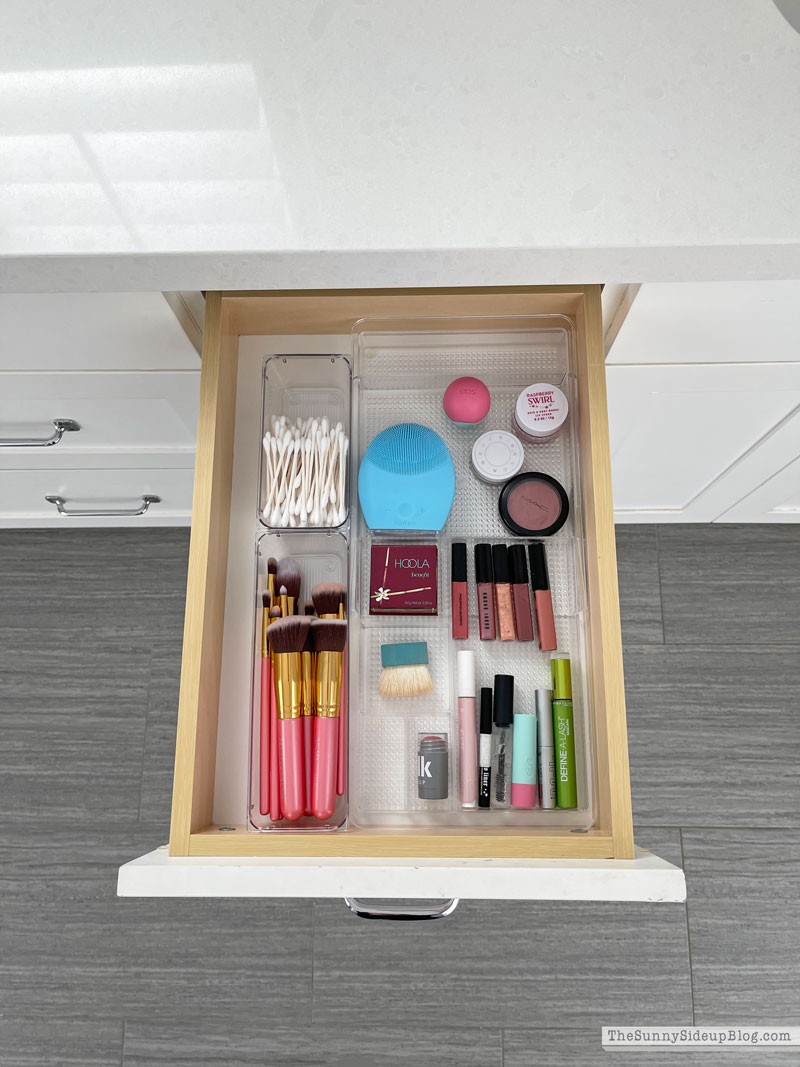 Addie's side.. same expandable organizers.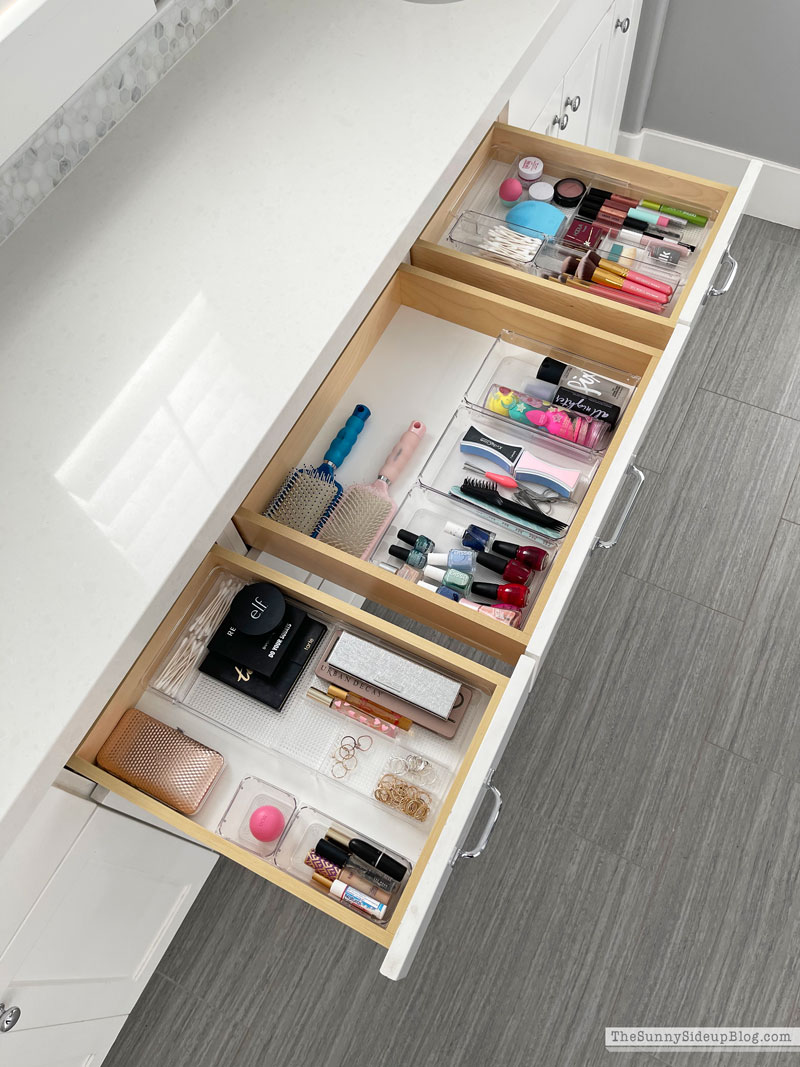 Nothing like clean and organized bathroom drawers.  Such a nice sight to see every day when you get ready!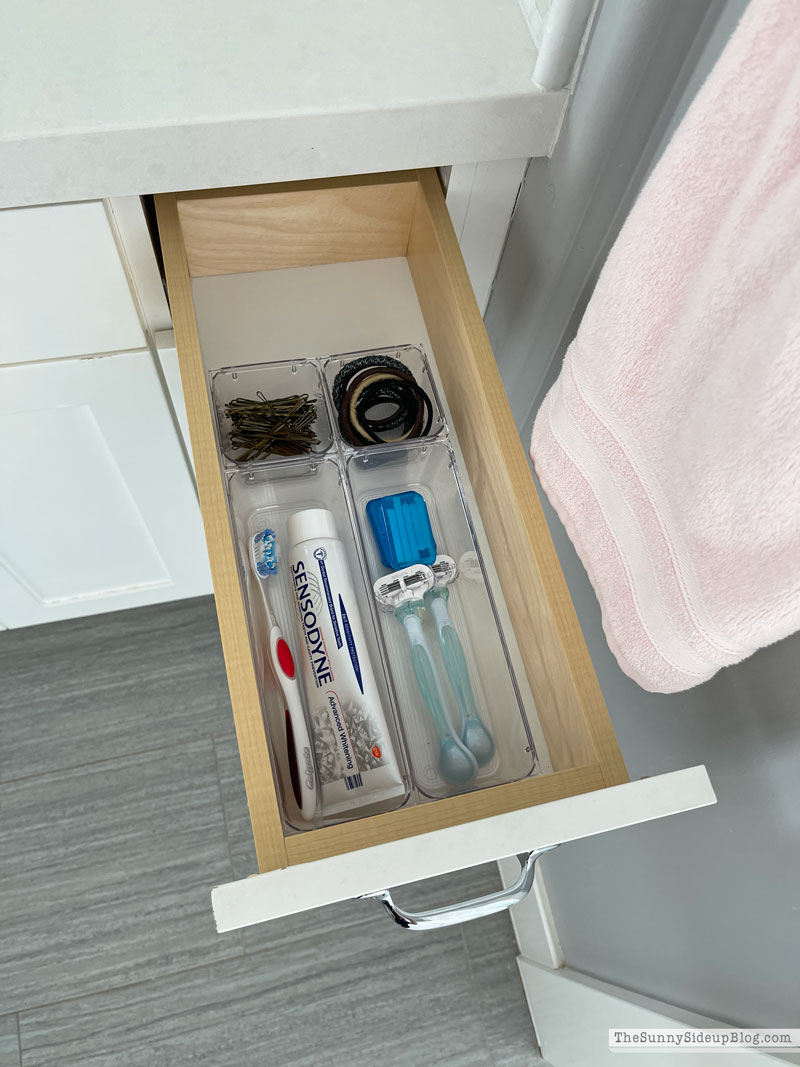 More of Ad's side..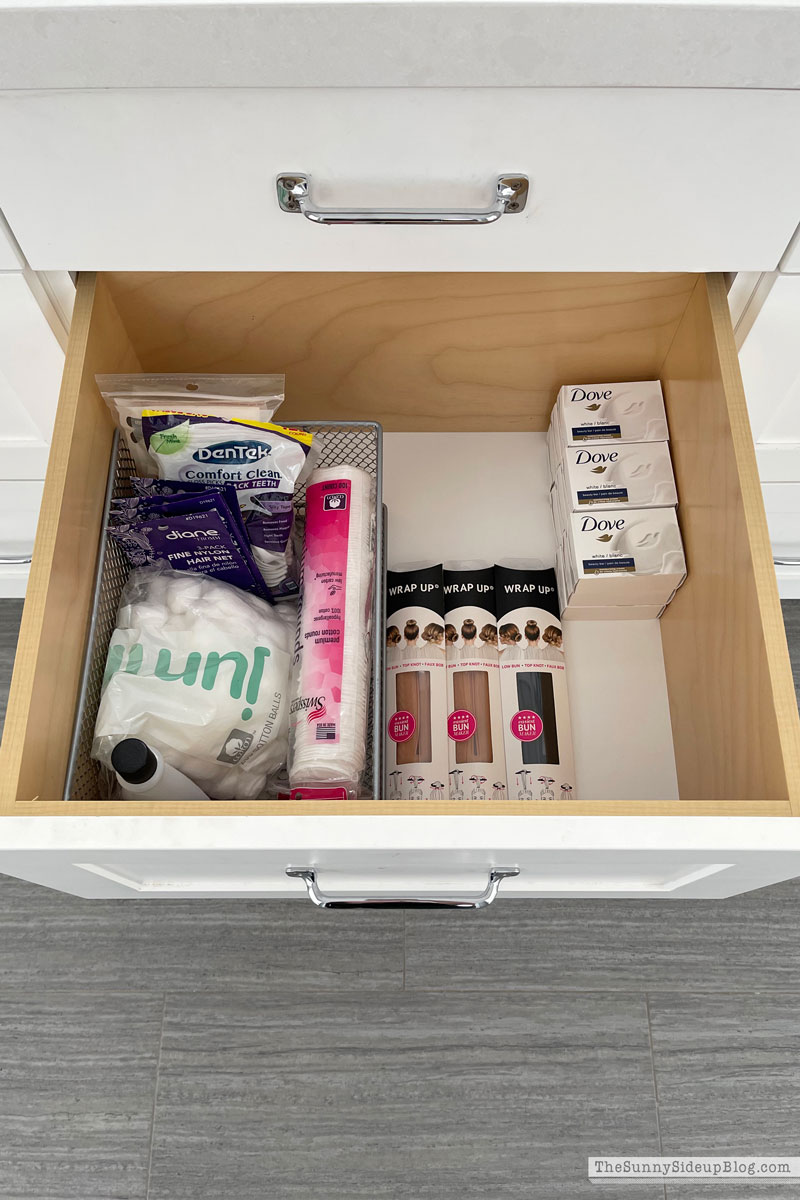 and a few more random middle shared drawers.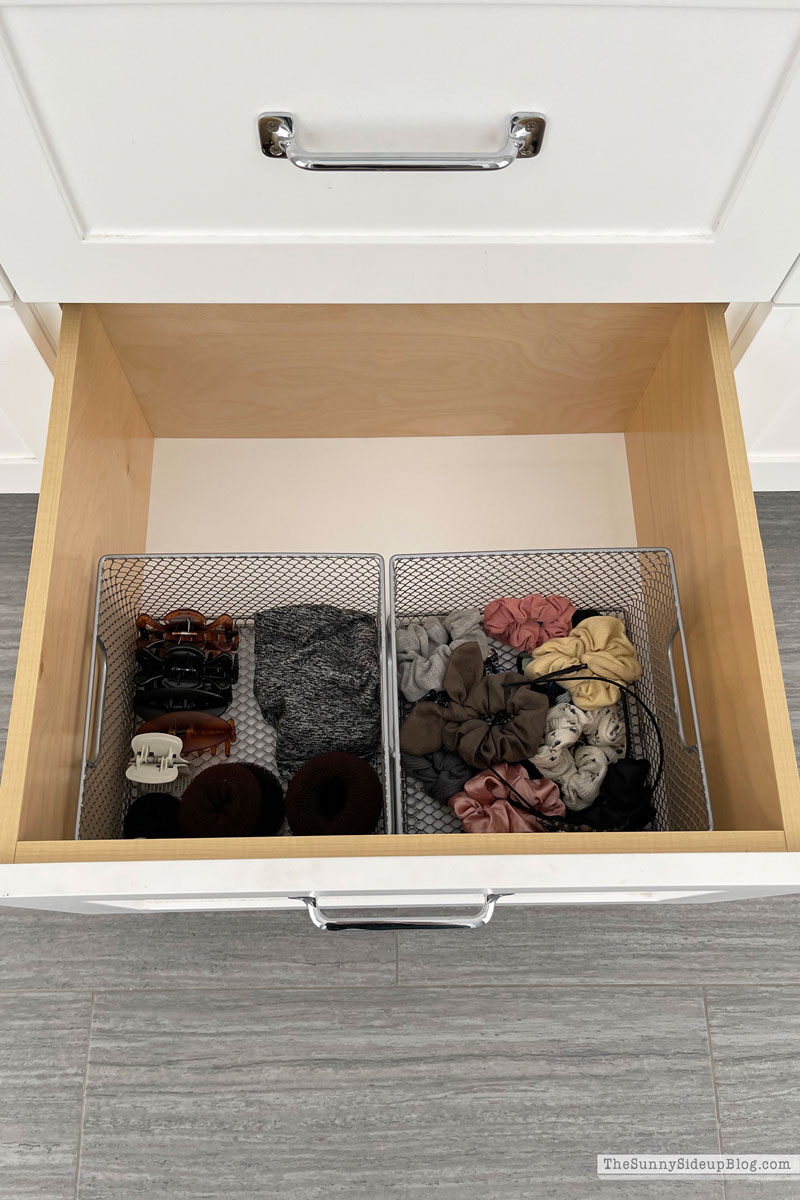 We've had these mesh stackable bins for years.  They are perfect to hold scrunchies, headbands and other large random bathroom items.  They are also great to stack under a sink if you are short on space.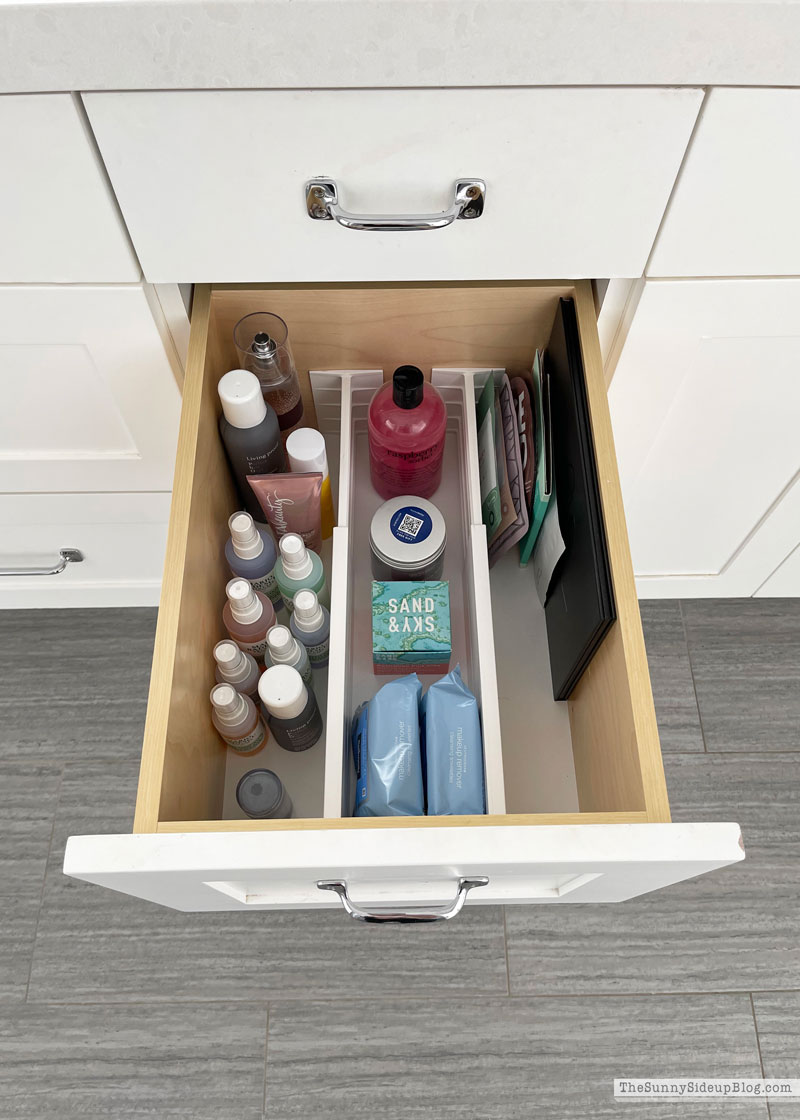 Addison is my skin care girl so she has lots of random masks and bottles.  I used my go-to drawer dividers to hold them.  Always a win!  They are perfect for deep drawers if you want to be able to stand bottles and other items up instead of laying them flat.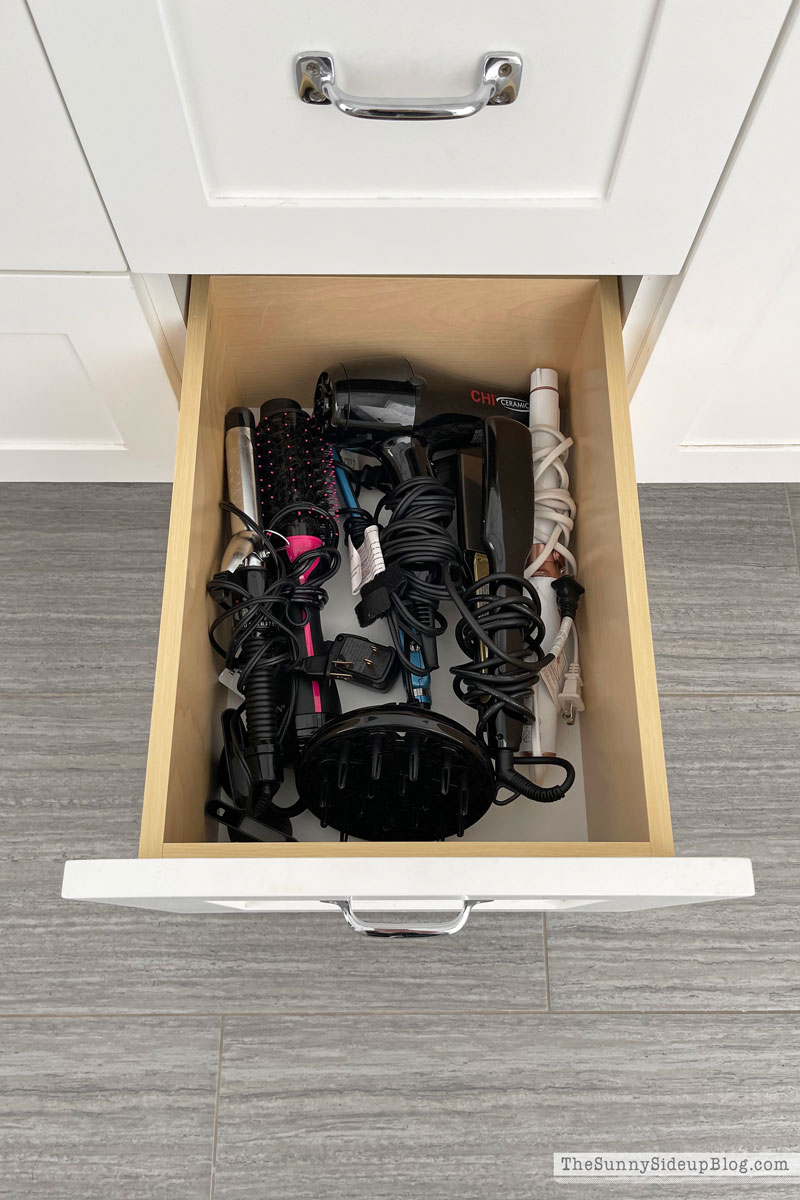 Curling irons and other hair tools are all together in a bottom shared drawer.
The best part is that these organizers have made it so simple for my girls to easily put items back where they go which is why these drawers have stayed looking so nice.  Every once in a while we use our go-to bathroom hand held vac to clean debris/hair out of the drawers and that's it!  Done and done.  Angels are singing and we can call this makeover a win. :)
Girls Bathroom Sources:


Below are other bathroom organization favorites!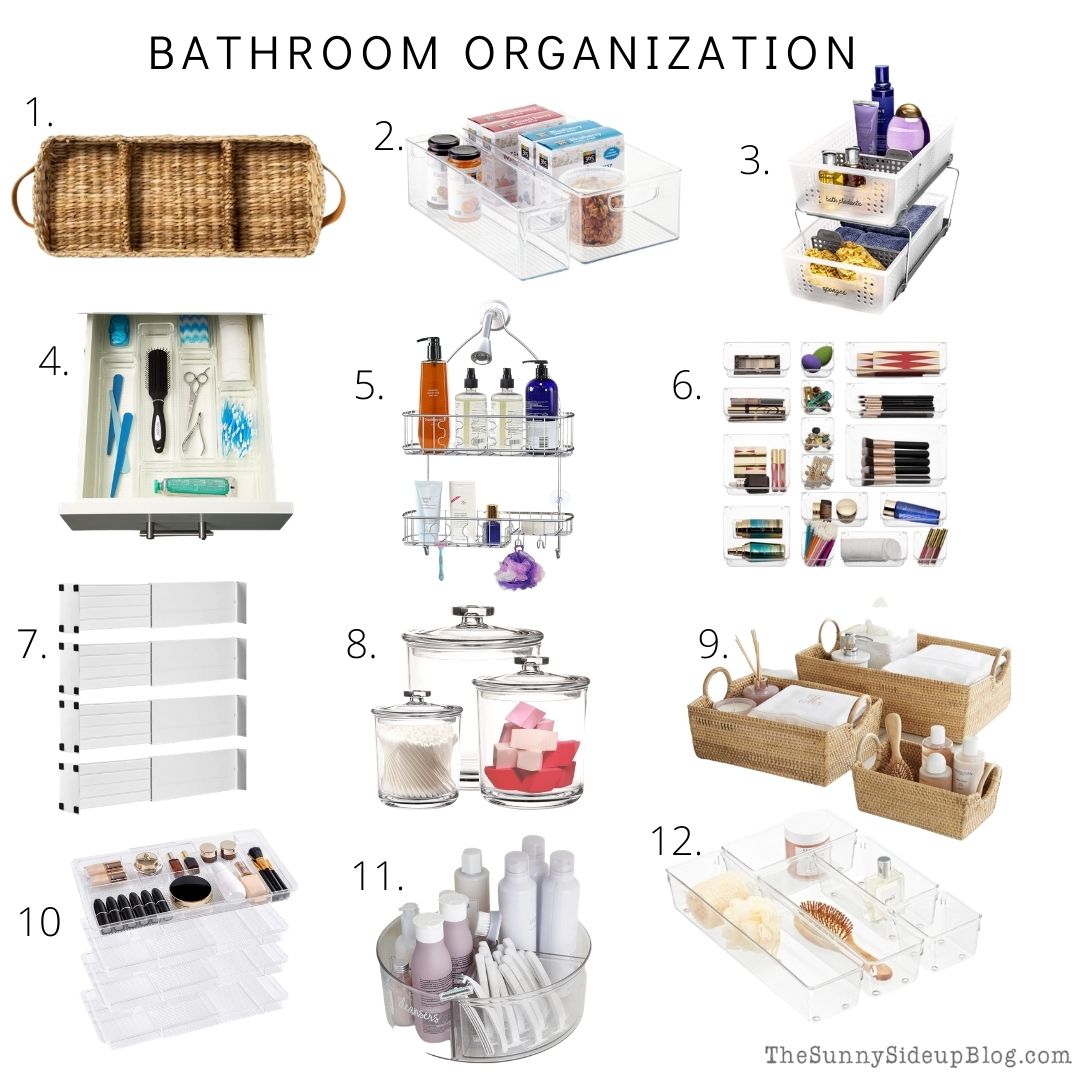 1-  woven tank tray   2 – large deep drawer bin  3 – 2-tier organizer basket
4 –  linus shallow drawer organizer   5 – hanging shower caddy  6 – 16-piece organizer set
7 – adjustable drawer dividers  8 – clear plastic jar set  9 – woven rattan nesting baskets
10 – expandable drawer organizers  11 – lazy susan   12 – linus deep drawer organizer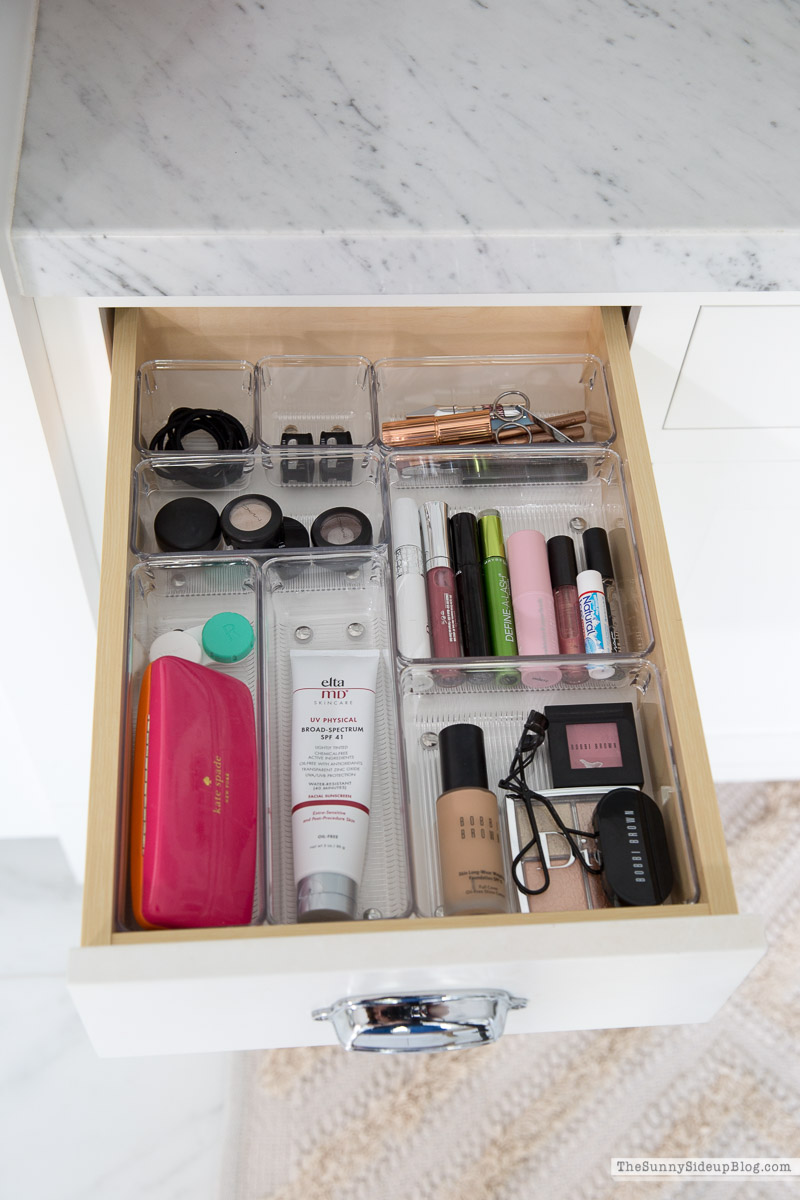 You can see how other bathrooms throughout our home are organized in this post (my drawers) and in this post (Kenny's drawers and other bathrooms).
Enjoy your day!  Have fun shopping ALL the Amazon Prime deals and clean out a drawer or two!  Both are instant uppers.
;)
xoxo, Erin