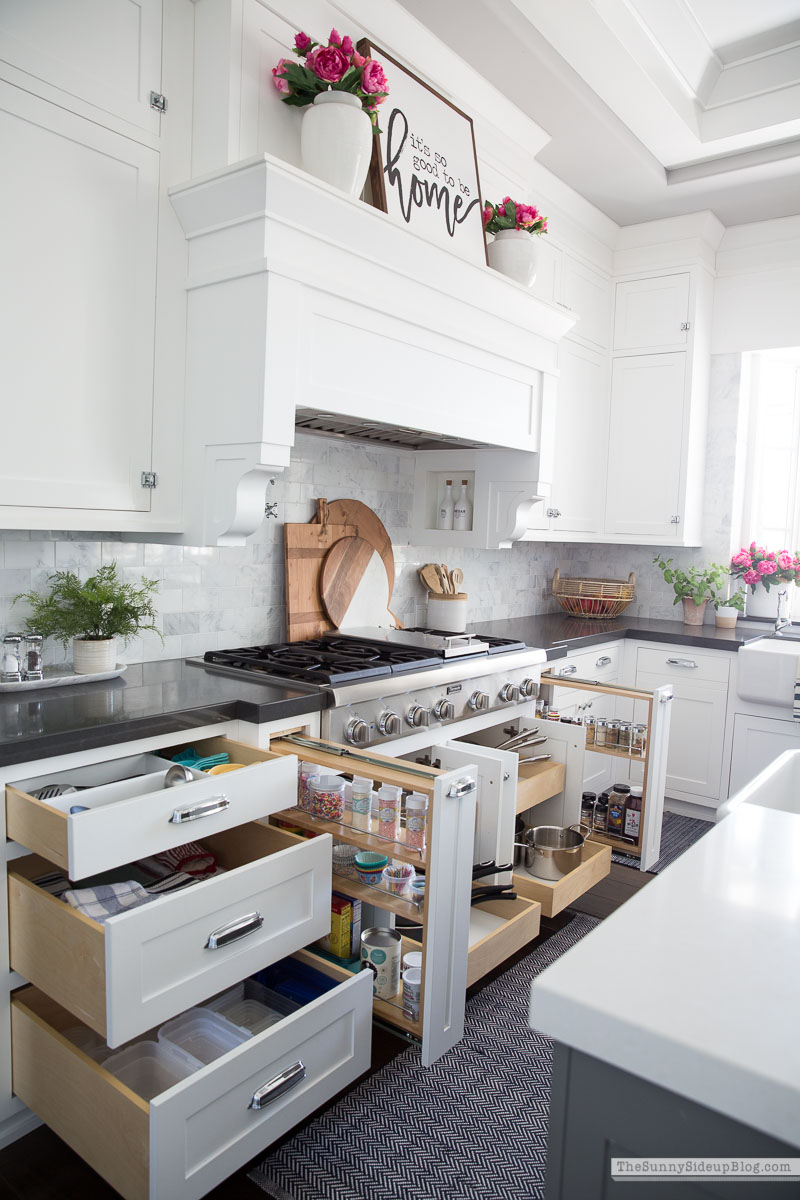 Happy weekend everyone!  I'm so excited about today's post!  Ahhhh!  We are going to get organized!  All of us!  Together!  The whole house!  Totally organized!  Or at least pretty close. ;)  You all know how much I love organization.  It's just the best.  There are so many benefits to having an organized home!  Just to name a few..
We save SO much time when our homes are organized.  Think of how much time you spend looking for things when your house is messy.  We've all been there!  Maintaining messy spaces, hunting for items we need.  Wasting time we could be spending working on our goals, enjoying hobbies, family and friends.
We save money by not buying duplicates of things or items we don't use/love.
When our homes are cluttered so are our minds.  Our homes have a HUGE impact on how we feel each day!  Happiness, self confidence, productivity.. an organized home helps with all of that.  Your overall mental health will improve when your home is in order.  Don't underestimate how important it is!
If having an organized home is so amazing why don't we all have one?  Well.  Because it's not easy.  But I will tell you this.  It's doable!  And it's absolutely worth the effort.  My house is not perfectly clean all the time. It's really not.  Anyone who has kids and a busy family is going to have messes.  Even if you have no kids and a low key schedule your house will be messy at times!  That's life.  But when you only keep things you use and love and you have systems set up in each room to keep items organized, messes just aren't a big deal and can be cleaned up quickly.
So are you convinced?  Are you sold on the importance of having an organized home?  Are you ready to organize with me!?  I so hope you are all nodding your heads! :)  To kick off March and Spring I thought it would be fun to host an organization challenge!  There are 9 weeks in March and April combined.  We are going to focus on organizing certain rooms in our home each week.  If we really commit to this and work hard on one space each week think of how amazing our homes will feel 2 months from now!
Here is our schedule..
Week 1 – BATHROOMS (March 1-6)
Week 2 – LAUNDRY ROOM/ENTRY/MUDROOM (shoe drop zone!)  (March 7-13)
Week 3 – KITCHEN  (March 14-20)
Week 4 – CLOSETS (March 21-27)
Week 5 – BEDROOMS (March 28-April 3)
Week 6 – FAMILY/LIVING ROOM  (April 4-10)
Week 7 – HOME OFFICE/PAPER  (April 11-17)
Week 8 – PLAYROOM/TOYS  (April 18-24)
Week 9 – GARAGE  (April 25-May 1)
I'm going to be doing this right along with you!  Yes a lot of these spaces in my home are already organized, but some of them aren't.  I have several hot spots I've never really organized and I'm excited to knock them all off of my list for good!  Also my organized spaces can all use a quick tidy/re-fresh.  Even if your home is mostly organized I still think you can benefit from this challenge!  We all can.  It's a great time of year to really determine if our homes, systems and routines are working well for us.  If they aren't.. it's time to fix that!
The challenge starts this Monday, March 1st!  This is what I want you to do this weekend..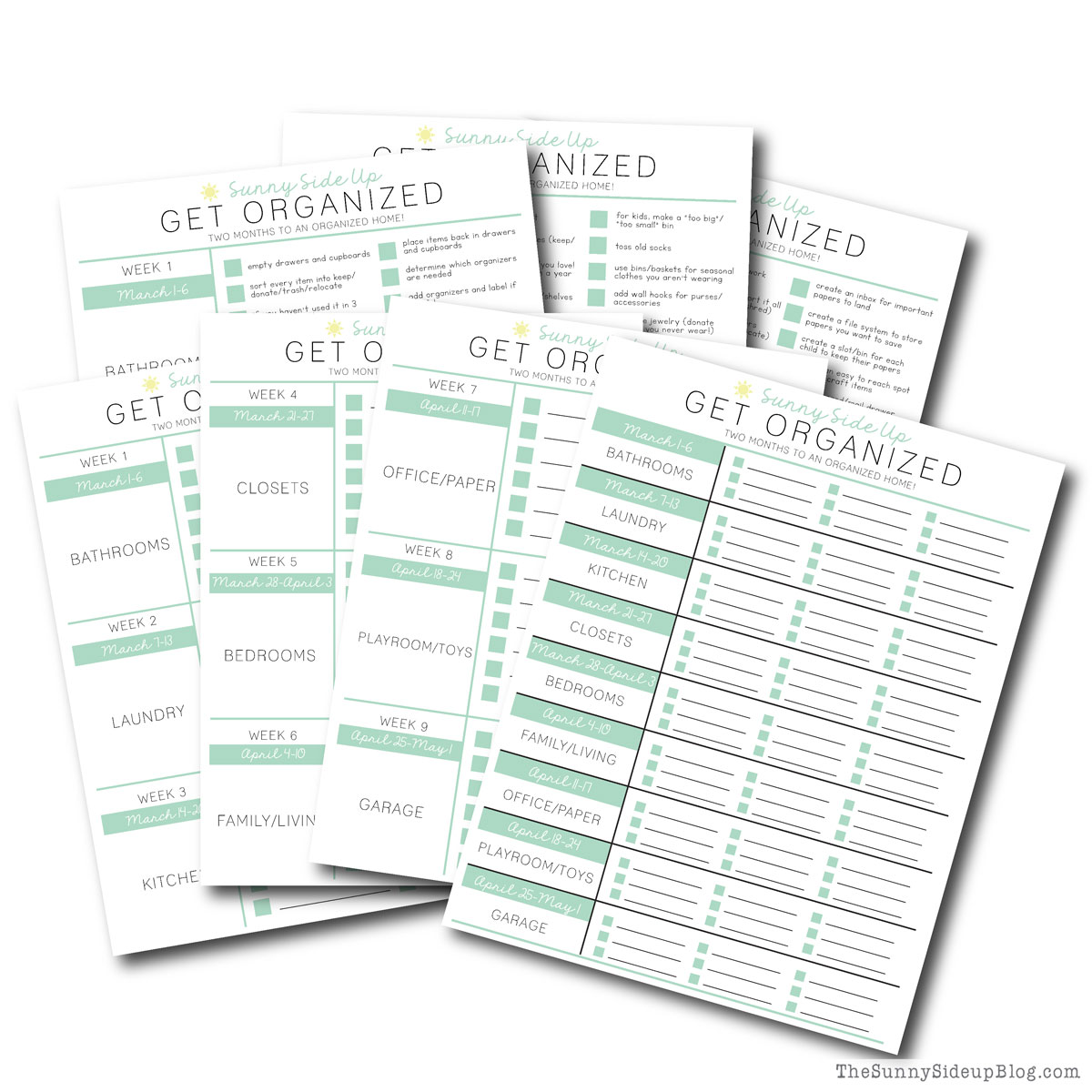 It's one large PDF but you can choose what you want to print!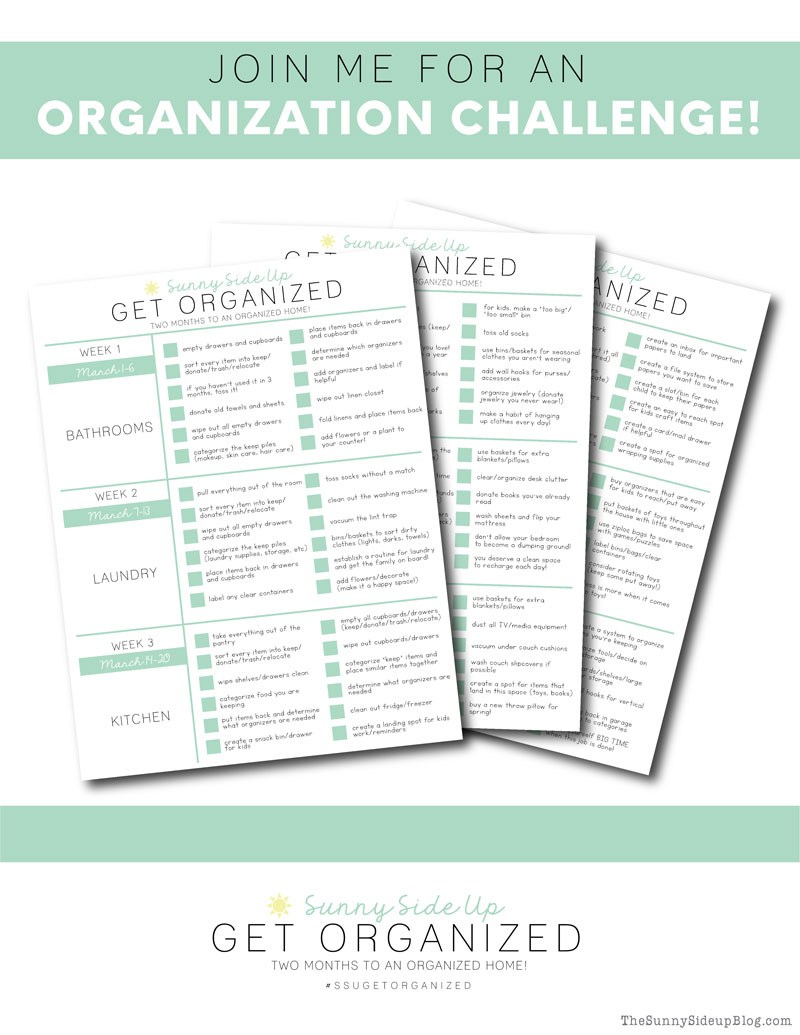 There are 3 pages that include a general checklist and tips.  If you feel overwhelmed and don't know where to start.. follow this!  Obviously every home is different and some things might not apply, but it's a good general idea of what items are important to focus on.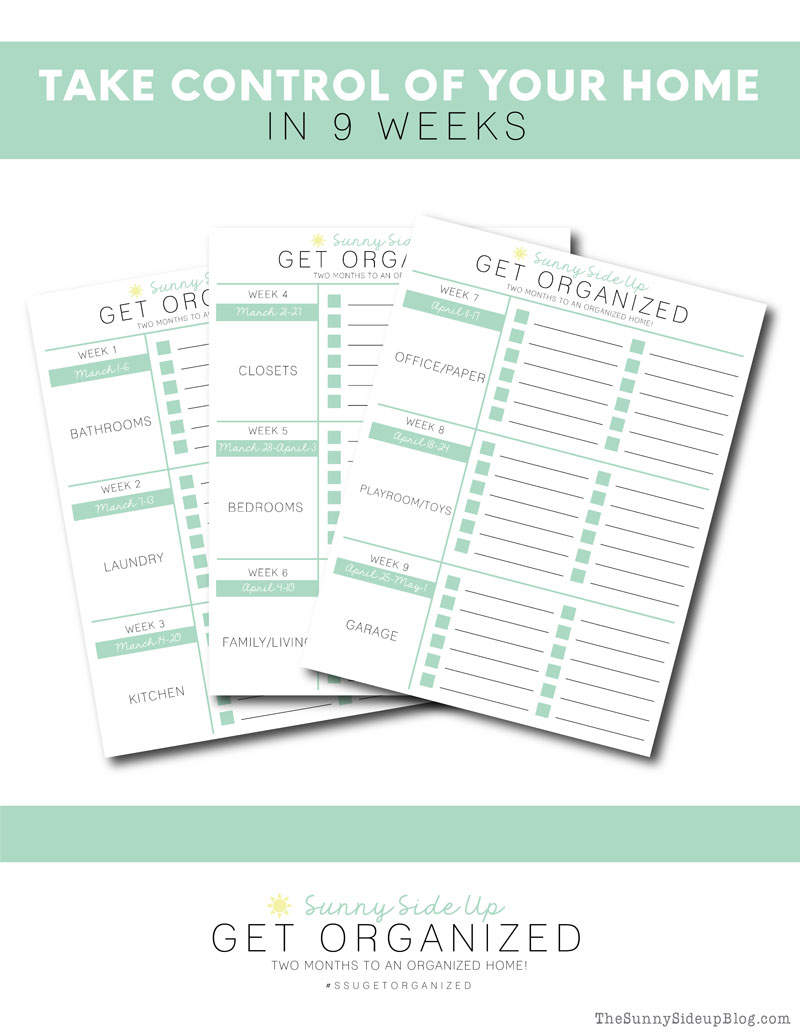 I also included 3 pages of the same checklists that are blank!  If you'd rather fill out your own checklist items for each space, print these out and get to work making your to-do list.  This is helpful because our homes are so unique.  Some of my home office items might be located in your kitchen, etc.  There is also a printable that has every space on one page if you don't feel like you need as many to-do lines.  Most of us will need the 3 pages. ;)  Print just a few or print them all!  Use whatever is helpful and make these checklists work for you.
2 – Follow me on IG if you aren't already.  I'll be sharing pictures, tips and my progress on my main feed and in stories.  I'm going to use the hashtag #ssugetorganized and would absolutely LOVE it if you would share your before/after pictures on IG too!  Tag me at erin_sunnysideup and use the hashtag #ssugetorganized and I'll share some of your before/afters in stories to help motivate us all and give us more ideas!  I'm thinking I'll mail a few fun things to people participating too. :)  
3 – Buy black garbage bags if you don't have them already.  A label maker is helpful too but not necessary!  (I've heard really good things about this label maker.) 
4 – Get a friend to do it with you!  I'm serious.  Right now call or text a close friend or family member and get them on board.  It's so much more fun and it will hold you accountable each week!
Ok.. that's it for this weekend!  *Print the printables, make your lists, get your garbage bags ready, follow me on IG and text a friend!
I'll be writing one post about the assigned space to kick off each week with some ideas and tips that have helped me.  Here are a few general tips to keep in mind before we get started..
General tips:
This isn't a cleaning challenge.  Cleaning and organizing go hand in hand so let me explain.  The goal of this challenge is to get rid of items we don't need and to organize the cupboards, drawers, piles, hot spots in our homes that are cluttering up our lives.  If you finish cleaning out all of your bathroom cupboards/drawers and have time to then wipe off counters and mirrors and scrub your shower.. go for it!  But the main goal is to PURGE like your life depends on it and organize all of the hidden messy spaces.  Do that first!  Then if you have extra time during the week you can do some deep cleaning too.
I'll say it again.. be ruthless with purging/donating items!  Pump yourself up before you start to get rid of as much as you can.  Less is more.  Trust me.. you won't miss things!  To truly be organized you have to be comfortable living with less stuff.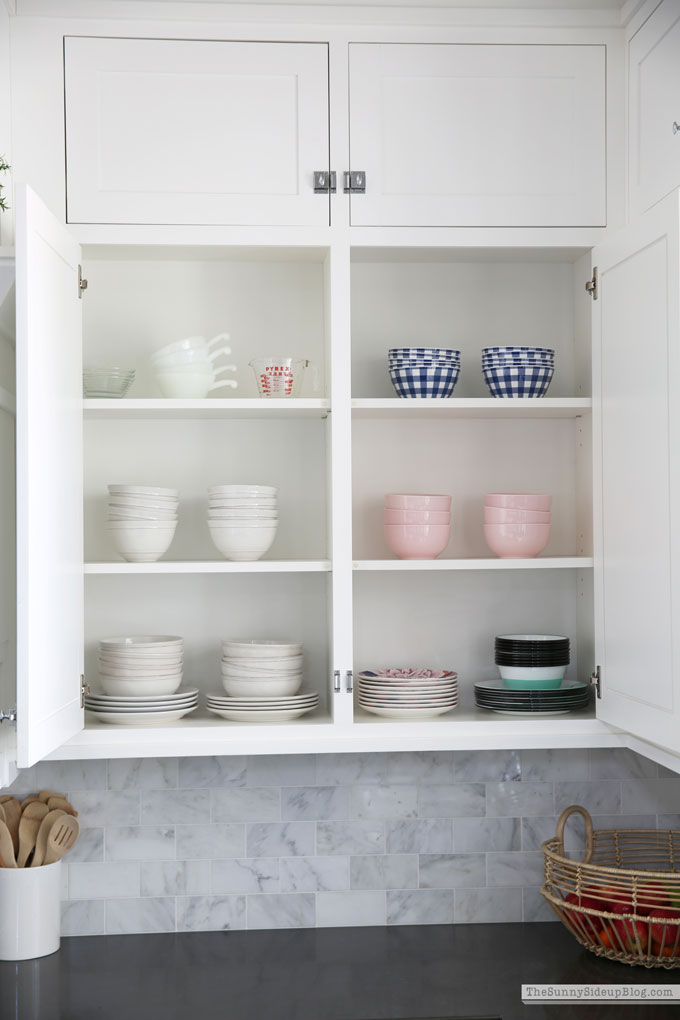 If you're short on time one week and can't really get around to organizing your space, just commit to purging items you don't need/use/love.  Just doing that alone will make a difference!  You can come back to that space to organize it all later.  Feel free to move ahead if you complete spaces early, just don't get burned out!  It might be better for you to put your feet up and rest if you complete a space early so that you have energy to tackle a new space the next week.  :)
Don't buy organizers YET.  Wait until each space is complete to see what you really need.  Then if organizers would be helpful you can order some.
Resist the urge to over organize and have everything labeled and color coordinated.  Yes.. this is coming from me.  The one who loves to over organize and label everything and make it all color coordinated. Ha. ;)  That's my personality (I have a touch of OCD in case you haven't noticed!) and I'm a more naturally organized person and it's part of what I do for a living.  If that's you too then great.. go for it!  Live it up and label away!  If that's just NOT you.. take the pressure off of yourself immediately!  The goal of this challenge is to get rid of clutter and to set up systems that work for you/your family and that will be sustainable.  For example: If having all of your cereal dumped into clear cereal bins isn't something you want to keep doing every time you get groceries.. don't do it!  Designate a spot for your cereal boxes all together in your pantry/cupboard and line them up.  Done!  Something you can easily maintain.  (I'm talking to you mom.) ;)
Don't waste too much time making decisions.  You want to move fast and get as much done as you can in the time you have.  I always say when it doubt.. donate!  Plus moving fast keeps your momentum up!
Get a good playlist ready!  Or download a good book on audible or find some fun podcasts to listen to while you work.  Make this fun!
It's time to party!  My kind of party.  And you're all invited.  #ssugetorganized
LET'S DO THIS!
:)
xoxo, Erin