*affiliate links used
When I was a little girl one of my favorite things to do was to organize my mom's purse!  So funny I know.. but I loved it.  I would get permission first of course, and then dump everything in her purse out onto the floor.  Then I would happily make little piles of the loose change, make-up, trash, receipts, etc.  I loved lining up her credit cards in her wallet and putting everything back nice and tidy.  Every time she bought a new purse she would give it to me to switch everything over from her old purse.  To this day my mom still calls me when she gets a new purse.  "I wish you were here!  I bought a new purse today and need you to organize it!" :)
Not much has changed and I still get excited to organize my purse or switch to a new bag!  I snapped this pic over Christmas break.  Kenny bought me this cute Tory Burch purse for Christmas (after some slight hinting) and I organized it one night watching Twilight on my bed with Addison.  A warm fire, Christmas lights, Edward Cullen and a little purse organization?  My idea of a good time. ;)
{Tory Burch purse/Tory Burch wallet/make-up bag/Chanel sunglasses}
I thought it would be fun to show you what I keep in my purse that helps me stay organized!  I don't like a lot of loose items floating around so I always just have my sunglasses, phone, keys, wallet (I've had this wallet for over 4 years and love it – room for everything!) and a smaller make-up purse.  I really try to only keep essentials inside, but purses can become landing zones for all sorts of things so I clean mine out often.  Usually when I'm waiting to pick my kids up from school, an activity or a friend's house.  A 5 minute break in my car is always just enough time to go through and toss any junk/clean things up!
Alright.  Purse details!  I keep this cute little hand sanitizer keychain on the side of my purse for easy access.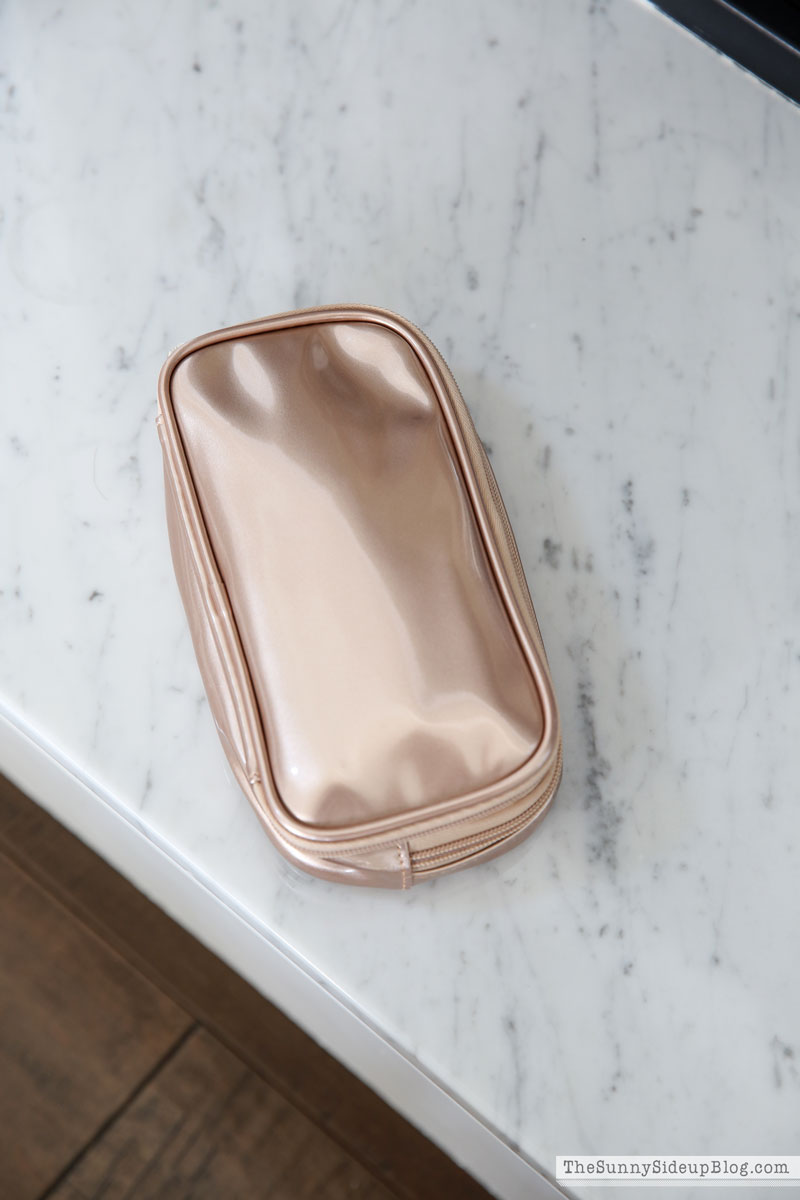 My best tip to help keep your purse organized is to have some sort of smaller purse/make-up bag inside of your purse that holds all of the little things!  It's easy to grab when you need something (vs. searching through a large purse) AND it makes it easy to switch bags/purses quickly if you want to mix things up with a different outfit or for a different activity like date night, etc.
I like this little make-up bag because it has two sections.  One side opens like this and I keep lipstick and other make-up on the left.  I use the pocket on the right for gift cards and receipts I want to hang on to.  (I always trash receipts immediately unless I bought something I might want to return!)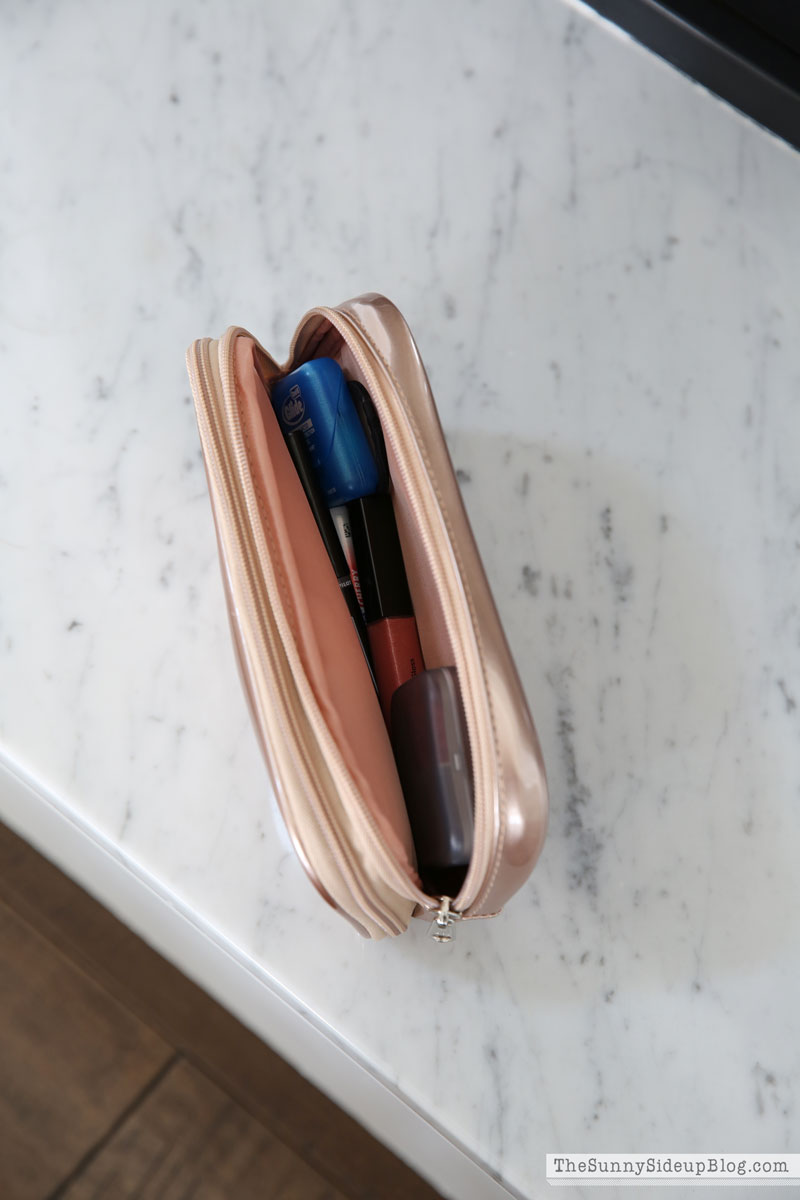 Then it has a zipper compartment on the other side.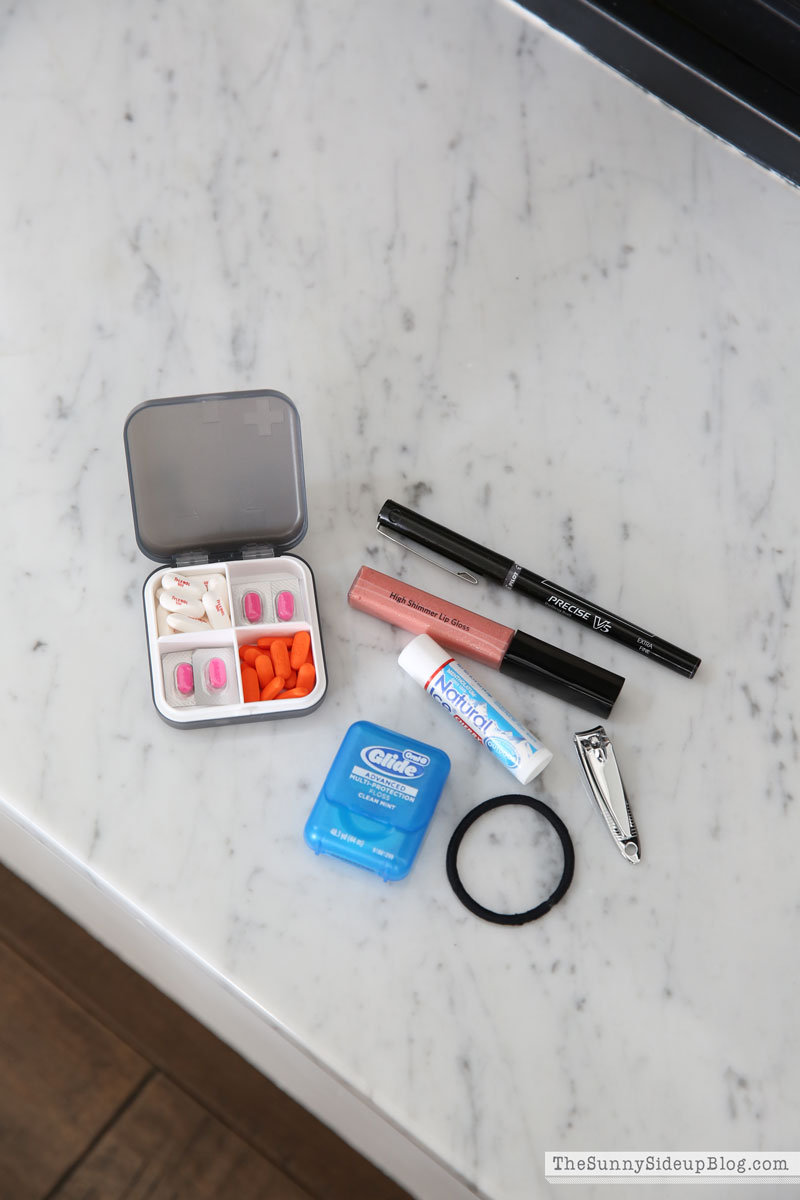 I dumped it out for you.  Ha.  My essentials!  I always have floss, a hair elastic, nail clippers, one of my favorite pilot pens, and Cherry Natural Ice on hand.  Always!  Also one more lip gloss (Bobbi Brown lip gloss is my favorite) and this little pill case I use to hold Tylenol/Ibuprofen if anyone in my crew has a headache.  And always Benadryl.  Because when you have a child with allergies you always have it on hand too. :)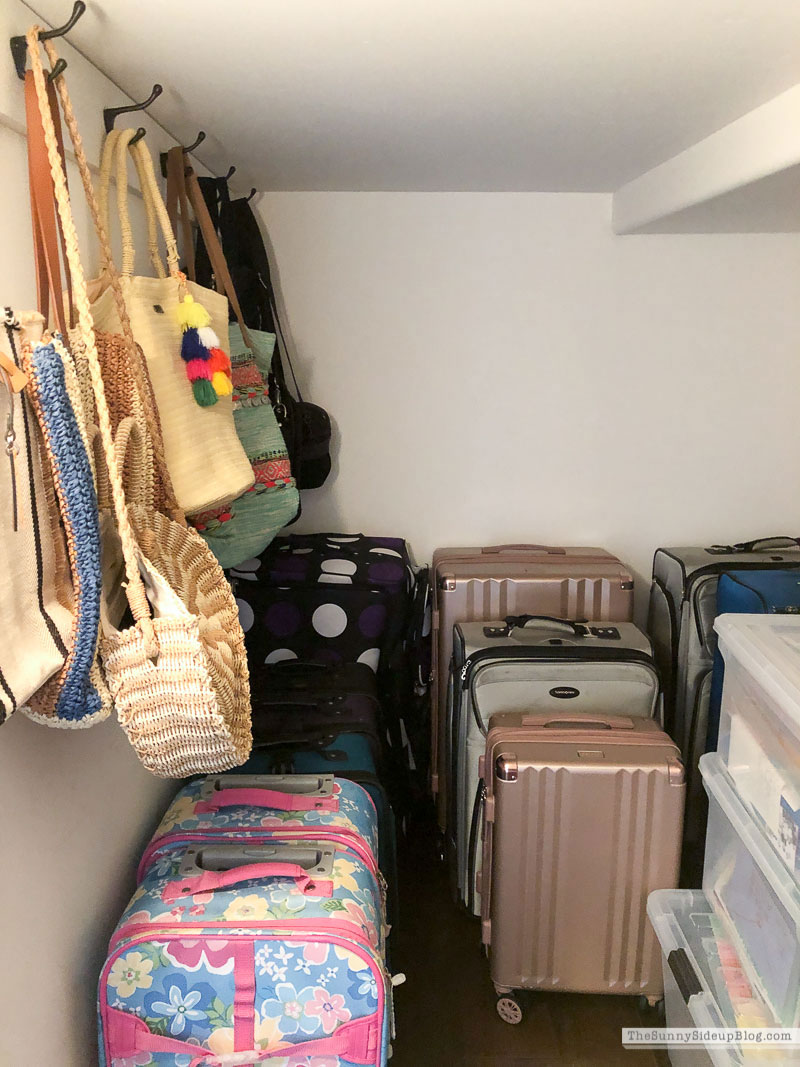 Ok.. let's talk organizing ALL the purses/bags!  I keep our beach bags and larger bags on hooks in this small luggage closet in our mudroom.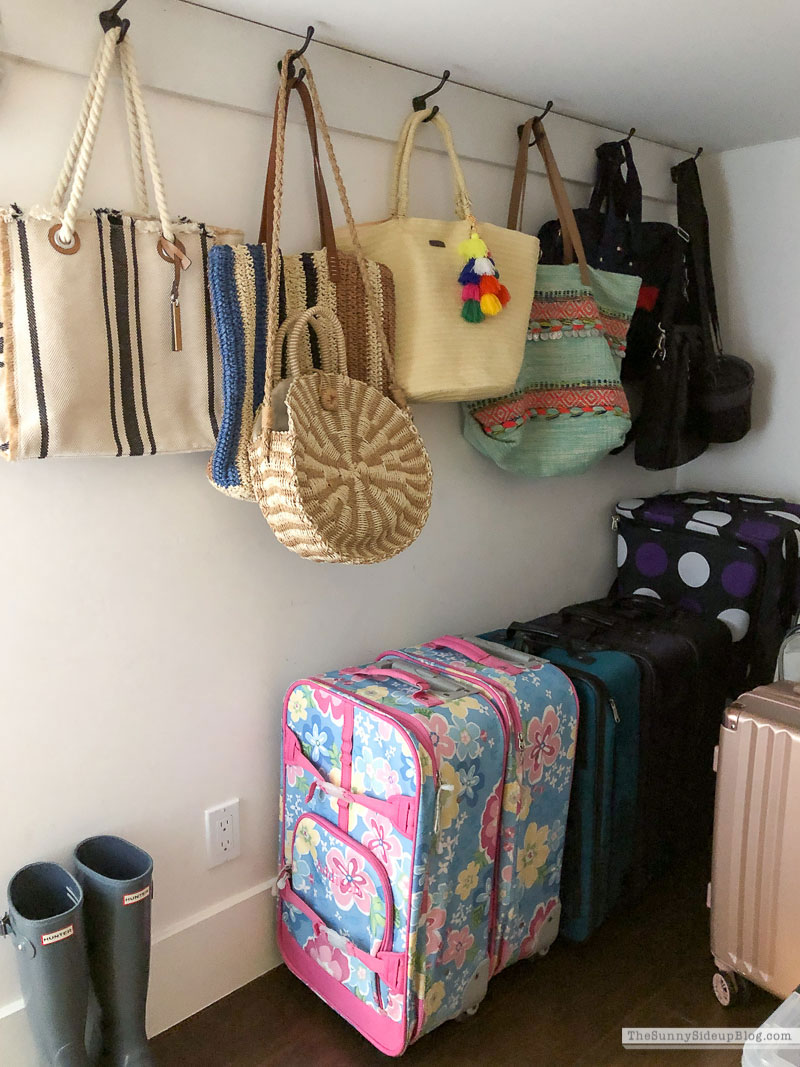 Hooks on the wall are such a great solution for purses/bags!
And backpacks. :)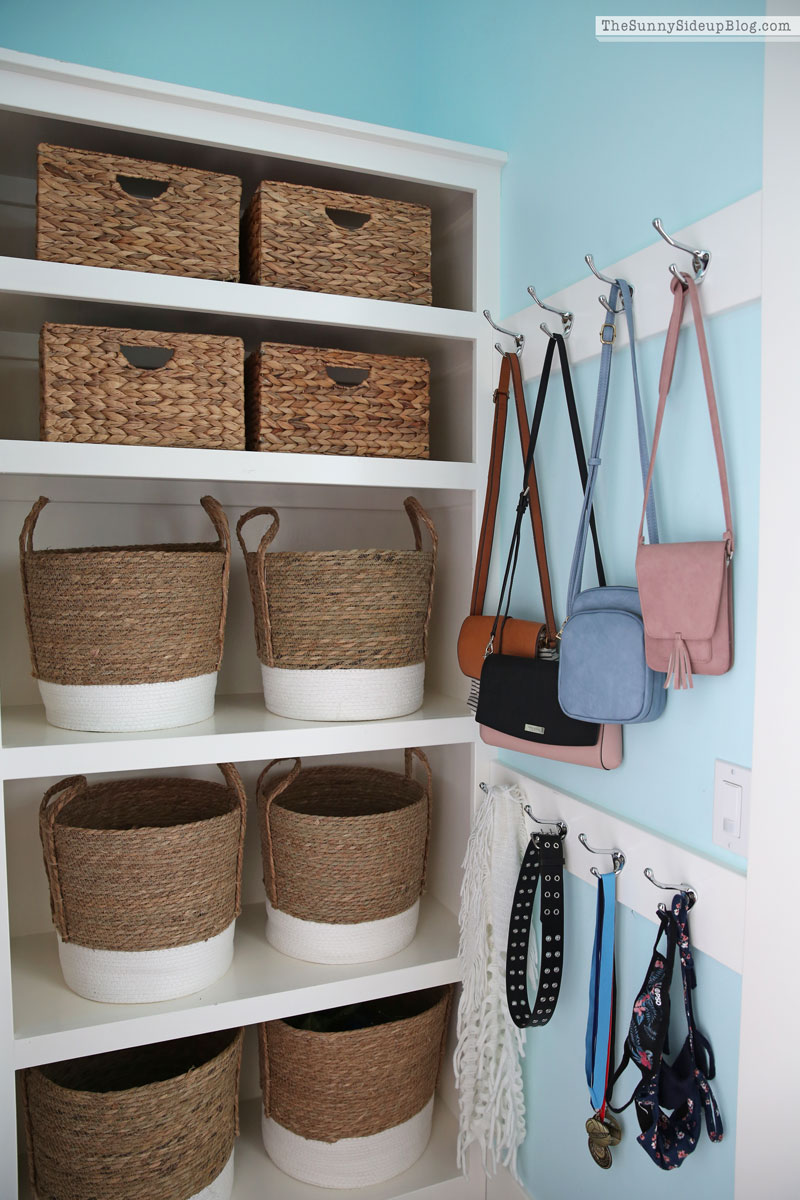 My girls have loved having hooks in their closets for purses and I would do this in my closet too except that I don't have the empty wall space for it.
For a while I used this type of purse organizer to hold my purses hanging in my closet.
It holds a lot and is a great solution.  The only downside is that it takes up precious hanging space.  I wanted to be able to fit more dresses on this rack so..
I currently have my purses in a closet drawer.  The only downside of this is that it takes up precious drawer space!  Ha.  I basically want to keep and store all of my purses in my closet without having them take up any space.  Is that so much to ask? ;)  I'm not sure if I'll keep my purses in this drawer or do something else with them.  My closet is still a work in progress!  I've been looking at lots of ideas for how to organize purses and included a few great solutions below.  I also included a round-up of my current favorite purses and wallets.  Spoiler alert – I'm partial to Tory Burch. :)
Well this was fun wasn't it!?  Anyone else love talking purse organization as much as I do!?  LOVE this topic!
Mom.. guess what you're getting for your birthday this year!?
Don't worry.  I'll organize it for you.
;)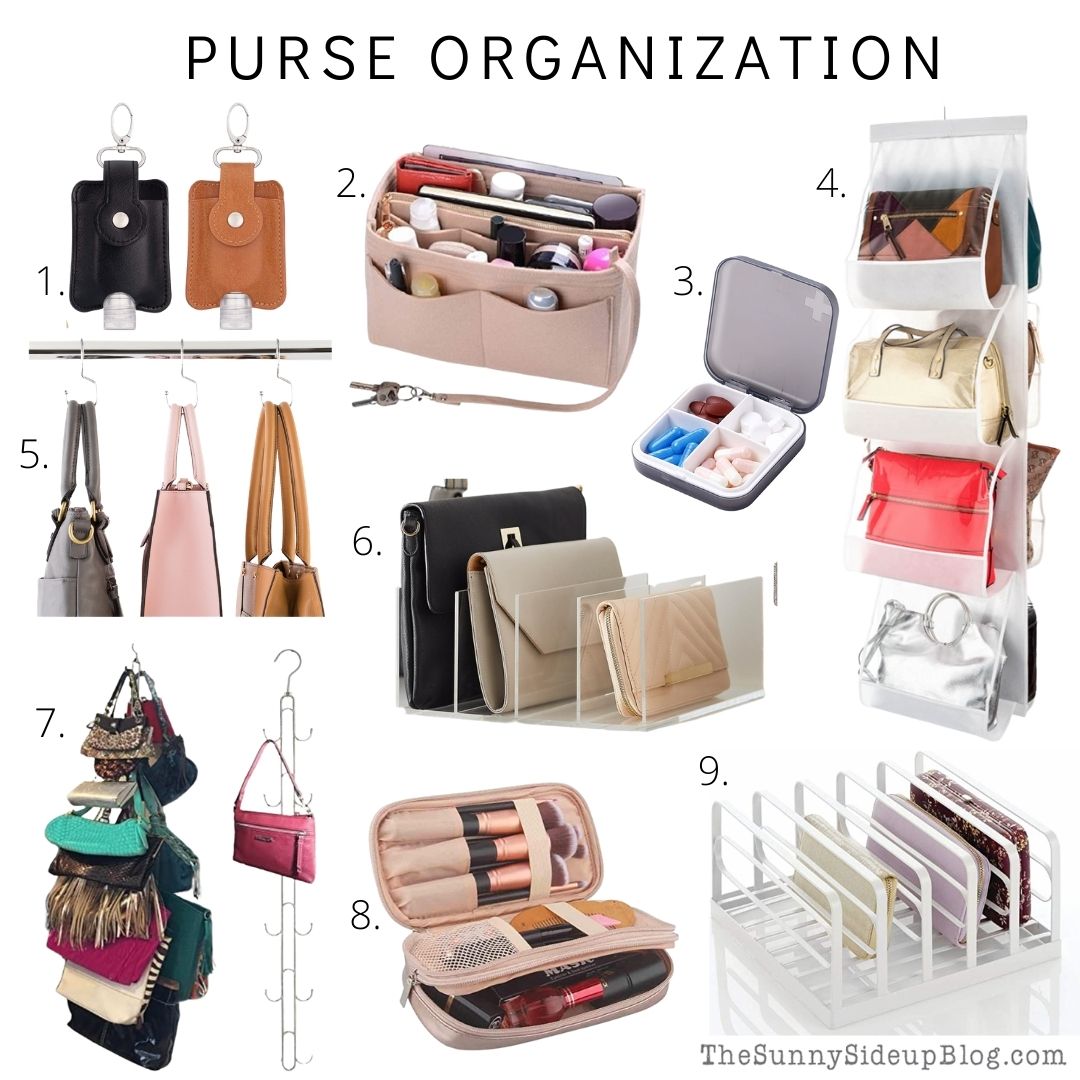 1 – hand sanitizer holder keychain  2 – purse organizer insert  3 – portable pill box organizer
4 – hanging purse organizer  5 – metal purse hangers  6 – 4-section purse organizer 
7 – over door hanging purse storage  8 – makeup bag organizer  9 – metal divided purse organizer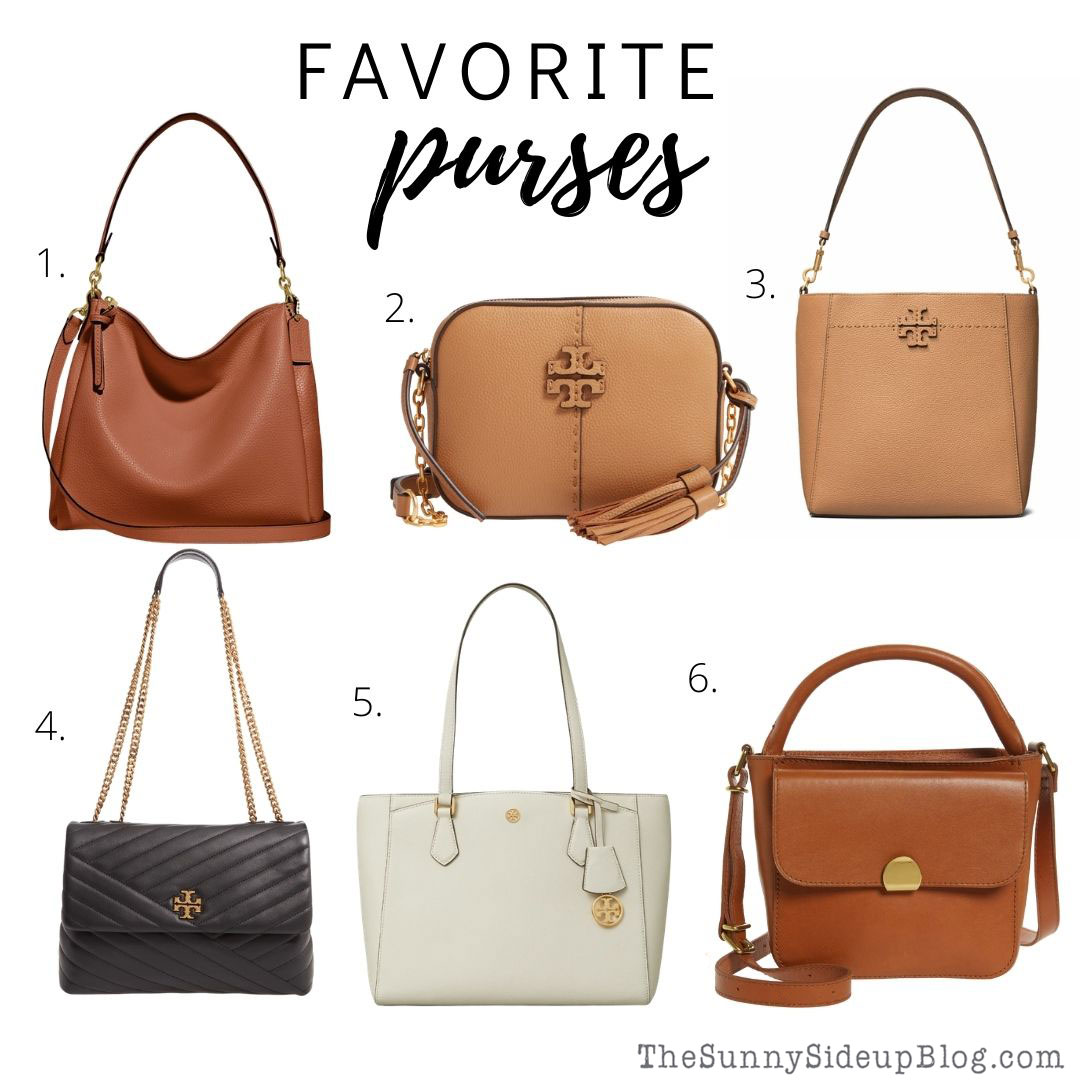 1 – Shay shoulder bag   2 – McGraw leather camera bag   3 – McGraw leather hobo
4 – Kira chevron leather crossbody  5 – Saffiano leather tote    6 – Madewell leather crossbody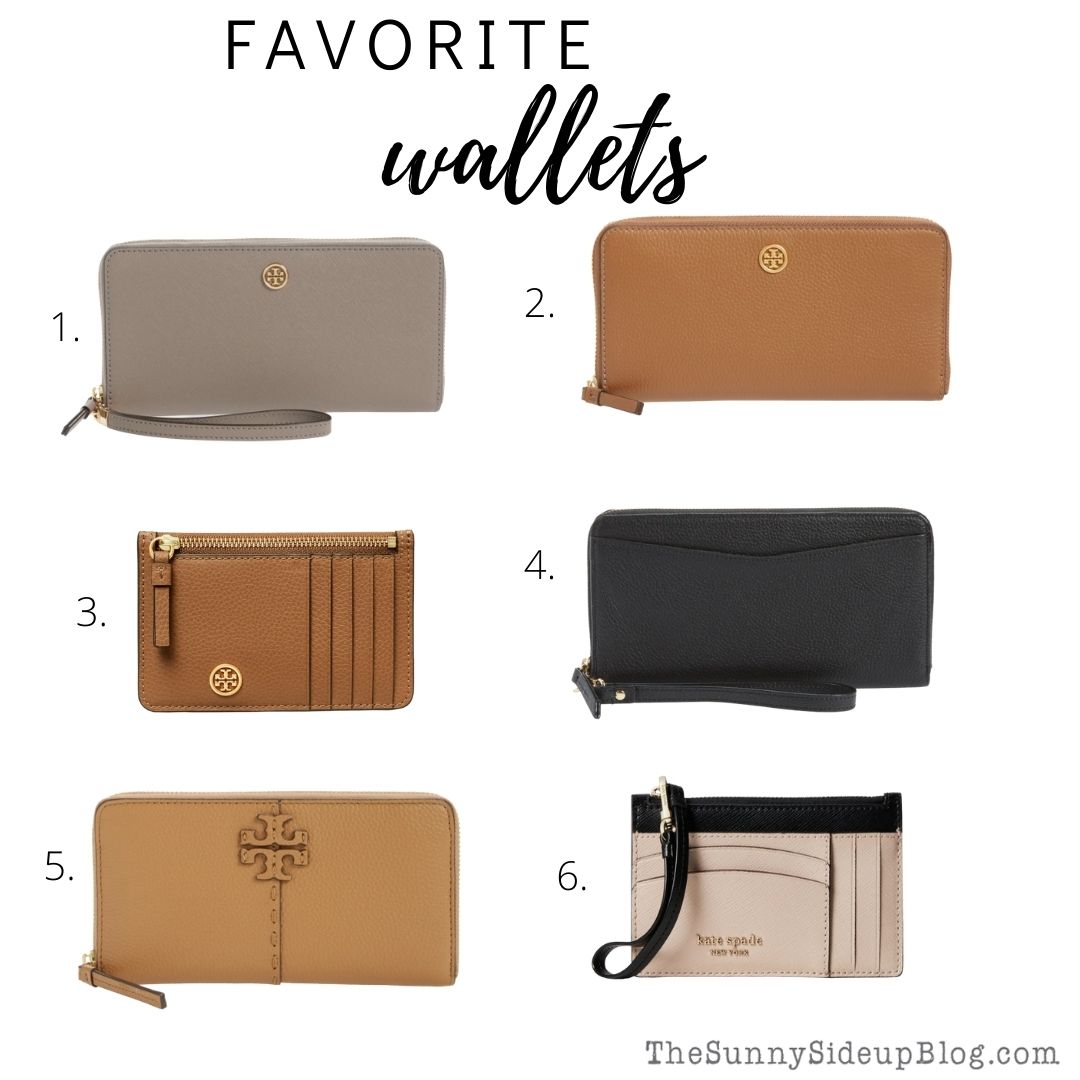 1 – Leather passport wallet  2 – Leather continental wallet  3 – Leather zip card case 
4 – Zip around continental wallet  5 – McGraw leather wallet   6 – Spencer wristlet card case 
xoxo, Erin