*affiliate links used

I'm so excited to share my family room Christmas decor with you all today!  This room was my favorite to decorate this year just because I mixed things up from what I've done in previous years.  All sources will be linked at the end of this post!
(cozy neutral snowflake Christmas tree sources are linked in this post – my cute knit tree skirt is on sale!  And you can find my jeweled snowflake tree topper here.) :)
The neutral tree was a stretch for me and I wasn't sure if I liked it at first, but now that I have some other pops of red in this room.. phew!  It's Christmas again and I can breathe.  Really enjoying the tree now. :)
(long wooden bowls/light up house/fa-la-la bowl/gold and white bowl/reindeer/similar tree/similar small wreath)
I had fun styling these shelves on my entertainment center.  The cutting boards and little wreath made a fun backdrop!
The shelves are almost identical aside from different but similar bowls and cutting boards.  It was a little "let's use what we have around here and be done" challenge I gave myself.  Good times. :)
And then there's the garland.  The garland!
Getting the garland up on this entertainment center was no easy task!  I had my friend over for back up support and she took this pic.  I thought that the top of my entertainment center was a big flat piece of wood, but no.. it's just the thin top of the crown and then the wide shelf is lower so there was nothing to attach the garland to!  I kinda sorta got two pieces to stay (one on each side) and I really wanted to add one more piece on top to give the garland more of a full look.
That wasn't in the cards.  Every time I tried to add one more piece of garland the whole thing came crashing down!  I tried attaching it with small command hooks and even my go to painter's tape, but nothing was working so this garland is attached with.. drumroll please.. nothing!  Ha.  The middle part looks a little off but when I tried to fix it everything started slipping again so I finally just had to tell the perfectionist side of myself that it's better to have it up and "off" than not up at all!  I do love how much it warms up all of the white and adds such a cozy Christmas feeling to the room.
Last night I was laying in bed awake (going through my to-do list in my head like I always do) and I heard a loud sound.  Everyone was asleep but me and I immediately sat up in bed and gasped out loud "MY GARLAND!"  Kenny mumbled a "huh?" and then started snoring again while I ran out into my dark family room and flipped on the lights just certain that the whole thing had tumbled to the ground.  But it was still there!  Hanging ever so imperfectly just like I'd left it.  The fireplace garland was in tact too.. and the garland around my front door.  The loud noise must have been our ice maker or something but the whole thing just made me laugh.  I've got so much garland attached to things throughout my home!  It's all hanging by a thread and it's making me feel like I'm hanging by a thread because at any minute something is going to come crashing down.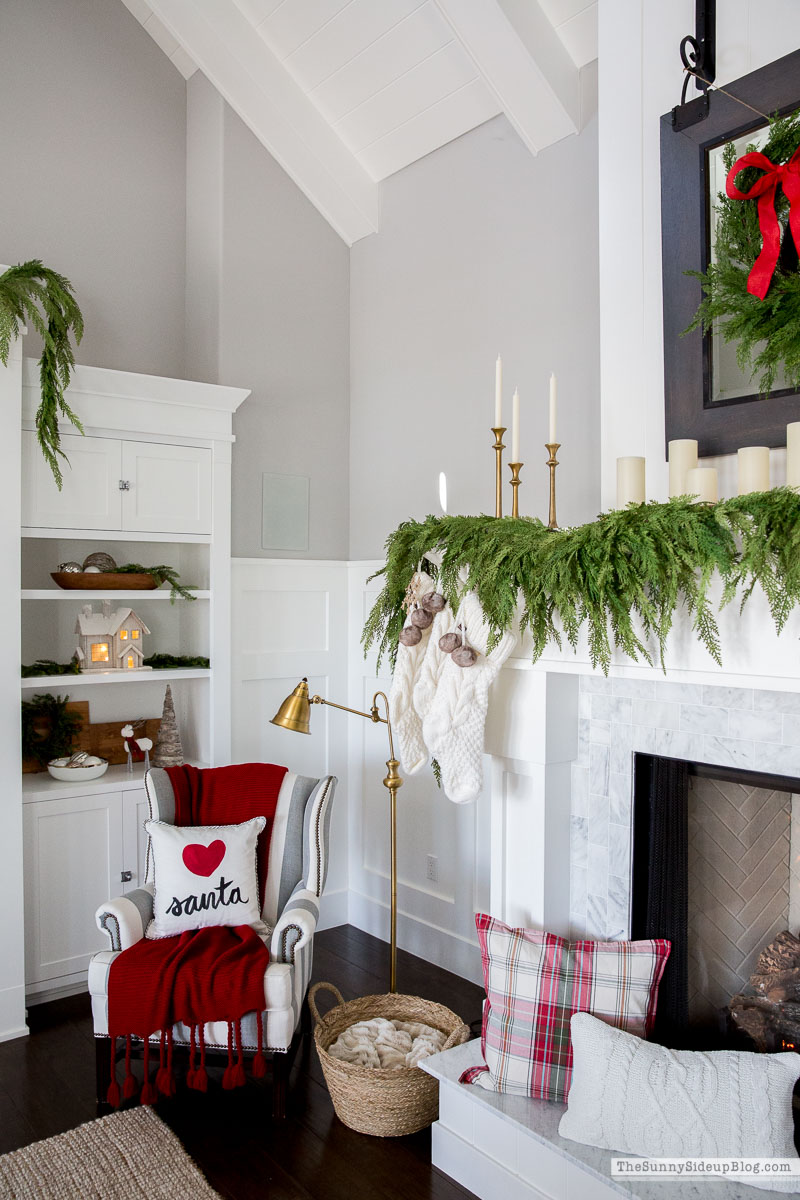 (gold lamp/stripe chair/similar red throw/fur throw/favorite basket/knit pillow/brass candle holders/ivory candles)
But I'll enjoy it all before it does!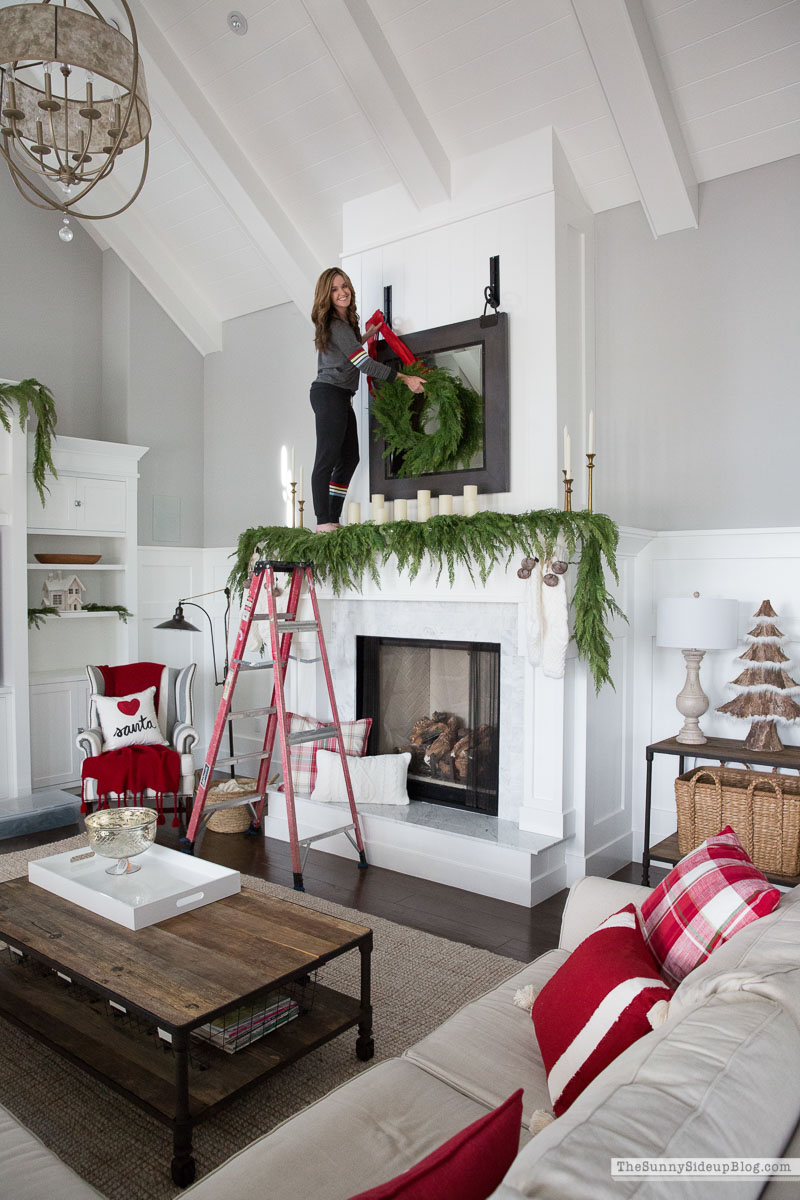 (my recent favorite pjs – top & bottoms/similar wreath/faux garland option)
Don't mind me.. just swinging from the rafters around here. ;)  I always talk about how this large fireplace is and what a challenge it is to decorate. I'm 5'3 and 1/2 (don't forget the half) so this gives you a better look at the scale of this thing.  Like I said.. it's big. :)  I first tried attaching my wreath with thick red ribbon but that was a fail!  This whole room was quite a bit of trial and error.
(Details on how I attached my fireplace garland in this post.)
(red ribbon/similar stockings/similar wreath/brass candle holders/ivory candles)
I ended up attaching it with some jute string and then I just added a red ribbon to the wreath because again.. it's Christmas and I needed my red fix. :)
All of the climbing and risking my life paid off because.. Christmas decor!  I love it.  I really don't think I could love anything more.  Well.. maybe my family.  And AG jeans and cherry ice chapstick.  But that's about it.  Christmas decor is a solid #4. ;)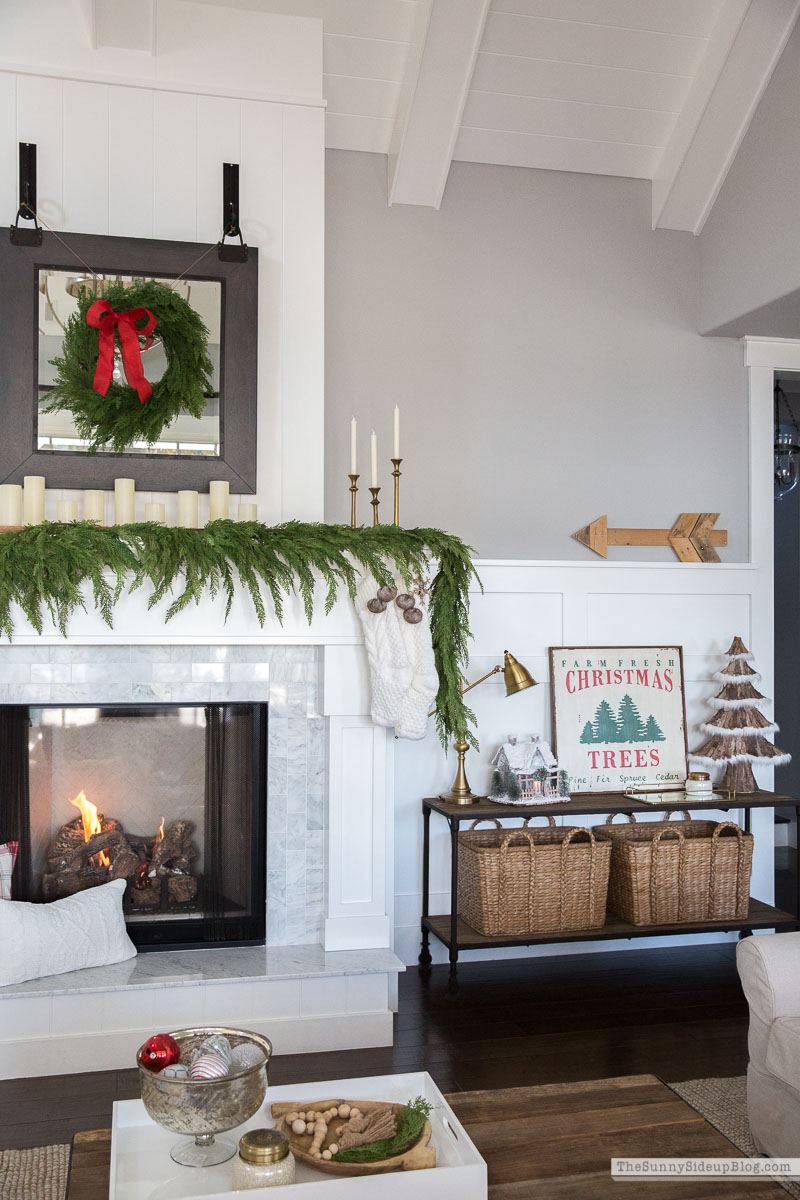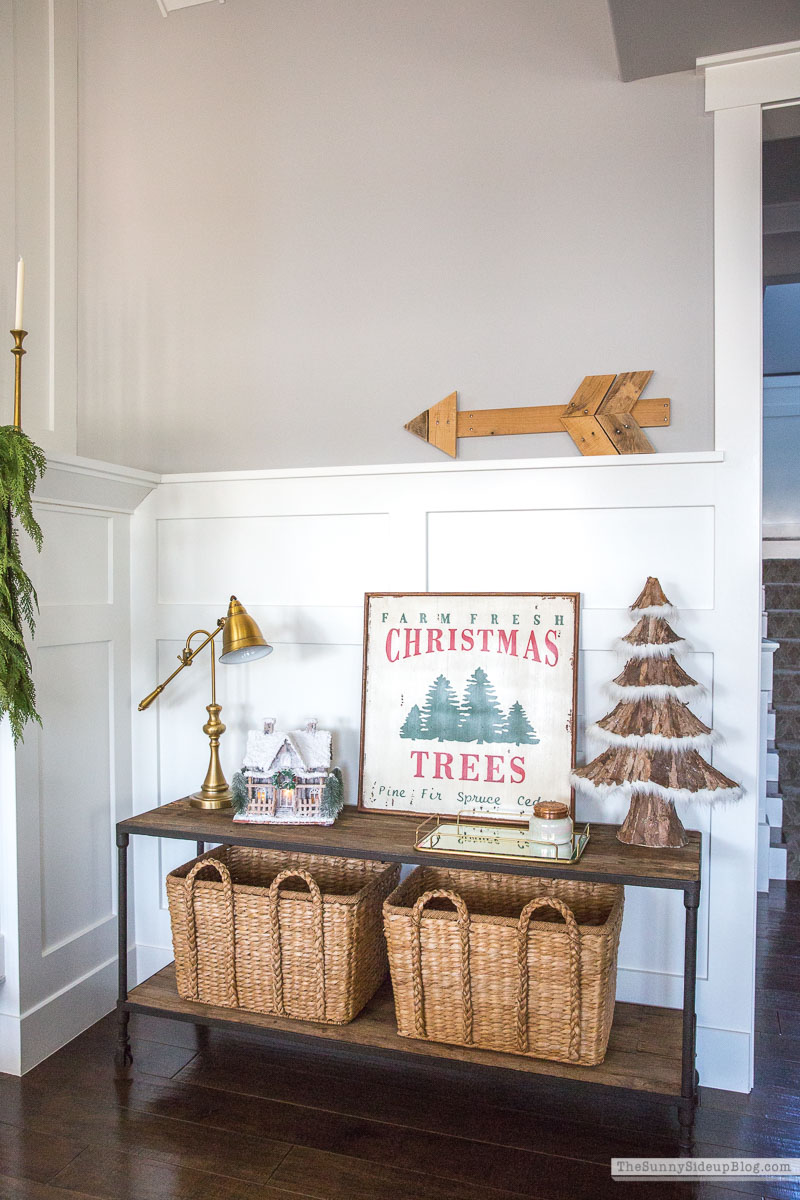 (table lamp/light up holiday house/Christmas tree sign/bark fur tree/mirror tray/candle/similar console/similar baskets)
Console table is looking nice and cozy with my cute LED holiday house and a favorite Christmas tree sign.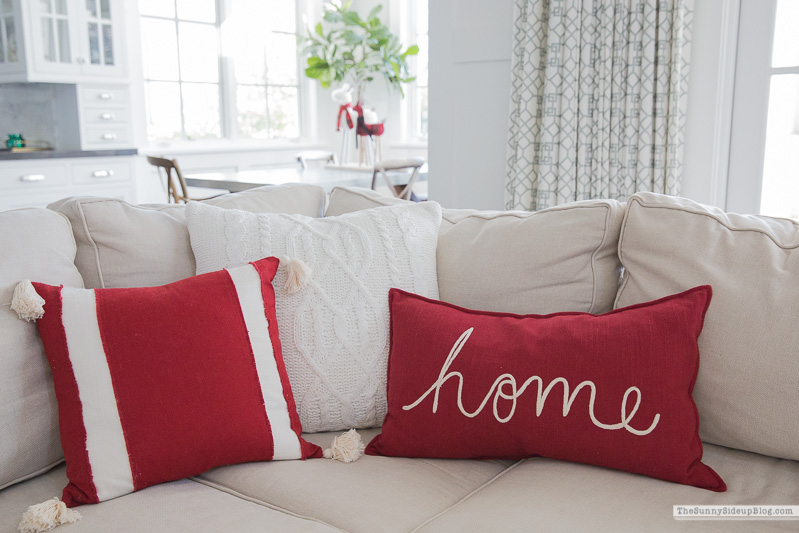 (cable knit throw/home pillow)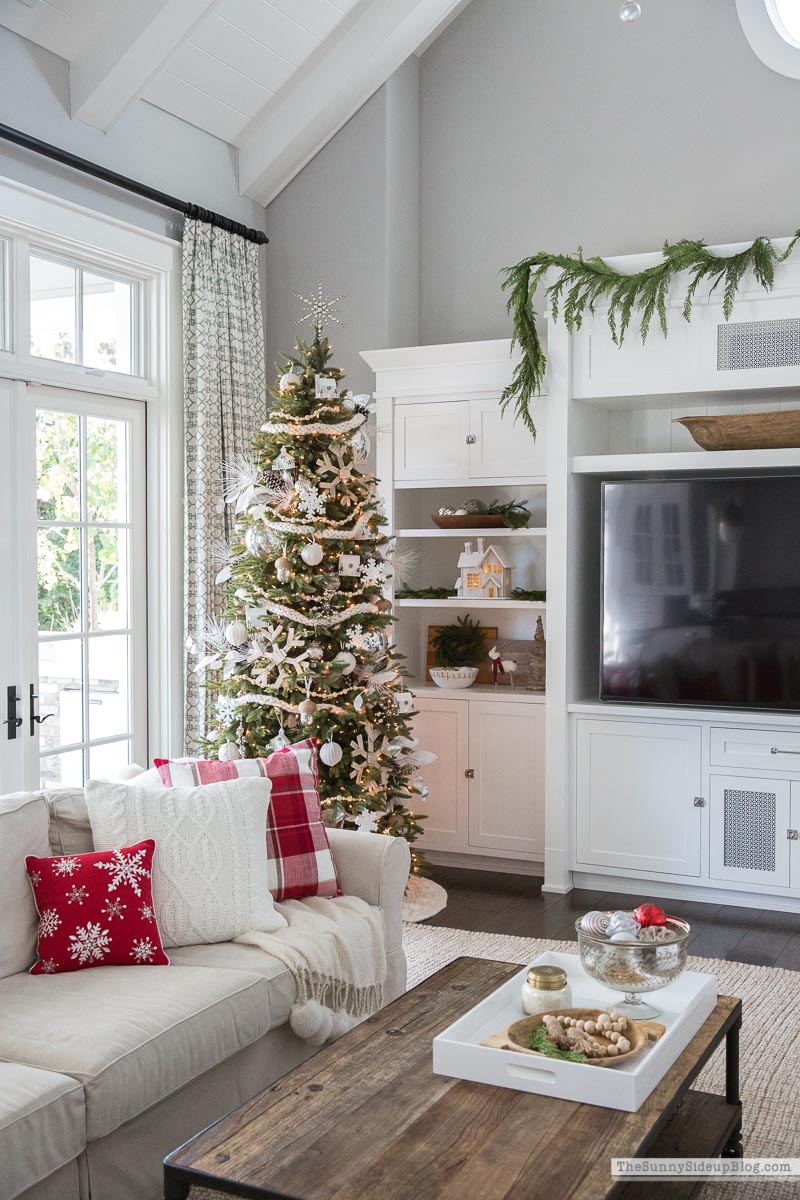 (plaid throw pillow/knit pillow/similar snowflake pillow/similar pom pom throw)
Plus I found the cutest plaid and knit pillows at Target and love them!  They are LARGE and were such a great price.  The knit pillows will be fun for January too.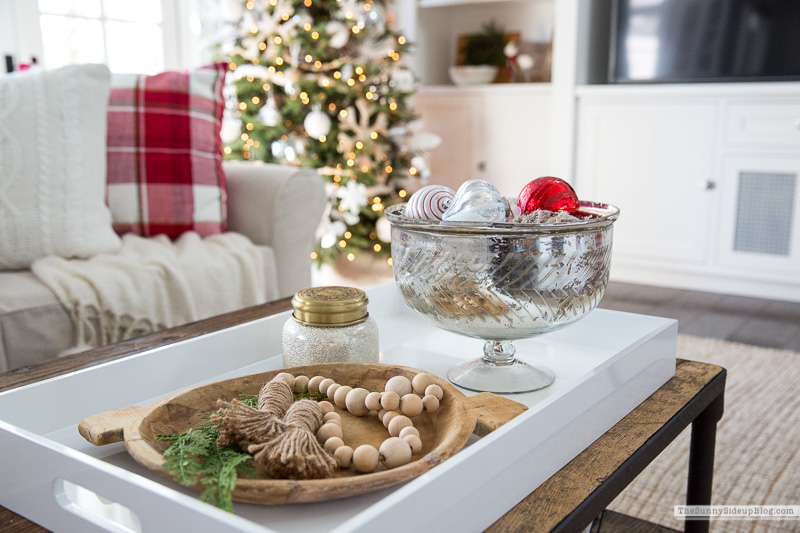 (white lacquer tray/similar wood tray/similar beads here and here/candle/glass serving bowl)
That wraps up my family room Christmas tour.  I hope you enjoyed it!  It's a cozy spot to hang.
If I could just fix that garland in the middle..  no!  I don't mean that.  It's perfect.  Perfectly imperfect.  And neutral is good.
This is me growing.
But have I grown enough?  Because I still kinda want to fix the middle of my garland.
And add some red to my tree.
But I won't!
Until next year.
:)
{FAMILY ROOM SOURCES}











xoxo, Erin