*affiliate links used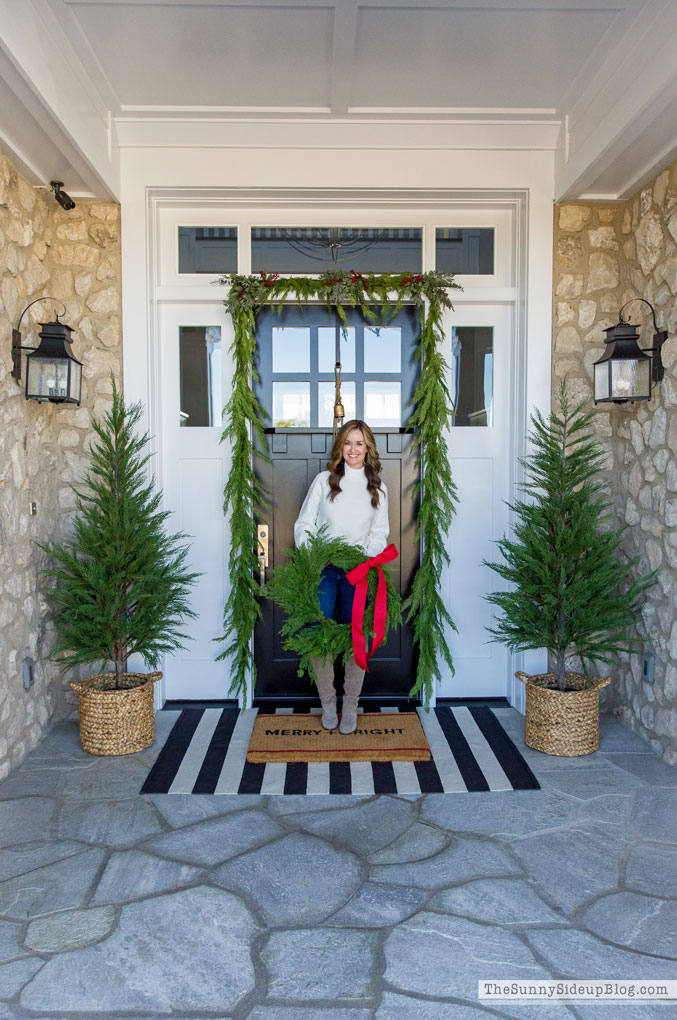 Same porch.. different sweater. ;)  (*My faux Cyprus trees on my Christmas front porch are on sale!)
Happy Cyber Monday!  It's the end of the great sale week and I've been up late trying to get the bulk of my Christmas shopping finished!  I've found so many fun deals from my go-to stores so I rounded up my favorites for you.  Wishing you all the best of luck getting back in the swing of life today!  I'm still in a tired from travel turkey coma and I'm not looking forward to getting out of my pjs in the morning.  Oh wait a minute.. I work from home.  Maybe I won't get out of my pjs in the morning.  Here's to whatever we all have to do to get through the day!  Retail therapy might help. ;)
FAVORITES ON SALE FROM MY FAVORITE GO-TO STORES..

–
Oh Pottery Barn.  How do I love thee.  Hard for me to narrow down favorites on sale from PB (basically just check out everything in my house.. ha) but especially excited about these items below!

–
Christmas shopping for two teen girls so I've spent some time logged on to this website this weekend!  They have so many fun things for boys too, but I'm featuring favorites that I'm looking at this year below. :)

–
I love Serena and Lily but it's a pricey place to shop!  I always wait for sales when I want something from S&L and this is the BEST sale they have every year.  Clearly I gravitate to all things neutral, white and navy from this store! :)

–
McGee and CO is another place I'm obsessed with but wait for sales.  I've been so impressed with everything I've bought on-line from this store.. always worth the splurge for those few stand out items!

–
I've already shared so many favorites from Nordstrom!  A lot of them are linked throughout this this Black Friday post if you missed them!  Here are a few more fun items that were recently marked down..

–
I'll try to add anything else I see during the day that's an amazing deal on something I love/use so check back!  I didn't have time to go through Anthro (they have 30% off and free shipping today!) and Crate and Barrel is having a great sale too.  So is Wayfair and I shared so many fun Wayfair favorites on sale in this post yesterday if you missed it!  I'm sure there are more fun items I'm missing, but I hope that helps give you a few more gift ideas!  Happy on-line shopping. :)

Free printable of the paint colors throughout my home!
Enter your name and email address to get instant access to my paint colors along with other free organizing printables. More will be coming soon!
Exclusive to subscribers!