Happy Thanksgiving everyone!  You know what makes me so happy?  When I send out a blog post to those of you on my e-mail list and I get back all of the "out of office" replies.  There's probably a way I could make it so that I don't get all of them, but I haven't looked into it because I love getting them in my inbox!  It makes me happy to know so many of you are "out of the office" and taking time off for the holidays.  I sit and delete them all with a big smile on my face.  Kenny thinks I'm so weird… ha.  But I love knowing my blog friends are taking time off!  So I hope you're all out of the office and enjoying your day today. :)
*affiliate links used
We traveled over the river and through the woods to grandma's house and are so happy to be with family!  We got in late and my cute mom surprised the kids with new beds and bedding for all the cousins.  So much fun!  She got these darling Pintuck duvet covers on Amazon and then picked up some cute Christmas blankets at Home Goods.  (Ignore the horrible lighting!  Snapped these quick at night with my phone before the kids got in bed.) 
The boys got sloth blankets and stuffed animals.  :)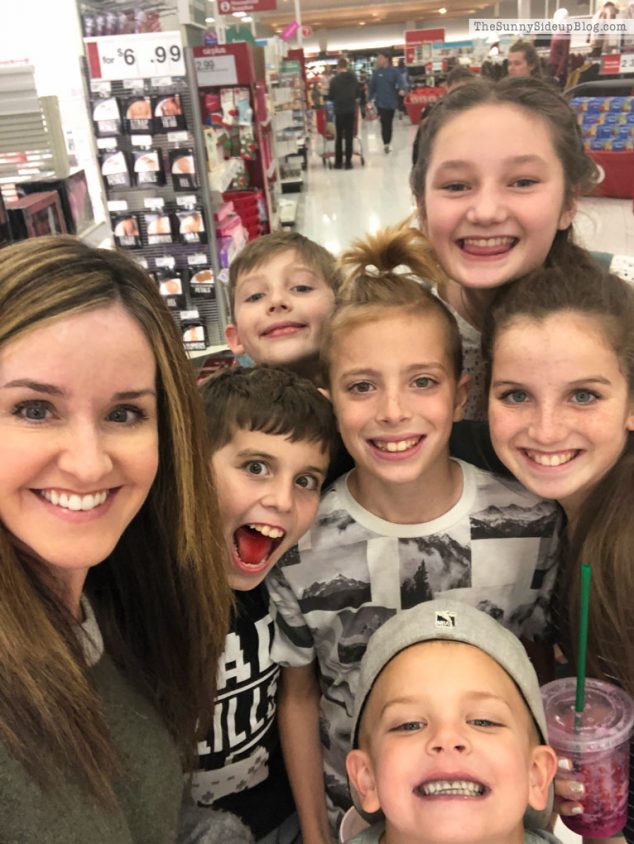 My mom was doing a lot of food prep so I volunteered to take the kids to Target.  Oh my WORD.  That was an adventure!  I felt like I had 300 kids with me!  Ha.  I told them they could all pick out a surprise from Aunt Erin and it was madness keeping them all together.  (Snapped this waiting for El to get some make-up.)  We came home with colorful teeth from slurpees, all sorts of surprises and new pjs.  I fell on the couch from exhaustion didn't move for an hour after.  Attempting to be a fun Aunt is not for the weary. ;)
I snapped this pic in my closet when I started packing.  I was so excited to pack all of my recent favorite sweaters because it's COLD in Utah right now.  A storm is coming and we're crossing our fingers we get a little snow!
I've shared some of these sweaters, but haven't had time to take pics of them all so here are links to all of my recent favorites! Some of them are marked down.  YEA.


I can't wait to wake up tomorrow to the Macy's Thanksgiving parade on TV.  We always start Thanksgiving day at my mom's in pjs next to the fireplace watching the Macy's parade.  So fun to lounge all morning with my brother and sister and their families.  One of my favorite days of the year.  I hope you all have a wonderful Thanksgiving day!  I'm truly so grateful for all of you, your friendship and your support of my blog.  It means so much to me.
I put together a fun holiday gift guide for all of the women in your life!  Basically it's 10 things I have and love or want this year. :)  Below the gift guide are links to some of my favorites that are already on sale.  So many good deals!
1 – TULA Glow Getters Set – I ordered this a couple of weeks ago and am loving it!  It includes my favorite eye balm I mentioned in my 2019 Favorite Things post and I love the primer (almost gives your face a little mini tan!).  Such a great deal and would be a fun gift!
2 – Tory Burch Leather Shoulder Bag – Might have ordered this one to me from me this year!  Such a classic, beautiful purse and 50% off!  I love this TB purse too.  There are so many beautiful Tory Burch items on sale this weekend!
3 – You've seen this in my home before.. I love this gold mirror tray!  I get most of my decorative trays from West Elm (love these too) and they always look so good styled different ways.
4 – North Face Fleece Jacket – I have this fleece jacket and it's so warm and comfortable!  Also on sale this weekend!
5 – Nudes Lipgloss Kit – Bobbi Brown lip gloss is my favorite!  I hinted to Kenny that I'd love this because all of the colors look like my favorite shades and it's such a good deal on this set!
6 – Gigietta Bootie – These Vince Camuto booties I got at the N sale last summer have become Fall staples.  Love them and they would make a great gift for a sister, mom, friend.
7 – Hanging Travel Toiletry Bag – I ordered this and can't wait to get it!  I've been looking for a new travel bag for make-up and after a little Amazon research I decided this looks like the best!  I'll share it in stories when it comes if I love it! :)
8 – Barefoot Dreams Blanket/Items – The Barefoot Dreams blanket is on sale!  Pretty much anything Barefoot Dreams is a great gift idea and you can find their fun items here on Amazon or here at Nordstrom.  Robes, Cardis, Blankets, Socks.. ALL amazingly soft and cozy!
9 – Ugg Robe – Speaking of soft.. you can't go wrong with Ugg and this short robe looks perfect to put on after a shower.  I would love getting this as a gift!
10 – Ugg Slippers – These Ugg slippers look so cute and come with amazing reviews.  I'm in love with them in pink or grey!  This cute similar slipper with the pompom is on sale and also adorable.
You can also check out my Gift Guide for Her from last year!  SO many more fun gift ideas.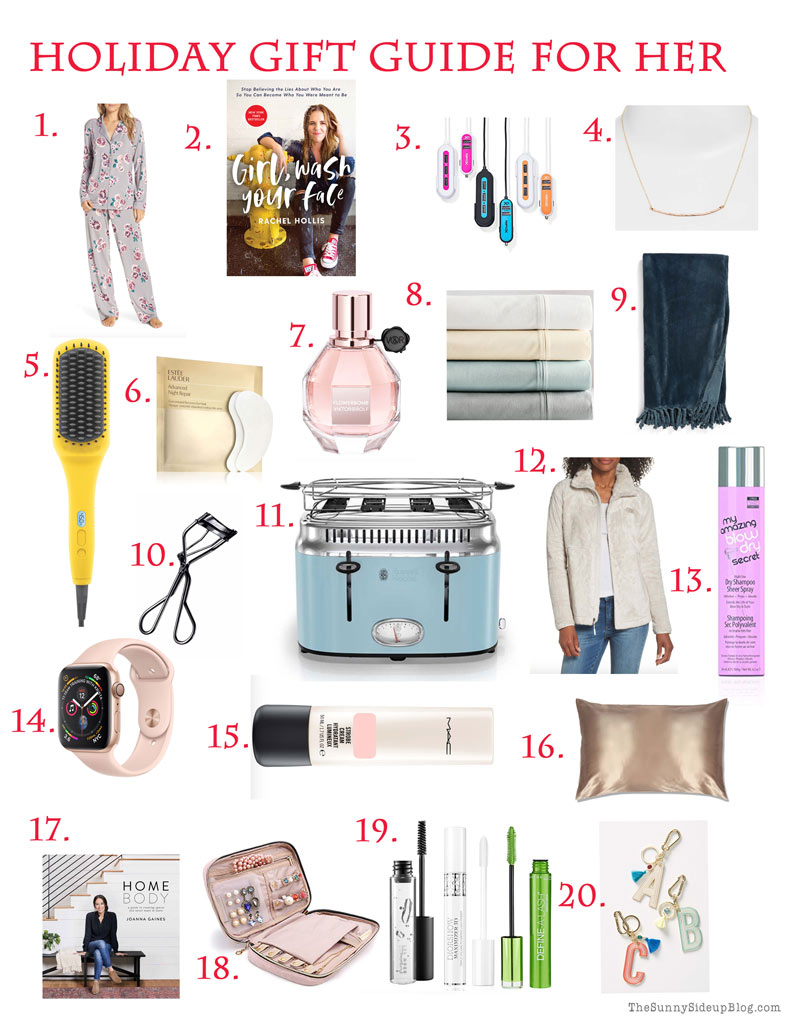 Below are some other fun favorites that are already on sale!  Happy early holiday shopping and eating this weekend!   I have LOTS to share with you all so I'll be back soon. :)







xoxo, Erin