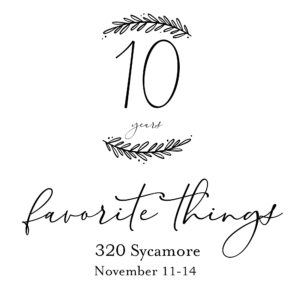 I'm so excited for today's post!  Sweet Melissa from 320 Sycamore has rounded up a fun group of bloggers and we are all sharing our favorite things from this year!  You all know how I feel about favorites.  It's the best feeling when I find something that makes my life better, easier, or just more fun and I immediately want all of my friends to know about it too!  I hope this post gives you some fun gift ideas.  I have more fun gift ideas for everyone on your list coming soon (and lots of Christmas decor!) so if you haven't subscribed to my blog yet do that HERE so you don't miss a post!  You'll get all of my paint colors, a free holiday planner and access to lots of fun organizing printables.  They are all favorites too. ;)
Without further rambling from me.. here are my 2019 favorite things!
*affiliate links used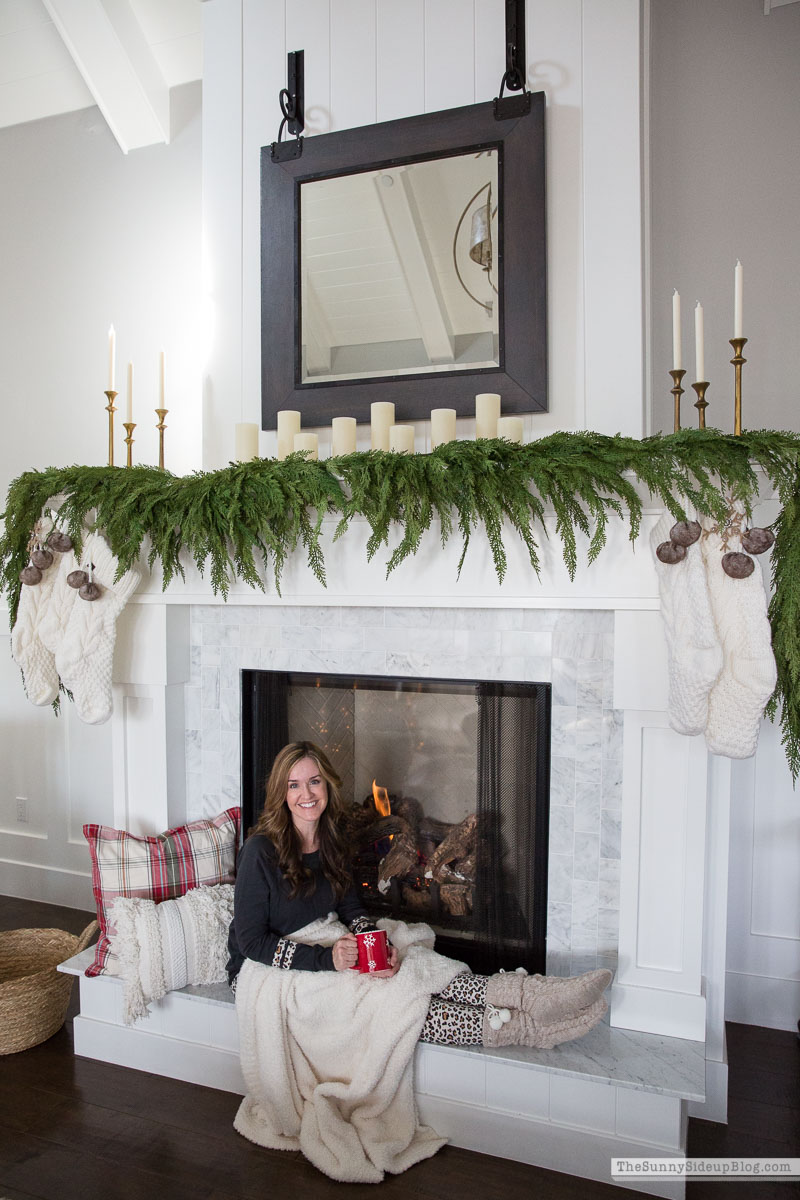 (You can find my mantel sources and how I attached my garland here and my cute new thermal pjs here!)
Still waiting on my wreath to come so that I can finish decorating this fireplace, but that doesn't stop me from chilling here in the cold mornings after I drop my kids off at school!  Hot chocolate in hand of course because it's 68 degrees in San Diego.  Brrrr. ;)  Don't worry about me though.. I can handle the frozen tundra that surrounds me because I have my Barefoot Dreams Cozy Chic Throw and my long time favorite Pom Pom Fleece Lined Socks (so many fun colors this year!).  I have to say that I hesitated buying this throw for years because of the price!  I kept hearing how amazing it was but it's so expensive for a blanket.  I bought it during the N sale last summer and loved it, but still couldn't decide if it was worth the price.  Well now that the temps are cooler guess what throw EVERYONE in my family is fighting over?  It's so good you guys.  So soft.. so warm.. so cozy.  It's a splurge for sure, but it's the gift that keeps on giving.  I've actually been hiding it in my bedroom lately and just pulling it out after my kids are asleep because I want it all to myself!  (My new pjs are so cute and cozy and such a great fit!  Yes.. I bought something leopard AND decorated a neutral Christmas tree.  Who even am I right now!?)  Ha. ;)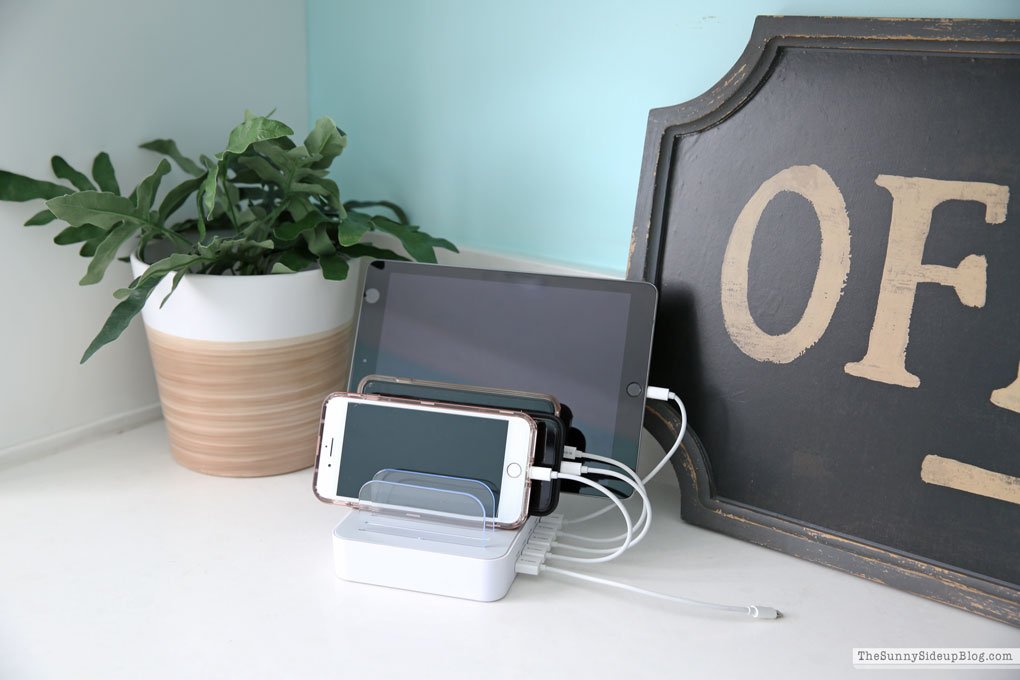 Multi Device Charging Station – This charging station has become a staple at our house!  So nice to have one central spot we can all charge our devices.  (I bought extra cords that worked for our needs!)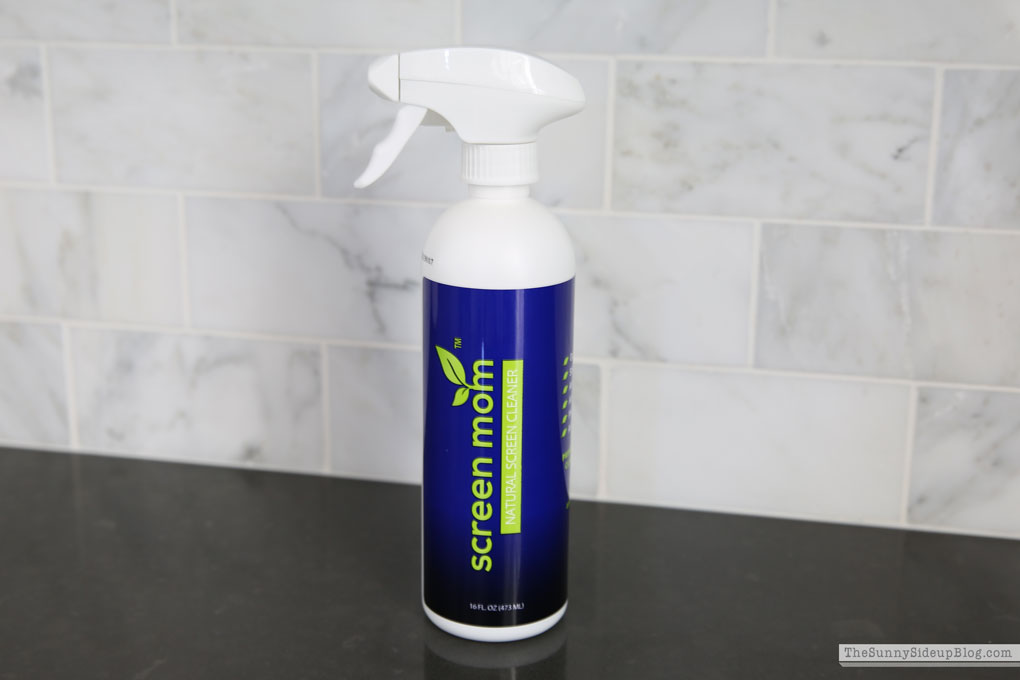 Screen Mom Screen Cleaner – Now that your devices are charged it's time to keep them clean. :)  I love this screen cleaner and use it every day!
Magic Bullet Blender – You all know that I lack major cooking skills and to be honest, sometimes kitchen appliances scare me.  But this!  This cute little blender I can handle!  It's so easy to use (my kids use it all the time too!).  So simple to toss in some fruit and make a quick smoothie for a snack or breakfast.  Addison loves to use it with this Pina Colada mix.  You just add ice and press the lid down to blend!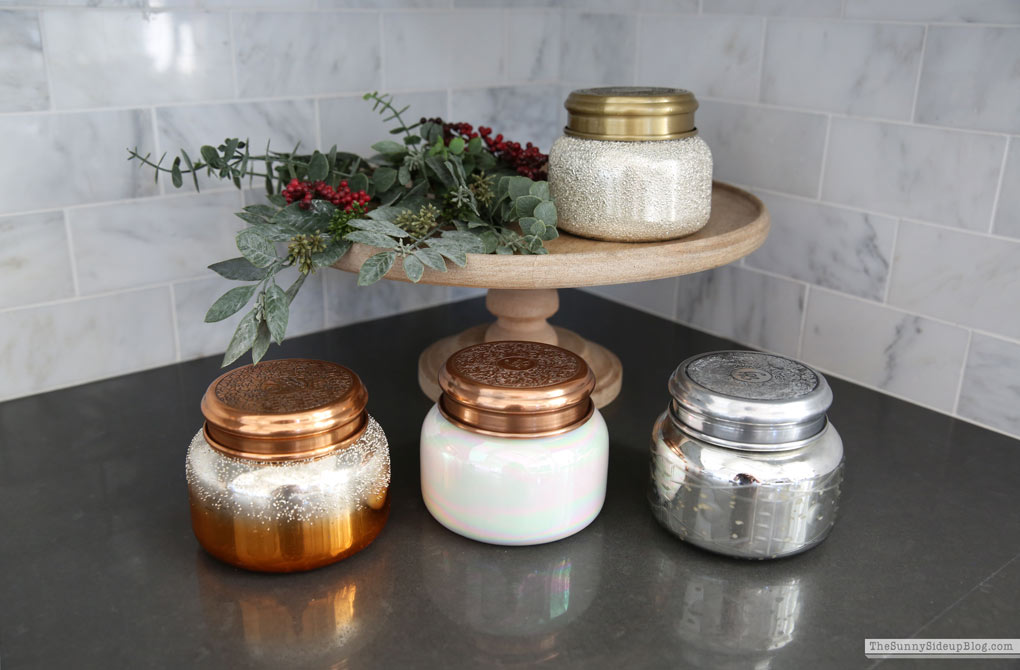 Capri Blue Candle – My love for this candle runs DEEP and I have more than I dared photograph!  But you all knew that. ;)  This candle and this candle are my favorites for Christmas!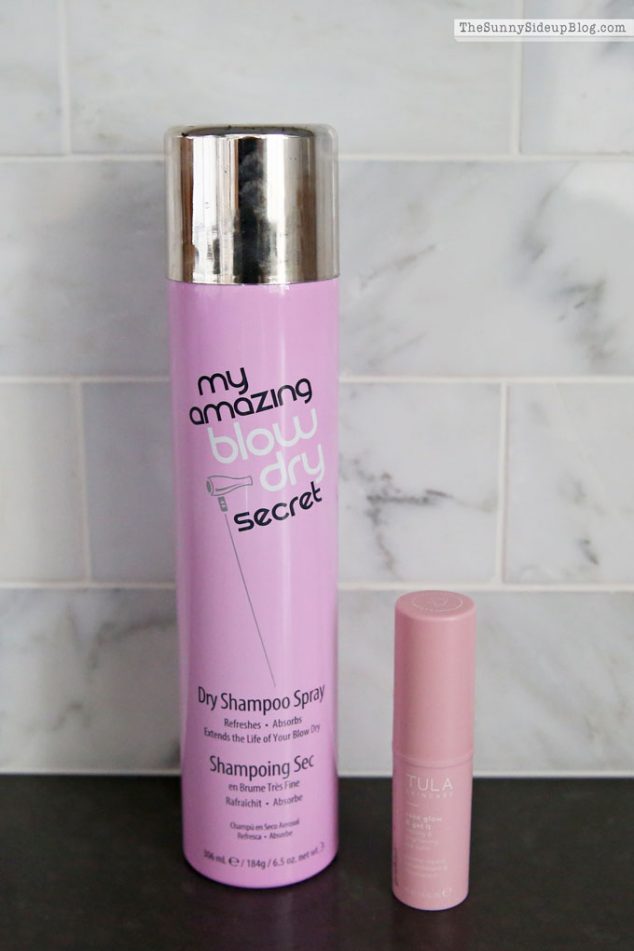 My Amazing Blow Dry Secret &  Rose Glow Brightening Balm – These are the two things I seem to be reaching for every single morning!  My favorite dry shampoo (so great for adding volume and life!) and the Tula Brightening Balm is the best for brightening dark circles and puffiness under your eyes.  Perfect for bloggers who stay up way too late writing about favorite things and their eyes tell the story the next day. ;)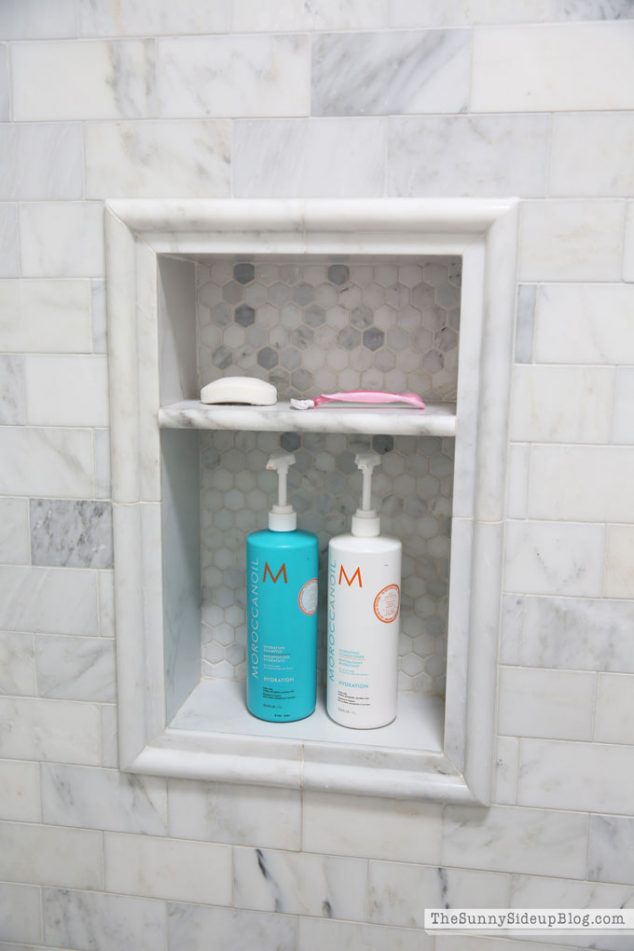 Moroccan Oil Shampoo & Conditioner – my all time favorite shampoo/conditioner after trying what felt like hundreds!  The set I linked would be a perfect Christmas gift because it comes with some of the Moroccan oil too.  I love using the oil when I straighten my hair.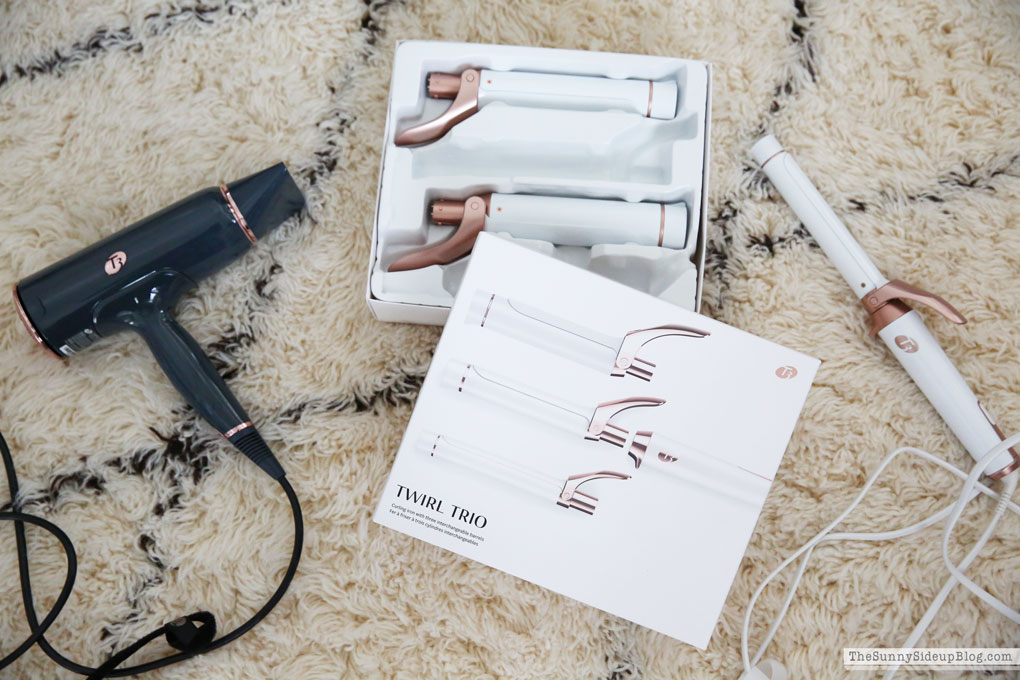 T3 Curling Iron Set  &  T3 Cura Hair Dryer – I can't talk about hair care without mentioning my all time favorite curling iron and blow dryer.  Once you've used T3 beauty tools you won't want to stop!  I love the curling iron set with different barrel sizes because I use all three of them and I prefer the curling iron over the wand.  Just my personal preference!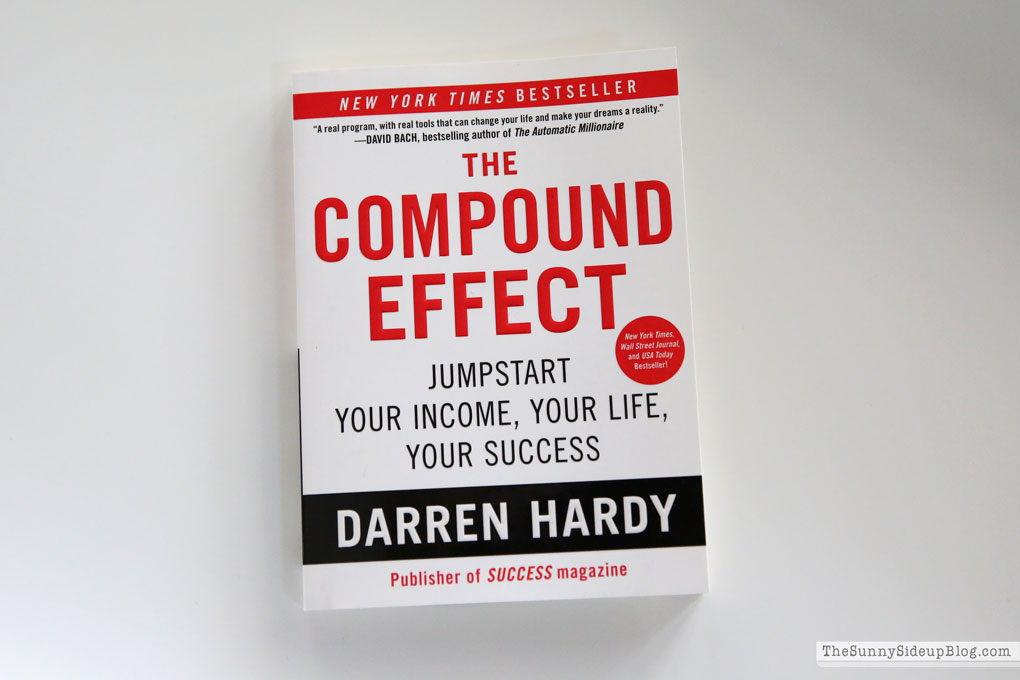 The Compound Effect –  You guys!  This is my favorite book from 2019!  And I read so many.  I actually should say I listened to so many because I drive my kids around for 88% of my day.  Audible and podcasts have become my best friends. :)  I'm a sucker for time management/motivational books and I heard this was good, but the title (jumpstart your income, life, success) made me wonder if I would like it or not.  Oh my word.. I LOVED it!  I don't think a book has ever motivated me so much in my life!  And it's really not about making money (I feel like the title is misleading!).  It's just about how the smallest choices we make can compound over time and have such a huge impact.   It's about gratitude, living your life to the fullest, taking responsibility for everything in your life, setting good habits, etc.  I feel like everyone should read this book.  I'm making my kids listen to a few of the chapters!  And I made my husband read it and now my parents are reading it so we can discuss it over Thanksgiving break.  Because I'm nerdy like that. ;)  Just trust me.. read it!  And then tell me what you think. :)
Ugg Slippers & Chunky Wool & Jute Rug –  I LIVE in these slippers!  Honestly the coziest to slip on in the house.  I stocked up for gifts.  They come in lots of cute colors!  My family room rug is also a favorite!  I know if you read my blog you're sick of hearing about it, but I can't let a favorites post go by without mentioning it.  If you're new to my blog and haven't heard me go on and on about it yet, you can read more about it here.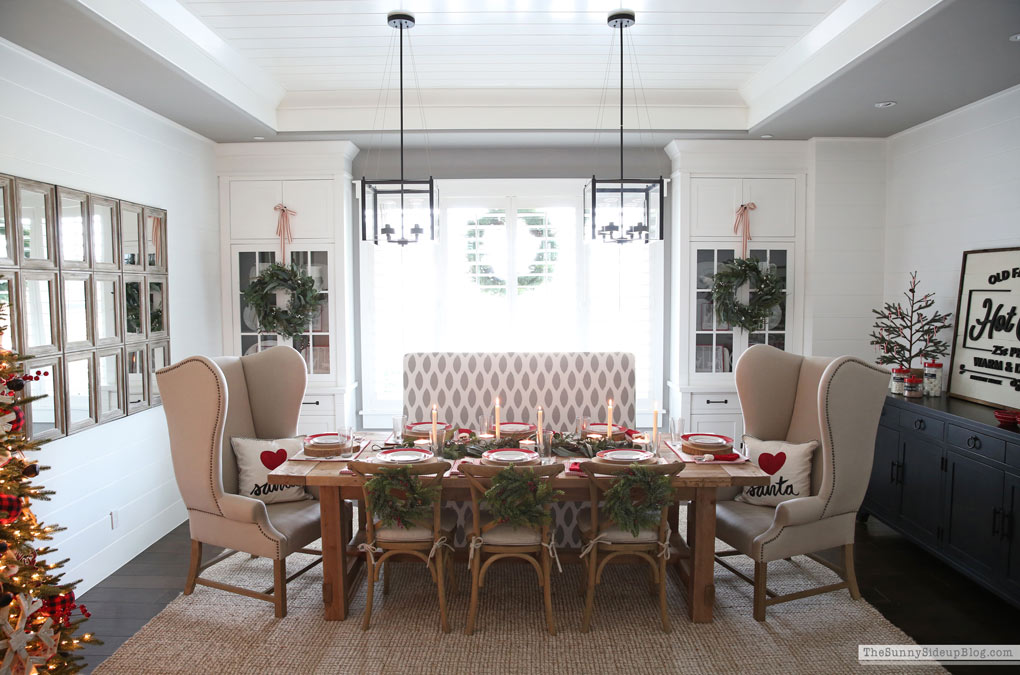 I have the same rug in my dining room!  I love it THAT much. :)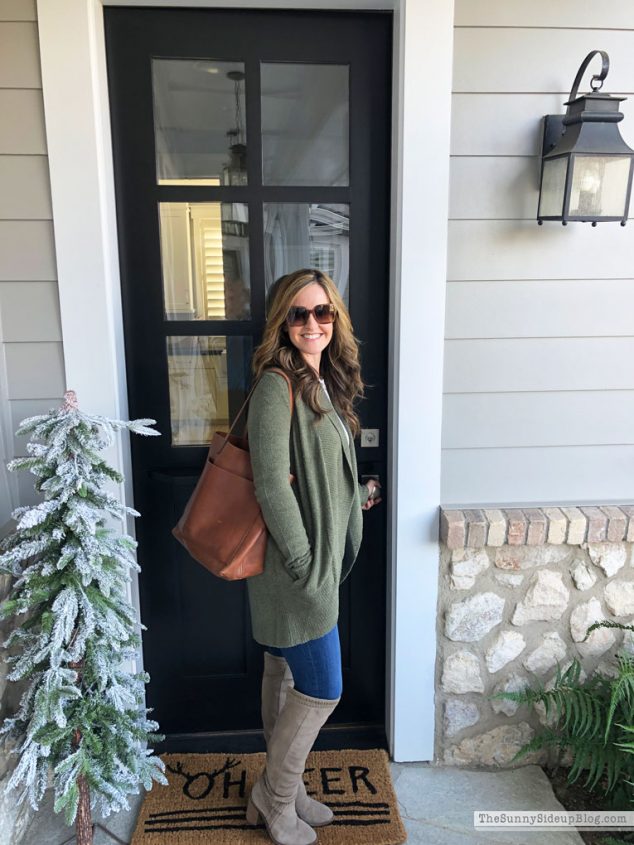 (ribbed sweater/Madewell tote/AG jeans (on sale!)/similar boots/flocked tree)
Barefoot Dreams CozyChic Lite Circle Cardigan – If you aren't going to get the Barefoot dreams blanket at least consider the cardigan!  It's the coziest article of clothing you'll ever own!  I have two of them (olive and stone) but there are so many fun shades to chose from.  I dress them up with jeans, but most of the time I wear them with pjs at home, or to run to the grocery store over my workout clothes or over my pjs to drop kids off at school.  You won't want to take it off!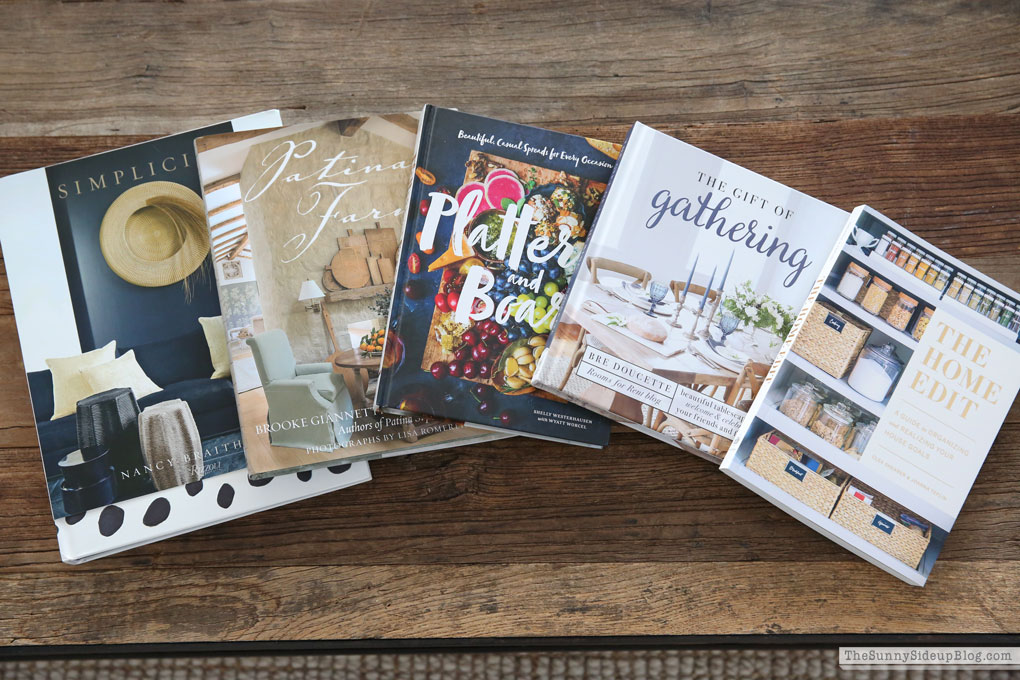 Simplicity, Patina Farm, Platters and Boards, The Gift of Gathering, The Home Edit
I love coffee table books!  I love to display them in my home and using them to decorate.  I also love a cozy evening at home flipping through a beautiful and inspiring book!  These 5 books are my favorites from Oct-Feb and each one would make a beautiful gift for someone who loves decorating, entertaining or organizing.  I'll take them all thank you very much. :)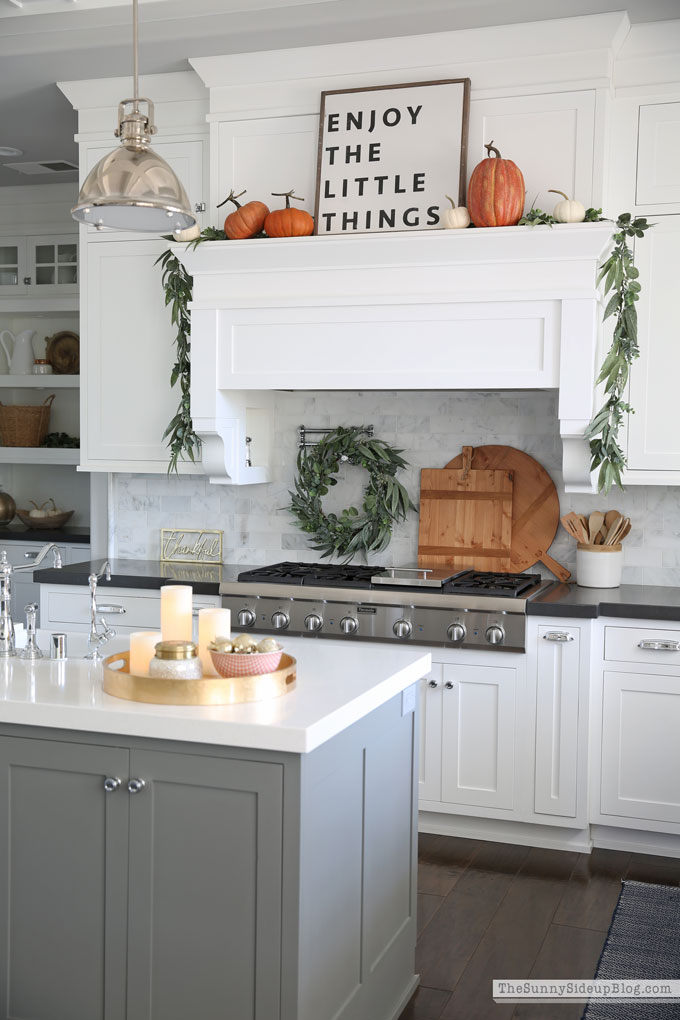 Cutting boards – Couldn't love them more!  They are always in my decor and I use them every time I entertain.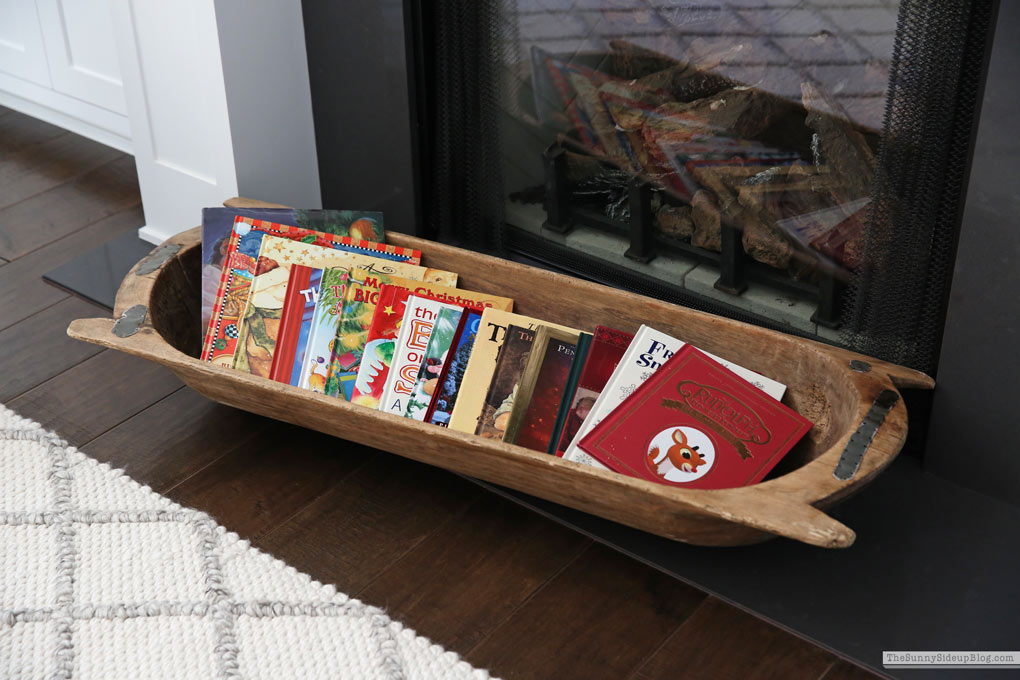 Wooden Dough Bowls – I also love dough bowls for decorating and the set I linked is a long time favorite!  I have each of the 3 sizes and there are endless possibilities of how you can use them in your home.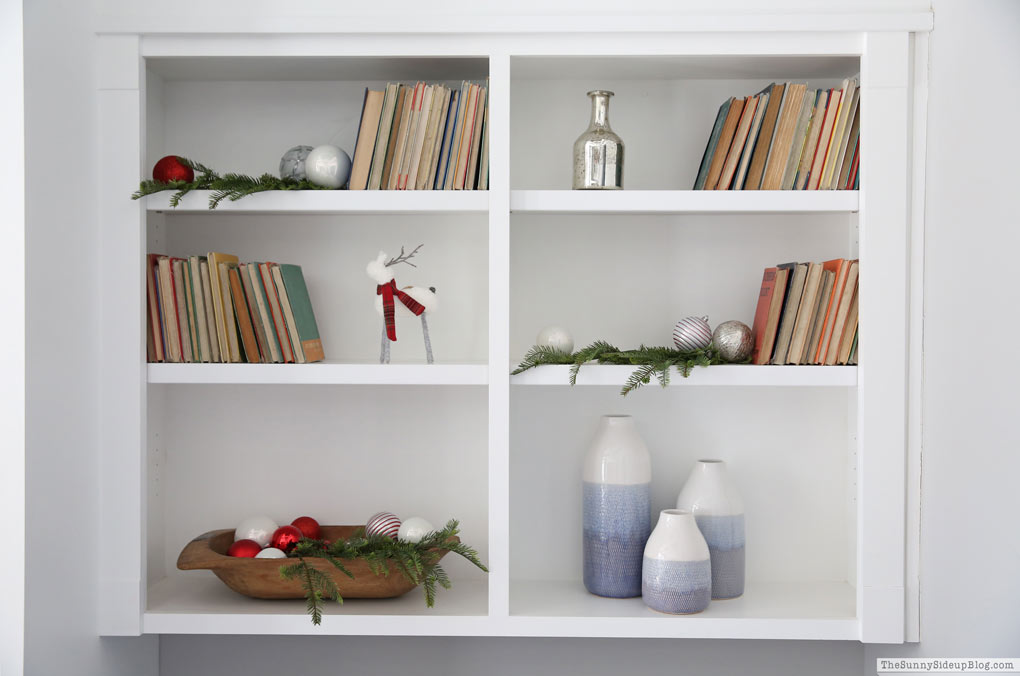 The dough bowl on the bottom left is the smallest size in that set and the one I use the most often.  I have several of them and no two look exactly alike!
Baskets – Baskets are another beloved item in my home and this set of Moroccan Woven Baskets is my all time favorite!  They are such perfect sizes and look beautiful next to a couch or chair or on a shelf.  The smallest size is perfect to hold some flowers or a plant or random items in your office.  I love giving them as gifts to friends.  Everyone can use a good basket. :)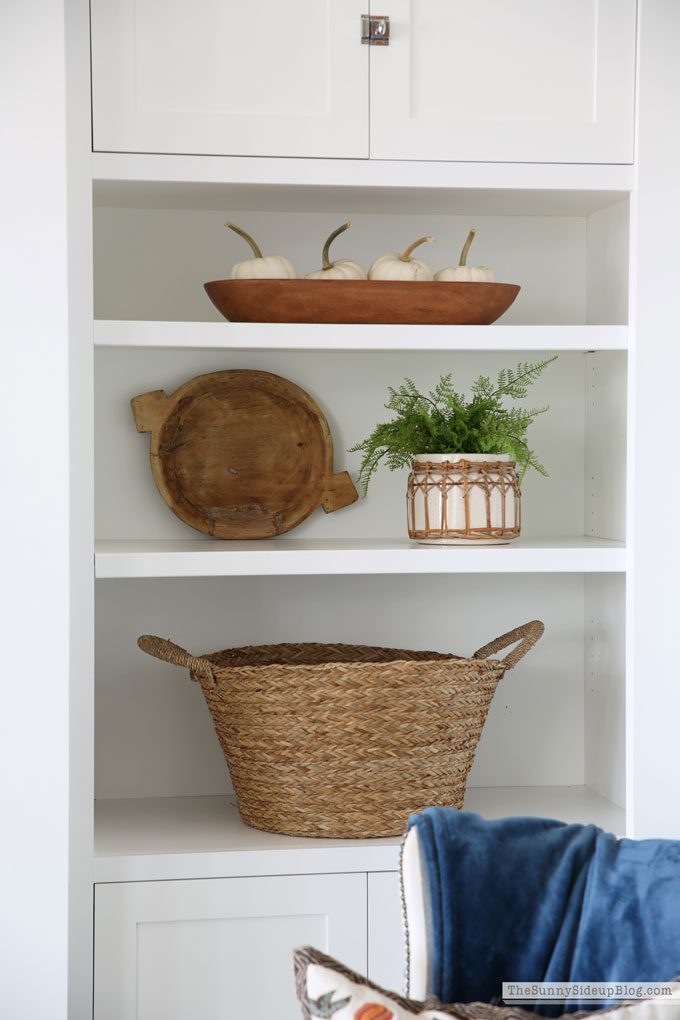 Well!  I could certainly come up with more but I think I've covered most of my tried and true favorite things from 2019.  So much fun.  I would love to hear about a favorite on your list this year!
You can see the complete list of everyone who is sharing favorite things here on Melissas's blog.  So many fun gift ideas!
Happy holiday planning, shopping, decorating and celebrating everyone!
xoxo, Erin