*affiliate links used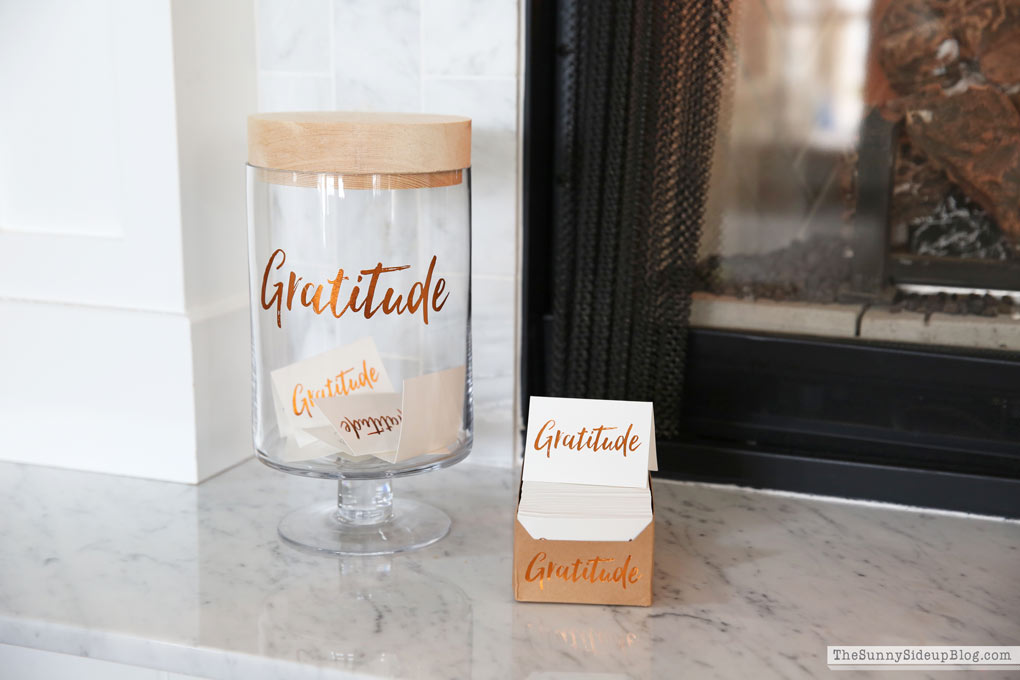 Want to know what I'm grateful for?  That it's Friday. :)  We made it to the end of the week!  I hope it was a good one for you!  I have to say that I'm a tad on the tired side.  I think all of the Christmas decorating in-between all of the every day life stuff wore me right out this week.  Very excited about an upcoming slow Saturday morning to recover!  I'm also excited to get our gratitude jar back in action again.  I pulled it out today and we're going to write down things we are grateful for during the rest of the month and read them at Thanksgiving.  This has become such a fun tradition!  I found two other cute inexpensive gratitude jar options here and here if you want to start this with your family.  I always tell my kids to not write down the standard big things (health, family, etc.).  Obviously important to be grateful for those things, but I want them to really think about something unique and specific that stood out to them during the day.  I'm hoping this forces them to LOOK for little things to be grateful for each day.  Those small moments of gratitude are there if they just look. :)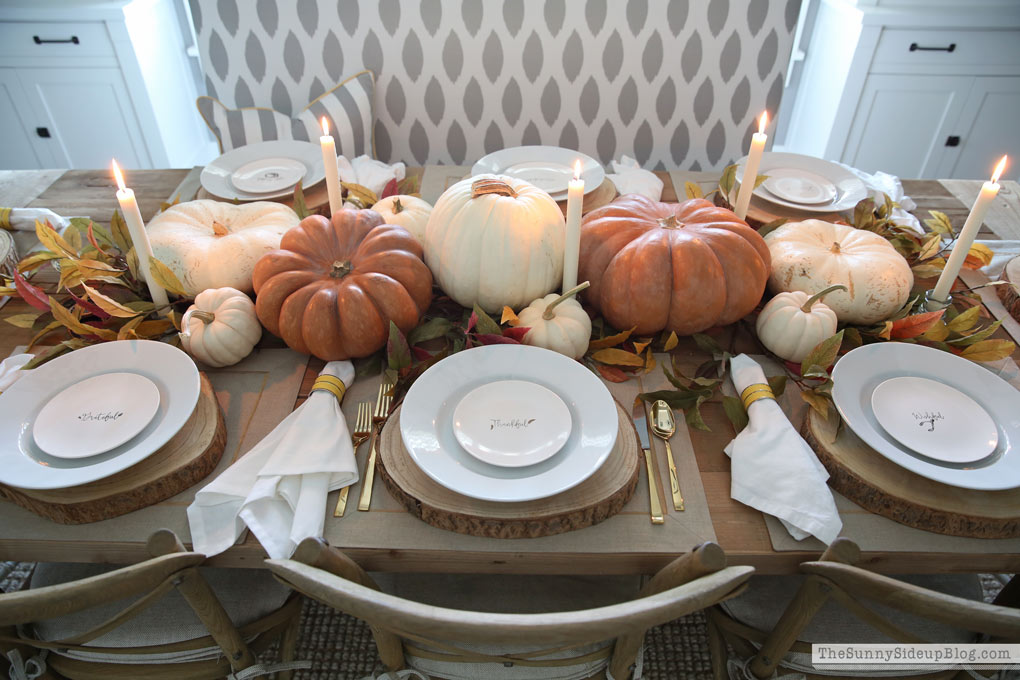 Anyone else get to Thanksgiving and have a plethora of pumpkins hanging around?  In past years I've taken the pumpkins off of my Fall mantel, porch, etc. and made a fun tablescape with them.  I've done this for Thanksgiving dinner when we've stayed home and on the years we were traveling for Thanksgiving I just had a fun Fall lunch with girl friends!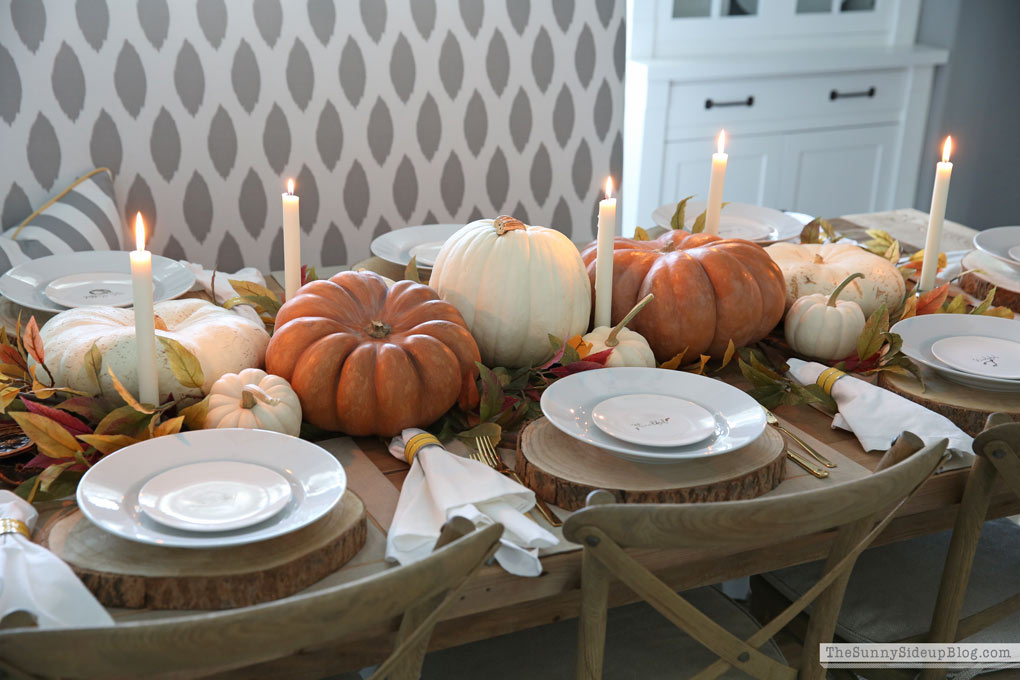 I order and pick up salads and soup and nobody seems to notice that I didn't spend hours baking because the table looks so cute and cozy.  My trade secret. ;)
I thought I'd share this fun tablescape again if any of you are planning on hosting Thanksgiving or a random Fall lunch/dinner.  All sources are at the bottom of the post and most items including my favorite Fall placemats are on sale!
Another trade secret of mine?  I've gotten really good at making store bought desserts look homemade.  I'm seriously known thoughout the land in our area as having the best "homemade" chocolate chip cookies ever.  My girls' friends think I'm amazing!  Hello.. they are Toll House!  I just pop store bought dough in my oven and bam.  I'm a legend.  I told one of Ellie's friends once when she was raving about my cookies that they were just Toll House and she said "well we've made those before at our house and they don't taste as good as yours do.."  Ha.  That's because I serve them on a cute plate.
It's all about the presentation my friends. ;)
Here's another quick and easy store bought dessert that I've shared before.
Pour hot fudge over a cheesecake…
Then chop up nuts and Reeces to place on top!
Wa-la!  Looks fancy right?  Takes 5 minutes.  You could get technical and make your own cheesecake.. but why?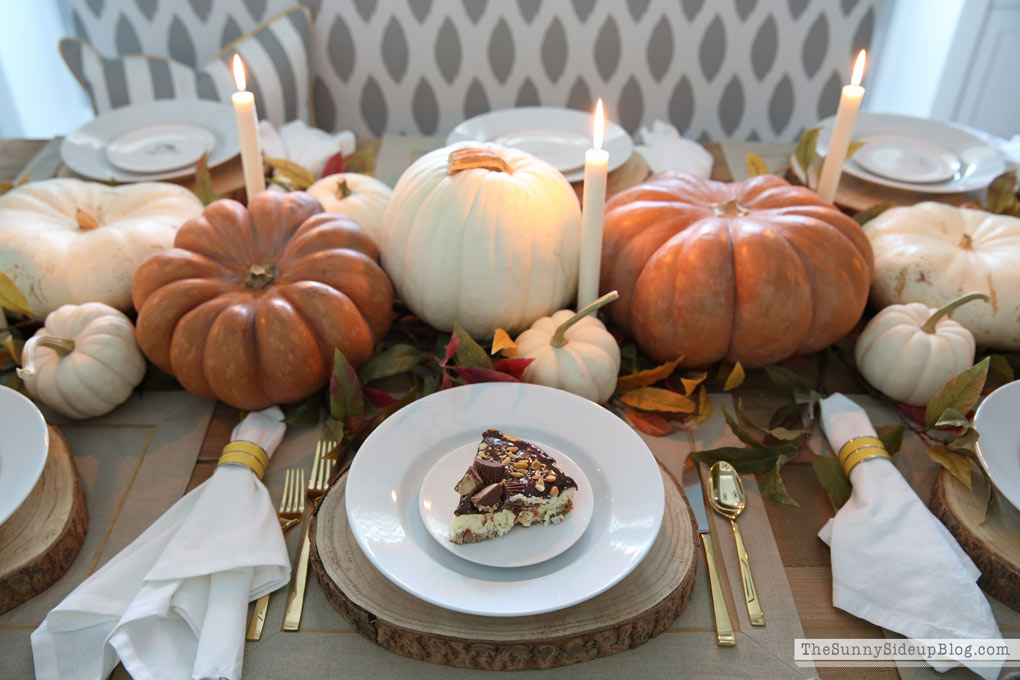 Love always, chef Erin.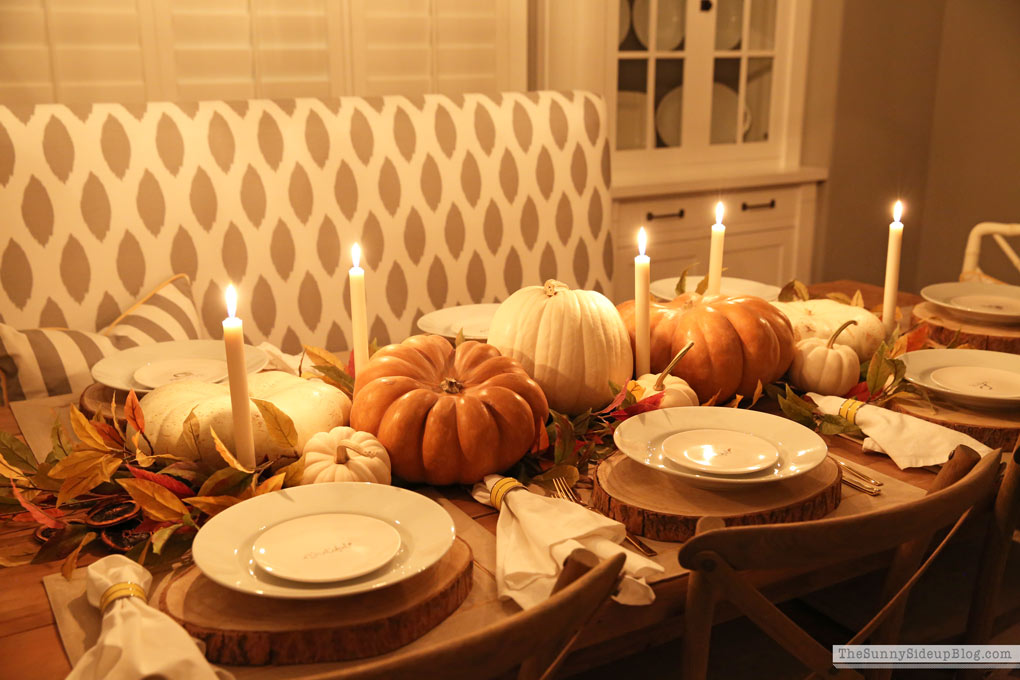 I rounded up some fun things below to help make your Thanksgiving feel extra special this year!  Most of these items are on sale right now and I've ordered some for our Thanksgiving meal.  Bring on the family, food, cozy pjs and Hallmark Christmas specials!  Can't wait. :)
1 – Cutest Turkey Salt and Pepper Shakers!
2 – I love this antique silver serving platter for the turkey or other special dishes.. on sale for such a steal right now!
3 – These Fall napkins are beautiful and come highly recommended!  I also love this cute set.
4 – My pumpkin plates are on sale!  I shared them in this post if you want a closer look.
5 – I love this set of gold flatware (gold is so beautiful for a Thanksgiving table!).  This set also looks like a great option.
6 – This "Turkey on the Table" book and activity set is darling!  Another fun way to start a Thanksgiving tradition sharing gratitude.  Would be especially fun on a table with young kids. :)
7 – I just ordered a set of these fun Fall Thanksgiving placemats!  So cute because they have different activities for the kids plus they can write what they are grateful for and color them.  I'm always in charge of setting the table and entertaining kids while the rest of the adults in our family help my mom cook Thanksgiving dinner.  No idea why.. ;)  but these will be perfect to entertain cousins while we are waiting to eat.
8 – Love this turkey serving bowl for soup or gravy!
9 – Another fun thankful jar option.  I love this one with paper leafs to write on too!
10 – These rose gold mercury glass pumpkins are on major markdown and so are these cute faux pumpkins I always display in my kitchen!
**If you're looking ahead to Christmas all of my favorite items I'm decorating with at the moment are here on my Favorites Page!  Happy holiday planning everyone!
{POST SOURCES}





xoxo, Erin