*This post is sponsored by Walmart and affiliate links are used. All opinions and product selections are my own!
You guys!  Our house is so seasonally confused right now.  Ha!  I have pumpkins and bats up in my kitchen, Christmas starting in our mudroom/family room and Summer decor still lingering in our powder bathroom/living room.  Ellie is having friends over for Halloween and I'm a little worried that they might walk in and think they've entered the Twilight Zone.  Either that or they won't even notice because.. teens. ;)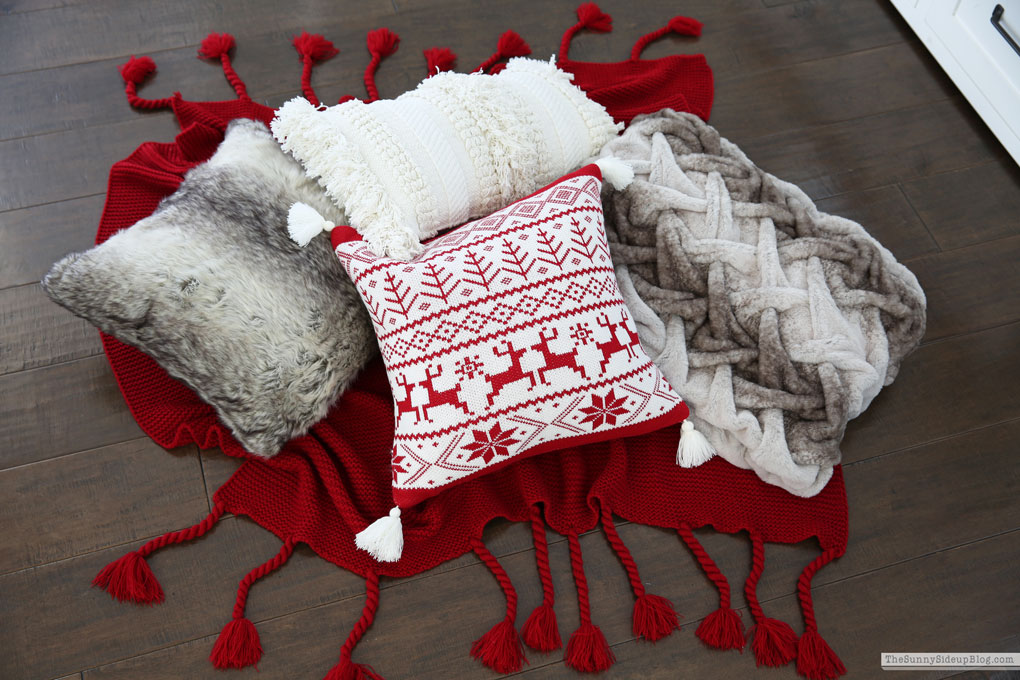 So I know it's Halloween week but ahhhh!  I'm so excited about today's post!  Walmart has released some new holiday items this year that are honestly so perfect!  Cute and cozy and such amazing quality for the price!  I ordered quite a few things on-line to check out thinking I would just keep a few items but I can't send anything back!  I was playing around with all of the fun pillows and throws I ordered and decided I'd let you help me choose.  And if you say keep it all.. well.. I'll have no choice but to oblige. :)  Below I've styled my mudroom bench three different ways.  Each of these combos would be so cute over any chair or couch or bench for the holidays!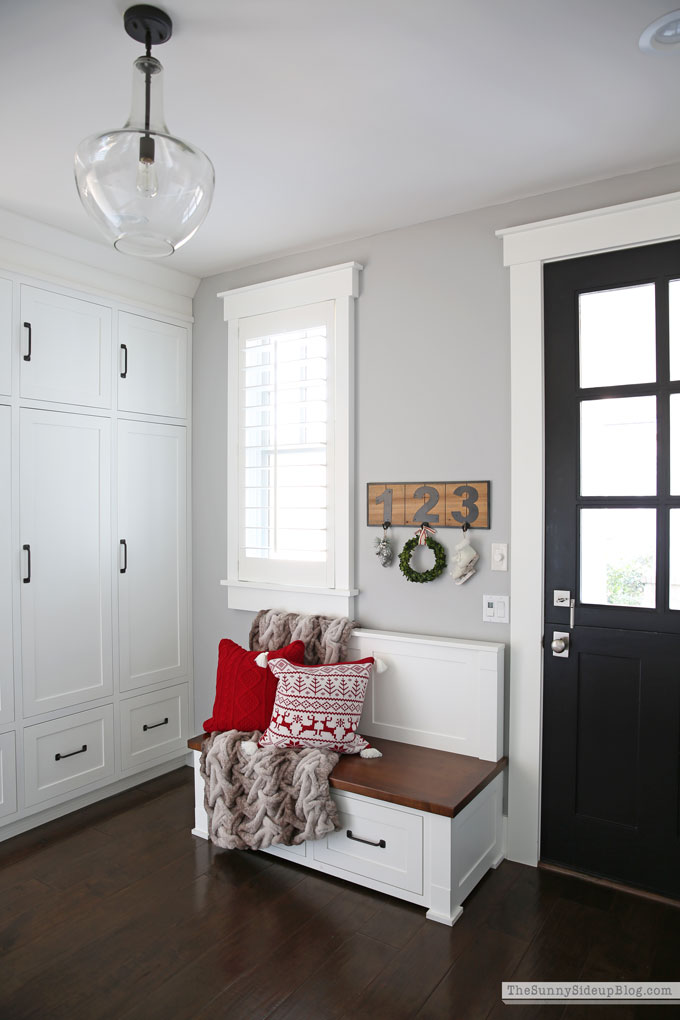 Combo #1!  K.. this Modern Braided Fur Blanket is honestly a dream!  So soft and cozy!  I'm definitely keeping this, but it will be parked on my couch corner where I sit every night.  I've already claimed it as my companion during all Hallmark Christmas movies this year.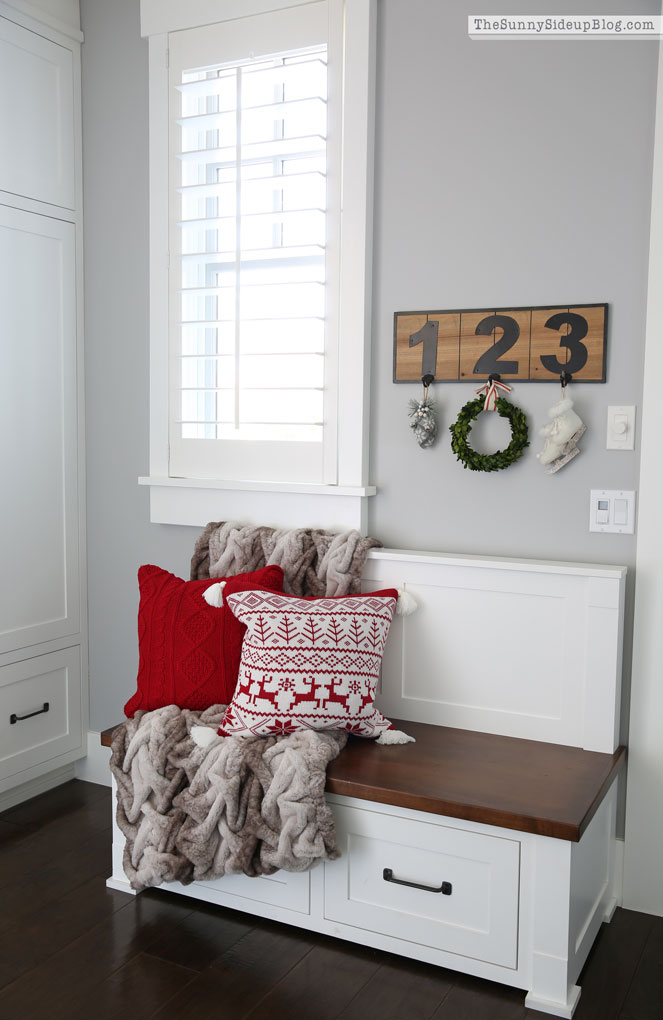 Looks so cute with red doesn't it?  This Red Knit Pillow and the Sweater Knit Tassel Pillow are just FUN for the holidays.
Is this making anyone else so beyond ready for all that is to come!?  I can hear Michael Bublé in the background.  He's singing It's beginning to look a lot like Christmas and my fresh pine candle is burning and the house is clean and decorated and I'm sitting next to the lights of my Christmas tree humming along without a care in the world.  Well.. there are cares, but in this fantasy I'm choosing to ignore them.  :)
Combo #2!  Isn't this Red and White Snowflake blanket adorable!?  One of my trees might be heading in a snowflake direction (I'll share more details on it soon!) so I HAD to have this blanket!  I love the ice-skates and people skiing and red tassels on it too.
I paired it with this Ombre Fur Pillow and Neutral Fringe Pillow.  Seriously.. these pillows are so nice.  I can't get over the quality for the price I paid for them.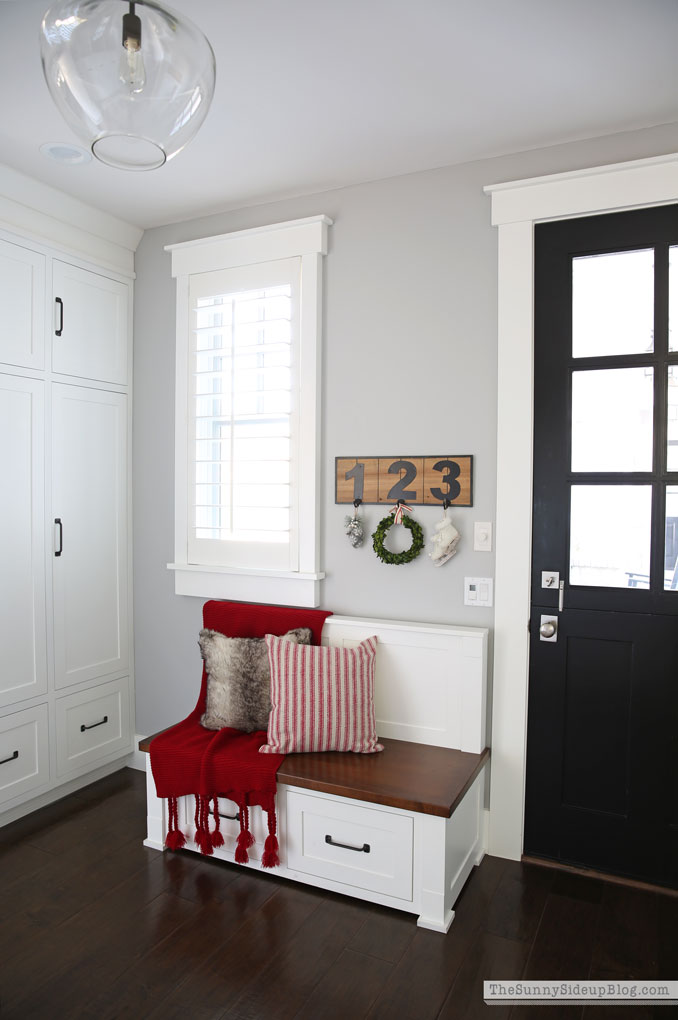 Combo #3 – This Kniteed Burgandy Blanket is a Christmas staple.  Perfect throw that looks great over any couch, chair, bench or at the bottom of a bed.  It has a beautiful texture and the long tassels could not be more perfect.  In my humble opinion. :)
I paired it with the large Ombre pillow and the cutest Red Ticking Stripe Pillow.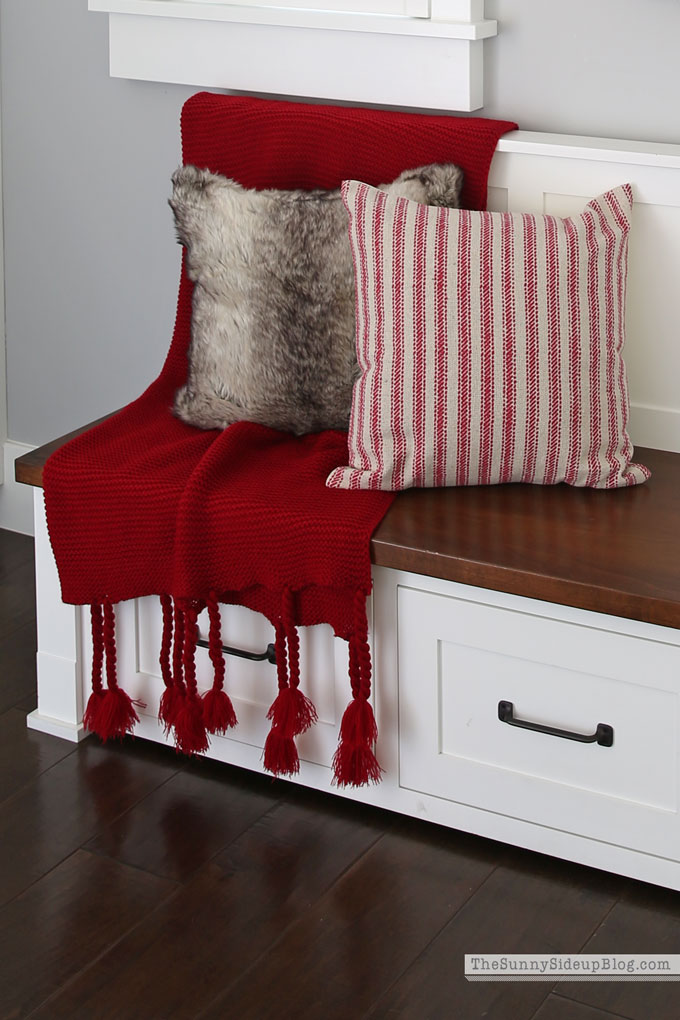 This combo might be my favorite!  Because stripes.  But no wait.. I love #1!  And #2.
Ok.  You've all convinced me.  I'm keeping it all.
Your work here is done. ;)
Honestly though I've saved the best for last.  Want to see something else I'm LOVING and so excited about for the holidays this year!?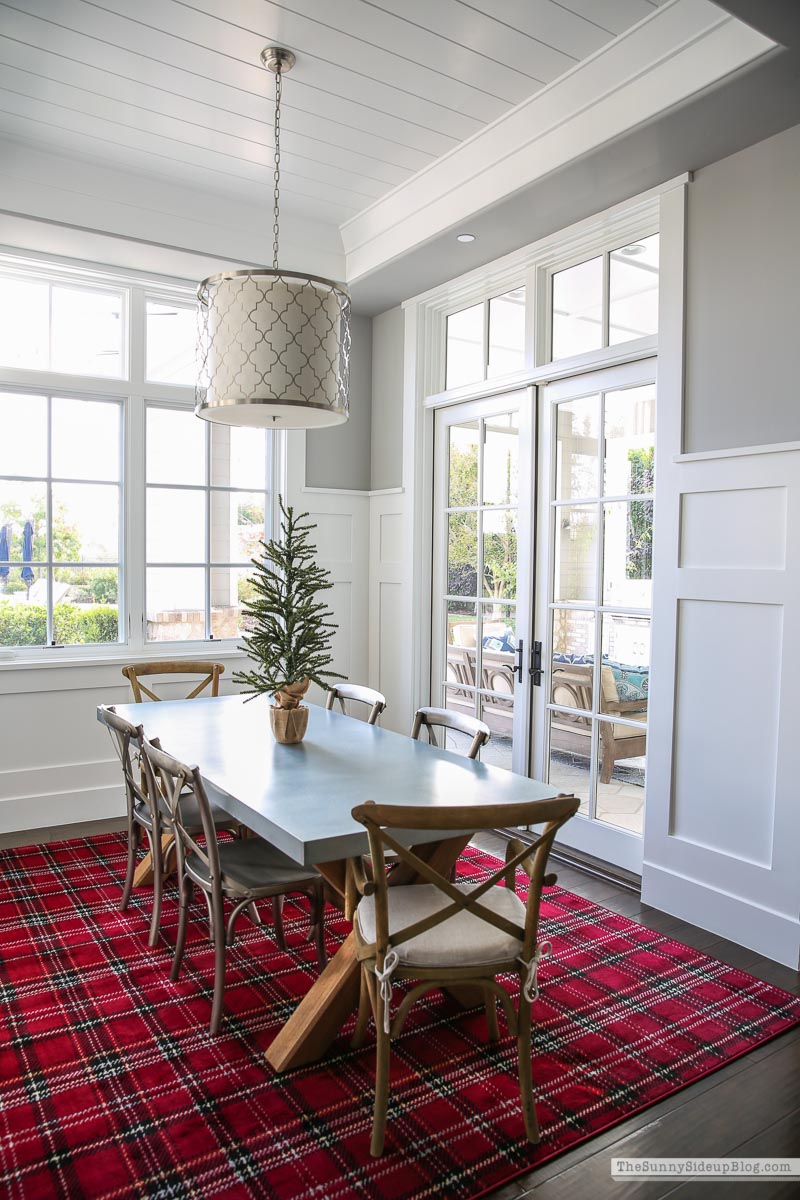 How much fun is this beautiful Plaid Area Rug!?  LOVE the pattern.  LOVE the traditional Christmas colors.  And I LOVE that it's honestly one of the softest rugs in my home.  It laid flat so nicely (no turned up corners!) and my kids have all each commented multiple times about how soft it is and can we please keep it up all year because they like it so much better than the rug I usually have in this space.  Ha.  I might have to move to a year long red color scheme because we will all be so sad to take it down after Christmas!  I haven't styled my table yet (I mean.. let's at least go trick-or-treating and take the bats down first) ;) but this cute green fir tree is working until I get around to it and will make a fun new addition to a console table or mantel at some point.  YEA!  I have so many fun ideas and can't wait to start implementing them all!  I told Kenny to get ready for the marathon I train for all year.  Christmas decorating baby!  BRING IT ON. ;)
Links to all of these fun holiday favorites are below!  If you love any of them I would seriously snag them fast because I have no doubt every one of these items will sell out fast.  You can see other cute holiday items from Walmart here.  I also love this plaid buffalo blanket, this white loop throw pillow, these Sherpa Queen/Full blankets (would be so cute for holiday bedroom decor!) this marble serving platter (perfect for entertaining and just $13!) and isn't this black and white checkered accent chair fun!?  Honestly Walmart has stepped up their game with home decor BIG time.  So many cute things!
Now back to rounding up all things Halloween.  I know I've got the accessories for Kole's costume somewhere.  Are they next to the Spring tulips in my living room?  The mums and pumpkins on my porch?  Or the Christmas throws in the mudroom?
Good thing my family loves me. ;)
1 – Fringe Pillow  2 – Red Striped Pillow   3 – Red Knit Pillow   4 –  Ombre Fur Pillow
5 –  Knit Tassels Pillow  6 – Rustic Ottoman   7 –  Berry Wreath   8 – Plaid Rug   9 – Fir Tree
10 –  Faux Fur Blanket   11 – Snowflake Blanket  12 –Burgundy Blanket
{POST SOURCES}



xoxo, Erin