We made it to Friday! Hands down my favorite day of the week. I love the anticipation of the weekend. So much possibility! Knowing it's coming is often even better than when it's actually here. ;) We have some really fun plans this weekend though so I'm especially excited to be finishing up a busy week.  More on that later!  Today I'm sharing a few things we've been up to around the house this week.
*affiliate links used 
Feeling Halloween ready!  Our Shiplap Display wall is decked with Halloween pictures again and it's always so fun to see past costumes.  My kids still love this so much!  (If you're new here you can find more details all about this fun shiplap wall and how I decorate it through the seasons HERE.)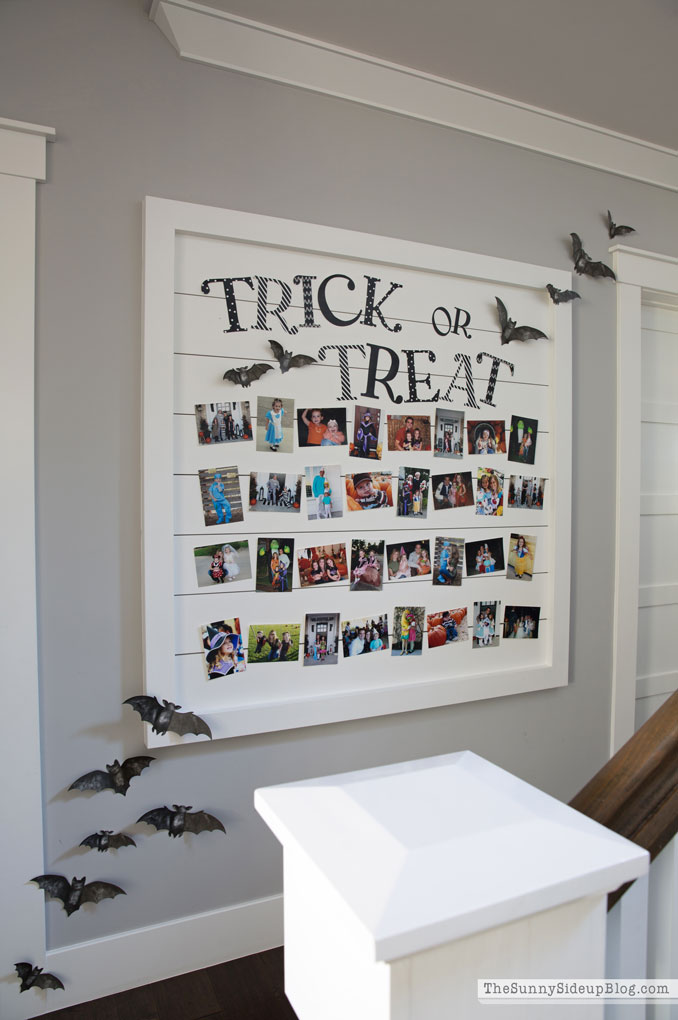 Kole is especially excited about our wall this year because I added some bats.  Yes.. Halloween decor INSIDE our house.  Who would have thought. ;)  Truth be told I was feeling a little guilty because I went with a Fall themed porch this year instead of the Happy Halloween porch Kole looks forward to so I added the bats in an attempt to make up for it.  #momoftheyear  #attempt3,548
I used these Martha Stewart Silhouettes and just stuck them up with my long time magic weapon.. wait for it.. painters tape.
If you knew what I was going to say bless you for being such a loyal reader. ;)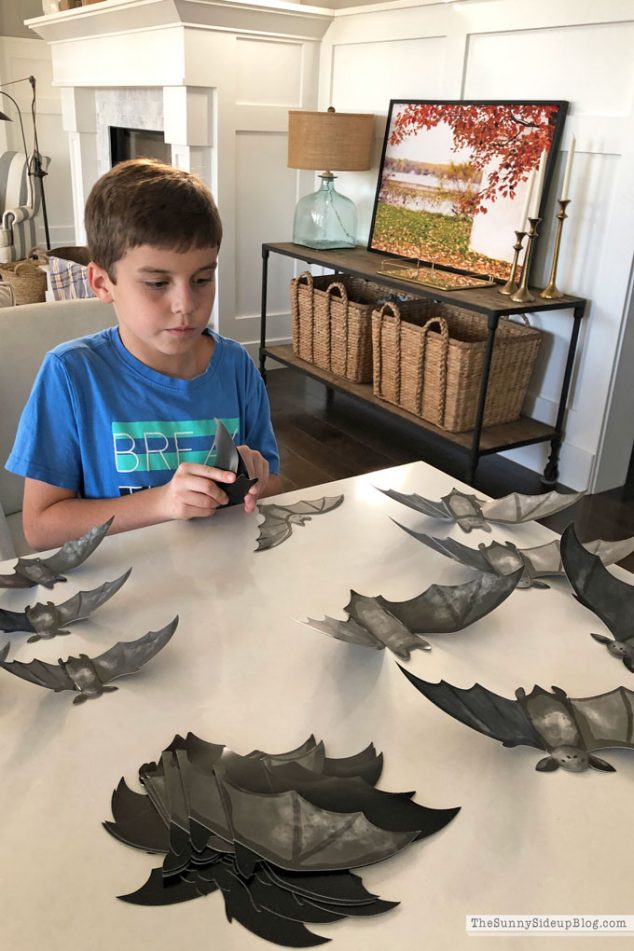 The bats were such a huge hit with my little buddy that I told him he could help me add more to the kitchen.  As you can see bat folding requires some pretty deep concentration.  Ha.
The two of us may have gone a little bat crazy.
They are basically all over my kitchen at the moment.  Across the fridge and freezer..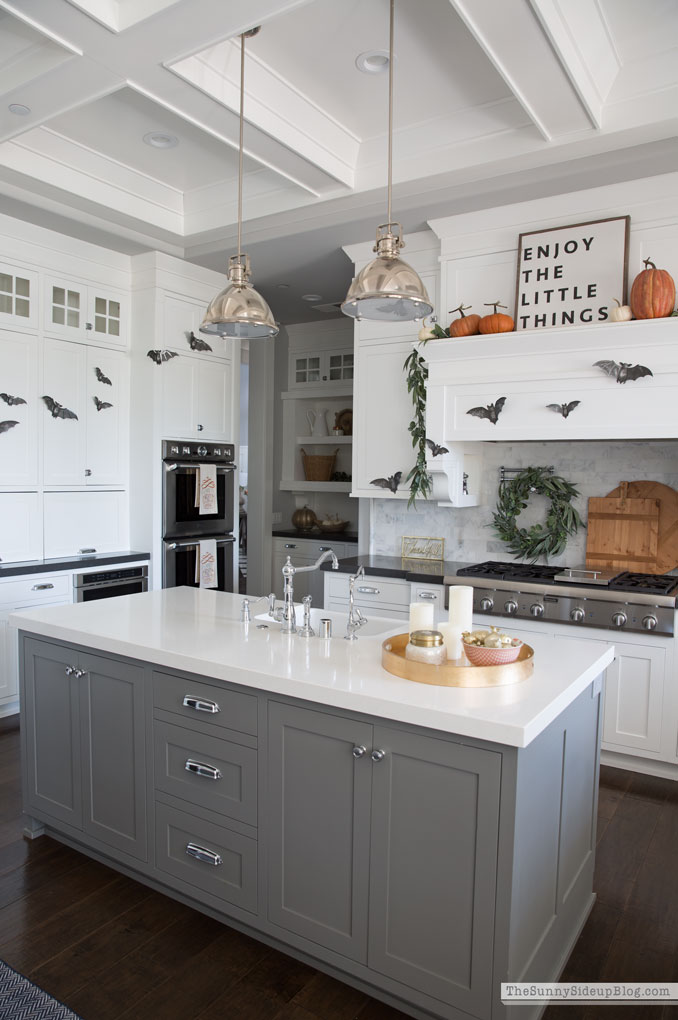 up the cabinets..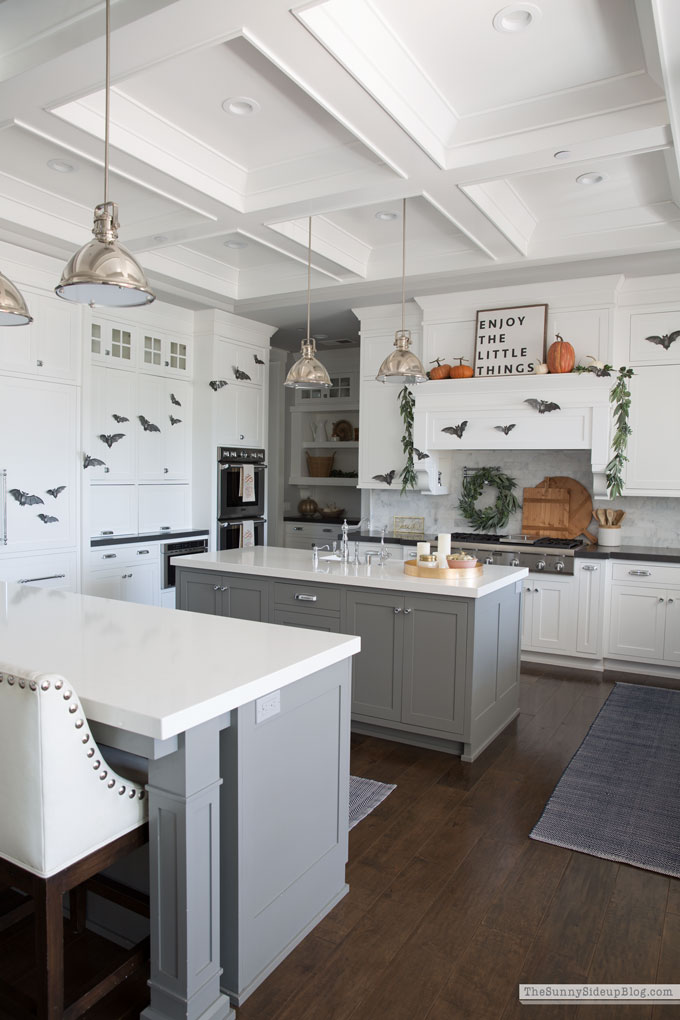 all over the range hood..
and up more cabinets to the right of it.
Kole is in 7th heaven and wants to leave them up through Christmas.
But I have a feeling that on Nov. 1st they'll have to fly off to their cave for an urgent bat meeting.  If they miss it they could lose their wings and that would be tragic.
#momoftheyearisoverrated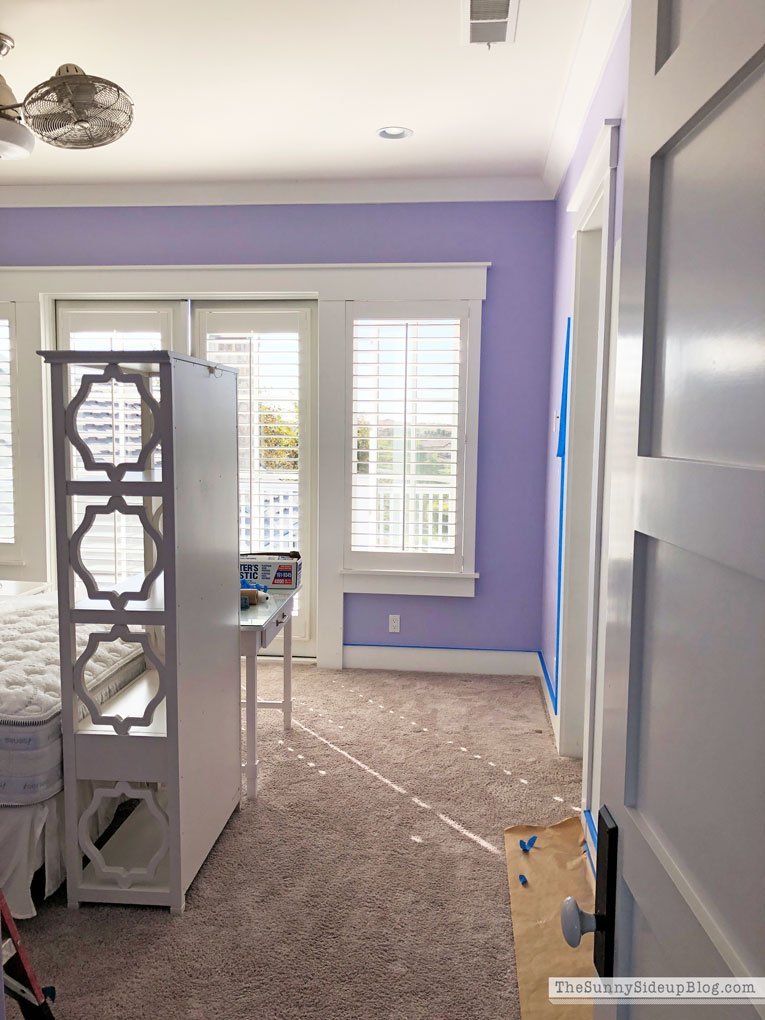 In other news I'm finally prioritizing Ellie's bedroom re-fresh!  I mentioned forever ago that we were planning on updating her room and I've ordered a few things for it already, but until now it wasn't on my urgent to-do list.  There are always so many other urgent to-do's swirling around, but she turns 16 in January and I really want it finished before her 16th birthday so it's time to make it priority #1 around here!  When we moved into our new home (6 years ago this month!) she begged me for purple walls.  I wanted to paint them grey, but gave her the purple of her dreams and she has loved her bright, colorful bedroom.
It makes me both happy and sad that now she's over the purple and wants her room painted grey.  Happy because hello.. I'm all about grey paint. :)  But sad because she's growing up.  I had a moment moving her pandas and other stuffed animals out of her room knowing that most of them wouldn't be going back.  A huge lump swelled up in my throat and my eyes filled with water so quickly I suddenly couldn't see out of them.  It's hard!  I really do love each stage with my kids, but it's difficult saying a final good-bye to the end of an era and that's exactly how this room re-fresh for my oldest daughter feels to me.
Maybe deep down that's why I've been putting it off this year.
Seeing grey paint samples up on her wall the next day cheered me up immensely (have I mentioned before that I love grey paint?). ;)  I put up some of our main grey (my number one favorite paint throughout our home – you can download the formula for it HERE) and then I also put up the same color at 50% and then at 25%.  El and I both wanted a light grey for her room, but the 25% was a little too light because her room gets SO much sunlight with full french doors and windows on one entire wall.  The 50% was the winner!  (Hard to really see the true colors in this lousy cell phone pic I snapped quick!)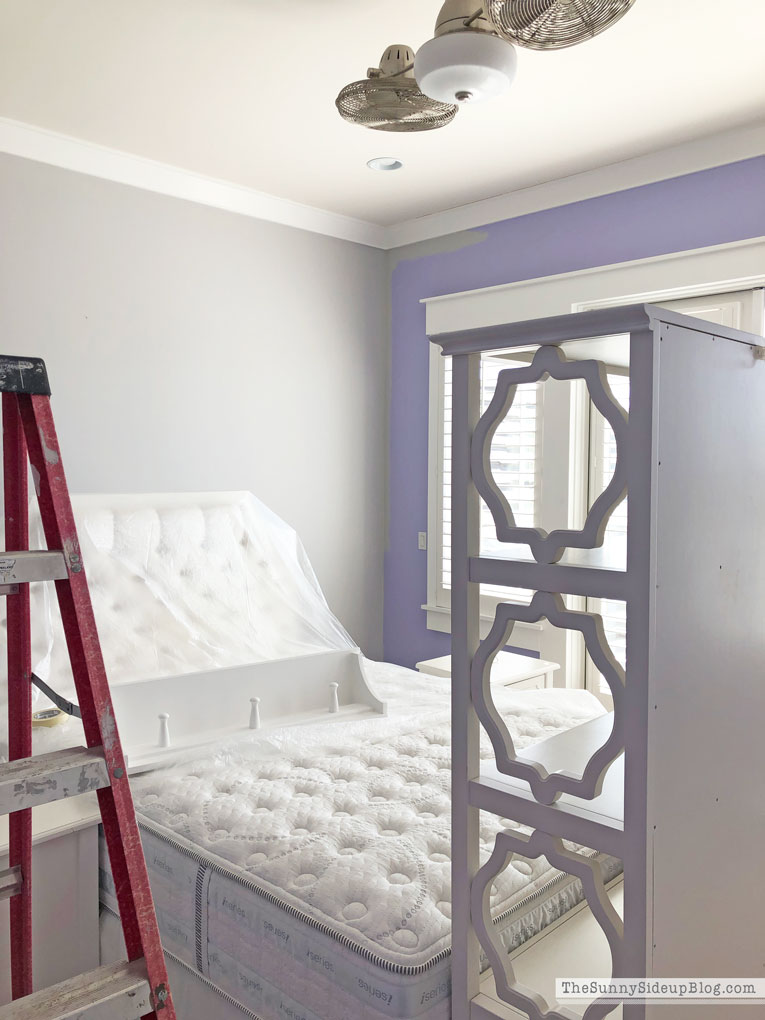 My painters put up the first coat today and it looks so good!  This cell pic also looks a little darker than it is in person.  The paint is exactly what we wanted.. a beautiful, soft grey.  I'll share the room on my blog when it's finished (along with pics of her room before) and I'll be sharing progress along the way on IG stories if you want to follow along!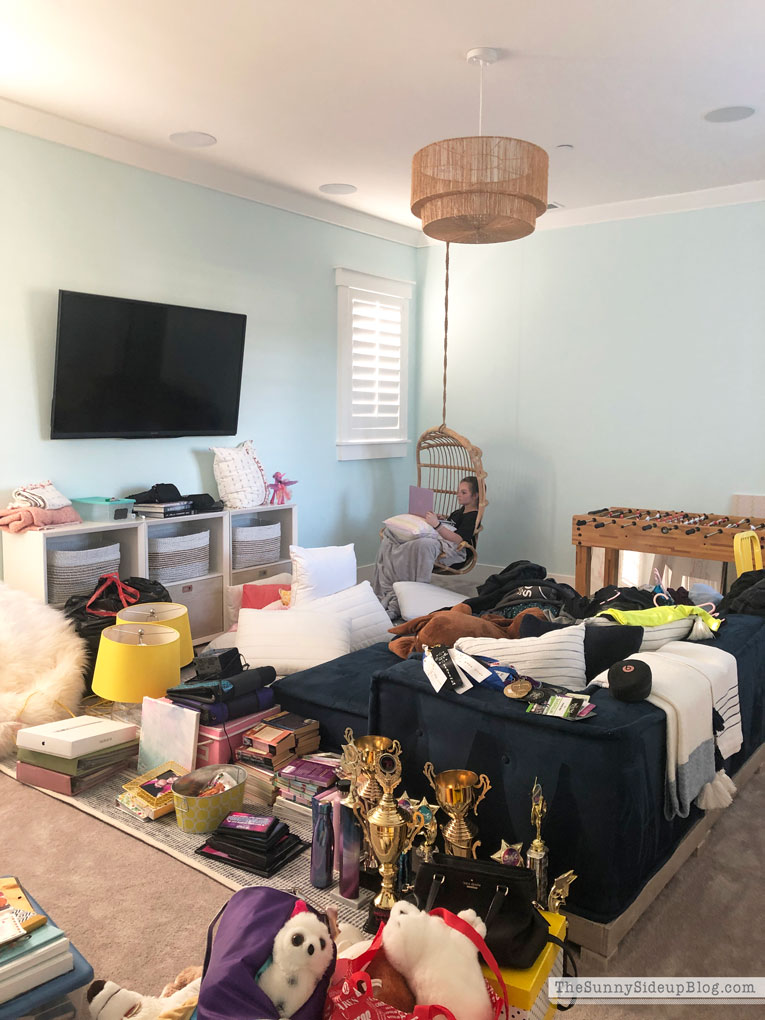 We moved everything from El's room into our playroom so that's a fun mess at the moment!  To add to the chaos I also started pulling out Christmas stuff today!  Oh yes.. I'm going there. ;)  I have a holiday post I'm sharing soon and need to get started on it so out came the boxes.  You could say we've seen cleaner days at my house!  The chaos in my home pretty much matches the chaos going on inside my head with so many projects looming.
But it's all fun chaos.  So bring it on. :)
Enjoy your weekend everyone!
(*If you're starting to think about Christmas decor too you can see all of my past Christmas posts rounded up HERE.  I also just updated my favorites page with Fall favorites and Christmas items I'm using to decorate with this year HERE.)
{POST SOURCES}




xoxo, Erin