Happy Monday everyone! I hope you all had a good weekend! I finished decorating my front porch and I'm so excited about how it turned out! Really simple this year but that's what is appealing to me at the moment. :) I'll share it soon! Today is my first holiday gift guide and I've rounded up some fun gift ideas for neighbors, teachers and friends!  One thing I've started doing in recent years is buying my kids' teacher gifts and delivering them early in December.  I used to wait until the last day of school before Christmas break, but the teachers are bombarded with so many gifts that day!  It's nice to give them a little something earlier in the month with a hand written note from my kids.  I do that often with friend/neighbor gifts too and then you can give a gift that they can enjoy during December.  The bonus is those gifts are checked off of my list early and I can focus on family gifts and December activities.  Just a quick tip if that helps anyone! :)
*affiliate links used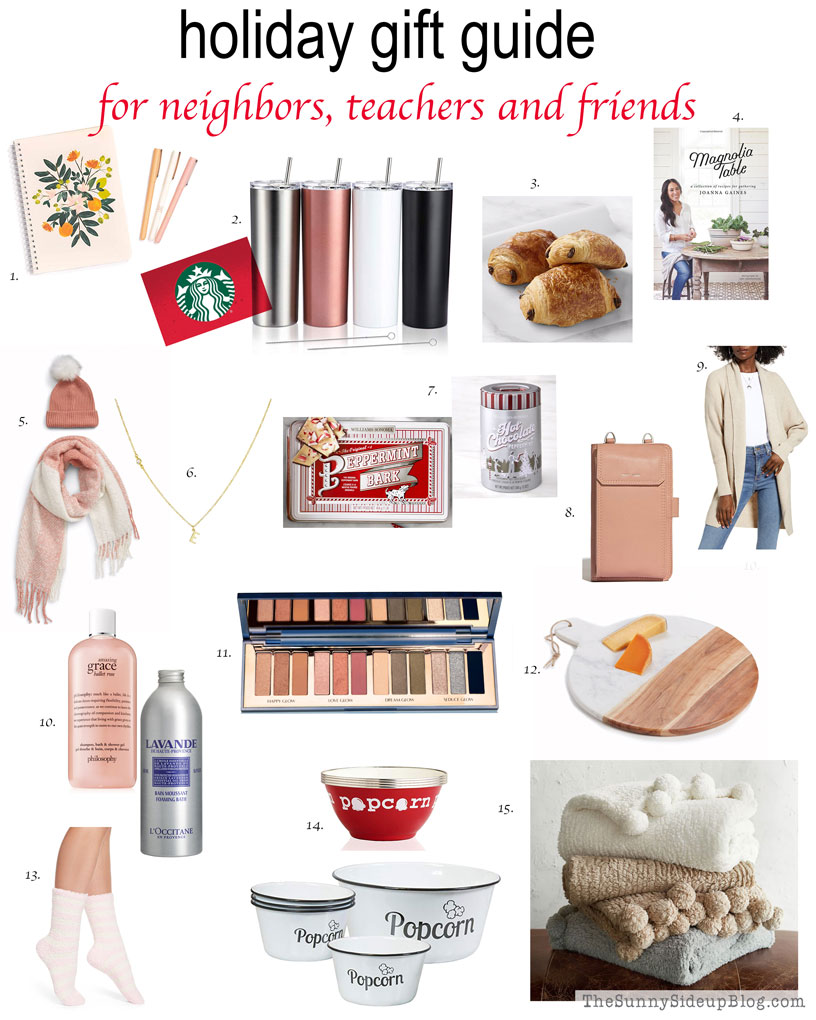 1 –  Floral Spiral Notebook – You all know how much I love a good list!  A cute notebook and pens is something everyone can use.
2 – Tumbler 4 Pack – You can't go wrong with a Starbucks gift card and adding a cute tumbler with it makes the gift even more fun!  This 4 pack is so cute and could be spread out with gift cards to 4 different teachers/friends.
3- Chocolate Croissants – I have friends who swear these are the best Croissants ever!  I was going to try them last year and the forgot so this year for sure!  They would make such a nice gift for a family to enjoy over the holiday break!
4- Magnolia Table Recipe Book – Joanna's recipe book would be a hit for anyone who loves to cook!  Personally I'd prefer the pre-made croissants, but to each their own.  Ha. ;)
5- Beanie & Plaid Scarf Set – This beanie and plaid scarf set is adorable in both color options!  Clothes can be tricky to buy for others if you don't know exact sizes, but a scarf and beanie would work for anyone who lives in cold temps!
6- Initial Necklace – I have this initial necklace and it's so beautiful!  Perfect for someone special on your list.  I've given initial necklaces to friends and to both of my daughters for gifts in the past and they are always a hit!
7-  Peppermint Bark and Peppermint Hot Chocolate – Two of our long time favorites for neighbors gifts!  Of course we always pick some up for our family to enjoy each December too. :)
8- Rae Phone Crossbody – Last year I gave my girls similar crossbody bags for Christmas and they have loved them!  These are so perfect with a spot for your phone and a section for credit cards.  They come in lots of cute colors too!
9- Doleman Sleeve Cardigan – Who doesn't love a great cardi this time of year!?  Perfect for any woman on your list!  This one is so stylish and comes in lots of colors.
10- Amazing Grace Shower Gel  and Lavande Foaming Bath – Both of these are on my Christmas wish list this year!  I LOVE taking a hot bubble bath at the end of a long week and both of these products come highly recommended!
11- Eyeshadow Palette – An amazing deal on this Charlotte Tilbury eyeshadow palette!  I always hear rave reviews about CT makeup and this set comes with both every day and special occasion options.  Going to add this one to my list for Santa too. :)
12- Round Marble Serving Board – You can't go wrong giving someone a serving board and this round marble board is beautiful!  I have it and love it and use it often for both serving and decor.
13- Butter Socks – One of my long time favorite gifts to give!  The coziest socks ever.  I gave these to friends after my Christmas pajama party last year!
14-  White Popcorn Bowls Set Of Five  and World Market Red Popcorn Bowl – Popcorn is a staple at our house and so are fun popcorn bowls!  We have the red set but how cute is this white and black set I found too!?  Such a perfect gift with some homemade popcorn or a package of Popcornopolis!  Another favorite at our house. :)
15-  Cozy Pom Pom Throw – I've given throws for teacher gifts in the past and they make great gifts this time of year.  This pom pom throw is so soft and fuzzy and would also look great draped over a couch.  A win for anyone on your list!
I hope these gift ideas were helpful!  And that your Monday isn't too Mondayish. :)
xoxo, Erin