*affiliate links used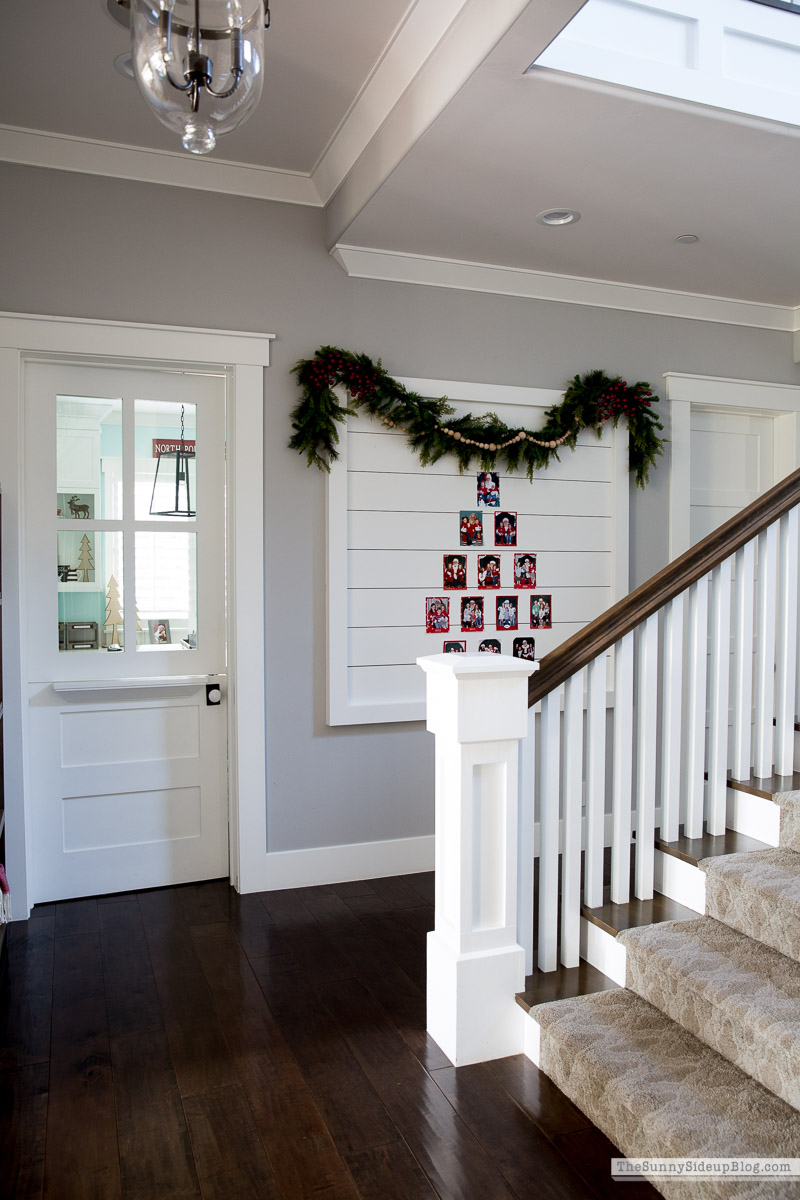 I'm so happy to announce that my hair is clean.  I repeat.. my hair is now washed and clean.  Let us rejoice!  Feeling much more like myself today. ;)  I'm sharing a few pics of our stair hallway decked for the holidays!  Then at the end of this post I have my gift ideas for BOYS.  So sorry for the delay on that one for those of you who have asked about it.  I had it ready to go with my other gift guides and somehow it never made an appearance on the blog.  Sometimes things get lost in the shuffle around here. :)
I decided to mix things up on my shiplap board and display my kids' pics with Santa this year.  I added some garland to the top of my board by attaching two command hooks on the top ledge in the corners to secure it in place.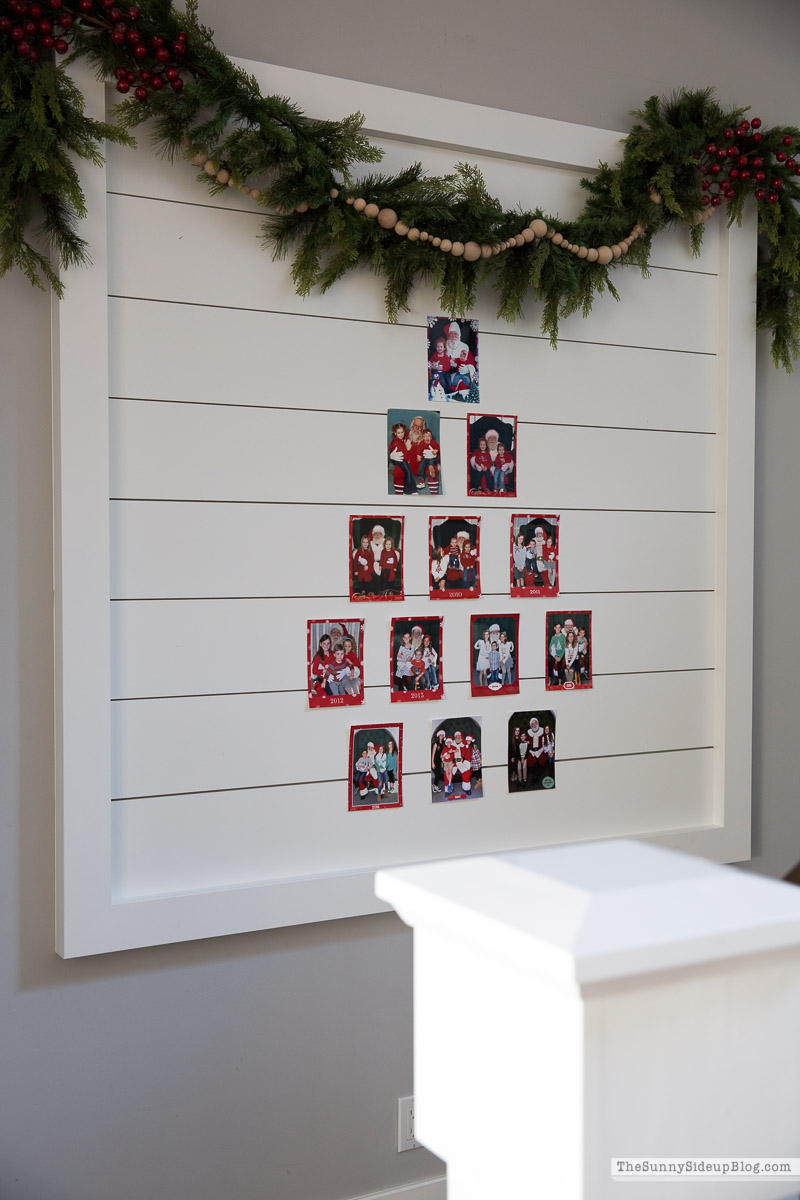 Then I added some berry picks on the ends and attached my wooden bead garland to the greenery.  (My wooden bead garland is 40% off right now!)
This is supposed to be in the shape of a Christmas tree in case you can't tell.  I didn't have quite enough for 5 on the bottom row so I made the last three the trunk. ;)  I love these pictures.  My babies grow up in them and I remember special things about each year they were taken.
I usually display these on my hallway door attached to burlap ribbon.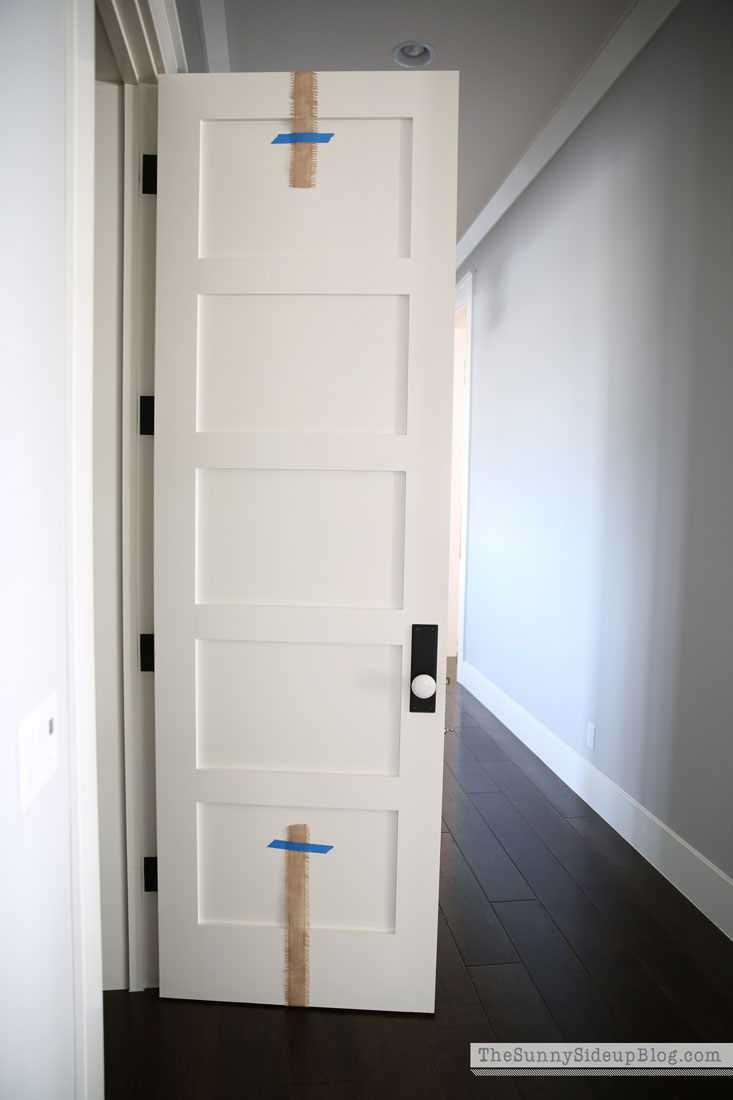 The ribbon is attached to the back of my door with painter's tape.  You can't teach an old dog new tricks.  But who cares when the tricks work well. ;)
Since I usually use this board for our Christmas cards..
I decided to keep our Christmas cards close and jut attach them to this hallway door.  When it's full I'll add the rest to the other side of the door in our mudroom.  I've loved having them on this door because we are in and out of it so many times a day.  A good spot for some holiday cheer. :)
To the left of our Santa pics is this fun hallway shelf.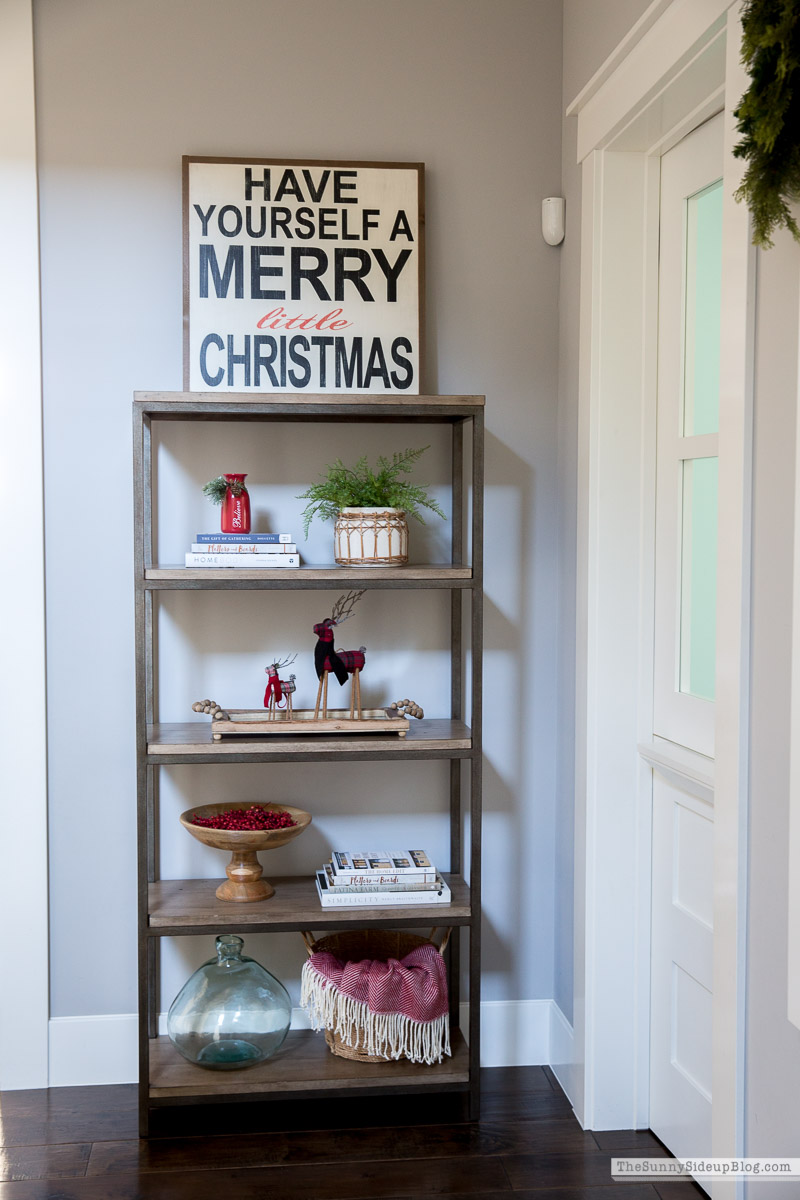 I added some holiday touches with random things I had left over from decorating other rooms!  You can see all of my favorite coffee table books that are on this shelf in my 2019 Favorite Things post.  Can you see which book I love so much I have a duplicate? :)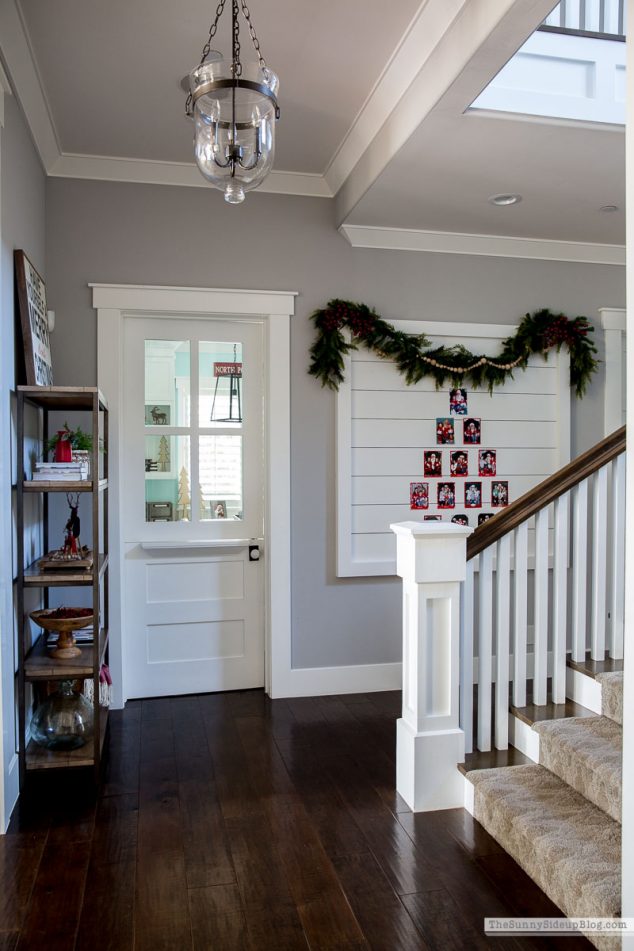 This hallway is a happy spot in my home at the moment!  I haven't had time to decorate my staircase (bummer!) and am thinking at this point I probably won't.  With one week left with my kids in school I need to make sure we are Christmas ready!  I want to have my gifts bought and (mostly) wrapped by Friday so that I can just enjoy my family during those few days leading up to Christmas.  So on that note.. here are some fun ideas for BOYS on your list!  Kole wrote a sweet note to Santa and asked for the Lego Worlds XBOX game and that was it!  He isn't giving old Santa much to go on this year (unlike his two sisters who have thrown out PLETNY of ideas.. ha).  So below are a few things he already has and loves, a few things I know he'll like, and a few things my friends are getting their boys.  I hope it's helpful!  You can see a round-up of some my other gift guides in THIS POST if you still need a few ideas for anyone on your list.
Enjoy the rest of your weekend!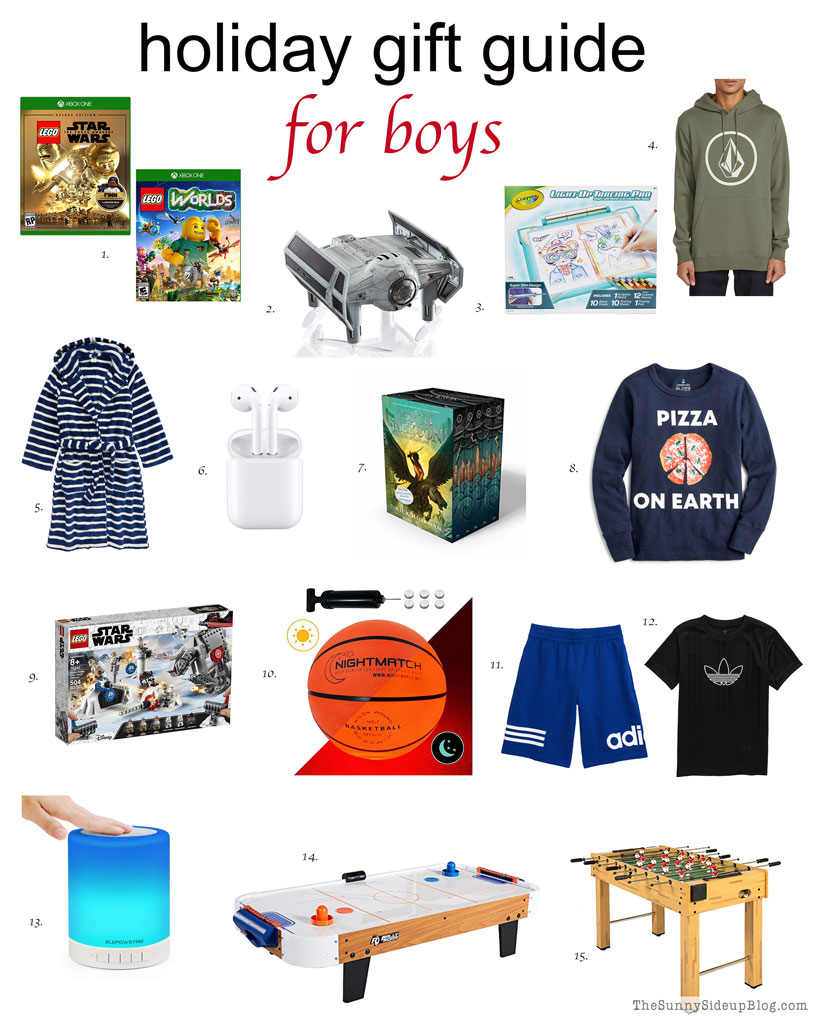 1 – Lego Star Wars/Lego Worlds Xbox One – Kole's Christmas wish this year!
2 – Propel Star Wars Battle Drone – Drones like this are always fun gifts.  I love that it's something my husband and son can play with together.
3 – Light-Up Tracing Pad – I can't ever get Kole to just draw or color these days, but if it's something like this it will keep his interest!  Hopefully buying me some solitude. ;)  This is a cute similar option for girls!
4 – Volcom Hooded Sweatshirt – Volcom Zip Hooded Sweatshirt
5 – Hooded Plush Robe – Kole's all time favorite robe you've heard about many times. :)
6 – Apple AirPods – What all the teens want.. boys and girls!  I kind of want some myself this year.  Ellie got them last year for Christmas and has absolutely loved them.
7 – Percy Jackson 5 Book Box Set – We haven't read these yet but they have rave reviews and my friend's boys love them so a fun gift for Kole this year!  Some other book series he has loved include Dog Man, Geronimo Stilton, Roald Dahl, and lately he has been reading his sister's old favorites.. the I Survived series of books.
8 – Pizza On Earth Sweatshirt – Love this.
9 – Lego Star Wars – Can you tell we're going through a Lego Star Wars phase? :)
10 – NightMatch Light Up Basketball – Perfect for night games in the yard or at the court!
11 – Adidas Shorts – Kole's favorite!  He also loves Nike Athletic shorts and I always get him a few pairs of each every December because he grows out of them so fast!
12 – Adidas Shirts – To go with his shorts.  Aren't boys easy when it comes to clothes?  Now he's dressed for another year.. ha!
13 – Echo Dot for Kids – I totally used the wrong pic for this collage!  So ignore that. :)  Debating this Echo Dot for Kole so he can listen to music and books.  Do any of you have this?  Love it?
14 – Air Hockey Table – I think all three of my kids would love this one!
15 – Foosball Table – This is the Foosball table we gave Kole for his birthday and have in our playroom.  It has been a HUGE hit with the whole family!  We love to play (usually Kenny and Kole vs. me and Addison) and one of these days Ad and I are going to take them.  We just need to sneak in some extra practices when the boys aren't around. ;)  It's great for when Kole has friends over too.  A kid magnet!
xoxo, Erin