Happy Easter Sunday friends!  Or happy day or two after if you're reading this then. :)  This post was supposed to be up on my blog Thursday.  Then Friday.  Then Saturday.  Then at one point it was going to be two or three different posts.  At this moment in time I'm not even sure what it is.  A whole lot of randomness I guess!  Mostly pics from my i phone of what we've been up to with some organizing, fashion and favorites thrown in.  Kinda like a turkey sandwich.
That includes chicken and roast beef.  With popcorn on the side.
I must be hungry.
Moving on!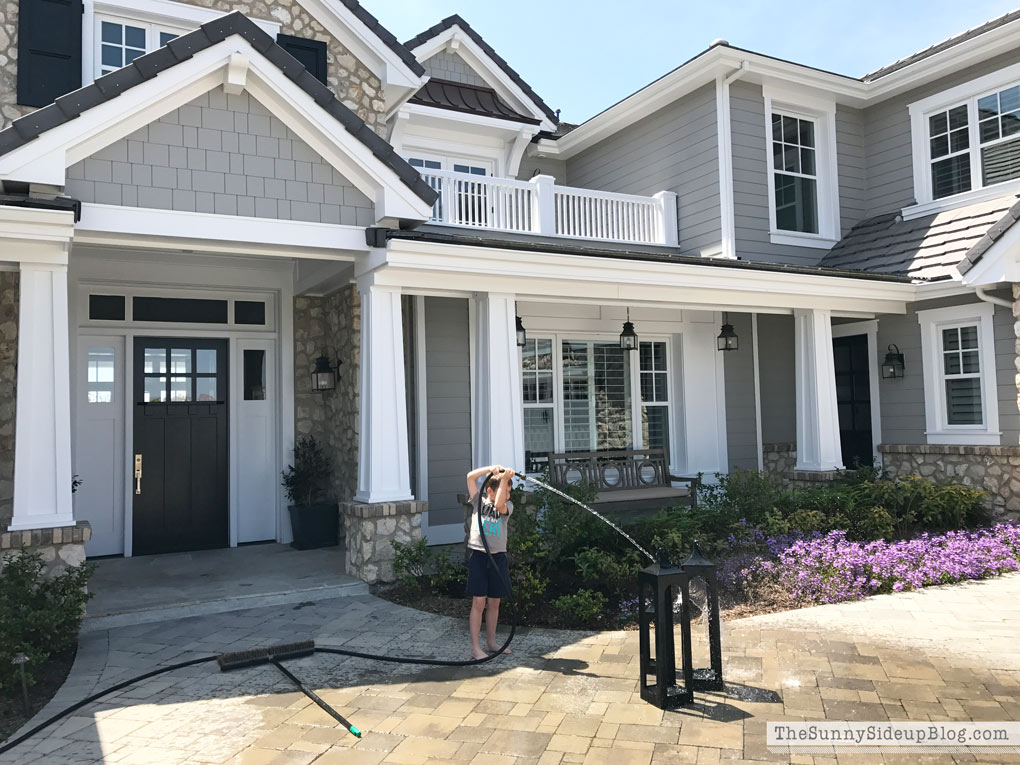 My little buddy has been home with me all week for his Spring Break.  I told him we could do anything he wanted thinking he'd pick Disneyland, the zoo, the beach, the park.  He said "really!?  Can we clean the front porch!?"  Ha ha.  Definitely my boy. :)  He loves to spray off my lanterns with the hose.
Give the plants a drink with a spray bottle.
And sweep the porch with the big broom.
I'd have to agree.. this beats Disneyland any day. ;)
(Front porch sources in this post.  Affiliate links used.)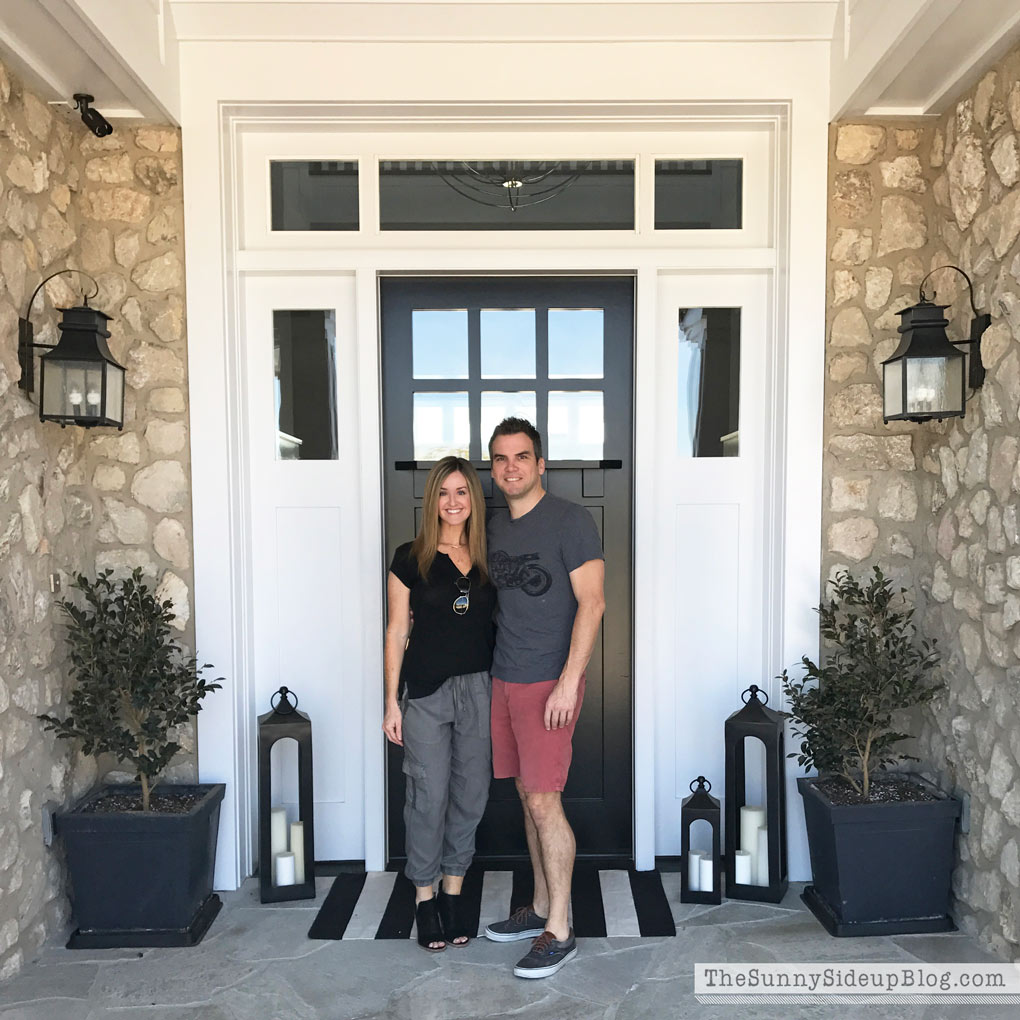 Date night with my babe.
Pancakes (and grilled cheese) with these two while their sister was on a class camping trip.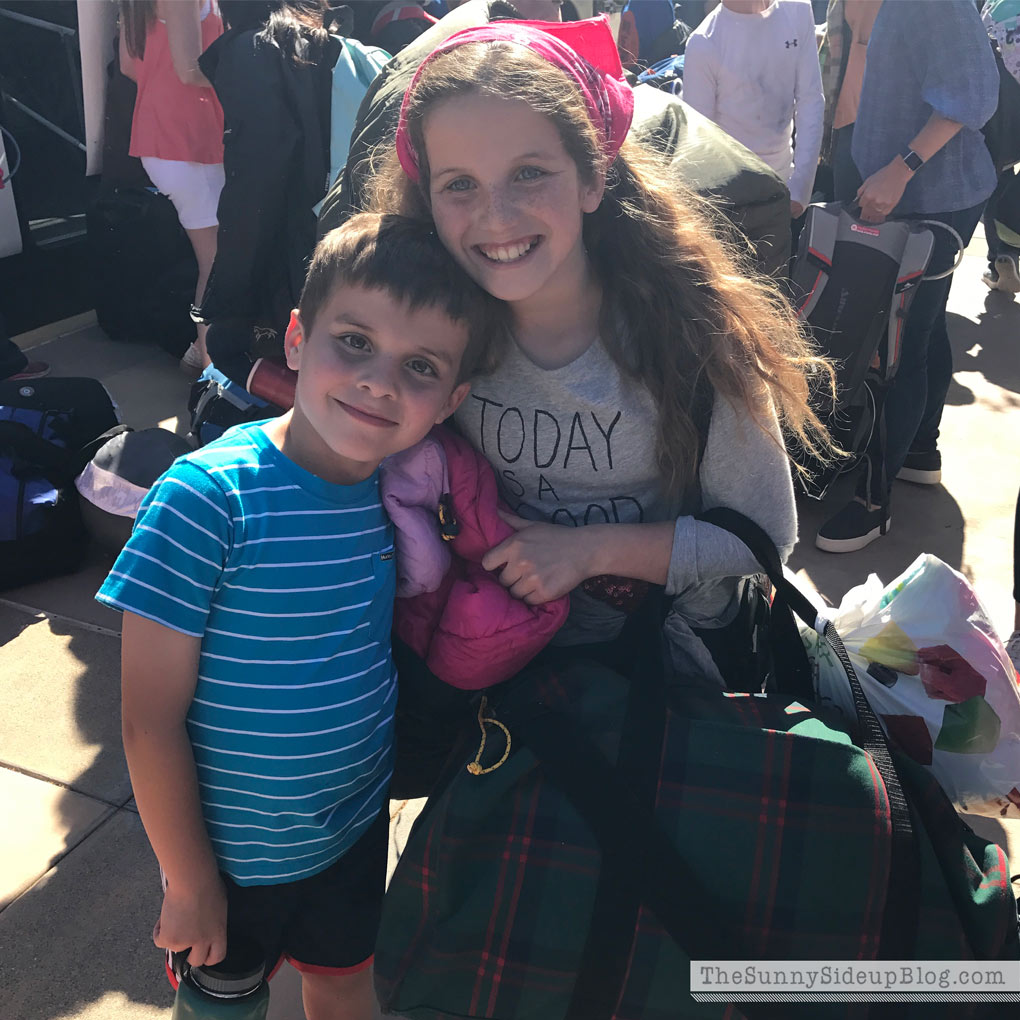 She was missed. :)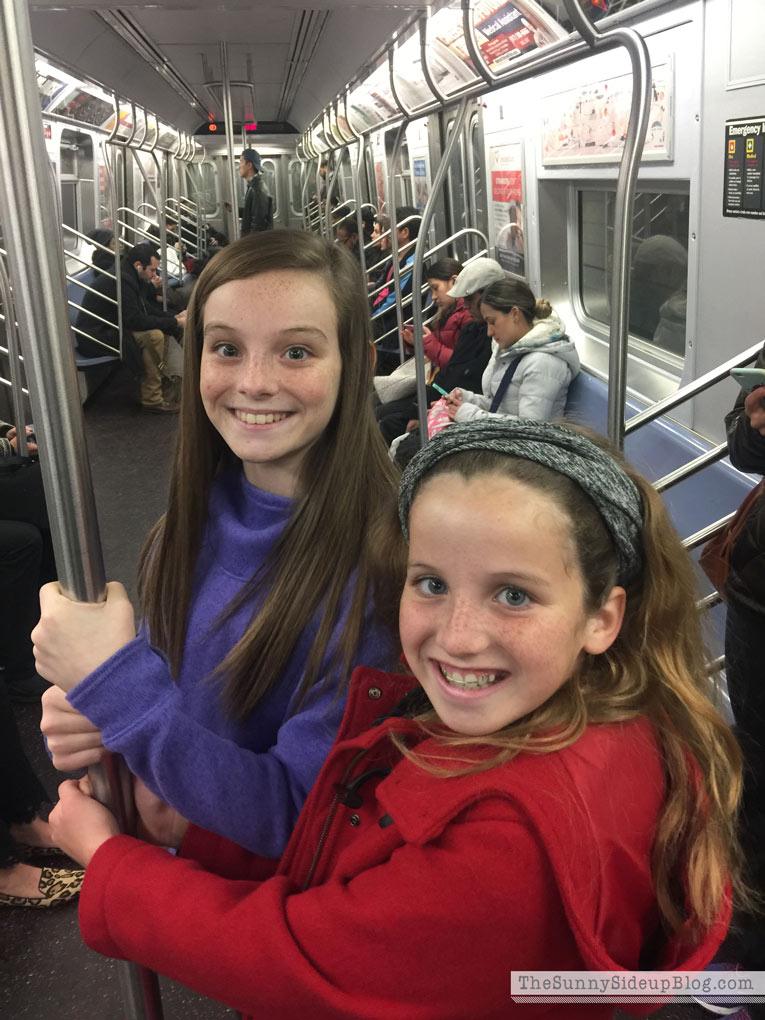 My girls went with their dad to New York for four days over their Spring Break.  They had the best dad/daughter trip!  First time on a subway. :)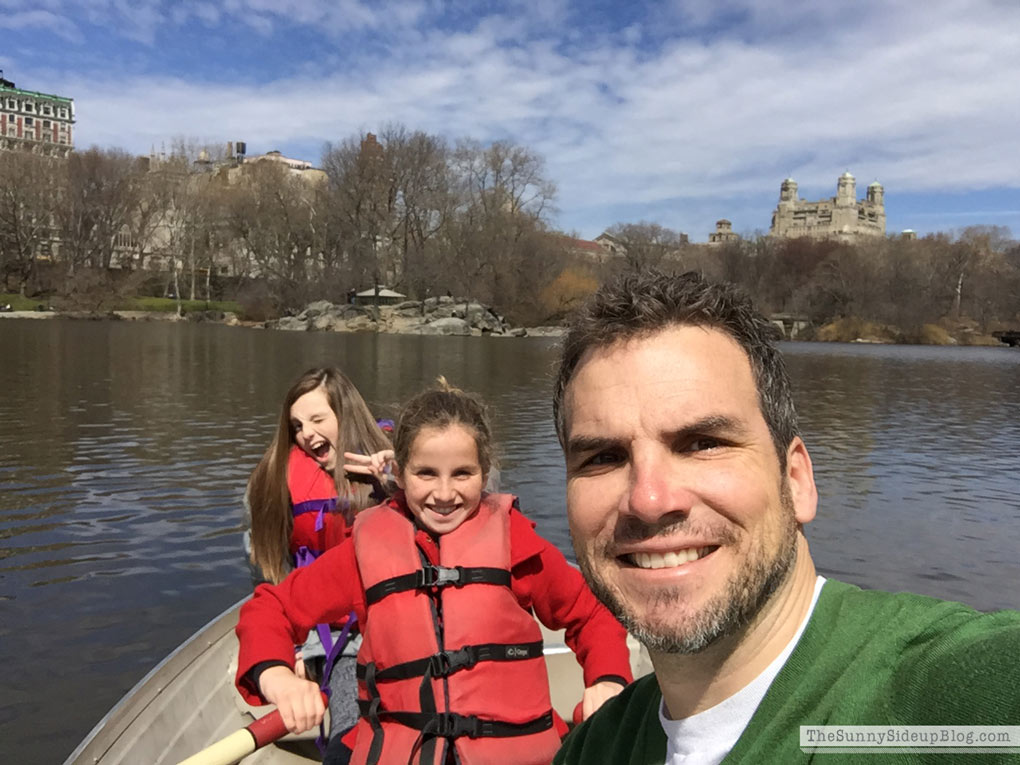 Rowing in Central Park.
They climbed to the top of the Statue of Liberty and toured the 9-11 Memorial Museum.
And saw two Broadway plays.  Ad was so excited to dress up fancy.  El begged Kenny to let her wear leggings.  Clearly they get their way when dad's in charge. ;)
What were Kole and I up to while they were gone?  Spring cleaning and the park.  Even better than Broadway right?  ;)
Our laundry room after a typical busy week.  Those hampers work so well when the clothes make their way inside of them.
Dance competition season is in full swing and has kept us hopping!  We had three weekends of competitions in a row.  I can apply El's stage make-up in my sleep at this point!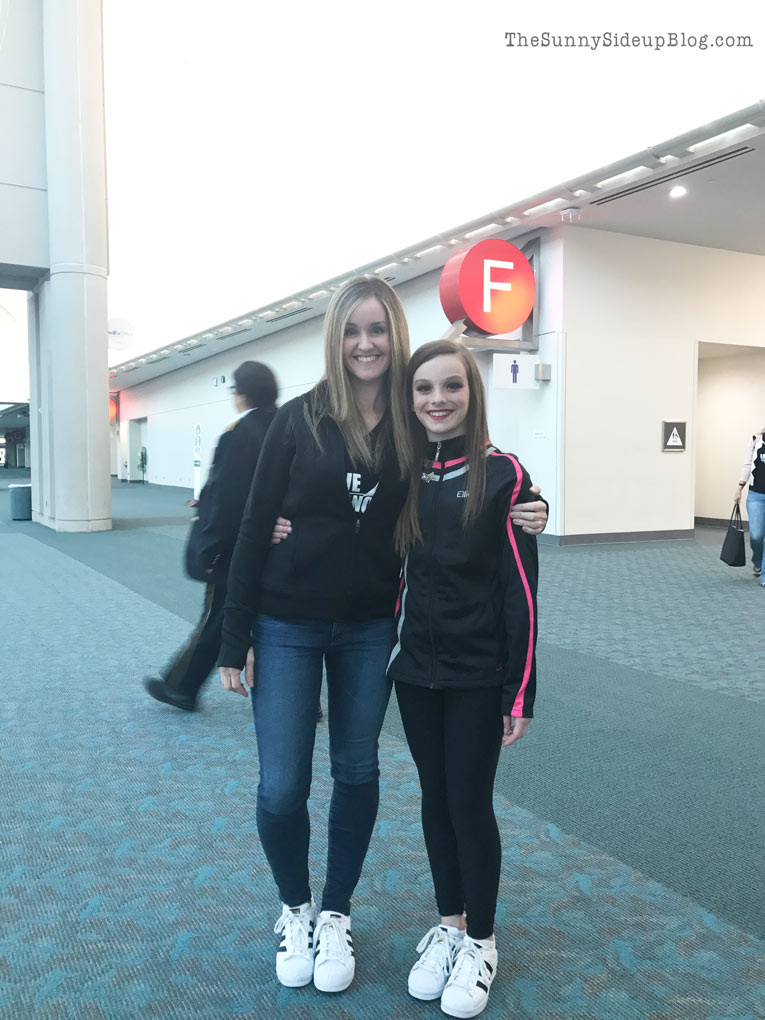 It really has been so much fun spending time with my sweet girl who is growing up so quickly right in front of my eyes.  About a month ago she asked me if she could get some shoes like mine.  Huh?  What was that El?  Are you actually admitting that your mom is cool?  Apparently only when it comes to footwear.  Shoe source is in my header under "shop my favorites" in case you too want to be the envy of your teenagers. ;)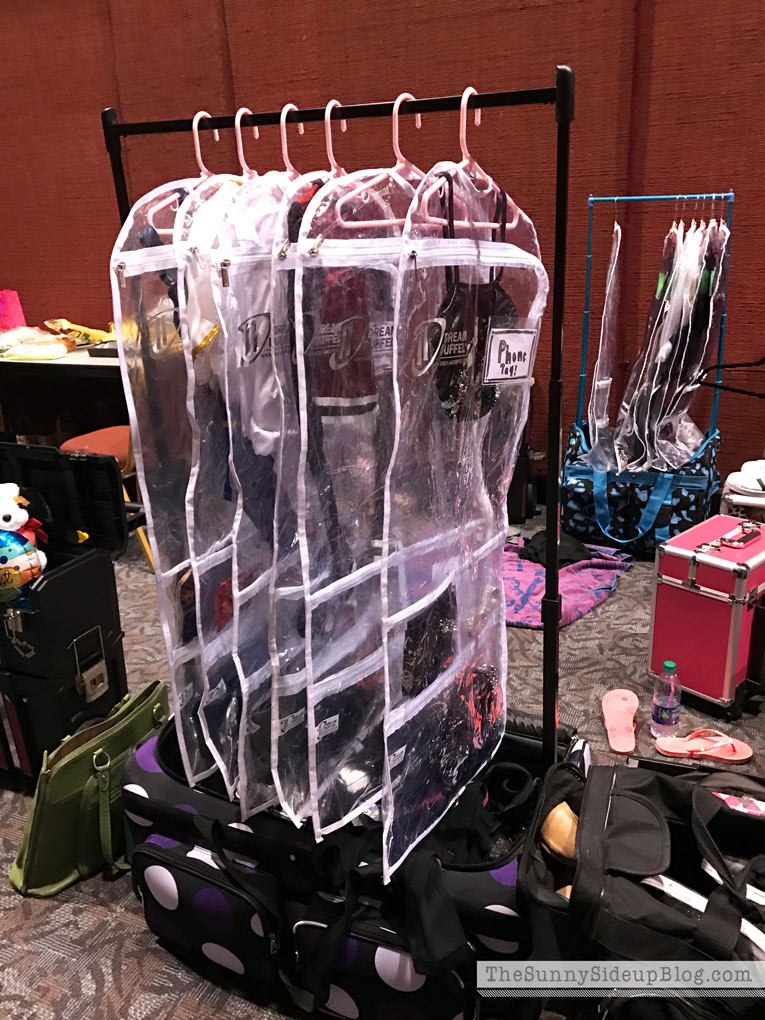 I have to show you all these cool garment bags we got to hold El's costumes and accessories for any dance moms out there.  They are an organizer's dream!   The suit case is from Rac n Roll and it has this cool rack that you put up to hold the costumes.
Then each of the bags have all these zippered compartments to hold all of the costume accessories.  I so love zippered compartments!  How can you not just smile when you see zippered compartments? :)
There is even a place to make a label for your costume.  And you thought it couldn't get any better.  Me too!!  :)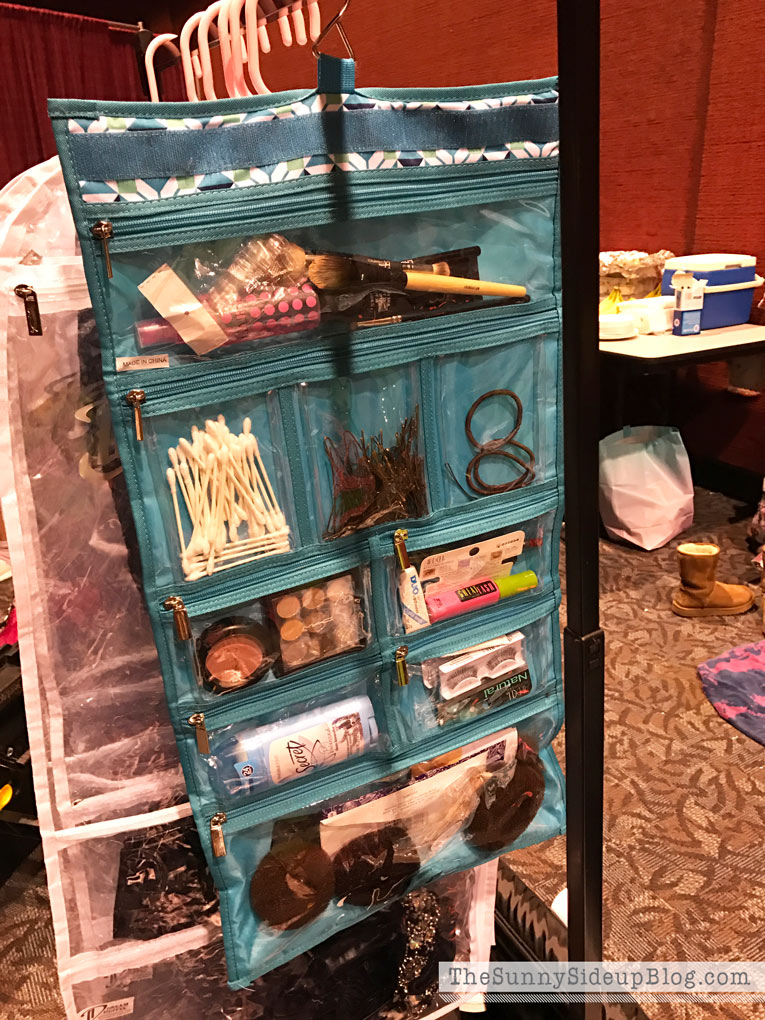 Then I bought this fun organizer from The Container Store to hold all of her make-up and hair accessories.  She has had some fast costume changes when we are flying to get her ready so having everything organized is a must!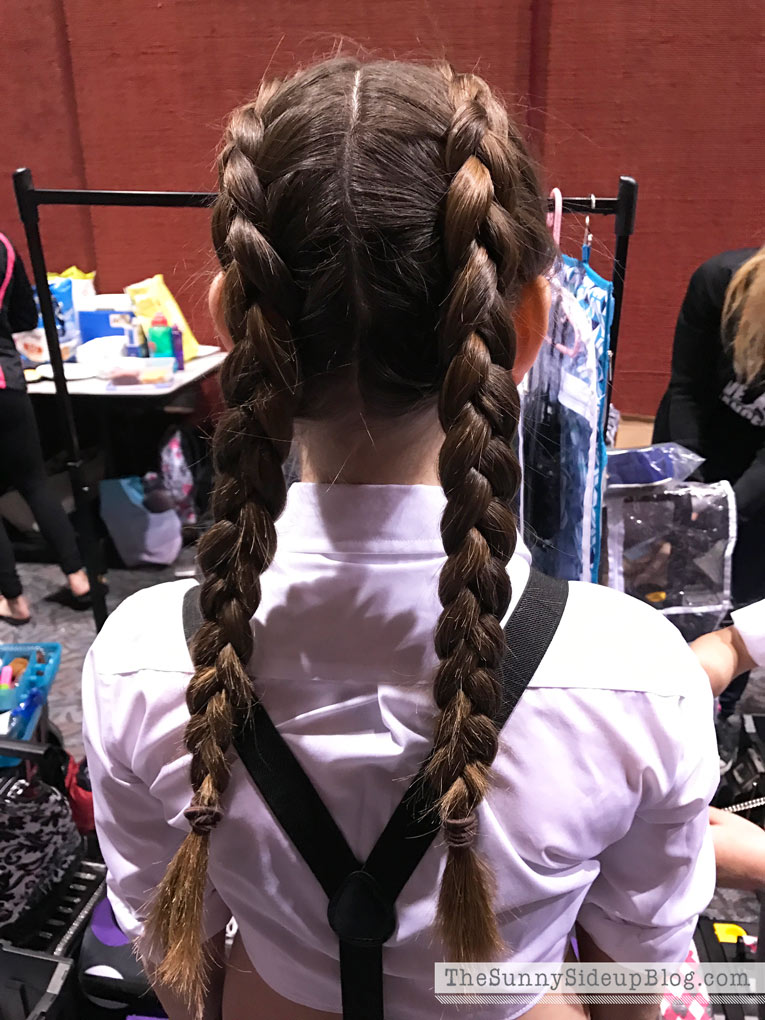 Aside from the make-up I'm also so proud of myself for perfecting these dutch braids.  I had to practice them so much you guys!  I watched a You Tube video about 20 times and then Ad let me practice over and over on her hair until I was fast enough to whip them out.  It's the little accomplishments right?  :)
The best part is watching her dance.  The first time she got on stage to do her solo I was so nervous I seriously thought I might throw up.  My hands were sweaty and I felt light headed and Ad was sitting next to me telling me to get a grip!  Ha ha.. It's easier now that she's done it a few times. ;)  She has grown so much this year and is becoming such a beautiful dancer!  #proudmom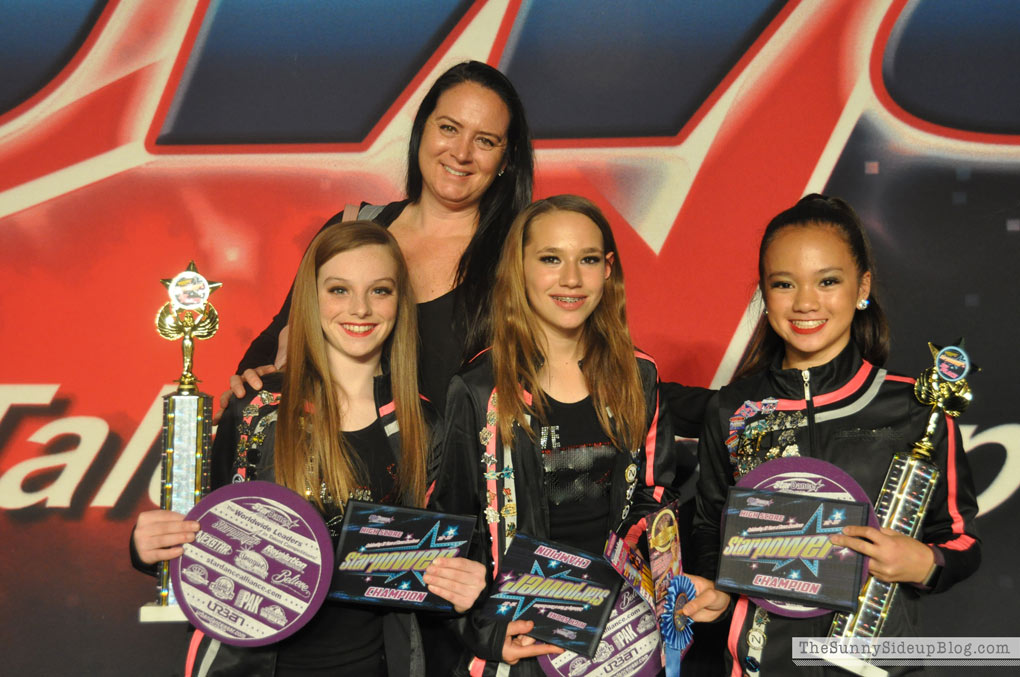 After with her dance coach and friends.  I'm not the only one who is proud.  My mom sent a text to me and Kenny asking how she did after her first competition and Kenny wrote back "it's an odd sensation to have tears of pride come to your eyes while your little girl is doing a booty shake to a hip hop song.  That was me this weekend."  Ha!  That about sums it up. :)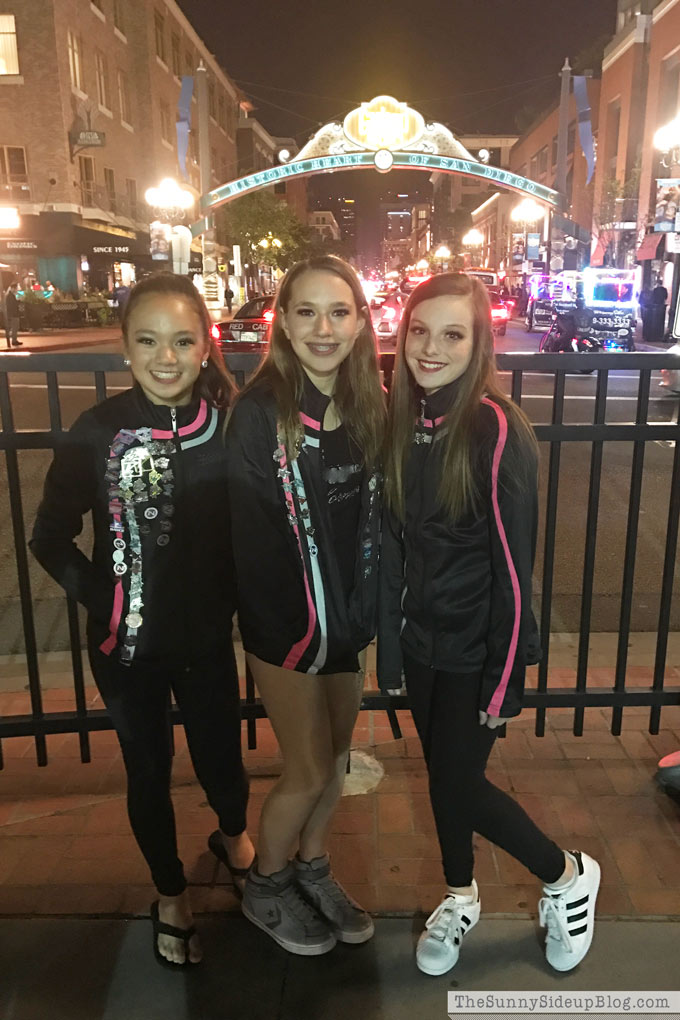 Playing downtown after a local competition.  Gaslamp Quarter is always a good time!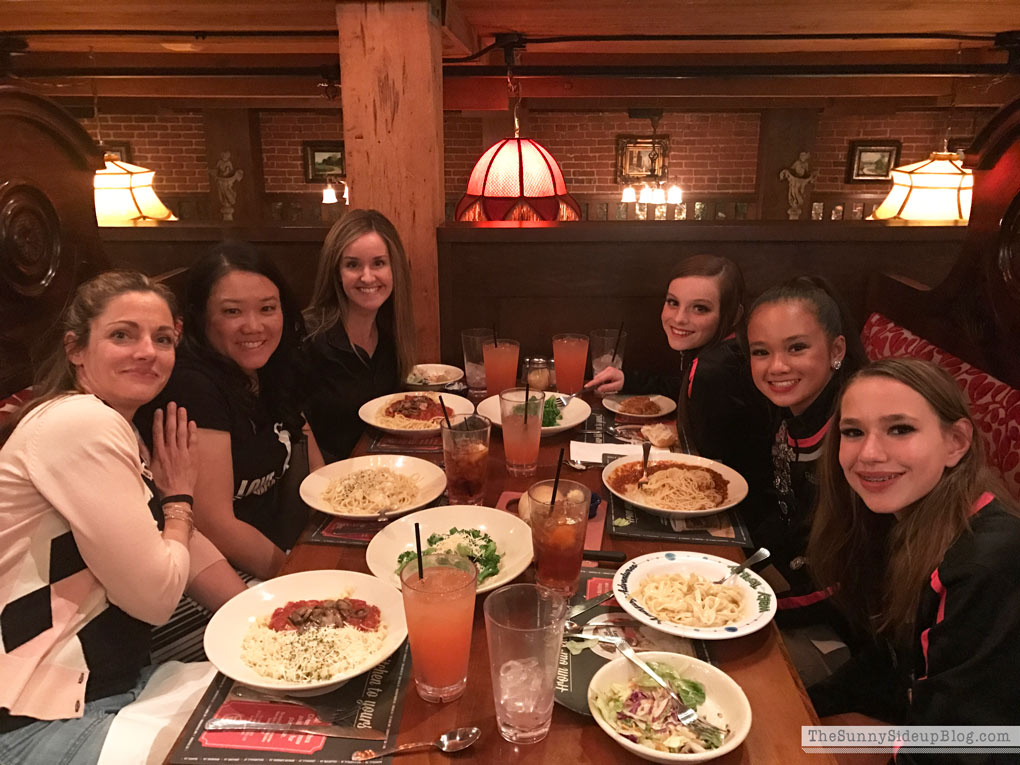 So is the Spaghetti Factory. :)  Love this crew!
Quick pic in a new shirt that to be honest cost way more than I like to spend on a shirt!  But my husband gets sick of me saying "I don't have anything to wear!" when it's time to dress up a bit for something because my closet is full of pajamas and tops like this.  He's always encouraging me to buy more dressy tops and he picked this out for me.  So I'm trying to wear it for him.  And it is cute and flattering (you can find it here).  But in my opinion it's not as cute and flattering as these.  ;)  On sale for $30!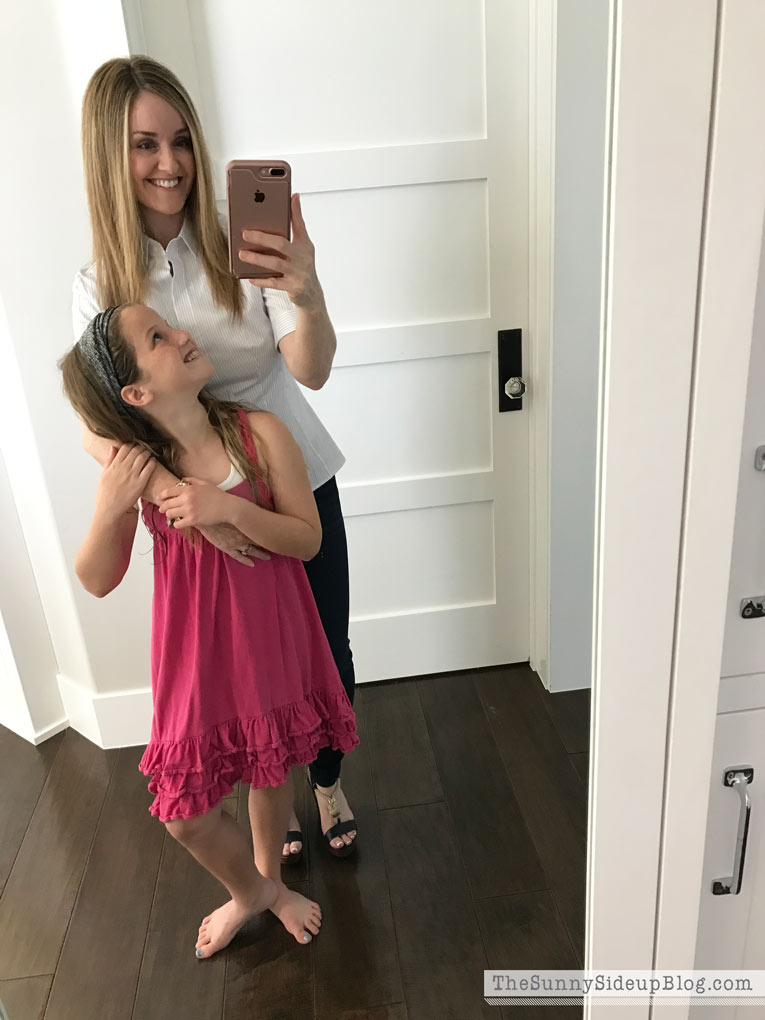 I had a couple of helpers with this photoshoot…
I don't know about all of you but I think she's got the knee pop down. ;)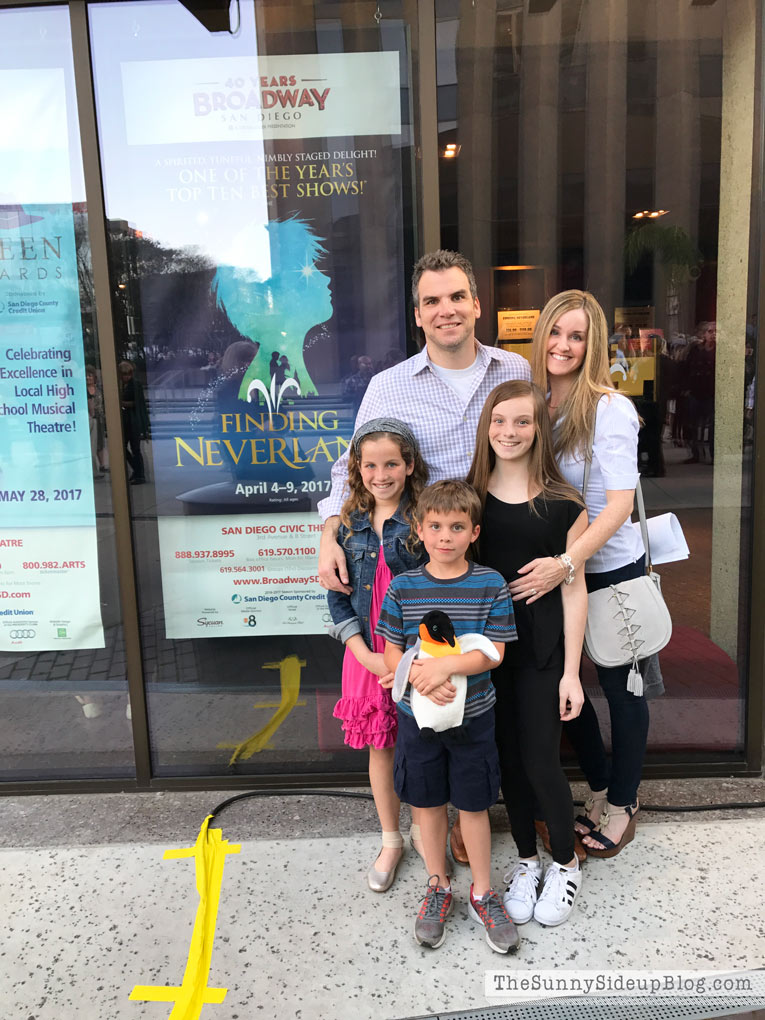 Off to see Peter Pan!  This family loves the theatre.  Kole wouldn't let me touch his hair and when it comes to parenting I choose my battles wisely.  So does Mr. Penguin.  The two of us have things figured out and put up with a lot. ;)  (My purse and other outfit sources are in "shop my favorites.")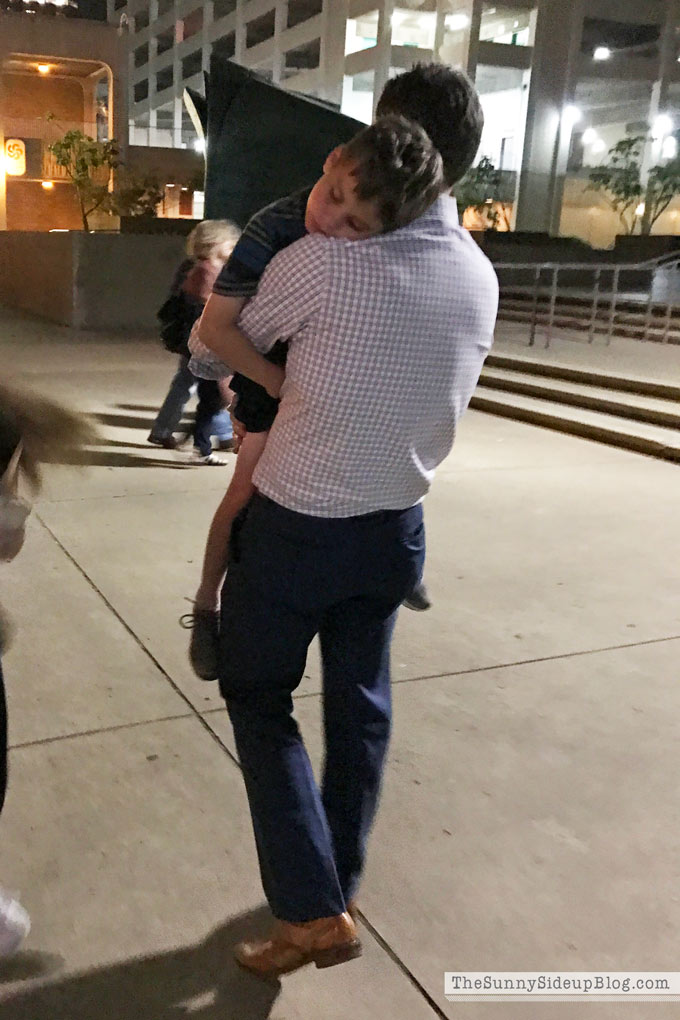 Someone didn't make it through the whole play.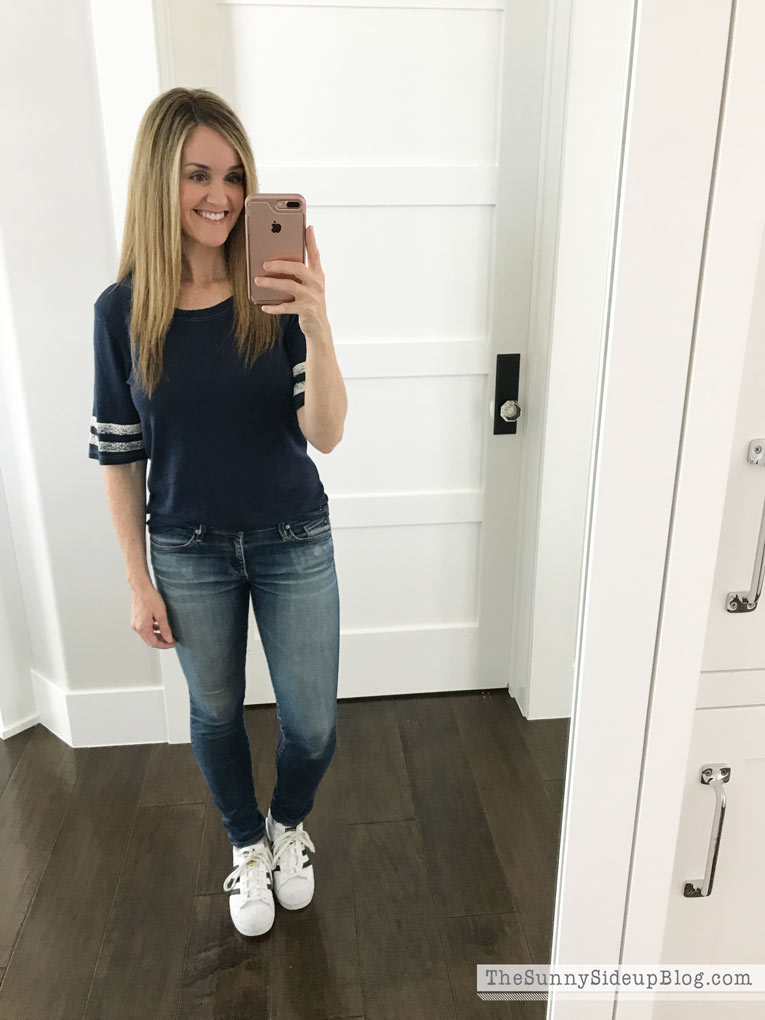 Speaking of my favorite kind of clothes and much to my husband's dismay, I found another casual top I'm in LOVE with! So cute.  So comfy!  So like everything else in my closet!   Gotta be me. ;)   Comes in navy and cream.
This next top is another favorite although Ad isn't sold.  When I came across this pic on my phone I laughed out loud at her expression!  Not planned.  She cracks me up.
But this time I'm going to have to agree to disagree with her.  Isn't this Rebecca Minkoff top darling!?  LOVE the cut out sleeves.  It's the cold shoulder look without the cold shoulders. ;)
I'm also so in love with these BaubleBar earrings!  They come in fun, bright colors for Spring and I love that they aren't heavy like some longer earrings are.  A birthday present that has become a favorite!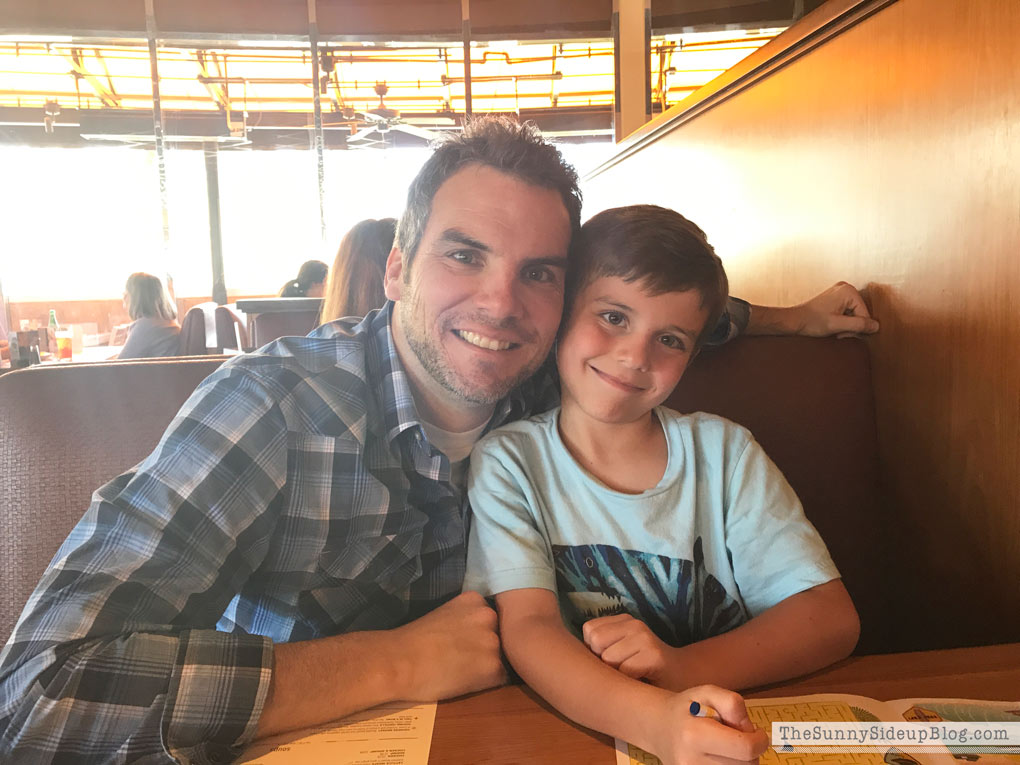 Wore them to lunch with my two favorite guys.
This striped V-neck is another recent go to!  I am actually getting better at passing up stripes.  Just not stripes for $24. :)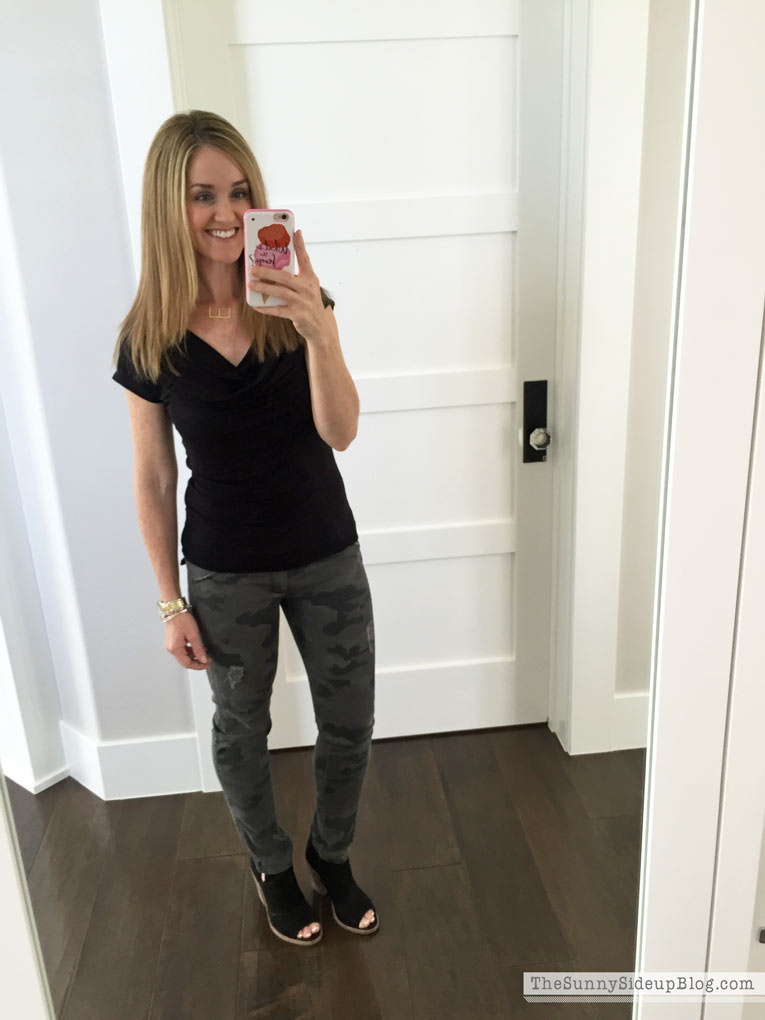 And in other fashion news, my beloved Hudson Camo skinny jeans are back!  Nordstrom hasn't had these forever!  They have been a favorite go to for years now.  But most of you know that.  :)  These are the exact same pair only without the holes in them.  Supposed to be "ankle grazing" but on short people like me they are more like heel grazing. ;)  They work and fit cute either way!
And my last recent favorite find is this darling off the shoulder romper that I'm so exited to wear as a swim suit cover-up this summer!  I have my favorite swim suit on under it in this pic – I actually got to try it out around the pool last week because it has been so warm here!   This is perfect for the beach or to slip on over my suit on those summer days that I never get out of my suit. :)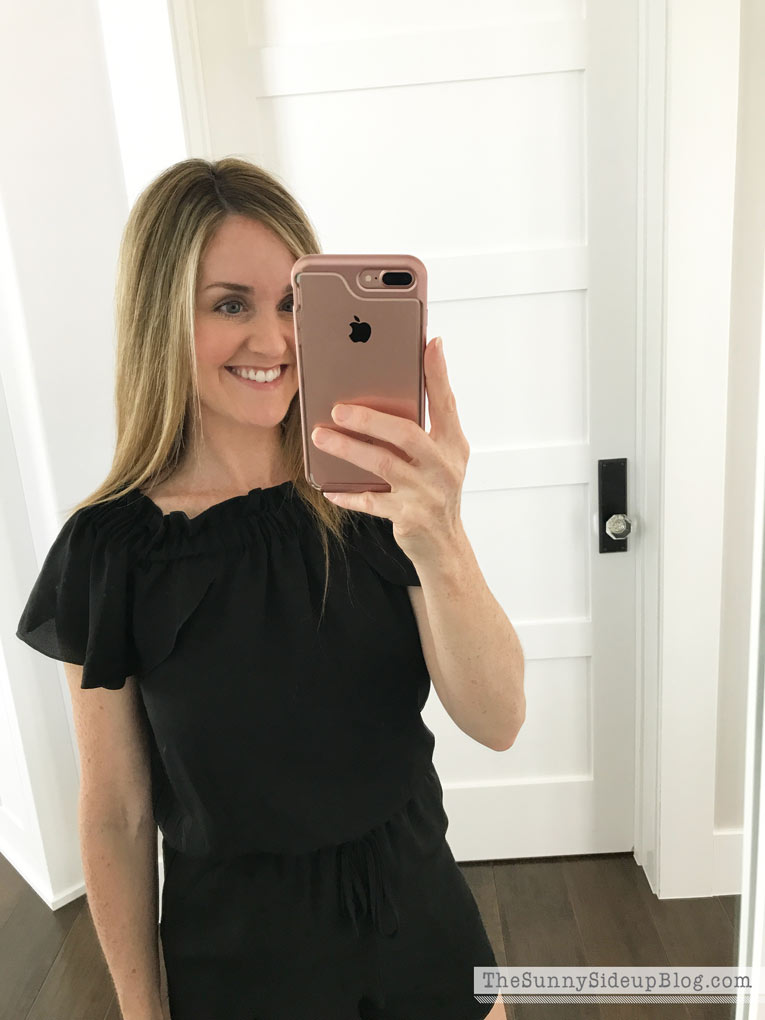 I also like it with the shoulders up.  Either way it's so cute and very flattering!
Can you tell I'm excited for this?  :)
I'm also excited for tomorrow.  I love Easter Sunday!  So grateful for a day to celebrate our Savior and spend time with loved ones.
Well!  That might have been the longest random post I've ever written!  My turkey sandwich clearly included ALL the toppings.
With a pickle and chips on the side.
With the popcorn.  ;)
I'm going to sign off now.
:)
(You can find all clothes sources from this post and new favorites here!)
xoxo, Erin