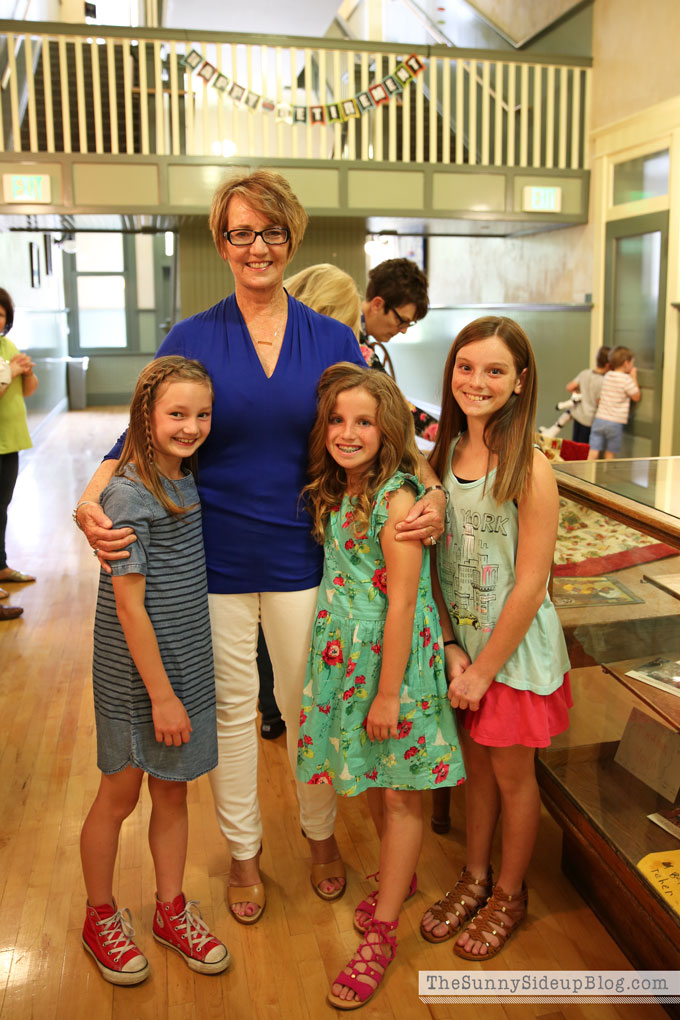 Last weekend we spent in Utah celebrating my mom's career in Education.  She is retiring after 35 years of teaching Elementary school and being an administrator over Title One.  Her friends and co-workers threw her an amazing Retirement Party (I had to share some pics!).  She wanted all of her kids and grandkids there and we wouldn't have missed it!  Such a special day for our entire family.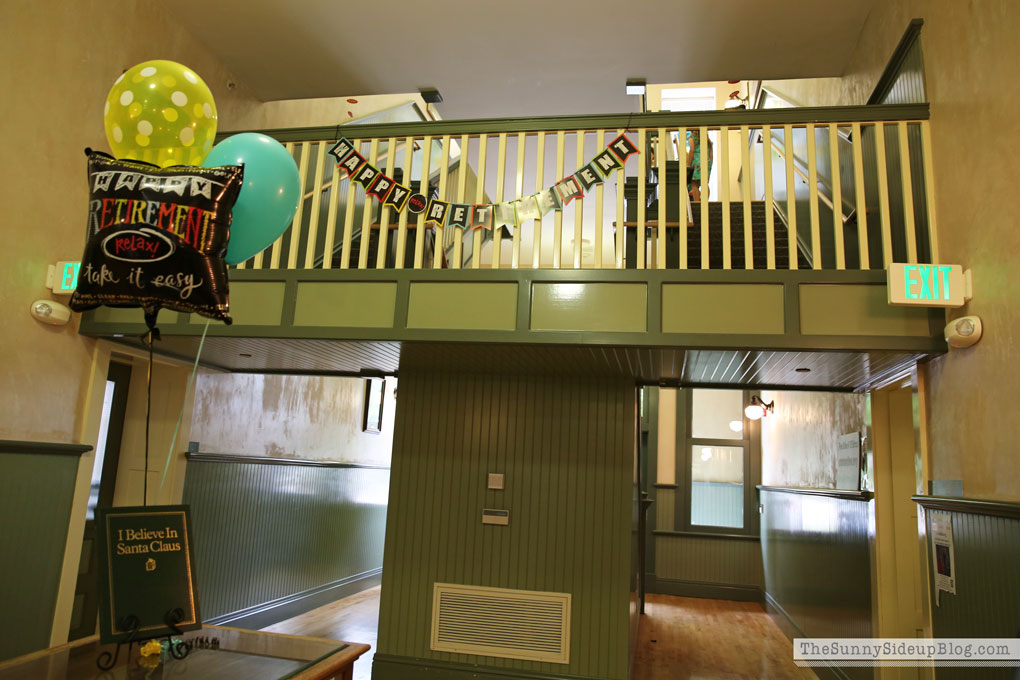 The party was held in one of our town's oldest buildings that has now been restored.  I went to 6th grade there and it was a bit surreal being back. :)  My mom's friends decorated every corner so darling and filled a huge cabinet with pictures of my mom's career in education.  I started crying after being there 5 minutes!  My mom is is so loved and has had such an impact on so many lives throughout the years.  We were all so excited to honor her!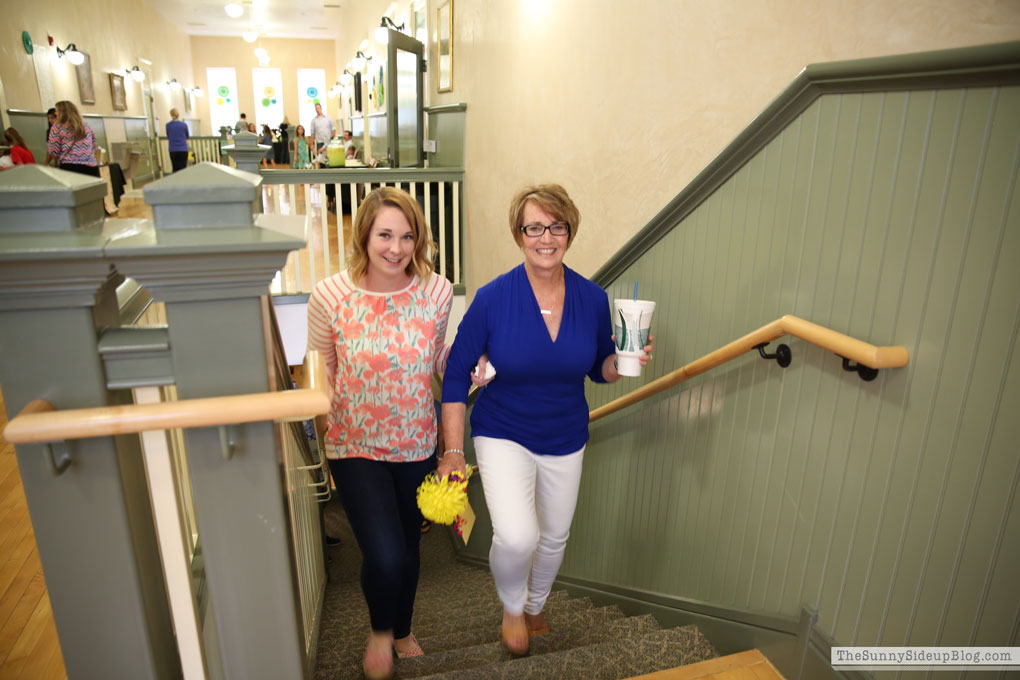 This is my mom's cute co-worker Brittney who is the main party planner and a close family friend walking her up the stairs.  This picture is a little blurry but I love it because my mom is holding her Diet Coke.  She doesn't go far without one. :)


It was an Open House so for 2 hours people poured in to give my mom a hug.  I snapped this pic before a lot of the people came.  Her friends decorated it all so darling.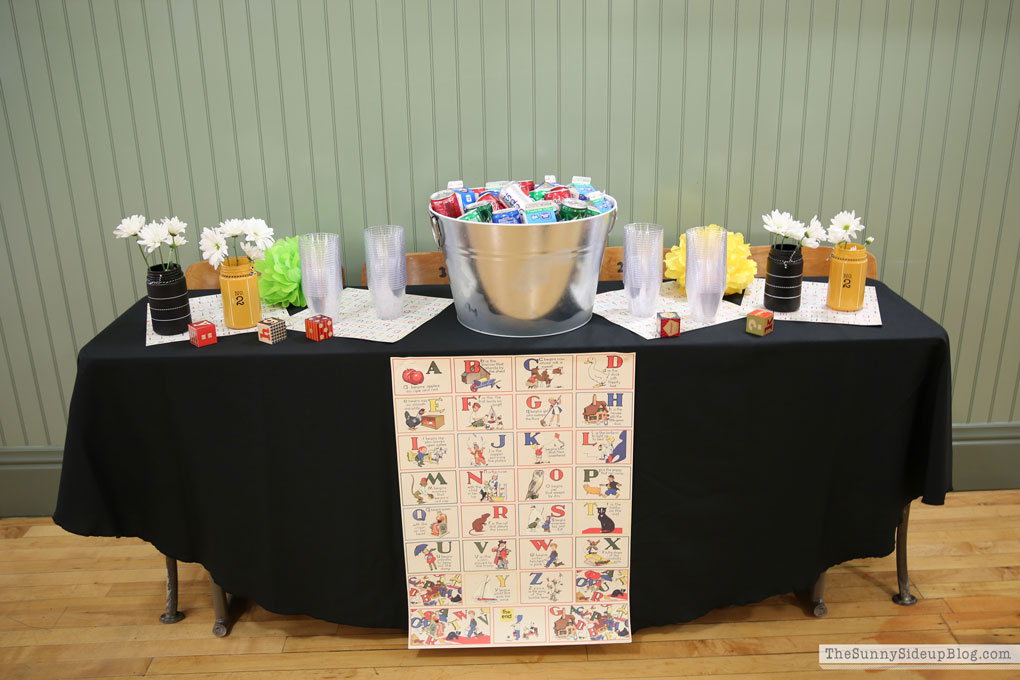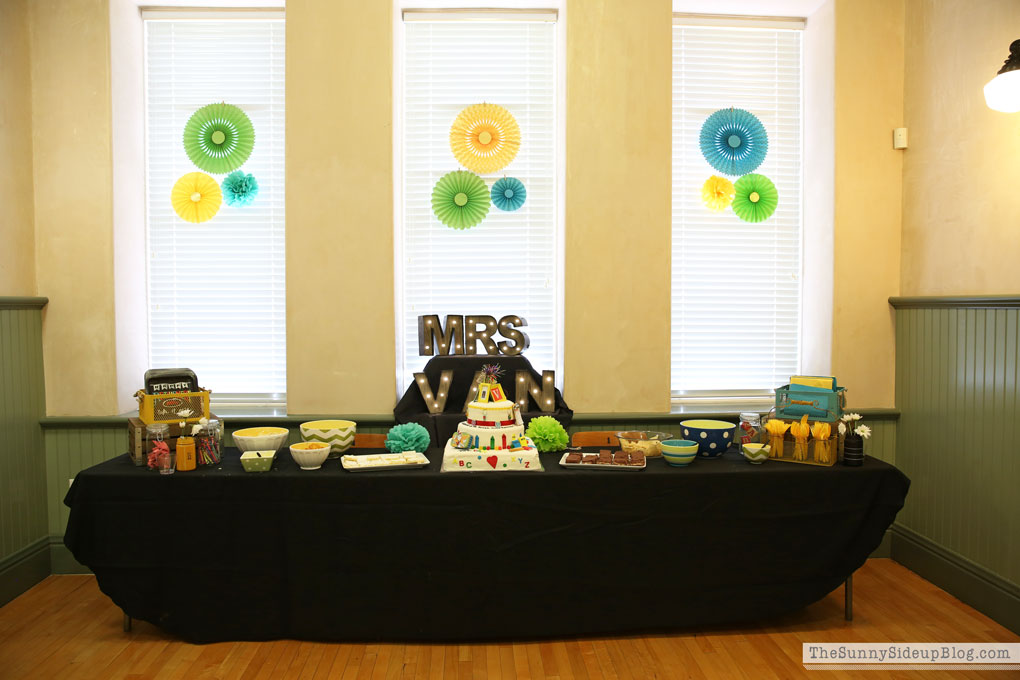 There was a huge chip and dip bar because chips with dip is my mom's favorite.  Give her chips and Diet Coke and she's set for life.


Her cake was also beautiful made by a close friend.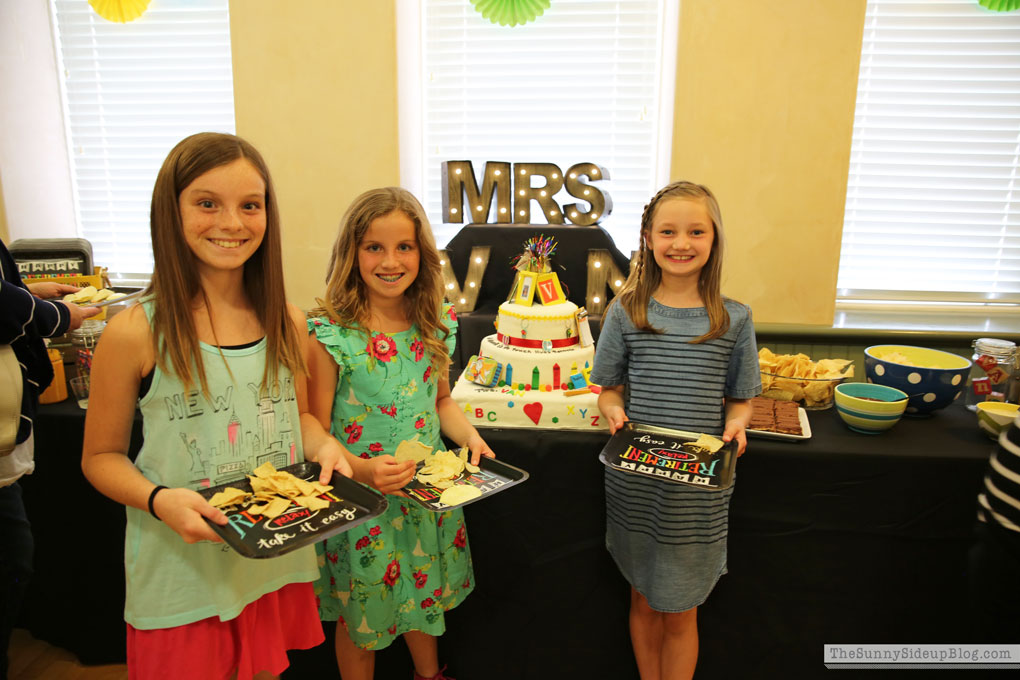 These three didn't wander far from the cake.  :)


My cute parents.  Love these two so much!  My dad has been retired for a couple of years (I shared his party here) so now they will both be home together.  Aside from when they are visiting me.  Which I hope now that they are both retired is going to be often.  :)


My mom has so many beautiful friends/co-workers who love her dearly and don't want her to retire.  There were a lot of tears at this party!


I loved seeing some of my besties too.  Nothing like visiting home.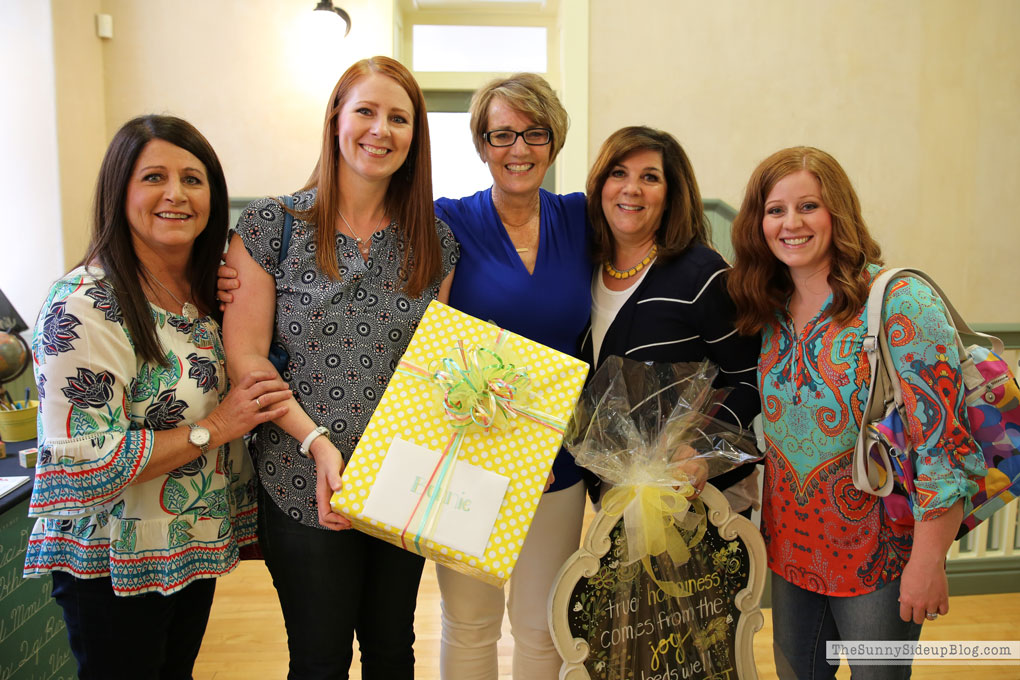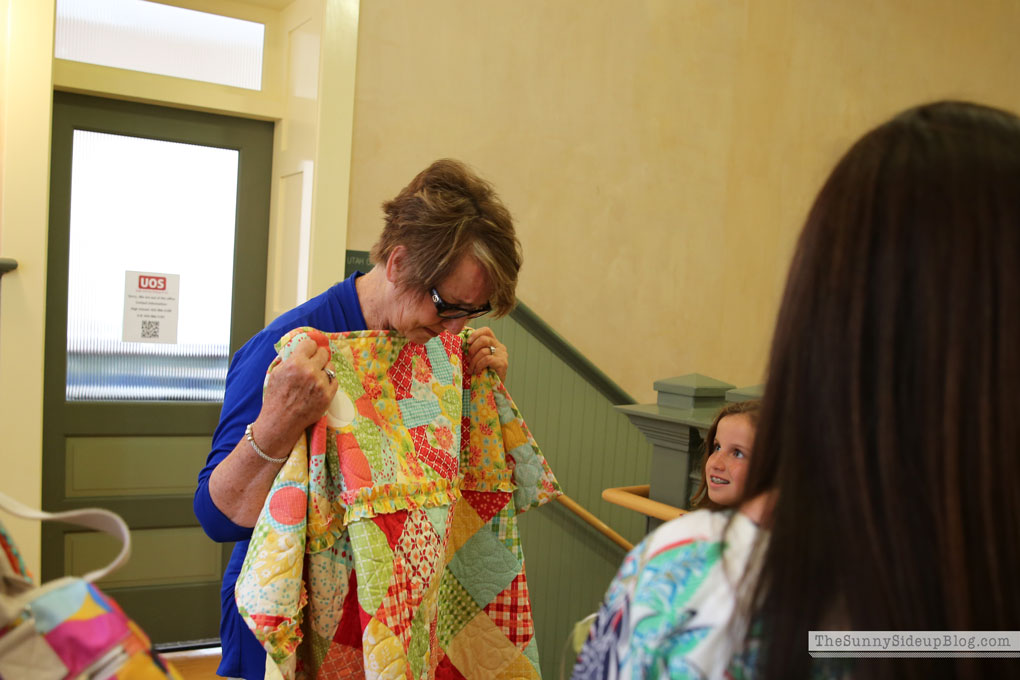 One of my mom's best friends made her a quilt.  I need to take a better picture of it because it's so beautiful!  It almost made me want to learn how to sew.  Almost.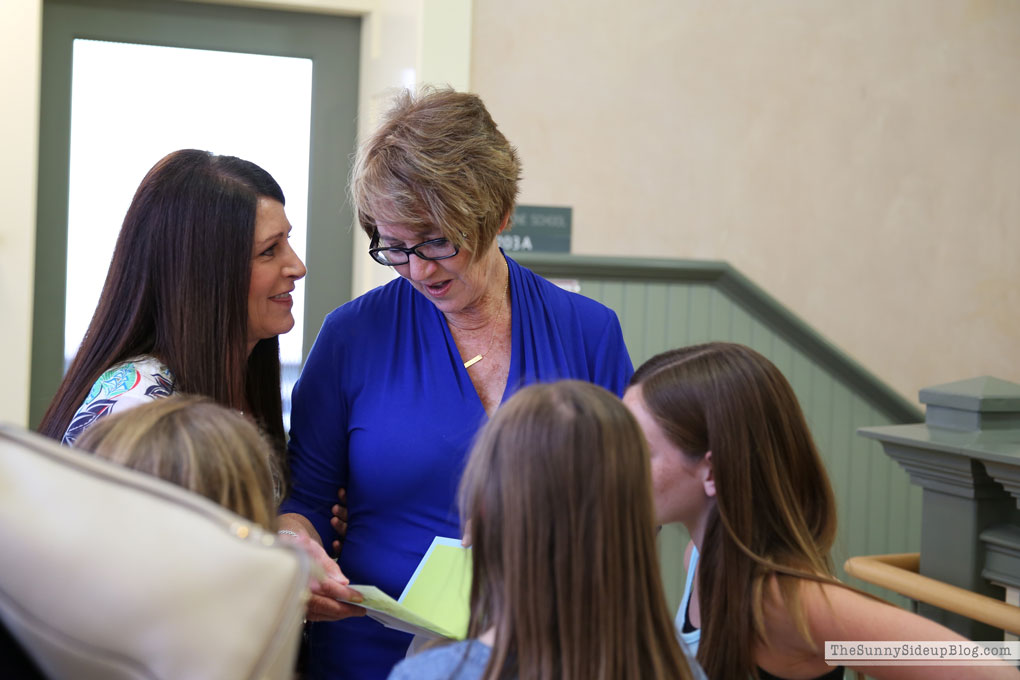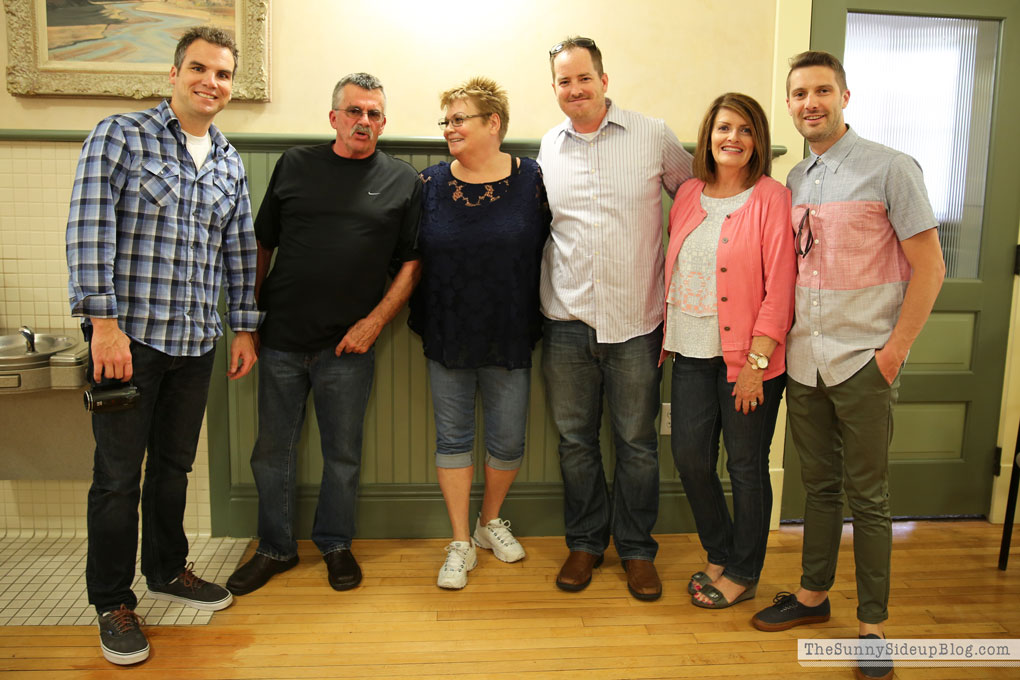 All of our sweet in-laws came.  My sister, brother and I lucked out in the in-law department.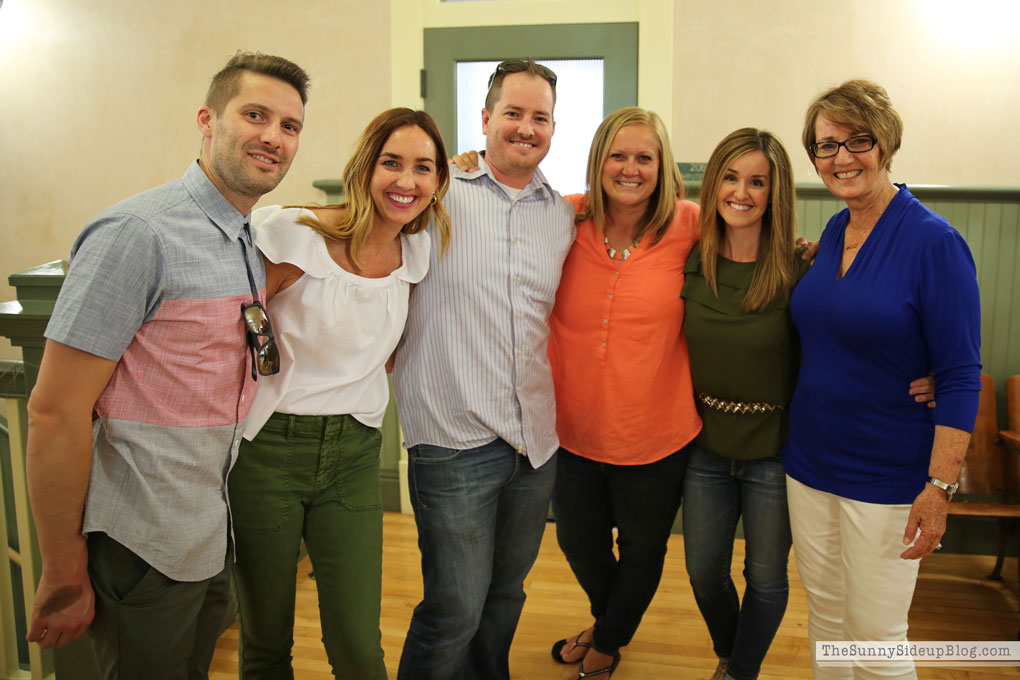 The three of us had our fair share of laughs as always.  Love my sisters!  The tall model on the left is actually our sister-in-law but we claim her as one of us.  I just can't stand next to these two very often or I suddenly wish I was wearing 10 inch high heels.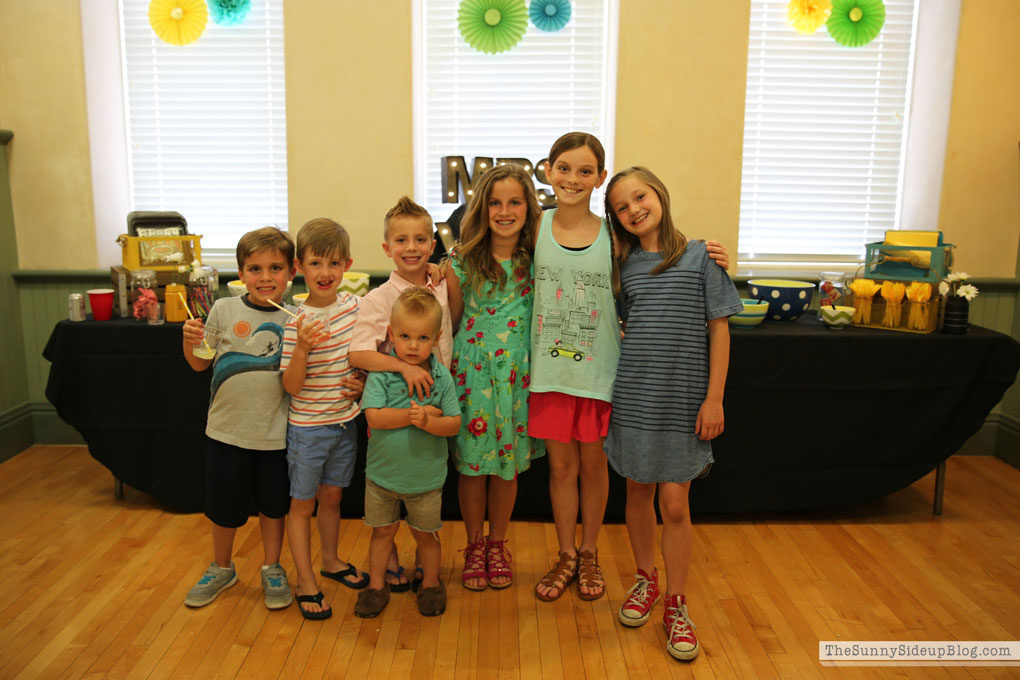 I turned around one minute and all of the grandkids were in one place standing together by the table.  What!  That never happens!  I jumped on it.  "Get close kids!" I said and they huddled in.  I snapped this one picture and 2 seconds later the moment was over and they were off in 10 different directions.  Had to pat myself on the back for that one. ;)


At my dad's retirement party my sister wrote a poem all about his career.  Those who know my sister well know that her true calling was to be a stand up comedian.  She can make people laugh like no one else.  I know that better than anyone and have more hilarious stories in my past than I care to remember.  Ha!  Her poem was the hit of my dad's party so everyone insisted that she write a poem to read for my mom.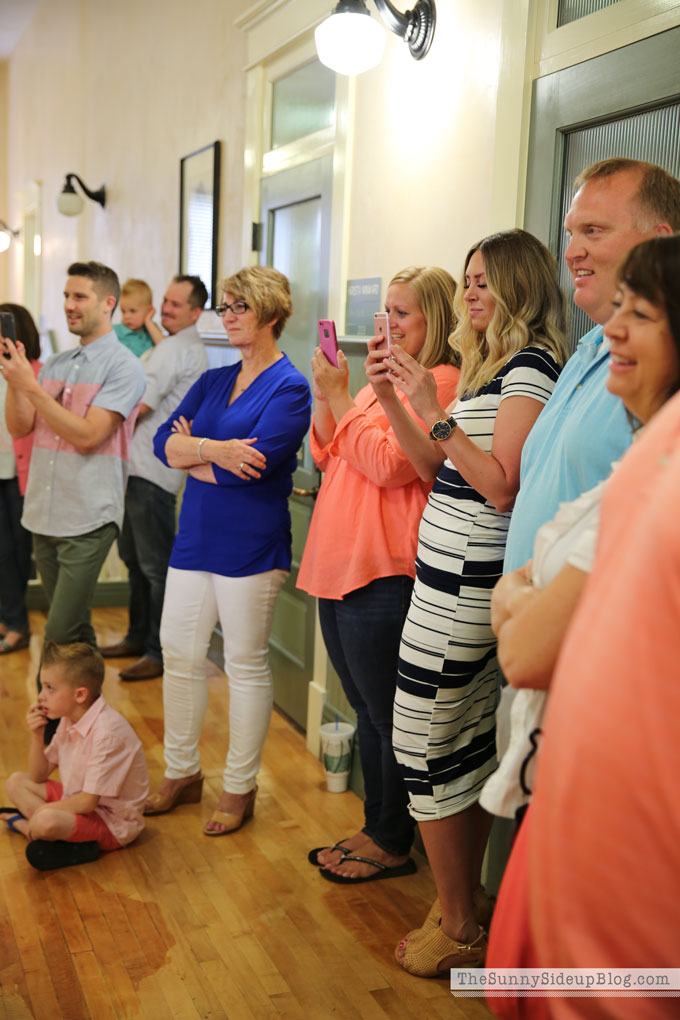 She didn't disappoint and had us all cracking up one minute and crying the next.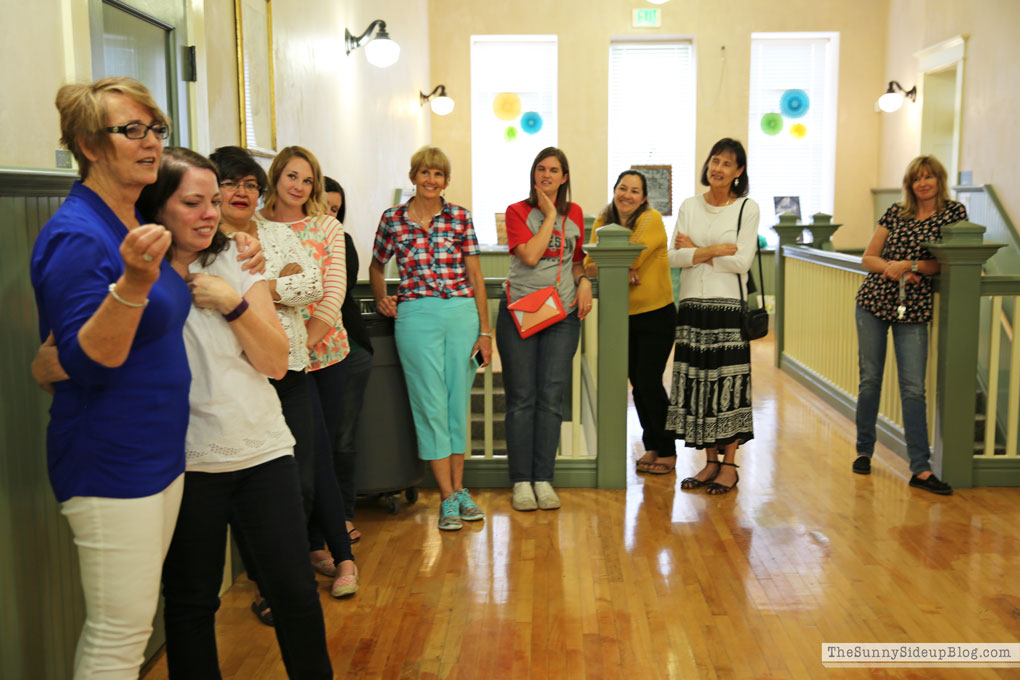 Then my sweet mom spoke and more tears followed.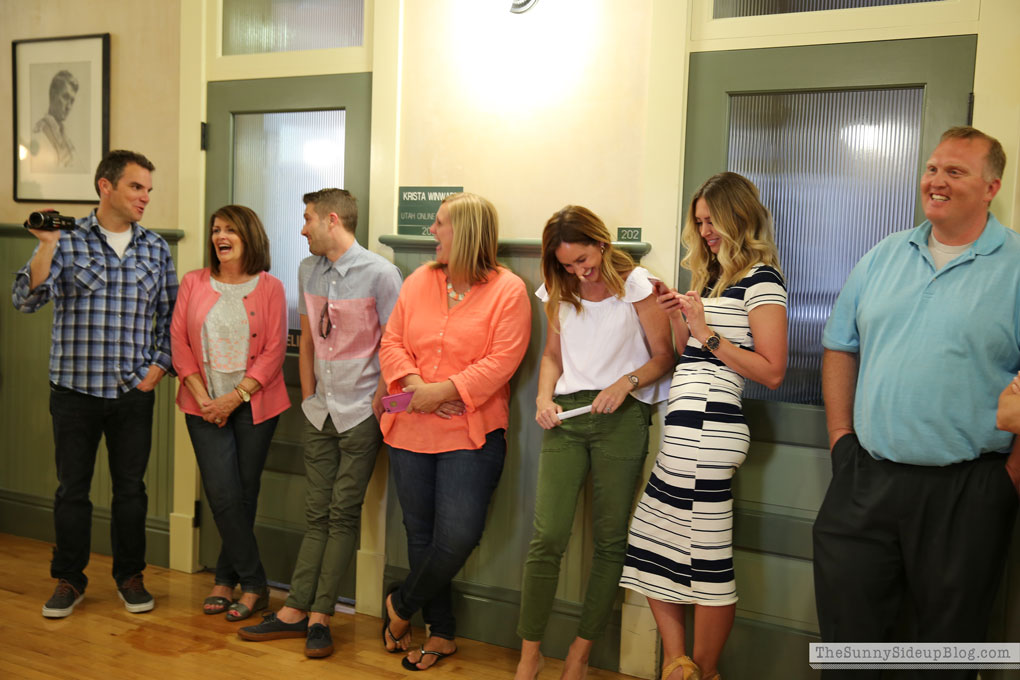 Along with a few laughs.  My mom can also hold her own in the humor department. :)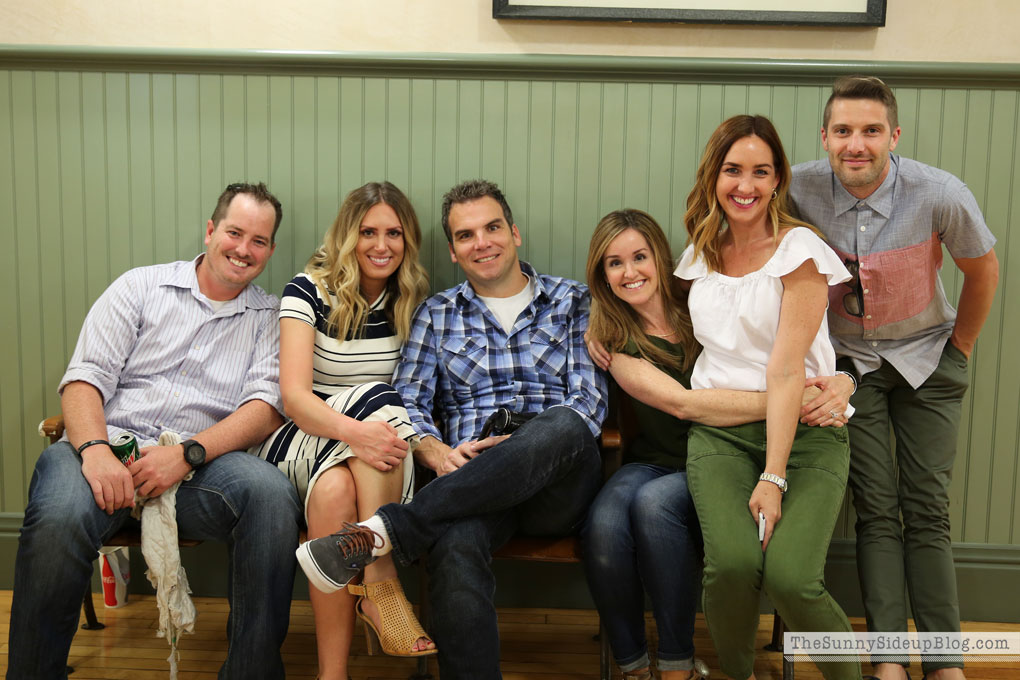 The six of us.  Love my family so much.  It's hard for me to be around them too long because we all have so much fun together that it makes me want to move back!


Group shot of the friends who were still there by the end of the party.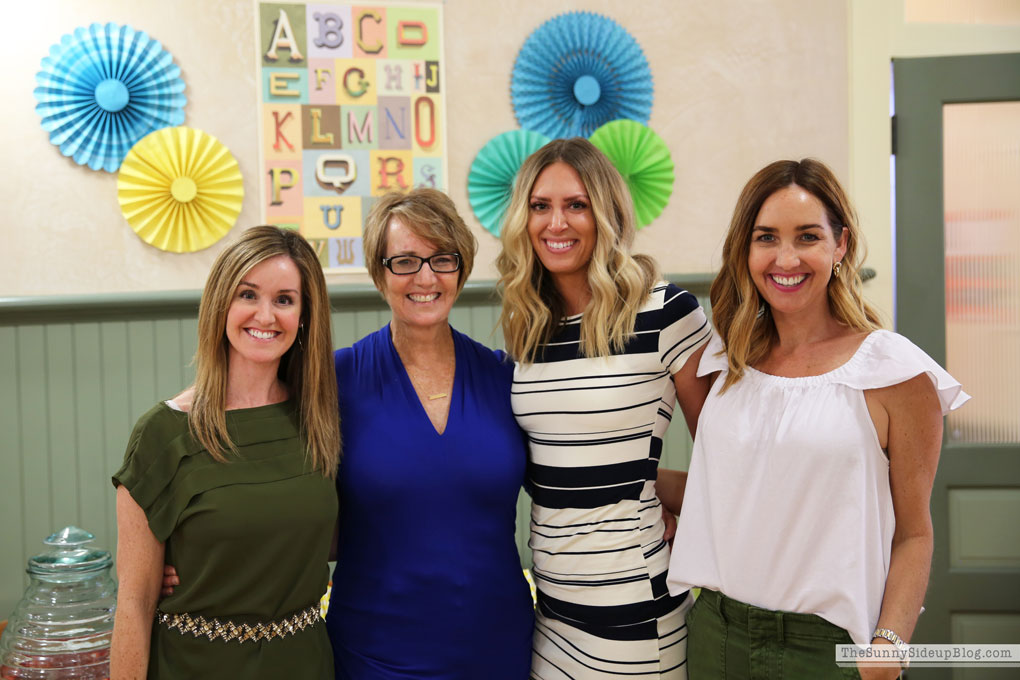 I know this is more of a personal family post, but this was such a special day for us that I had to document it all.  My mom went back to school to get her degree in Education when me and my sister were little.  My dad also worked in Education and money was tight so she got a job as a waitress at night so that they could afford school.  I remember her driving back and forth to college (an hour each way at the time), time at my grandma's house and lots of late nights that my dad was in charge of us while she worked or did homework.  My sister and I have fond memories of nights with my dad doing his hair in bows and headbands.  :)  She got her degree and worked so that we could afford the extras.. braces and dance lessons and family vacations and a splurge on an occasional pair of "Guess jeans" that we had to have because all of our friends were wearing them.  She was (and still is) loved by everyone in our community.  I can't tell you how many times I've been told in my lifetime "your mom was my all time favorite teacher!"  We couldn't walk into a grocery store or anywhere else in town without hearing "Mrs. Van!  Mrs. Van!"  The kids loved her.  The teachers loved her.  The parents loved her.  Even though she was extremely dedicated to her school kids, we never felt like we didn't have our mom fully present at home.  I don't know how she did it.  Devoted so much of herself to kids all day long and was always still smiling at the end of the day and there for us.  She sacrificed so much for us and now that I'm a mom I appreciate all she did that much more.  She is my greatest example and my decision to become a teacher was because I wanted to make a difference like she did.  My mom is kind and giving and radiates happiness wherever she goes.  She loves life and the color yellow and Diet Coke and a good trip to Target.  We have that in common. :)  Whenever my mom and I are together at the end of the day we always smile at each other and say "another fun day!"  She is my best friend and I couldn't be more proud today to say that I belong to her.
Mom.. I love you so much.  I'm looking forward to "another fun day" with you soon!
And then another one after that.
:)
xoxo, Erin