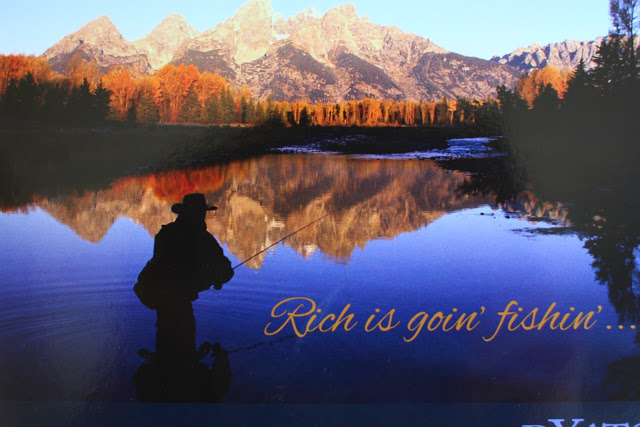 The week prior we received this invitation in the mail.
The front said "Rich is goin' fishin'…"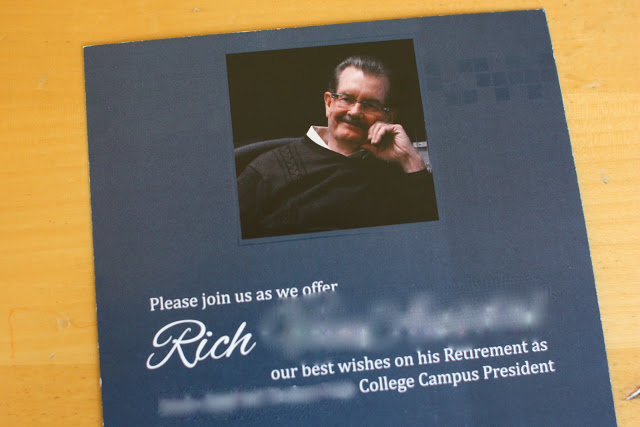 And on the back was this cute picture of my dad who retired from his amazing career as a College President. We have known for a while that my dad would retire this year and his co workers at the college planned a huge good-bye celebration in his honor. There was no way I was going to miss it!
A beautiful display table was set up with many of his awards throughout the years.
And pictures of his family.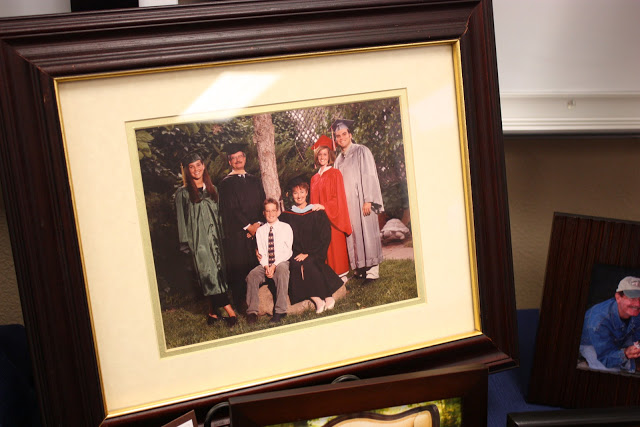 It was fun seeing this picture displayed. This was taken the year that Kenny and I graduated from college before Kenny went to law school. We were engaged at the time and my mom had gone back to school to get her masters degree, my sister was graduating from High School, and my dad attended the college graduation every year (of course) so almost the whole family was in a cap and gown that year! Kenny was the college Valedictorian (smarty pants) and he spoke about my dad and what a great mentor he was. It was a really cool year for all of us. My brother who was in 8th grade at the time was just happy to be along for the ride. :)
Crowds of people from the college and the community gathered together to wish my dad a happy retirement. It was really great to see so many people who care about him and look up to him. He is well respected and loved by so many people. I am always so proud to say I'm his daughter.
The Vice President who is now taking his place made him this quilt (she did such a beautiful job!). It has a square from all of the different college departments (technology, nursing program, etc).
Then everyone signed the back.
Another amazing tribute to my dad was this picture that Del Parson painted of him to hang on the college campus. Del Parson is an amazing artist who paints a lot of portraits for the LDS church. My mom was worried about how it would look and we all kept teasing her saying "Del paints pictures of Jesus for crying out loud! I'm sure dad's portrait will turn out just fine!" ;)
My mom looked so beautiful the day of the party. She is so happy my dad is retiring. We all are! This is a picture of her with two of her best friends. Their daughters are two of my best friends and they are like second moms to me. :)
Love these two. The three of us are always so happy to be together.
The two of us with "dad."
Then I asked the guys to get in a picture and my brother decided to be a dork and pose. So I asked him to knock it off and to just sit up and smile…
and he did this.
Several pictures later I finally got this one. Thank you Austin. It's always such a pleasure getting you to be serious. **Notice my husband plastered on a smile and didn't move in all three pics. He has been trained well.
And one of the six of us.
We all had red eyes from crying during the program. When my dad got up to speak he talked about how proud he was of his career, but how he was the most proud of us six. He referred to us as "his six kids" which brought tears to our eyes so quickly. He has always treated Kenny, Shawn, and Dayna like they are his own. He talked about our degrees and how proud he is that we all took our education seriously and how much we have all achieved. Then he talked about his six sweet grand kids and how excited he is to spend more time with them. I'll never forget the sweet things my dad said about his family and how that was the one time in his talk that he got choked up. We all love him so much.
My mom and I were talking after and couldn't believe we didn't get one picture that day with my dad in it! He was too busy socializing with all of his friends and co-workers! Popular guy. :) So here are a few of my favorite childhood pics with my dad..
The two men in my life.
So what does my dad have on his agenda now?
A little bit of this…
And a whole lot of this.
Dad – I am SO happy for you. Nobody deserves it more!
You mean the world to me and I love you so much.
Your favorite, Erin
(we can keep the favorite part between us – we both know it's true)
p.s. I know I've mentioned this before, but just in case you find yourself with more spare time than you can handle…
I could sure use an extra set of hands around here!
:)
Love you dad.
xoxo, Erin