The hardest part has been no dishwasher!! What!? Hand wash dishes! For four days!
Are you kidding me!?
I swear that's all I did this weekend. Wash dishes. I could have taken ten pictures of the stacks and stacks of dishes I washed. And while I washed I thought about my sweet grandma who never had a dishwasher a day in her life. How did she manage? And then I thought about my kitchen plans for our new house which includes two dishwashers. And I wanted to weep for joy.
lt actually was a wonderful weekend, despite our water situation.
My new Project Life page protectors came in the mail. I ordered them in an attempt to motivate myself to scrapbook this summer. I don't need new page protectors. But I do need some motivation. And some extra time would be a nice bonus.
My presentation went great last week – so much fun. (Thanks for all of your encouraging words!) It went so well in fact that I inspired myself to do a little organizing. ;)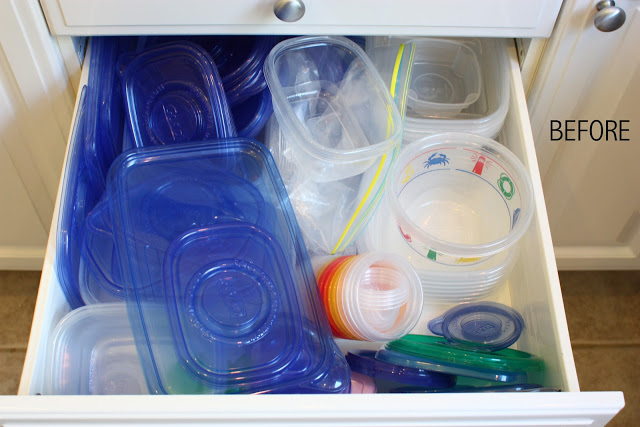 A quick tidying up of the Tupperware drawer was just the fix I needed.
And dried more dishes.
And washed more dishes.
And dried more dishes.
What did my girls do while I organized and cooked and washed my life away?
They collected snails in the backyard of course. A whole family of them. They all have names. Brittney, Jeanette, Emily, Claire, Emma…the list goes on. The crazy (or should I say scary?) thing is that my girls can actually tell them apart.
True story.
Ellie decided that since I won't let her get a pet, she'd take matters into her own hands and come up with a pet or two (or ten) on her own.
I am not a fan of snails.
Last night when Addison said her prayers she said "and please bless mommy that she will stop freaking out over our snails…"
HA! Keep praying Addie!
Aside from tending to their new "pets," my girls also drew paper plate lions,
and had a picnic with their princess dolls. On a Charger blanket of course.
(It's really the only way to dine…)
The Jasmine vines in our yard smell SO good right now.
Totally signals summertime in San Diego to me.
We were outside a lot this weekend. At the park, at our lot, on a walk, in our backyard.
The weather was so warm and sunny and beautiful that the girls tromped around in their rain boots just for the occasion.
And what was my little man up to?
Well, he was in absolute heaven being outside so much. Tending snails with his sisters,
pushing around his favorite Thomas choo choo train,
looking like he was straight out of the 1950's wearing nothing but a white shirt and jeans,
stirring up dirt and all sorts of other mischief,
and completely getting away with it because all it takes is one flash of this smile and his mother is so smitten that all is immediately forgiven.
True story.
New water heater is coming tomorrow. Oh happy day!
I'm never hand washing another dish again.
At least for a week until I've recovered.
:)
xoxo, Erin