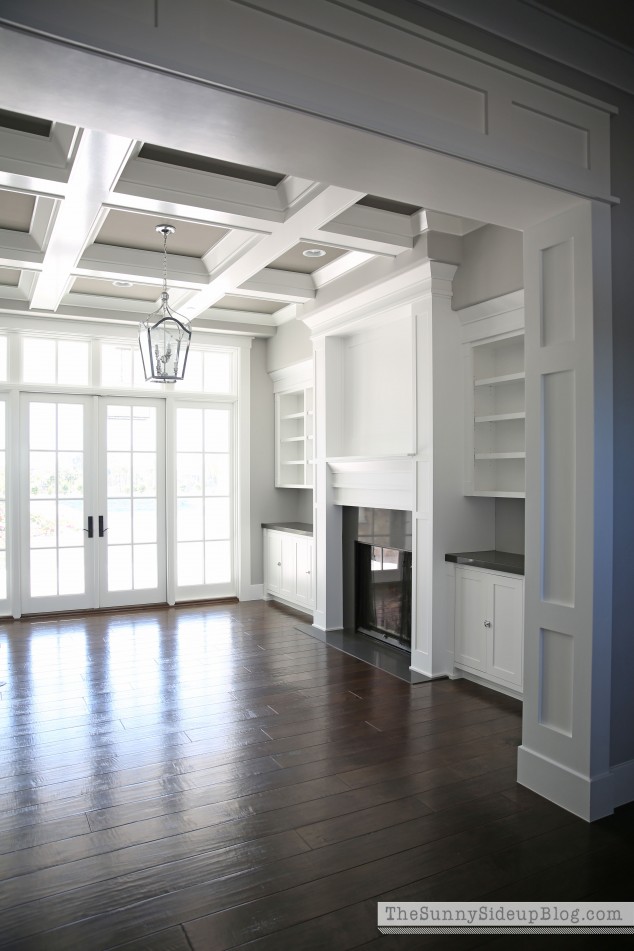 Is everyone adjusting to the time change?  This one is always tough.  I feel that lost hour all day and STRUGGLE to get out of bed in the morning.  Yuck.  But so nice to pick my girls up from their dance class this evening and have it not be dark.  Spring and Summer are upon us!
I'm sharing where I'm at with decor for the living room today and I have a lot to cover so chop chop!  Time for me to stop rambling about the seasons.  :)
We've had a lovely empty room for over a year.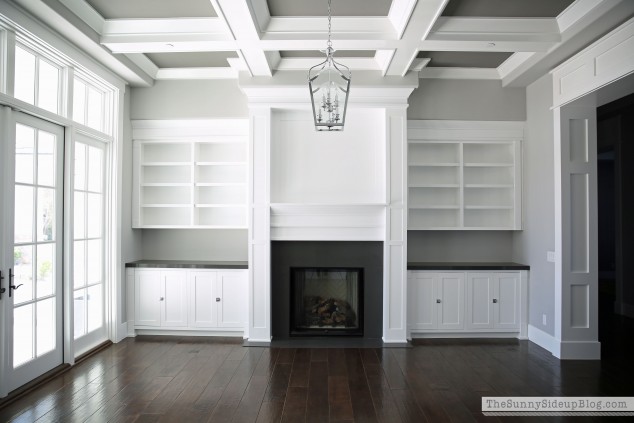 The kids are bummed we're getting ready to put furniture in this room.  It has become a great place for gymnastic tricks, hula hoop practice and ice skating in socks.  :)  But mom is ready.  Are you excited to see the room now?  Drumroll please…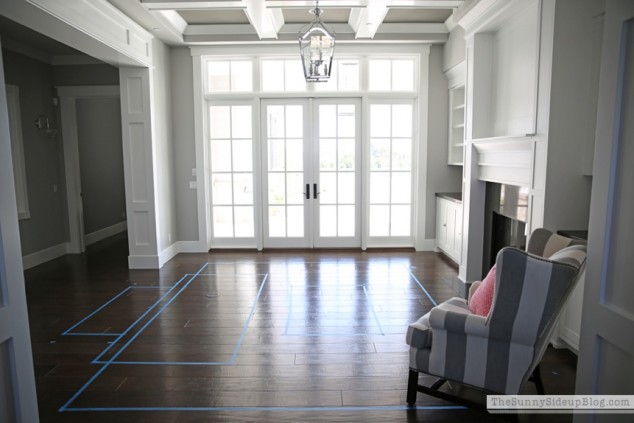 Ta-da!  No longer just an empty room.  It's now an empty room with blue tape all over the floor!
I know you're all so impressed right now.
Not really but bear with me.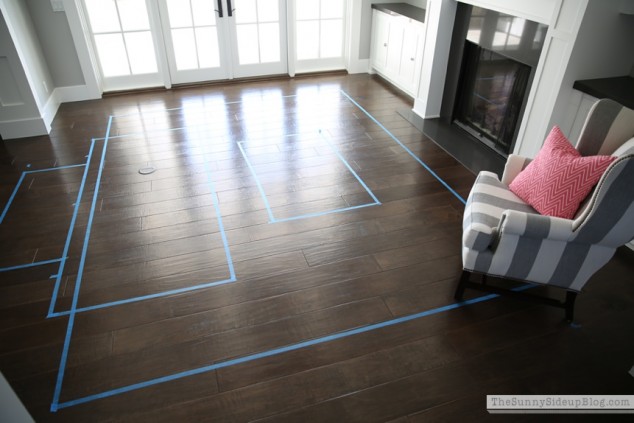 This is my husband's contribution to the decorating efforts going on around here.  As soon as I find furniture I think I want for a room he gets the measurements for everything and tapes out the furniture placement.  I am such a visual person and have a really hard time picturing things in a space so this is extremely helpful!  I'm always so grateful for his assistance.  He's always so grateful that as soon as he finishes with the blue tape his assistance is no longer needed.  :)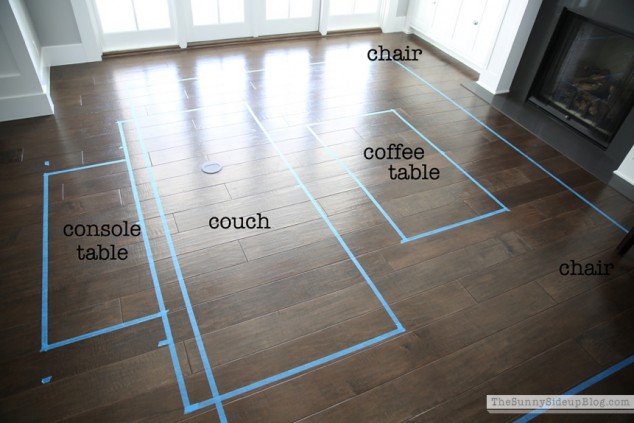 This is the furniture placement I've always envisioned for this room.  Pretty simple.  Couch, coffee table, two chairs so it's a cozy place for people to sit and chat.  Maybe a console table behind the couch.  I didn't type it in, but the large square is where the rug will be placed.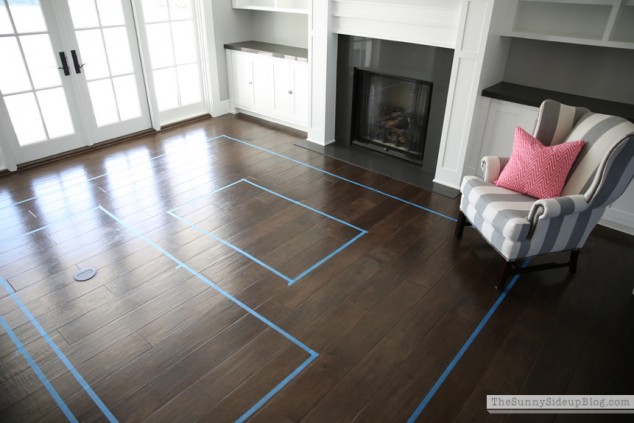 I brought my striped chair in from our family room so that I could get an idea of where the chairs will sit and how much room they will take up in the space.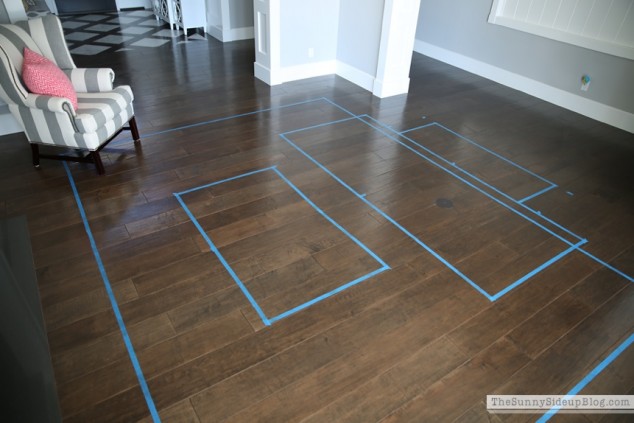 I think the way we have it laid out the coffee table is a bit too far forward so we'll move everything back a foot or two.  While we may just be living in tape at the moment I actually have made some purchases and am anxiously waiting for them to be delivered!  Here is the direction I'm going so far…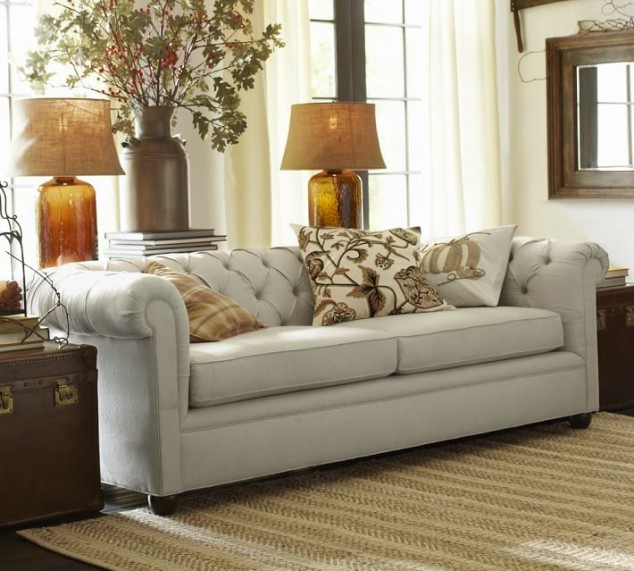 After months of searching for a couch I finally decided on the Chesterfield Upholstered sofa from Pottery Barn.  Kind of laughing that I went back to another PB sofa because I really wasn't planning on that, but I debated so many and it honestly was my favorite!  I knew I wanted something more tailored in this room (family room has the slipcovered casual couch).  I also LOVE the deep button tufts so I was searching for a couch with this look.
Here are a few others I debated:


Found this couch at Ethan Allen.  Really fun look, but the sides were a bit too formal/modern for my taste.


LOVE this deconstructed sofa from Restoration Hardware (I would have chosen a lighter fabric because our walls are grey).  Definitely fun for a farmhouse vibe, but I was a little worried that it was too casual for such a dressy room and that it's also a bit trendy.  I might not love it as much in 5 years and I'm planning on having this couch for the long haul!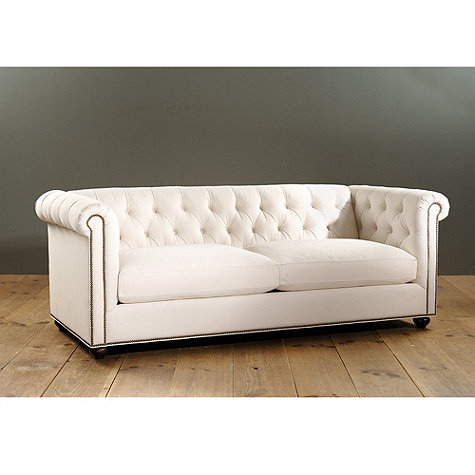 I also really liked this Emerson sofa from Ballard Designs but I get really nervous buying a couch I can't sit on first.  Even though the couch for our living room won't be sat on as much as our family room couch, I still want it to be cozy and comfortable.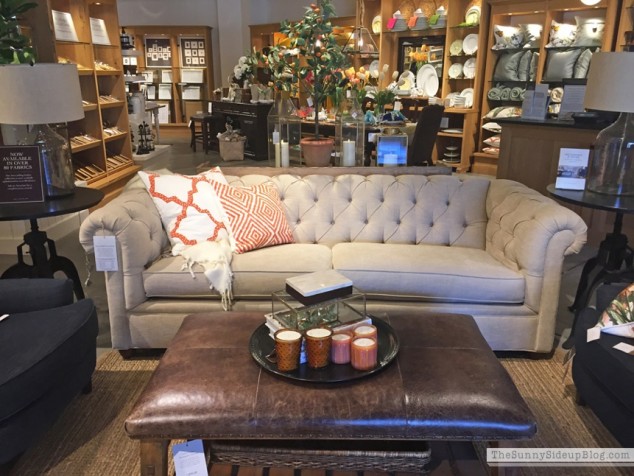 I've been really impressed with our PB couch in our family room and like our first couch, this one is also SO comfortable to sit on.  The only thing I was bummed about is that it didn't have nailheads.  So I'm going to add my own after it gets here.  :)  I snapped this picture with my phone in the store a week ago.  First the above picture of our couch…


then this picture of a different couch but in the fabric I choose.  I really wanted a white couch in this room so that I could have lots of fun with pillows, drapes and accessories, but I have three kids so I know how completely NOT practical that is.  Looks like I get to have my cake and eat it too because PB just came out with a whole new line of perennial fabrics that sound AMAZING.  Bullet proof!  They have the look of linen and are so soft to touch but my kids can spill anything on it and it wipes totally clean.   I'm so excited about it.  And so completely bummed that they didn't have this option when we bought our sectional a year ago!  You may remember how much fun it was when my 4 year old threw up orange gatorade on that couch ONE WEEK after we bought it!  You can still see a ring.  We just flipped the cushion over on the other side.  With this new fabric that would have been no biggie!  My plan is to let my kids be kids with the linen couch in the family room and then if I need to I can replace the slipcover with this new more durable fabric down the road.
Here is the rug I just ordered for this room!  Over the moon about this decision.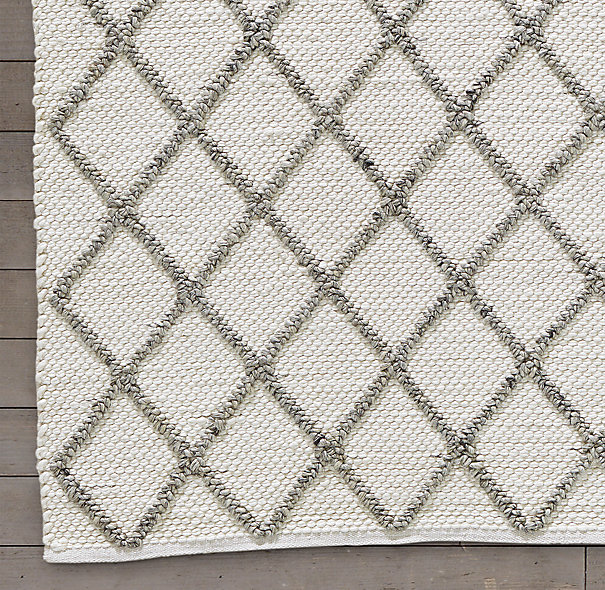 It's the Diamante rug from Restoration Hardware.  I was looking at several options and knew I liked this, but it was my second choice.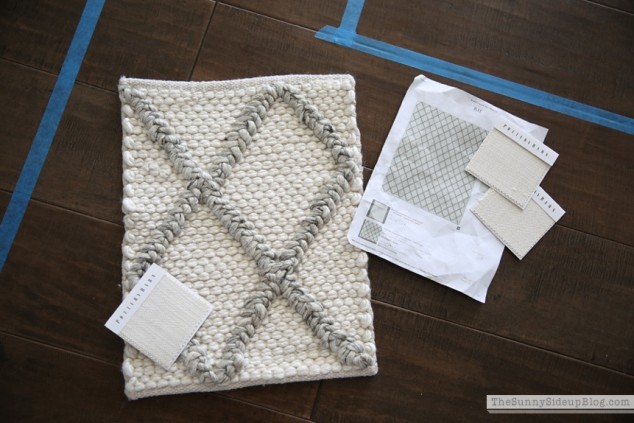 Until I brought the sample home!  SO soft and beautiful in person!  It had me at hello.  The small fabric samples are the color of our couch.  I hope it looks good because I struggle with rugs!  Hard to tell what they will really look like until they are there in the space.  I triple checked I could return it just in case but I'm hoping it's a keeper because I really love the sample.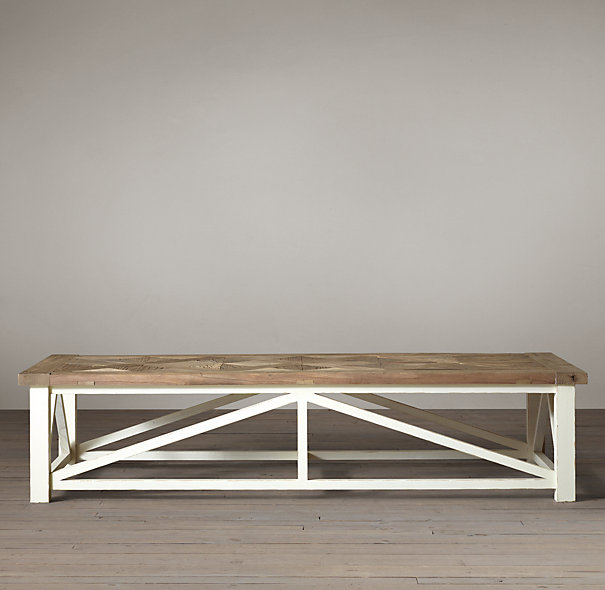 I also ended up going with a Restoration Hardware coffee table.  I know!  I'm boring that I get a lot from that store but I love so much of their furniture and love that everything comes in multiple sizes so you can get what you need for your space.  I'm pretty smitten with the white criss cross legs on this table.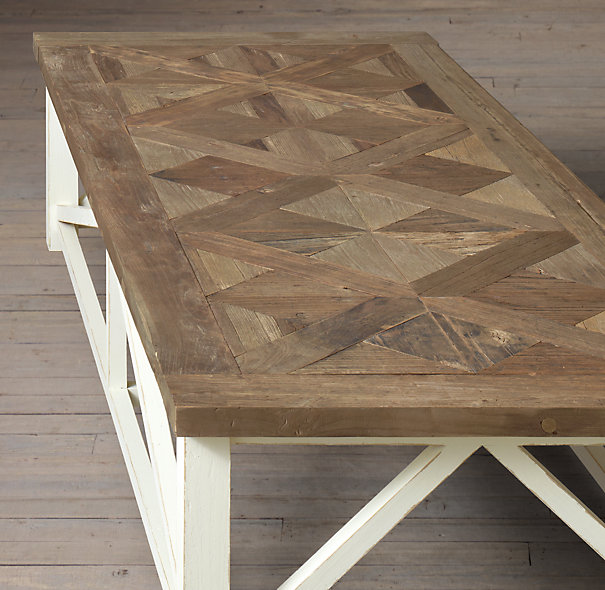 And that wood top!?  AHHH!  Love this look so much!  It might not be everyone's taste, but the thing I've found with decorating your home is that you have to surround yourself with things YOU personally love.  And I really love this table.  :)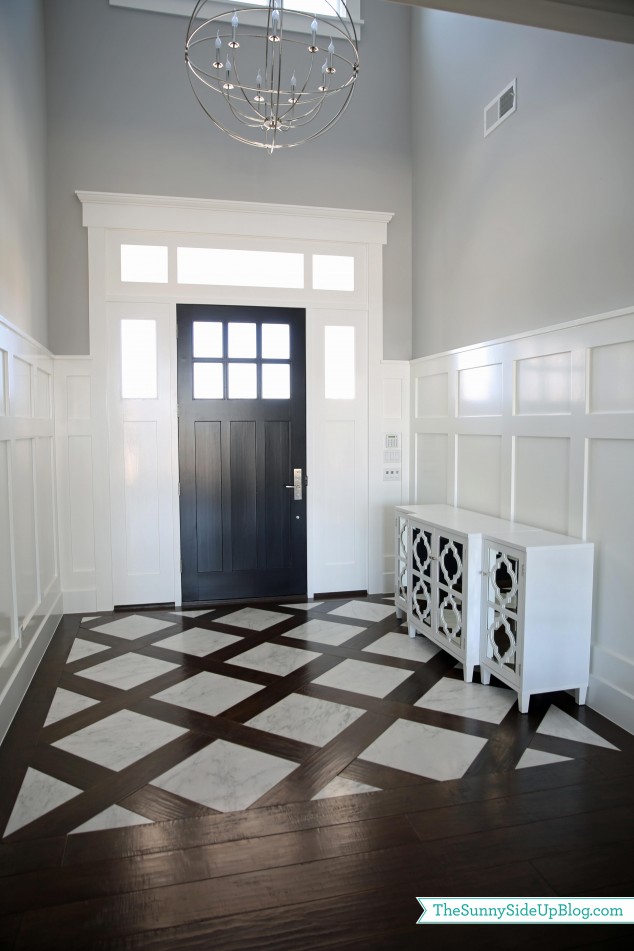 Hoping that the white coffee table legs will make the living room feel like it flows with the entry.   A lot of white so far but color will be coming soon!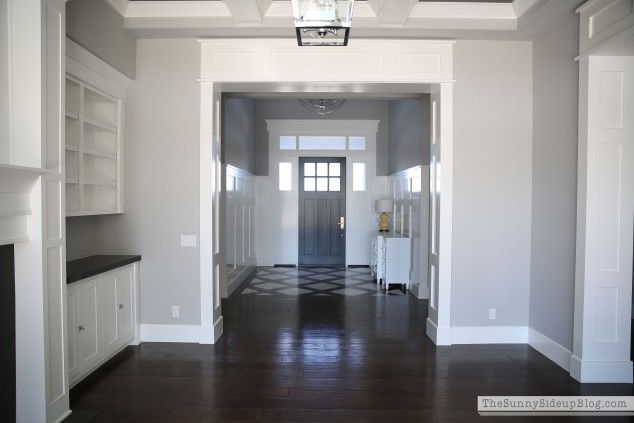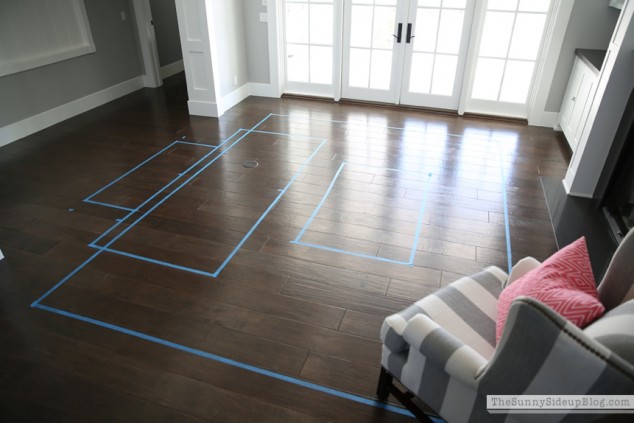 I debated buying the console table that matches the coffee table for behind the couch, but decided I want to find something different that doesn't match.  Still looking for a console table, two chairs and end tables.  (Let me know if you have any suggestions that might work!)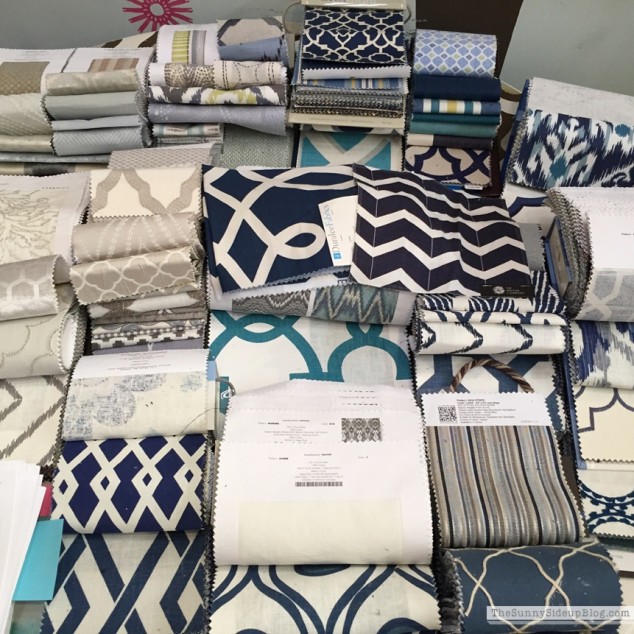 With all that white in the room I'm also looking at colorful fabrics to liven things up!  So many choices it's hard to narrow things down.  See the navy fabric on the bottom left?  Thinking of that for my drapes!  You might see a pillow or two pop up out of these options also but that's still a work in progress.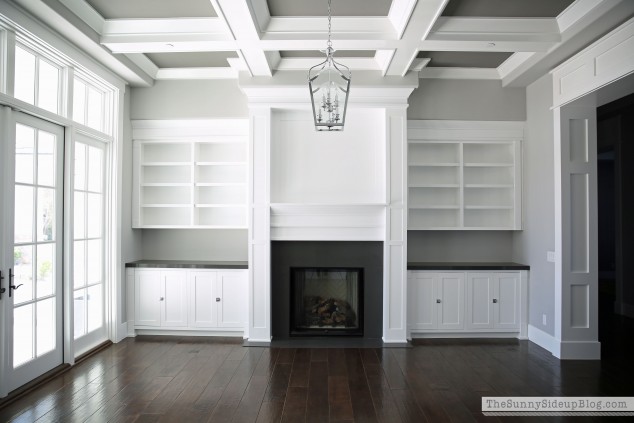 So there you have it!  Where I'm at with decor for this room so far.  I hope I like it all when it gets here so I'm not back to square one!  We shall see.  In the meantime I'm itching to style that mantel and bookshelves.  I enjoy the accessorizing much more than making the big furniture decisions!  The accessorizing isn't so much of a commitment.  I'm clearly not a fan of committing.  It's amazing I've stayed married as long as I have.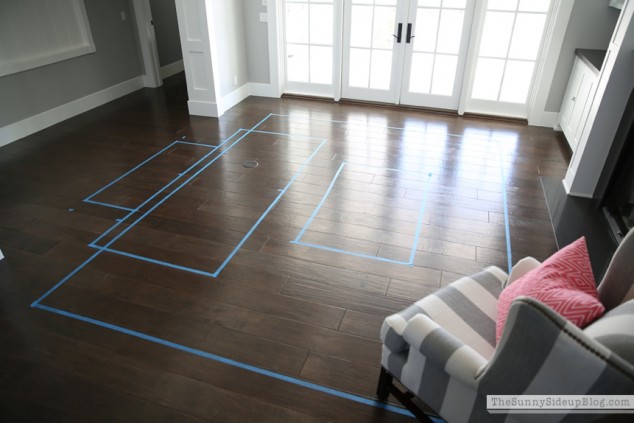 But when you have a husband who tapes out furniture placement for you?
You keep him around.
:)
xoxo, Erin