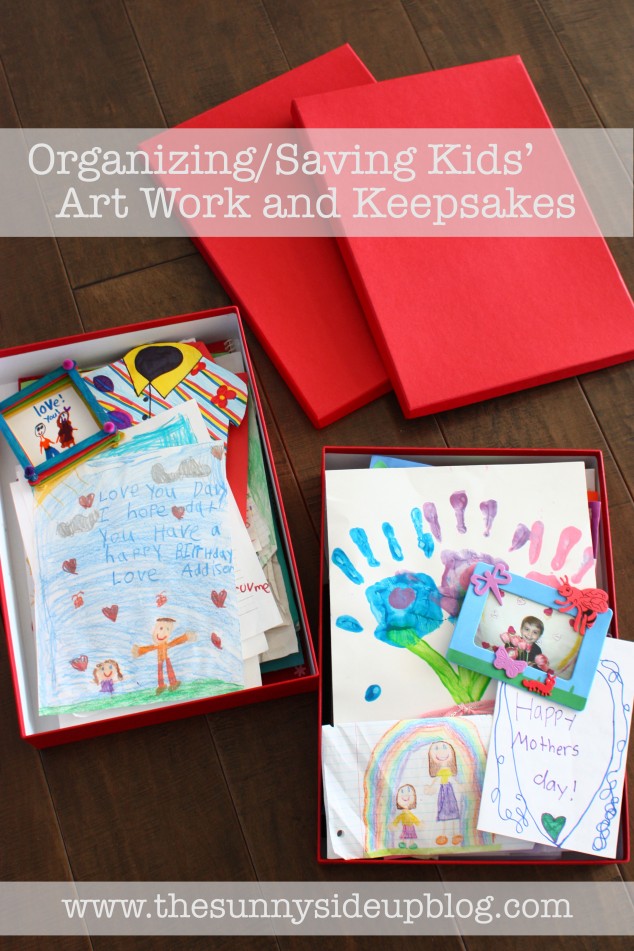 I don't know about all of you but lately I feel like I am DROWNING in my kids' paper work.  Three kids with all of their class assignments and tests and reports and stories and art work and parent letters and the list goes on and on…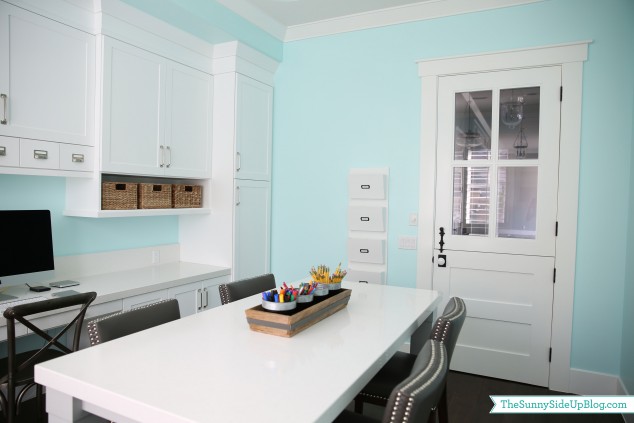 I thought I'd share a few ways I'm attempting to contain the paper around here.  I've shared my hanging file holder several times on the blog.  In the past I've used it to hold magazines.  Right now it's hanging in my office.  (I get asked a lot where it's from – Ballard Designs!)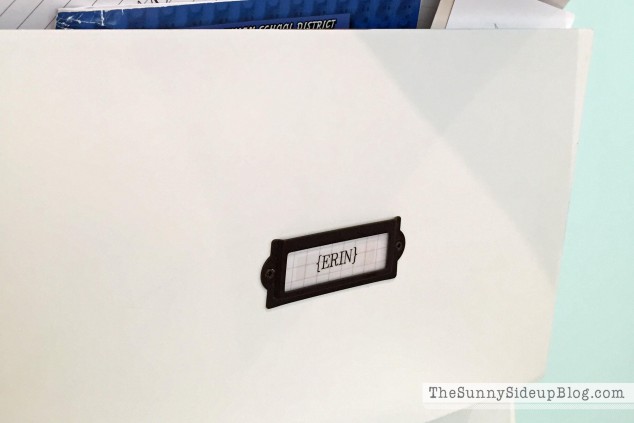 The slots are labeled with our names – one for me and one for each of the kids.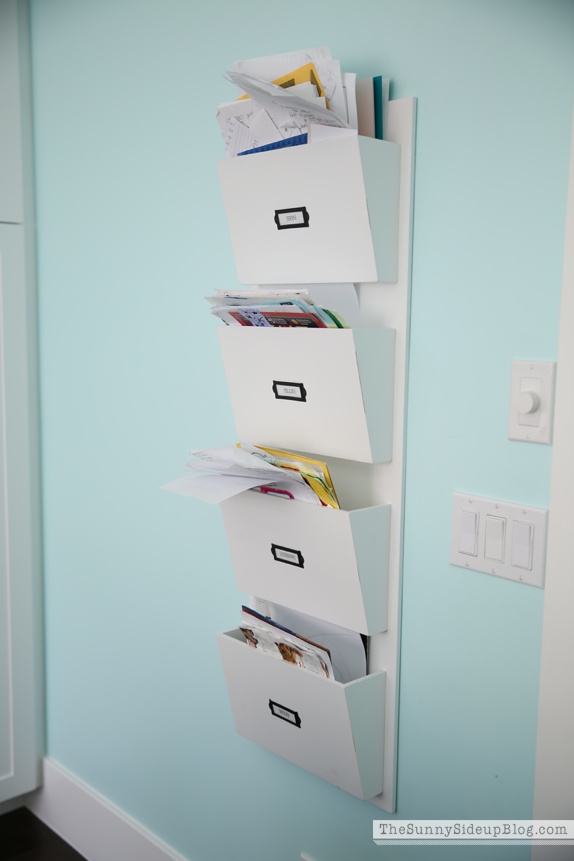 It is supposed to hold our current paperwork – things we are working on or need to save for the near future.  But as you can see – it was a mess and hasn't been keeping us all that organized lately.   Part of the problem is that we just had too much stuff we were trying to keep in this organizer.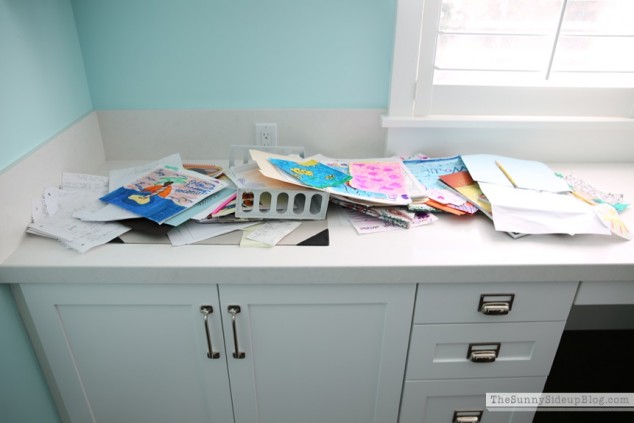 Then there is the constant issue of my girls and their story writing and drawing.  Love their creative bursts!  But I don't love their creative papers all over the office.  I rounded up all of the art/stories/projects that are either finished or are "in progress" and spread them out on the counter.  These are things they do for fun at home, not school stuff.  (Anyone else have this problem?)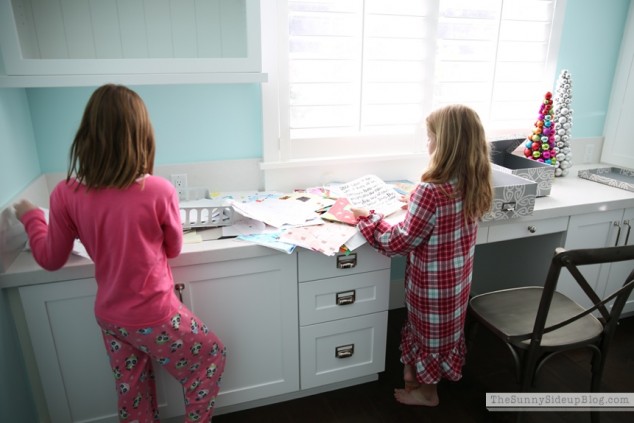 Then I put the girls to work sorting through it all.  I told them to only keep their favorite/most special papers and to toss the rest.  They have a mom who loves to "toss" so they are getting better at this little exercise.  :)  I have to recycle about 95% of the paper that comes through this house or we really wouldn't be able to come up for air!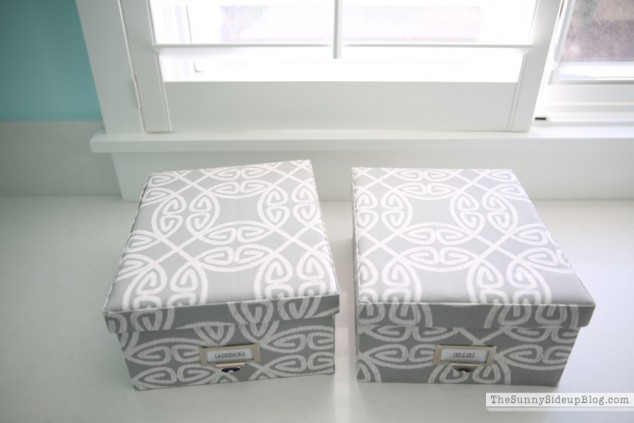 I've had these fun fabric boxes from Home Goods for a while and decided they would be a perfect place for the girls to keep their stories and art work that they are working on at the house.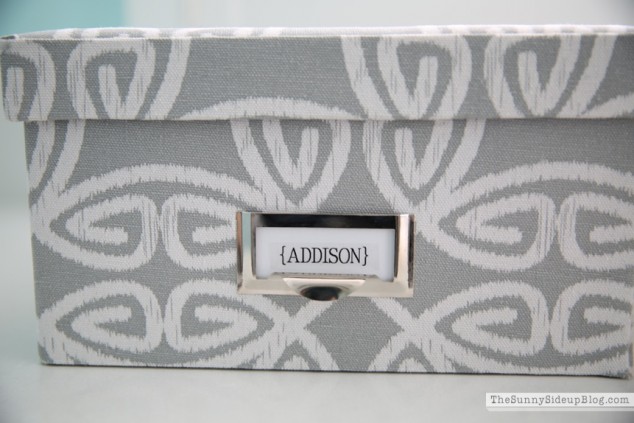 I just popped a label with their name in each of them (love my label maker!) and done!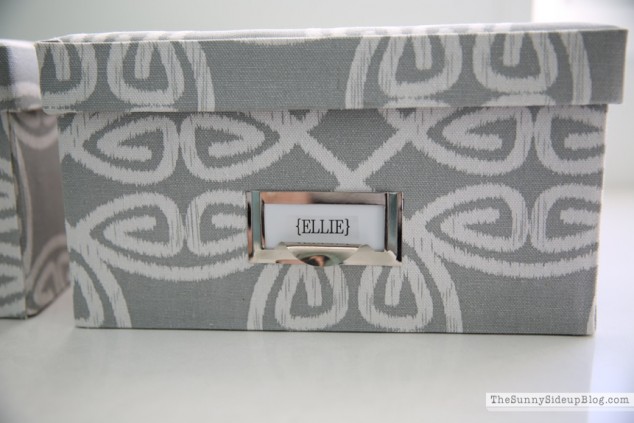 A new home for so many of the loose papers that were all over the office.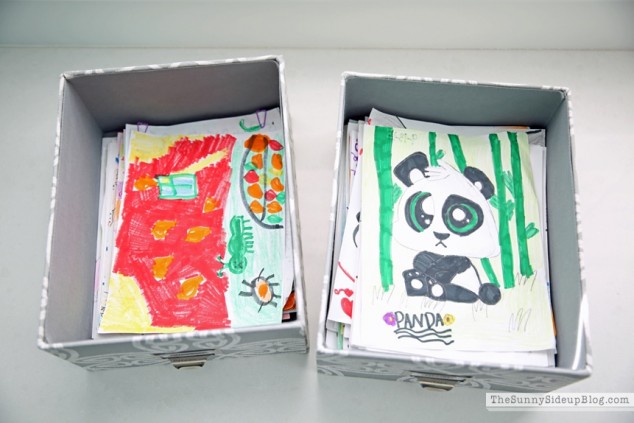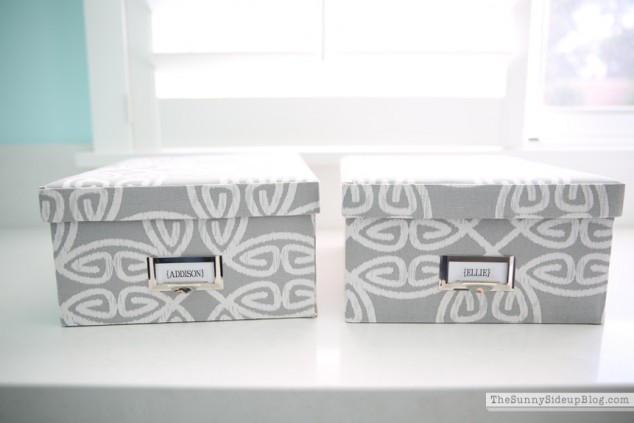 We've been using these for two months now and I can't believe I didn't think of this sooner!  Now after the girls sit down and draw a picture or start a story they have a place to save their work.  No more loose papers all over the office, no more searching for a certain half finished drawing, no more crazy out of control file organizers on the wall.  K – my slot still gets a little crazy from time to time but the kids' slots stay much neater.  :)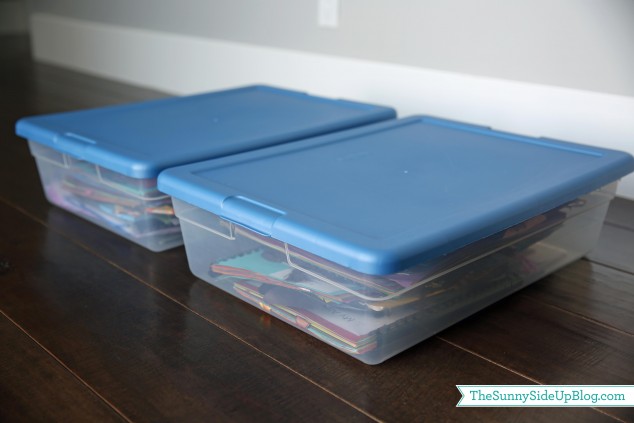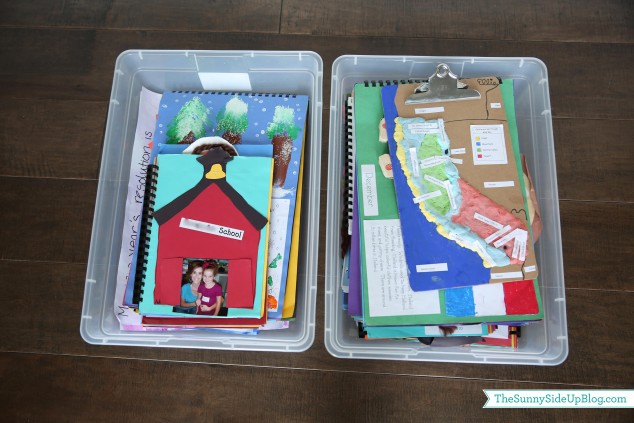 For larger art work/projects from school the girls each have a bin they keep under their beds.  They are filling up fast, but I really want them to only have one bin each for Elementary School so we are going to go through them and make sure we really need to keep everything in them.  I'll buy another bin for each of them for Middle/High School.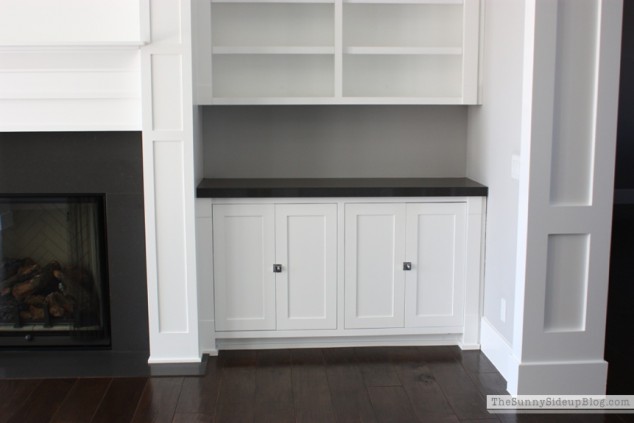 Another solution around here for keeping the paper under control is tucked away in my formal living room.  I may not have any furniture in that room yet, but I do have the cupboards organized.  :)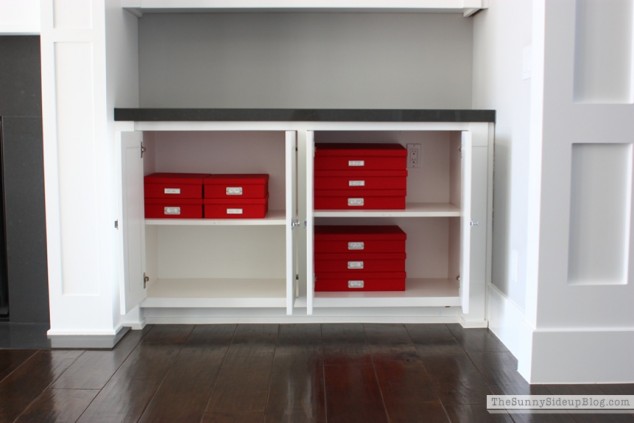 I've had these red boxes from the Container Store for years.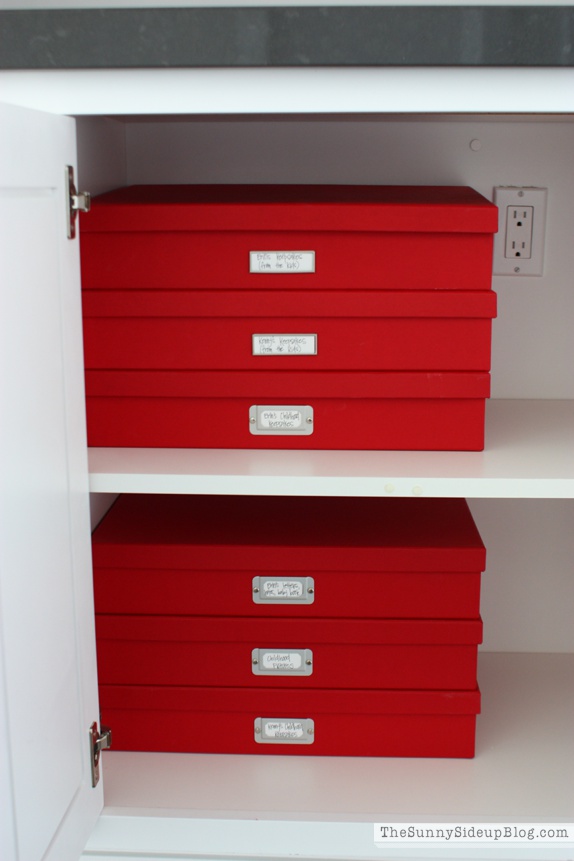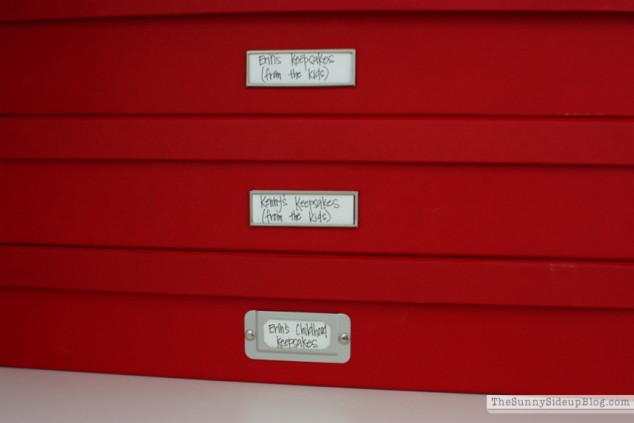 They hold our keepsakes.  Some from the kids and some from our childhood.  One box is labeled "Erin's Keepsakes from the kids."  My husband has one for him.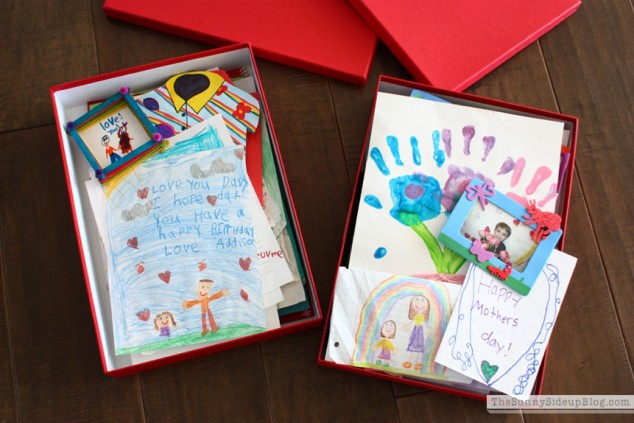 It's so nice to have a special place to keep the cards and notes and drawings from the kids that mean so much to us.  These are the boxes we would grab if there was a fire!  After we grab the kids of course.
And maybe my label maker.  ;)
So those are a few ways I'm organizing/saving the kids' work!  I still have a drawer of their past work to go through that I am saving for their Project Life albums.  You can see how I've incorporated special school work in their scrapbooks here. I'd also love to make an on-line book sometime to showcase some of their drawings.
There are SO many fun solutions for saving and organizing all of the paper kids bring home.  Would love to hear what's working for you!
xoxo, Erin