YEA! Friday is here. Best day of the week. Sometimes the anticipation of the weekend is even better than the actual weekend. Right? I'm so excited to share how our family room is coming along with all of you! I have slowly been chipping away at it. I have to tell you I am no where NEAR done decorating this space so I know it looks very bland at the moment. We are working on getting the big pieces of furniture in place and then the fun, colorful accessorizing can happen (most excited for that part!).
We looked at SO many couches the last few months we were building. Our previous couches in our old house we had for 11 years and they were literally holding on by a thread. Like I seriously had a safety pin or two in various spots. :) So I knew this next couch would be with us for the long haul and I wanted to make sure it was the look I wanted and really comfortable. The Pottery Barn Comfort Sectional fit the bill. I love the feel of the cushions and the slipcover look. These pics were taken soon after it was delivered and it really needs to be ironed! Or steamed. Or something. Ignore the wrinkles. :)
I mentioned earlier that I wanted something that matched my light fixture and this is exactly what I was picturing.
We almost put two smaller couches in this room with an end table in the middle, but decided on this sectional to maximize seating space. So glad now because the corner is the spot we all fight to sit in! I'm sitting in that corner of the couch blogging as we speak. Or as I type I should say. I feel like we're all just chatting, don't you? :) This couch was also great for the space because we had to find something that left the main walkways open. You can see the walkway from the kitchen on the left in the picture above.
And this walkway on the right so that the french doors are easy to access. We must have measured over 50 times to get the exact size figured out.
K. I'll stop rambling. On to more decor!
I bought this teal ottoman from World Market for a coffee table. SUCH a great deal and I love it! But it didn't work at all. We tried it turned the other way and it just wasn't long enough. It obviously doesn't look right turned this way either. (Can you tell my kids are in the zone in this pic? Must have been a good episode of Paw Patrol.)
So I tried moving it to the right side of the fireplace.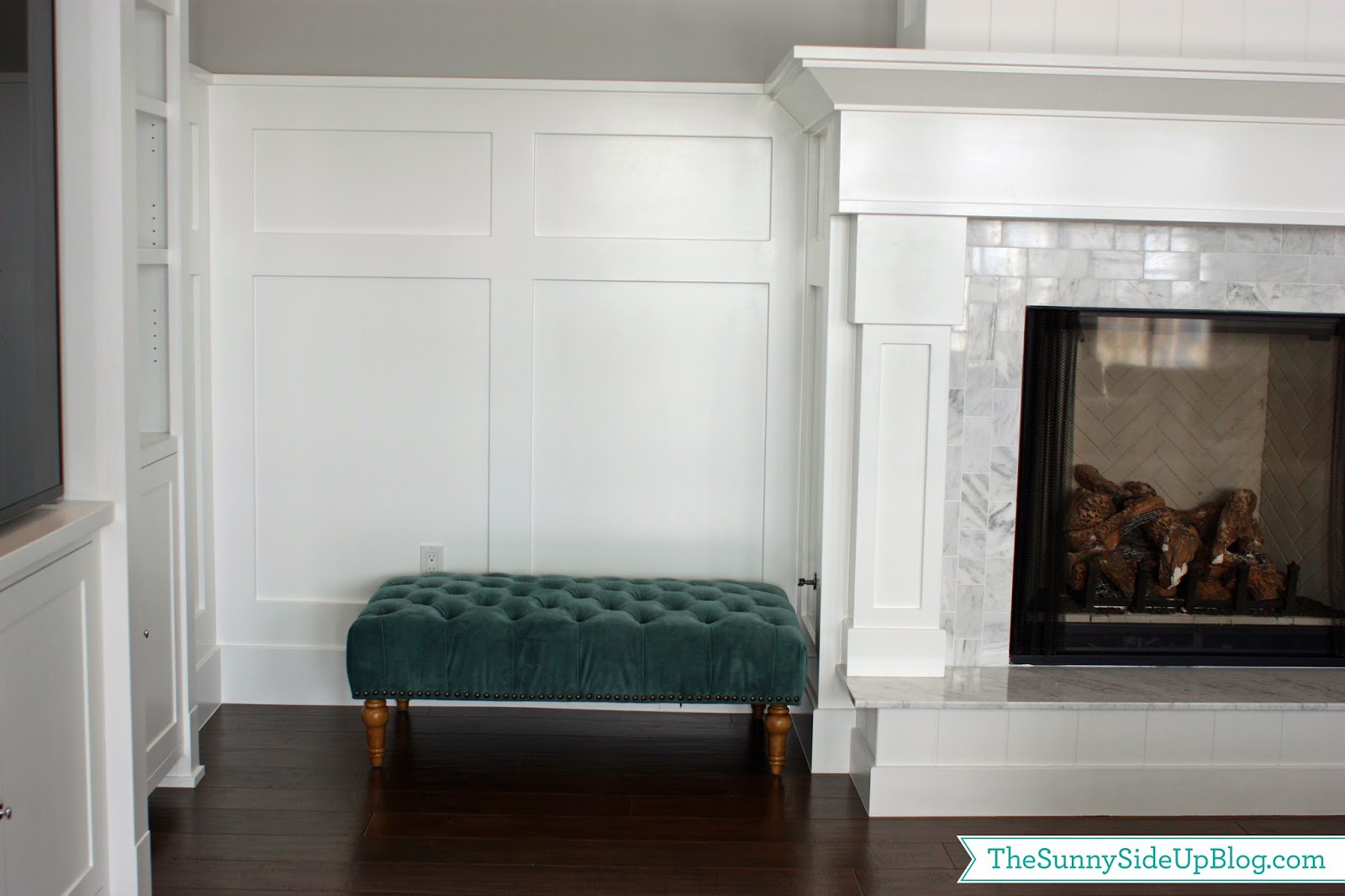 and then the left side of the fireplace.
Didn't like it in those spots either.
LOVE the splash of color, but way too small and short for those spaces.
I am keeping it and still trying to figure out where in my house it will work.
So I searched high and low for weeks on-line for a coffee table I loved that fit the space better and decided on the Dutch Industrial Coffee Table from Restoration Hardware.
It wasn't slid in the exact spot here yet – they had just delivered it when I took this pic. And the lovely plastic floor guards will be moved once we get a rug. But it fits the space perfectly!
I love the rustic, reclaimed wood, farmhouse vibe so this look really appeals to me. Not so much to my mom who pointed out when she was here last that my coffee table might give her slivers. :)
This is also a much better solution for us because every night after the kids are in bed our coffee table is piled high with papers, magazines, laptops, my lemon water, Kenny's Coke Zero, stuff we are working on. We needed something flat and durable. :)
I haven't started styling my media shelves yet. I've just been rounding up a few things I might use…
These beautiful blue glass bottles were a Christmas present I relentlessly begged slightly suggested Kenny could get for me. I'm not sure if I'll use them all together like this or split them up.
I may use a few of the silver containers I've been collecting.
I found this beachy sign at Home Goods for 10 bucks and put it up debating if I should bring some orange in the room with the aqua. Not sure about that one??
Also at Home Goods I picked up these beautiful lanterns! Love them. I especially love that one of them has a silver handle and one of them has a rope handle. They won't go in this space – I don't like the white against the white. But I know they will find a happy home somewhere!
I loved the dutch coffee table so much that I also ordered the console table that matches it for the right side of the fireplace.
I wasn't sure about this console table at first, but now I have fun plans for it so I think it's a keeper. Unless I change my mind tomorrow. Maybe that's why I shop at Restoration Hardware so much. They are really good about returns. Which makes them really good for indecisive people like me. :)
I ordered something for the left corner of the room that I'm so excited about! I'll show you as soon as it gets here. I'm dying to figure out something big and tall to use as a backdrop for my mantel – a mirror? Reclaimed wood? Not coming up with anything for that yet. My mantel is hard because it's so big and deep. Everything I put on it looks too small and out of scale.
So here are a few pics of my family room in its current, incomplete state…
It's a start! Progress. I've chosen curtain fabric for the french doors and some of my pillow fabric too but this post is quickly turning into a novel so I'll share those swatches later. Would love to hear what you think so far! Unless you hate it. And think my coffee table will give you slivers.
;)
Love you mom.
Enjoy your weekend everyone!
xoxo, Erin