We're back! We've been gone by the way. Sorry for the blog absence. My kids had last week off of school so we spent the week skiing in Brian Head, Utah. Home away from home! I grew up camping and skiing on Brian Head Mountain and it felt so great to be back! Forgive the overload of pictures. I haven't had time to scrapbook in what feels like a decade so this blog is the only family journaling I've got at the moment. And I don't want to forget this trip. The past three years we haven't traveled much (other than to visit family). We've been busy with babies and building a house and well.. there was that time I almost died. It's been eventful to say the least! But not a lot of travel. Which we love. So one of our New Year's Goals was to have more fun trips in our lives and less babies and building and almost dying. ;)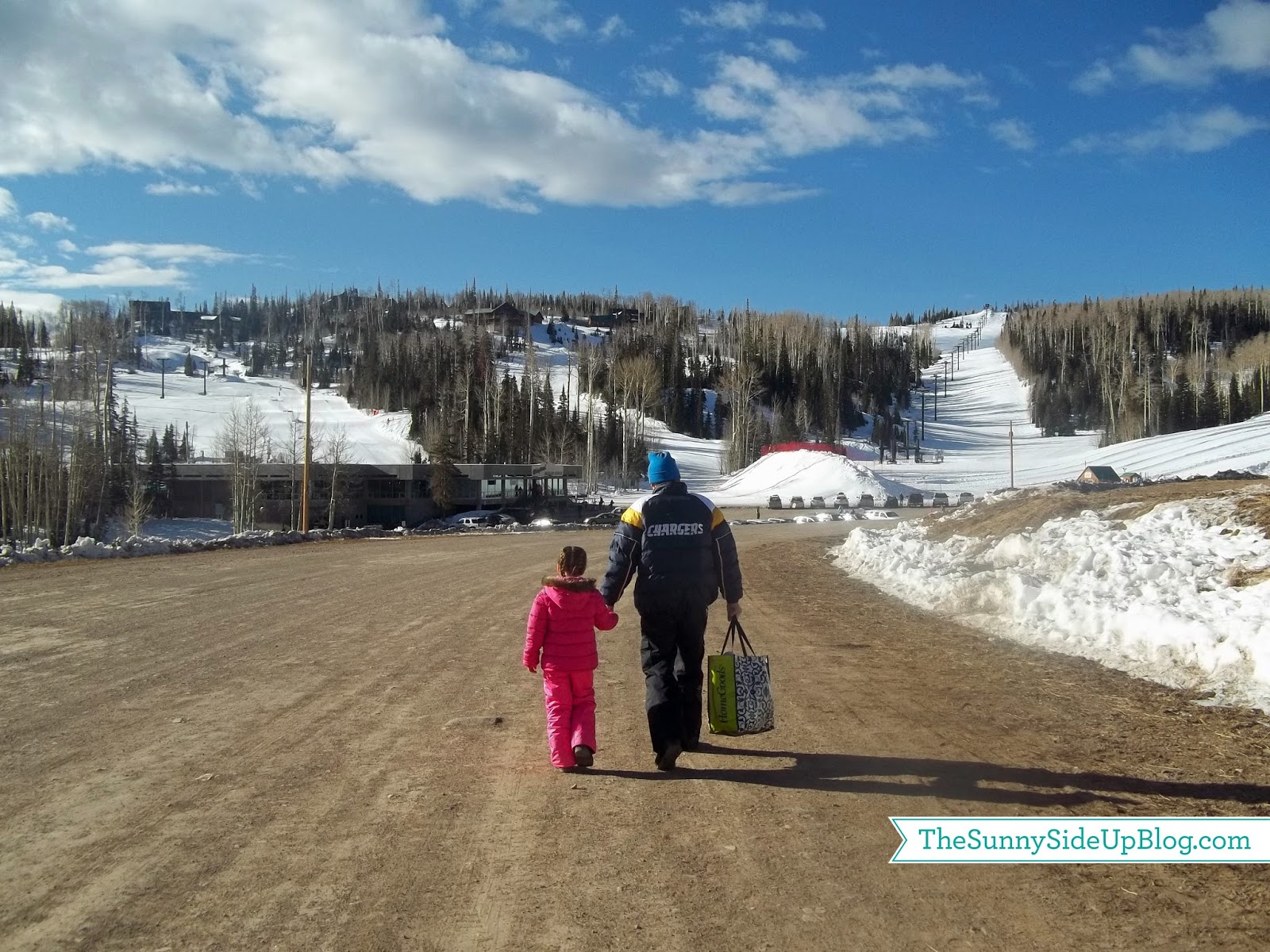 Kenny and I have always loved skiing but this was the girls' first trip. (I left my little buddy at grandma's for a week of non-stop fun). We signed the girls up for ski school in the mornings and then skied with them in the afternoons.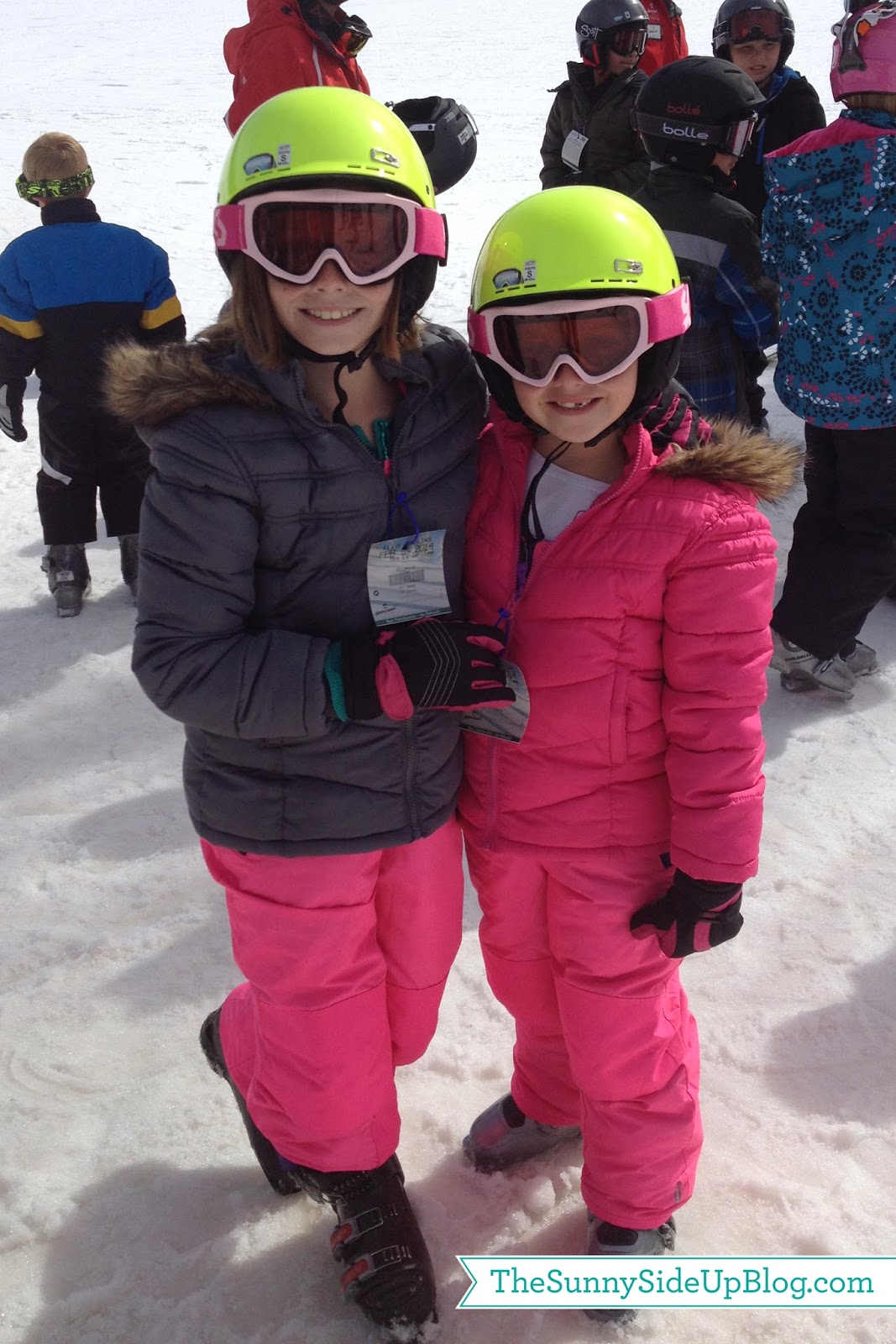 My little ski bunnies! They were in hot pink pants and the helmets we rented them happened to be bright neon green. You could see the California girls coming a mile away. :)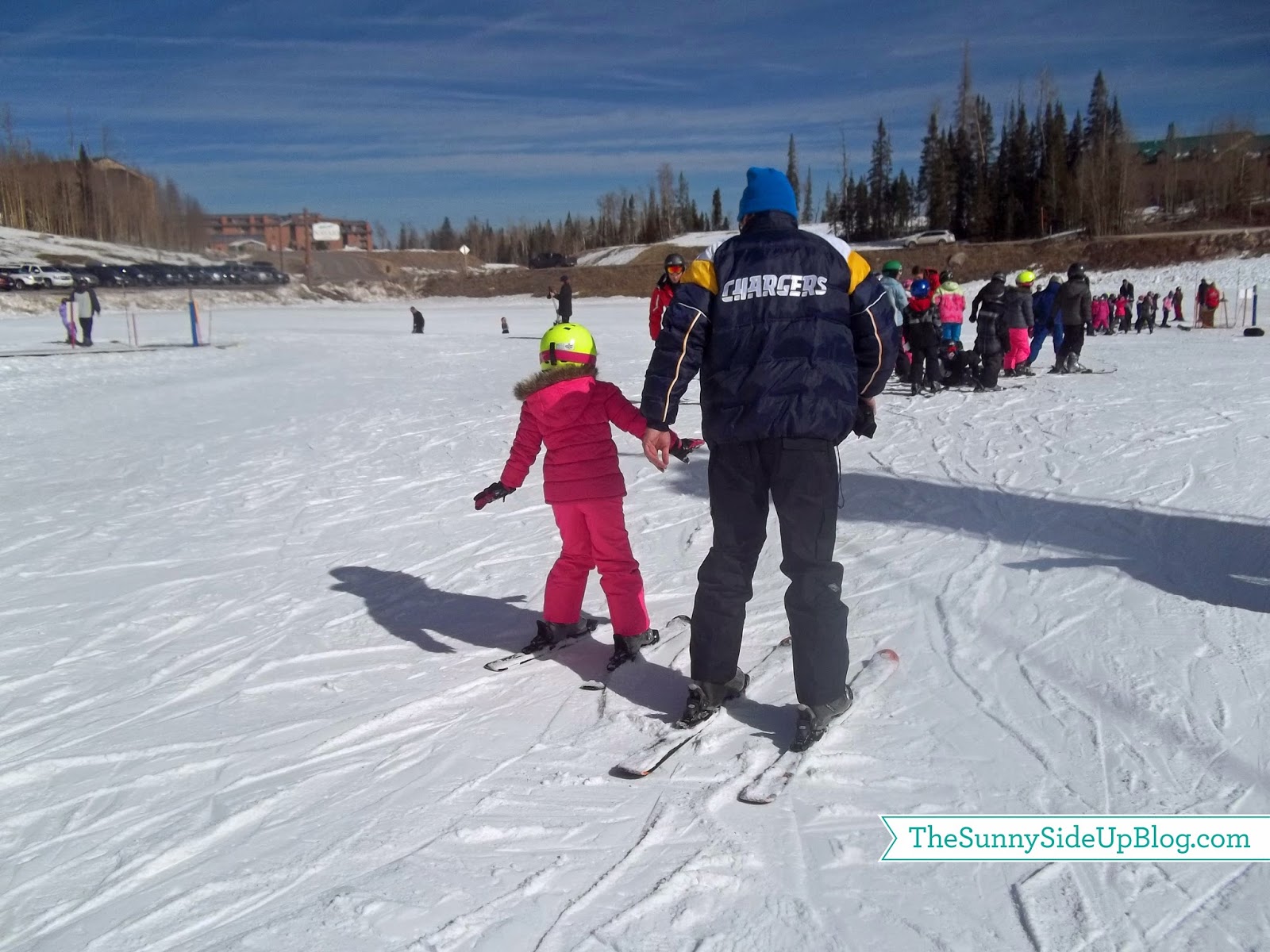 Of course Kenny's Charger coat was easy to spot too. Nope. Not going to lose any of my family on the mountain. That Charger coat was quite a conversation piece. Everywhere we went people either loved us or hated us. Or just wanted to chat with us about football and San Diego. We didn't mean to make a statement. We just don't own much in the way of cold weather clothes. :)
The girls were a little unsure at first.
They spent the first day going on "the magic carpet" – a little escalator type machine that takes them to a tiny slope to practice.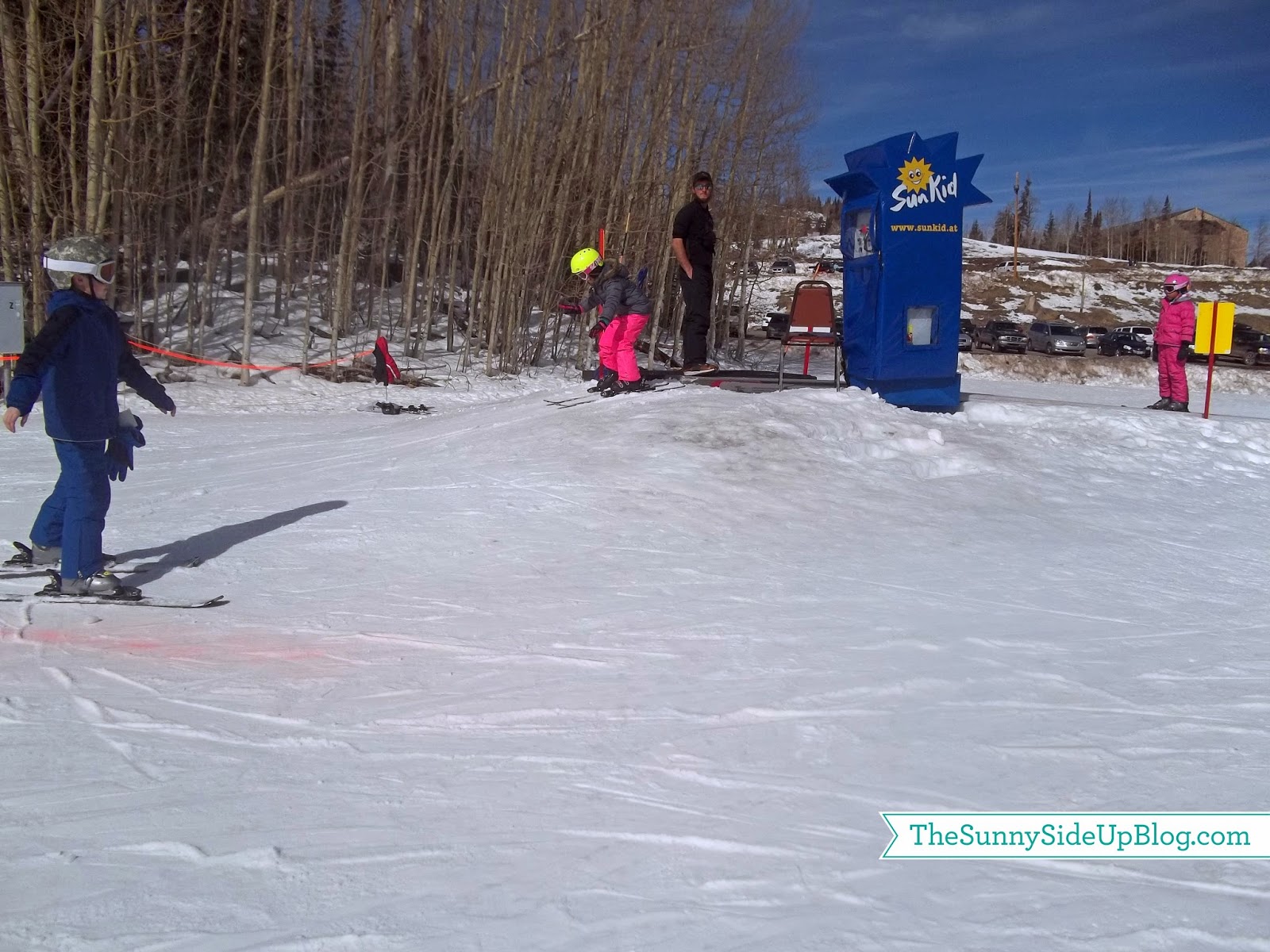 They also spent a lot of the first day on the ground.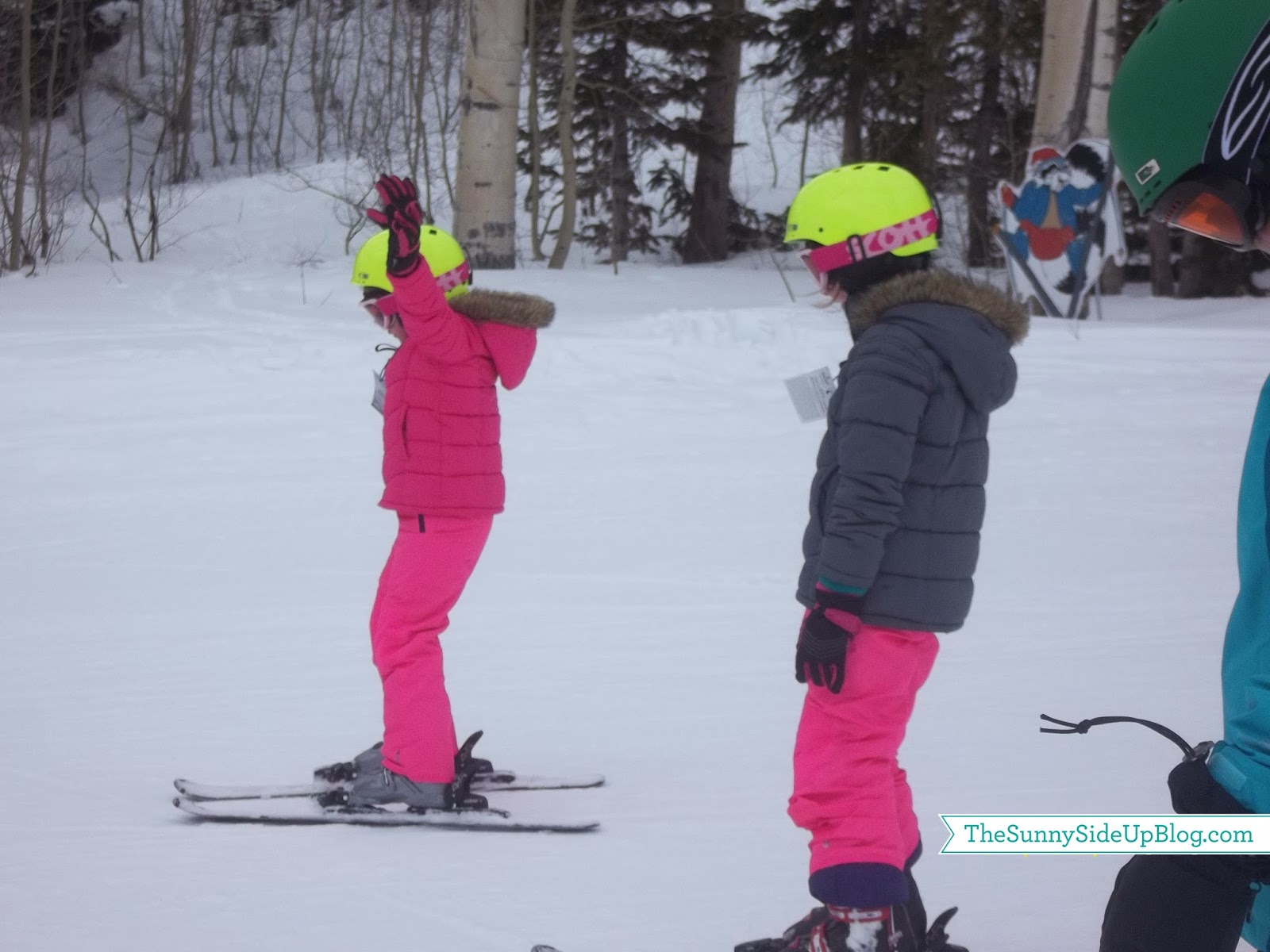 But before long they got the hang of it and were cruising!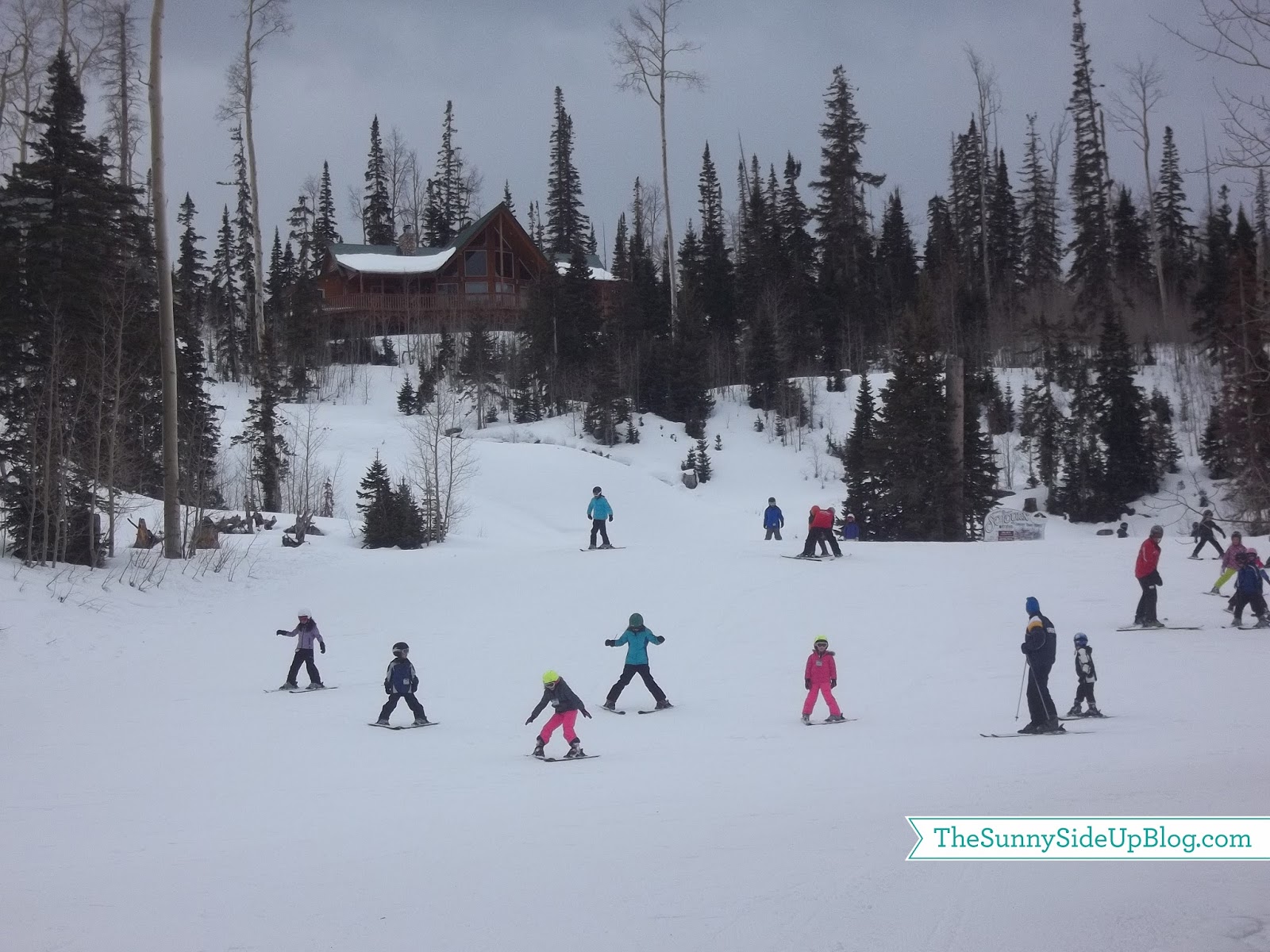 With their ski school friends making their way down the hill.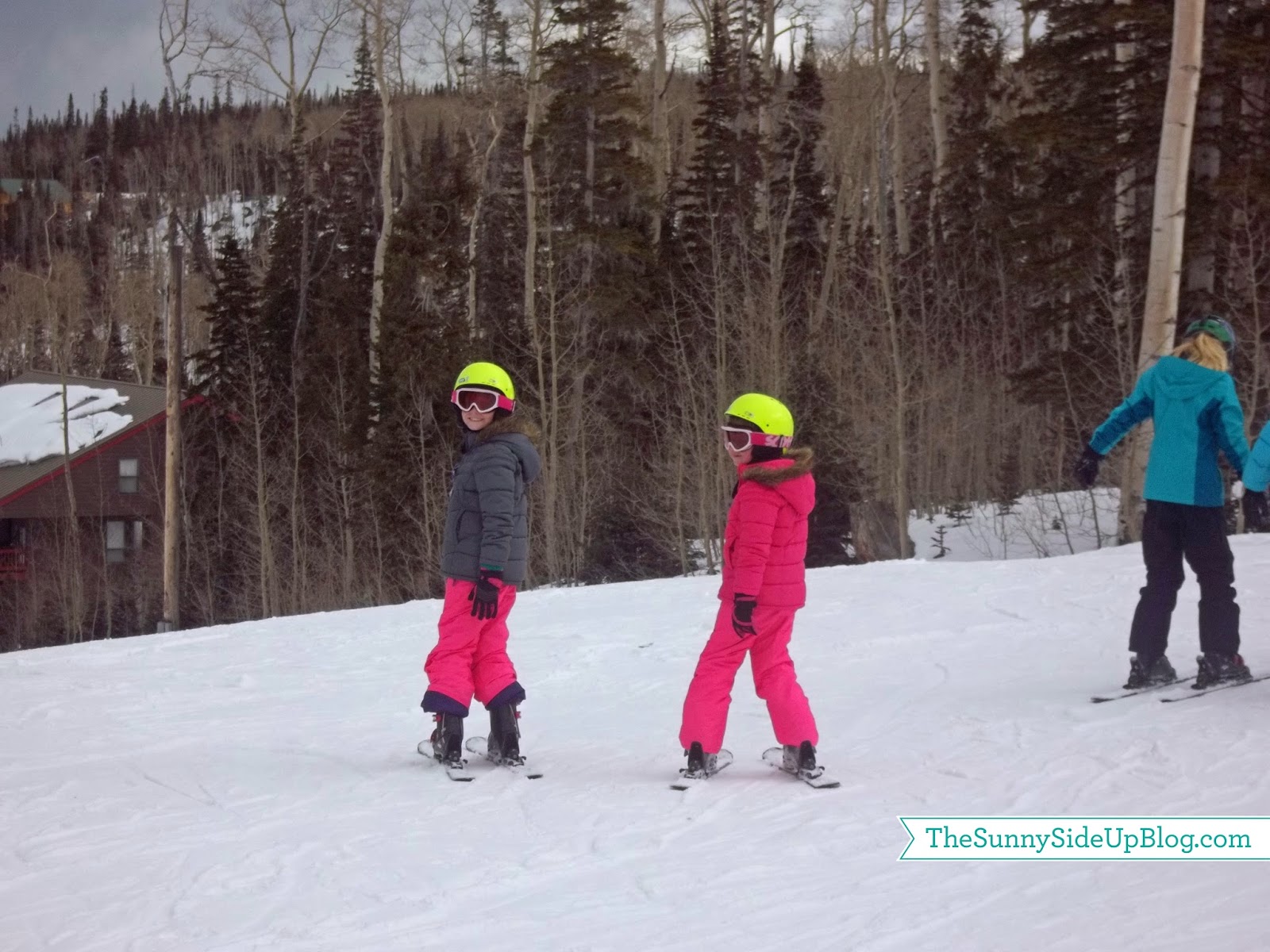 Kenny and I tried to not be helicopter parents (which was so hard for us because we both totally are helicopter parents) so for the most part we stayed away from their class. But every once in a while we couldn't resist checking in on them. We got there the second morning just in time to see them on the lift for the first time. By themselves!! My heart almost dropped right out of my chest. I panicked. Will they know what to do!!? To sit back in their seat!!? To point up their ski tips to get off!!? To NOT FALL OUT!!? Kenny kept saying "they'll be fine." And they were. They were amazing. Turns out their teacher taught them to sit back in their seat and point their ski tips up and to not fall out.
Whew. :)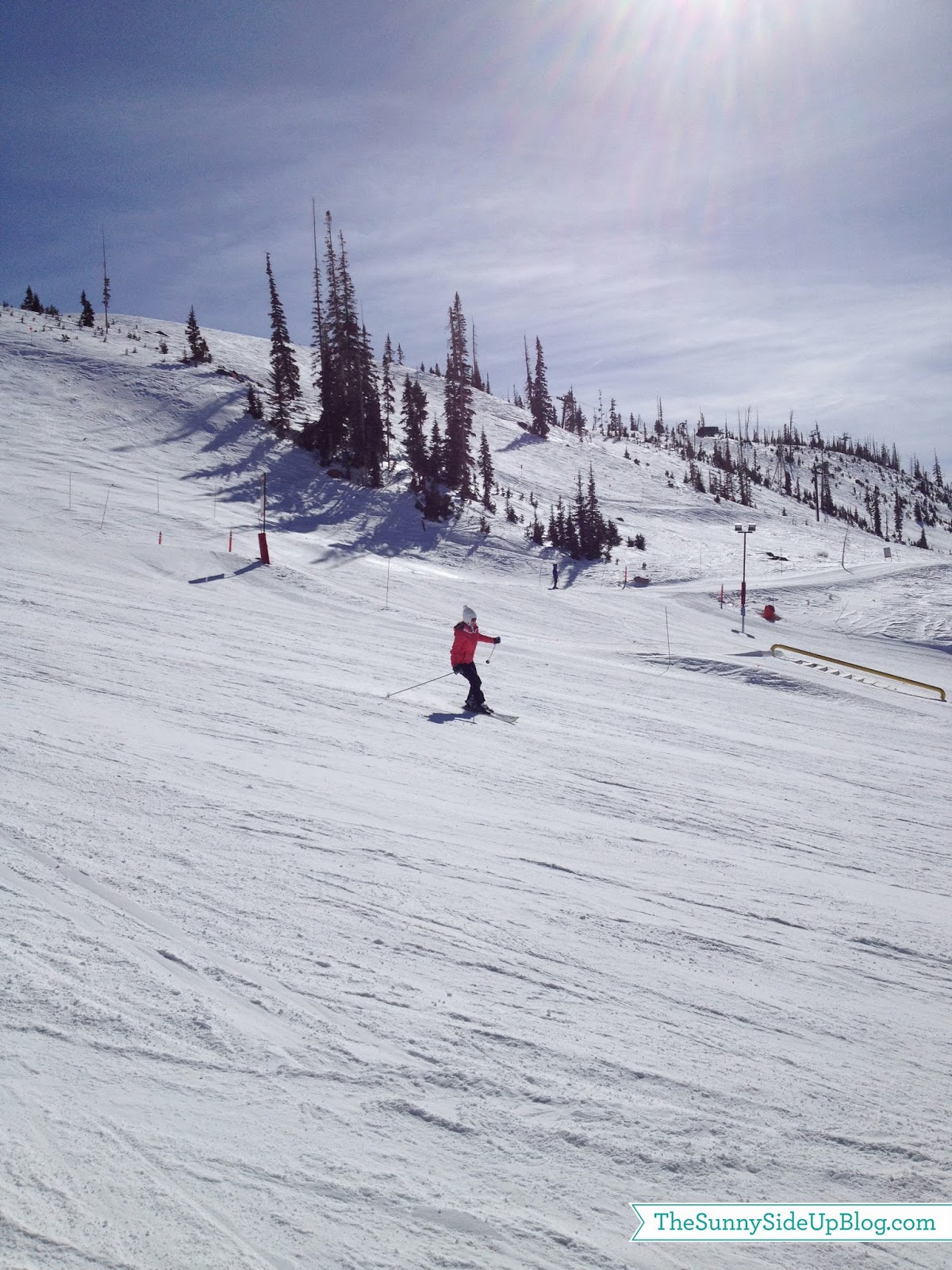 Once I knew the kids were well taken care of I felt free to enjoy the trip. Kenny and I headed to the more advanced mountains every morning after we dropped the girls off at the bunny hill. I haven't skied in years and wondered if I'd remember how! But it's like riding a bike. You pick up right where you left off. Such an exhilarating feeling flying down the mountain! Fulfills my need for speed. :) When the sun would peek out of the clouds everything was absolutely breathtaking. I love this sport! I kept stopping Kenny to say "isn't this gorgeous!? Isn't this fun!? We are so lucky to be here!" He finally asked if we could stop having "gratitude moments" and just ski down the hill. Ha. So I just had gratitude moments in my head while I was flying down the mountain. :)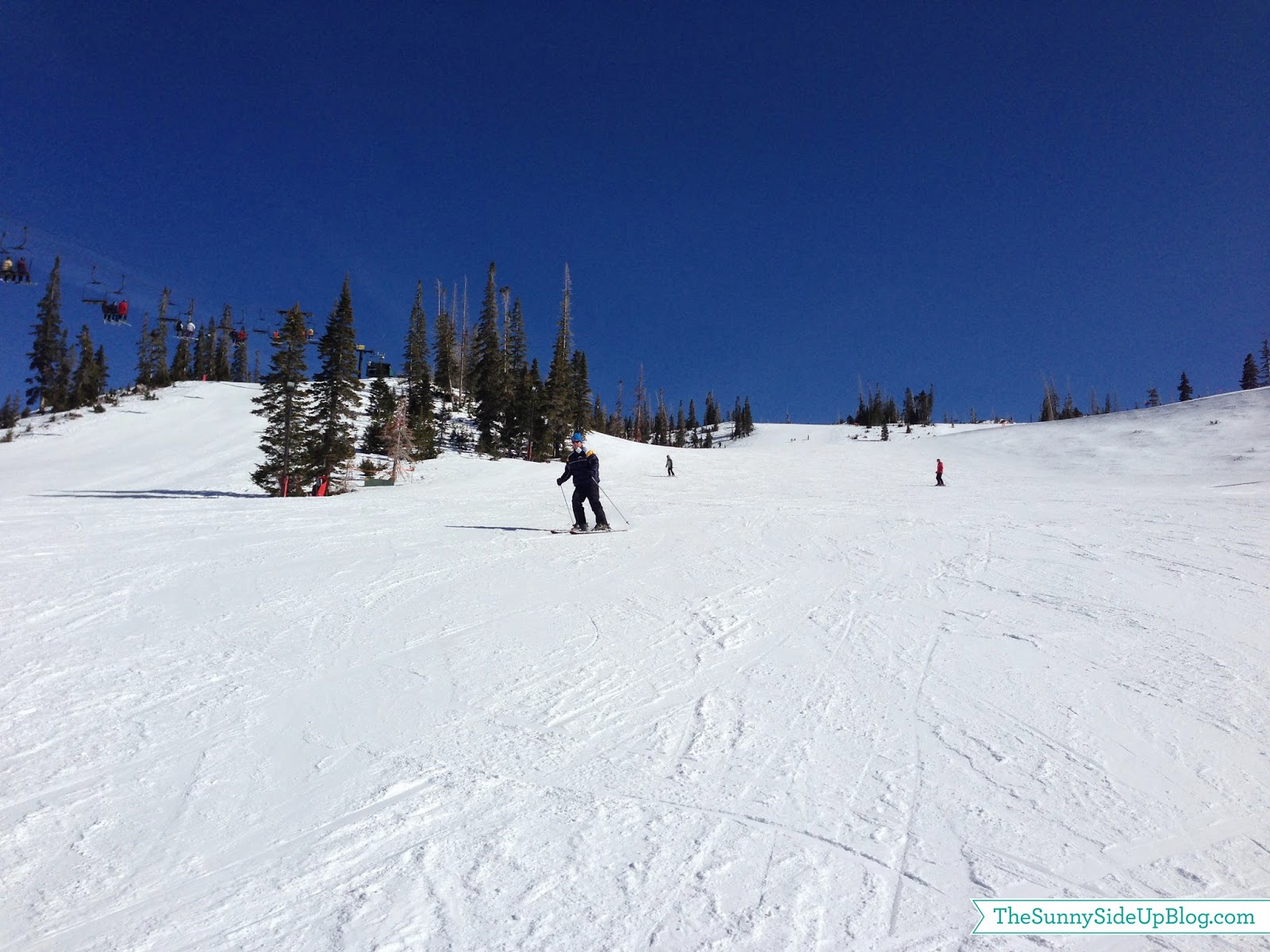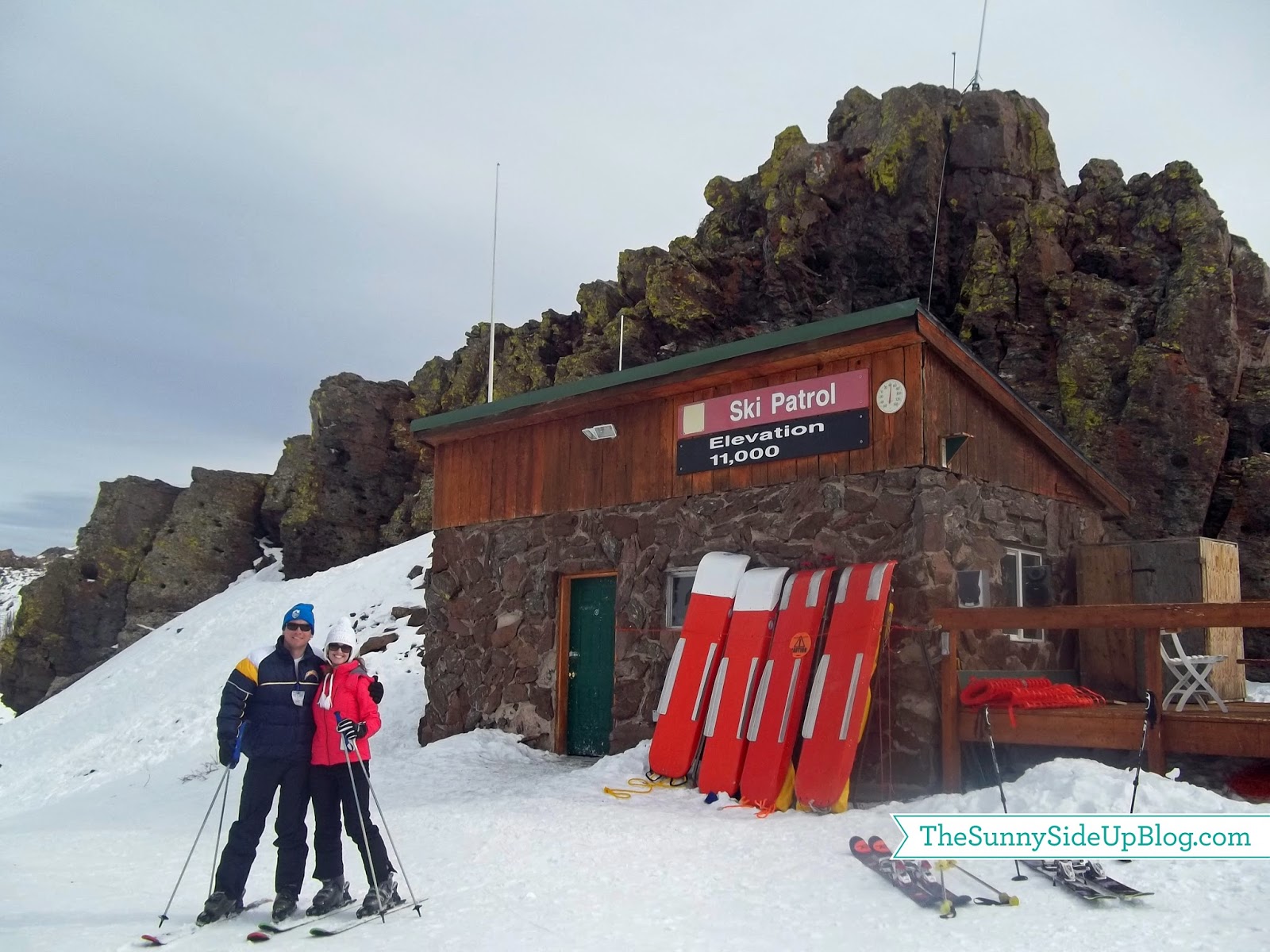 At the highest point on the mountain. Brrr! So cold!
It was hard to smile for this picture because my lips were numb.
San Diego has made us wimps when it comes to the cold.
A few more random pics…
The lodge we stayed at was in walking distance so every day we would ski until the lifts closed at 4:30 and then head straight to the hot tub at the lodge. They had a heated indoor pool too that the girls loved. Then we'd toss on some clothes and go to dinner. One night we had our food delivered to the room. Kenny caught up on work/e-mails while the girls and I ate and watched Mary Poppins.
I also watched the Olympics each night to pick up some tips for my ski jumps. ;)
Kole had such a great time with grandma and grandpa that he didn't want to leave what he called his "Utah Vacation."
The girls were sad when the trip ended too. They loved skiing and can't wait to do it again next year. I feel the same way!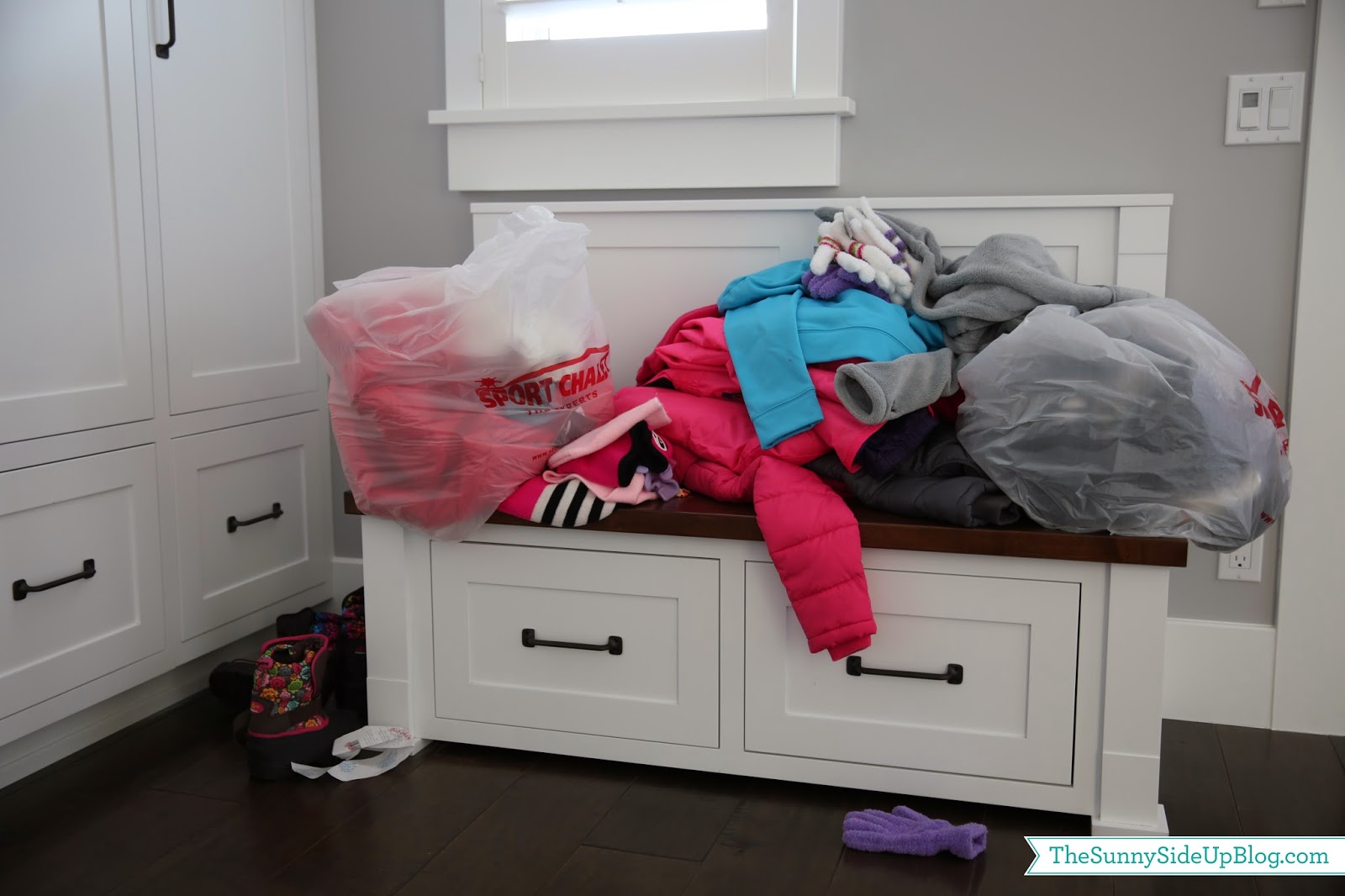 Now we are home and back in the swing of things with laundry piled high and a million things to catch up on. Bummer! Always hard to get back in the swing of things after a fun vacation. So yesterday to ease back into things I decided not to unpack and to style my kitchen shelves instead. :) Lots of fun progress in the house to post about! Wonder how long I dare put off that laundry…
:)

Free printable of the paint colors throughout my home!
Enter your name and email address to get instant access to my paint colors along with other free organizing printables. More will be coming soon!
Exclusive to subscribers!