The girls started Jr. Lifeguard camp at the beach. This was Addie's first year (you have to be 7 to start) and she has loved it. Comes home every afternoon covered in sand with a huge grin on her face. It makes me laugh to think about three years ago when El started this camp. I would come home immediately after picking her up and vacuum out the car. My car is currently covered in sand and has resembled the beach for a month now and I've hardly noticed. Three kids. It has definitely mellowed me.
You guys. I have been going CRAZY cleaning out my house. Went through all of our paper and files…
I have been living at our Goodwill drop off. They know me by name. :)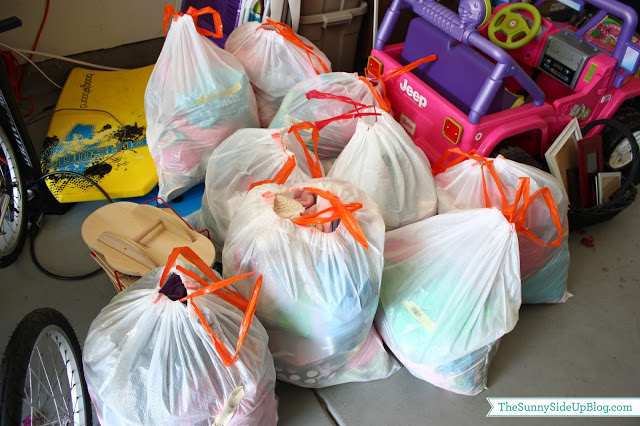 These are bags of some of the girls' clothes they have grown out of. I went through all of my kids' closets with a vengeance! The I divided everything up for wonderful people I know with little girls.
Anything we won't need in the next two months in the kids' rooms I've packed up! Empty closets!
And empty drawers. It's strange. And so so nice.
Fabric samples for the girls' rooms! Aren't they fun!? I'm sure their new rooms (along with the rest of the house) will take a lot of time to decorate, but I at least want to have their bedding picked out and a plan made so that I know what color to paint their walls. Not an easy task! There are too many cute options!
We've been passing summer afternoons in the old back yard. Picnic on a towel anyone?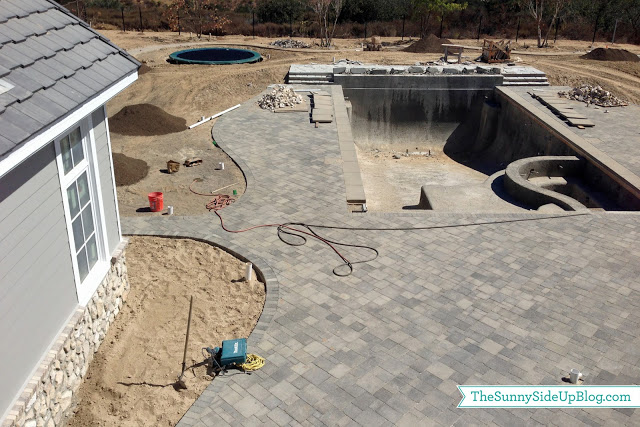 And in the new back yard. The trampoline set up is no where near done but I can't keep my kids off of it and I've given up trying.
Pretty palm trees – a few pics I took with my phone running errands.
Ellie asked me last week why I never wear any of the jewelry she made me last summer. Well. Good question! So this week I have worked my beautiful assortment of beaded necklaces into my wardrobe. And I have thoroughly enjoyed seeing the smile on her face when she sees me in them. New summer trend around our house.
I walked past this quote on some steps the other day – "Remember there's no such thing as a small act of kindness. Every act creates a ripple." Love that. It makes you want to smile and do something kind for someone, doesn't it?
And just in case you weren't frightened enough from my last post, here's my scary little monster one more time. In his mom's sunglasses. :)
xoxo, Erin