I've unpacked our bags and am ready to get back into our Get Organized Challenge!  This week we are tackling home office/paper organization.  Let's do this. :)  If you are drowning in paper.. I see you.  And I feel your pain.  Ha.  Seriously though.. the struggle with paper management is real!  If you don't have a good system set up paper can take over your life!  Ok.. maybe that's a little dramatic.  But it can certainly make you feel frustrated, unorganized and unproductive.  In our previous house I didn't have a home office.  I was ruthless about what I kept when it came to paper (and everything else!) and I was pretty organized in that area.  (I'll share my past system later in this post!)  My current home has more storage so when we moved into this house I slowly became lazy when it came to paper management and before I knew it I felt so overwhelmed by it all.  I had paper files and piles scattered everywhere and my brain felt as scattered as my paper.
If you feel the same.. follow the steps below and finally tackle paper once and for all!
1.  Set aside some time to work on this.  You all know I'm a huge fan of organizing 15 minutes a day, but to really tackle paper (especially if you've been putting this one off!) you need to set aside some time.  Several hours at least.  If things are really out of control block out a full afternoon/evening for this job.
2.  Round up ALL THE PAPER.  All of it.  Every single page!  Go through your house and collect it all and then find a spot to dump it.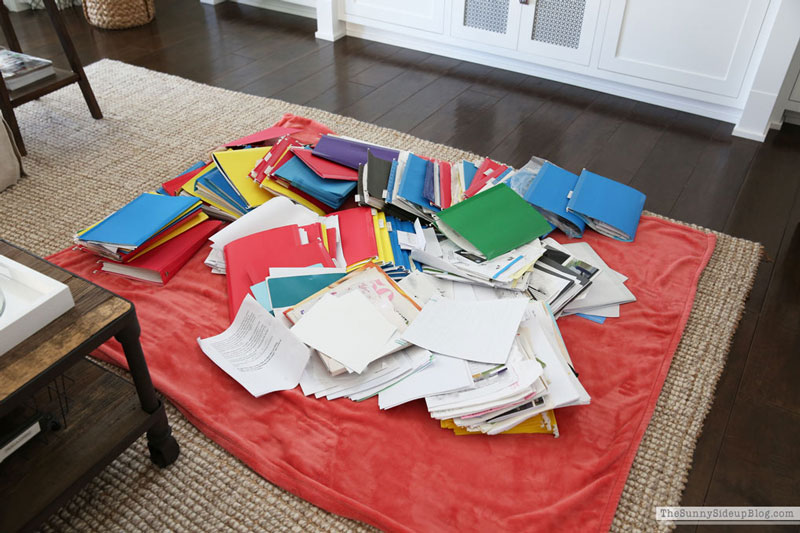 My go-to is always on my family room floor in front of the TV.  This is the perfect activity to do with a movie/series on in the background.  I always prefer something I love that I've already watched.  The TV isn't getting my full attention, but it's there to keep me company while I work.  A bowl of popcorn never hurts either. :)  I always lay down a blanket to keep my rug clean.  This pic is from a few years ago when I finally tackled the paper piles in our house.
Told you I see you and feel your pain. :)
3.  Take a deep breath and pick up your first piece of paper!  Can you recycle it?  Or do you need to keep it?  Is it something for one of your kids?  A bill?  A receipt?  Medical?  A future project?  Write it down.  You just made your first category.  Write it down on a sticky note and add any other papers that fit in that same category.
Continue doing this until you've gone through every single piece of paper!  You can see my labeled categories above and the sack of paper to recycle next to it.  I also made a pile of paper I wanted to shred.
*Obviously the goal is to RECYCLE as much as possible so only keep things that are really important.  So much is digital these days so you really don't need to keep much!  I know some people have gone completely paperless which is amazing.  You can always scan paper you want to keep and organize it all on your computer.  I personally like keeping certain things on paper in my files and will always prefer a hand written to-do list over a list in notes on my phone, but do whatever works best for you.  Most importantly come up with a system you can easily maintain over time.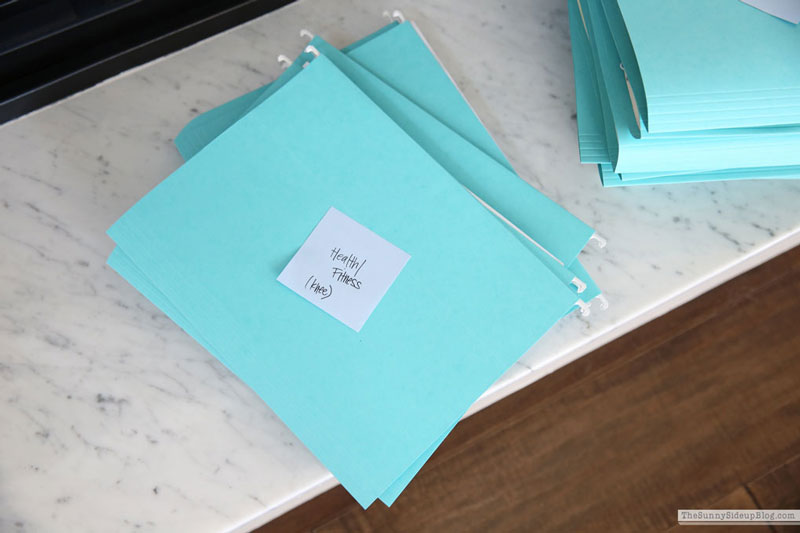 4.  Now look at your files and decide which papers you can tuck away.  The papers you only need once in a while are the papers to put in hanging file folders.  These are the files I used above and they come in lots of colors.  I linked some other fun options below!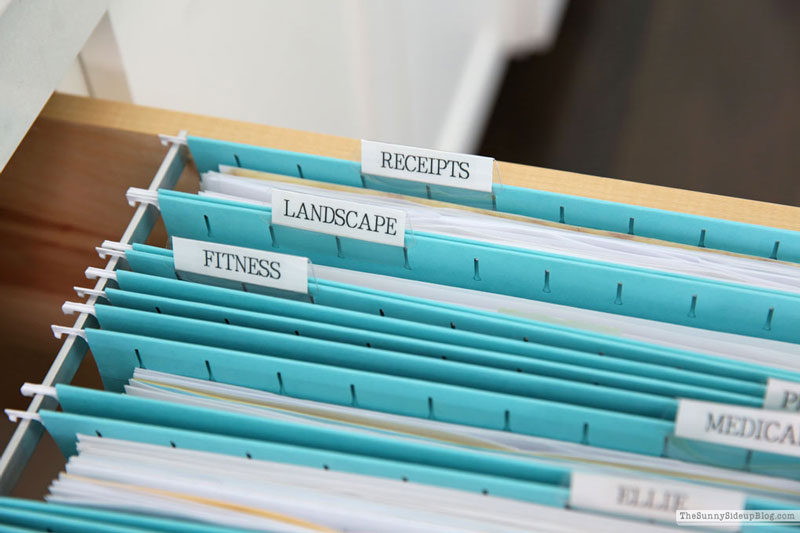 Then label everything, place them in a filing drawer, cabinet, bin or box and you're set!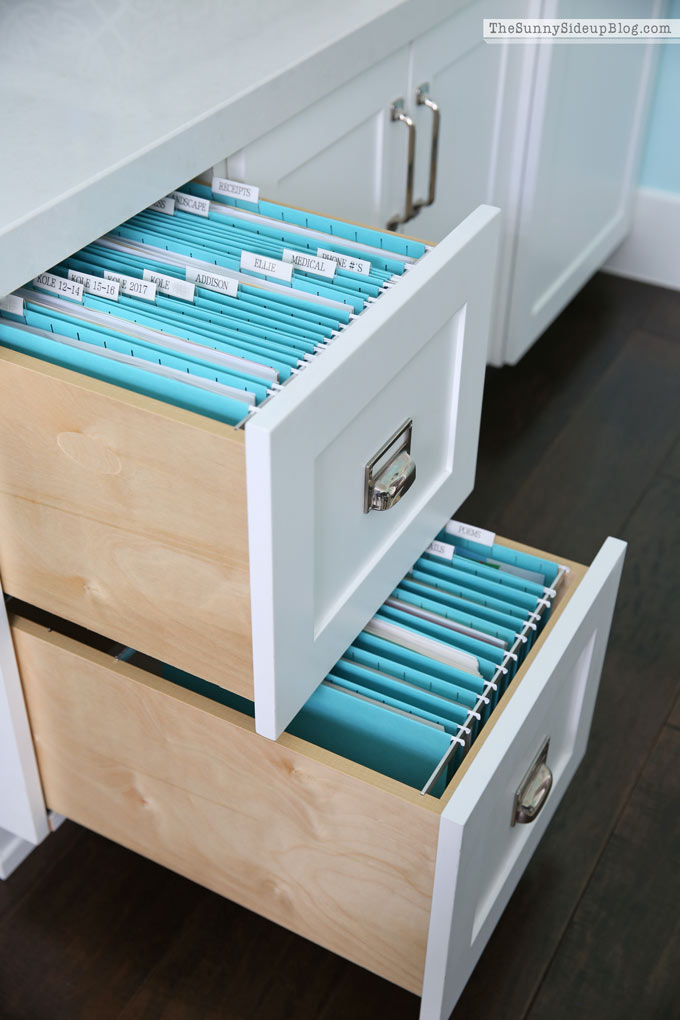 My husband and I both have filing drawers in our offices.  He keeps all of our financial papers/taxes in his filing drawers and I manage all of the kids' stuff, medical and any other miscellaneous papers.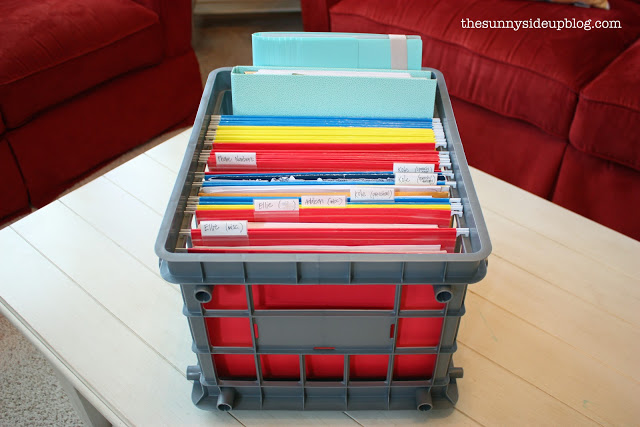 In our previous house we didn't have a home office or room for filing drawers or a filing cabinet so I used this crate for important papers. If that's the situation you are currently in I rounded up options below.  So many cute and convenient ways to file your paper!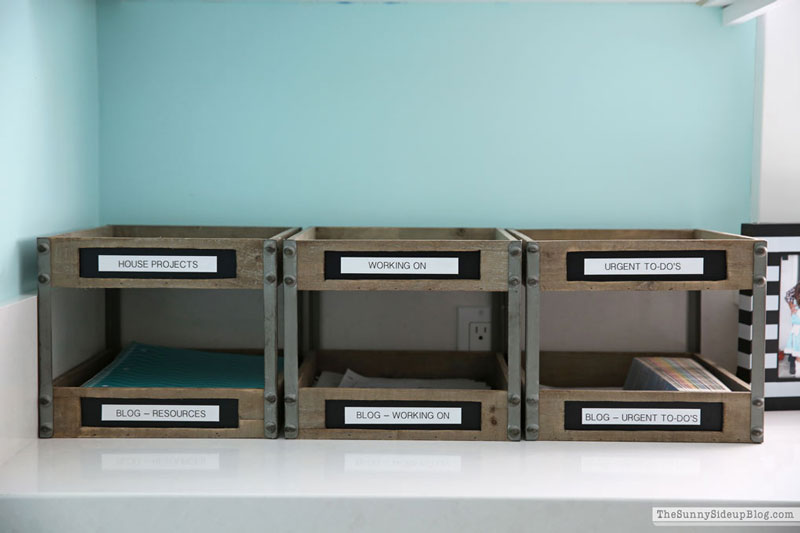 Ok.  Now that we have our paper taken care of that we don't need to see every day, it's time to set up a system for the paper you DO need in your every day life.  I've shared these wooden bins in my office before.  They are magic for me!  A perfect place to set all of the paper I use/need day to day for work and home life.  (These exact bins sold out, but I'll be sharing lots of fun options for filing paper in my next post!)
If you don't need multiple bins like I do my best advice is to still have ONE spot where you keep "urgent" papers.  That document that needs to be filled out soon for work, your 4th graders field trip signature page, etc.  The papers that you get daily and think "I need to not lose this before I can get to it.."  This also keeps paper clutter OFF OF YOUR COUNTERS which we all know is huge!  No more piles all over the house!  Create a go-to spot for paper.  Kenny gets the mail every night and we go though it immediately (and trash most of it!) but if you don't like to do that, have a set bin just for mail!  A place to keep it so that it doesn't pile up around your kitchen until you have time to go through it.  Of course then you have to remember to go through it often.  I check my inbox a couple of times a day.  Papers are always moving in and out of my bins!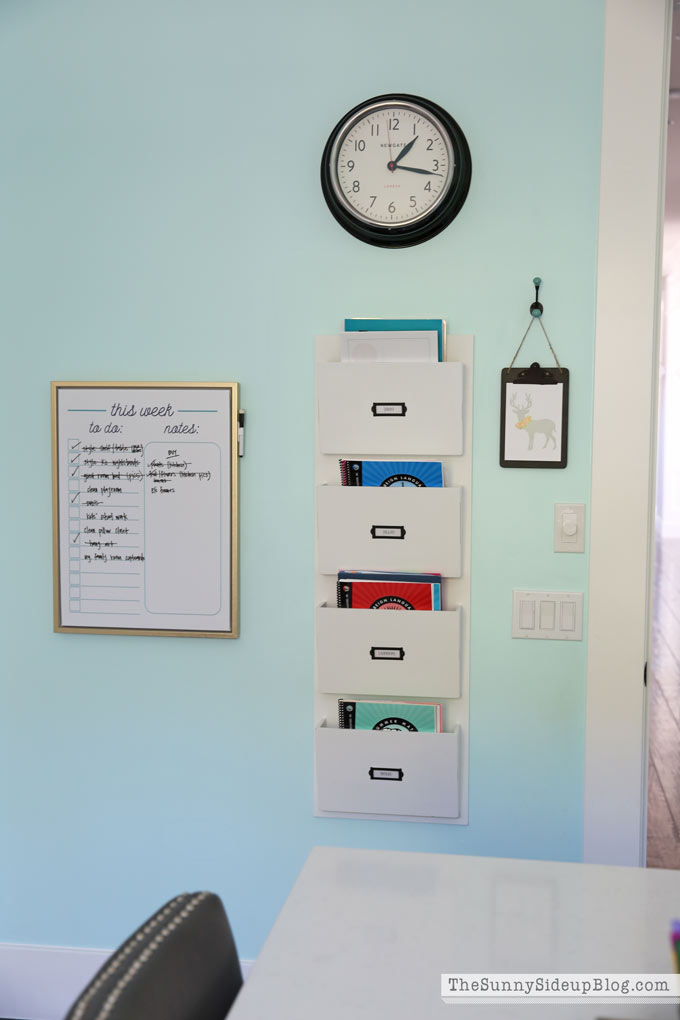 I have this hanging file system on my wall that I've had for years with the kids' names on it.  This is where they keep all of their random school papers they don't need right away but want to keep.  (This is for things they are currently working on, not their school work I'm saving.)  If you have kids you definitely need a spot for their loose papers.  If I'm cleaning and find Addison's math on the floor this is where I put it.  My kids know to look here first if they are missing any assignments!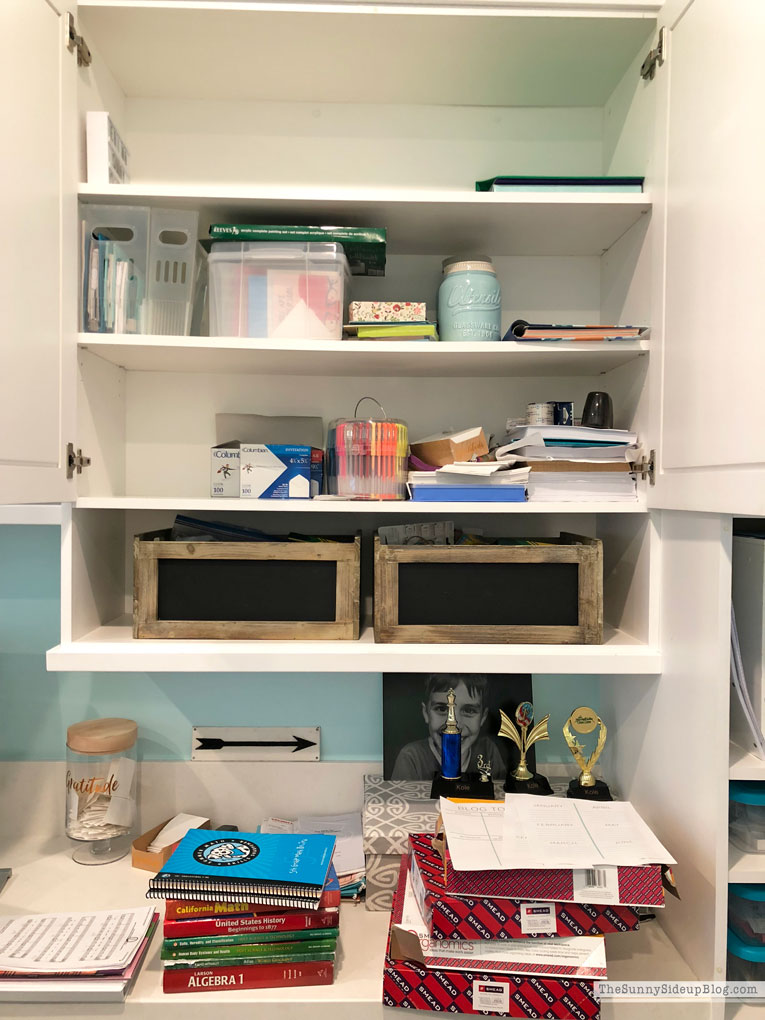 If you have a home office you know that it can become a dumping ground quickly.  Take some time this week to go through things and declutter!  I gave my office a total overhaul a few years ago and have worked hard to keep things mostly organized.  If your office is a mess, pick a day that you can devote to it and pull everything out!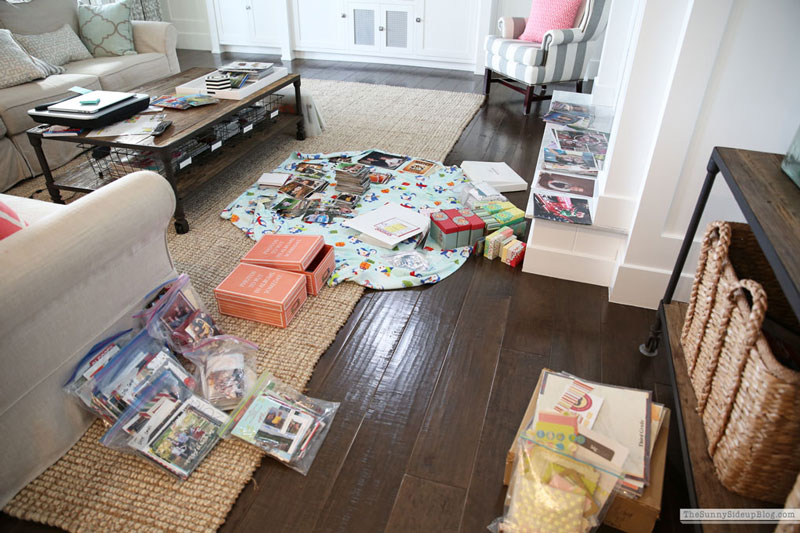 I pulled out all of my office items and photos and old scrapbooking stuff a few years ago and dumped it on.. you guessed it.. my family room floor again!  Time to watch TV and sort. :)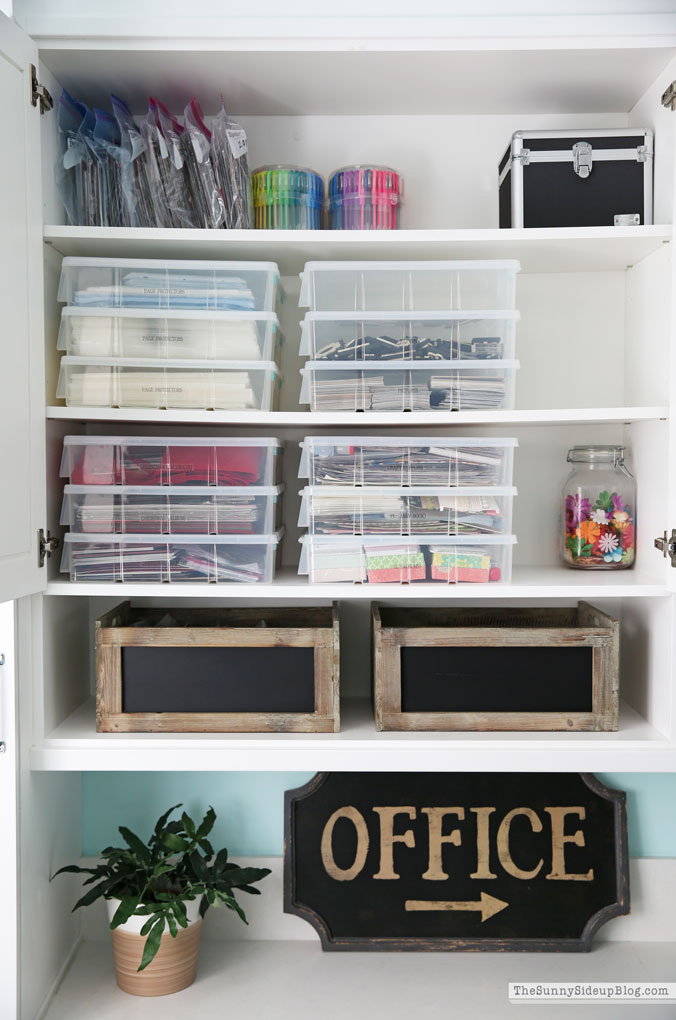 I used clear art & craft bins (similar to these) to organize all of the random items I wanted to keep.  These bins hold lots of projects that are in motion but not done around here. #storyofmylife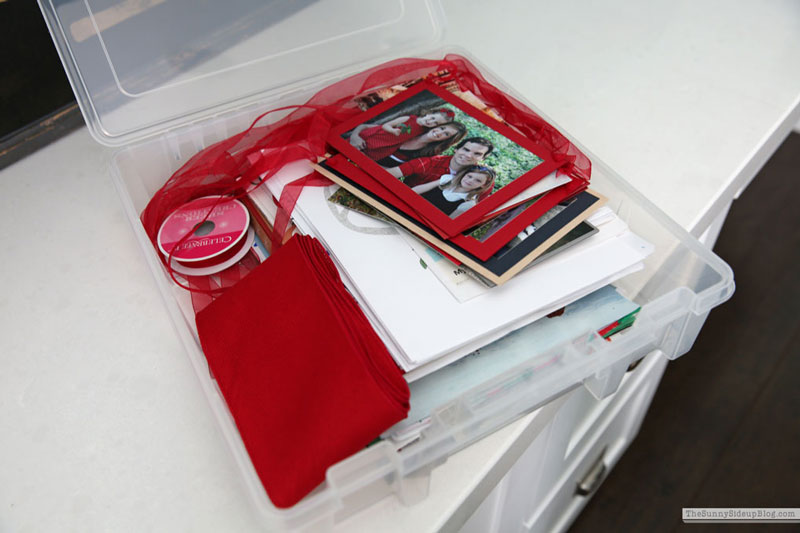 I also store some of my Christmas decor in these bins.  Art, our family Christmas cards I hang, Santa pictures, past holiday pics the kids have drawn that I like to display, etc.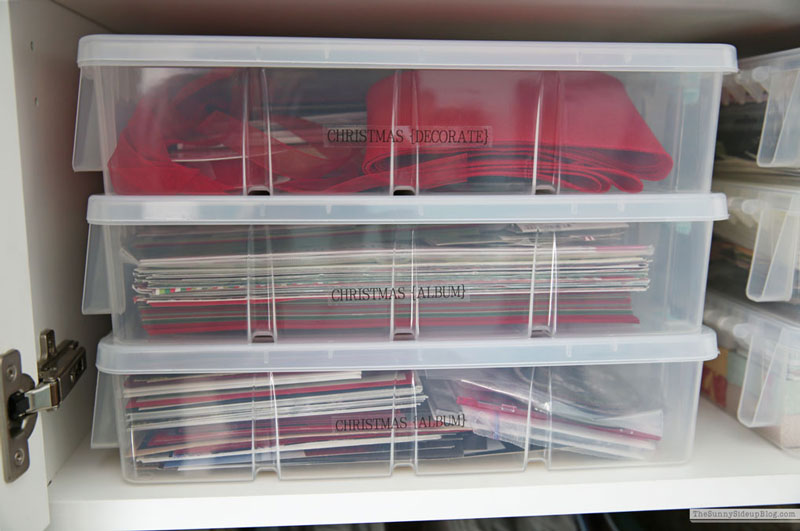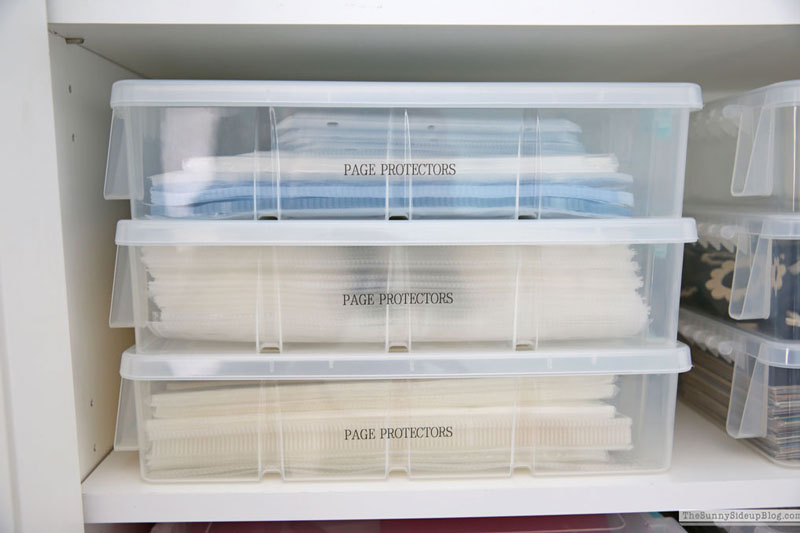 This process also helped me realize that I don't need to order one more clear page protector.  Ever.
Ha.
I fit SO much in this one cupboard!  Organization is amazing isn't it!?  Get rid of what you don't need and better organize what you do need.  Makes life SO much easier!
Here's a little more office organization to get us motivated!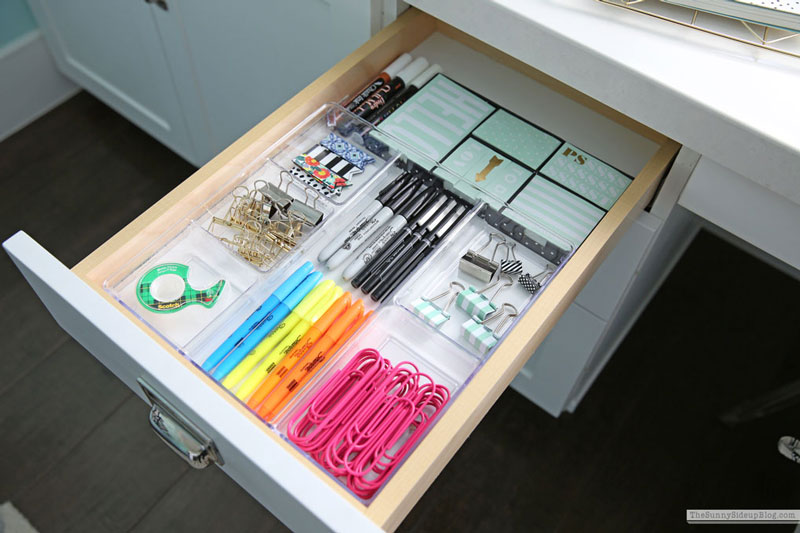 (options for desk drawer organizers)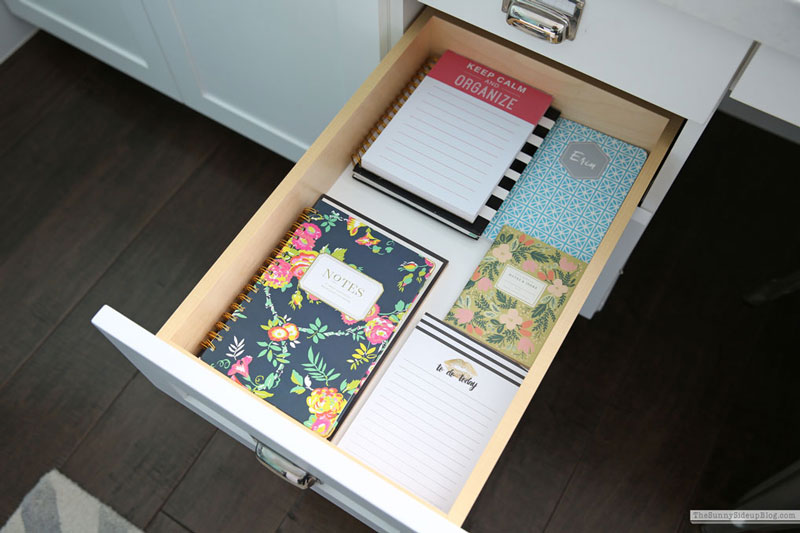 Nothing like a drawer full of notepads. :)  I keep them all over.  In my office..
in my kitchen junk drawer…
and in my bathroom drawer.  I like to always have one close by to catch whatever is floating around in my head. ;)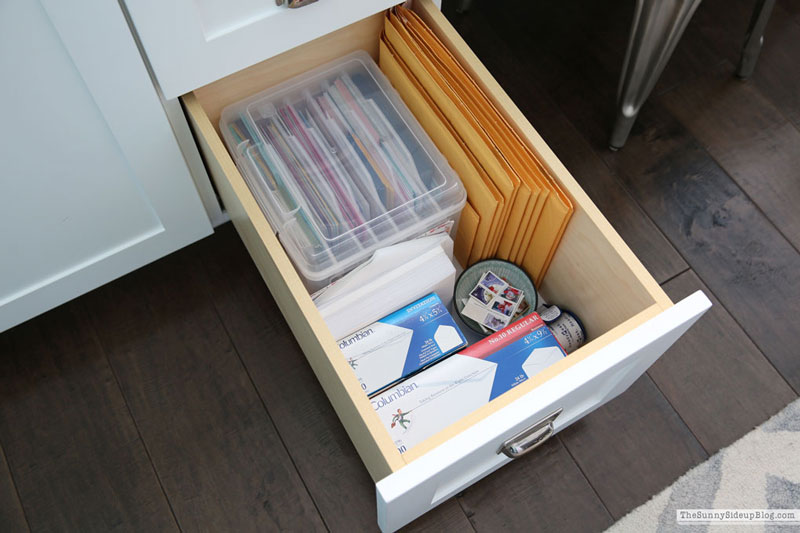 Below my notepads is my beloved "mail drawer."
I pick up cute greeting cards and thank you notes when I'm out and about and love having a place to organizing them all.  So handy when that birthday party or graduation pops up and you need a card for someone!  This is reminding me that I need to get mother's day cards soon.  Oh wait.. I already have some saved in my handy little card organizer. ;)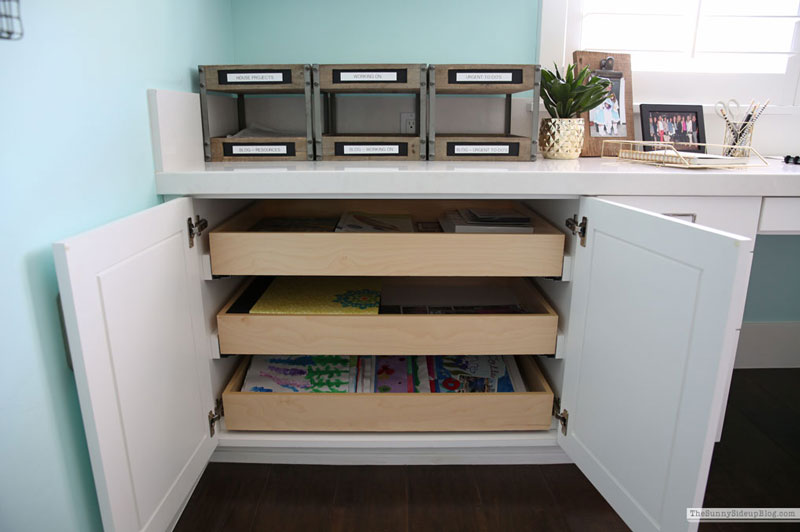 If you're designing or remodeling a home office these pull out drawers come in so handy too!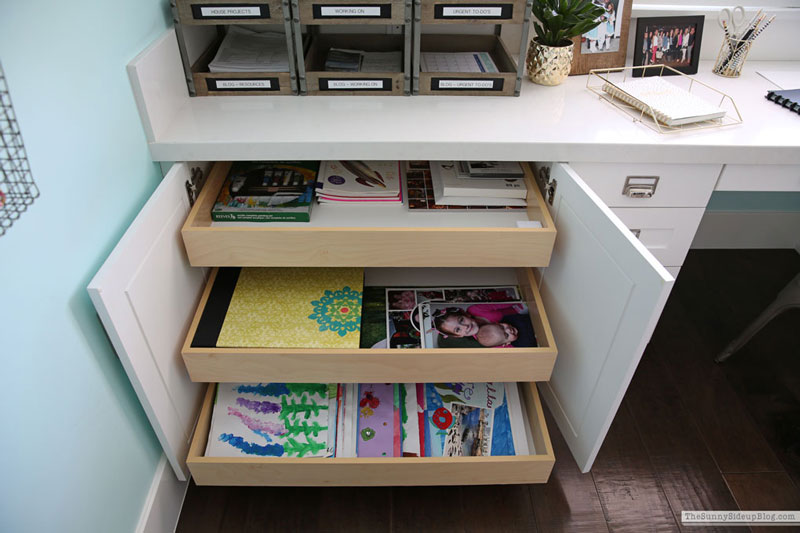 Perfect spot for kids' posters, large albums and other miscellaneous items.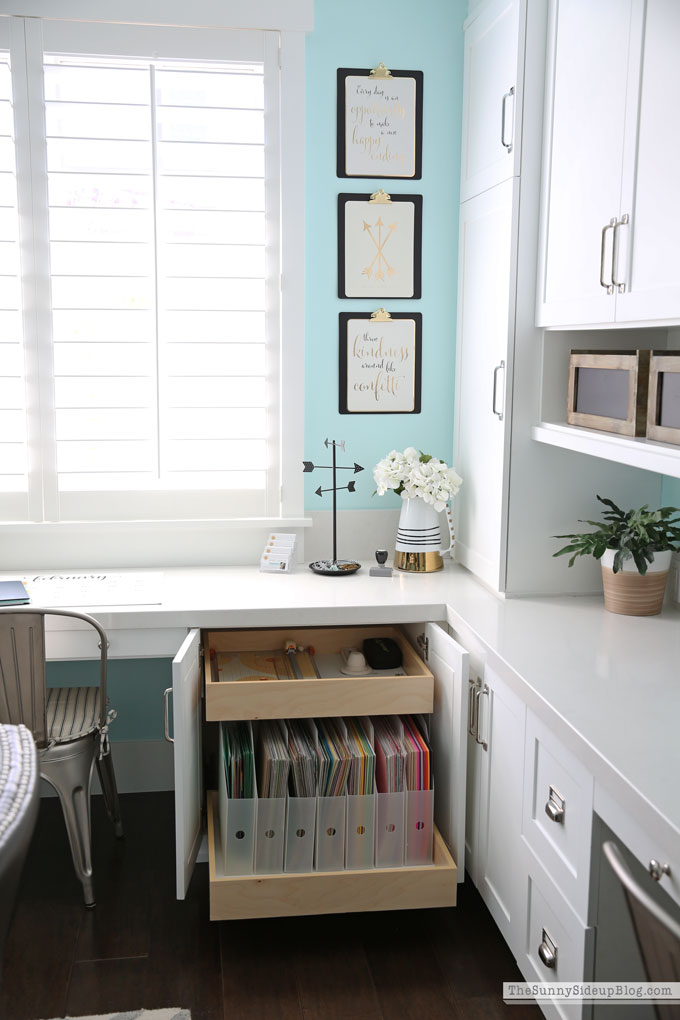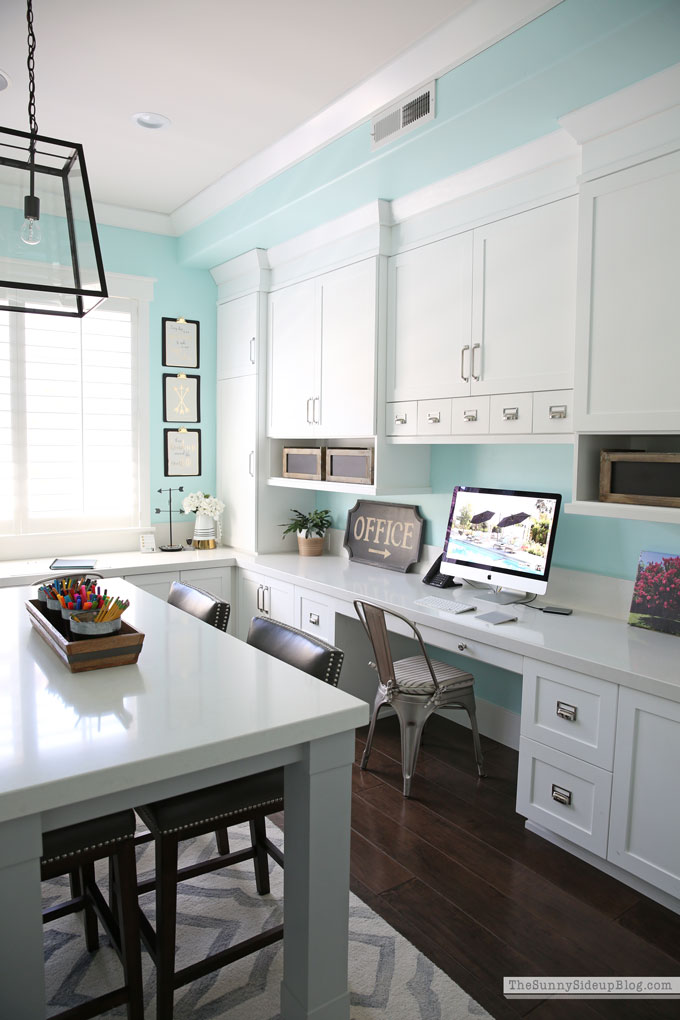 This side of my office with drawers closed..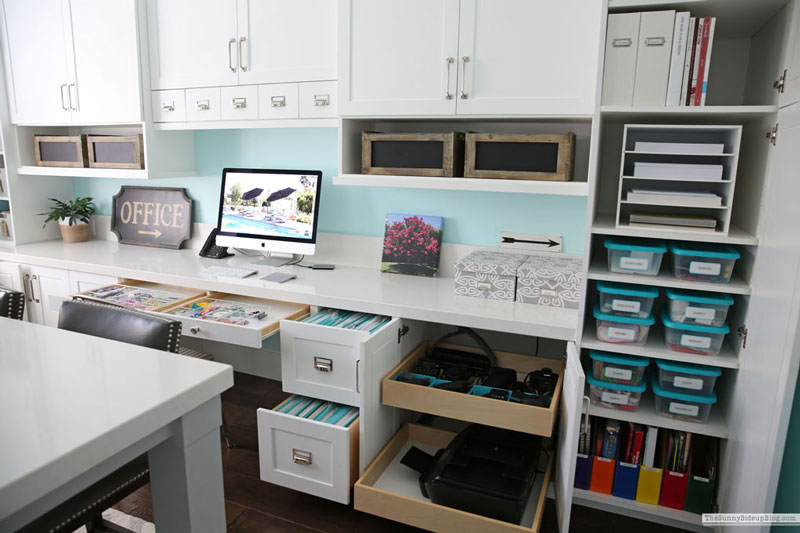 and open.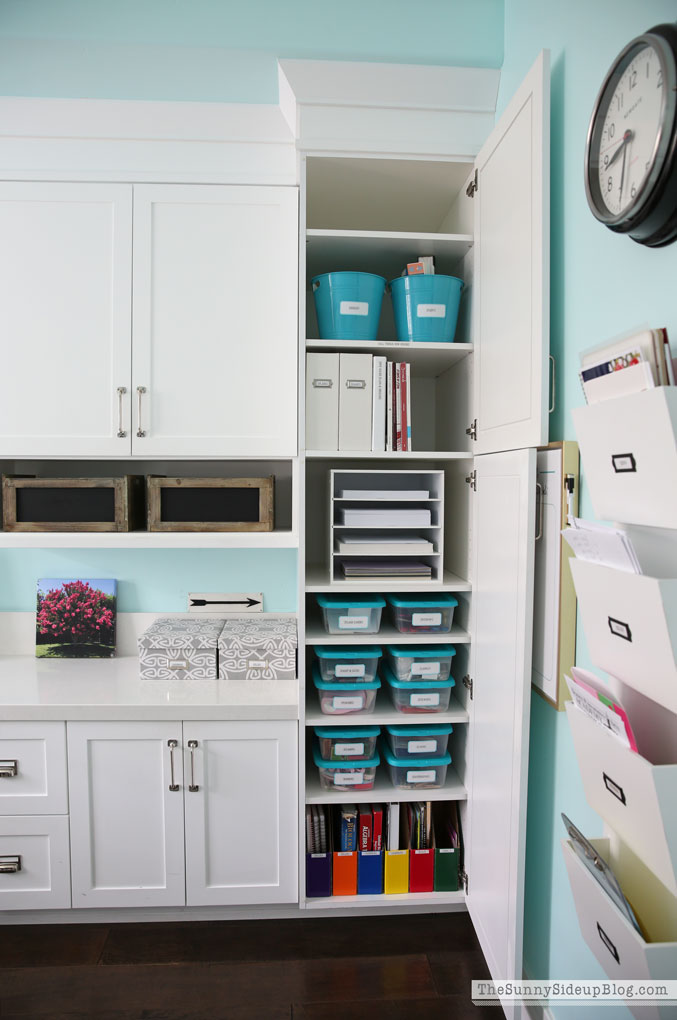 A lot of you might remember this tall cupboard in my office.  It was one of the very first things I organized when we moved into our new home!  A spot for all of my kids' blank papers and craft supplies.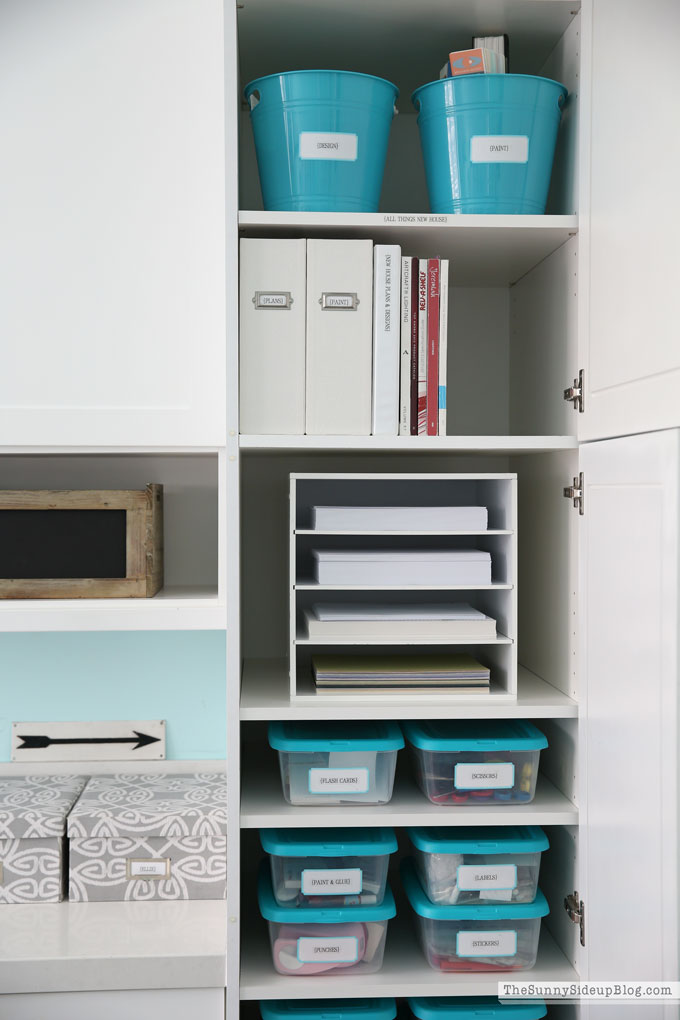 This cupboard gets opened and closed multiple times every day and still looks just like this.  That's whey you know you have a system set up that works for your family!
I'm thinking I might need to switch out the blue bins now that I recently re-painted my office walls.  #ifyougiveamouseacookie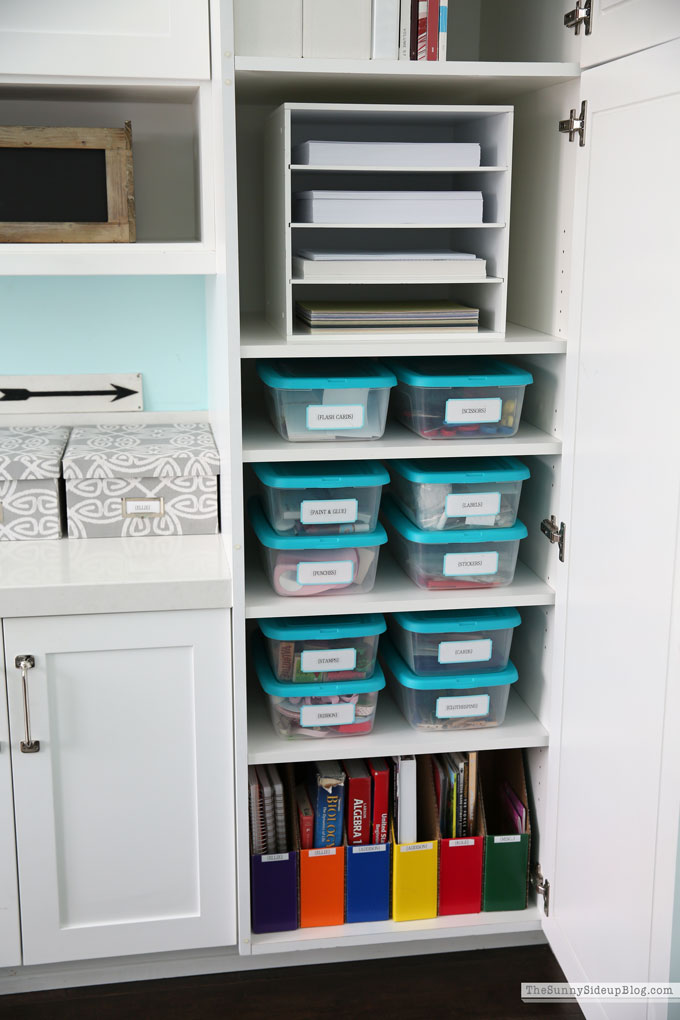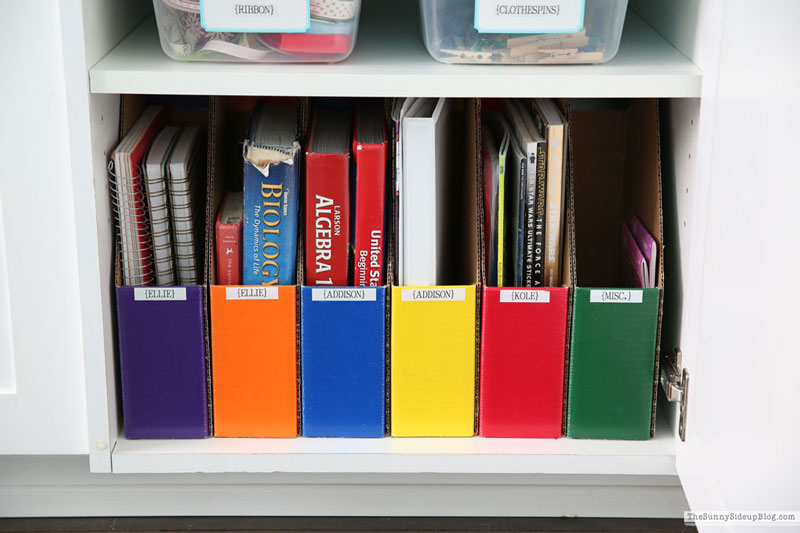 These old magazine files.. I've had them since my teaching days before I had kids!  They have served me well through the years. :)
I know some of you might look at pictures of my home office and think "sure.. it's easy to stay organized when you have space like that!"  I know you're thinking that because for years I thought that way too. :)  If only I had more room.  And a home office!  I would be so organized.  But here's the secret I quickly learned moving from small apartments/homes to a larger home.  It's actually easier to stay organized in a smaller home.  Really and truly.  I had to be more disciplined about what I kept, but in a lot of ways that made life easier.  Less stuff means less to take care of and manage and organize.
So no excuses! ;)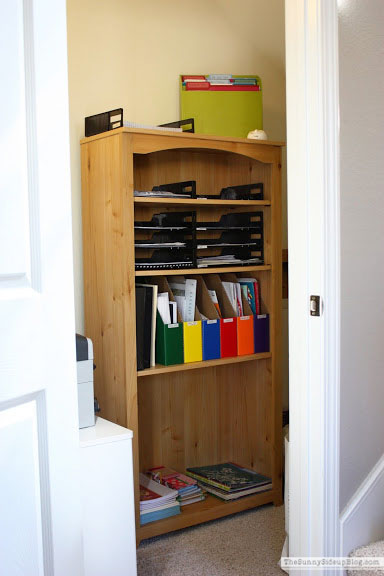 This was my "home office" in my last house.  A horrible old picture but all I could find!  I used a little bookshelf in the closet under my stairs.  You can see I had a small table with my printer on top of it in the corner.  Up under my stairs (further back in the closet) I kept our luggage.  Do you see my colorful magazine files again?  Told you I've had them forever!  I'm thinking it might be time to replace those too.  Ha.
I had simple file sorters on top with homemade labels for urgent papers that I needed to refer to often and one for a daily inbox.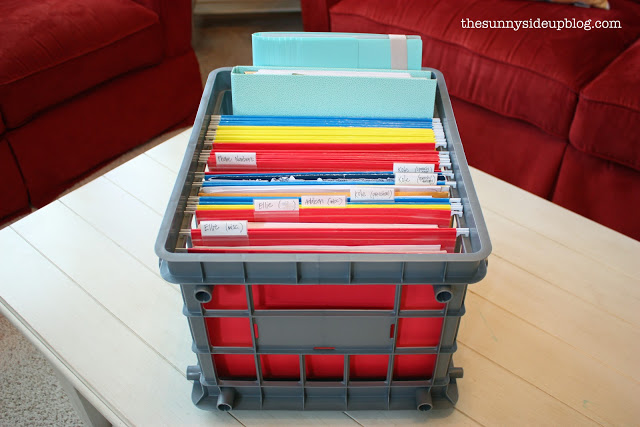 Then I used this crate I shared before for our files.  That was it!  Of course Kole's nursery held all of my scrapbook supplies because I had no where else to put them.  Who has been with me long enough to remember!?  Oh my word.. I read that old post the other day and can't believe how long ago that was.  11 years but it feels like 11 minutes ago I was sharing a room with my baby boy!  If you've been reading my blog long enough to remember that post just consider yourself part of the family because I do. ;)
Last thing we'll cover in this already too long post.. wrapping paper organization!  You need a system for it too – especially if you have kids.  It feels like there is a birthday party for a friend every other day.. right moms!?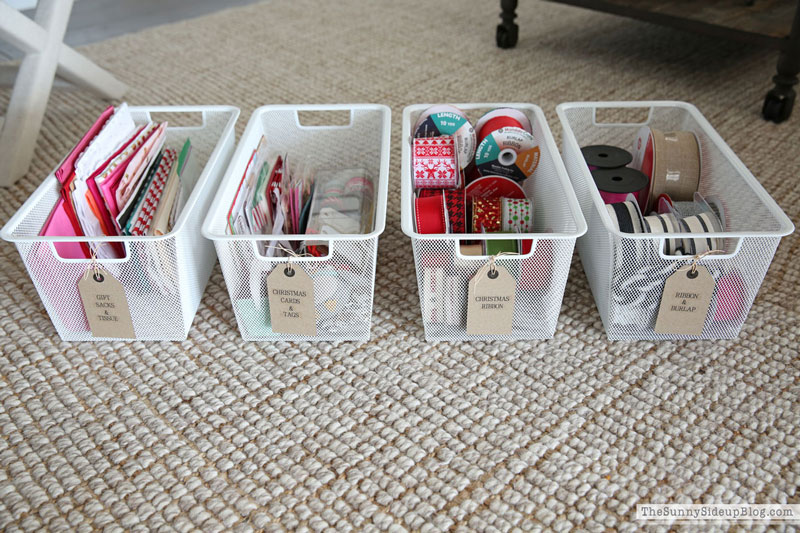 I went through my wrapping paper bins and cupboard after Christmas this year and it felt so good to get it all cleaned out and organized!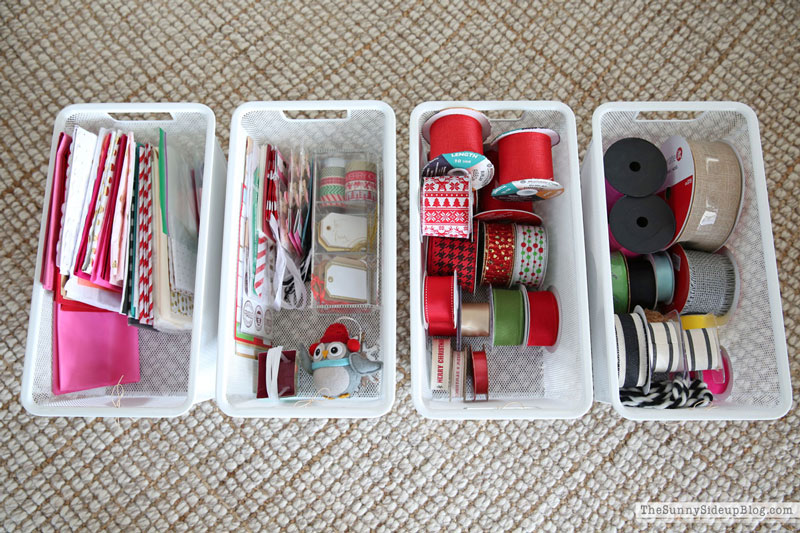 I keep ribbon and tissue and tags in small bins.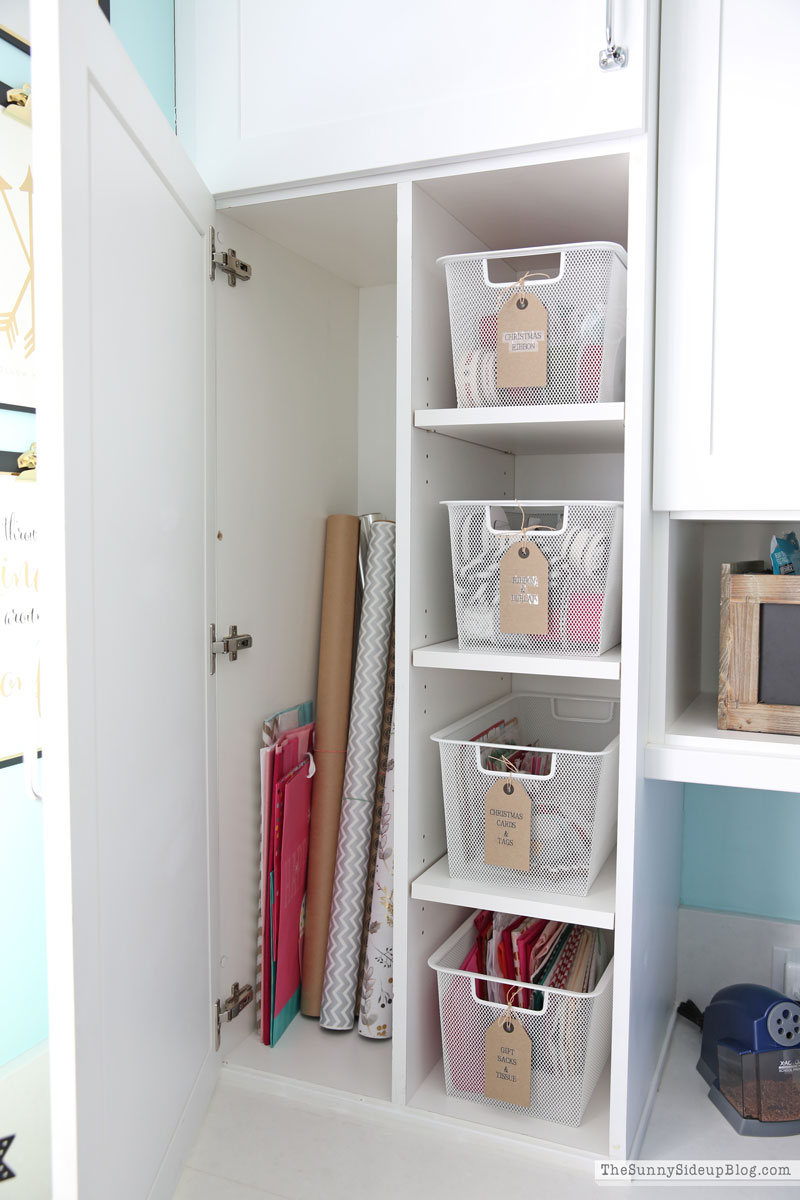 Then I keep my wrapping paper and gift sacks in this tall cupboard.  In my previous house I had one large basket for all of it with smaller craft bins inside that held my ribbons and tags.  If you are really short on space something that goes over your door like this would work great too.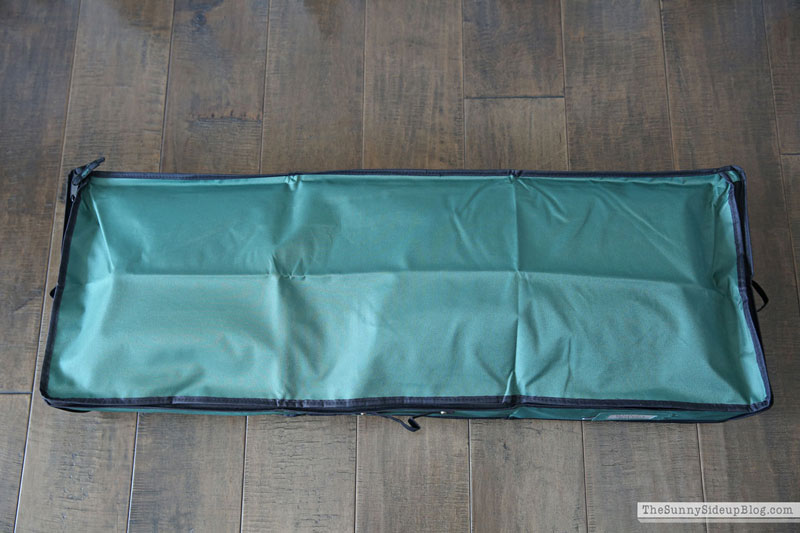 Then I bought this baby to hold all of my Christmas wrapping paper.  Of course this could be used for regular wrapping supplies too.  It fits nicely under a bed if you're short on space!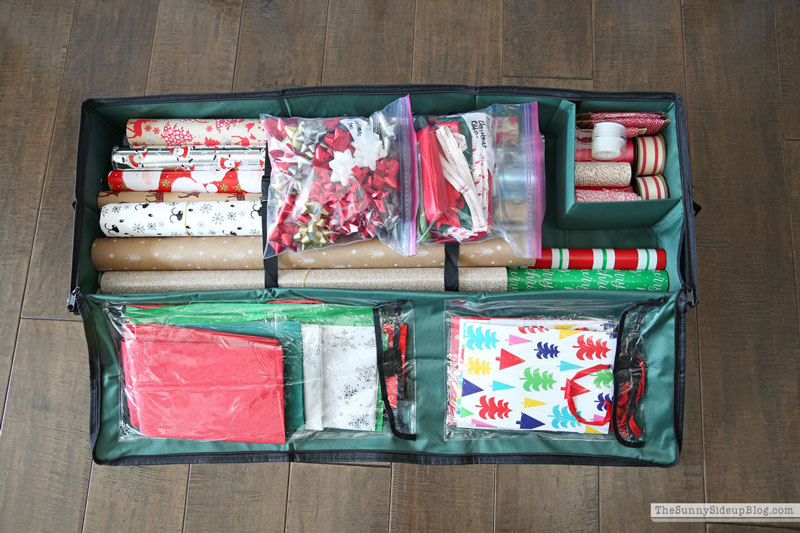 You hear the angels singing too don't you?
How could you not?  ;)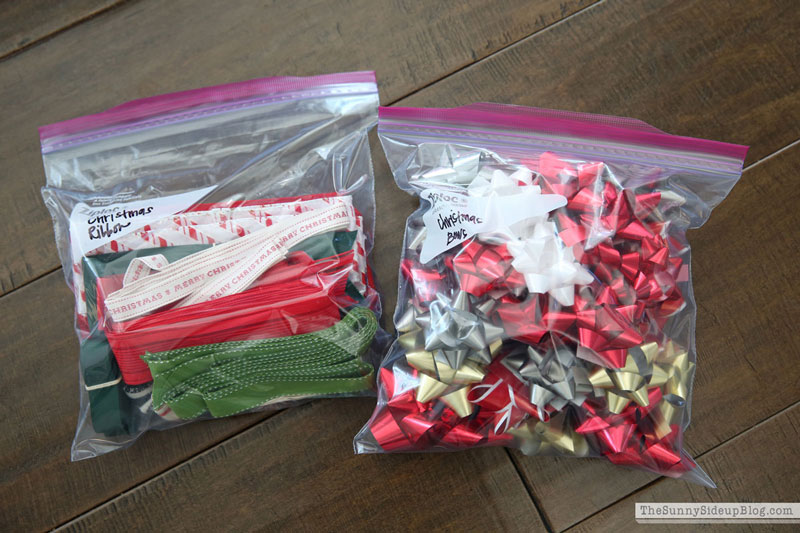 Last but not least don't rule out simple ziploc bags!  They come in so handy for office organization.  I use them all the time to hold pictures, supplies, all sorts of things.  I've also used them to hold holiday decor and game and puzzle pieces in our playroom.  I ordered this variety pack a while back and love having different sizes of these bags on hand.
Alright friends.  I have some CUTE office organization options rounded up and I want to show you my new office paint!  But I feel like this post is already a book.  I'll be back soon with more.  In the meantime.. start rounding up your paper piles!
You've got this. :)
xoxo, Erin