*affiliate links used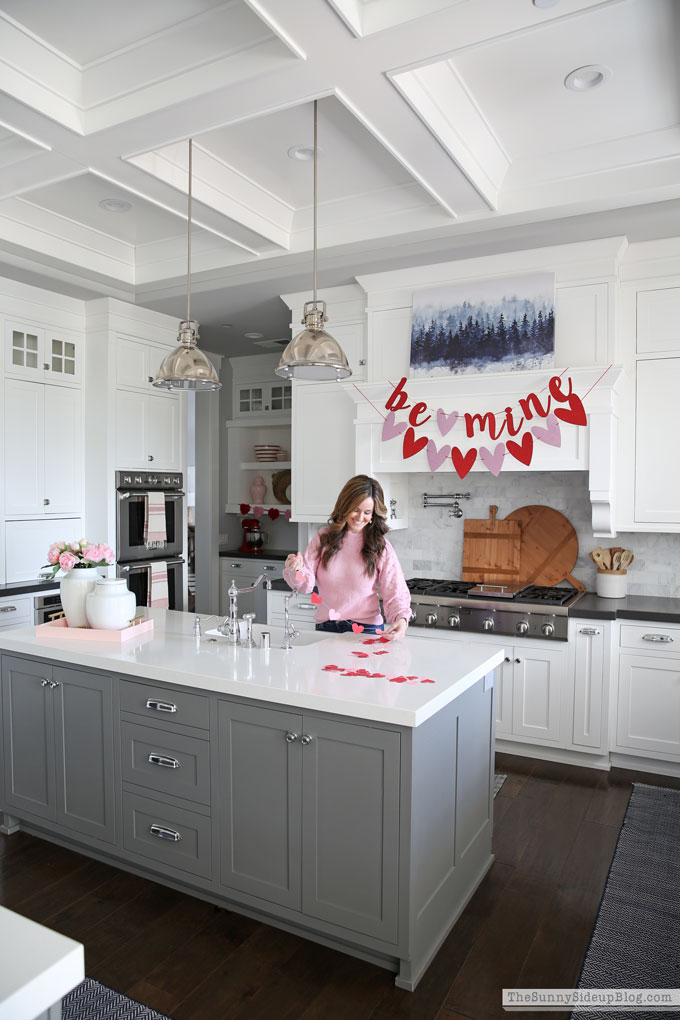 Me two weeks ago "Meh.. not really feeling Valentine's Day decor this year.  I think I'll skip it."  
Me two days ago "Maybe I'll just get out a few red plates for a fun tablescape."
Me yesterday "EVERY ROOM IN THIS HOUSE NEEDS MORE HEARTS!!!"
SOURCES – Indigo Forest Print/Be Mine Banner/Small Heart Banner/Round Paddle Board/Rectangle Cheese Board/Pink Tray/Pink Peonies/White Terracotta Jars – Large and Small/Kitchen Rugs/Puff Sleeve Sweater/Similar Pendants/Red Kitchen Aid/Similar Crock
So yeah.. I went a little crazy around here decking the hall in pink and red and I'm not mad about it. :)  I'll post more decor details this week (and organizing progress is coming!) but first I want to share some fun Valentine's Day favorites with you all!  This beloved holiday is fast approaching so I've rounded up items I adore if you need a gift for a loved one.  Everything in the collage below I either have or want. :)  Speaking of things I adore.. my favorite puff sleeve sweater went on sale so I had to buy it in pink!  I'm still obsessed with the green I wore through the holidays, but pink is working better for Spring. ;)  Below are my favorites for Valentine's Day and if you still need more gift ideas you can find some of my Amazon favorites here.
1 – Chanel Perfume – Smells so good!  I love Chanel and I  also love Flowerbomb.  You can't go wrong with either!
2 – Benchmark Signature Roses – I love that you can order flowers on Amazon!  Makes it so easy to send a pretty Valentine bouquet to someone special.
3 – Heart Bowls – These watercolor heart bowls are beautiful to double for snacks and decor!
4 – Heart Necklace – Heart Ring – Such a beautiful set.  I bought El the heart ring for Christmas and she has worn it every day since.  A little reminder of how much her mom loves her. :)  The necklace will be a fun future gift for my 16 year old.  (She turned 16 in January and I still can't get over that my baby is driving!)
5 – Pom Pom Beanie – I got me and my girls these cute beanies for Christmas and they are so cute!  They come in lots of fun colors.  We can't wait to wear them on an upcoming ski trip!
6 – Myla Lace Chemise – A beautiful lace chemise that looks comfortable too!  Had to throw this one in for my husband even though #19 is more my style. ;) 
7 – Leather Tassel Keychain – Such a cute keychain.  I'm kind of tassel obsessed lately!  It comes in so many fun colors.
8 – Ceramic Heart 2-tier Server – I ordered this ceramic heart 2-tier server and it is absolutely adorable!  Looks SO cute on my counter.  It's begging to hold some heart sugar cookies but I've tried making them before and ahhh.. they didn't turn out so hot.  No surprise there.  I might attempt to make them again.  Or more likely just buy some. :)
9 – XOXO Graphic Sweatshirt – Such a cute sweatshirt to wear all year but especially fun in February!
10 – Black Reserve Cleanser – I bought Kenny this body and hair cleanser for Christmas this year and he is really liking it!  Men can be tough to shop for Valentine's Day so this is a good gift suggestion if you are struggling with what to buy for your man. :)
11 – Travel Jewelry Organizer – Organization is on my mind 24/7!  I've been having so much fun getting spaces in my home organized.  This travel jewelry organizer is SO cute and a great price.  Fun Valentine's gift for someone who loves to travel.
12 – Heart Adult and Kid Apron – Aren't these adorable!?  Maybe I'll have to attempt sugar cookies again just so the girls and I can wear these cute aprons!
13 –  All American Sleep Shirt – Happy wife happy life.  No truer words have ever been spoken. ;)  CUTEST sleep shirt!  I love wearing stuff like this around the house and especially after I shower while I blow dry my hair.
14 – Our Moments Couples – These conversation starters look like fun!  I love this for a Valentine's Day gift and am picking up a set.  Would be fun to pull out on a date or a road trip and learn some fun new things about each other.
15 – Set of 3 Mixing Bowls – These are my favorite mixing bowls!  I have them in yellow but I'm thinking red would be so fun for November through February!
16 – Swift Run Sneaker – Cutest pink shoes!  I have these and love them. :)
17 – Marble Heart Board – You can't go wrong with a marble cutting board and a marble heart cutting board is perfection for February.
18 – Leather Wallet – Another fun but practical gift idea for your man!
19 – Polka Dot Pajama Pants – I just bought the cutest polka dot sweater (I'll share it on soon) and then fell in love with these cute pj pants too!  Polka dots and tassels are both recent obsessions I guess. :)
20 – Quilted Shoulder Bag – I also ordered this cute pink purse (darling and such a great price).  I have a feeling my girls will want to steal this one so I'll be guarding it close!
I hope this was helpful!  I'm off.
Gotta add a few hearts to my front porch. ;)
xoxo, Erin