Ok.. true confession coming from someone who works incredibly hard at planning and preparing for the holiday season early so that December feels less stressful.  *See holiday planner post if you don't believe me. ;)  This December has been a little stressful!  We honestly have just had too much going on the past few weeks and even though I was prepared for some of the holiday madness, too much is just too much.  I've learned a good lesson!  Aside from getting a jump start on all the things that need to happen during this time of year I also need to be more careful with our calendar and what we say yes to (although a big part of it is just the busy stage we are in with our kids!).  Anyone else feeling some burn out this month?  It will all get done though right!?  It always does.  I'm so excited to get my kids out of school Friday so we can slow down and enjoy some time together.
Because of our over scheduled December I am still finishing buying my gifts this year!  I'm usually so much more prepared with my shopping by this time in December.  I bought some things early (gifts for teachers, friends, neighbors and a few things for my family) but then I got busy and all of the sudden Christmas is a week away and I'm realizing there is much work to be done before Santa arrives!  Anyone else scrambling with me in the gift giving department!?  Seriously thank goodness for Amazon.  How did we ever live without it!?  Last night I searched high and low for some of the best sellers on Amazon to finish my holiday shopping.  I found so many great products to try!  Of course a few things ended up in my cart to me from me, but I've been pretty good this year so I don't think Santa will mind much. :)
Here are my favorites of some of the best holiday gifts from Amazon!  These are all SO good you guys!  I hope this helps wrap up any last minute shopping you need to do too!  As much as I truly love to be prepared, the fact is that sometimes I just work best under pressure. ;)
*affiliate links used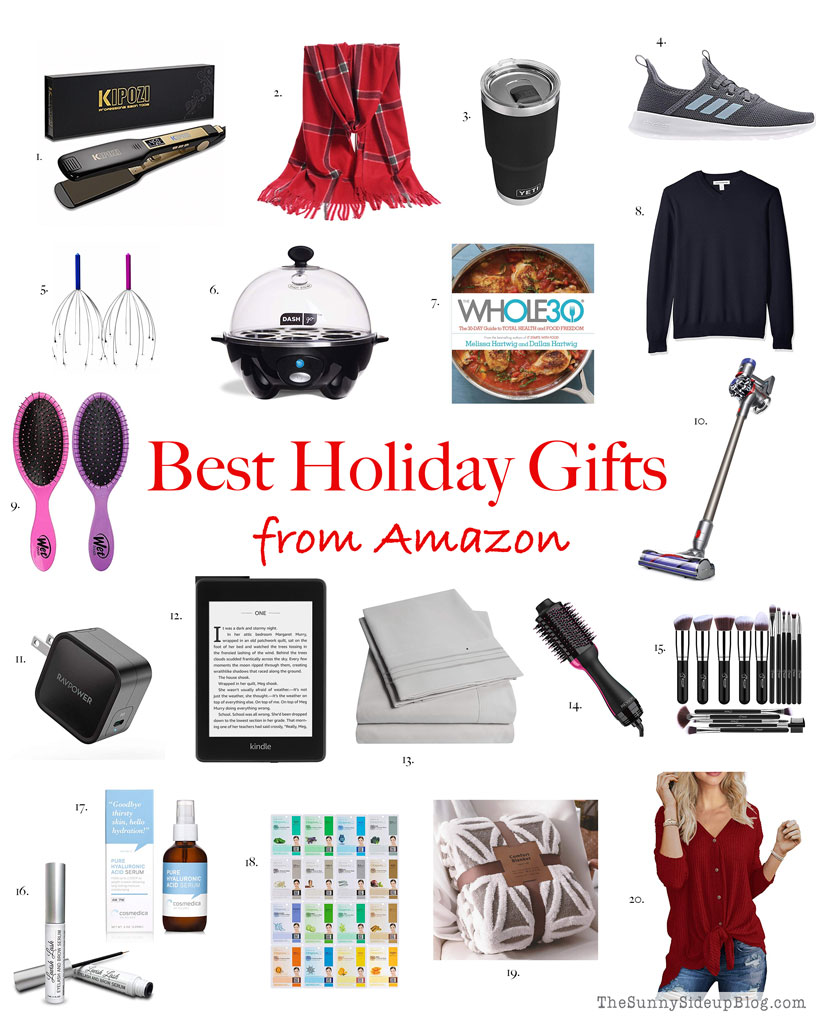 1-  Kipozi Flat Iron Straightener – So many great reviews on this straight iron!  Excited to try it!
2- Womens Winter Scarf – CUTE and an easy gift for any female on your list!
3- Yeti Stainless Steel Tumbler – I have heard non-stop amazing things about this tumbler!
4- Adidas Running Shoe – A great running shoe for a great price.  Comes in so many cute color options too!
5- Scalp Massager – I got one of these at our annual Favorite Things party a couple of years back and still LOVE it!  Seriously the best way to massage your head!  Addison and I take turns with it all the time.. feels so good!  Trust me.. you'll love it.  A great stocking stuffer!
6- Dash Rapid Egg Cooker – One of my husband's favorite things is his egg cooker!  This one is so good.. we bought it for my dad too!
7- Whole 30 Book – I'm excited to read this in January!  Attempting to make better food choices with the rest of the world. ;)
8- Mens V-Neck Sweater – You can't go wrong with a good V-neck sweater.  Great reviews and comes in lots of colors!
9- Wet Brush – My girls LOVE their wet brushes!  Perfect for combing out hair right after the shower.
10- Dyson Cordless Vacuum Cleaner – My friend has this and says it seriously changed her life!  I love my hand held dyson and this vacuum has one attached that comes off of the handle so you're really getting two vacuums!  Great reviews and a great price for a Dyson.
11- USB C Charger – Check out the reviews on this!  Major power.  Perfect stocking stuffer for my cell phone loving teens!  And their IG loving mom. ;)
12- Kindle Paperwhite – My dad's favorite!  A Kindle always makes a great gift!
13-  Bed Sheet Set – These sheets have AMAZING reviews!  I'm so excited to try them.  Such a great price and so many color options too!
14 – Revlon One-Step Hair Dryer – Ok.. do any of you have this!?  Over 15,000 people are raving about it!  And so many say it's great for thick hair.  I will let you know if I love it because Santa is definitely giving this to me and my girls to try!
15- Makeup Brushes – I can't resist a great set of makeup brushes and these sound so good for the price!  Another easy gift for any female on your list.
16- Lavish Lash Growth Serum – I don't think you can find a good lash serum for less!  I haven't tried this before, but after reading the reviews on this one I'm so tempted! I'd love to hear your experience with this if any of you have tried it or something similar!
17- Hyaluronic Acid Serum – A number one best seller for skin!  Perfect stocking stuffer or gift for any girl who loves skin care.
18- Collagen Facial Mask Sheet – Excited to try these with my girls!  They come in such a large pack.. perfect to distribute as gifts for friends/family.  You get a mask and you get a mask and you get a mask! ;)
19- Sherpa Fleece Blanket – How cute is this fuzzy fleece blanket!?  I love the pattern and it comes in so many cute colors.  I've always loved giving nice throws for gifts and after reading the reviews I can tell this would be a hit!
20- Knit Tunic Blouse – This top always pops up when I'm looking for clothes on Amazon.  It's definitely a best seller and so cute!  Endless color options too.  Easy gift!
One more week until Christmas!!  We've got this!
Right? ;)
xoxo, Erin