Favorites for Organizing *affiliate links used below
Alright.. MAJOR organizing is going on at my house.  I'm on such a roll!  Feels good to be tackling spaces that have been driving me crazy for months.  Are you on a roll too?  Or still struggling to get started?  Or is the real issue just finding the time to organize in the first place?   Finding the time to prioritize getting your house in order can be a struggle.  We all have busy schedules with so much going on.  I've been organizing just 15-20 minutes a day and it really does make a difference!  I'm sharing my small wins every day on IG stories and I hope it helps give you some ideas and motivation!  If you want more motivation and tips my sweet blog friend Abby (who loves organizing as much as I do!) is having a free webinar this week called HOW TO GET ORGANIZED WHEN YOU DON'T HAVE A LOT OF TIME.  I can't recommend Abby's webinars and courses enough!  She has a wealth of knowledge to share and is so down to earth and personable.  You'll definitely leave with more ideas, tips and motivation.
You can sign up and find a time to tune in to her free webinar HERE.  Yea for ALL the help we can get keeping our homes organized!  Love this topic. :)
I'll share some recent progress pics of the spaces in my home I've been tackling soon, but first I want to talk about some of my favorite products for organizing and how I use them in my home.  Sometimes finding the perfect organizer makes all the difference and I hope the pictures in this post give you some new ideas for ways you can best utilize your spaces and make them work for you!
1 – Iris Clear Card Keeper –  It felt so good to finally get all of my greeting cards organized and in one place!  This is such an easy system and will give you a quick organizing win if you have cards all over your house.  Round them up, give them some labeled categories and done!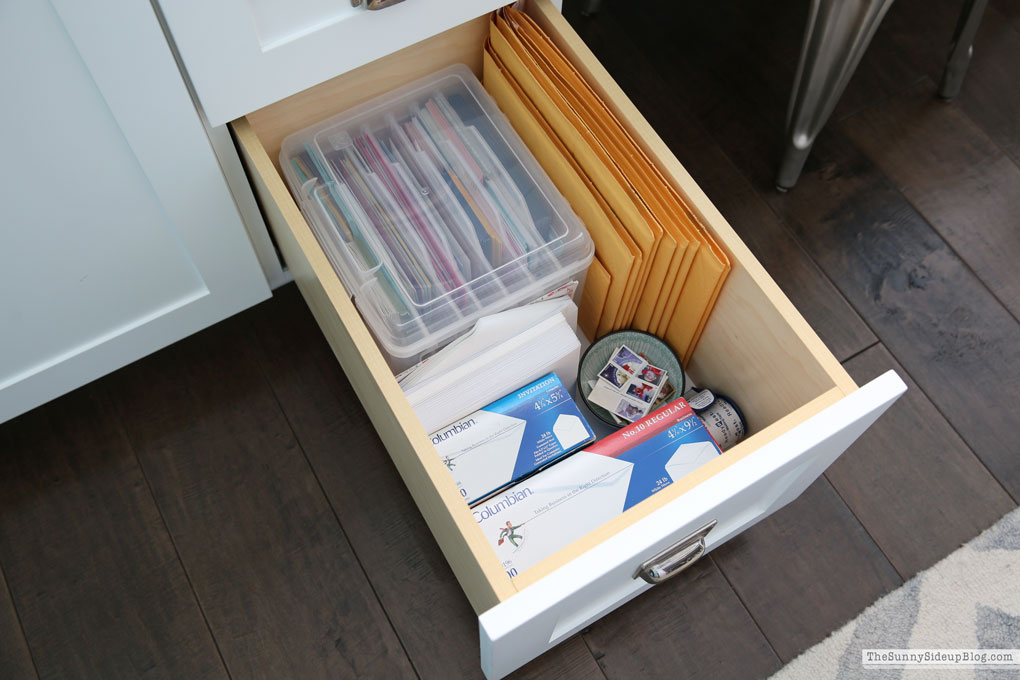 I took this little card organization project one step further by creating a "mail/card zone" in one of my office drawers.  Makes mailing a card, letter, small gift or package a breeze!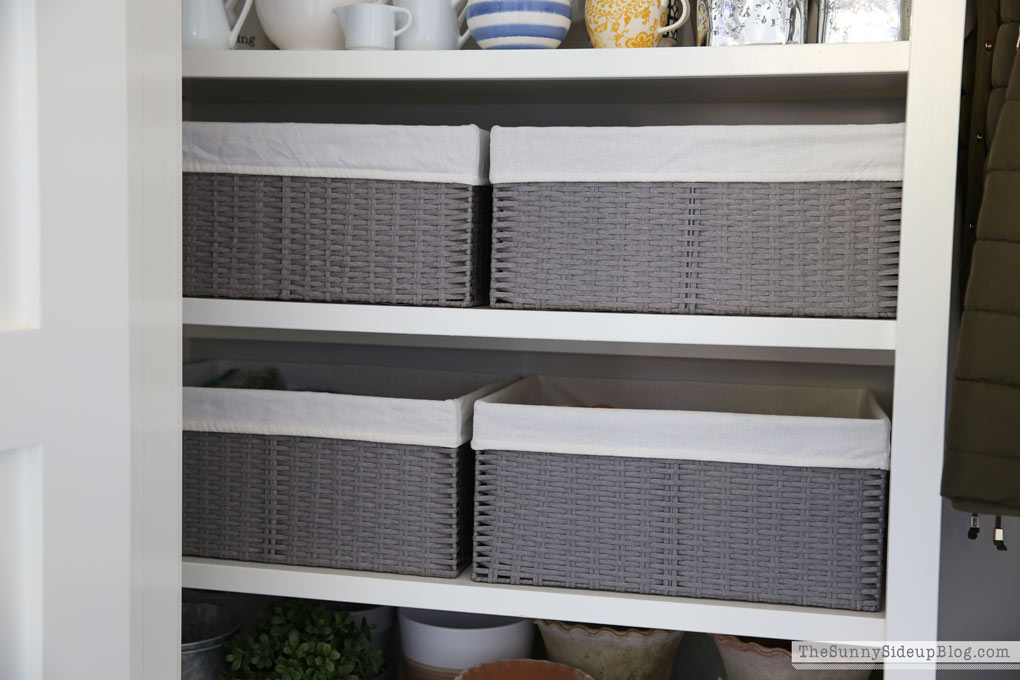 2 – Gray Woven Storage Bins – These grey woven baskets are some of my favorites because they look so good and can double as decor.  They come in different sizes and I love the linen liners!  (Plus they are on sale at the moment!)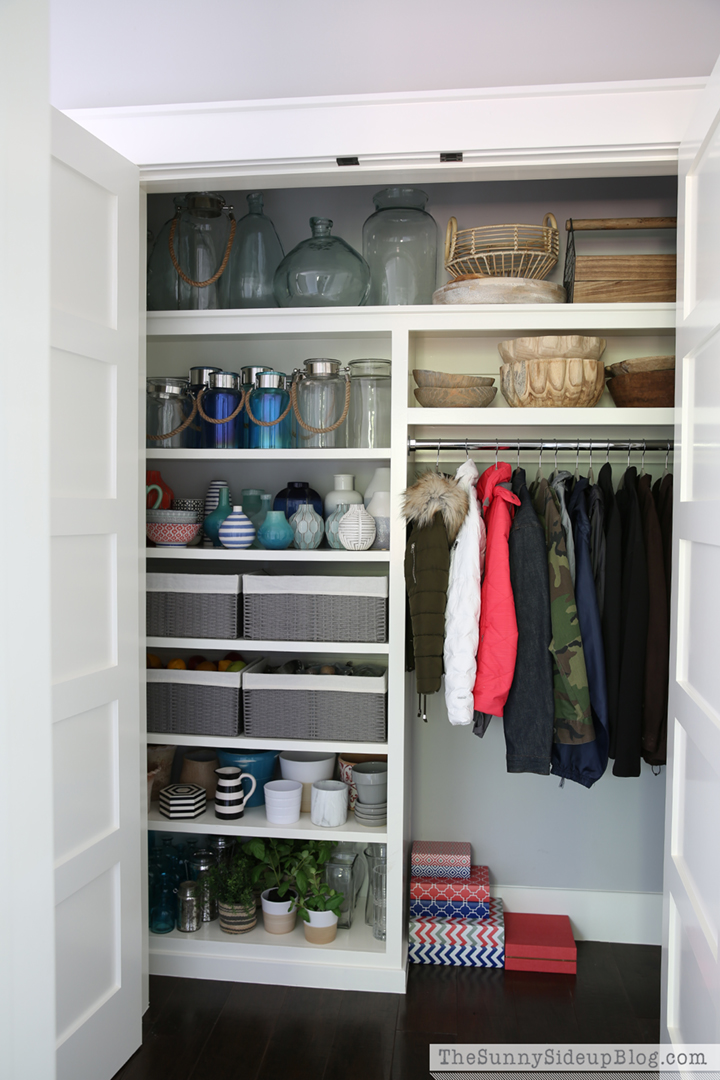 I've been using these in my decor closet to corral random small items I use when I decorate.
3 – Emerit Paper Holder –  Such a simple item to hold paper but it has been a favorite at our house for over 10 years!  Lined paper, art paper, colored paper.. room for it all! When you find something that works you stick with it.  I'm loyal that way. ;)
4 – Velvet Shirt Hangers/Velvet Suit & Pant Hangers – So excited about these felt hangers!  I ordered them for my girls' closets (the white for El and the pink for Ad).  They both have rose gold tips and I love the little indents for dresses and tank tops.  They are a great price and instantly gave their closets a major upgrade!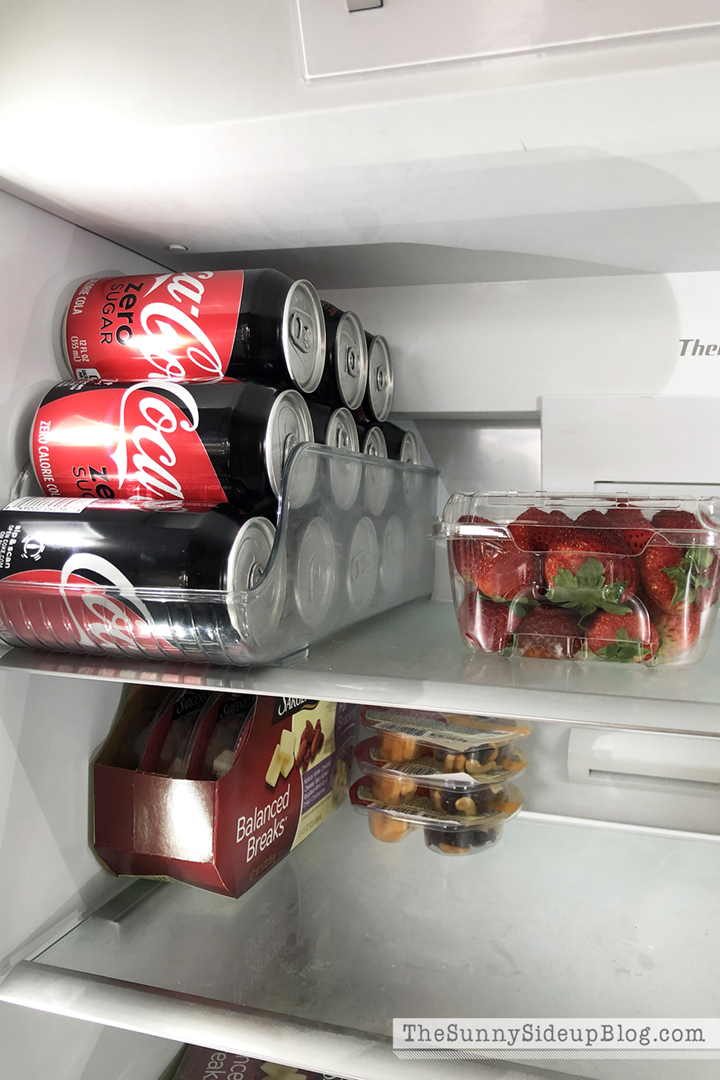 5 – Stackable Fridge Bins –  I've loved these fridge bins!  My fridge hasn't been the most organized space this week so I'm just sharing a pic of my favorite bin.. the one I use for Coke Zeros.  (Giving them up will be my goal for 2021.) ;)  This saves so much space in my fridge!  I use the other containers for things like yogurt and other random items.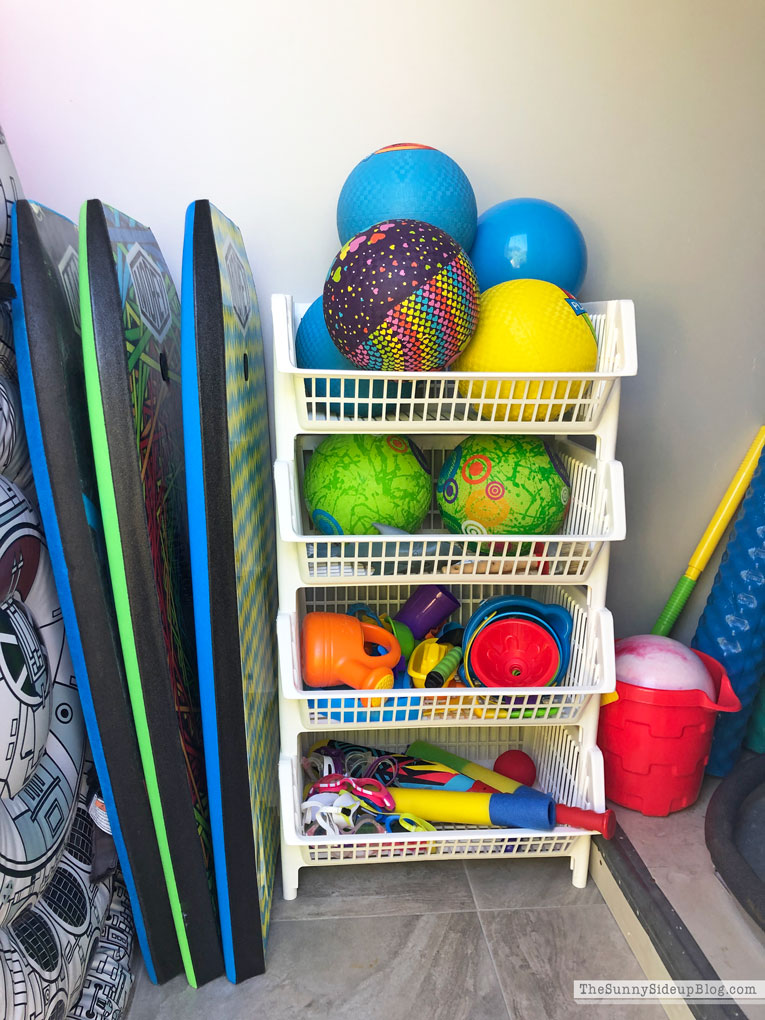 6 – Stackable Baskets –  I've had these stackable baskets for years and they have held both indoor toys and outdoor toys.  They've also been in my garage holding things like soccer cleats and socks.  They come in lots of colors and have been perfect for both large and small items.
They are currently living in my outdoor pool closet that I'm happy to report still looks (for the most part!) like this picture.  Big win for me!
7 – Battery Organizer –  I was so tired of random batteries in random drawers all over my house!  I searched for a solution and was thrilled to find this battery organizer!
This lives in a drawer in my laundry room and finding a new battery when we need it has now become a piece of cake. :)
8 – Three Tier Wall File Holder –  Wall baskets are such a smart organizing solution!  I've loved having these single baskets on my office wall to hold clipboards and other random items I use.  This is another great hanging option and you can find more single wall organizing options here.  (I also just hung this cute set of three baskets in my mudroom!  Love them!)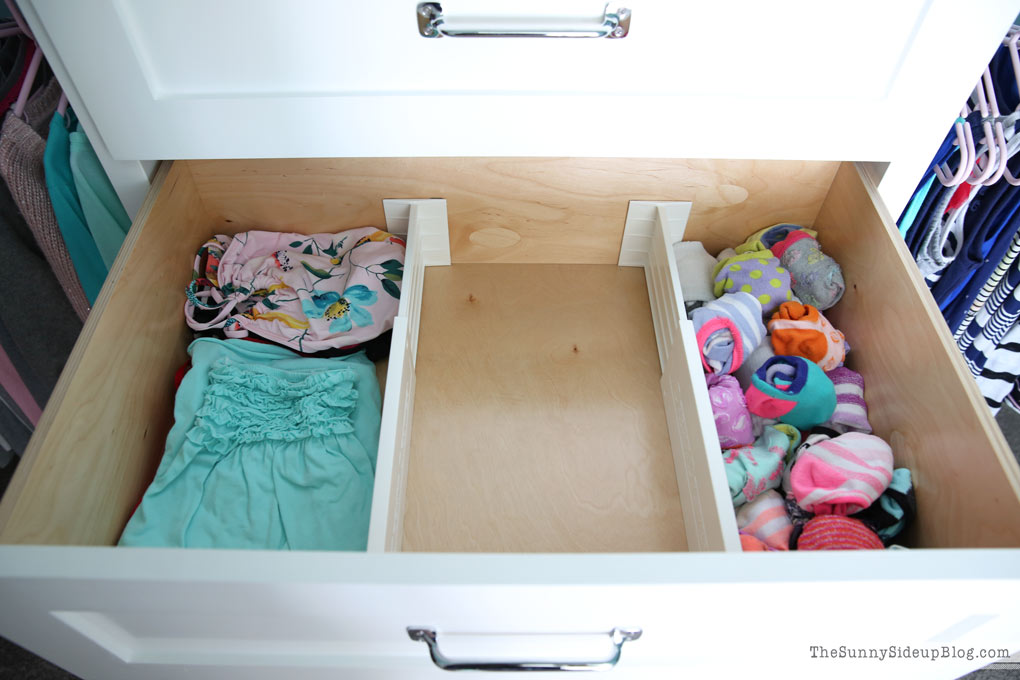 9 – Adjustable Dividers – Adjustable drawer dividers are definitely long time favorites!  I especially love them in bedroom and bathroom drawers.  They are perfect for dividing clothes (this pic is from Ad's closet and underwear go in the middle slot).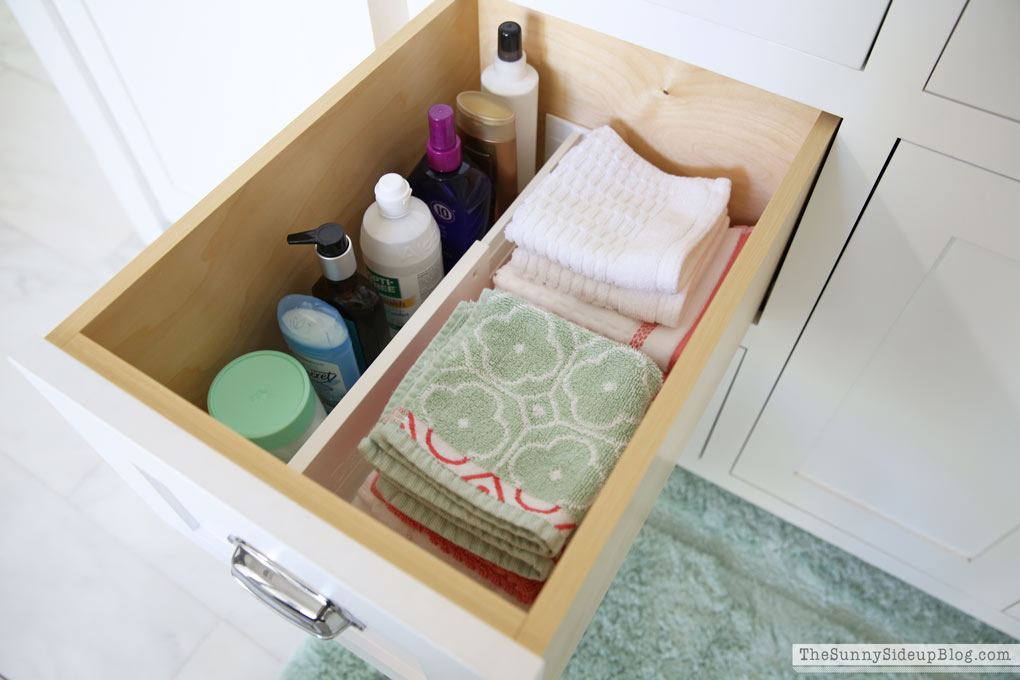 They also work great to separate items in the bathroom like I did with random products on one side and my wash cloths on the other.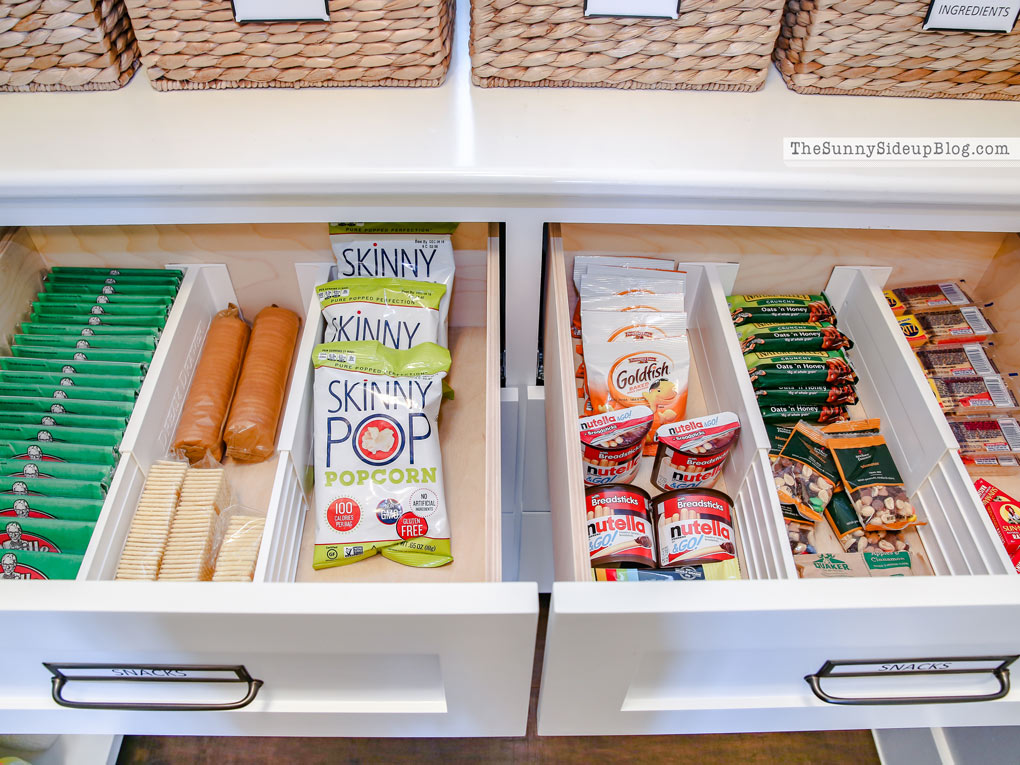 I use them in our pantry drawers too!  Perfect to separate snacks because we wouldn't want the popcorn mixing with the crackers.  That would be tragic. ;)
10 – Seagrass Utility Baskets –  These baskets are beautiful and I have them all over my house!  Perfect for decor and organizing.  Above is the larger square size..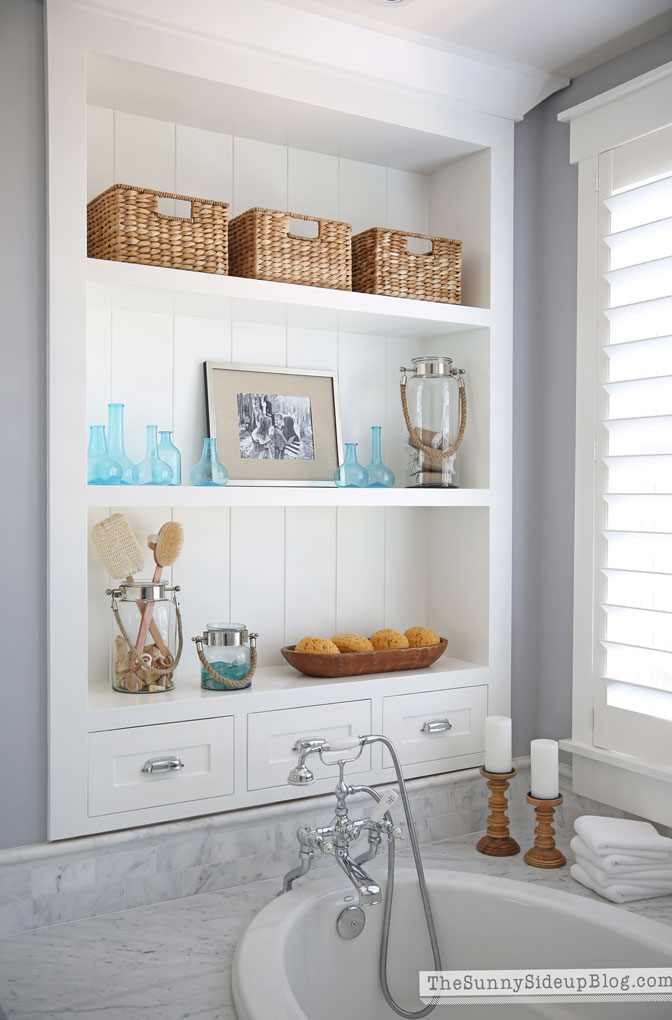 and I used the smaller size on my bathroom tub shelves.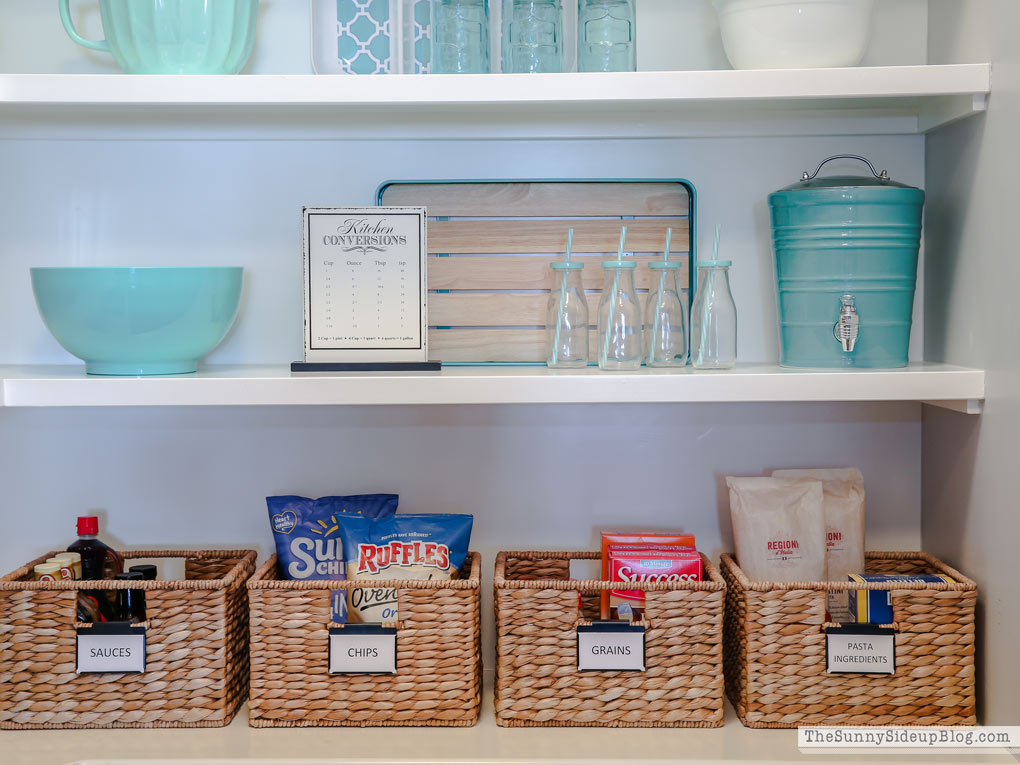 I also love them in my pantry.  They are perfect baskets to organize items that will be seen in your home.  (You can find these labels linked at the bottom of my organized pantry post!)
11 – Glass Meal Prep Containers –  This is one item on the list that I don't have but want!  These meal prep containers look amazing for prepping healthy meals and snacks to take on the go!
12 – 2 Tier Industrial Style Paper Holder –  Similar to the paper holders I have in my office that have become favorites for keeping all of my paper organized under control!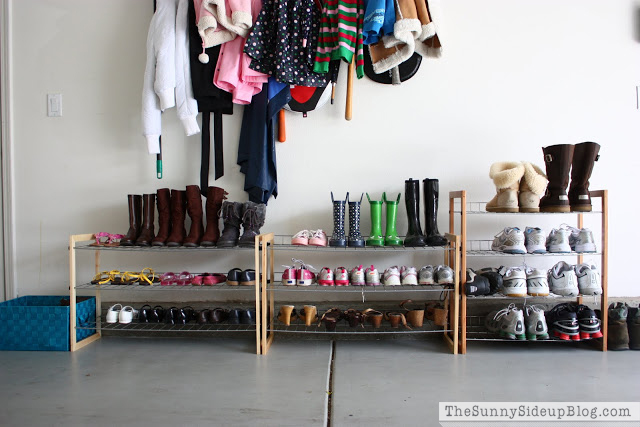 13 – Simple Houseware Shoe Holder –  In our previous house we didn't have a mudroom so I used these shoe holders for years to keep our shoes corralled and easy to grab on our way out the door!  A great garage solution if you don't have space in your home for shoes!  My sister-in-law has some in her laundry room and that's a great spot to put them too!
14 – 2 Tier Organizer with Baskets –  Another item I don't have but want!  How perfect would this be under ALL the sinks!?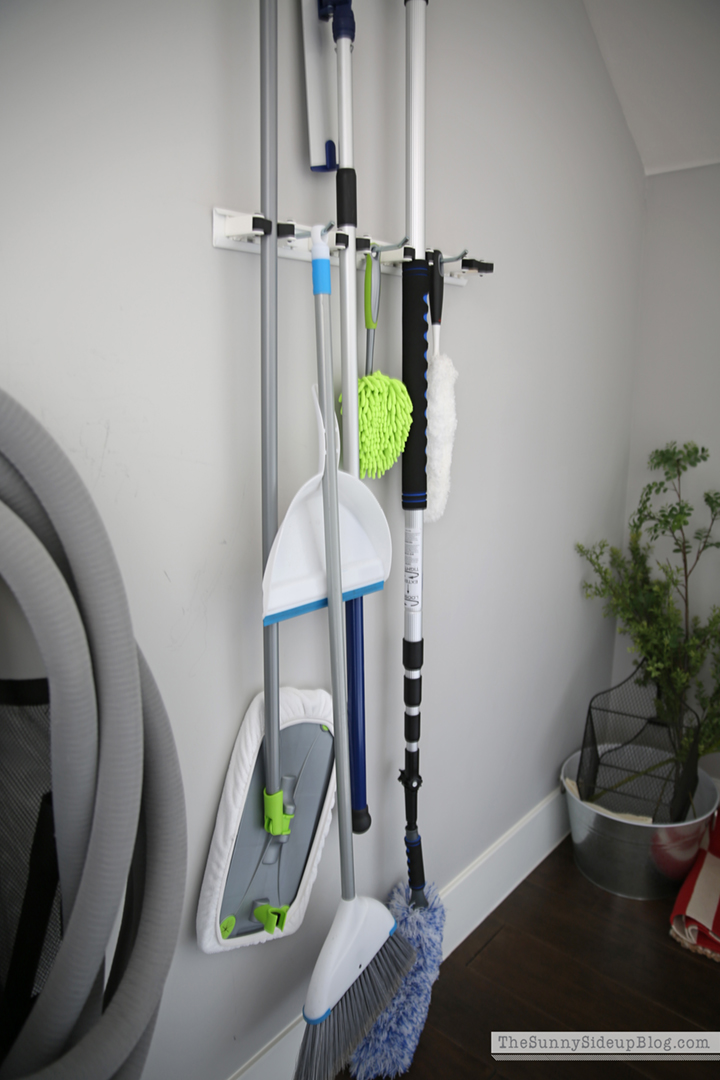 15 – Broom/Tool Holder – Broom/Tool holders come in so handy in closets or garages to hold well.. brooms and tools!  Vertical space saving at its finest. :)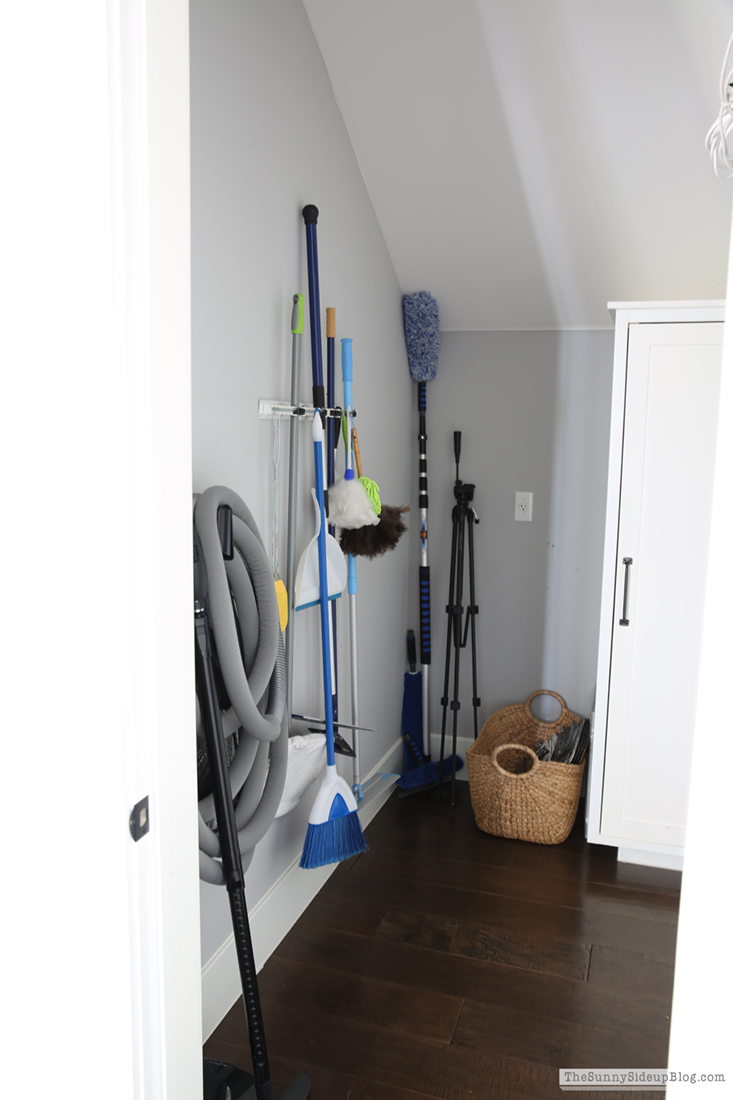 I've loved having tall cleaning items off of the floor in my stair closet!
I hope seeing how I use these organizers in my home was helpful!  Let me know if you have a specific organizer you can't live without!  I've love to hear about it.
I may have mentioned before that organizing is a favorite topic of mine. ;)
{POST SOURCES & FUN ORGANIZERS}






xoxo, Erin