Summer is well on its way!  I can tell by how quickly I'm going through my dry shampoo. :)  I have so many projects going on right now it's kind of ridiculous!  I wish I was better at focusing on one project until it's done but for some reason when a moment of ambition hits me instead of finishing a previous project, I start something new!  I've had lots of ambitious moments this week.. ha.. so I'm a bit scattered around here to say the least.  Tonight I printed out my Current Projects printable to help me get back on track so I thought I'd share it quick again with all of you in case I'm not the only one feeling a tad scattered this summer!  Please tell me I'm not alone. ;)  I'm picking 3 projects (this printable pictured is an older one.. new projects!) and detailing what I need to do to finish them.  Then I'm not moving on to more projects until my top 3 are DONE!  Ok.. just sharing that with all of you helps me feel less scattered.  Now we can move on to organized closets and cute skirts!
Ok.. maybe we're still a tad scattered. ;)
I'm trying to spend at least 15-20 minutes a day organizing this summer.  There are so many spots in my home that just need a little re-fresh and this stair closet was one of them!
Here's the "BEFORE."  Not awful.. just neglected as of late. :)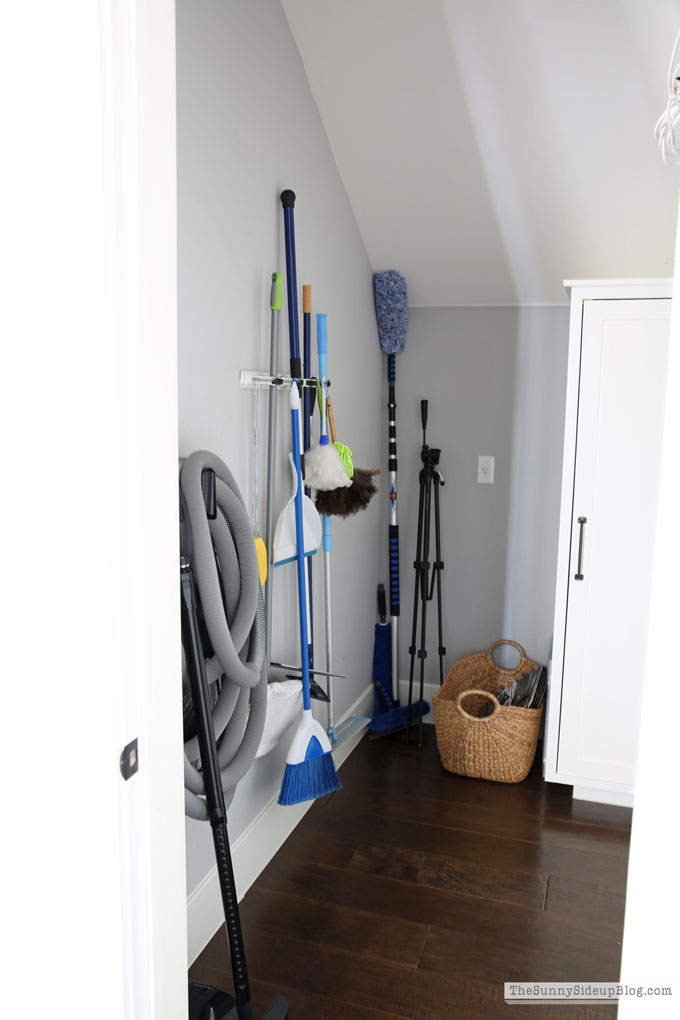 "AFTER."  20 minutes later it was back in shape!  A lot of it was garbage or items that belonged somewhere else but were stuffed in here because of lack of time or laziness. :)
One last before and after..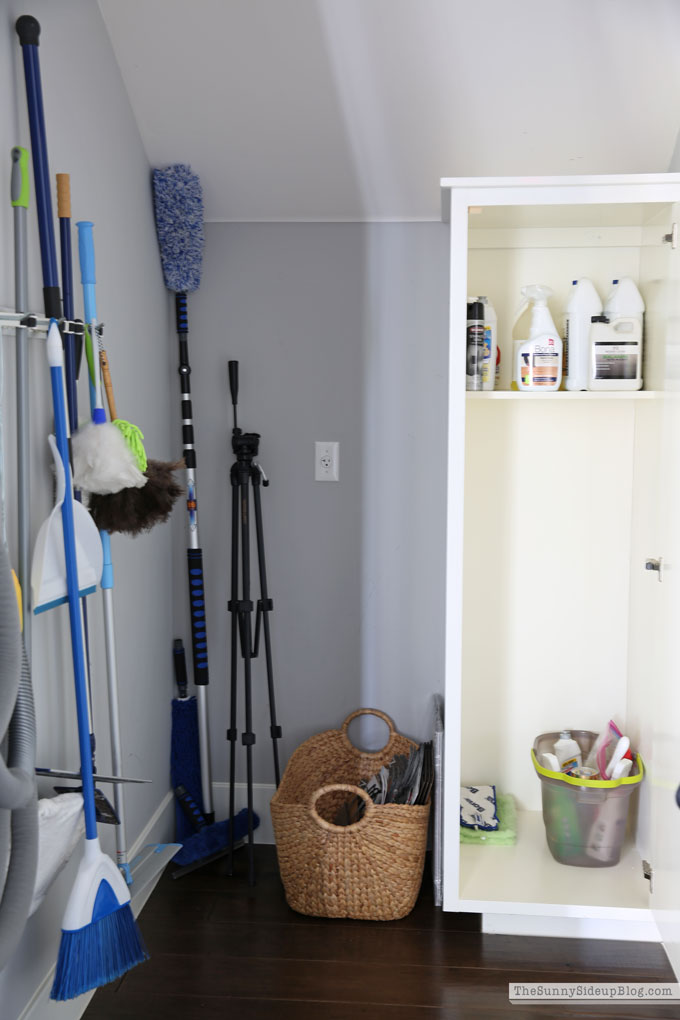 And yes.. I have a closet inside a closet.  Why not?  :)  It holds some of my most used cleaning supplies.  Happy I can easily walk in this space now and find what I need!
The closet makeover that has made the biggest impact this summer?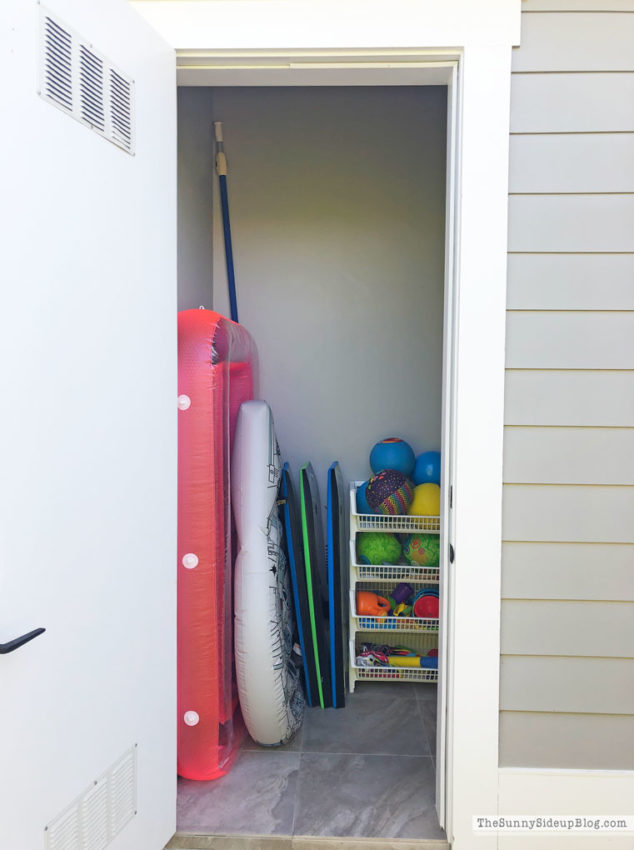 Our little organized pool and toy closet.  Another simple clean out that I'm grateful I took the time to do because it has made our pool days run much smoother!
Now Kole can find his Star Wars floatie and shovels to use for paddling with ease.  ??
Don't ask because I don't know.  We are one day at a time around here.
*affiliate links used
Moving on. :)  I've been on the hunt for some cute skirts this summer that are lightweight and cool and found so many pretty options!  This Bias Cut Midi skirt is a favorite!  So flattering and soft and I love the length.  I found two black tops I love that I've been rotating.  This Puff Sleeve Crepe Top is such a beautiful staple!  The detail in the sleeves and neck are so pretty.  It's fitted but not tight.. perfect to wear out or tucked in.  This pink leather hobo bag has been perfect when I need a bag that holds ALL the things for me and the kids and I've been in love with these black Odila Sandals for quite a while now!  They are so comfortable for a heel.
Same skirt with a different top and purse!  This Jaccii Embellished Neck Fitted Tee is one of my most favorite tees I've bought in a while!  It's such a perfect high quality fitted tee.  Also really comfortable and just like the top above the neckline is gorgeous!  I love it dressed up with a skirt but it also looks great with jeans for a night out.  Closet staple!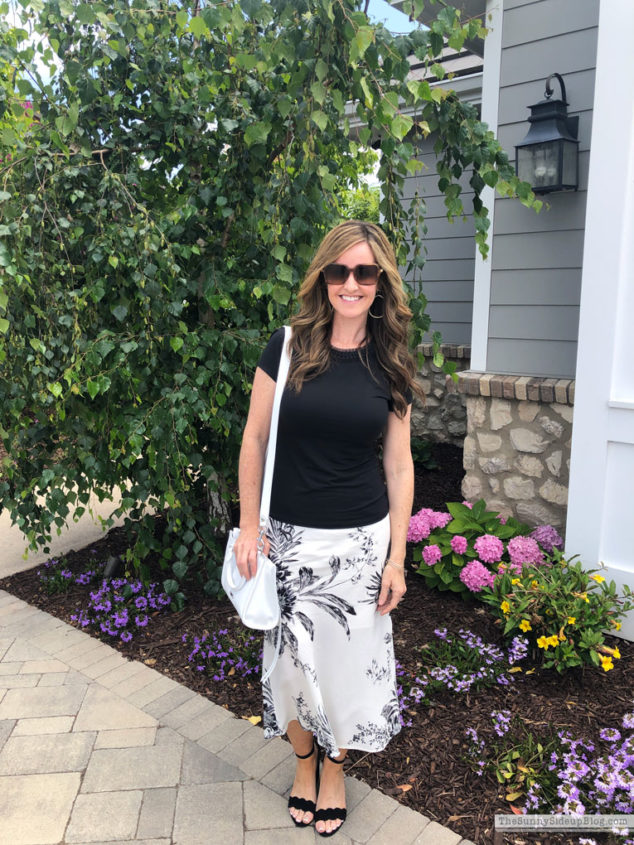 This outfit has been worn a time or twenty. :)
This same Bias Cut Midi Skirt comes in other patterns and I tried it in the animal print but I ended up returning it!  I don't know you guys.. I just can't get into animal/leopard prints!  I know it's such a popular print for clothes and home decor and I love the look when I see it on other people.. but it's just not me.  Now camo.. that's a different story.  I guess I'm the hunter and not the hunted in this scenario.  (Clearly I'm blogging too late at night again..)  Anyway.. cute skirt in whatever print you're feeling!  And you can see how my black fitted tee works so well tucked in.
Not feeling leopard, but polka dots I can do!  This High Waist Midi Skirt is darling!  So fun for summer.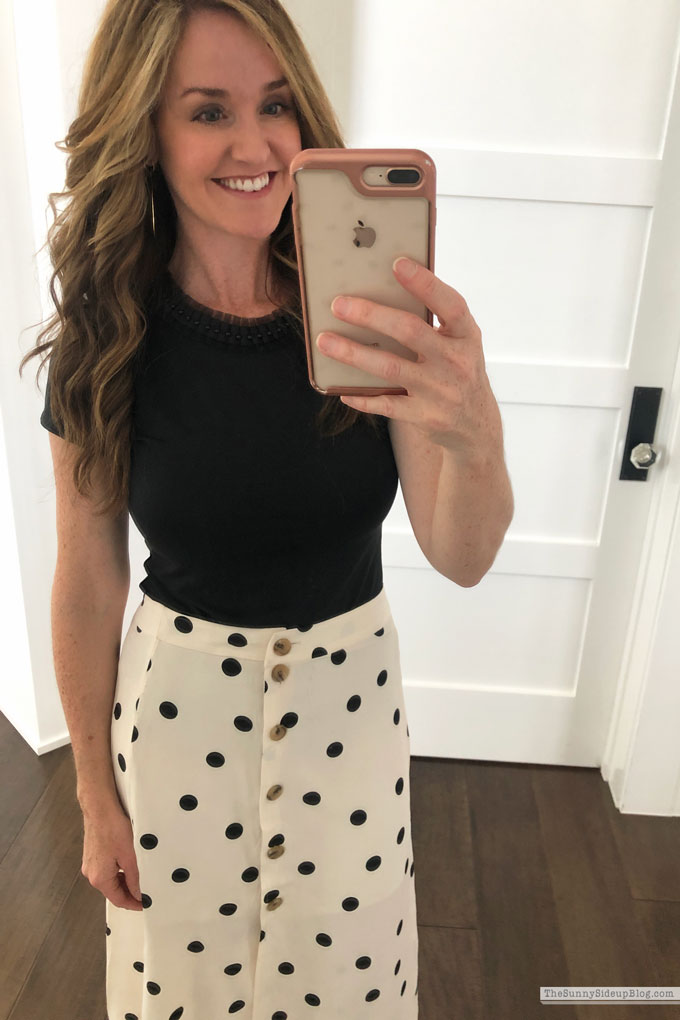 If I could change one thing I would make the slip underneath just a tad longer, but other than that it's perfect.  It also comes in an ivory and a black floral pattern that I love.  The buttons are such a fun touch and I love the slit!  Feminine and lightweight for summer.
Last skirt!  This is the Print Bias Cut Skirt and it's another favorite.  I love the black creme dot.. some pattern but not too crazy.  It's got a cute shape and is the perfect length – not too long for the short girls like me and would hit right below the knee if you're taller.  It also comes in a tiger print!  Which you won't see me in. ;)  But you do you!
And keep enjoying your summer.  More randomness and hopefully some finished projects coming soon.
:)
{POST SOURCES}



xoxo, Erin