*affiliate links used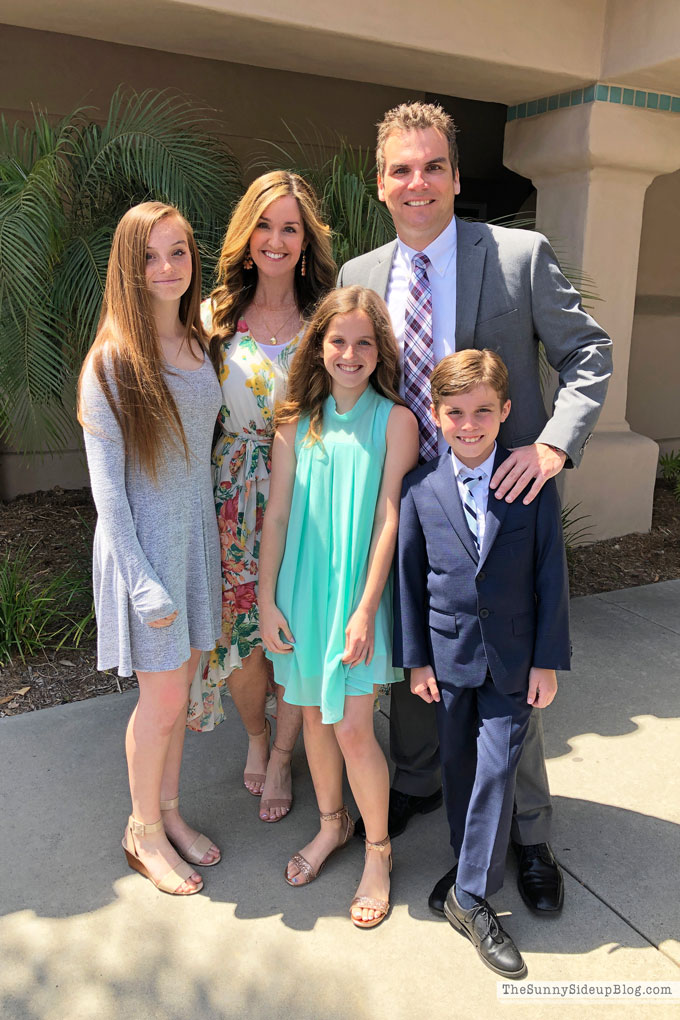 Hello friends!  I hope you all had a nice Easter weekend!  We had a great one despite a teary moment I had prepping Easter baskets the night before.  Filling my girls' baskets with make-up instead of bubbles and remembering 2 minutes ago when Ellie looked like this..
kind of hit all at once.  That happens to me from time to time now that my girls are teenagers.  You know the saying "the days are long but the years are short?"  It really could not be more true!  But I absolutely love the stage we are in so I dried my eyes and reminded myself to keep enjoying every minute.  Teenage drama and all.  Because someday I'll probably miss that too.
Or not. ;)
I'm sharing a quick organizing project with you all today!  If you look at our backyard to the right of this picture you'll see a little walk way that goes to the side of our house.
We have a small outdoor pool shower and then two doors on the side.  The door on the left with the window is our outdoor pool bathroom.
I shared pictures and details about our outdoor pool bathroom in this post if you missed it and are interested!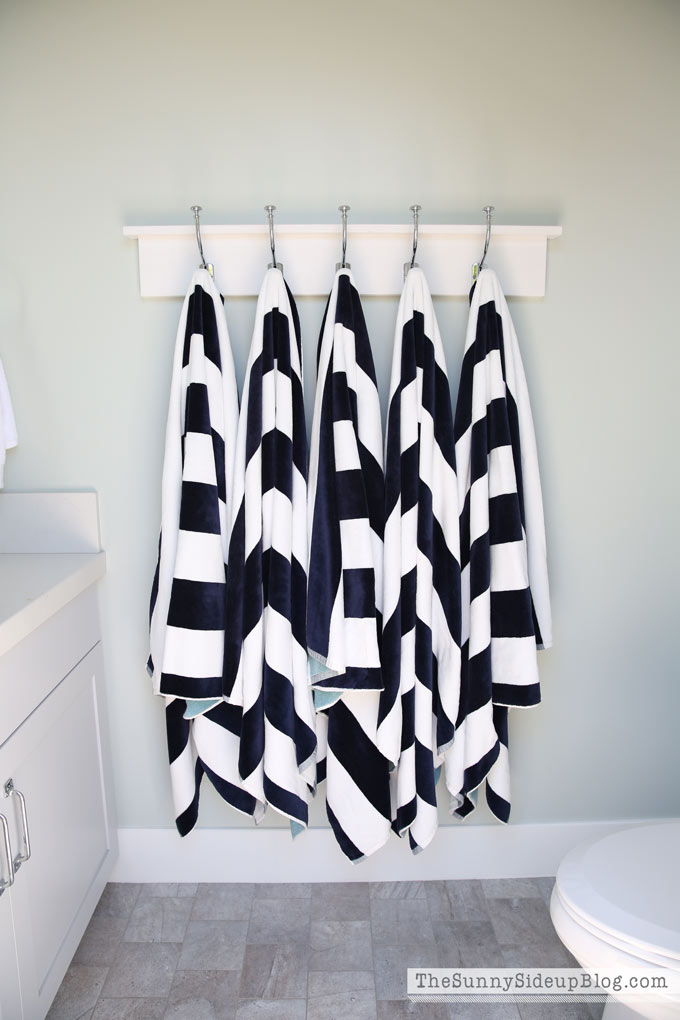 It's a small space but greatly appreciated in the summer when my kids and all of their friends aren't running back and forth through my house between the pool and bathroom.  My wood floors appreciate this space too. :)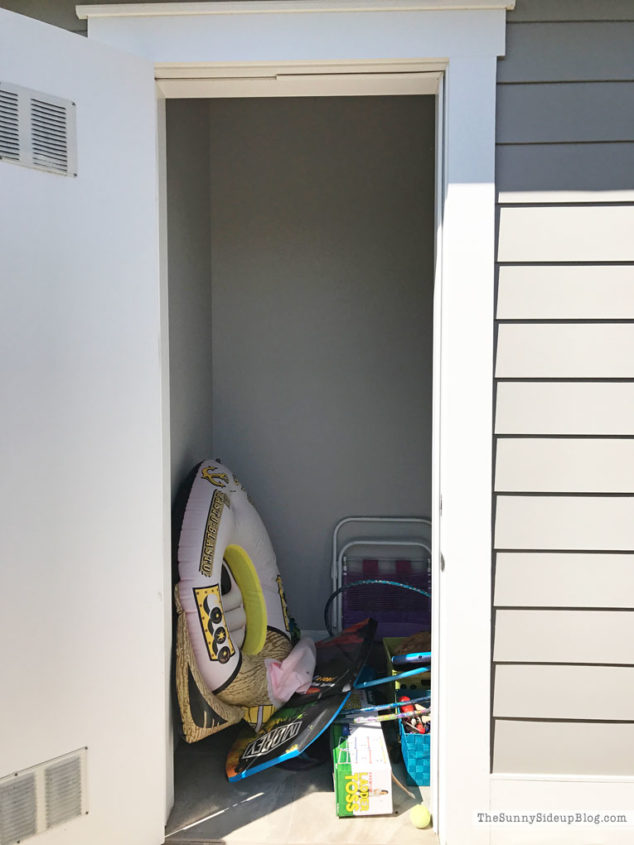 The second door opens to a small closet that I added when we built the house to hold pool items and the kids' outside toys.  I wish I would have taken a recent "before."  This picture was from two years ago and last week when I decided to tackle this closet things looked even worse!  The closet had become such a mess where we all just dumped things and shut the door.  It was dirty and dusty with junk piled high.. my kids didn't even like going in there!  None of us did.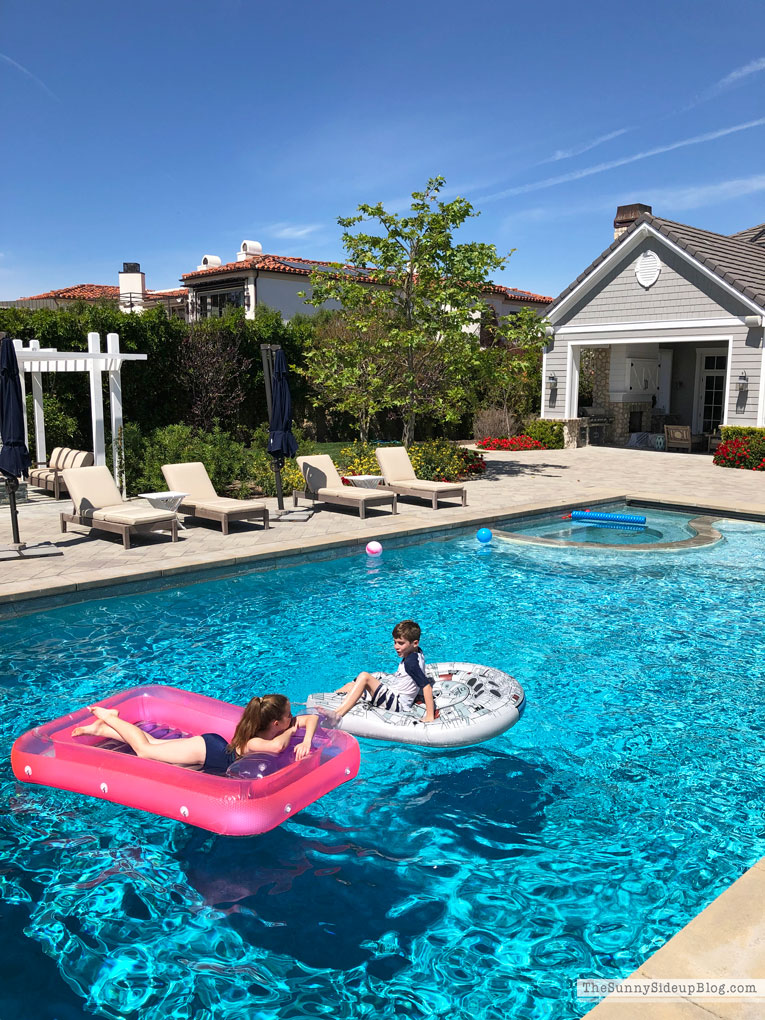 I went to put away these two pool floaties we blew up for the kids to use during their Spring Break and there was no way they were going to fit.  I told myself that the next weekend I would finally clean out this closet no matter what!  I've honestly been saying "I'll get to that outdoor closet soon" for the past 5 years we've lived in our house.
The weekend rolled around and there were so many more appealing things to do that I almost put it off AGAIN.  At one point Saturday Kenny asked me if I wanted to go on a walk and I said "I'd love to, but I can't.  I have to organize our outdoor closet."  He said "oh you can do that anytime.." and I told him that "anytime was never coming."   It was time to just prioritize it and get it done!  So out came ALL OF THE THINGS that were living in this closet.  (Sidenote – can you see my little friend who was helping in the top of this pic?  We have the cutest bunnies that come out on our lawn every afternoon and eat our grass!  I adore them!  My husband not so much.) ;)   I swept and mopped and wiped down the entire empty closet until it looked brand new and then got rid of so many things we weren't using anymore.
Ready to see the after?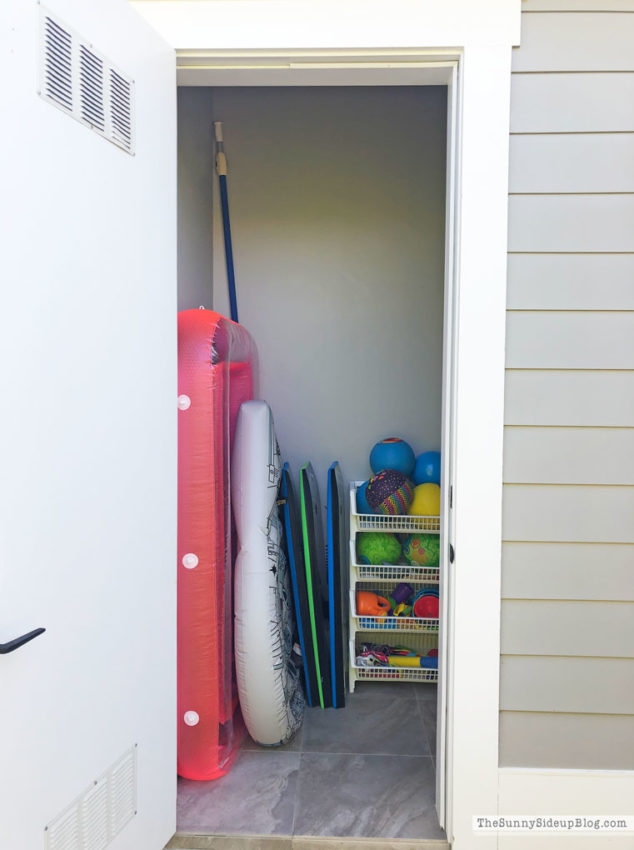 So clean!  And the new floaties have a home!  And the kids can actually walk inside to get things!  And I can now breathe normally when I open this door!  And a project that has been on my list for WAY too long is finally finished!
It's the little things.  Hooray for all of the above!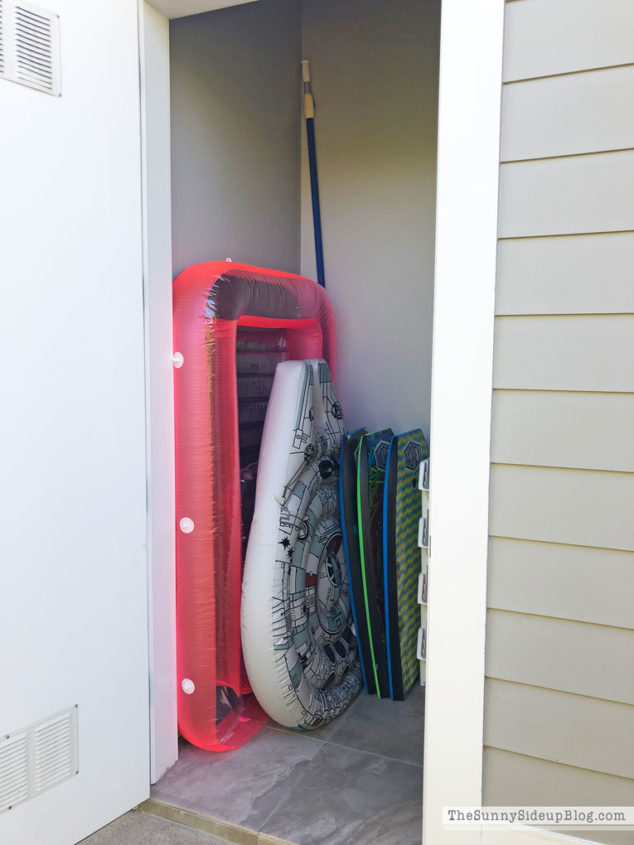 Pool floaties and bodyboards line up nicely to the left..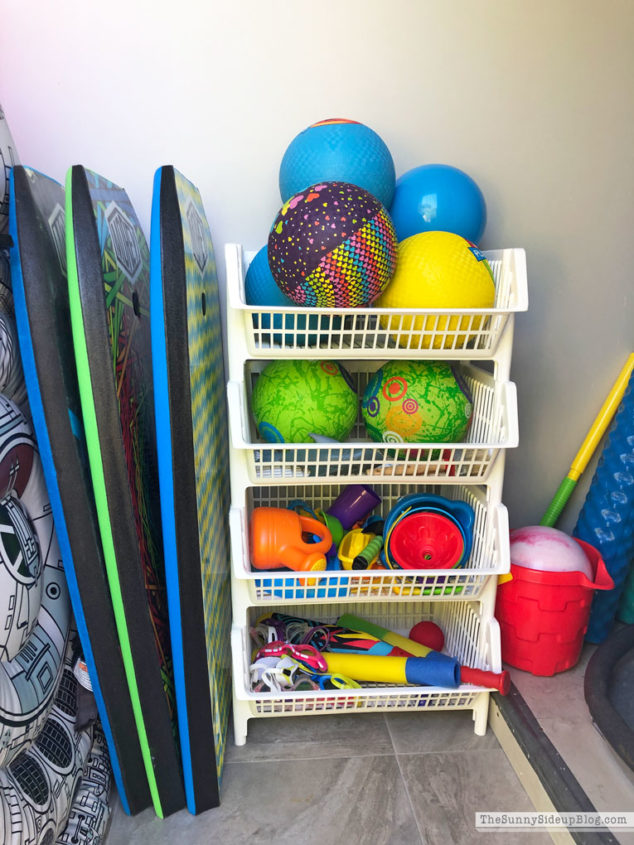 Then I used these large stackable baskets to hold all of the outdoor toys.  I used to have these baskets in my mudroom closet but knew at some point I would move them out here.  I originally bought them for all of the goggles and beach toys and balls!  It's a perfect solution for this tiny space.  The stacking baskets hold a lot and the kids have easy access to all of their things.
We have our water heater in this closet so I just used some space to the side of it for more pool toys and dusted everything off.
Feels so nice to actually see the floor of this little closet!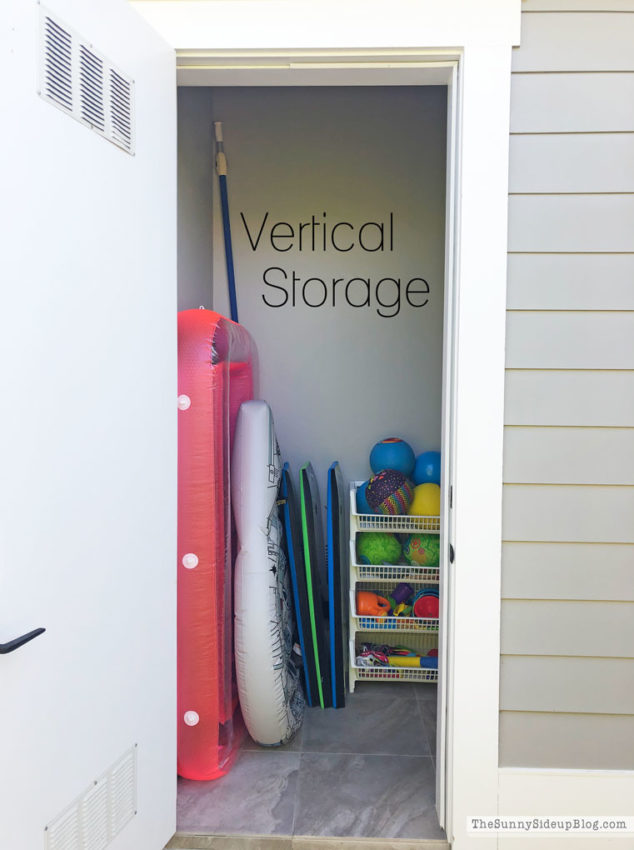 I try to keep pool "stuff" to a minimum, but I know we'll end up with more toys/floaties during this summer because the kids often get stuff like that for gifts and we have several floaties we just haven't blown up and used yet.  My plan is to add some vertical storage to the top of this closet.  Maybe a couple of shelves?  I want to make sure there is room for tall things on the left, but it would be great to maximize and use more of that empty space at the top of the closet.  I'll keep you updated on that one!
For now I'm just thrilled to finally have this done.  You guys.. 5 YEARS!  5 years I put this off!  We've hated this space and it hasn't been functional for the past 4 summers.  It took me ONE HOUR to whip it into shape and now my kids love it and will have a nice place for all of their outdoor toys.  I can't believe I didn't clean and organize this closet sooner.  That is honestly the main reason I'm sharing this tiny pool and toy storage makeover with you all today.  To remind and motivate us all to just DO THE THING that we keep putting off!  I had put this off so long that I'd built it up in my head thinking it would be such a huge, awful project.  It was a piece of cake once I just decided to jump in and do it!
If there is something on your to-do list that you keep procrastinating and putting off I'm encouraging you to schedule a day/time on your calendar and just KNOCK IT OUT.  I have a feeling it will be easier to tackle than you think!  That was my takeaway from this little one hour project that should have been done 4 1/2 years ago.
Lesson is learned.  Rant is over.  Closet is clean.
My work here is done.
For today.  :)
{POST SOURCES}



xoxo, Erin