*Huge thank you to Nordstrom for sponsoring this post!  (Affiliate links used)
For all of my fashion loving friends I've found so many Spring/Summer/Vacation clothes options for you!  This post is a LONG one so get a snack and settle in.  I'm sharing everything I wore on our Spring Break trip to Maui!  Really fun things from Nordstrom I'm excited to keep wearing through Spring and Summer this year.  For all of my not so into fashion friends I'll be sharing more decor and organization soon.
But these clothes are really cute.  So maybe it's time to jump on board. ;)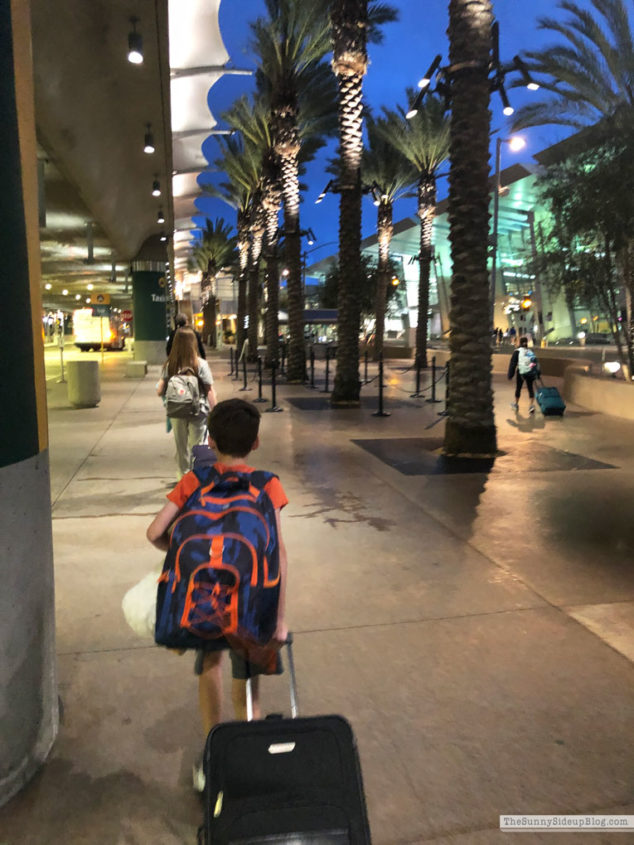 And we're off!  Early morning at the airport.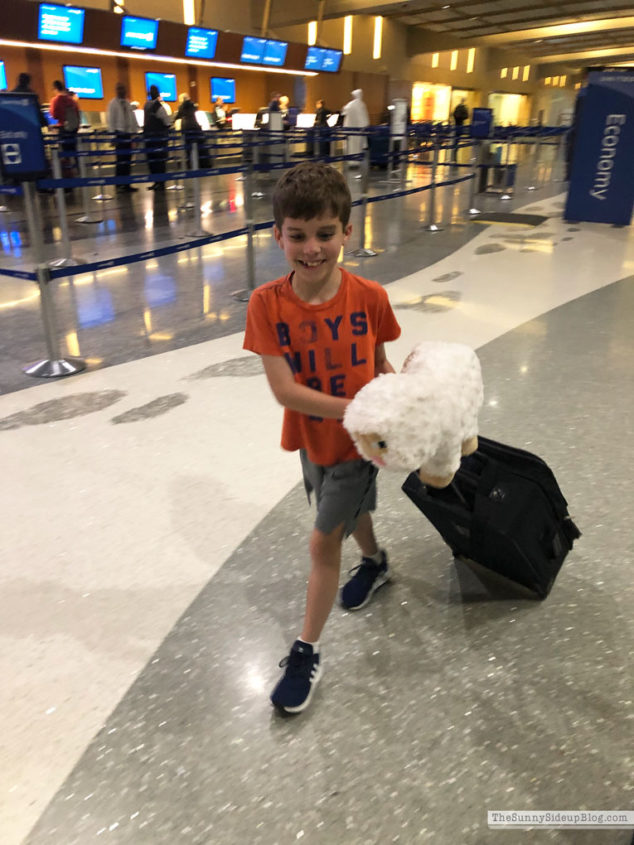 Kole couldn't leave this favorite friend behind. :)
El took her favorite backpack.  These are all over her high school – they are big with teenagers!  They come in LOTS of fun colors and options.  I told her I liked hers so much I might get one for me.  Apparently the backpacks are cool.. but matching your mom – not so much.  :)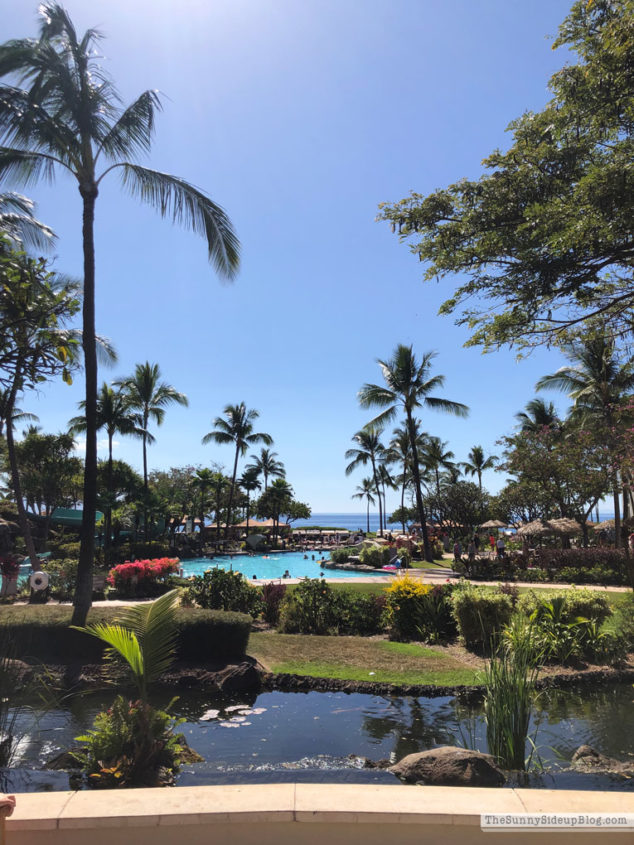 We made it to our favorite spot in Maui and it felt so good to say good-bye to schedules and activities and homework and cleaning and ALL of the every day things for a week!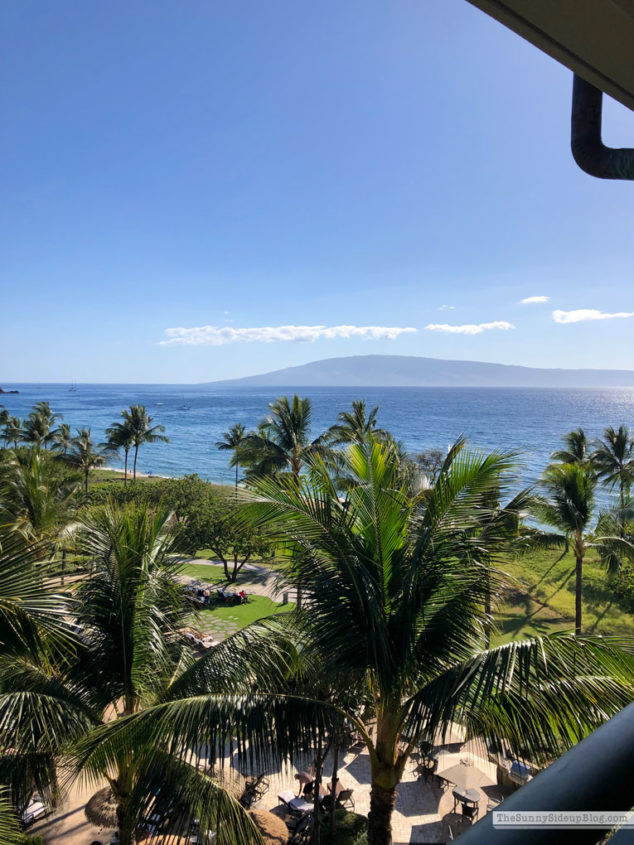 Our room view.. that ocean could not be more beautiful!  I'll share lots of Maui tips and all we do there in a future post!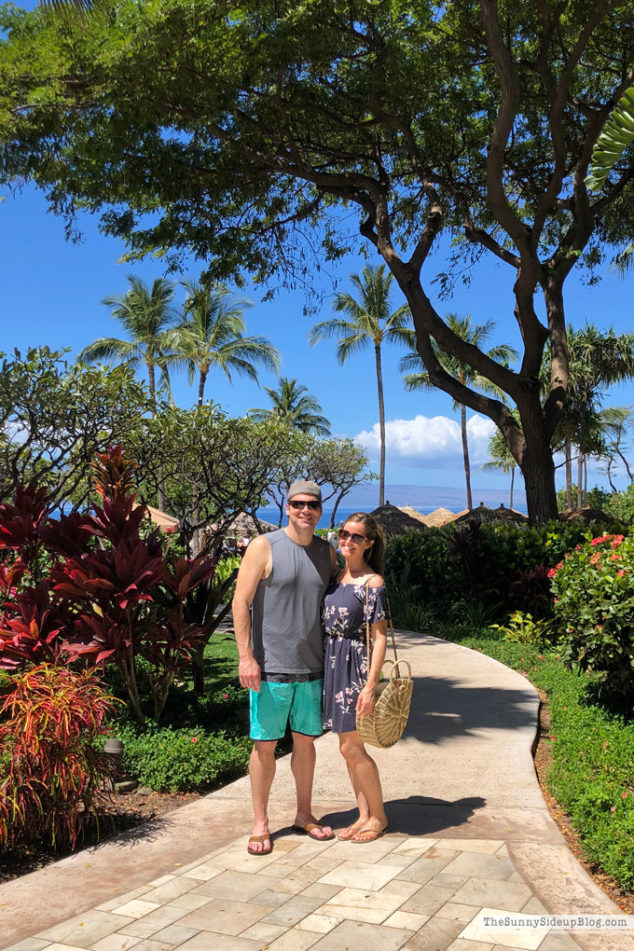 We're never in Maui long before we hit the beach!  This floral off the shoulder mini dress is such a cute cover-up.  Lightweight, flattering and so comfortable.  My circle beach bag sold out soon after my swim-suit/straw bag round-up post, but there are already so many cute new similar options in stock!  I have a serious crush on this straw tote too.
Beach = happy kids.  Happy kids = happy mom. :)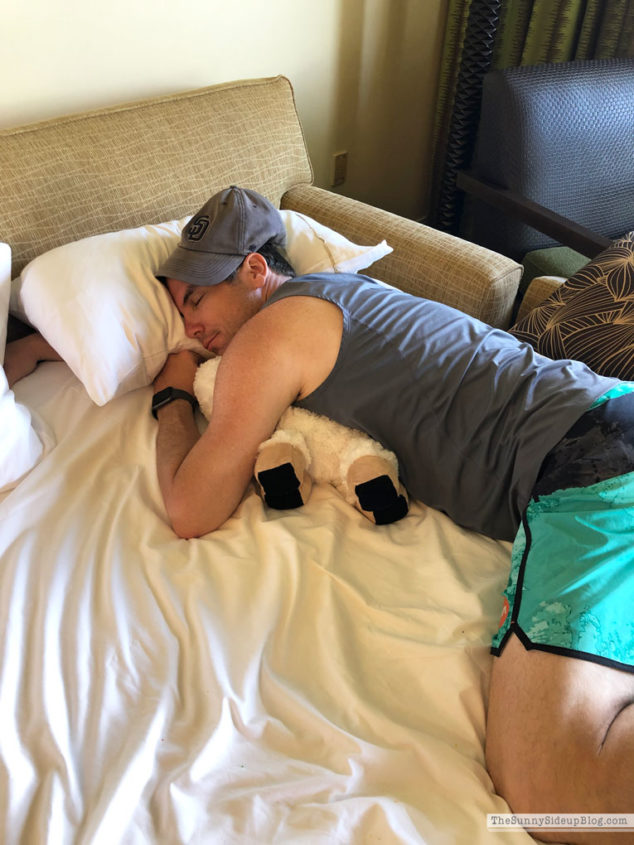 Of course it's not long after the beach before my husband hits his vacation stride.  Looks like Kole's "friend" came in handy after all.  Ha.  I always think it's cute the way my husband sleeps with a slight smile on his face.  He was OUT when I took this pic.  Nap time = happy husband and dad.  :)
This Isabella wrap dress is hands down a favorite.  Such a great fit and such a great price!  It comes in lots of styles and patterns.  I'm partial to the green.. but you already knew that. ;)  I know I'll wear this A LOT this summer over my swimsuit.  I love having cute lightweight dresses I can throw on over my suit when we go from the pool or beach to lunch.  This dress also looks adorable on Ellie (my 15 year old – we're sharing this one!) so a cute option for teenage girls too.
I only got one picture before the wind kicked up and the rest of them looked like this one.  Or worse! :)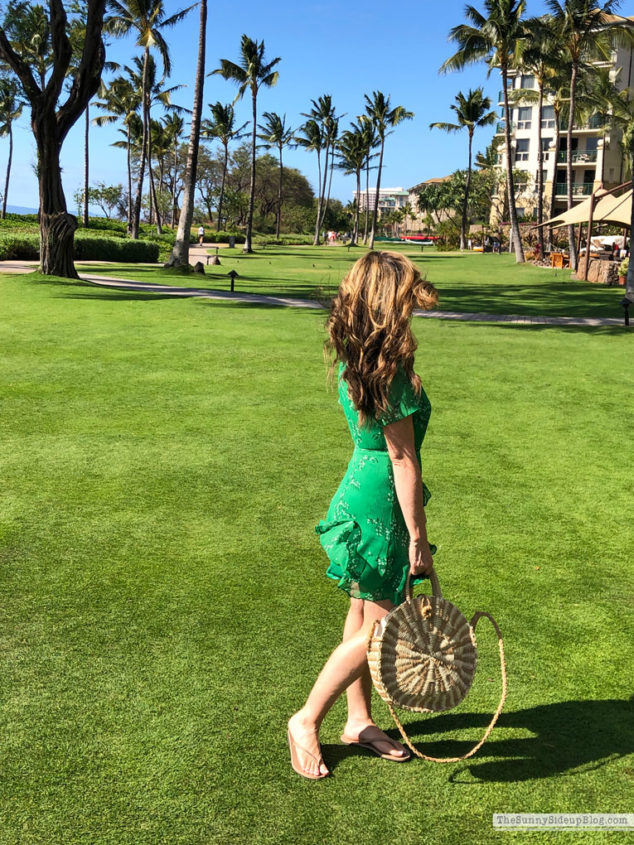 So cute for summer!
To be honest I'm surprised that my Stripe Rafia Tote is still in stock.  LOVE this bag for the pool or beach!  It's a perfect size to hold all of the sunscreen, water bottles, etc.  I also bought these Havaiana flip flops for the trip and they are my new favorites.  So comfy and the neutral color works with any and all outfits.  Kole is wearing his favorite Natives – BEST shoes for kids in the summer!  We've been getting a new pair every spring for years. :)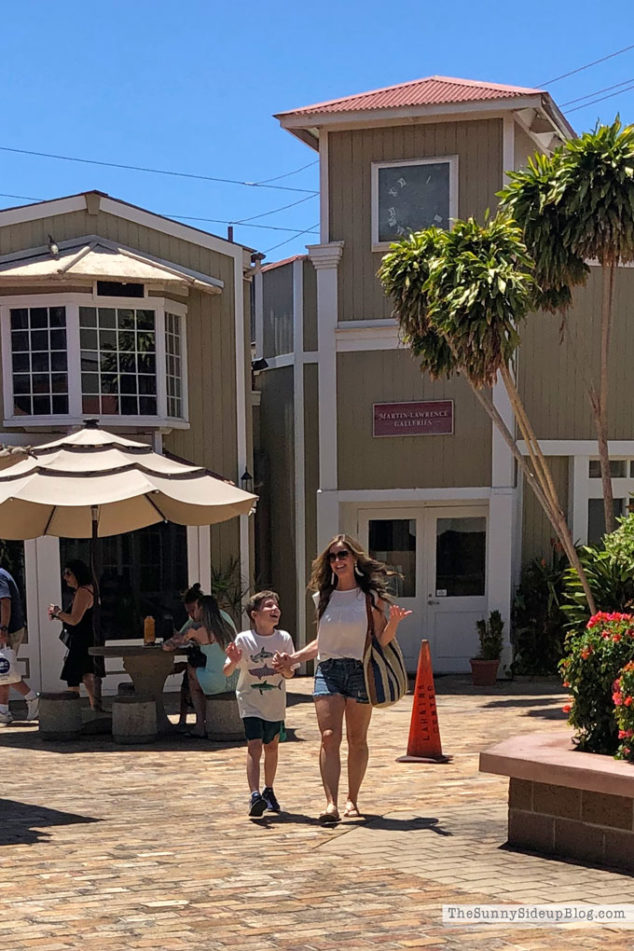 Having teenagers who are always on their phones can be a major pain, but there are some perks!  They take lots of pictures and every now and then I find gems like these my daughter snapped of me and Kole walking and talking.  My husband always teases me about how close the two of us are.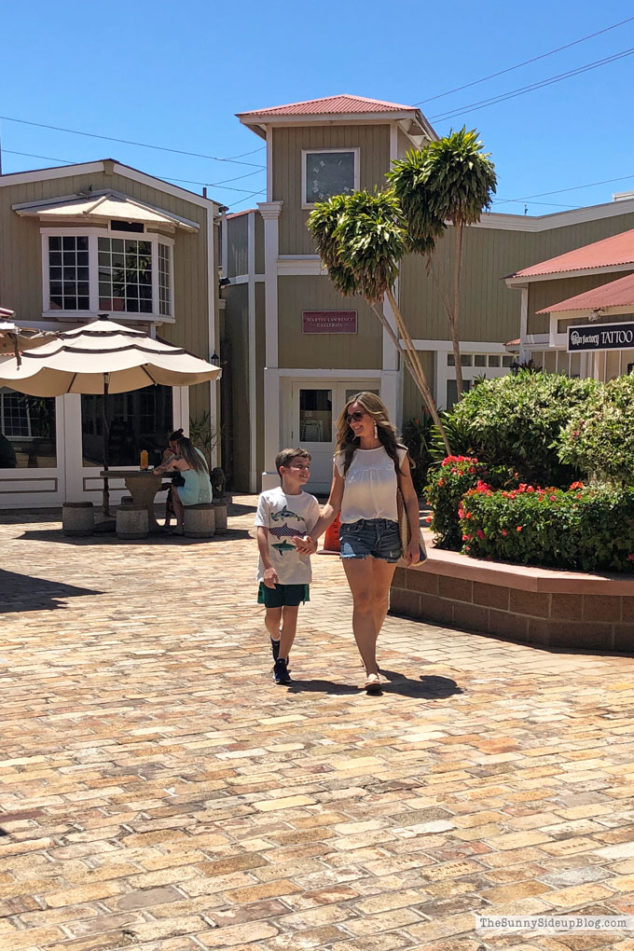 Kind of inseparable since the day he was born and I wouldn't have it any other way. :)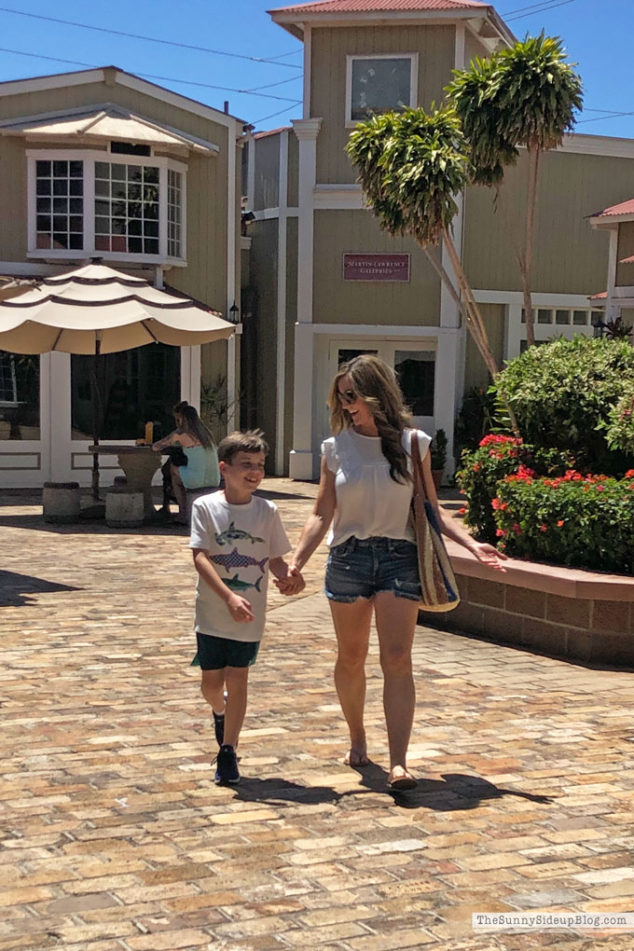 We were on a mission heading to get Shave Ice before we hit the pool!  Kole's favorite thing to do on the islands.  All the miles traveled and money spent for a trip like this and his highlight is a $4 icy treat.  Go figure. :)
Then again once you've had shave ice in Maui you kinda see why he feels that way.  The absolute best!  My white scallop trim top sold out but is still available in plus size!  I love white tops with denim in the spring and summer.  This cute white top and this pretty lace top are similar fun options and these are similar denim shorts.  The white beaded tassel earrings I'm wearing are also summer favorites!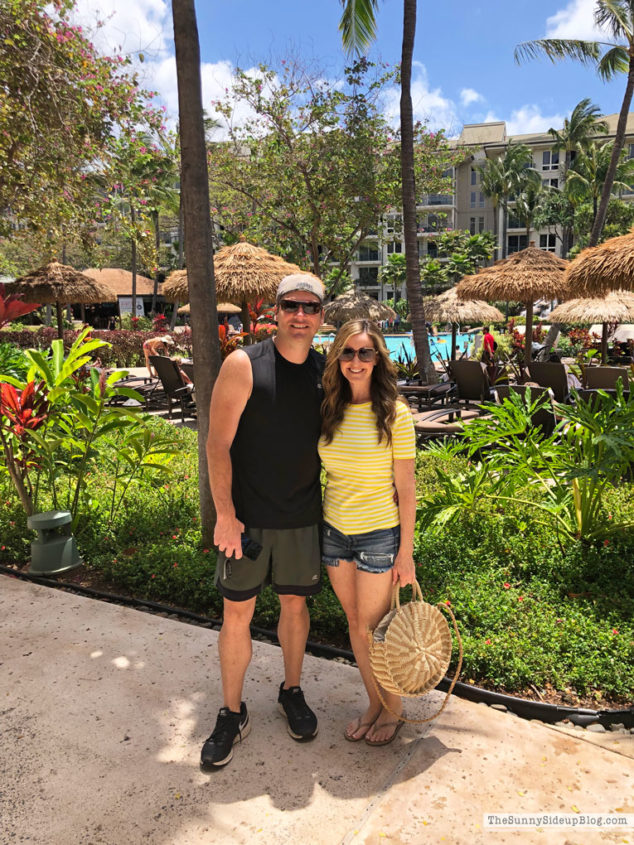 Cute yellow top that screams happy!  I love J Crews perfect fit tops for when I'm going to be out in the sun all day because they have longer sleeves and cover my skin up to my neck.  Less sunscreen!  Perfect to put on over a suit when you're worried about too much sun.  They really do have a great fit too.  A spring/summer wardrobe essential and they come in lots of colors and are 50% off!  I'm picking up another one.  SCORE.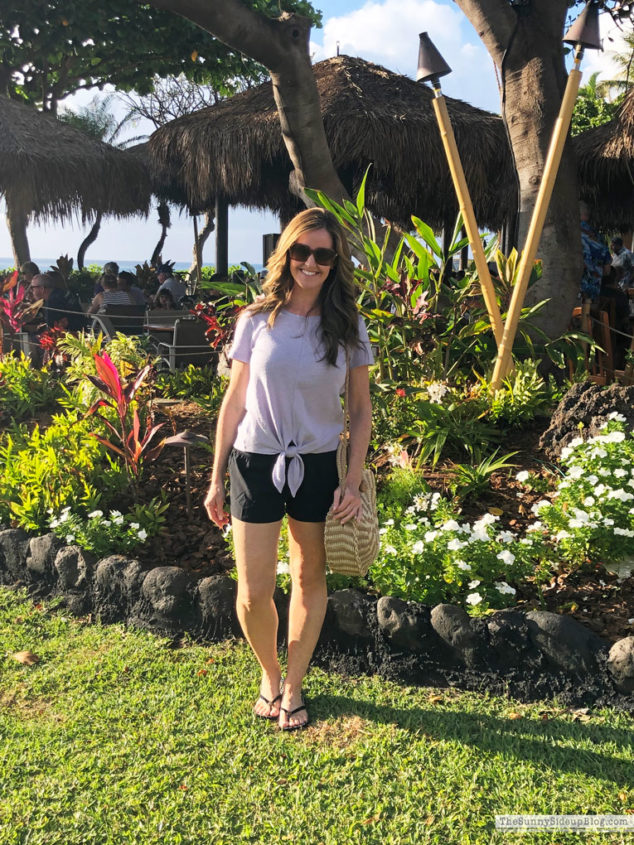 These black Nike running shorts are long time favorites and I already confessed my obsession with this adorable lilac Madewell tie front tee!  I have  been living in it!
It's so cute dressed up with jeans and wedges too.  Or with boys in blue shorts holding blue sharks. :)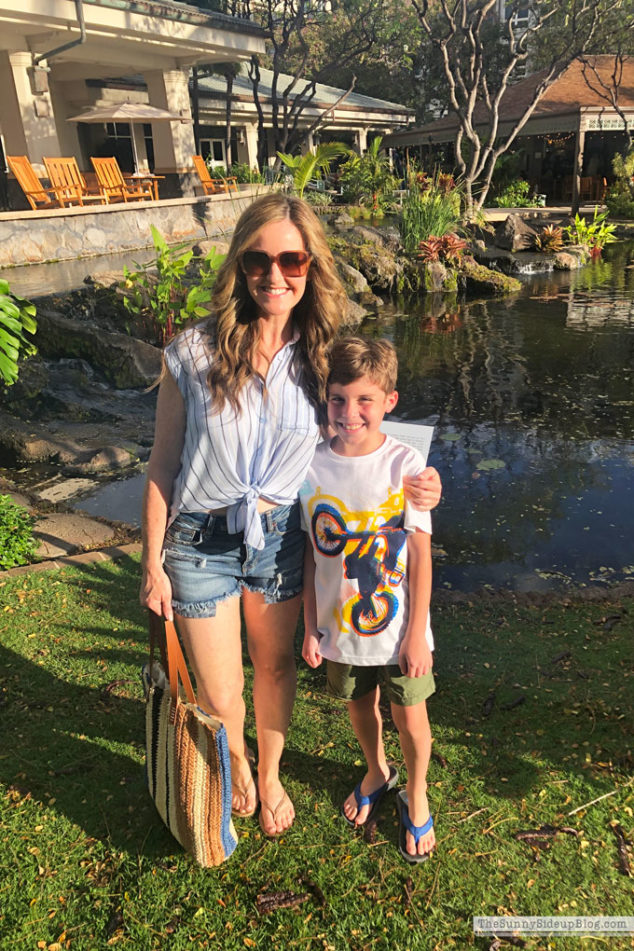 And since we're on a roll with pics in cute tops with Kole.. :)  I also love this blue roll sleeve tunic!  It was cute for the beach/pool but I'm also excited to wear it with jeans for more of an every day look.  You can tie the knot low or high or it's cute with just a little tucked into your jeans.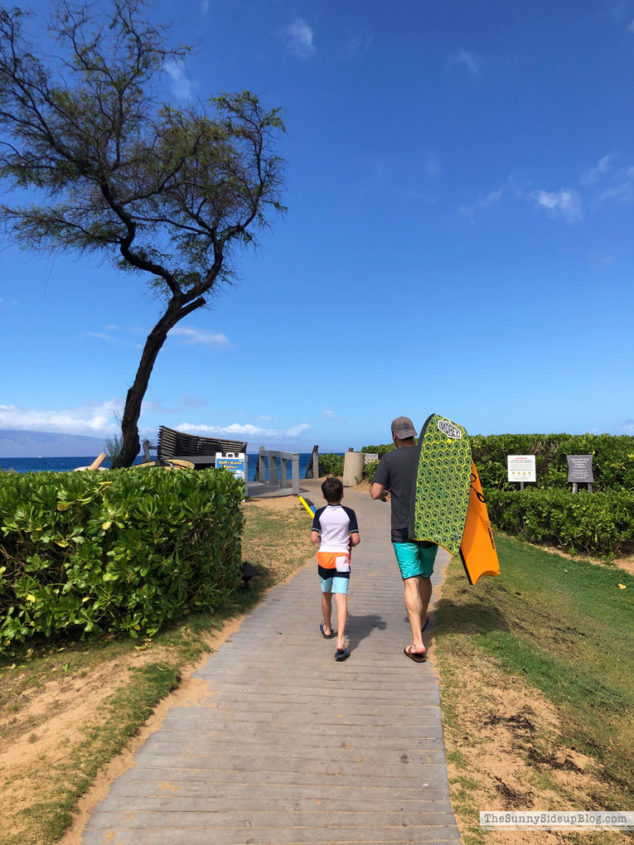 Beach day!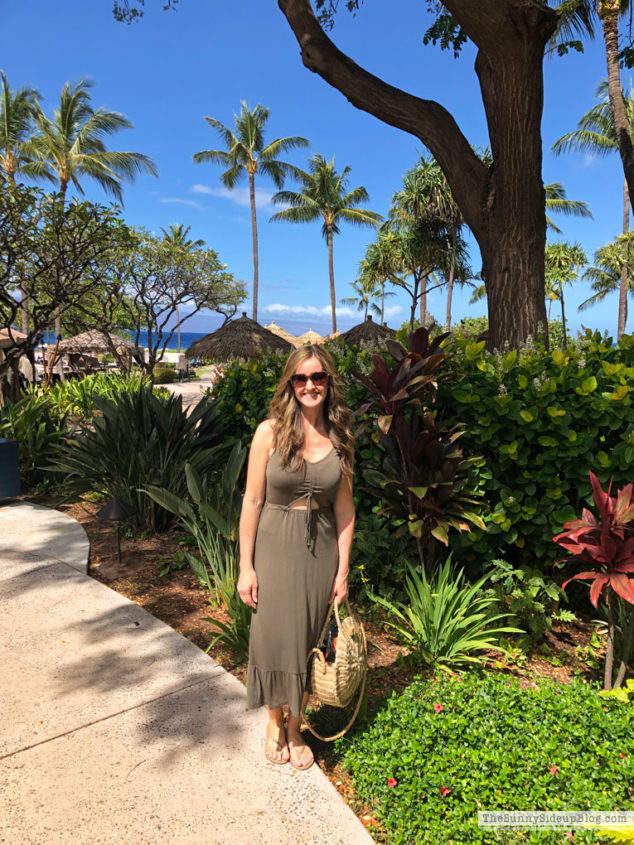 Let's talk cover-ups!  This cinch front cover up dress is so soft and pretty.  I'm wearing it with this bikini (top and bottoms).  More green and scallops of course. :)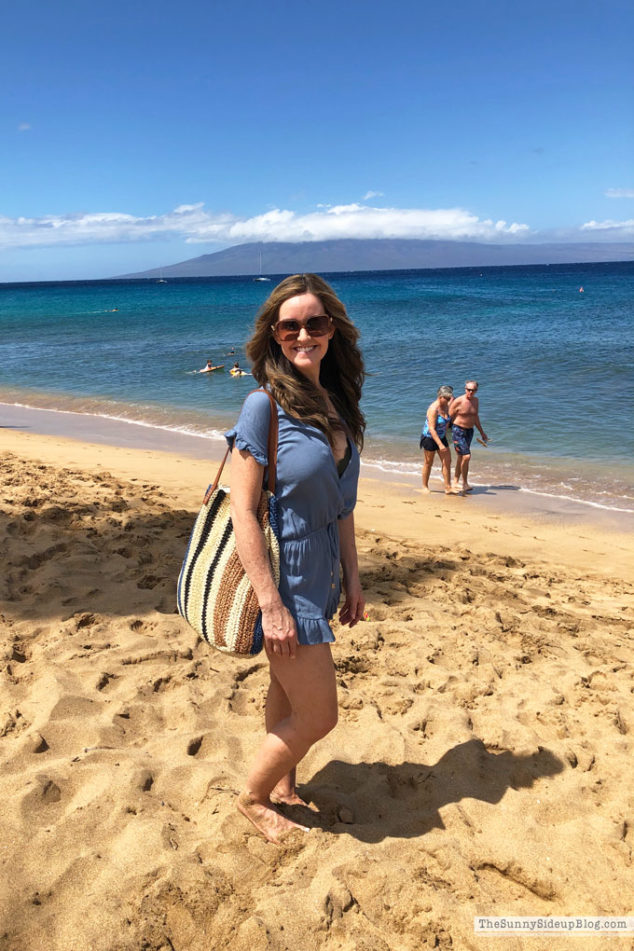 This Ruffle Sleeve Cover-up romper is another cute option!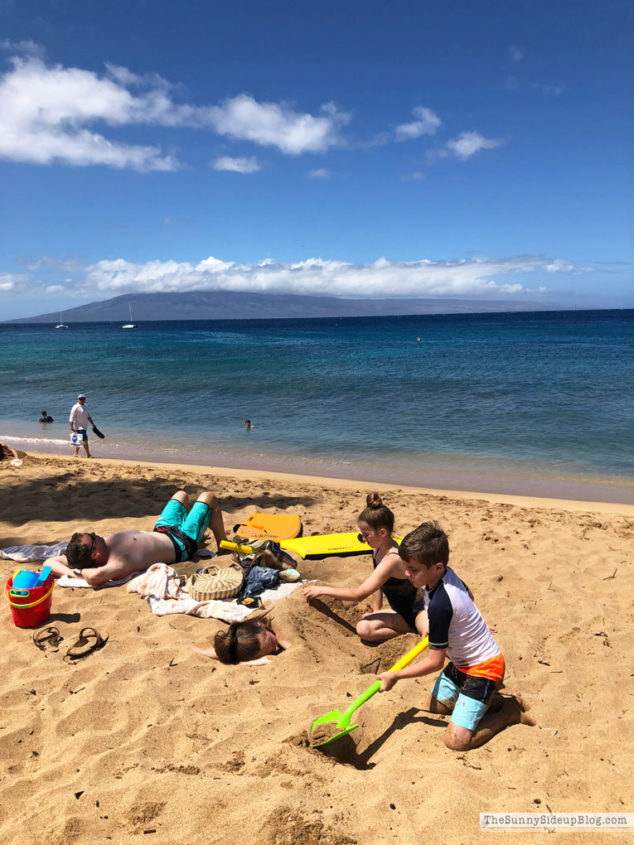 I came across this pic from our trip and it reminded me of this one..
This was also taken in Maui a few years back.  The kids might be getting older..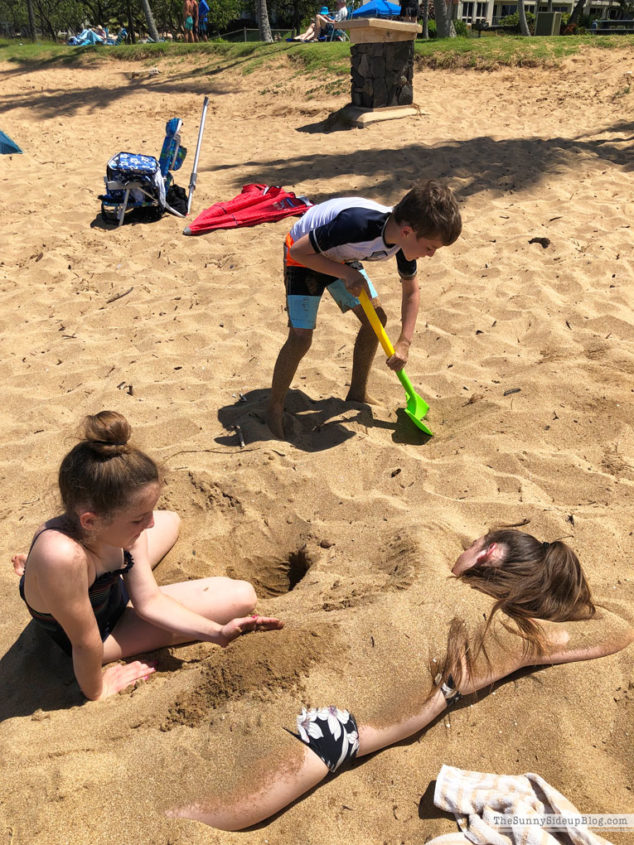 but burying El in the sand is still a hit. :)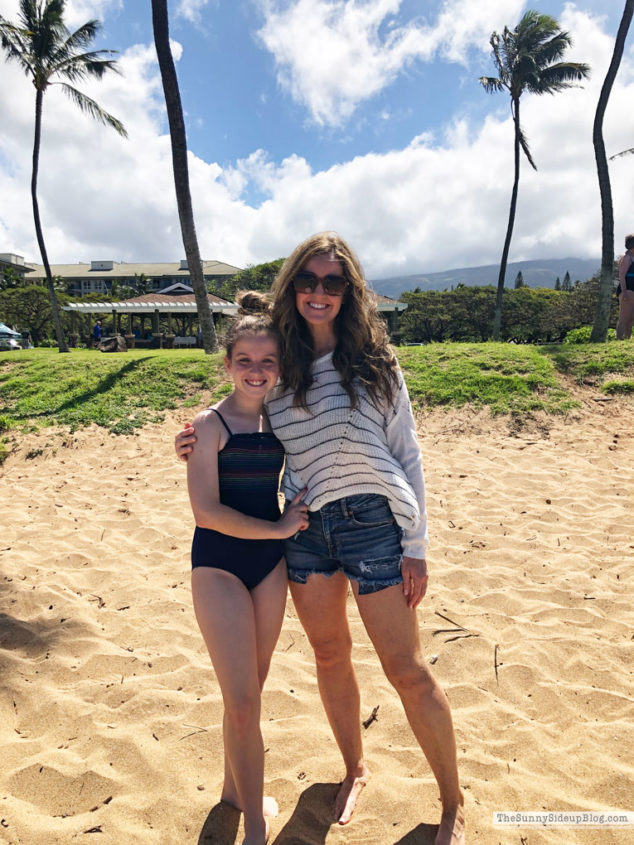 Ok.. this Sandy Shores Striped Sweater I'm wearing is going to be such a long time staple!  I adore it!  First of all.. stripes. :)  But also it just has such a fun loose fit and it's really cozy and lightweight.  PERFECT for the spring/summer or to keep covered on beach days.  I didn't get a pic of it but also wore and love this cute stripe hoodie jacket.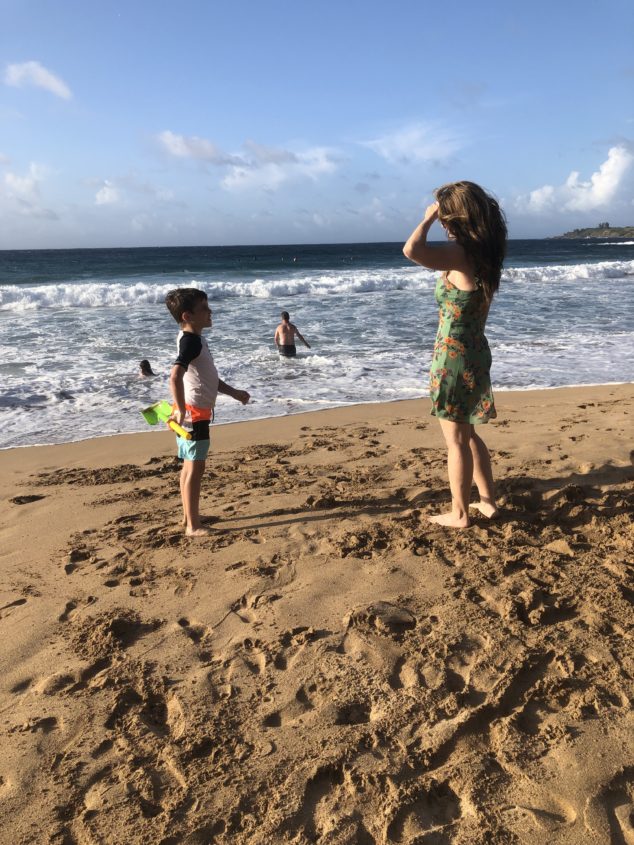 I didn't get a great shot of this cute ruffle strap mini dress but it's also perfect as a suit cover-up and comes in lots of colors/patterns.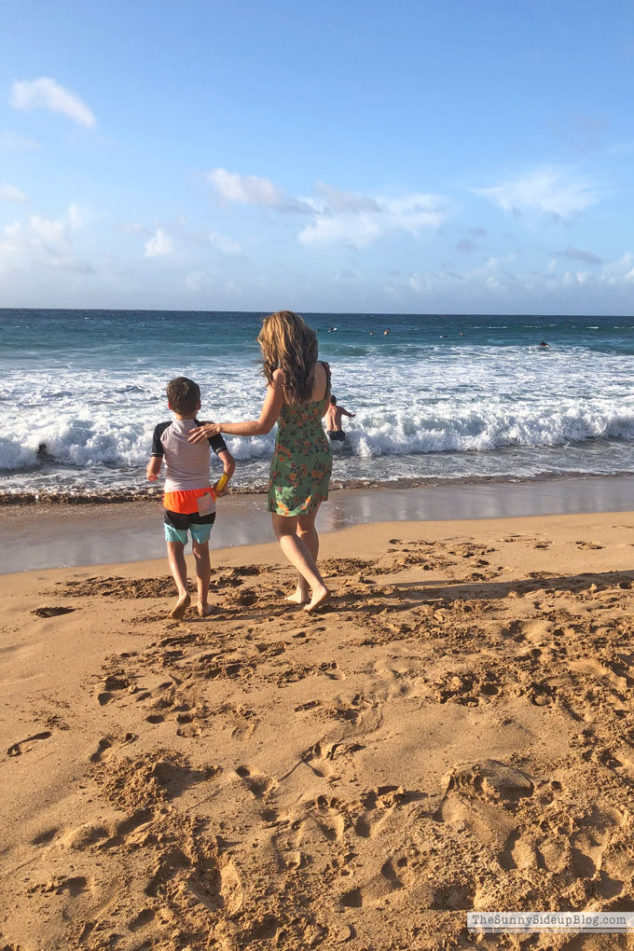 Luckily I found these pics my girls took so you can kind of see it!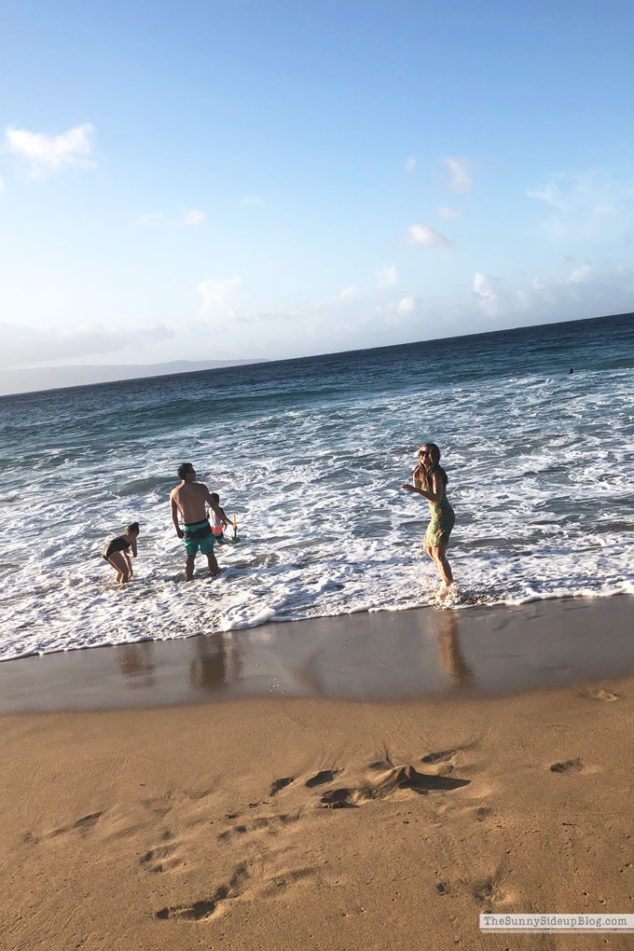 And that's as far as I got into the ocean that beach day!  Ha.  Sometimes I swim or snorkel, but most times I supervise, take pictures and read my book.
In lots of green beach wear apparently. :)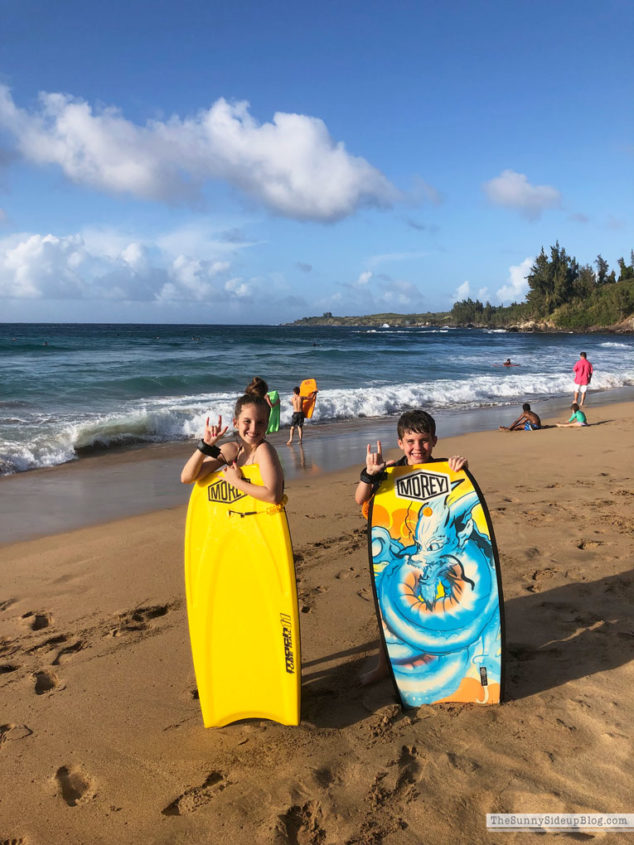 On the flip side I couldn't get these two out of the water!
Kenny and I were able to sneak away for one evening and enjoy a quite dinner at one of our favorite restaurants – just the two of us!  Always such a treat to be able to speak in coherent sentences with no interruptions. :)  I wore this beautiful midi dress that's supposed to be off the shoulder but I actually love it on the shoulder too.  I wrote it casual with flip flops and my new favorite orchid earrings.  Such a perfect summer dress!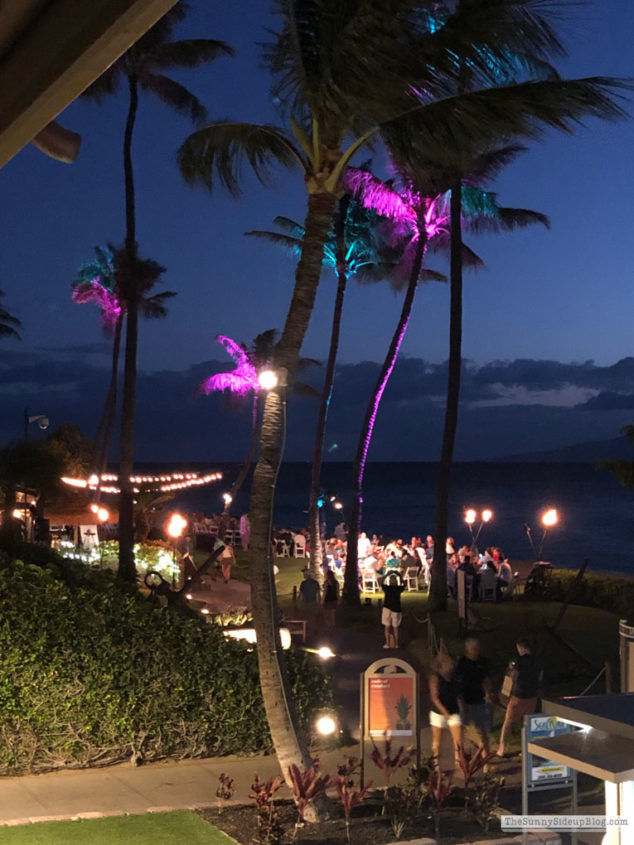 Pretty evening view on our date!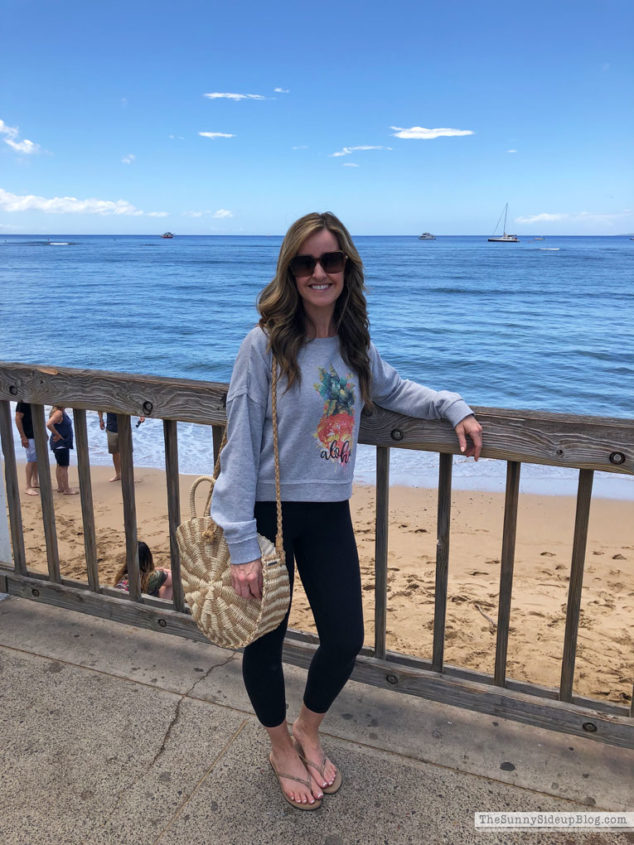 What's more fun to wear on cool days on the island than an Aloha Palms Graphic Sweatshirt?  Not much.
And eating my favorite fudge in a cozy Aloha Palms Graphic Sweatshirt?  It just doesn't get better. :)   (similar leggings)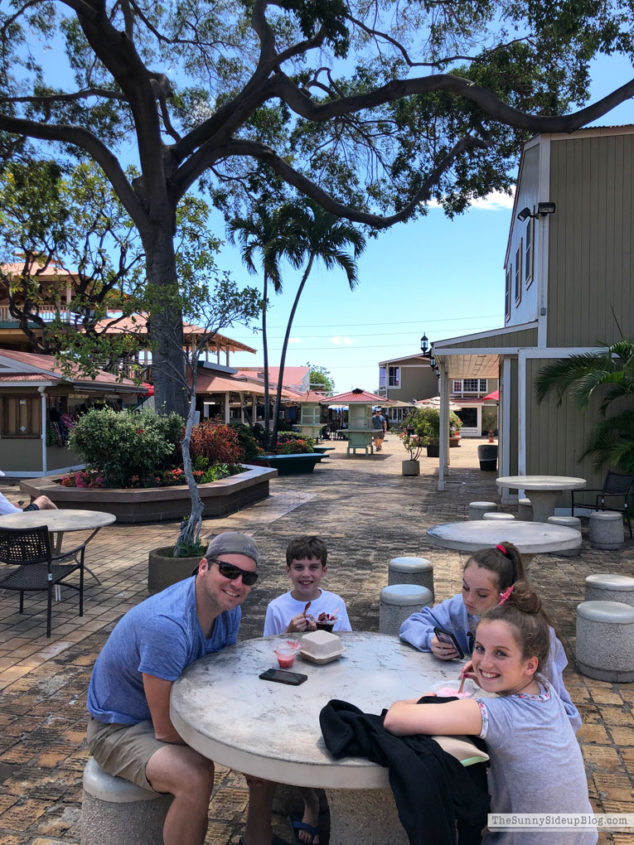 Well.. maybe hanging out with this crew is better.  Let's play a fun game of can you spot my teen.  This pic was quickly followed with "Off the phone!  We're on vacation!"
As I use my phone to take a picture. ;)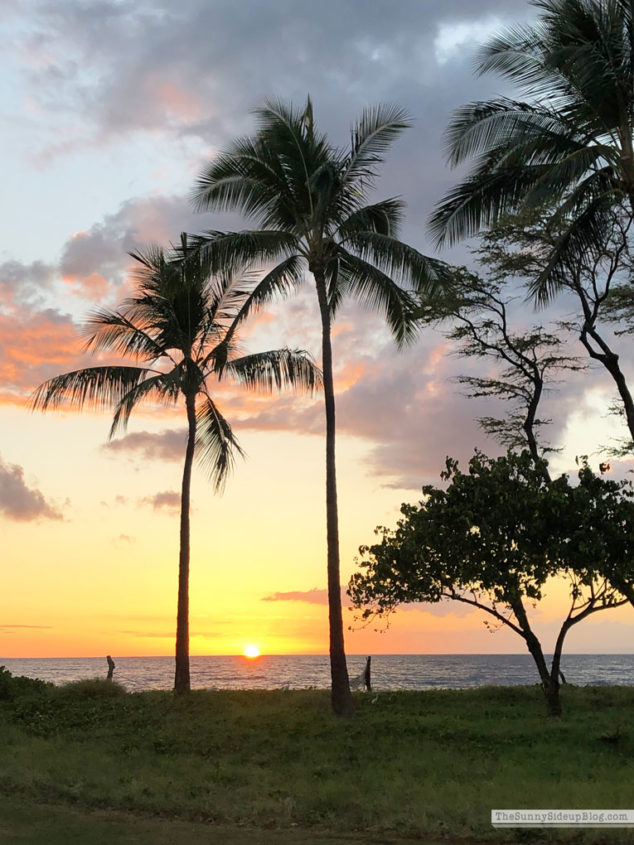 Maui.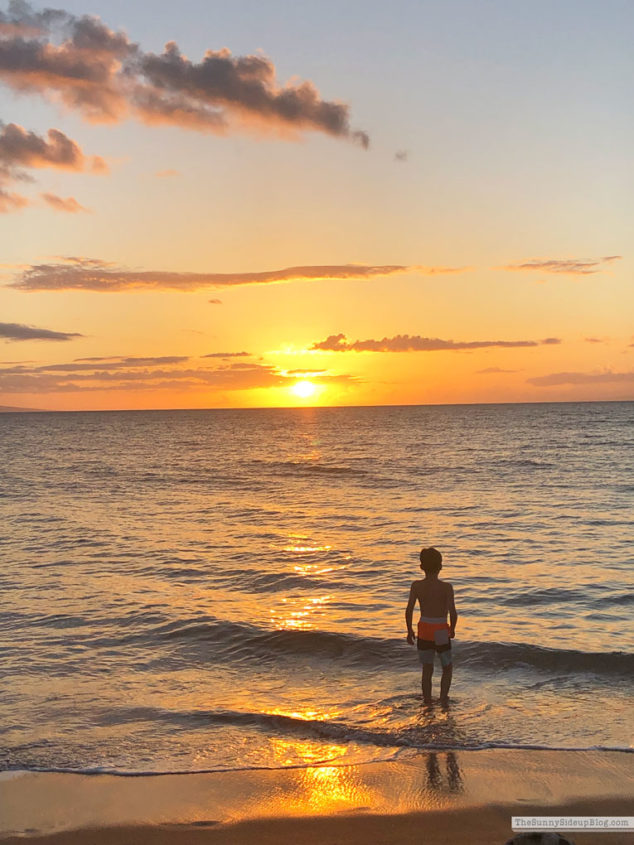 Already excited for the day we can go back!
{POST SOURCES}







xoxo, Erin