Happy Sunday friends!  We made it to Maui!  Our week 3 Spring Break destination this year. ;)  Maui has been our Spring Break destination a lot of years and I know I've promised you all a Maui tips post.  I am determined to make that happen (working on it this week!) so if you have questions you want answered in that post let me know!  (I snapped this pic quick with my phone today straight off of the plane when we arrived at our resort.  What's not to love about Maui!?)
I'll also share some of the cute Spring/Summer clothes I got for the trip.  I'm so excited about the cute things I'm finding for Spring this year!  I mentioned in IG stories last week that I had been trying on swimsuits for our trip (which of course inspired an abundance of morning jogs and stair climbing.. ha) and I had a lot of requests to share my favorites that are out this year.  I'm sharing them below along with a round up of my favorite cover-ups and straw bags!  I was going to share these favorites along with the items I bought after our trip but all of the cute things are selling out so fast!  I know some of you are still in cold weather and not thinking about swim suits yet, but I've found that you have to be on top of swim wear every year or you aren't left with many options.  I used to put swim suit shopping off as long as possible for obvious reasons.  Never a fun try on session for me!  But then after waiting too long to shop I would have slim options which made it an even harder try on session.  Then when I would finally find something cute, it was only available in one size.. that wasn't mine. :)  Lesson learned!  Now I just face the music and get my swimsuit figured out early!  I also snag a cute cover-up or two while I'm at it.  Then it's time to hit the pool, have fun with the kids and stop worrying about how I look in everything.
That's my goal this year. :)
(affiliate links used)
I love the look and style of every swim suit below.  For my body type I've found 3 brands that work especially well.. Robin Piconne (I have 3 suits similar to this one and absolutely love them!), La Blanca, and Chelsea28 (I'm in love with this Scallop Bikini and this One Piece suit..they both fit so well!)  Below are other favorite suits I found this year along with some fun cover-ups and straw bags!  I'll have us all beach ready in no time.
Anyone want to meet me at the stairs?  Or we can pretend we did them and just meet for lunch instead. :)
1 – Crisscross One Piece (sold out)  2 – Delilah One-Piece  3 – Perla High Neck   4 – High Neck One-Piece  5 – Strappy Back One-Piece 6 – Zip Code One-Piece   7 – Naomi Criss Cross   8 – Lace Up One Piece   9 – Spectrum One Piece   10 – Socialite One Piece   11 – Socialite Ruffle Bikini  12 – Gingham Bikini Top  13 – Chira Triangle Bikini Top  14 – Scallop Triangle Bikini Top  15 –  Reversible Halter Tankini Top  16 – Malia Ruffle One Piece  17 – Scallop Bandeau One Piece  18 – Milano Bandeau One Piece  19 – Island Godess One Piece  20 – Becca Prairie Rose Crochet One Piece
1 – Michelle Tunic  2 – Island Hopper Romper  3 – Ruffle Sleeve Cover-up Romper  4 – Hooded Cover-up Tunic  5 – Breezy Basics Knot Romper  6 – Celeste Cover-up Dress  7 – Saltwater Solids Romper  8 – Breezy Cinch Front Cover-up Dress  9 – Off the Shoulder Ruffle Cover-up Maxi  Dress  10 – Cover-up Tunic  11 – Ocean Sky Cover-up  12 – Dolman Sleeve Kimono Cover-up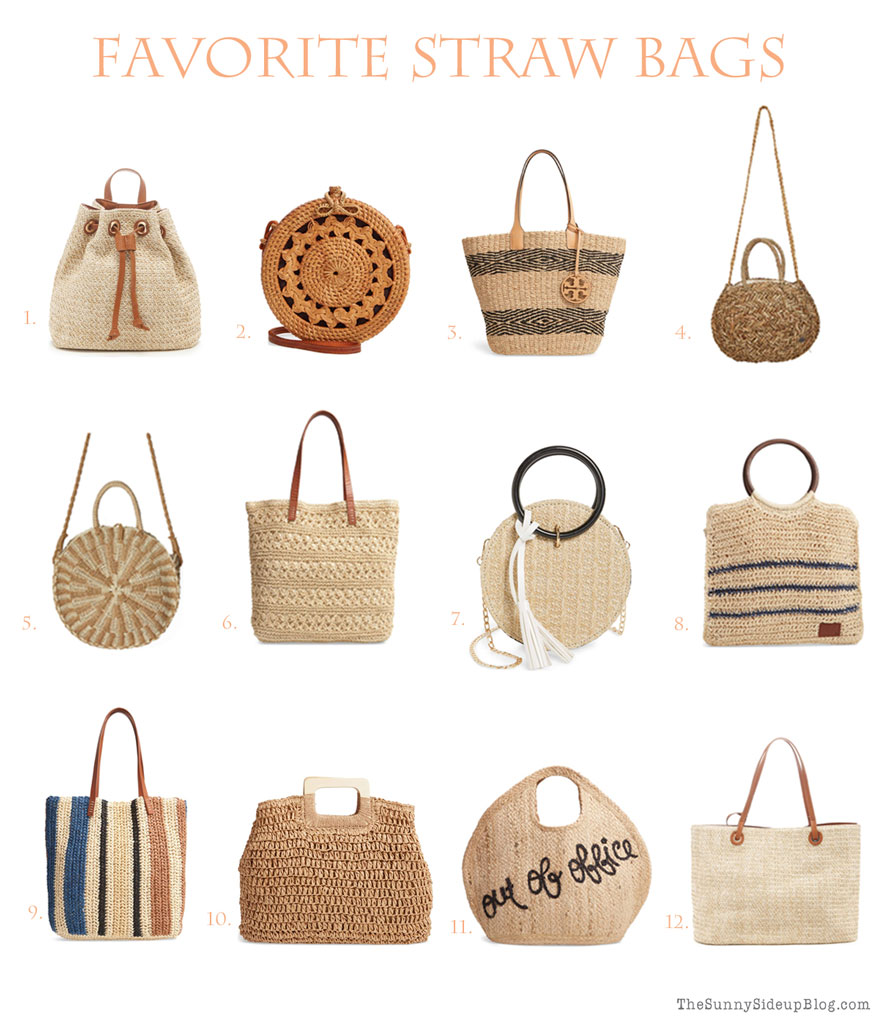 1 – Apryl Woven Backpack  2 – Woven Rattan Circle Crossbody  3 – Miller Stripe Straw Tote  4 – Had Me At Aloha Straw Crossbody  5 – x Sincerely Jules Shoulder Bag  6 – Packable Woven Raffia Tote  7 – Round Straw Crossbody Bag  8 – Riviera Ring Handle Tote  9 – Stripe North/South Raffia Tote  10 – Woven Square Handle Satchel  11 – Out Of Office Jute Tote  12 –  Apryl Woven Tote
I hope this round-up post gave you some fun ideas!  I'll be back with more to share soon!  For now I need some sleep.  It was a long travel day and I have no doubt a certain little boy will be up at the crack of dawn pulling me out of bed to hit the beach.
I can think of worse things. :)
xoxo, Erin