*affiliate links used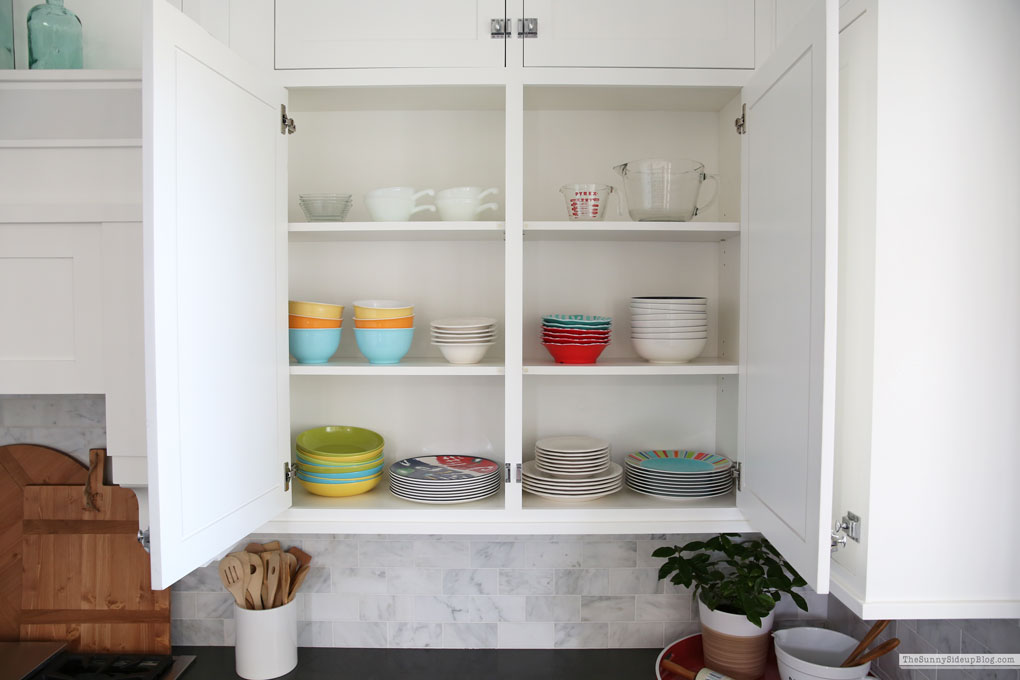 We made it!  Two of my kids have been out all week and tomorrow is my oldest daughter's last day of school.  I'm picking her up around noon after her French final and we are officially DONE.  I swear we are always the last people on the planet to finish the school year!  But I guess it makes the victory that much sweeter. :)  To officially kick off our summer I'm sharing some organized kitchen cabinets with you all today!  I know.. I'm a party ANIMAL.  Ha.  Really though, sometimes posts like this with a few simple before and afters are just the motivation I need to inspire more organizing and I have a list of spaces I'm determined to tackle this summer!  The above cupboard was how my cabinet looked about a year ago.  Nice and organized with my older dishes.
But before long it was looking a little disheveled and getting new dishes this year (this set and this set) made me excited to whip it back in shape!
I love pulling things out of my kitchen cupboards and giving them a good wipe down.  Nothing like a clean slate!
And now?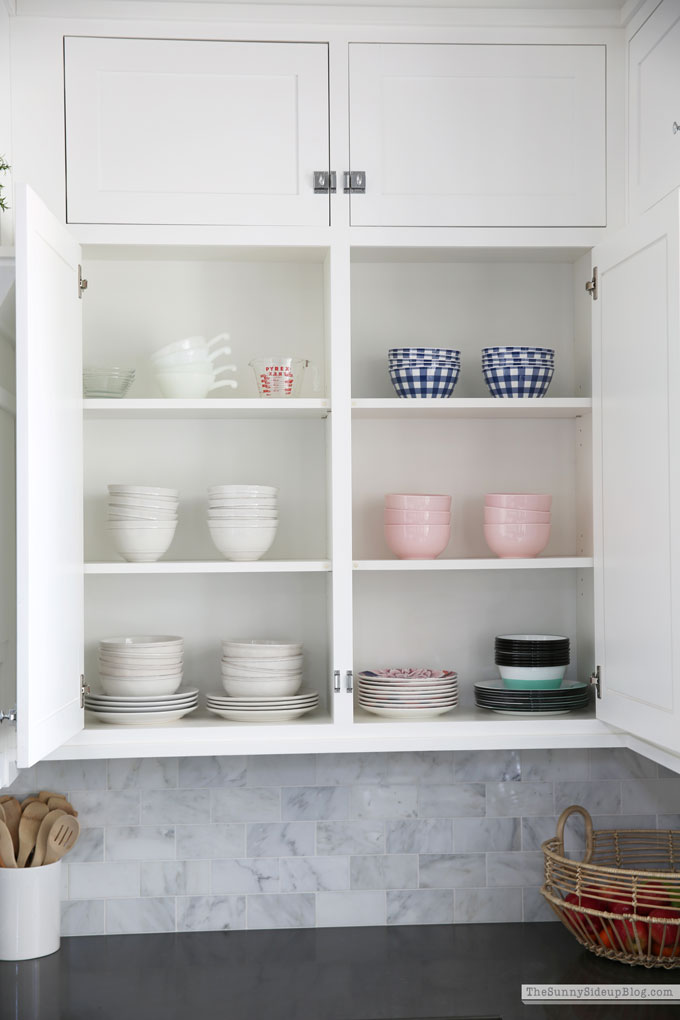 Ta-da!  Such a happy cupboard.  I smile every time I open it!  And I open and close this particular cupboard A LOT.  It has really made me think about how it's especially important to organize the spaces in our homes we are in and out of constantly throughout each day.  That little pick me up every time you encounter an organized space can make a big difference in your overall mood and sanity.  Especially if you're opening that organized cupboard to fix your kids snack #356.
Summer.. I'm ready for you.  You will NOT get the best of me this year!
Next to my main dish cupboard is a skinny cupboard that holds all of our glasses/mugs.  I gave it a quick clean out too.  Don't ask me why I have some cups facing up and some facing down.  I'm a mystery even to myself at times.
Then I pulled out all of our silverware and washed out the containers and drawer and put it back together nice and organized.  (I'm loving these cute salad servers btw if you need a good set!  And this is hands down the best pizza cutter.  Trust me on this one.  We eat A LOT of pizza.)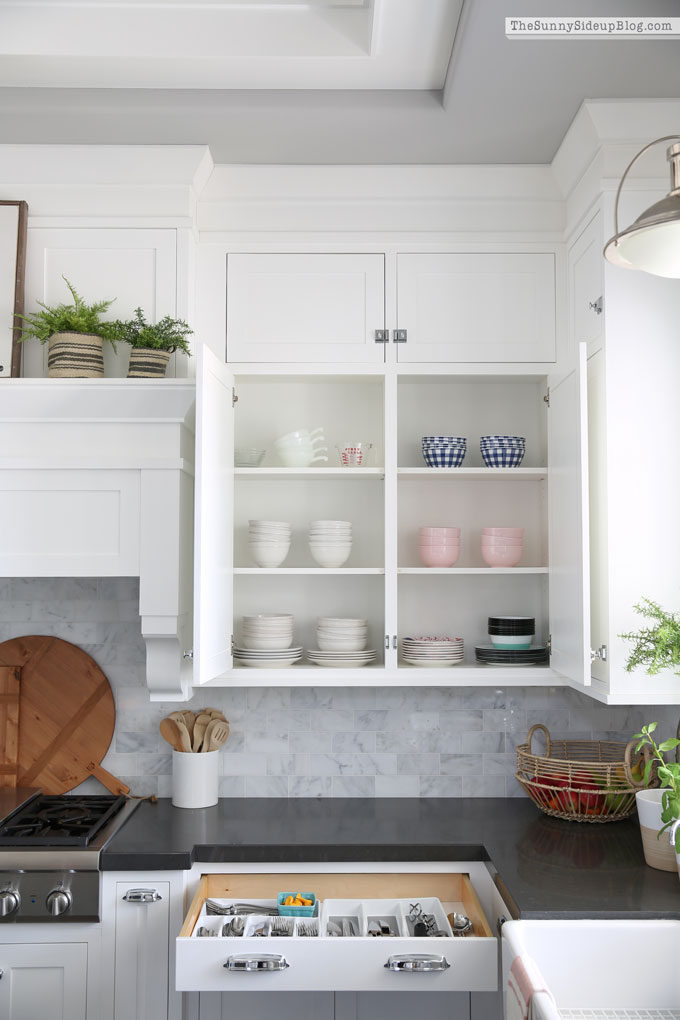 Do you see how there are only 6 pink bowls in this cupboard?  I'm so sad.  I dropped one and broke it last week!
It's from this cute set of dishes I used for my Spring/Summer tablescape and I need 8 for this table!  Bummed I couldn't just buy a new bowl.. I had to order another set of 4.  I guess at least now I'll have back-ups when if I break more.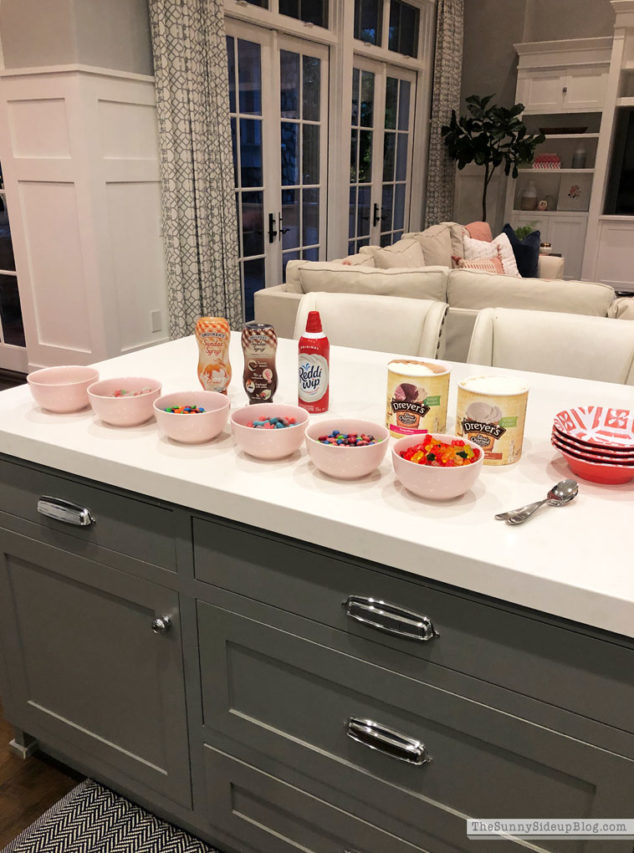 These pink bowls have become favorites for morning cereal and were also fun to use for a little ice cream sundae bar for Addison and some friends last week so really I'm happy to have extras!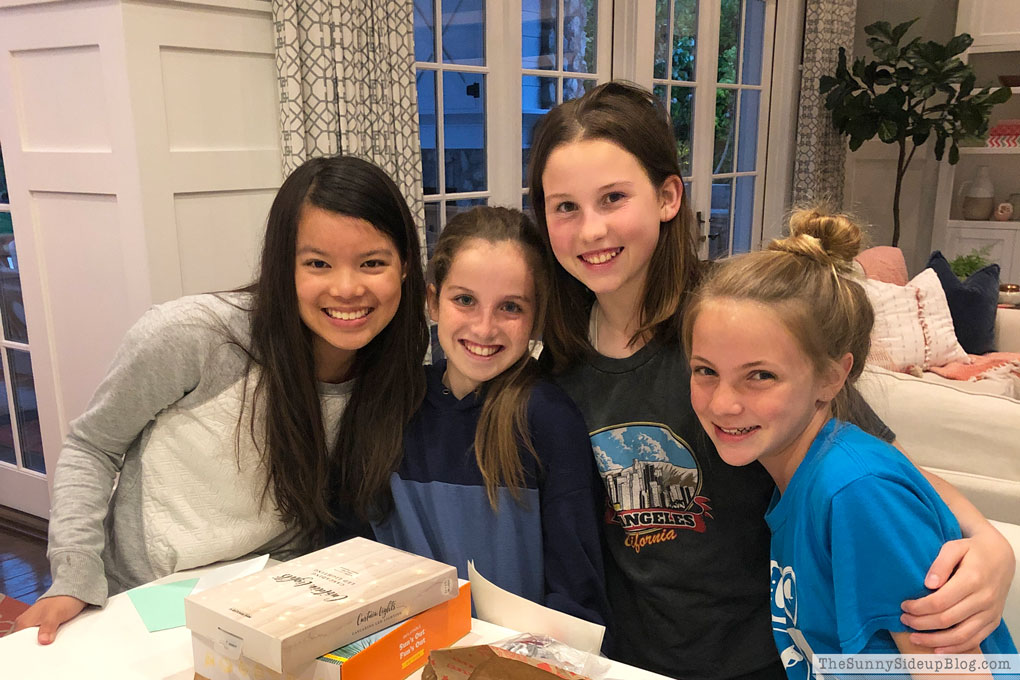 Sweetest girls.  Love them.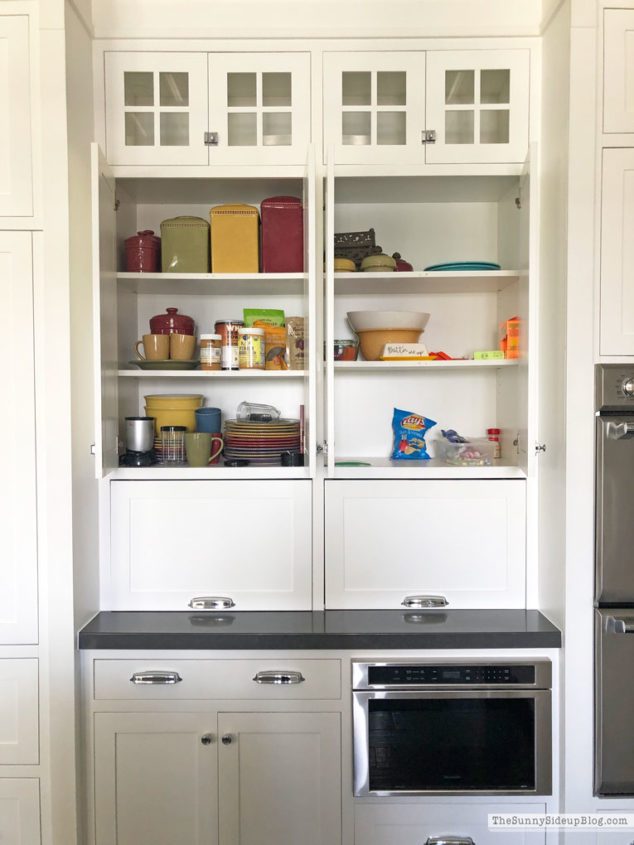 I was on a roll with my organized dishes so I decided to tackle the cupboards above our micro drawer.  They hold extra dishes and whatever my kids toss in them and are usually a mess!  Above is a lovely "before."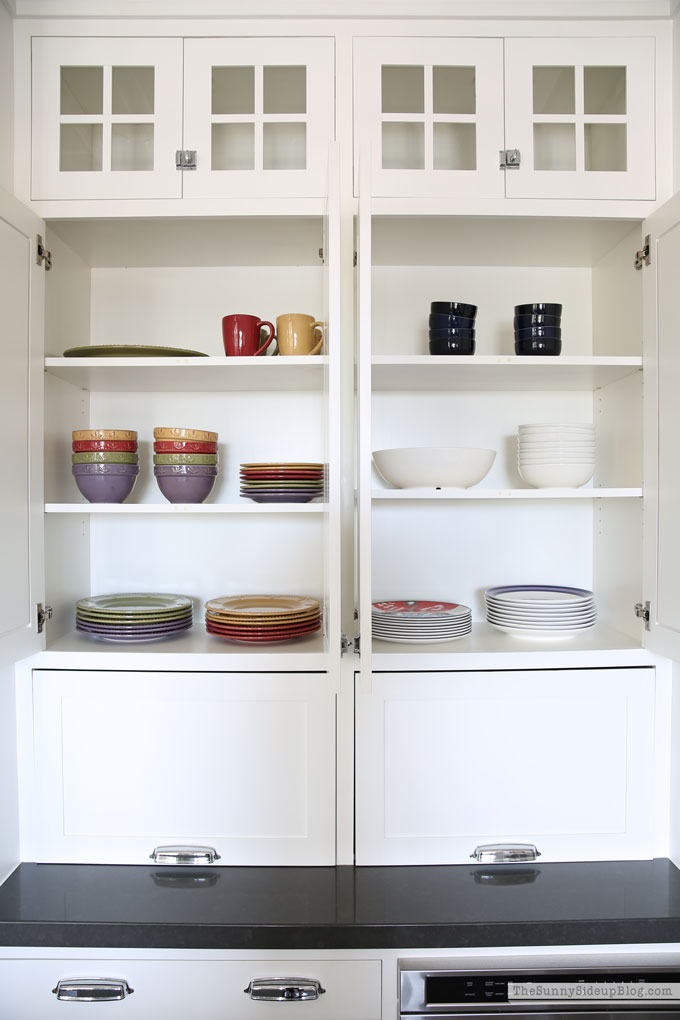 And after.. so much better!  I got rid of a lot of dishes and canisters I wasn't using anymore.  I love having only the things I really use in my cupboards.  Best feeling!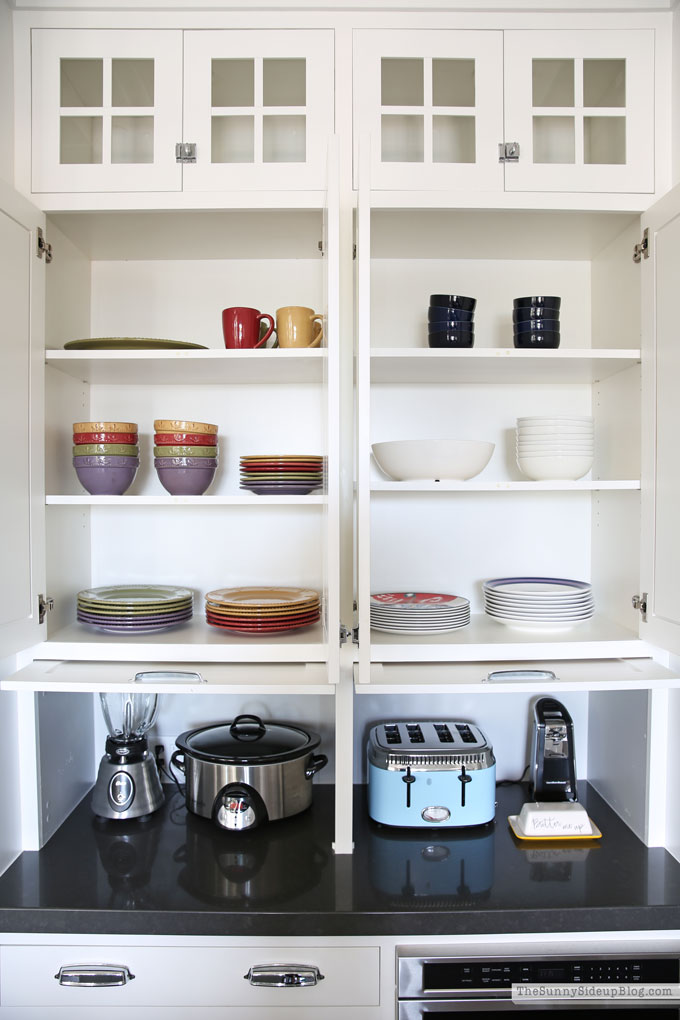 The cupboards below roll back and hold our most used small appliances.
Here's a pic of this section of my kitchen.  I'm hoping to give the lower cabinets a little re-fresh soon!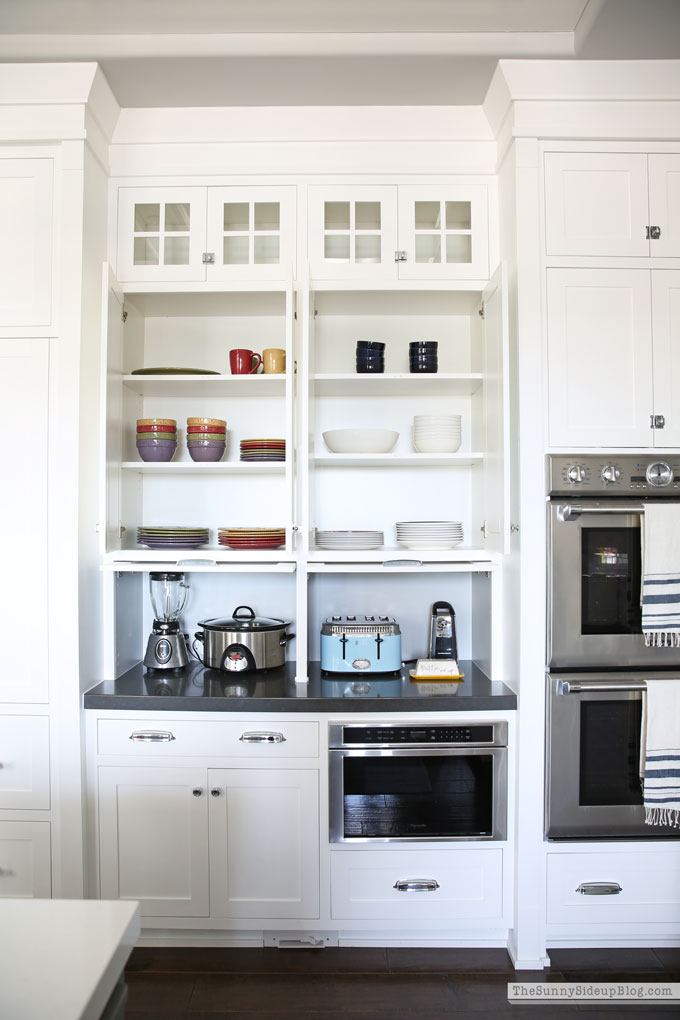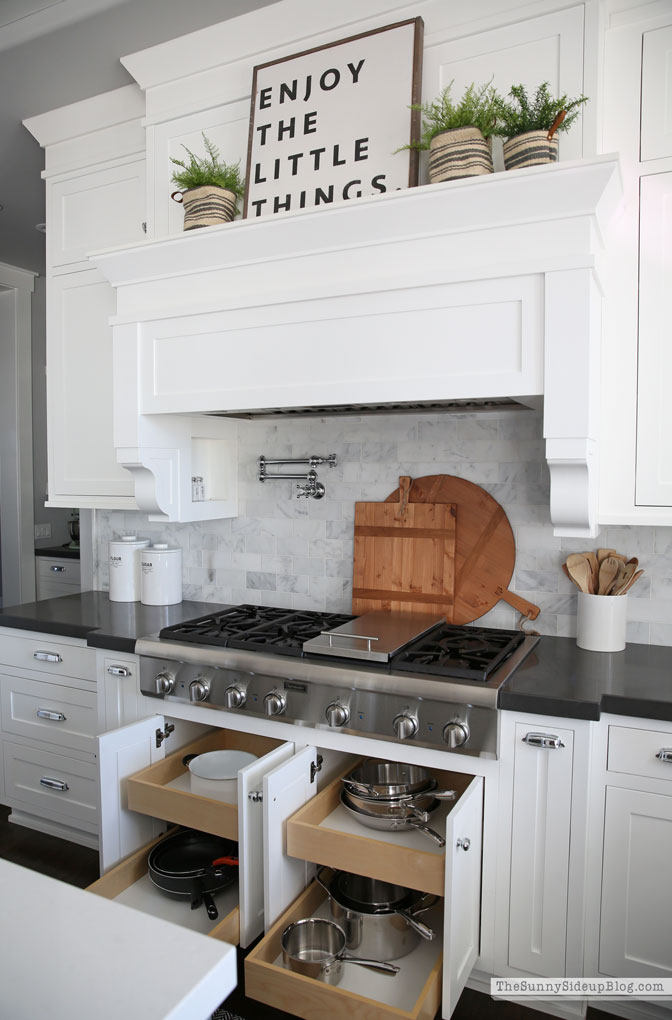 I got my pots and pans under control in January.
And I cleaned up the these drawers below my open shelving a couple of months ago.  I use them to hold my nice dish towels, flower food packs and extra random kitchen gadgets.  (Trays and bowls are a great solution to corral like items inside of drawers!)
The cupboards below I also organized in January and they still look the same.  You know you've set up a good system when it's easy to KEEP it organized after the initial clean out.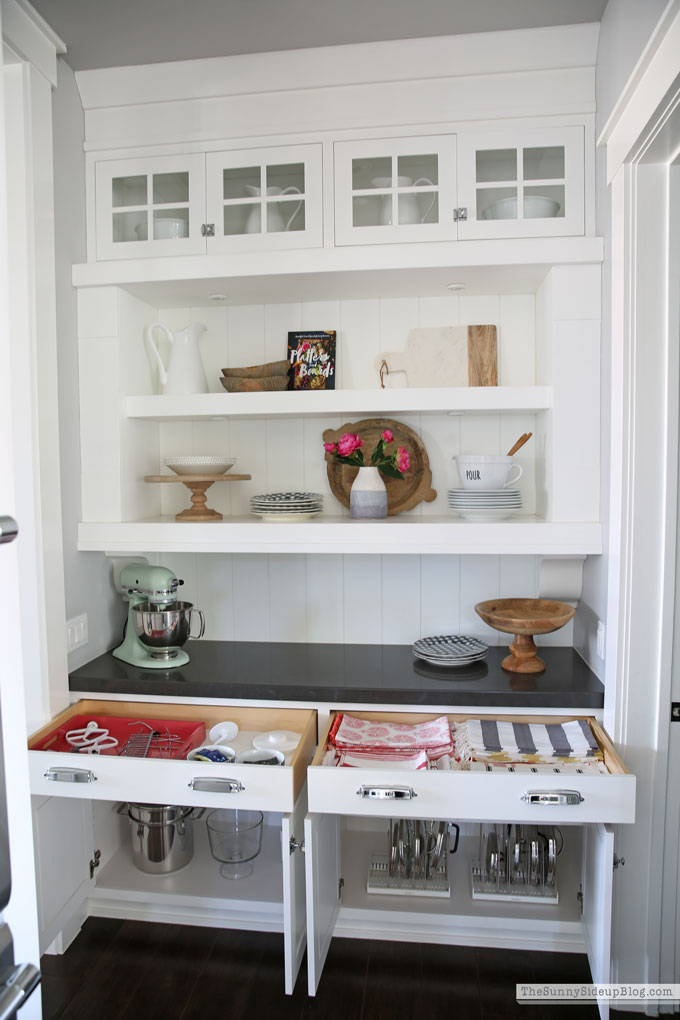 So that's it!  Kicking off the summer with some organized cupboards and drawers in the kitchen!  It's a good feeling.
Do you all like posts like this one sharing simple organizing?  
I tend to do a lot of organizing in the summer for a few reasons.  1 – We're home more.. which I love!  Less running around to all the activities and more of my kids just hanging out with each other and friends which gives me small pockets of time for organizing.  2 – Summer can be hard in terms of productivity when you're entertaining kids all day and organizing something quick gives me that accomplished feeling.  I've learned that is really important for my overall mood/happiness.  (I spoke more about this in my 10 habits of happy moms post!)  And 3 – It's a control thing for me.  I may not be able to control the chaos and constant mess circling around me during the summer, but you better believe I can control what my pots and pans and dishes look like inside the cupboard!
Kind of silly.. but it helps. :)  So let me know if you want me to share more posts like this one!
I mentioned on the phone to Kenny the day I broke my pink bowl that I was bummed because I needed a set of 8 and now I just had 7.  When he got home that night and opened the cupboard to get out a plate he noticed there were 6 and said "I though you only broke one bowl.. was it two?  Why are there only 6 pink bowls in here?"  My response?  "I mean.. look how organized that cupboard is.. I wasn't going to put 3 pink bowls on one side next to 4 on the other.  It would have thrown everything off.  That would be crazy."  Then I got that slightly worried side eye look he always gives me when my OCD tendencies come out to play and he answered "yeah.. THAT would be crazy."  
It really would!
The craziest.
:)
{KITCHEN SOURCES}





xoxo, Erin