*Huge thank you to Walmart for sponsoring this post! (Affiliate links used)

We are a low key family when it comes to meals and most of the time we eat dinner gathered around our kitchen island, outside when it's warm or sometimes for me (when things are really busy like during the crazy month of May) fine dining takes place in my car. :)  I know this about us so when we built our house I told my husband that we didn't need a formal dining room.  That it wouldn't get used much and was a waste of space.  He insisted that we add one to the plans and I have to say.. that is one debate I'm happy I lost!  I have loved our formal dining room!  This space gives me the opportunity to push myself out of my comfort zone and entertain more.  I used to never have people over to eat because I'm not a great cook and it always seemed too expensive and so much work.
I have found that is absolutely not true!  Once I got past my own fears and just started doing it more I realized that it doesn't matter what you're serving or how fancy your table looks.  It's really just about bringing people together to relax, talk and enjoy each other's company.  I've had friends over to just have a big chicken salad for lunch or in the evening for pizza, chips and diet cokes!  I've also learned that it's not hard to set a beautiful tablescape for guests without spending much.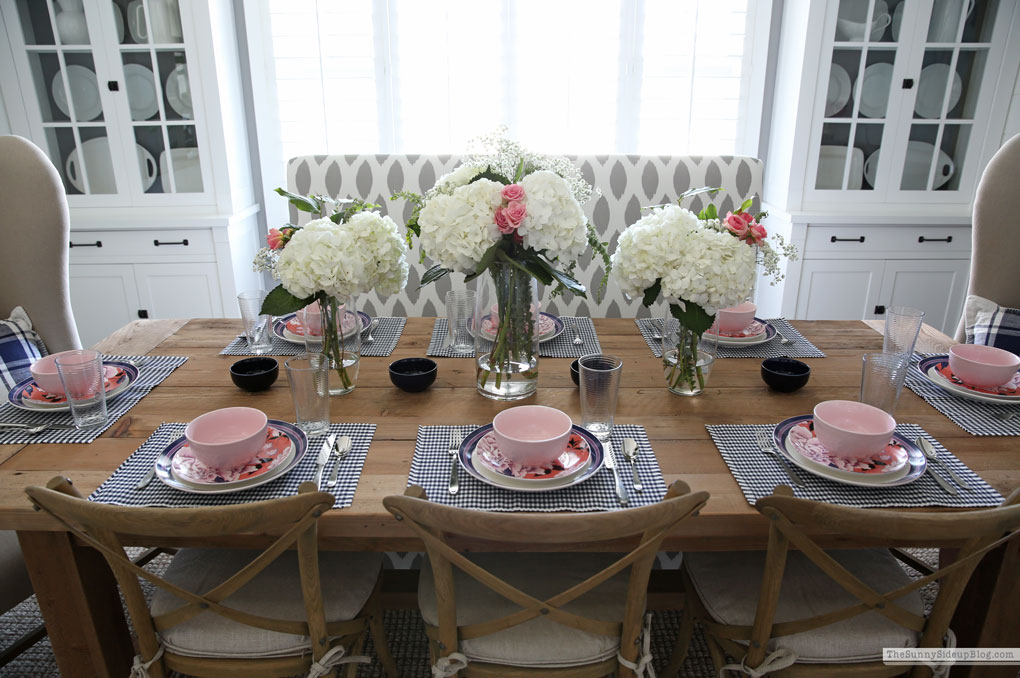 This entire Spring/Summer tablescape is from Walmart!  Walmart you guys.  I'm obsessed!
These beautiful pink and coral dishes are the Vintage Floral dinnerware set from the Flower Line Walmart did in collaboration with Drew Barrymore.  I've been adding pops of navy, coral and pink to my home for the past couple of years so I was thrilled when I found these!  (They also come in just pink and navy if you aren't into coral.)  I got new simple white dishes for my birthday this year and had been looking for a fun floral set to entertain with that didn't cost too much.  These are beautiful!  I'm finally passing on the dishes we've been using for over 20 years since our wedding.
I love the larger simple plates too for every day.  The set comes with these two plates, a pink bowl and a small navy bowl.  I also got these cute gingham placemats from Walmart and love them with the floral plates!  Gingham and floral is a fun summer combo.  The gingham would be cute for the 4th of July too!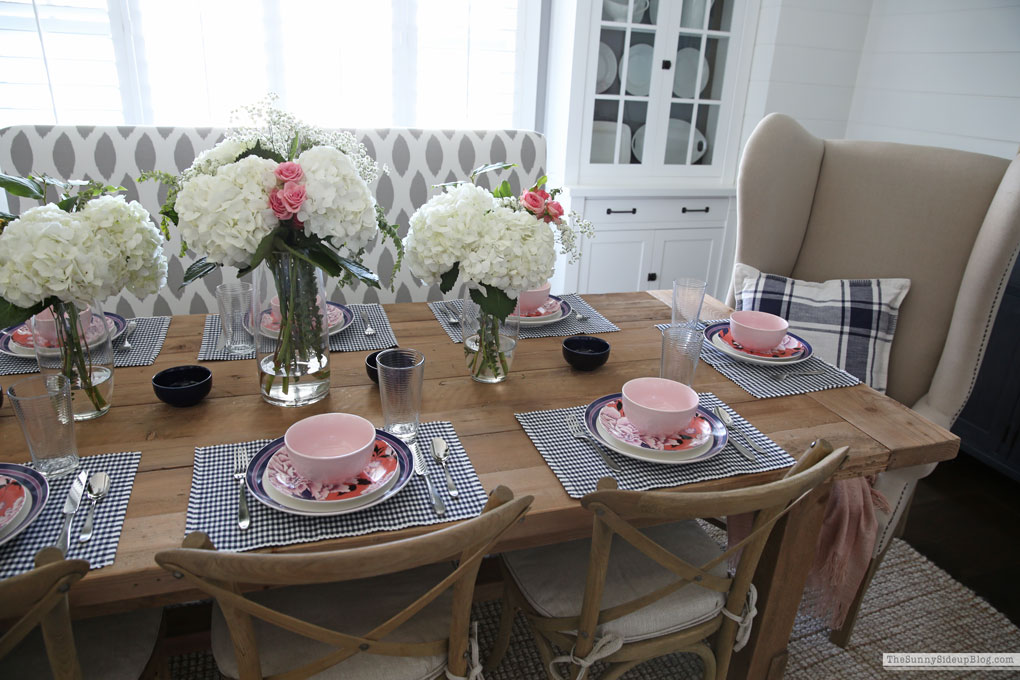 The clear glass vases I used for my centerpiece are also from Walmart.  The two side vases were only $4 each!  I picked up some flowers from the grocery store to make these arrangements but you could also just pop in some flowers or branches from your yard.  I thought it might be fun to add some after dinner chocolates inside the small navy bowls. :)
Another favorite Walmart find are these cute gingham pillows!  You guys.. I'm not joking – they are big and such amazing quality for $12!  They come in other colors too.  My friends didn't believe me that all of this was from Walmart.  I hardly believe it myself!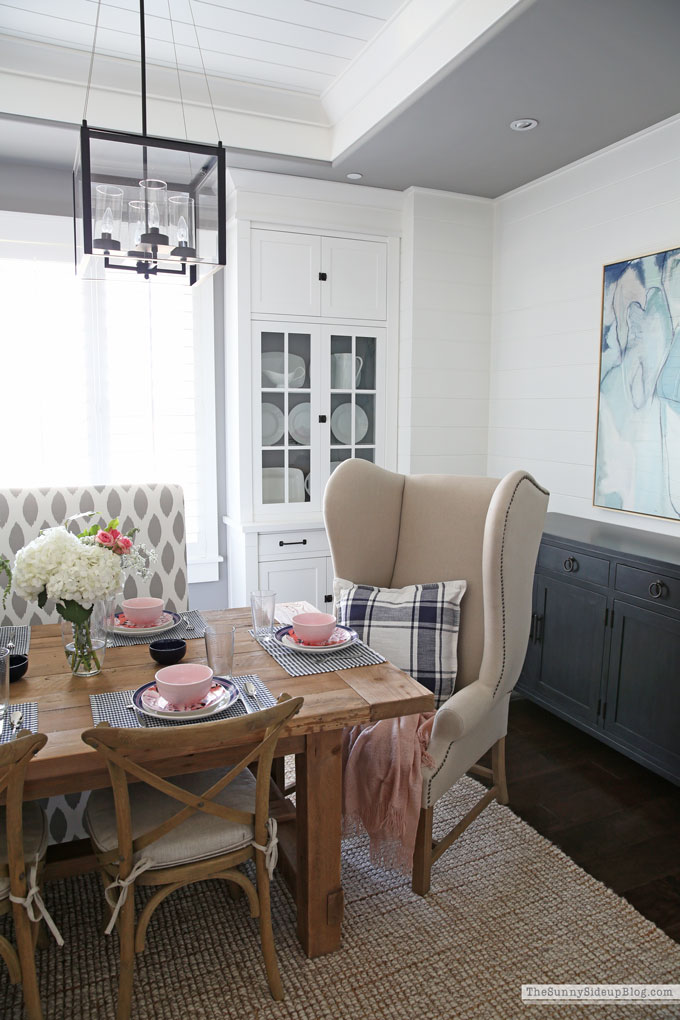 I also picked up this pretty pink throw to drape over my chair.
I found this beautiful navy vase for my console table and the navy ceramic side table is also from the Flower Line collection.  I keep moving it around because it looks good in so many of my spaces.. outside too!  I bought the coral ombre ceramic table for my family room.  I LOVE them and they cost so much less than I've spend on similar garden stools.  I still need to style my console table more but I'm so happy to have my art up!  This room is finally coming together.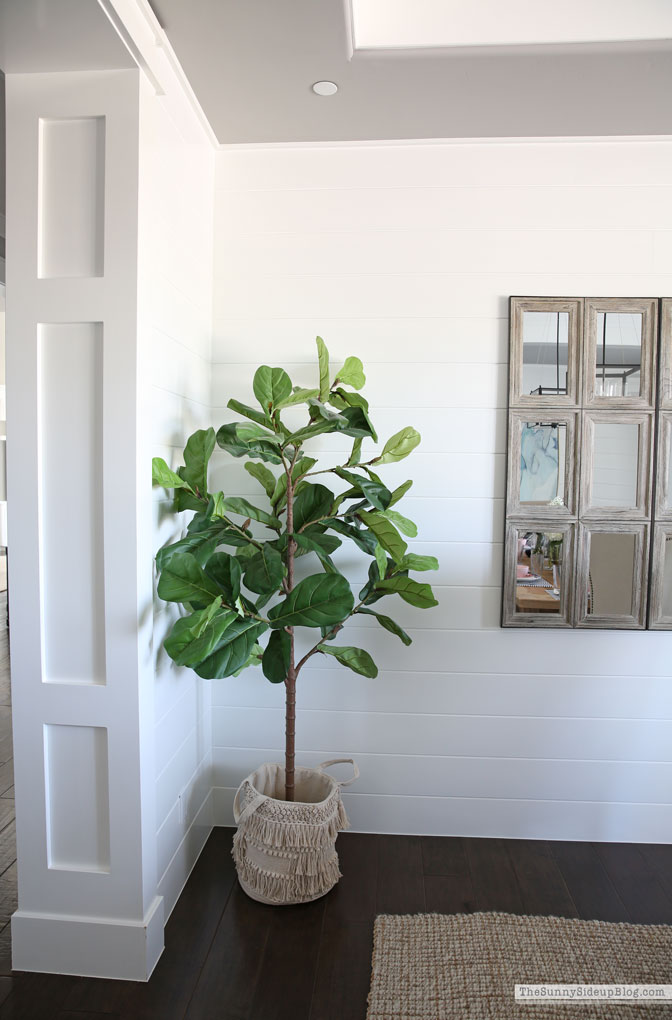 I moved one of my faux fig trees in this corner of the room and this macrame basket was perfect to hold it!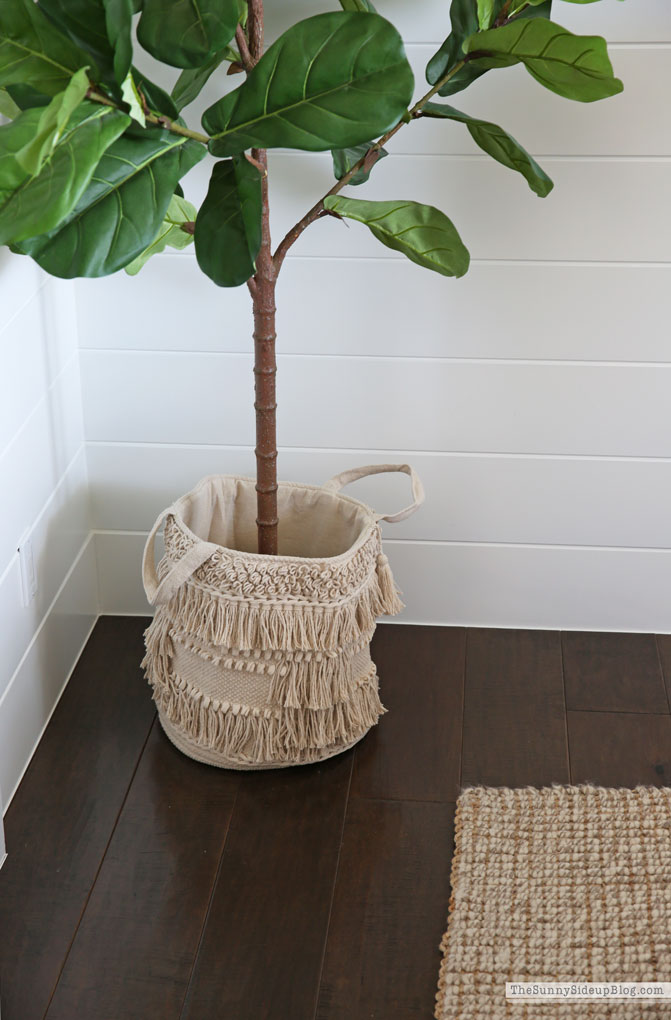 This basket is one of three (they came in a set) and I'm going to use the other two in our playroom or the kids' rooms for stylish storage.  So cute.. the Flower Line has these baskets in several color options!  I'm telling you this line is too much fun.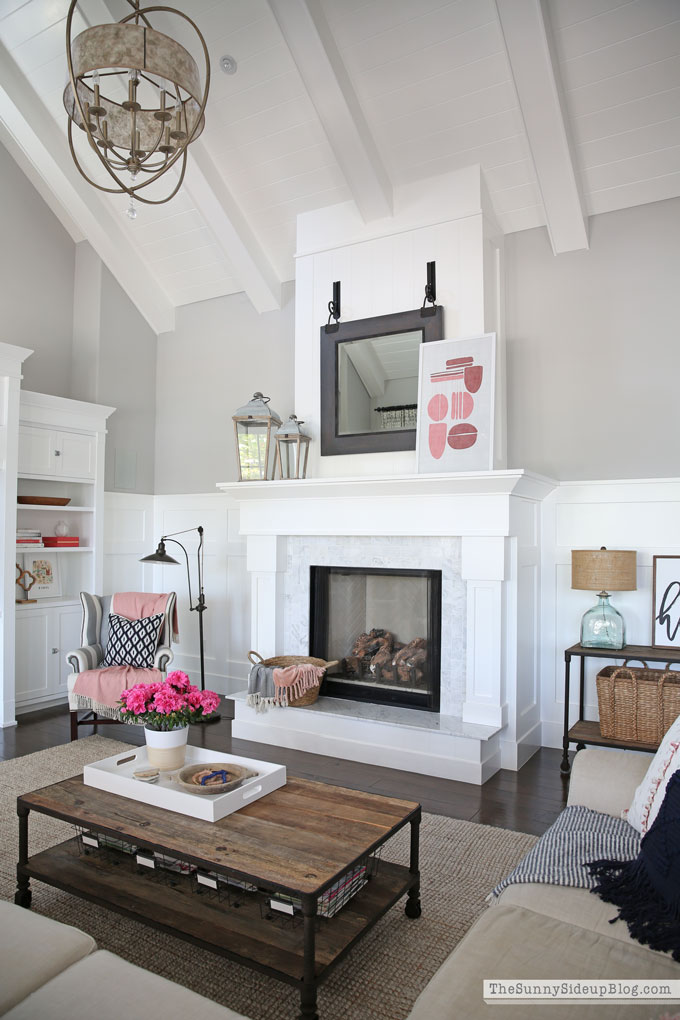 The new art I got for my family room is also part of the Flower Line!
I hope you all like this Spring/Summer tablescape!  The colors make me so happy.  We are nearing the end of the school year and are in serious countdown mode.  2 weeks for Addison, 2 1/2 weeks for Kole and 3 weeks for Ellie.  Easy breezy summer days are calling my name!
Time to get my husband grilling!
I'll set the table. :)
{POST SOURCES}


{OTHER FLOWER LINE FAVORITES}


xoxo, Erin