*This post is sponsored by Nordstrom.  All outfit choices and opinions are my own!  Affiliate links used.
Summer fashion! But before we get started I have to apologize.. we are knee deep in "June gloom" here on the coast which means cool temps with all clouds and no sun.  I'm not a fan!  It makes taking pictures a little tricky so sorry for darker than usual pics.  Today I just gave up pretending it's summer and put on my sweats (cute sweats you'll see below) and lit my pumpkin spice Fall candle.  I know that in October when I want it to be cool and cloudy it will be 80 degrees and sunny so I decided that I'd just flip the seasons.  If San Diego can do it.. so can I.  Don't be surprised if you start to see pumpkins popping up around my house next week. ;)
(Stripe Sweater/AG jeans/similar Earrings/Tory Burch Bag/Tory Burch bracelet/Similar Sandals)
So since it's Fall for me, I'll just go ahead and kick things off with sweaters. ;)  Madewell sweaters are my favorite.  Light and comfortable.  (Perfect for Summer OR Fall.)  My cute stripe sweater just went on sale!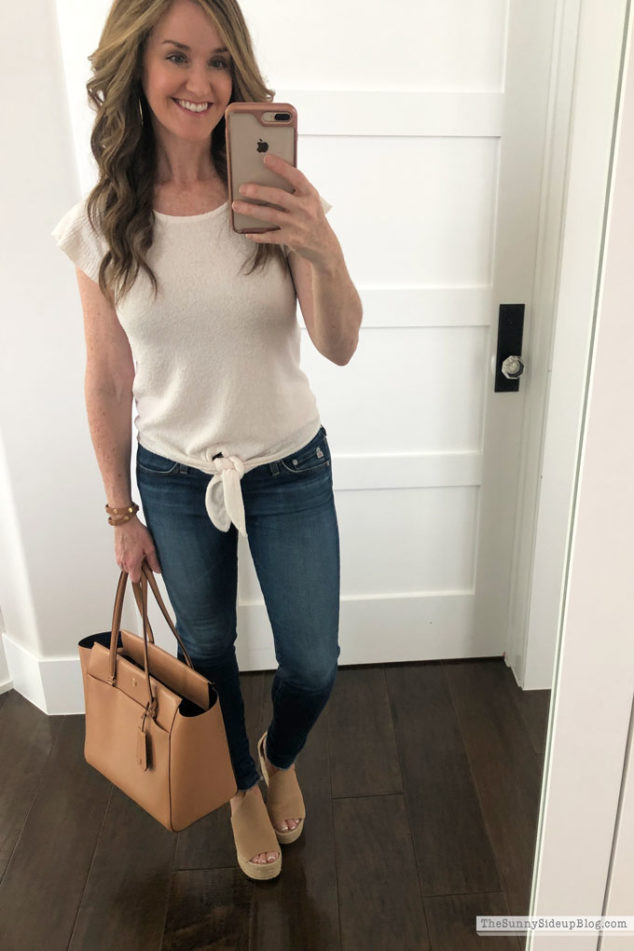 This Marin Tie Front sweater is seriously perfection.  Have you all trusted me yet and tried one?  If you have, you're welcome. :)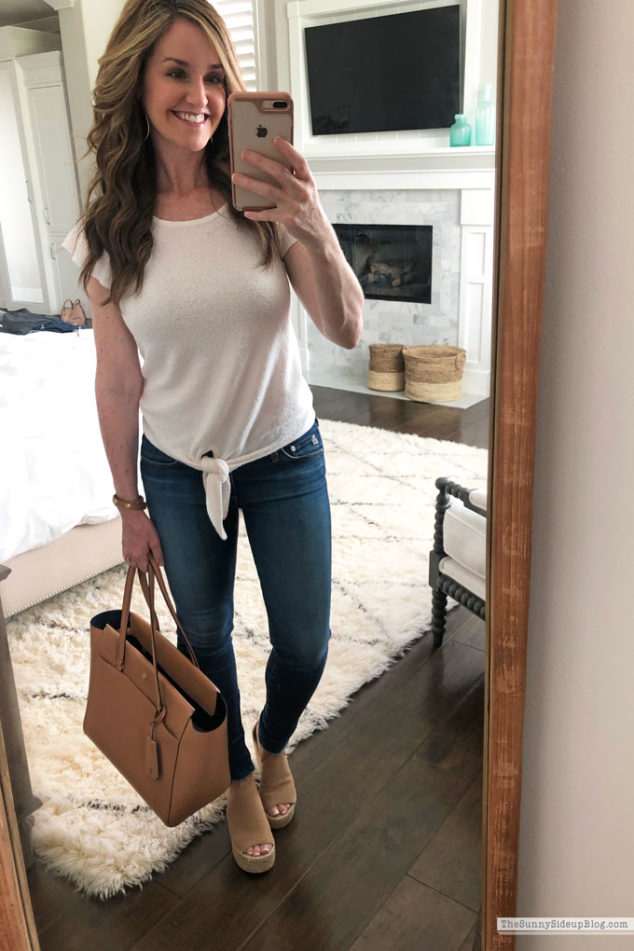 I decided to get wild and crazy and try out a new mirror for my fashion posts.  What do we think?  I'm not sure about this new plan because it means I have to make my bed.  Ha.  This was the only pic I took here.  I'm not a bed maker.  I should be.  You would think I would be as much as I love a clean house, but nope.
This Iris Fluttersleeve Blouse is so beautiful!  I haven't had it long, but it's already almost sold out.  Comes in other colors and they also have it in plus size AND it comes in a sleeveless version.  Next to Madewell, CeCe is becoming a favorite brand of mine for tops!  They have so many cute options for summer.  I also love a white purse in the summer and I've been watching for Rebecca Minkoff bags to go on sale.  This cute purse and this one are similar to mine (love them both) and are marked down!
Perfect outfit for last weekend's date night!  Kenny is loving the new Adidas sneakers I got him for Father's Day. :)
My flutter sleeve is another fun summer top!  I love it in white too.  This hobo bag is also fun and a great price if you are looking for a larger purse.  Perfect mom bag to hold all the summer things!  And my Madewell Triangle drop earrings are on sale!  They look good with so many tops.  I wear them at least 3 times a week!
(Embroidered top/linen joggers/similar earrings/strappy sandals)
In my last fashion post I shared these cute linen jogger pants and I found such a fun summer top to go with them!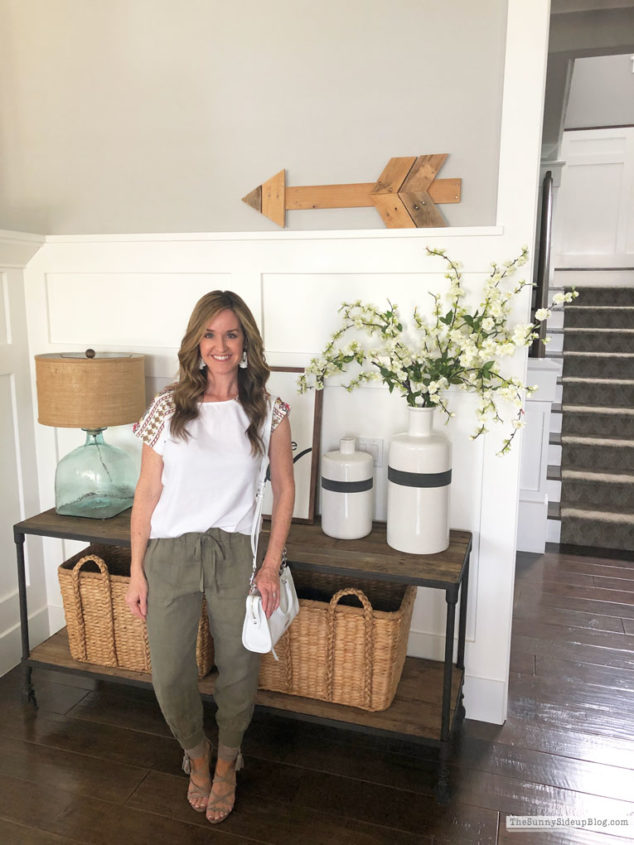 Ad snapped this with my phone on our way out the door.  Worst lighting.  Sun!  My blog and I need you to re-appear!  :)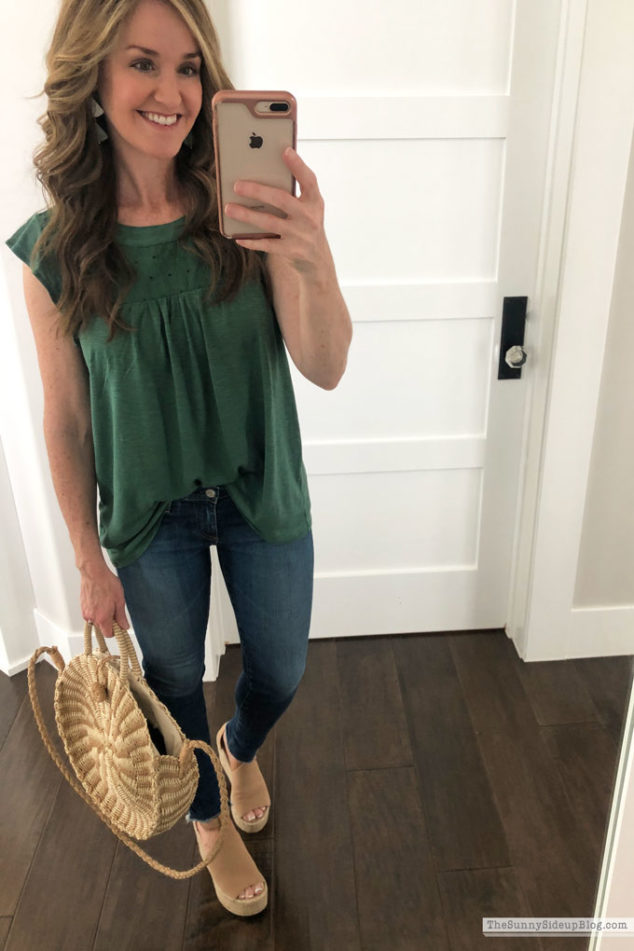 This eyelet baby doll top is another fun summer option.  Really light weight and it comes in lots of colors.  It's longer in the front and back.  (I linked similar straw bags at the end of this post!)
In my last post I shared some fun things for the 4th of July and this firecracker tee had to come home with me!  I've had the grey sneakers for a while now and knew they would be perfect with this top for a full day of outdoor activities.  These shoes are so comfortable!
I bought them when I bought these black Sam Edelman sandals that I've loved with skirts/dresses.  Two pairs of shoes I've been wearing a lot the past few months!  They are both really comfortable.
Addison actually has the grey sneakers too!  Hers aren't quite as clean as mine. :)  She loves them!  So fun now that my girls are venturing into my size/style of clothes.
Ad likes to dress like me so the two of us especially have fun with it.  El borrows some of my stuff but for the most part isn't into fashion.  She also doesn't love having her picture taken (I know.. is she really mine!?) ;)  so she has become a dedicated photographer.  Ha.  She'll come around on the clothes and when she does.. I'll get her a pair of these grey sneakers too. :)
Ok.. we have to talk Zella joggers quick.  Eek!  They are getting in fun new styles for summer!  I've tried them all (seriously.. Zella joggers are my favorite) and these Urban Cargo joggers are my top pick.  They are selling fast but I have a feeling they will come back in stock as most Zella joggers do so watch for them!  You'll want a pair of these for sure.  They do run a little big (I usually am a small in Zella joggers but the xs fit in these) so try one size down.  I also LOVE these Desire Recycled crop pants!  I have them in green but haven't taken a pic yet.  SO cute.  And the Taryn Recycled joggers are long time favorites.  (I always wear them when I travel!)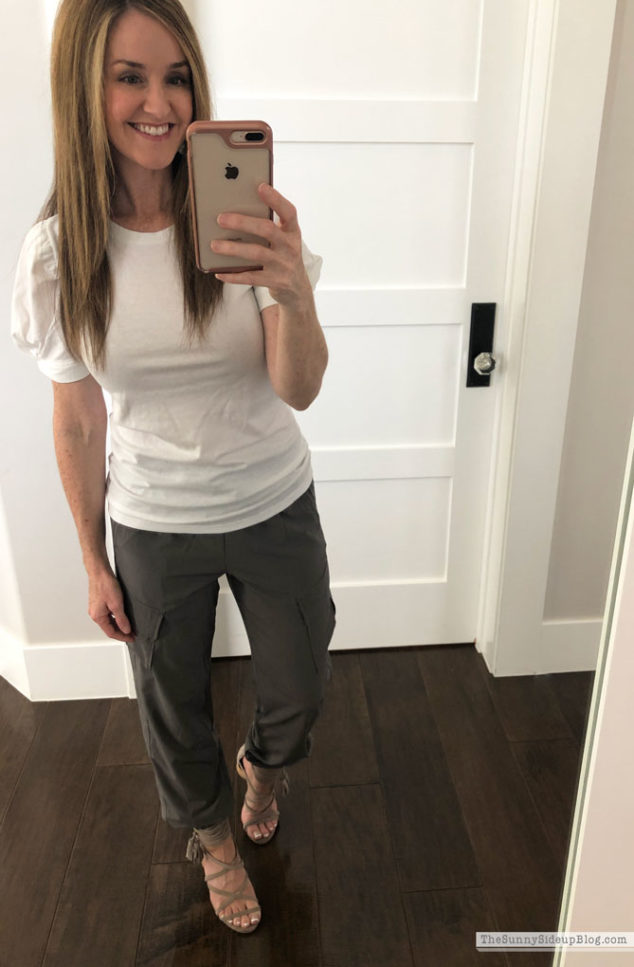 El was giving me a hard time a few weeks ago.  She said "Ad look.. mom is in her Zella joggers gain.. must be summer!  Now that's all we'll see her wear for 3 months."   I just nodded and said "exactly!"  They really are my favorite in the summer because they are so lightweight and comfortable.  In this pic I'm wearing the joggers with this Twisted Puff Sleeve Tee.  So cute!  This Puff Sleeve top is almost identical.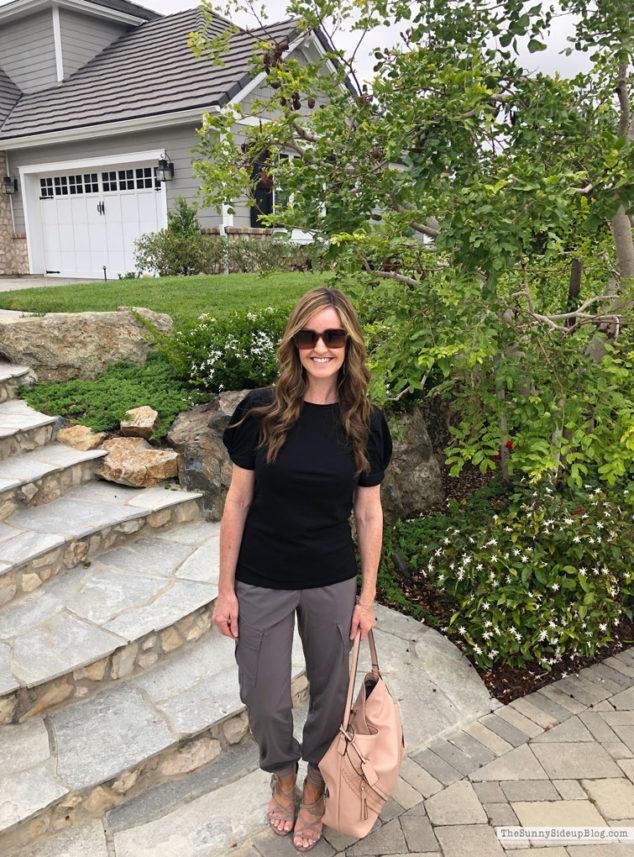 Same shirt in black.  Same joggers.  Different day.  Summer wardrobe. :)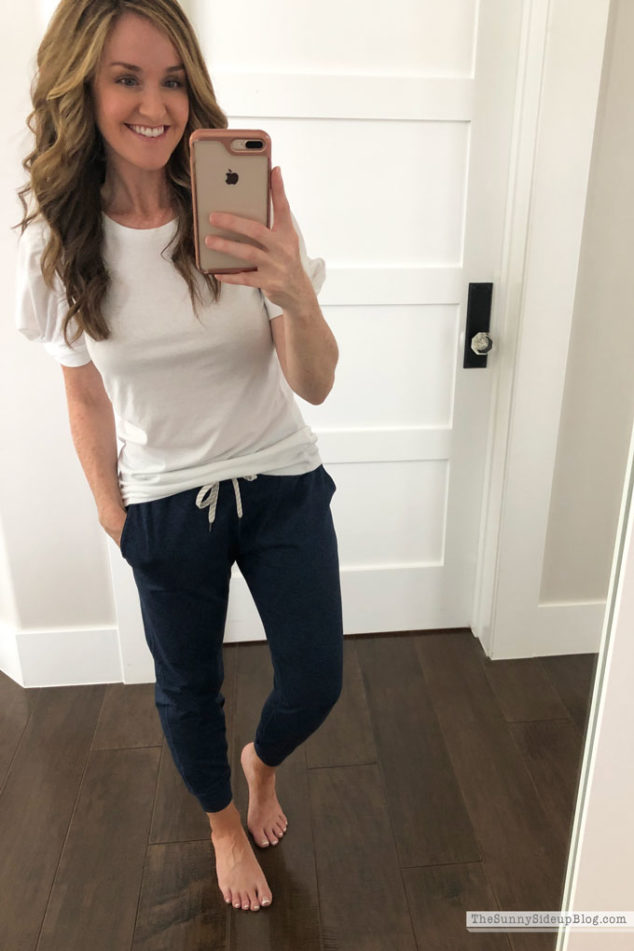 Ok.. since we're talking joggers I have to tell you about this pair too.  These performance joggers are so cute and flattering!  A little more fitted and warmer than the Zellas but also so comfortable.  Just give me ALL the joggers this summer please. I bought these in black too I love them so much and I'm wearing them right now as I type this post. :)
(Ruffle-hem pajama top/Ruffle-hem pajama shorts)
Another summer favorite are these Madewell pjs.  I love this set to throw on quick when I get out of the shower and need to blow dry my hair before I get dressed.  Does anyone else like cooler clothes for blow drying? :)  So nice to have a pair of comfy shorts and a matching top for stuff like that around the house.  There are so many cute summer pj's in right now.  I linked my 5 favorite sets below!
(Rainbow trim lounge pants/No end to my rainbow sweatshirt)
But remember.. it's actually Fall right now for me. (sigh)  I've been wearing this set of pjs the most lately!  Even though I'm not excited to still be in full on sweats, at least they are RAINBOW sweats.  That takes the sting out of it. ;)  Honestly these pants and this sweatshirt are so incredibly soft and comfortable I'm happy to be living in them right now.
Another day in the life at my office. ;)
Ok.. I'd love to hear.. what is your favorite item from this post?  Anything you are excited to order?  I love your feedback!  The Nordstrom Anniversary sale is right around the corner.. anyone else excited?  I'll have no problem shopping for Fall clothes in our recent weather. ;)  Remember to sign up for your card to gain early access if you haven't already because the good stuff goes so fast!  I'll get my favorites posted quick for those of you who shop the sale. :)
*Thank you Nordstrom for sponsoring this post and for selling ALL the cute joggers to make my summer dreams come true.  It doesn't take much. ;)  
{POST SOURCES}








xoxo, Erin