Happy February everyone!  We made it through January.  YEA.  I love January for the organizing and "fresh start" but I have to admit.. it can feel like a very LONG month.  And very Mondayish.  Ha. :)  So I'm ok with it being behind us!  But despite the longness of January good things still happened.  I thought I'd try something new this year and share a few family favorites at the end of each month.  Things we're each loving and what we've been up to.  So get cozy (I got a little long winded on this one!) and I hope you enjoy our January family favorites!
*affiliate links used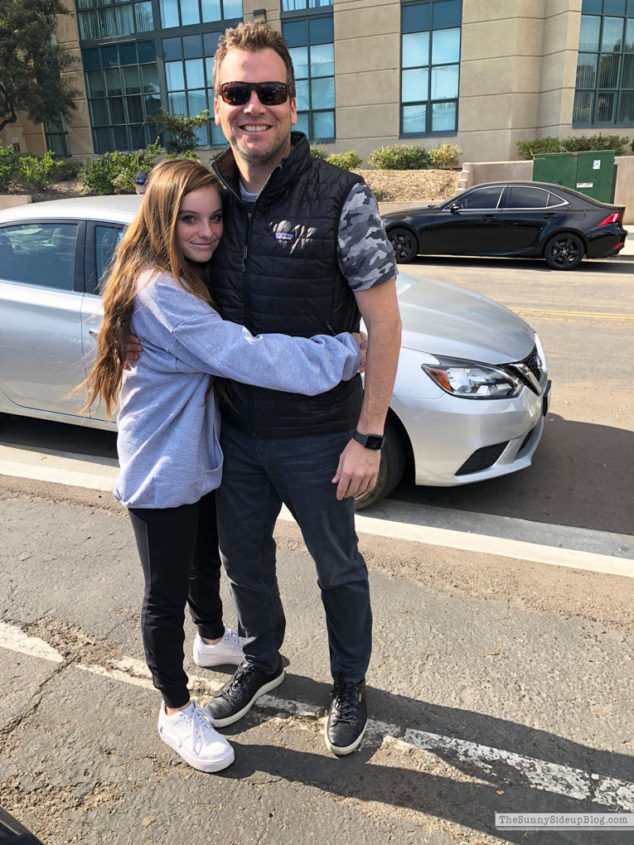 Lunch date with these two!  I seriously scored with this Patagonia Nano Puff Vest I gave Kenny for Christmas.  He has lived in it this month!  He loves it because it's fitted and lightweight but also really warm.  Hands down his most loved Christmas gift and definitely his January favorite!  Don't be surprised if it's his February favorite too.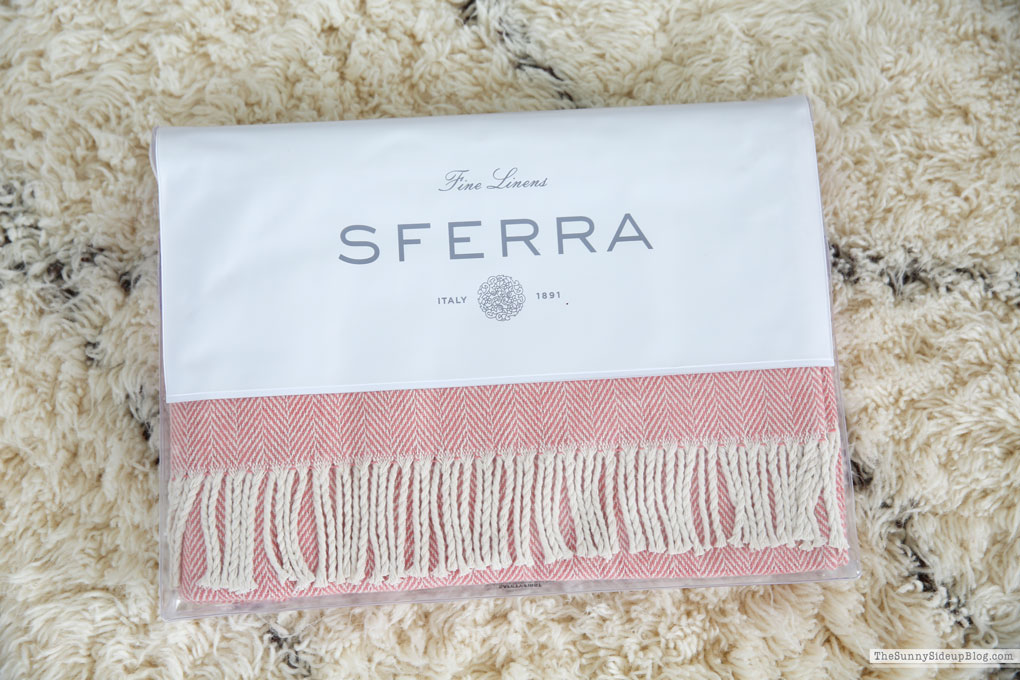 I have a few favorites around the house that are making me happy.  First up – one of my favorite throws came back in stock (this SFERRA Celine) so I bought a second one!  In the exact same salmon color that I love (although it comes in other colors).  It's so pretty in person and perfect to drape over a chair or couch corner.  I love this throw in three different spots in my home during the Spring/Summer..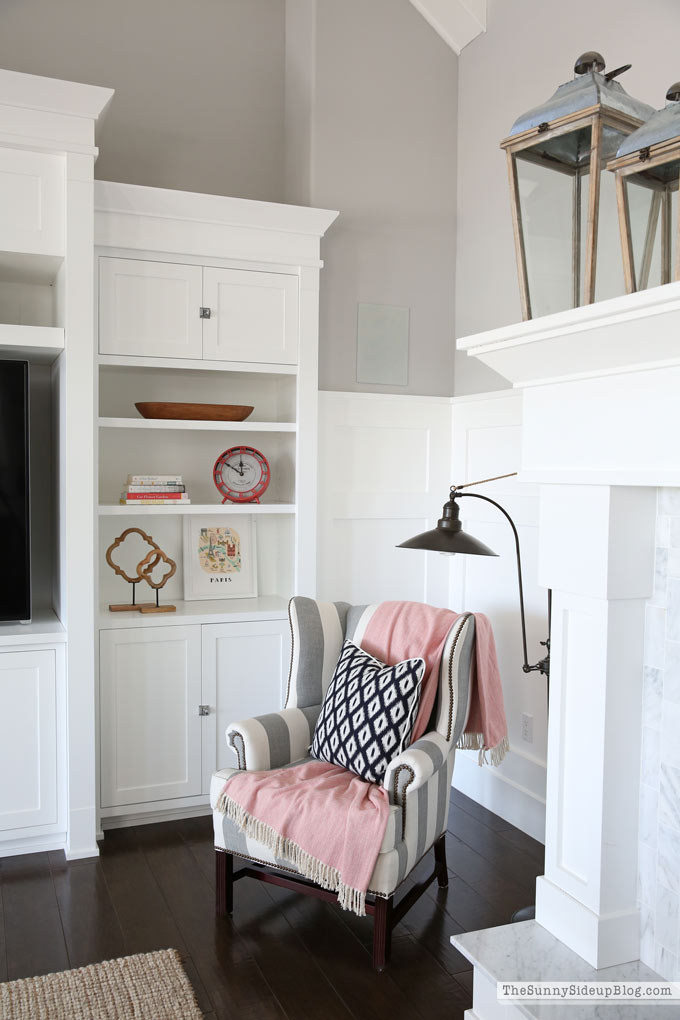 On this chair in the family room..
hanging on the ladder in my bedroom..
and on the mudroom bench.  I rotate it around so much!  I knew I wanted one more, but it sold out too quickly last Spring.  I'm so happy it's back in stock!
I've found the best way to breathe life back into my home once the holidays are over is with plants.  Everything in my home always feels so bare and sterile after I take the Christmas decor down!  Adding greenery makes a huge difference and always makes me excited for Spring.  Faux plants are coming out this year and are looking more real than ever.  (Check out all of the fun options at PB right now!)  Seriously the BEST news for people who can't keep a plant alive to save their lives.  And by "people" I mean me. :)  I've found that if you toss in one real plant or some fresh flowers with all of the faux plants in your space it makes everything look real!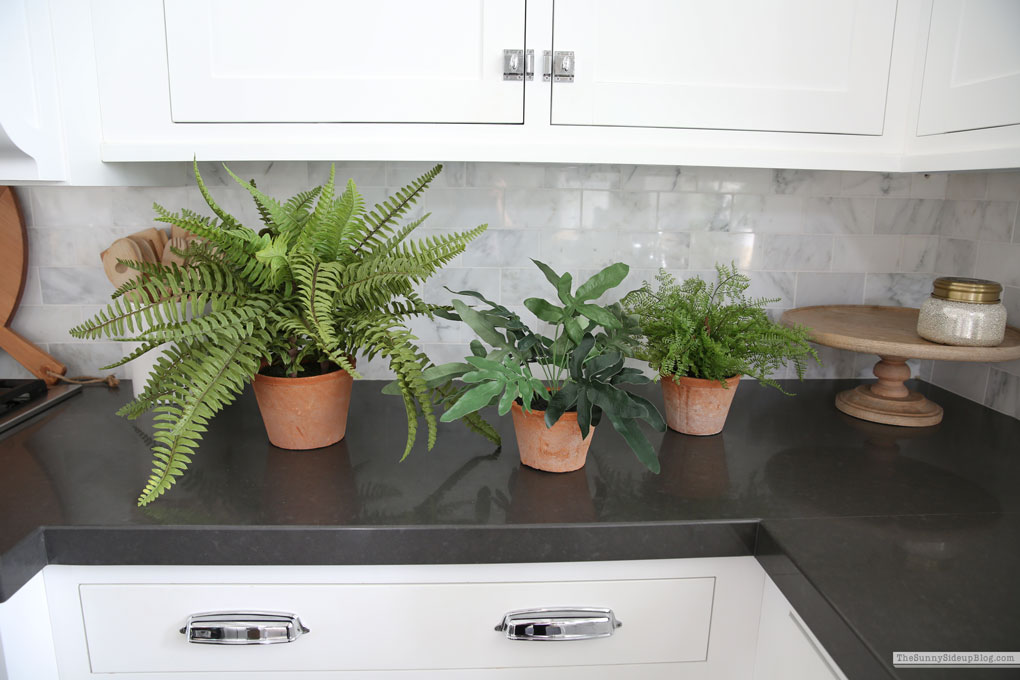 (Potted Boston Fern/Potted Kangaroo Paw Fern/Fiddle Head Fern)
These are my three favorite faux plants at the moment!  I've loved trying these in different spots in my home.  I bought several of these Fiddle Head Ferns last Spring and was excited to pull them out again this year!
They are the two faux plants above my stove next to my sign.
Happy little plants that look good everywhere I put them. :)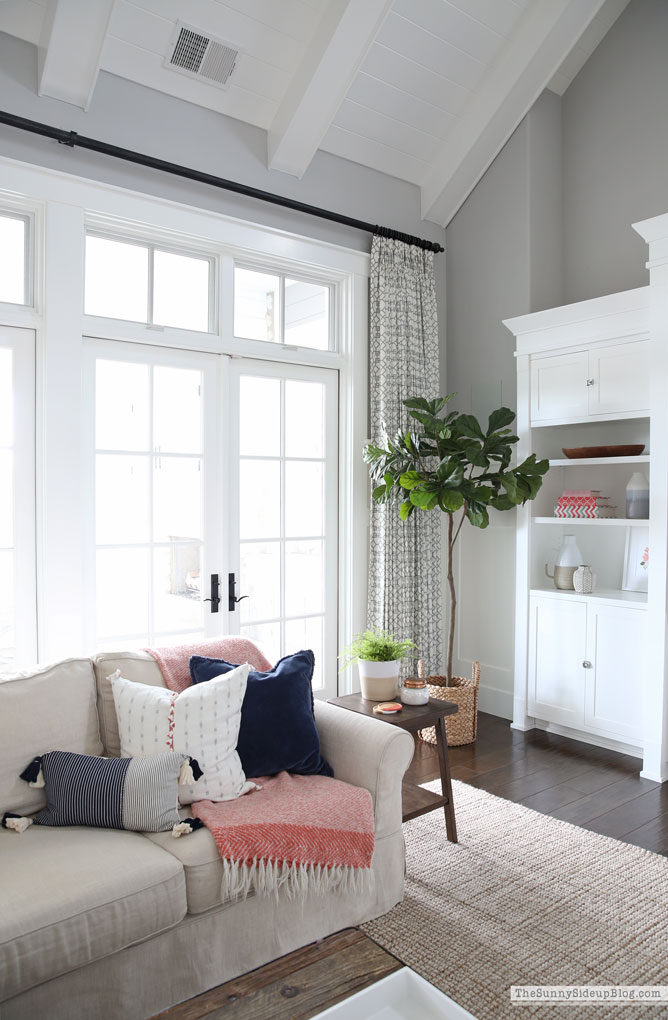 (Faux Fiddle Leaf Fig Tree/Basket/Wool Jute Rug/Comfort Sofa/Velvet Pillow/White Pillow/Similar Tassle Pillow)
There are so many things to think about, get done, and keep track of every day.  I don't need to add watering plants to my list.  Maybe someday that won't be a big deal, but in this stage of life I'm all about simplifying whatever I can!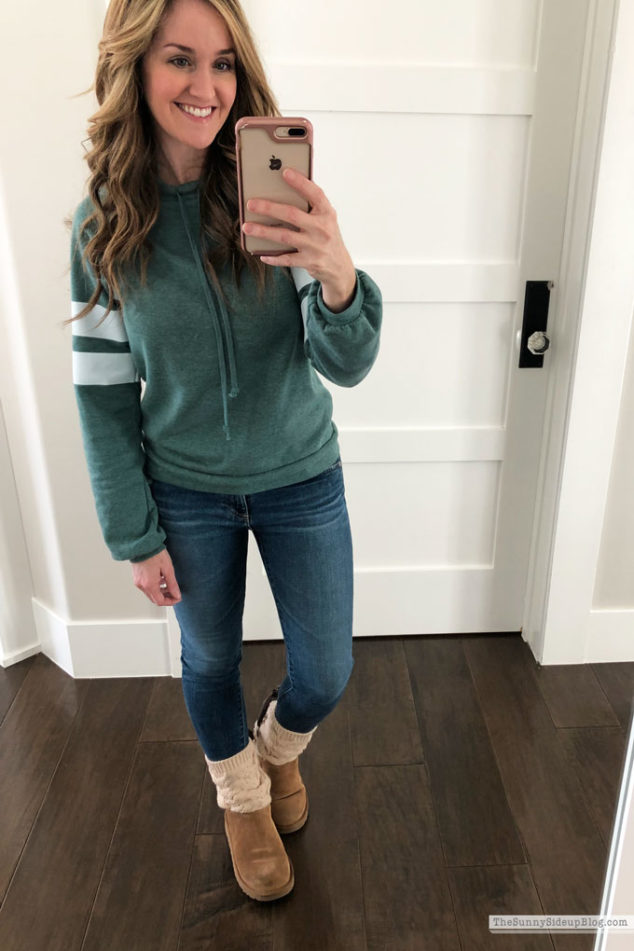 My last January favorite is this Varsity Stripe Hoodie.  So cute and comfy and this month I haven't felt like wearing much other than pjs or this hoodie and Ugg boots.  I'm hoping to break out of my hoodie/Ugg/pj rut in February.  Maybe with some other cute Treasure & Bond sweaters below.  (I love T&B!)  But they are going to have to be really comfortable to compete with my recent go-to's. ;)

Ellie's favorites.. that's easy.  Two things!  The Apple AirPods she got for Christmas and cutie oranges.  I can't keep cuties in my house.  One of her favorite things to eat!
She turned 15 years old this month.
She's loving high school and is such a beautiful dancer and has made so many darling friends.  I'm so proud of her and all that she's doing this year.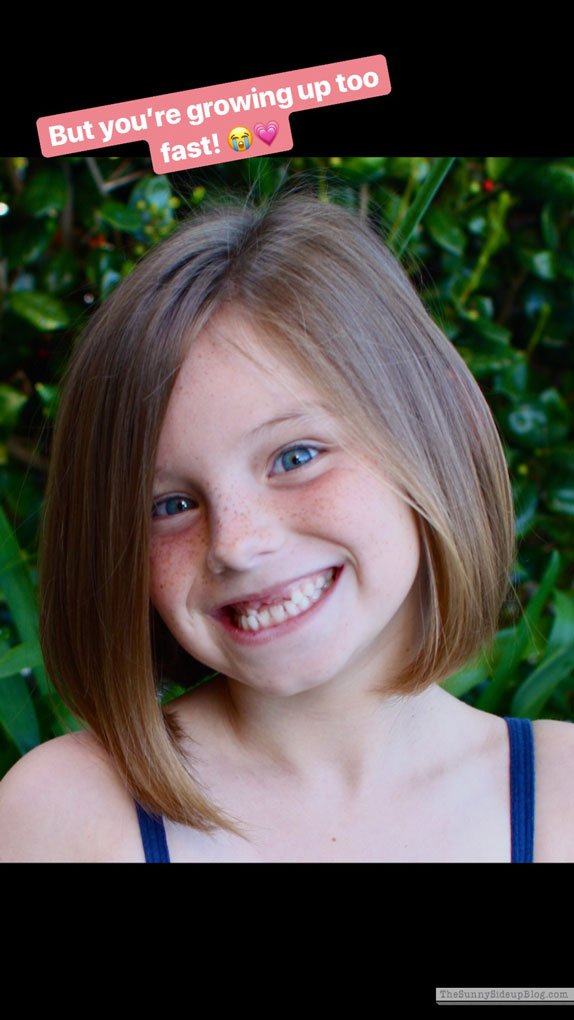 But wow.  I blinked!  It's all happening so fast.  I know a lot of you were reading my blog when she was the age above.  Seriously what happened!?  We organized a few cupboards, decorated for the seasons, found some cute things to wear and BAM.  During all of that fun blogging and hanging out together the kids kept growing.  I love things about every stage with my kids and try to focus on the beauty and joy in each stage, but it's hard to not miss having my babies as babies!  :(  Also I was 15 years old when I met Kenny..
so there's that little fact to digest. #herewego  #timetopray
Addison's favorite?  Well that's easy. :)  Some of you have been surprised I'm so cool about her never ending slime addiction.  (You all know me well – I'm usually not a fan of mess!)  So here's the situation that's been going on in our home for a while that might explain my coolness on the matter…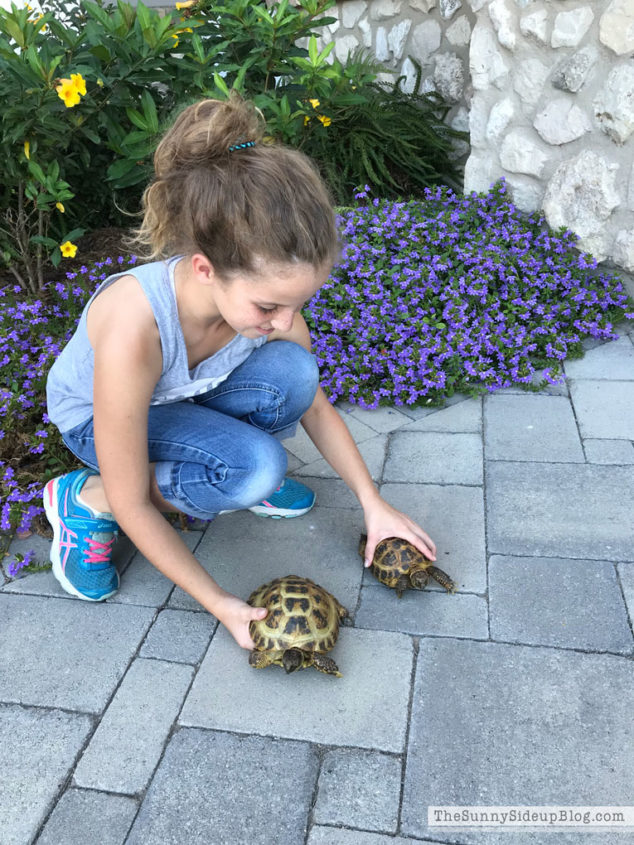 Ad is allergic to many things including dogs, horses and anything with fur.  She'd love a dog but that's out of the question for her.  She can't even handle hypoallergenic dogs (the saliva irritates her skin!).  She is a pet lover so reptiles are really the best option.  For a few years we had tortoises that she loved dearly.  BUT.. the kids got older and busy with activities and played with them less and less.  The tortoise responsibility (food/cage cleaning, etc.) fell more and more on mom and dad and we started wondering why we even had them.  So when Cocoa started attacking Spring and we needed to separate the two of them, we decided it was time for them to go back to the pet store.
The kids were good with that decision and all was fine until Addison got on a Bearded Dragon kick.  Oh yes.  She has wanted a lizard for quite a while now!  In fact, she begged for one for Christmas this year.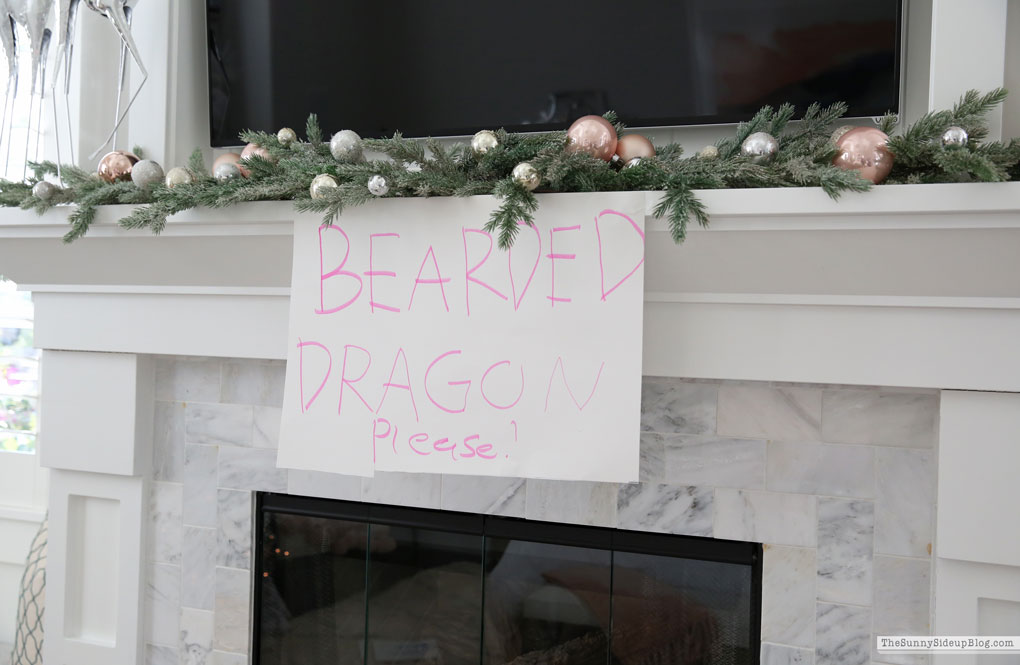 Kenny and I came home one day in December and found this sign hanging on our bedroom mantel.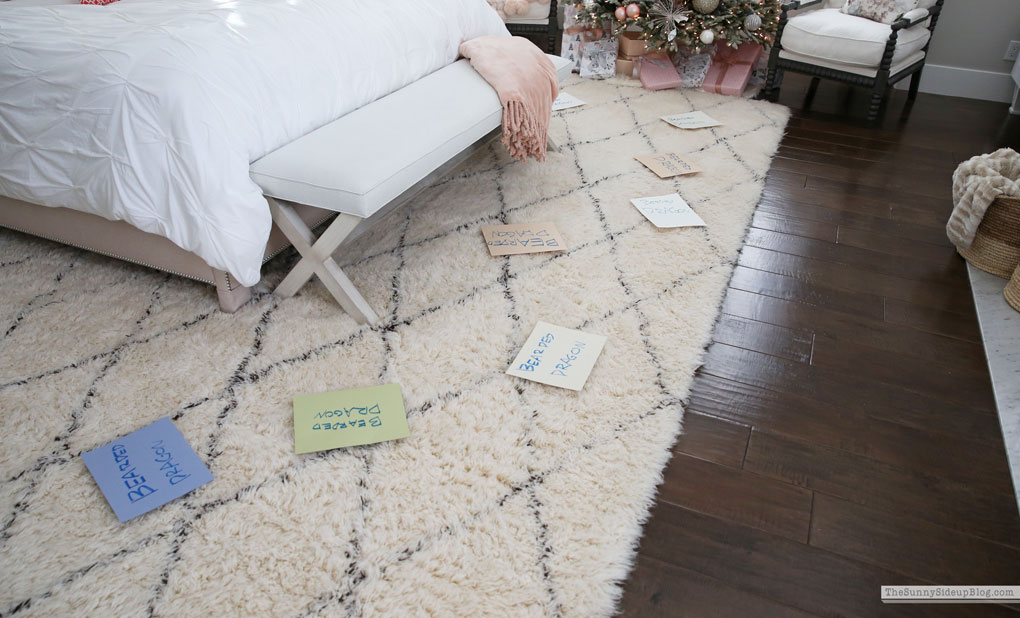 And these smaller signs down the hallway and all over our floor.  She also wrote a full report that she presented to the family all about Bearded Dragons (pros and cons) and why we should ultimately let her get one.
Her research and persistance was impressive!  But I just can't do it.  (Mean mom!)  I know without a doubt she'll love it for a few months and then get busy and move on and I'll be taking care of a lizard every day.  A lizard!  I can't even handle real plants and I'm supposed to add lizard maintenance to my daily routine!?
I sat her down before Christmas and we had a little heart to heart.  I explained why a lizard just wasn't in the cards right now and asked her what I could do to make it up to her and what I could get her for Christmas that would be a fun second best option.
What do you think her answer was?  Slime.  I had to agree to be cool about the sliming.  For life.  Or as long as she's into it.  (Sigh)  I really had no choice but to agree.  And to buy her new slime supplies.  And a new slime mat.  And to organize a slime cupboard for her.
It's messy.  And I don't love it.  But I love Addison and it's not a lizard.
So there's that. ;)  #rockonslime #slimeforever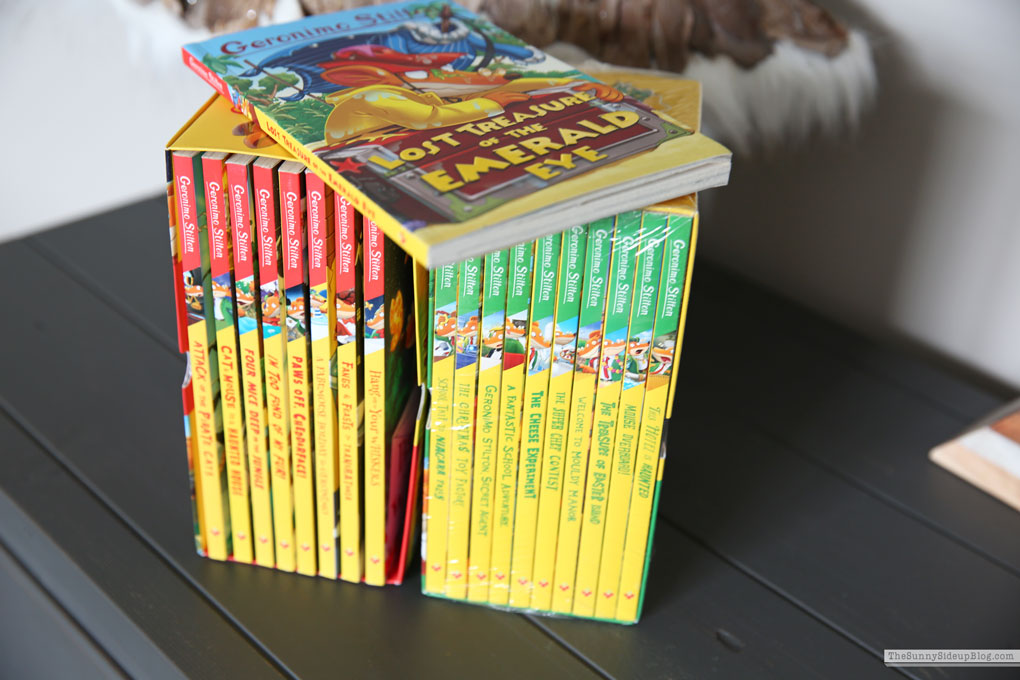 Kole's January favorite – Geronimo Stilton books!  He got these for Christmas and loves them.  My girls read and loved the Thea Stilton books at his age so I thought we'd try these and they have been a huge hit this month!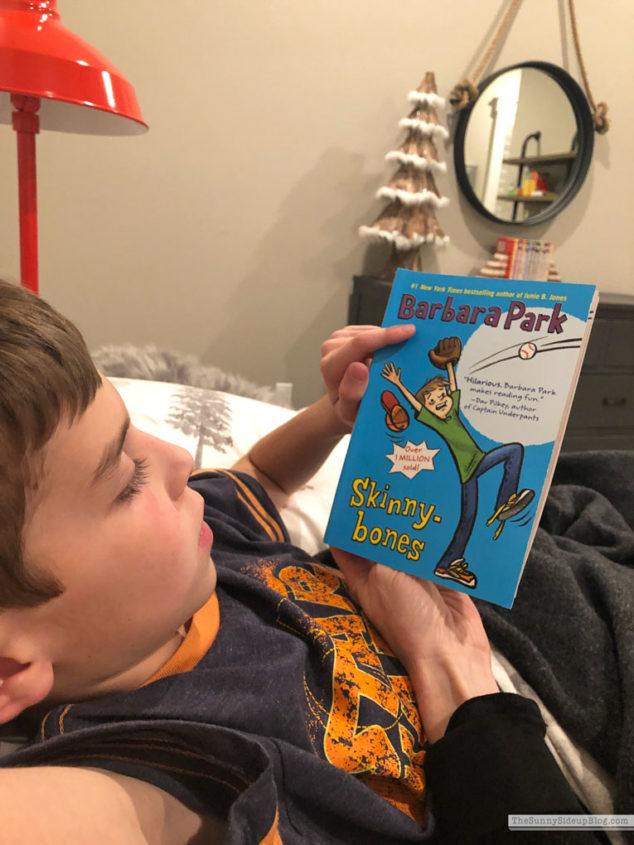 We also read one of my all time favorites this month together.. Skinny Bones by Barbara Park.  My 4th graders used to love this book and Kole did too.  So fun reading it with him.
So those are our January Favorite Things!
I'll close with a few random fun family moments from the month and call this monthly post our 2019 scrapbook. ;)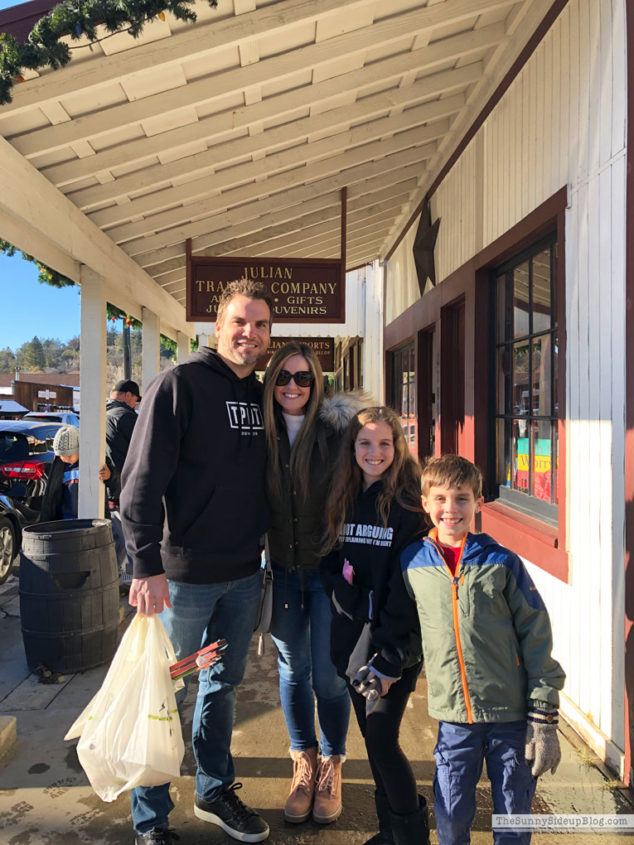 Fun trip exploring Julian (a mountain town near SD famous for its pie!).  We got our cold fix.  I'm still loving these cute lace-up booties!
Addison made her debut as Glinda the good witch and killed it with her kindness on stage.
And last week Kenny and I took the girls to LA to see a Kelly Clarkson concert.  SO fun.  My girls love her and all of her songs so we surprised them with tickets for Christmas.  I wish I would have recorded the screams that morning when they opened that gift!  Totally made up for the fact that there was no lizard under the tree. ;)
Kelly was amazing and I have to say that after seeing her live in person I adore her even more.  She is so genuine and down to earth and her songs just give you chills!  We had so much fun singing with her all night.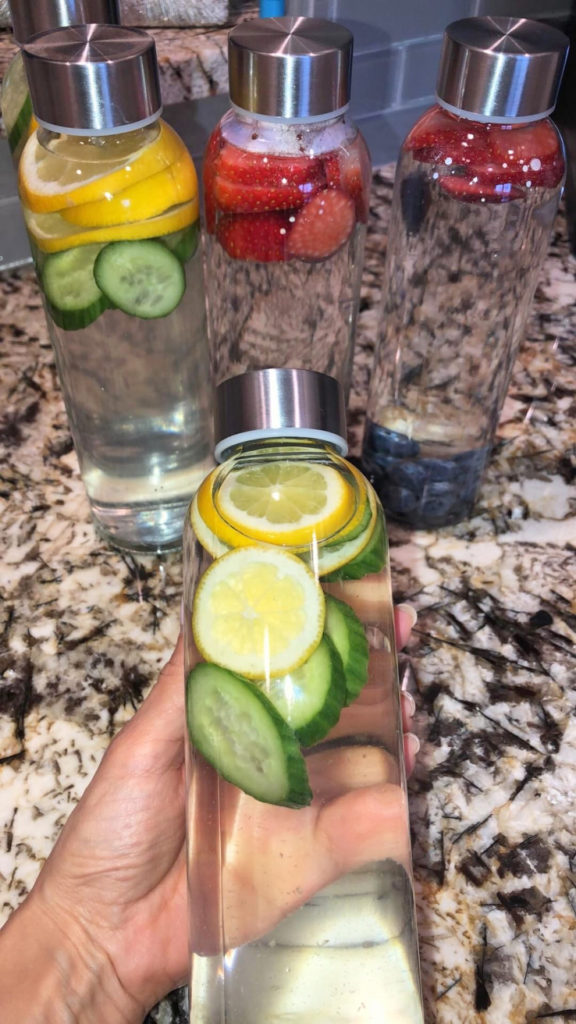 Last favorite!  Seeing all of your pics of things I love that now you're loving!  I'm thrilled so many of you are enjoying the glass water bottles I recommended!  It always makes my day when I hear from you guys.  Seriously the best!
Good-bye January!  I guess you weren't so bad and Mondayish after all. ;)
{JANUARY FAVORITES}





xoxo, Erin