Fa-la-la we are getting so close to Christmas!  I'm sharing Kole's Christmas bedroom with you all today!  I had so much fun decorating it for the holidays this year!  My kids get so excited about Christmas decor (hmm.. wonder where they get that from?).  :)  I have definitely passed on a love of making our home festive this time of year because my kids always want their rooms decorated!  My girls decorated their own this year and Kole kept asking me to make his room "feel like Christmas too." :)
*affiliate links used 
So one day last week while he was at school I completely transformed his room with fun new bedding and decor from The Home Depot!  We often visit the store when we're working on home projects, but I also love ordering things from The Home Depot on-line because they carry thousands of brand name home decor products and they ship for free over $45.  The biggest change I made in his bedroom was adding this cute Bear Tracks Flannel Duvet Cover and matching pillow shams.  I'm so in love with this bedding for a boy's bedroom!  Especially fun during the winter months.  I also picked up these elegant comfort sheets to add a pop of red (they come in lots of colors!).  I'm thrilled about how soft they are for such a low price!
I knew I wanted to put some real trees next to Kole's bed and was so excited to find these beauties at the The Home Depot garden section.  They couldn't come home with me fast enough!  After Christmas I'll add them to my porch or somewhere else fun in the house.  We'll see how long I can keep them living.  My husband was shopping for other things and just shook his head when I told him to load these large trees in the truck.  He doesn't even ask anymore.  Ha.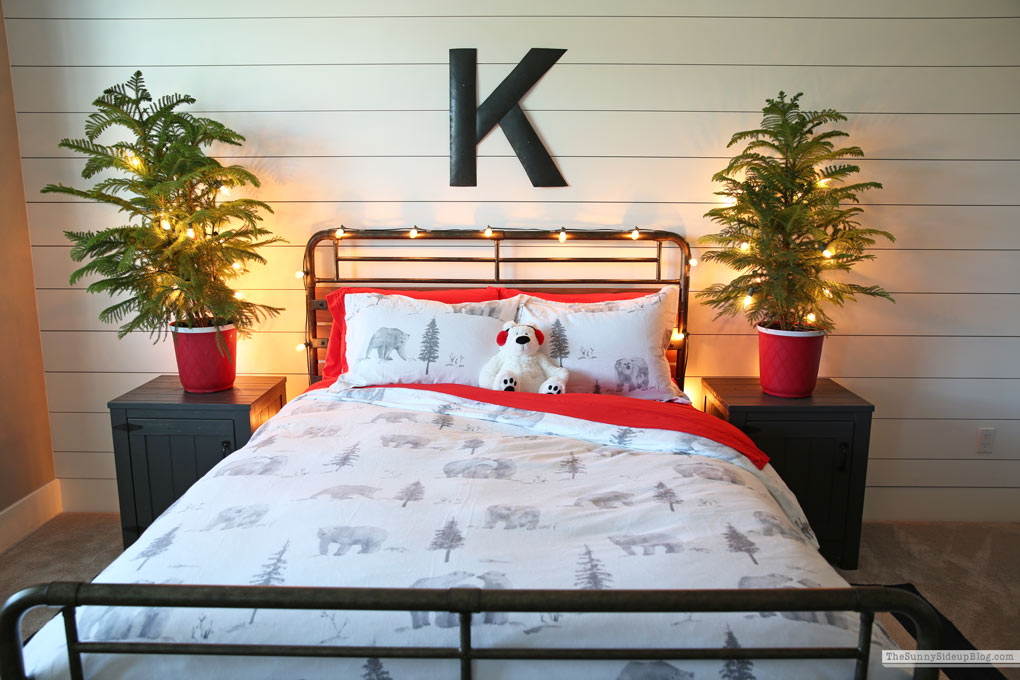 I found the tree on the right and it was so perfectly shaped so I kept trying to find one that matched it better, but the rest of the trees were a little more on the shaggy side. I had to remind myself of my favorite Christmas story "Why Christmas Trees Aren't Perfect."  It's about a little tree who ends up looking messy when he's all grown up instead of perfect like the other trees because he spends his life helping animals stay warm, etc.  (If you haven't read the story it's darling!  A favorite we read on Christmas Eve every year.)  So the shaggy tree on the left side of his bed stood out and came home with me.  Perfectly unperfect. :)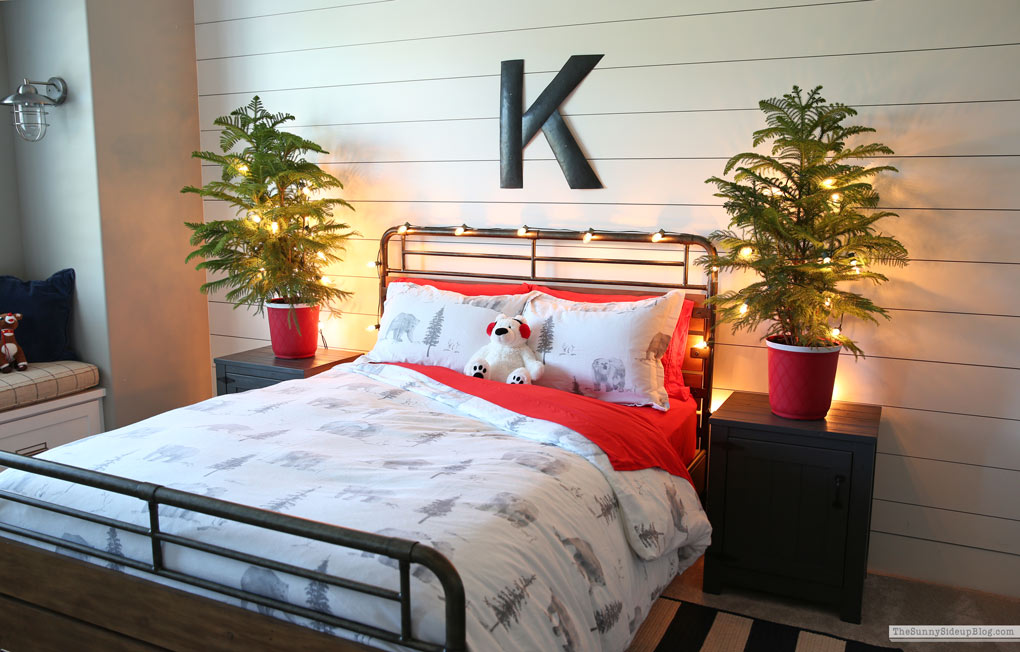 I also got some fun lights at The Home Depot and strung them across his bed and in the trees.  I just used scotch tape to hold the string of lights over his bed.  You don't have to get too tricky with a metal headboard. :)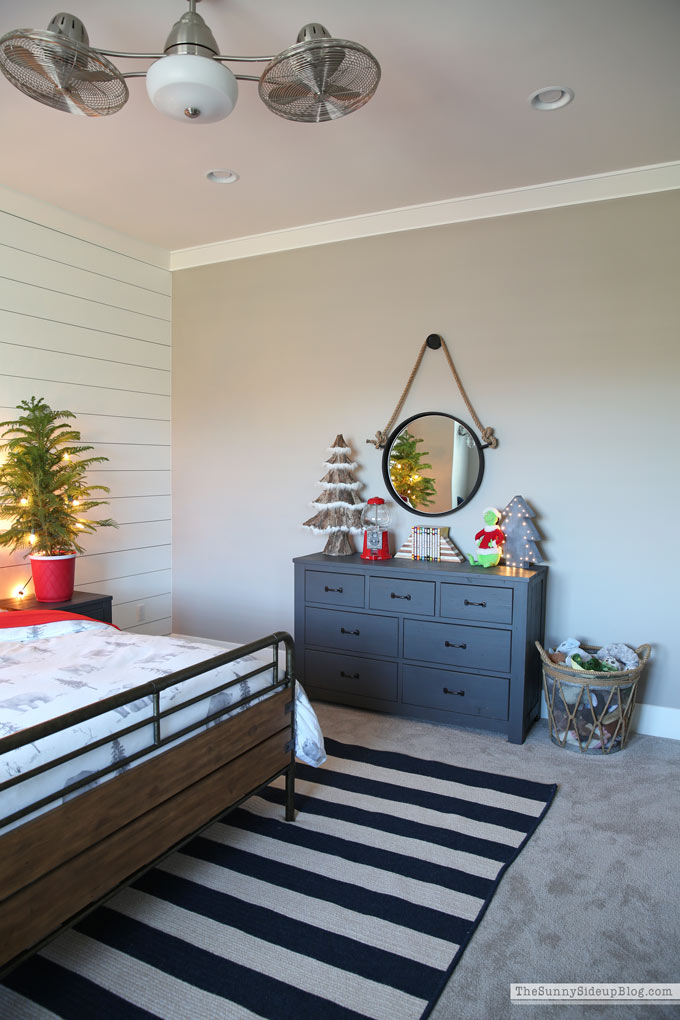 The rest of Kole's room is also feeling festive!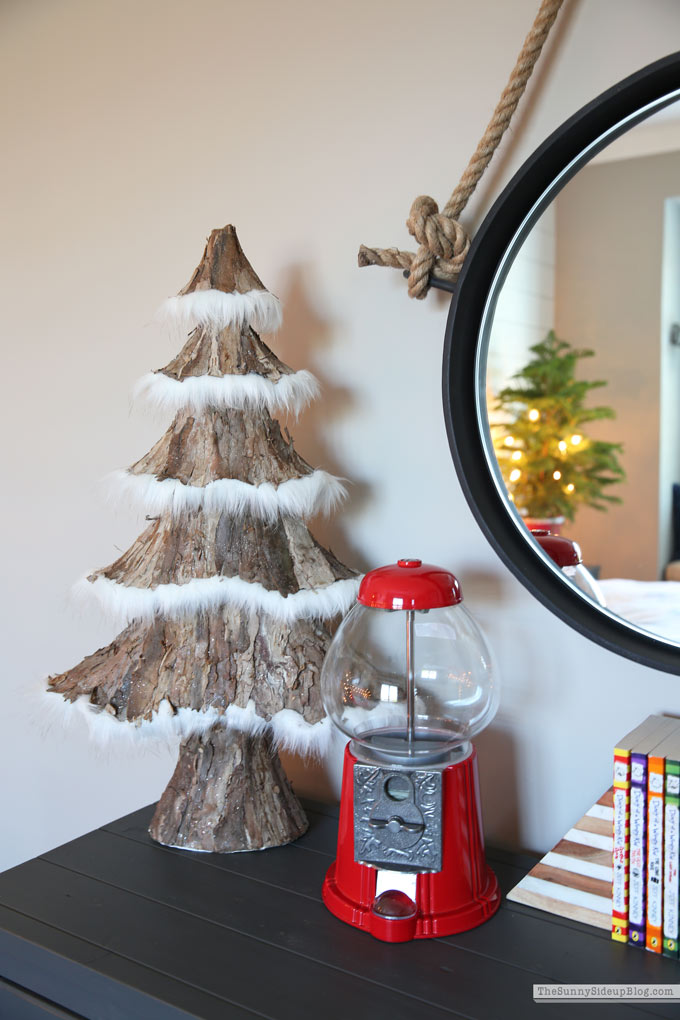 This brown bark and faux fur tree is absolutely beautiful!  Lightweight and really tall.  I'm excited to have it for future years to move around my house.  I also picked up this fun vintage candy gum ball machine because ours broke a while back and it's a favorite.  I used it as a reward system to potty train all three of my kids. :)  No gum in it while it's in Kole's room though.  When it's back in our kitchen and I can monitor it I'll fill it up again.  Trying to keep kids cavity free around here!
This small lighted grey Christmas tree is so perfect for rooms with an industrial vibe!  I love the way it looks at night.  Grinch is also a fan. :)
Admittedly project "finish up Kole's room" got put on the back burner this year so I never added pictures to his bulletin board or pillows to his window seat (it's usually covered in toys anyway).  All good because it gave me room to add some of my kids' favorite Christmas stuffed animals.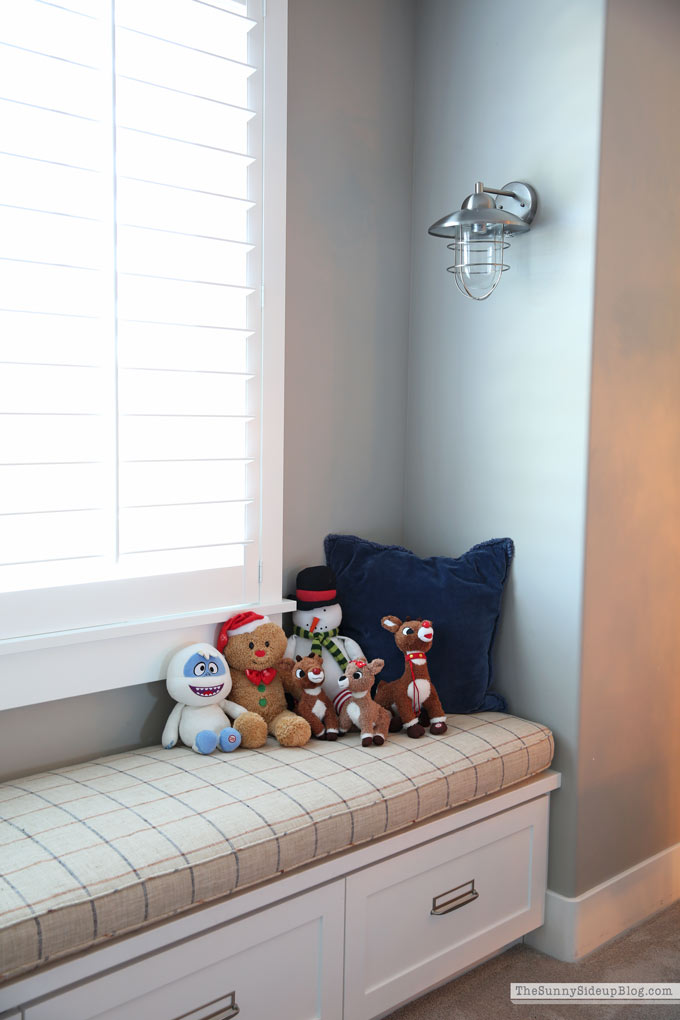 Kole has loved having new "friends" in his room to play with. :)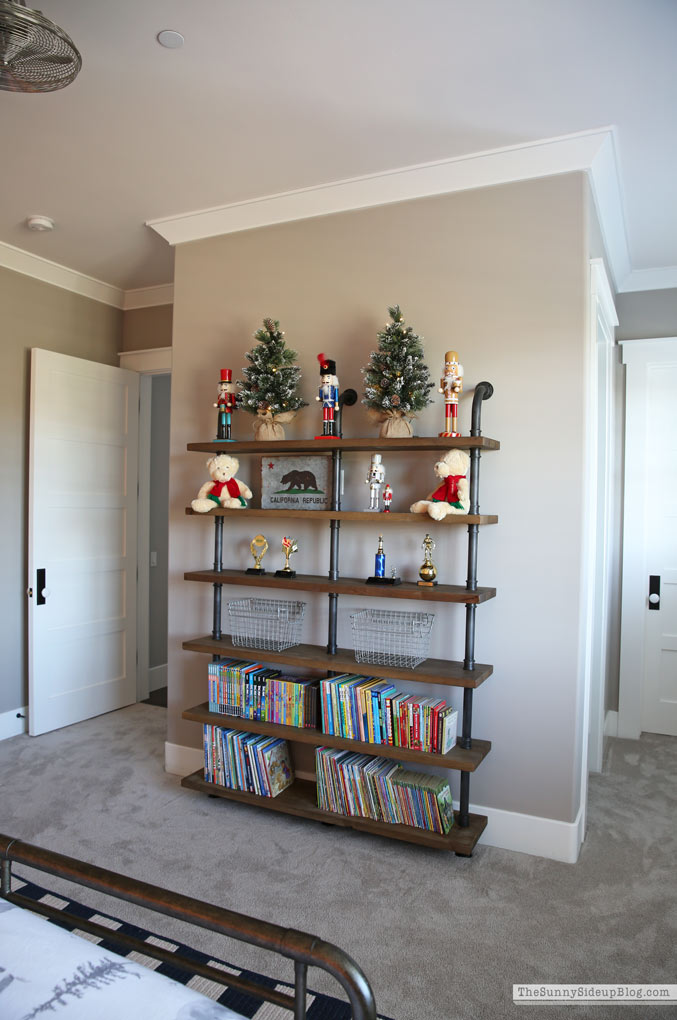 I also never got around to styling this bookshelf so I just added these cute bristle pine trees that light up at night and some nutcrackers from The Home Depot we've had for years.  They are one of Kole's favorite things to pull out every December so he was excited to have them all to himself in his room this year!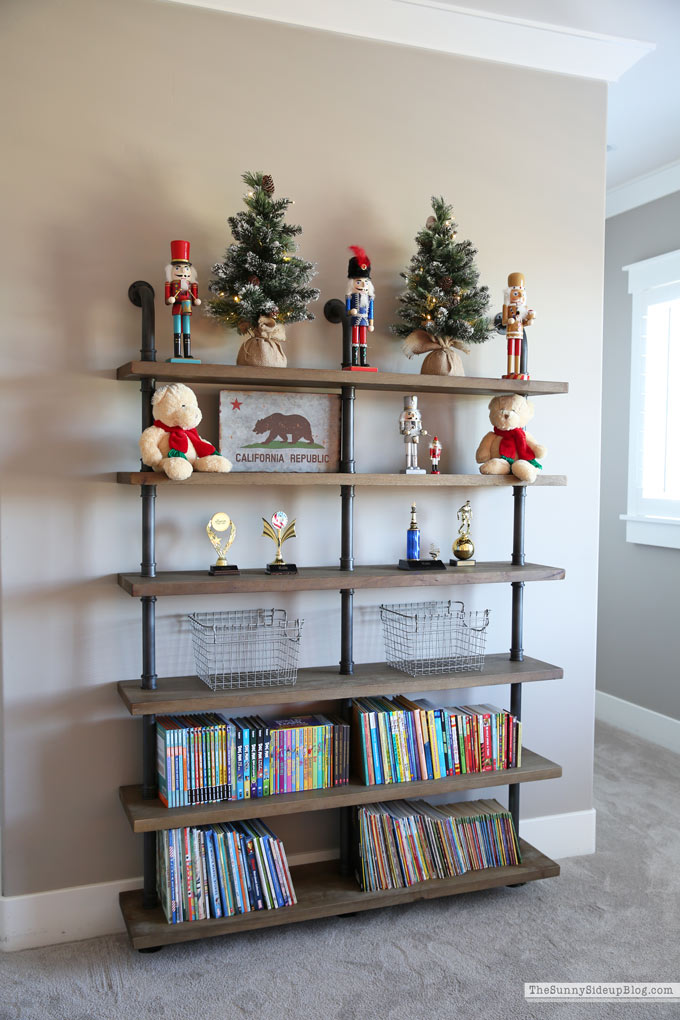 I also ordered these stacking baskets to try in his room and love the look, but I think I'm going to find baskets that are longer for this shelf and use these to organize some things in Kole's bathroom.  Notice his perfectly lined up organized books!  Last week's project because I was feeling stressed.  I walked into his room, pulled the messy books off of his shelf and started purging, categorizing, and stacking.
I instantly felt better.  :) #mytherapy
This wood tic-tac-toe table decor is another favorite find of ours!  Kole has always loved playing this simple game and I like this set for room decor when he's not using it.  I snapped these pics quickly so they are a bit blurry.. I wanted to catch my kids in action before they really noticed and stopped playing!
Can you tell by their faces who won the last two rounds?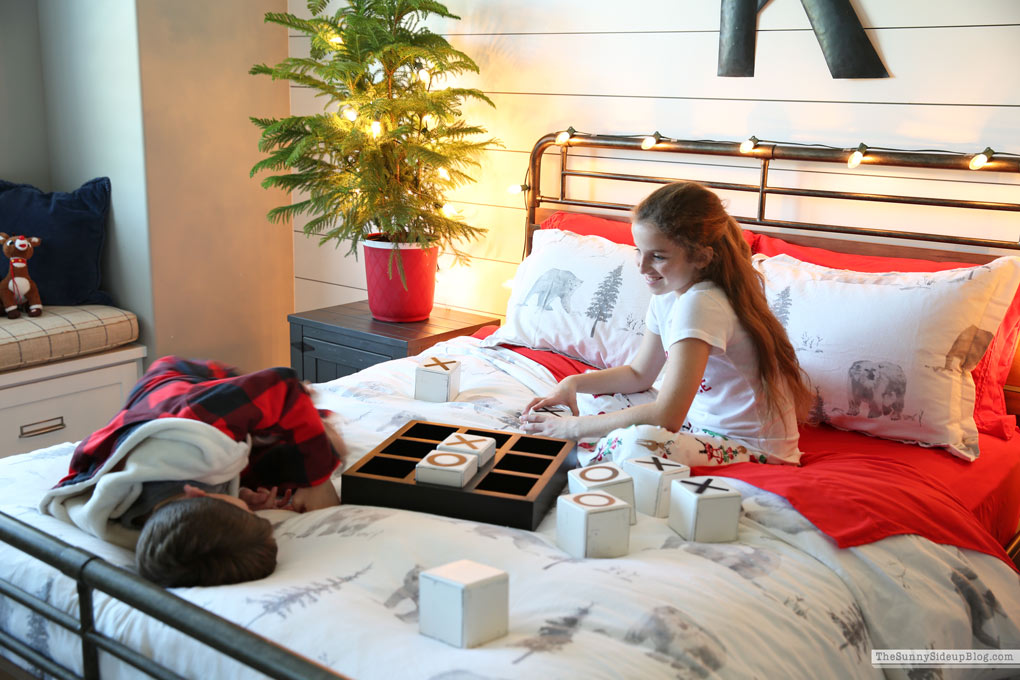 And the two rounds following that?  Ha ha.. keep practicing buddy!  Someday you'll be running circles around her. ;)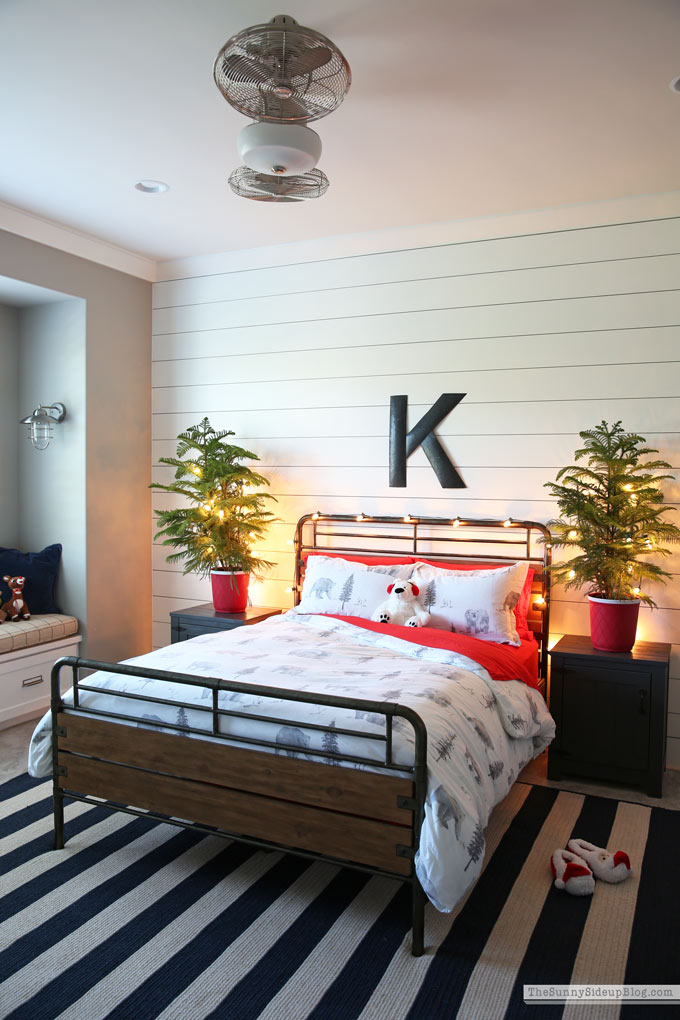 I was especially excited to decorate this space for Kole because he is at such a fun age and so into Christmas.  He wakes up every morning and puts on his little robe and Santa slippers and races downstairs to see where our elf is hiding.  His excitement is contagious!  Because he's my last and I know how fast these elementary school years go by I am soaking up every minute with him.  And maybe admittedly spoiling him just a tad.  I can't help it. :)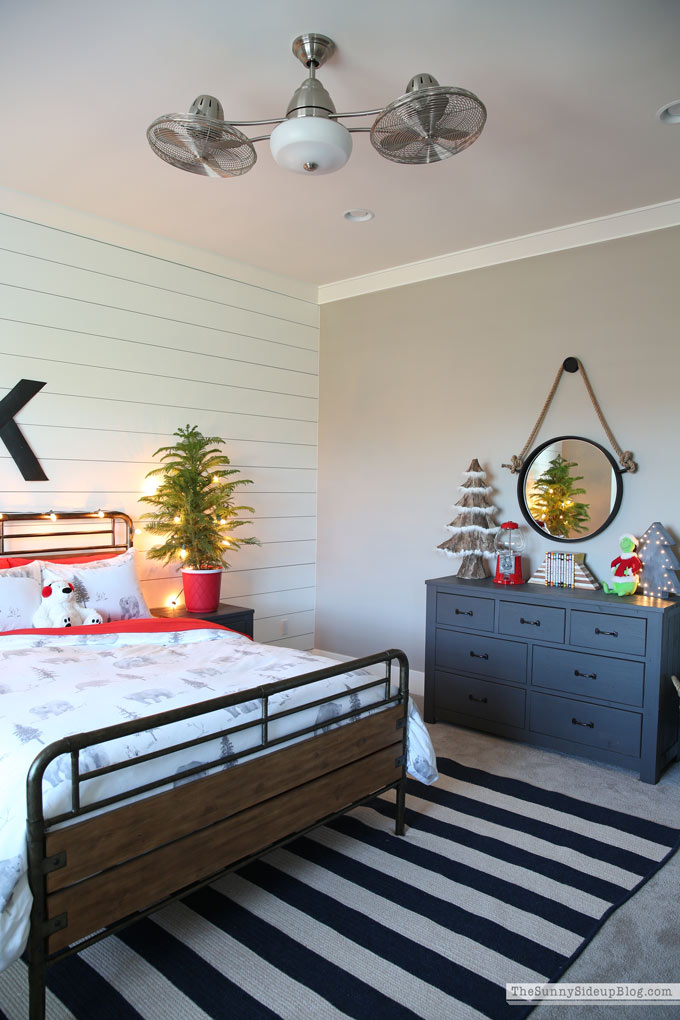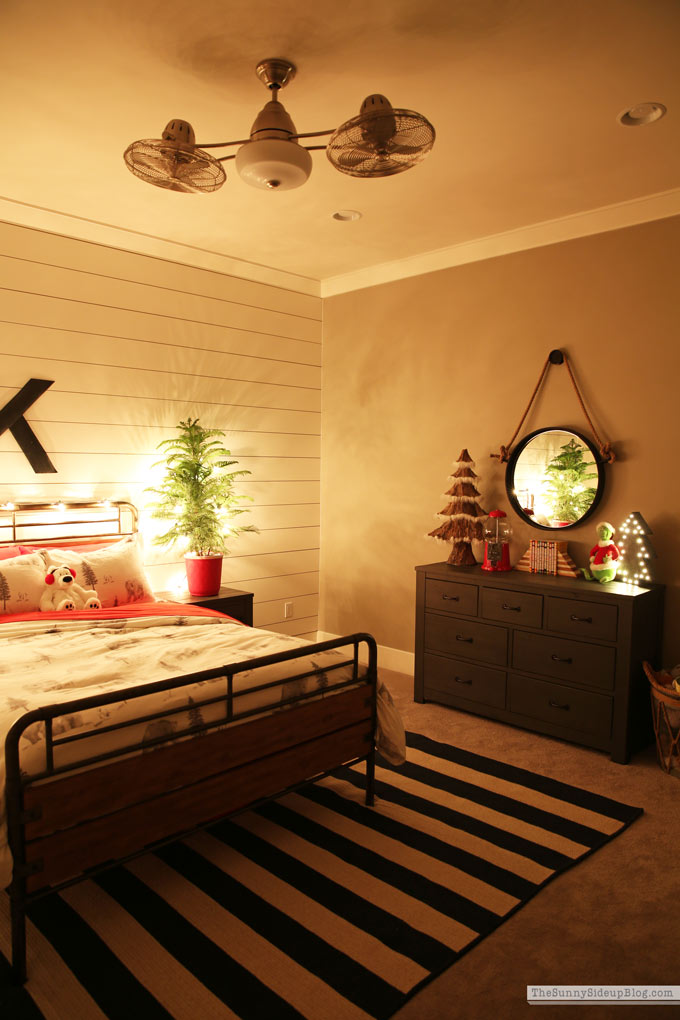 I hope you enjoyed Kole's Christmas room tour!
Not a bad place to spend the night. :)
*Huge thank you to The Home Depot for sponsoring this post!  We are long time fans at our house. :)
{POST SOURCES}


xoxo, Erin