Annddd I'm back. :)  Hi everyone!  I'm so excited about today's post!  I'm joining some of my close friends for the Decked and Styled Home Tour and you are all in for a treat!  Every one of the girls in this tour today have beautiful homes and trust me when I say their posts won't disappoint!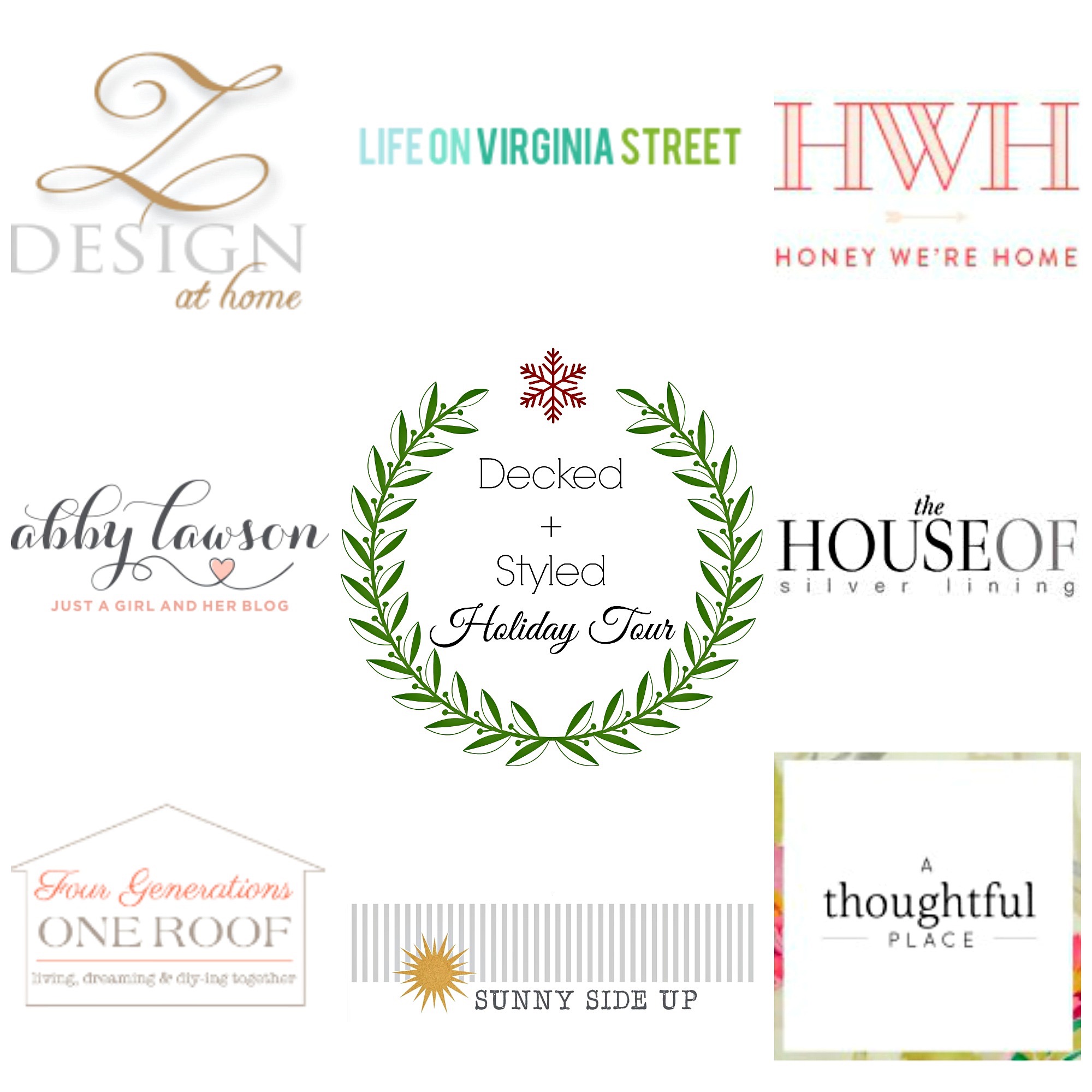 This is such a fun group.  I feel so lucky to call each of these girls close, personal friends.  Their hearts are as beautiful as their homes!  If you are popping over from Megan's blog "Honey We're Home" hello and welcome!  I love Megan and am so happy to have you here!  I also love decorating for Christmas and couldn't help spreading a bit of Christmas cheer throughout most of the rooms in my house.  Yesterday I shared our powder bathroom Christmas decor along with a link to the rest of the rooms I've shared so far.  Today I'm sharing what might be my very favorite room decked for the holidays this year!  My formal living room.  I went a little picture crazy so I'll try to keep the rambling to a minimum (not always easy for me as most of you know, but I promise to try).  :)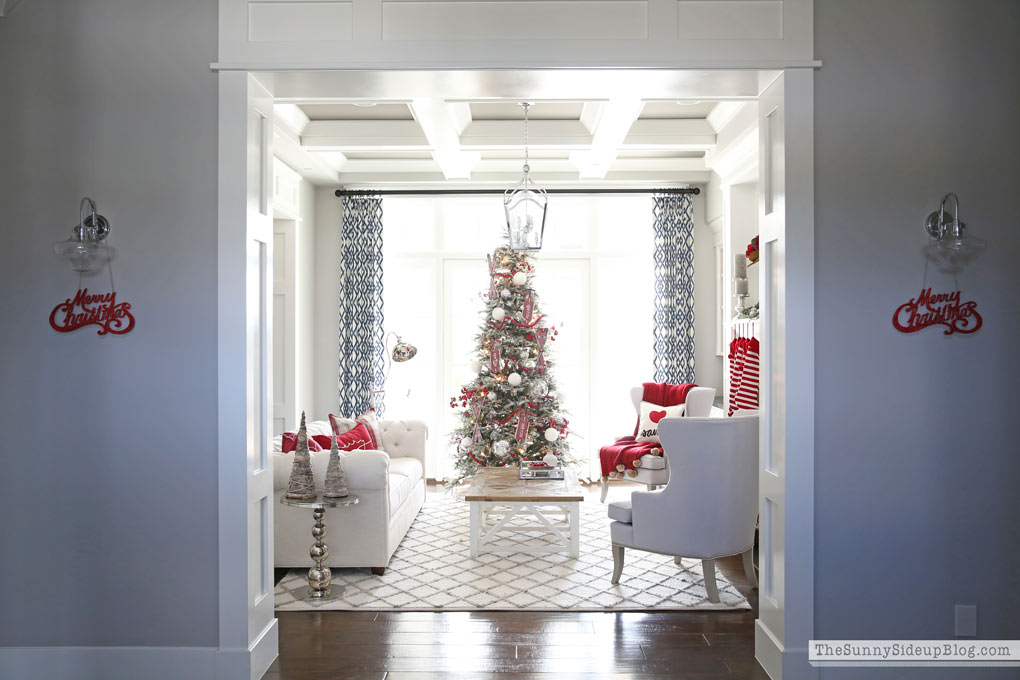 When you walk in our front door and through our entry this is the room that greets you.  When my husband and I were designing our home one of the first things I told my architect was that I did NOT want a formal living room.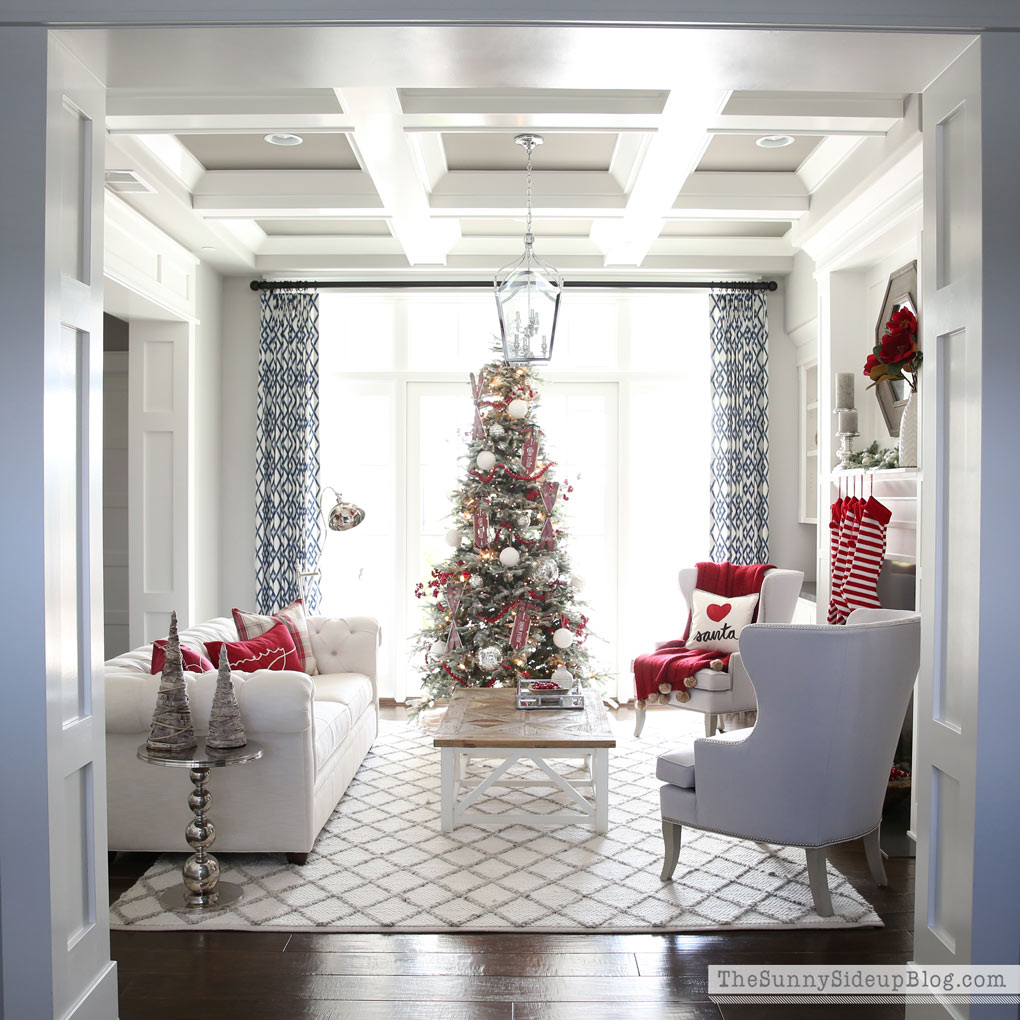 I'm so grateful he didn't listen to me!  ;)  Because of the way our floor plan turned out this room was going to be our formal dining room at one point.  I didn't love that so we ended up pushing out my front porch and moving the dining room in its place leaving me with a formal living room after all.  I got over it quickly when I started designing this space and adding french doors, built-ins and white molding galore.  Now this room is one of my favorites!  Especially at Christmas time. :)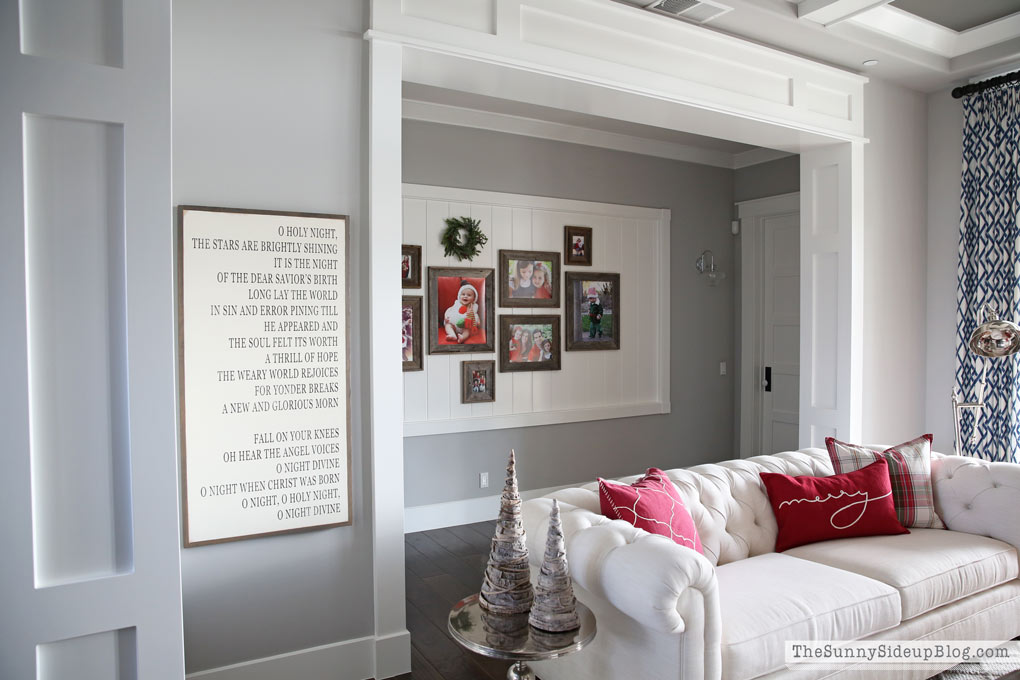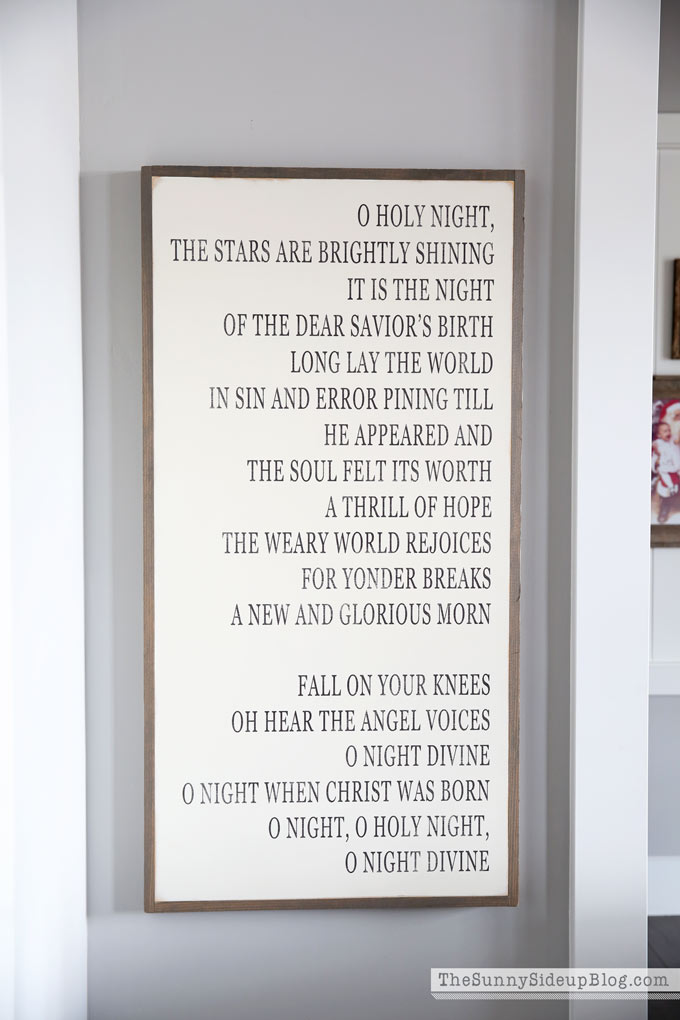 This wooden sign with the words to the song O Holy Night is one of my favorite things I've purchased this year.  It was from Magnolia Market (sold out now) and I bought it back in October as soon as it came out!  This song has special meaning to me and has always been one of my all time favorite Christmas songs.  When I'm alone in my car I turn on Mariah Carey singing this song and I sing so loud.  I pretend I'm hitting every single high note right along with her. #truestory  I sound awful of course, but if I turn the music up just loud enough, our voices merge and I can't even tell.  ;)  I usually end up with tears streaming down my face because this song is so powerful and I can't listen to it without feeling Christ's love for all of us.  A reminder I'm so grateful for.. especially this time of year.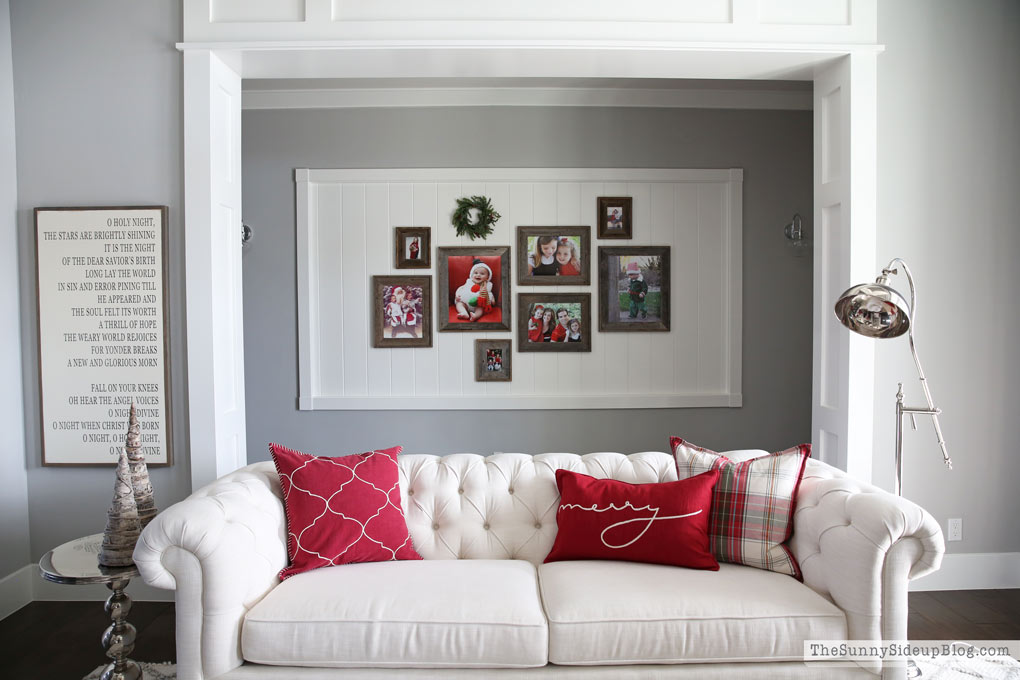 Then there's my Christmas gallery wall!  If you missed the full post on this gallery wall (that includes the fun way I used it last December) you can see it here.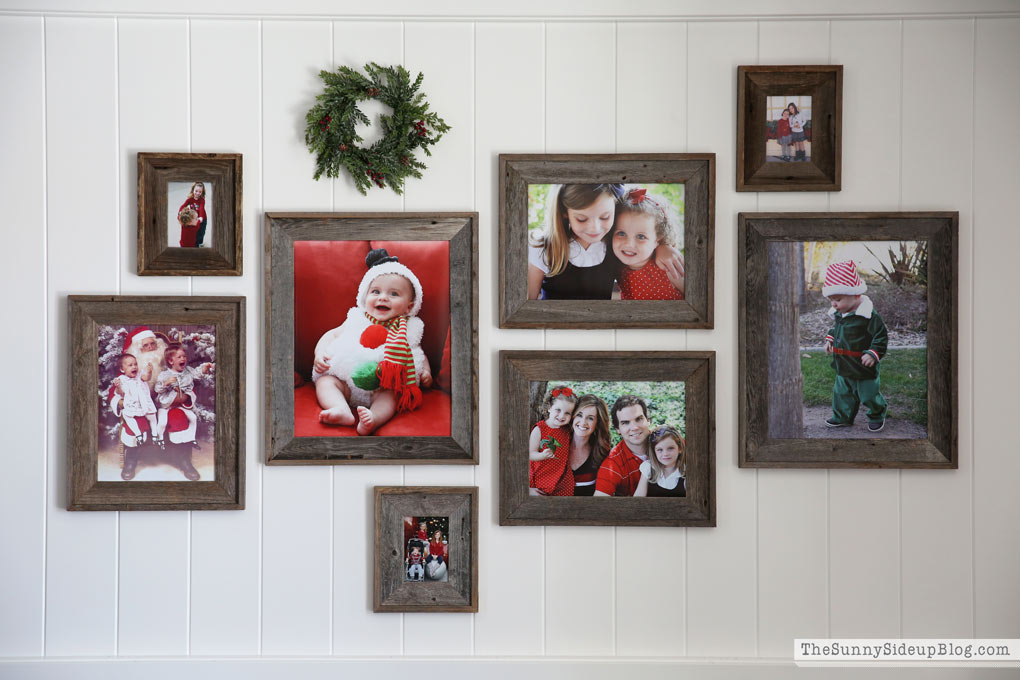 These family favorite Christmas pictures melt me every time!  I love having them on display this holiday season.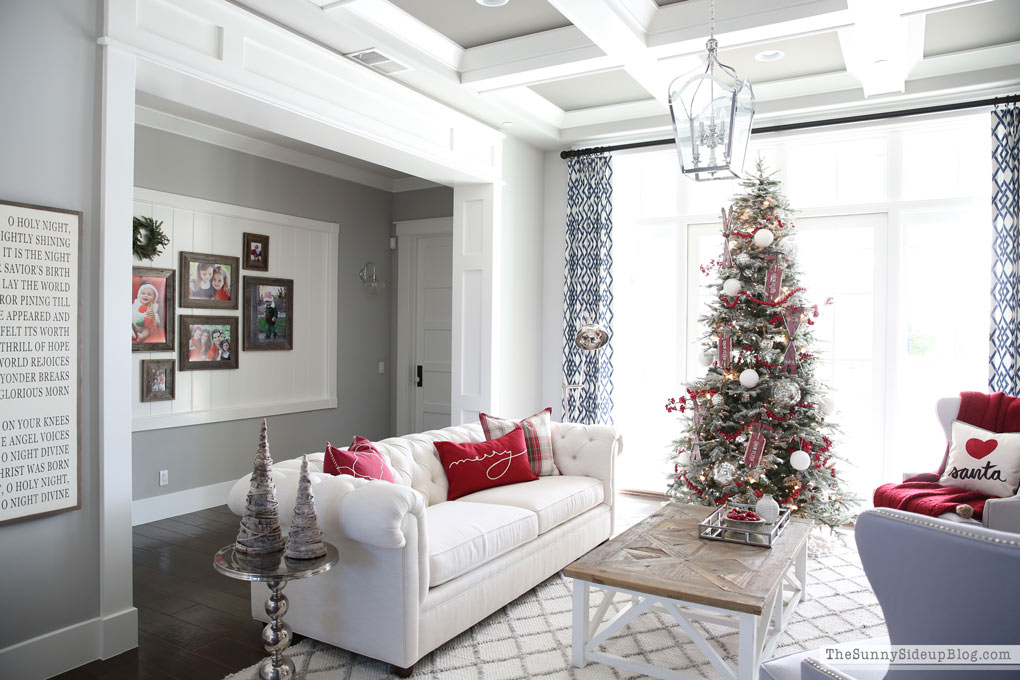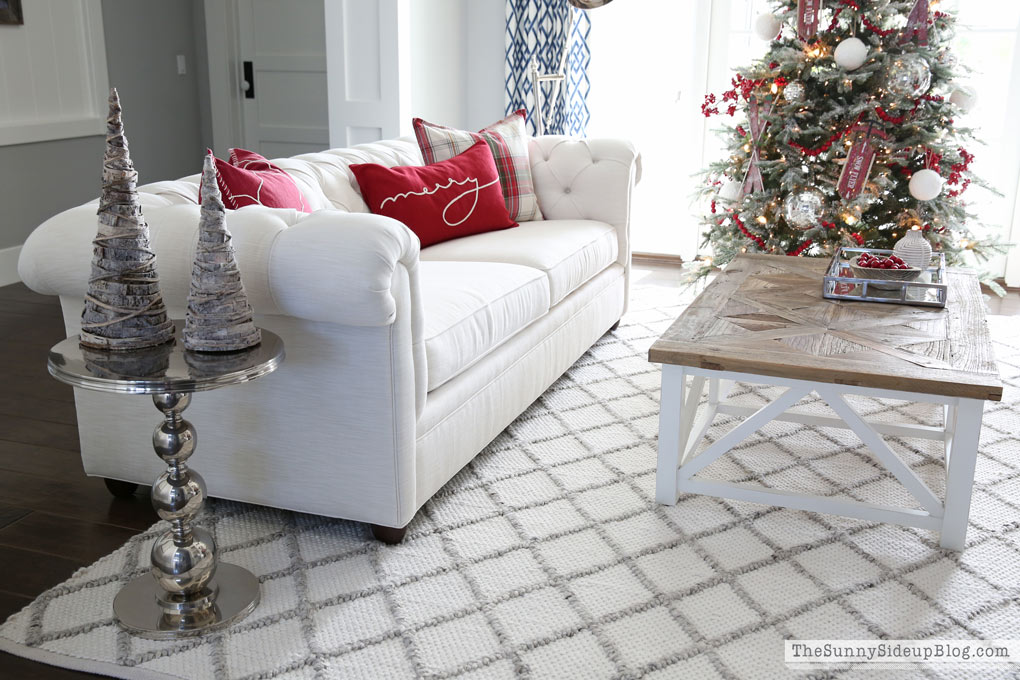 I found some cute little wooden trees for my side table from Target.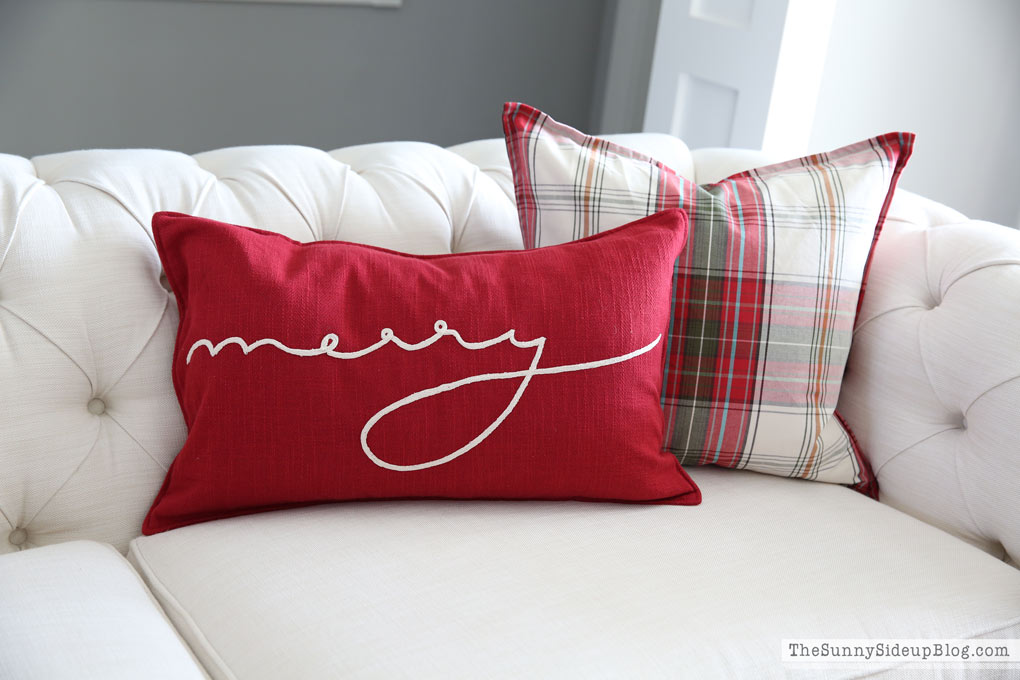 And of course my couch is covered in red and plaid Christmas pillows.  ALL the heart eyes for PB Christmas pillows.  :)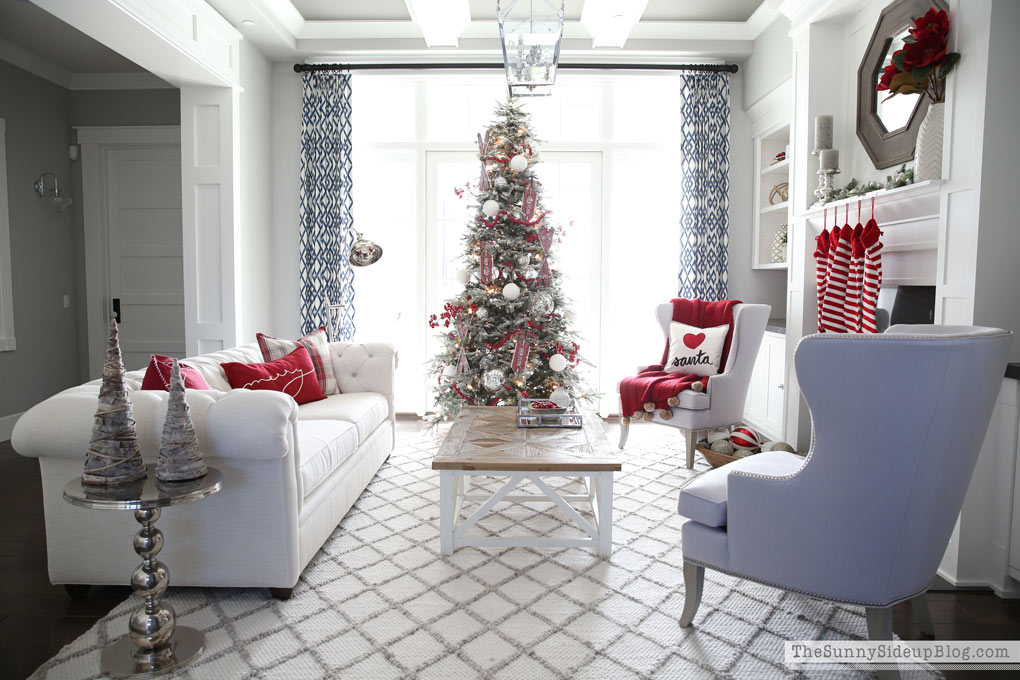 Another new addition?  My tree!  I have been wanting to put a tree in this room since we moved in 3 years ago!  I found this over Thanksgiving break at Tai Pan in Utah when I was visiting my family.  I knew I wanted a tree that was frosted, not flocked.  I love the look of a flocked tree but I didn't want to deal with the mess!  This gives me a bit of the look and doesn't shed quite so much. :)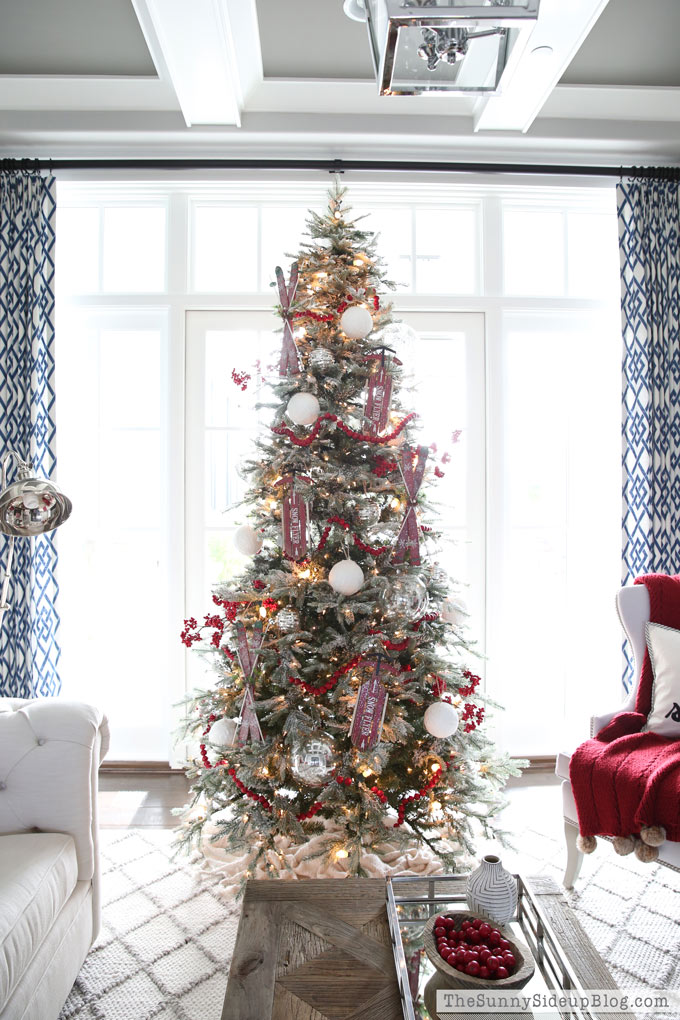 The second I saw this tree I knew it would work perfectly in this room.  I called my husband from the store and this was our conversation:
"Babe!  I have the BEST news!  I found a tree for the formal living room!  It's frosted and the right size and it has small and large vintage white lights which I LOVE!"  
"NOT the best news.  You already have 7 trees up Erin!"  
"What!?  No.. this will only be my 3rd."
"What about the two on the porch and the three trees in each of the kids' rooms?"
"Oh!  Those little 5 foot trees don't count." :)  Trust me.  We need this tree.  It's "the one."
"Sounds like it's time to have another talk about needs vs. wants."
"K.. let's totally do that babe.  After I buy this tree that we need."
Noting like a good back and forth with my husband. :)  Good thing he loves me.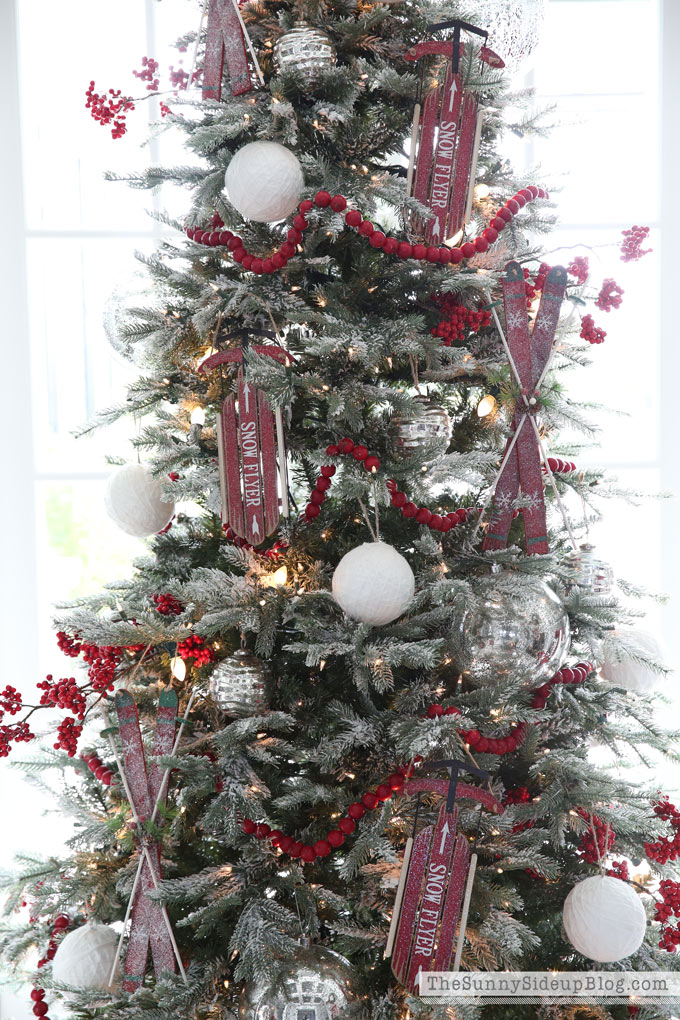 It really was the one and I'm so in love with it!  I picked up a few ornaments to add along with some I already had and I'm sure I'll add more next year.  Red berries and garland, sleds and skis, silver balls that are different sizes and some white balls of yarn.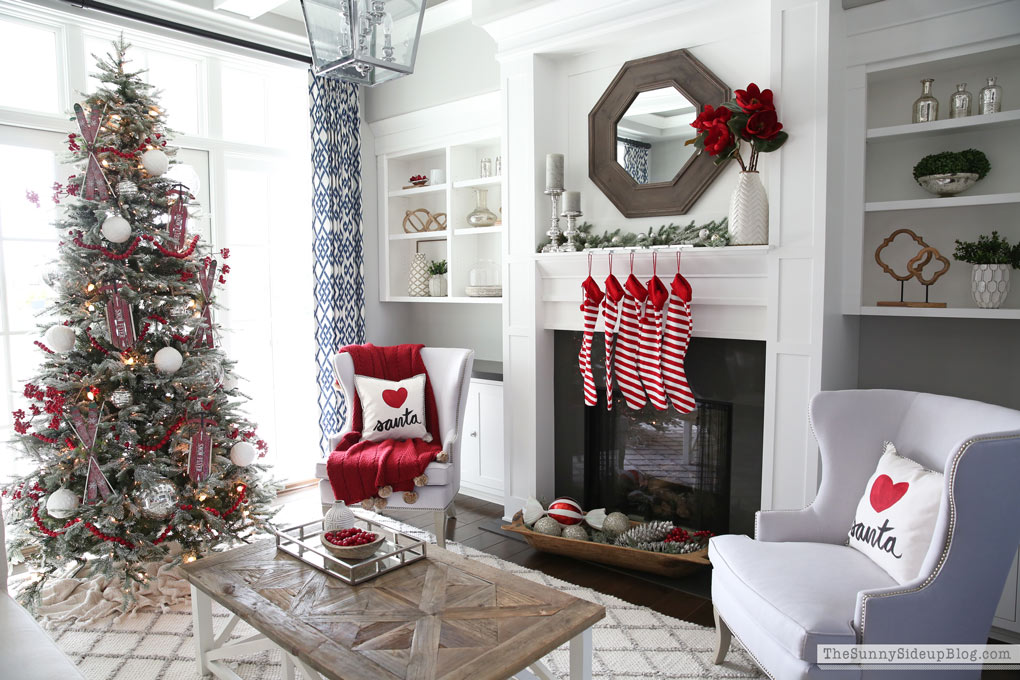 I don't have a top for it yet but I kind of like it without one this year!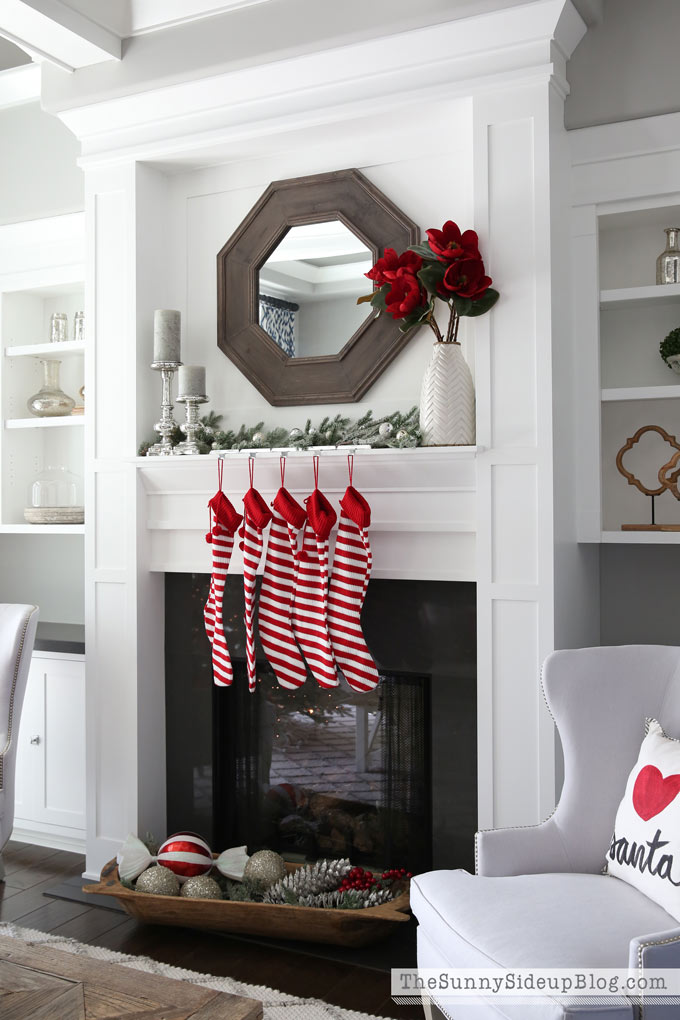 My favorite large dough bowl is looking extra festive with some garland and large leftover tree ornaments.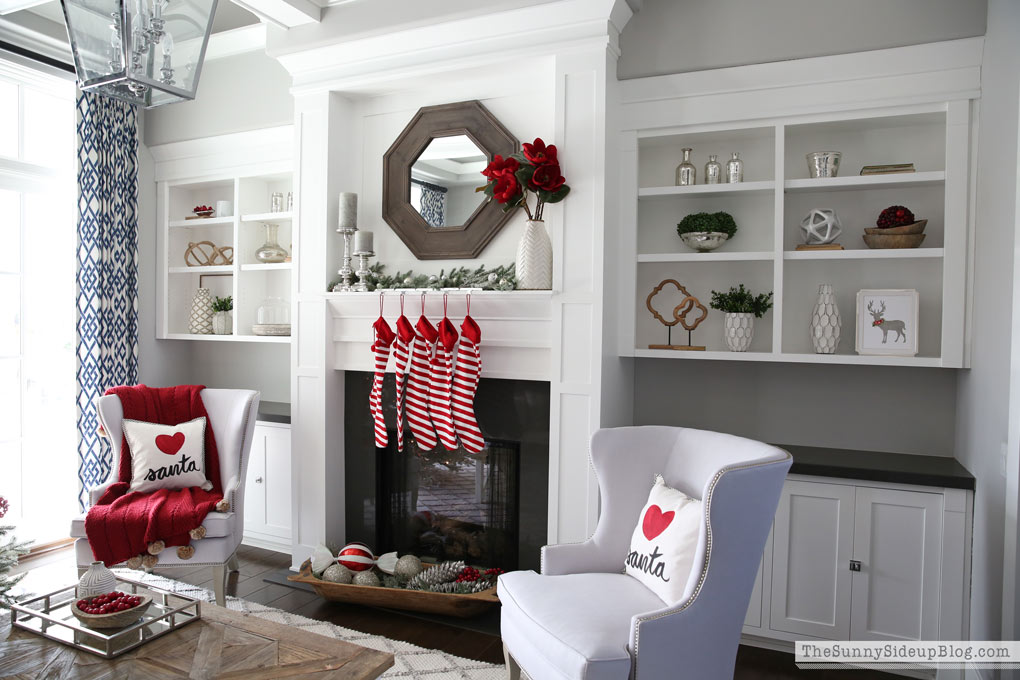 I had fun styling my shelves.  I didn't do much.  Just re-arranged a few things and added some greenery and berries here and there.  Then I added some red faux flowers to my favorite vase and my striped stockings and before long this room was looking ready for Santa!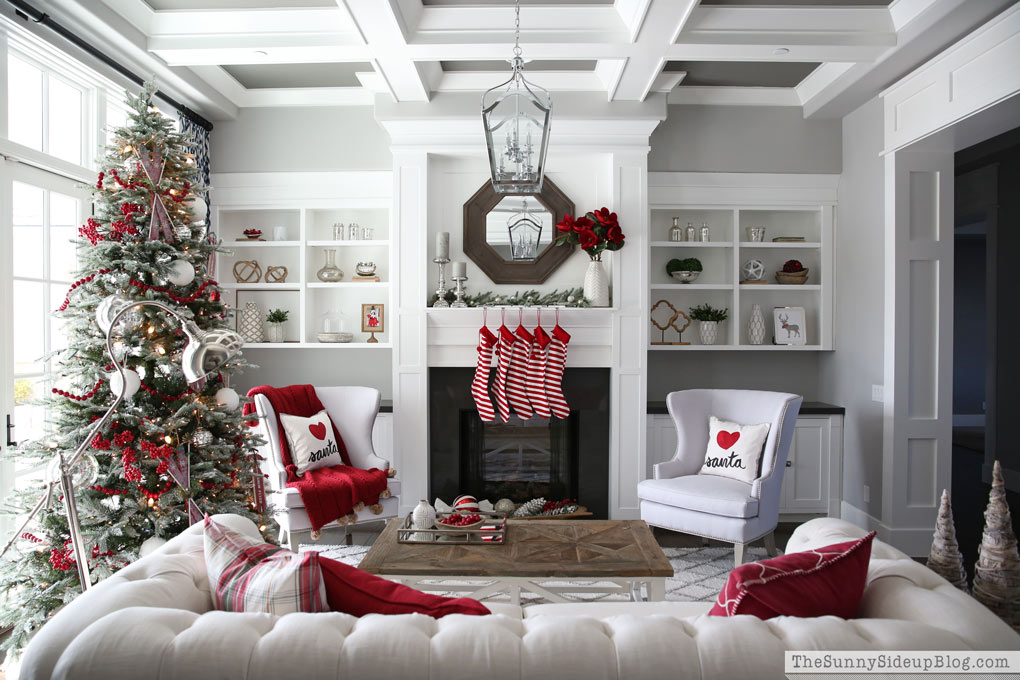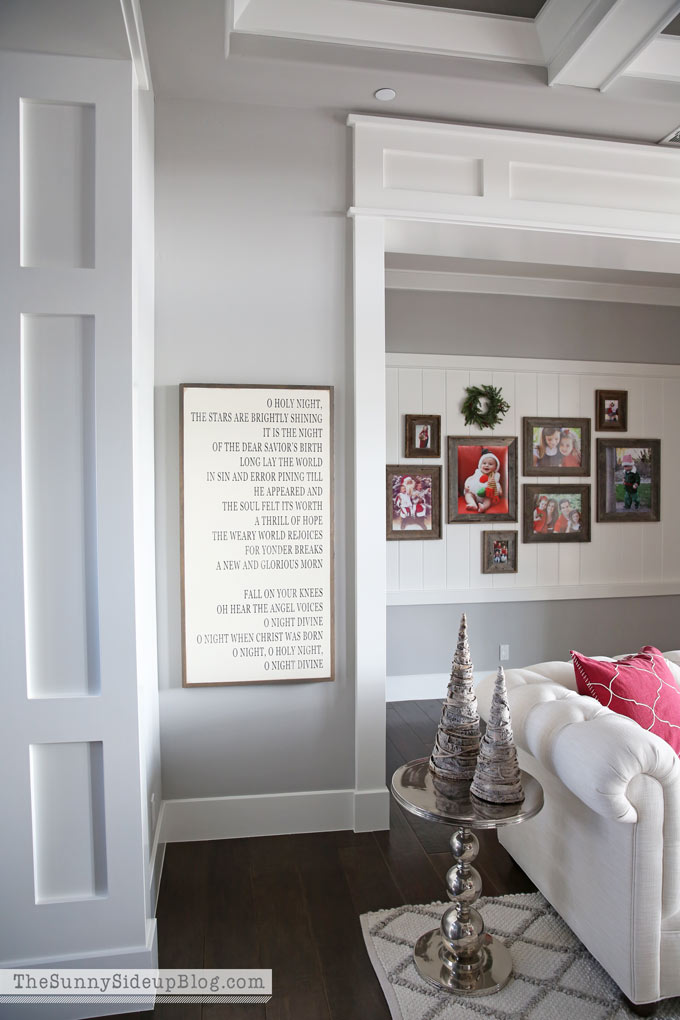 This room makes me smile every time I walk by.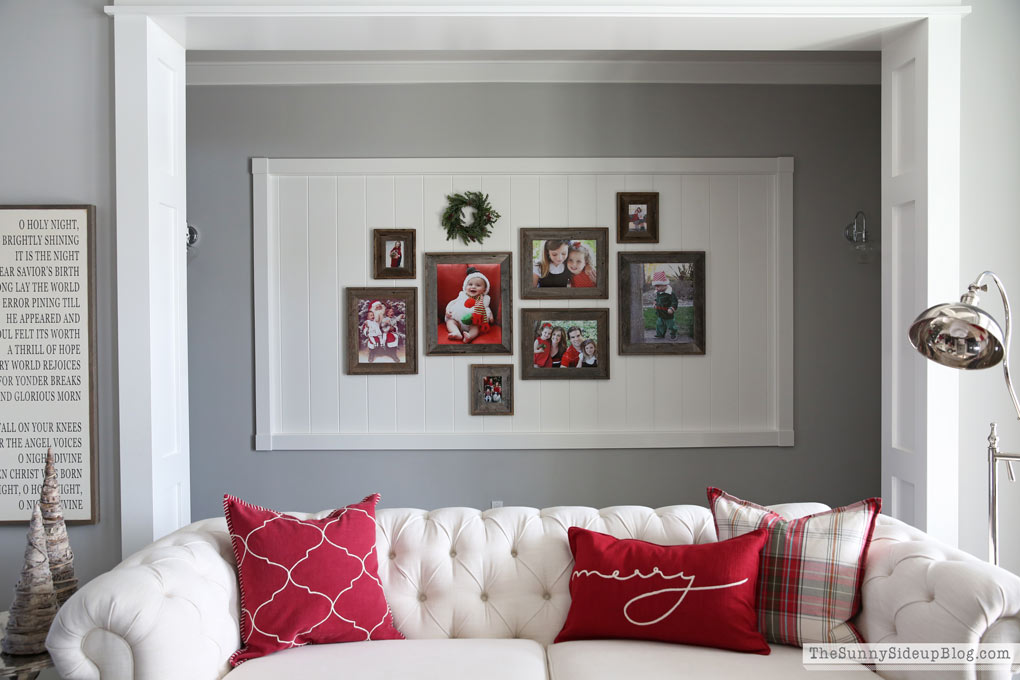 My kids love it too.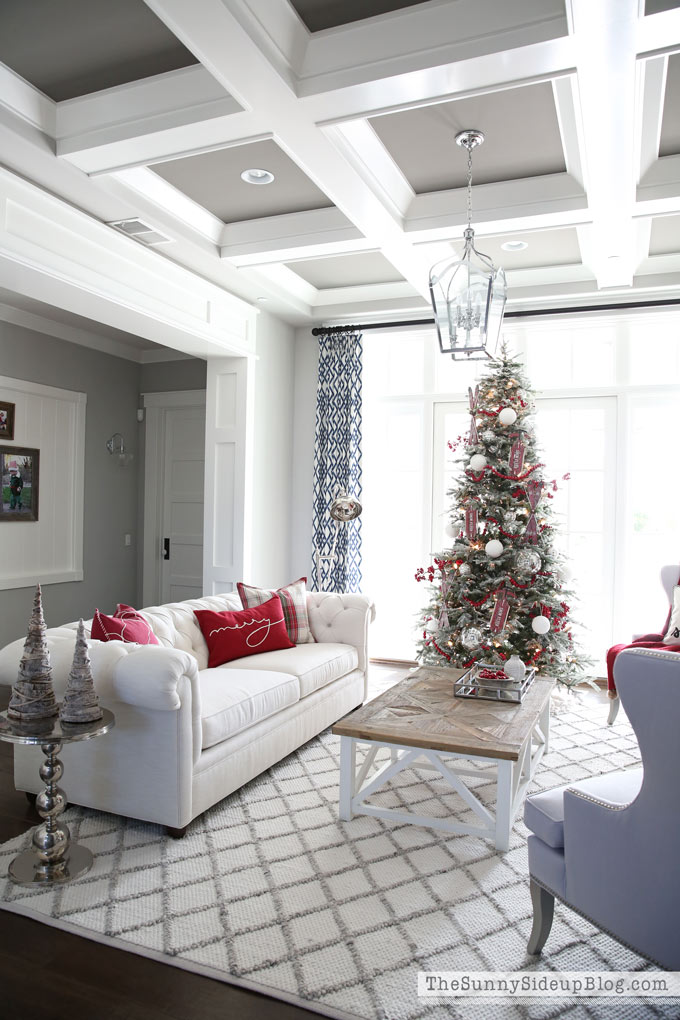 We have all been hanging out in this room a lot more this month by the tree.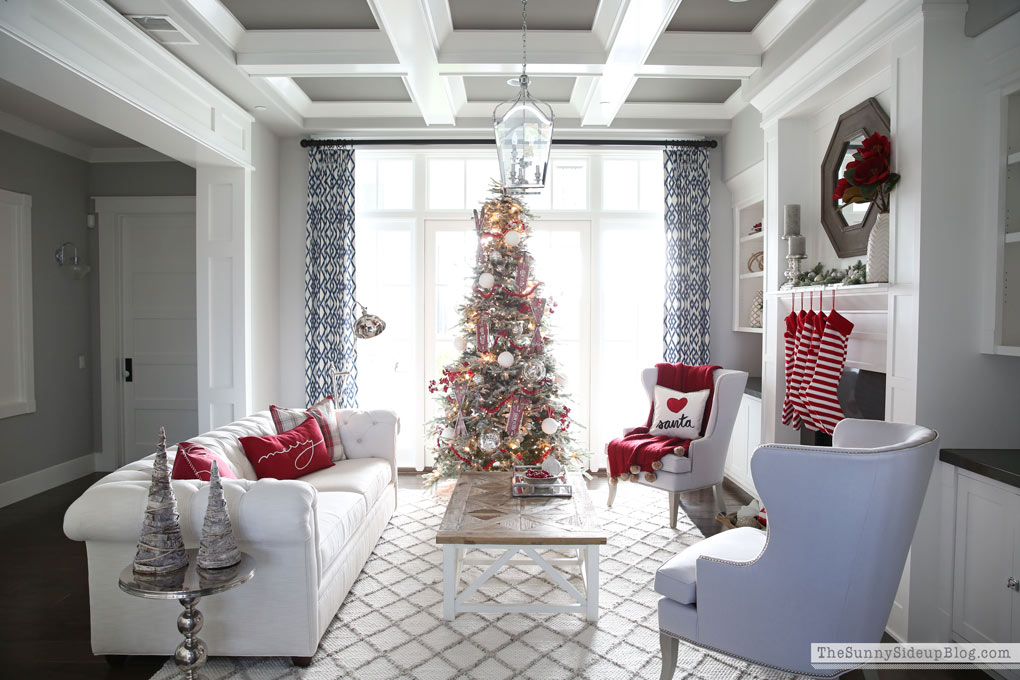 It adds such a beautiful light and glow to this space.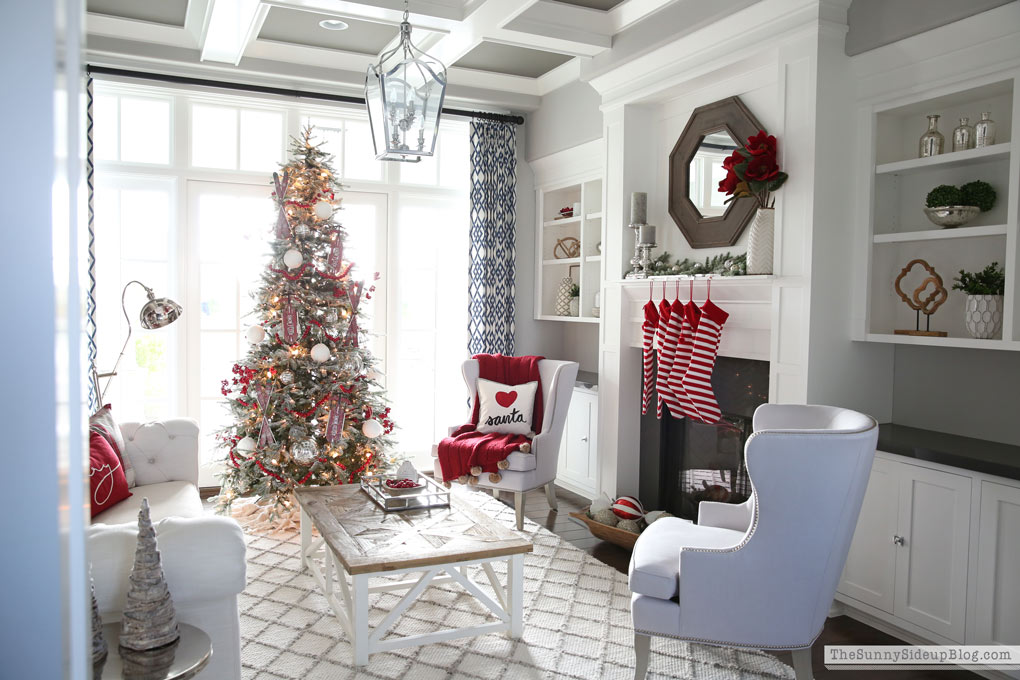 I know Santa will love it too. :)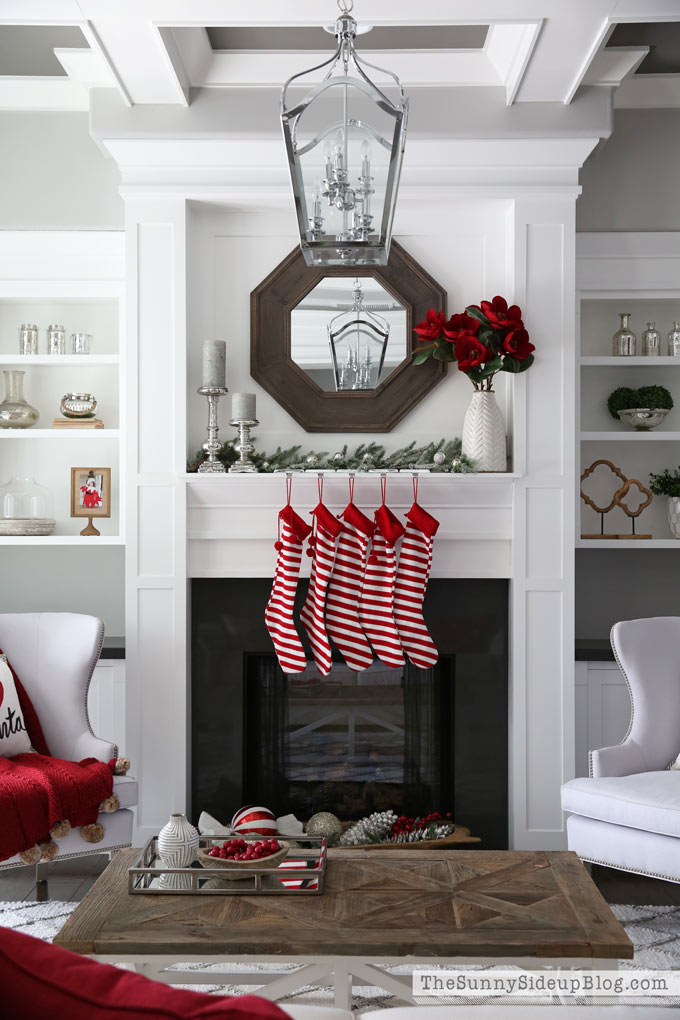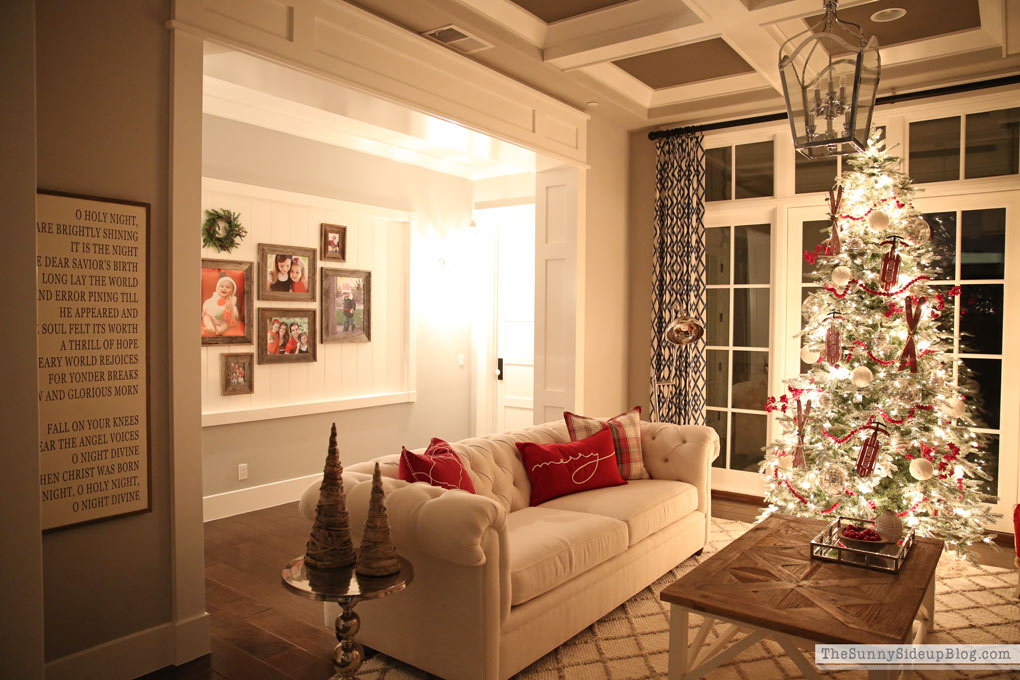 We especially love to hang out in this room at night.  The lights make everything so cozy!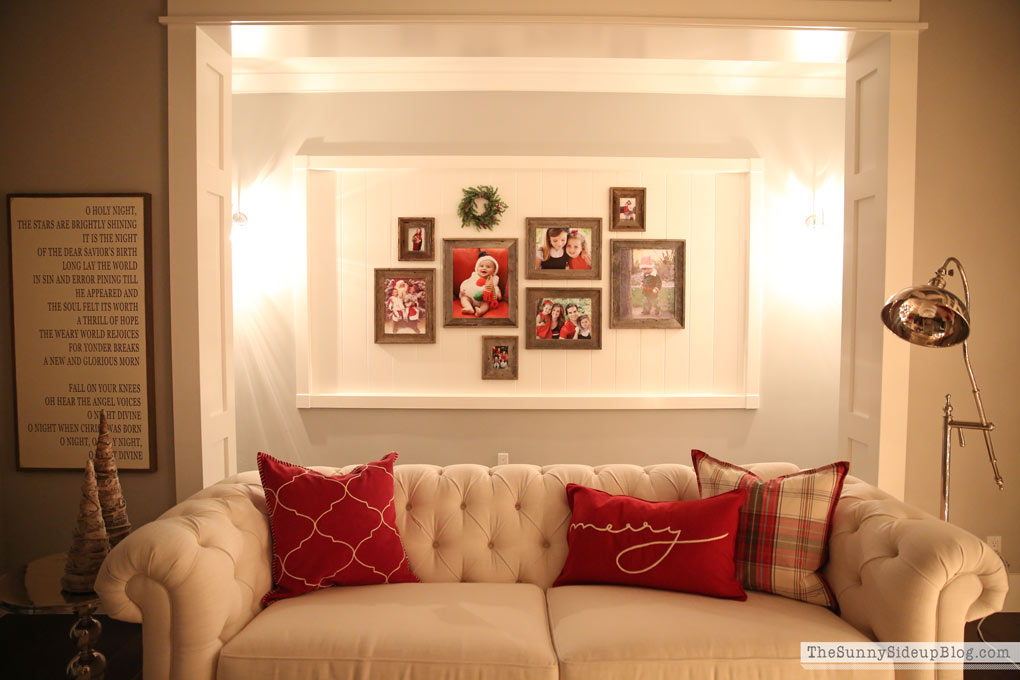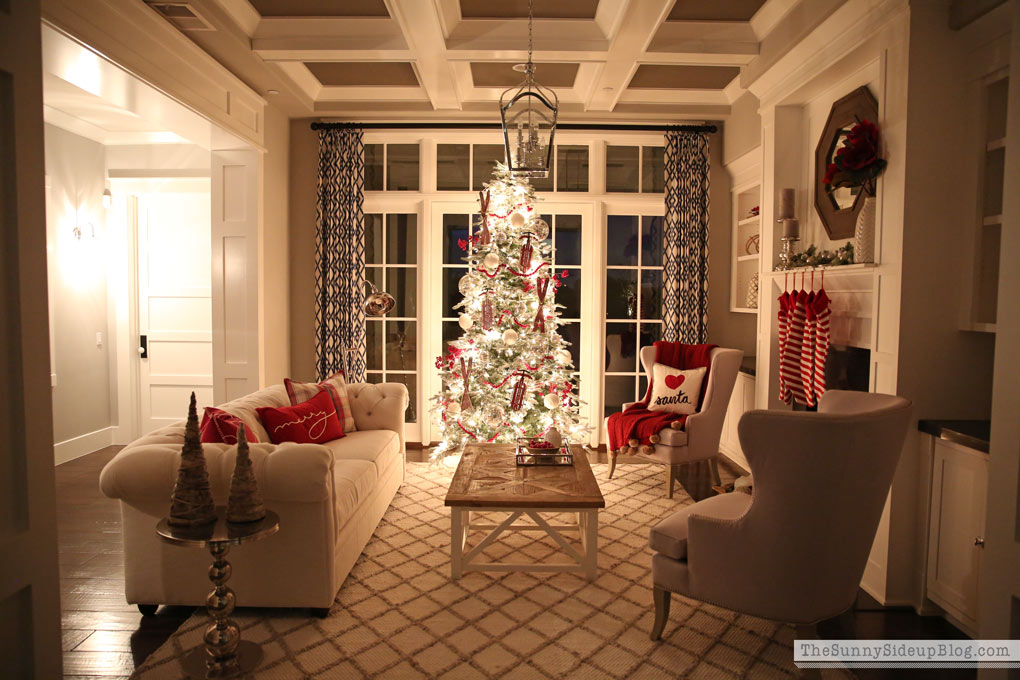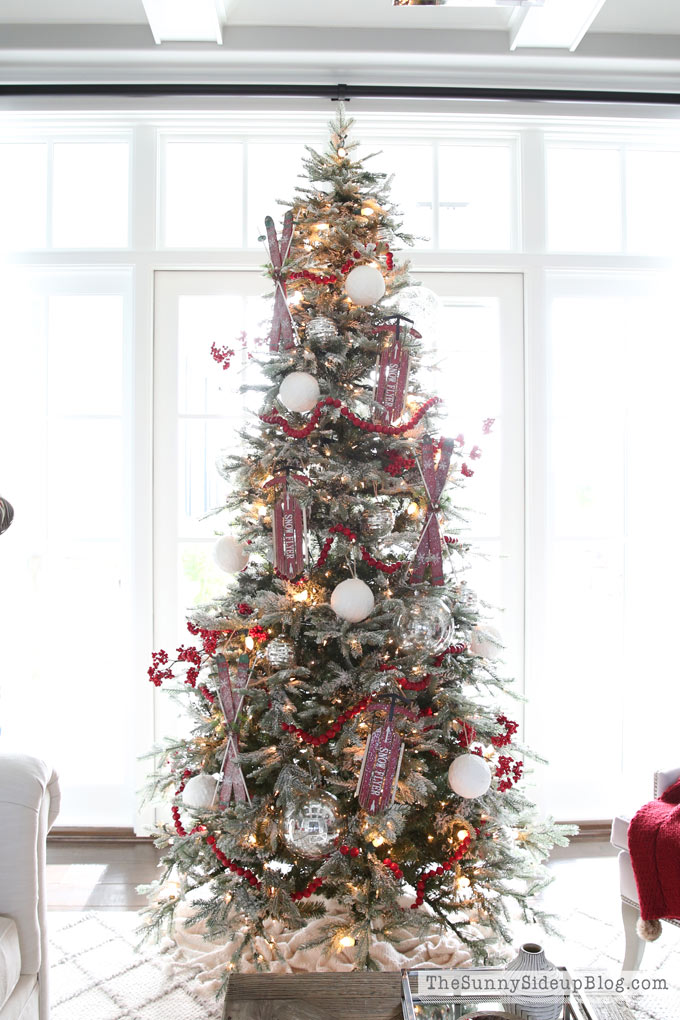 Thanks to my sweet husband for putting up with all of my recent decorating and for letting my buy "the one."  :)  It has brought me so much joy this month!  Also thanks to all of you for sticking with me through this post!  I hope you enjoyed the tour of my formal living room!
Sources are included below.  (Affiliate links used)  My rug, coffee table and the mirror over my mantel are from Restoration Hardware.  The drapes were made custom.  With everything else I tried to find a few similar items for things that are sold out.  If you don't see something below it's because it has sold out or I found it at a random store like Home Goods.  For paint information you can check this post that includes most of my paint colors.
Next up on the tour is my darling friend Bree at Z Design at Home.  Aside from being a close friend, Bree is one of my all time favorite designers!  We have very similar taste in home design/decor and I absolutely love everything she does.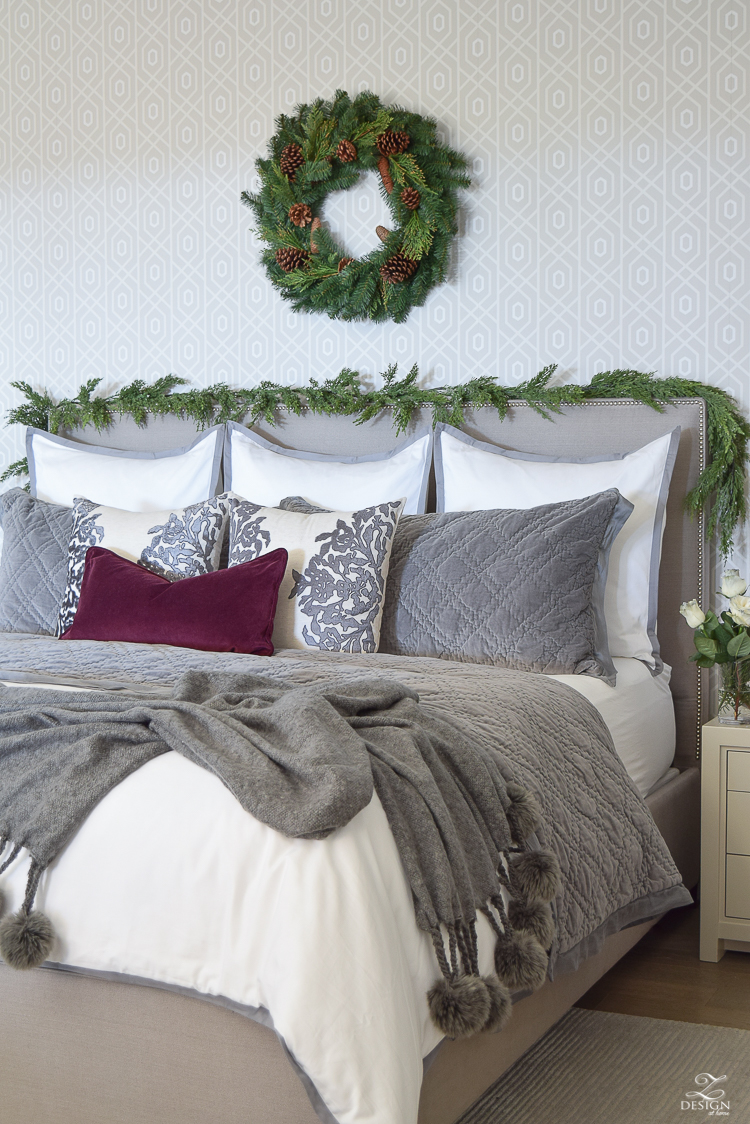 Does that wallpaper look familiar?  Same wallpaper I have in my powder bathroom!  We are always finding fun things like that.. we buy the same things without even knowing it. :)  Anyway you will love Bree and her blog!  Also don't forget to check out the rest of my friends' homes in this tour!  Christmas decor galore!  I am SO in my happy place this month.  To see other rooms I've shared throughout my house so far check this post.  I'll be back soon with more!  I'm on a roll. ;)
xoxo, Erin