Alright friends!  The Christmas marathon continues!  I haven't slept much this week and a shower is sounding pretty good right about now.. but #priorities.  I'm having so much fun sharing my holiday decor with all of you!  Up on the agenda today.. the kitchen!  I kept some of my kitchen Christmas decor the same as last year, but also added a few simple things.  I took a lot of pictures so I'll let them do most of the talking and try to not ramble on like I often do.  You're definitely hearing enough from me this week! ;)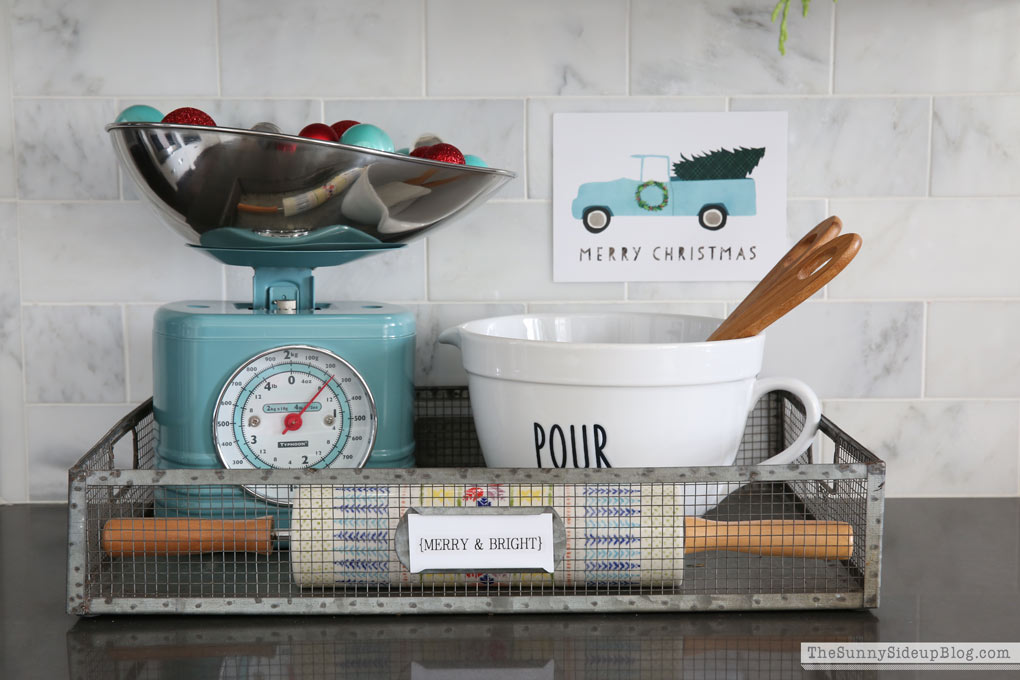 (*affiliate links used)
My blue vintage scale was once again filled with mini ornaments.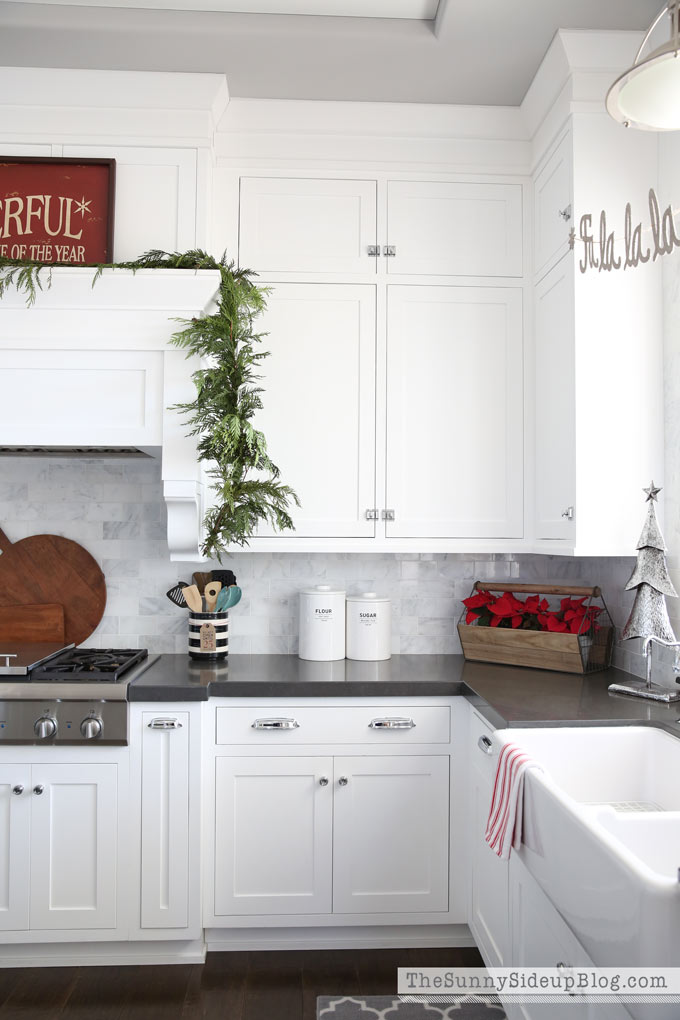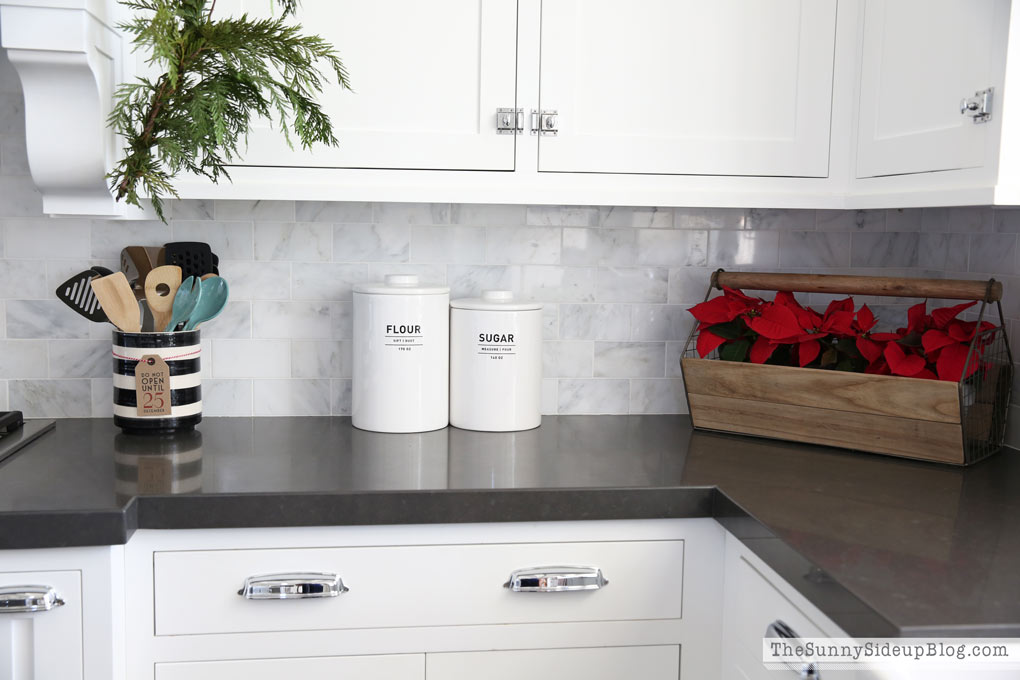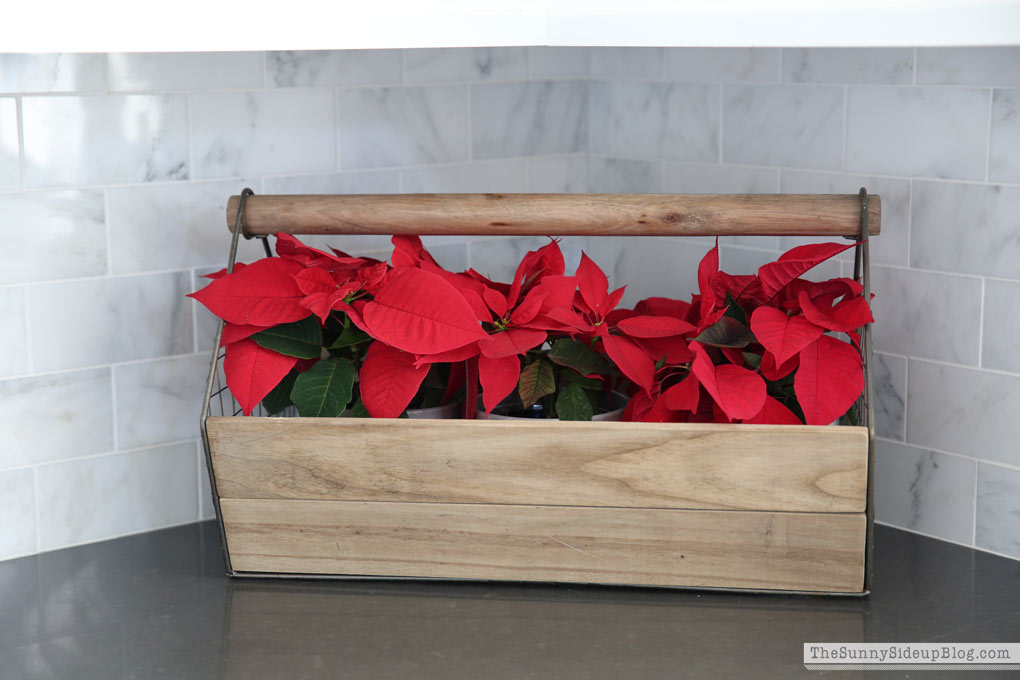 And poinsettias were once again placed here and there.


My favorite new addition?  Fa-la-la-la-la…la-la-la-la.  :)  I've wanted a fun Christmas banner for this spot over my farmhouse sink since the day we moved in and finally found "the one" this year.  It was from PB Kids but is sold out now.   So cute and it fit this space perfectly!  It makes me want to sing every time I do dishes.  Quite often when my kids aren't home I do.  If I sing when they are home I get eye rolls and everyone heads to another room.  I sing about as well as I cook so this is understandable behavior.  Which is why I just focus on the organizing and decorating.
And sing when I'm alone. :)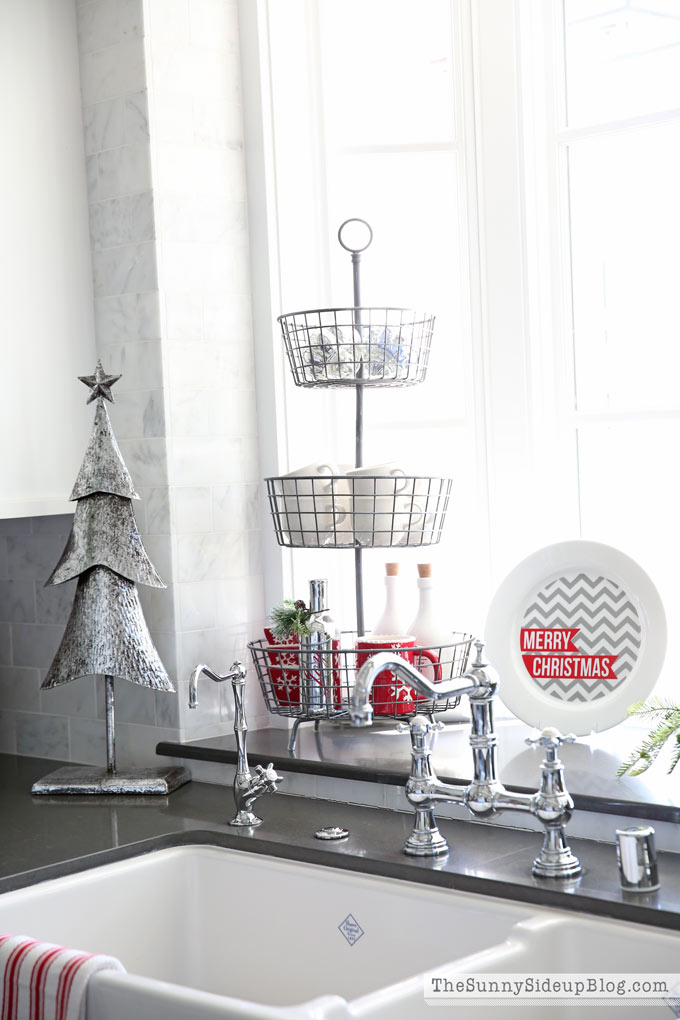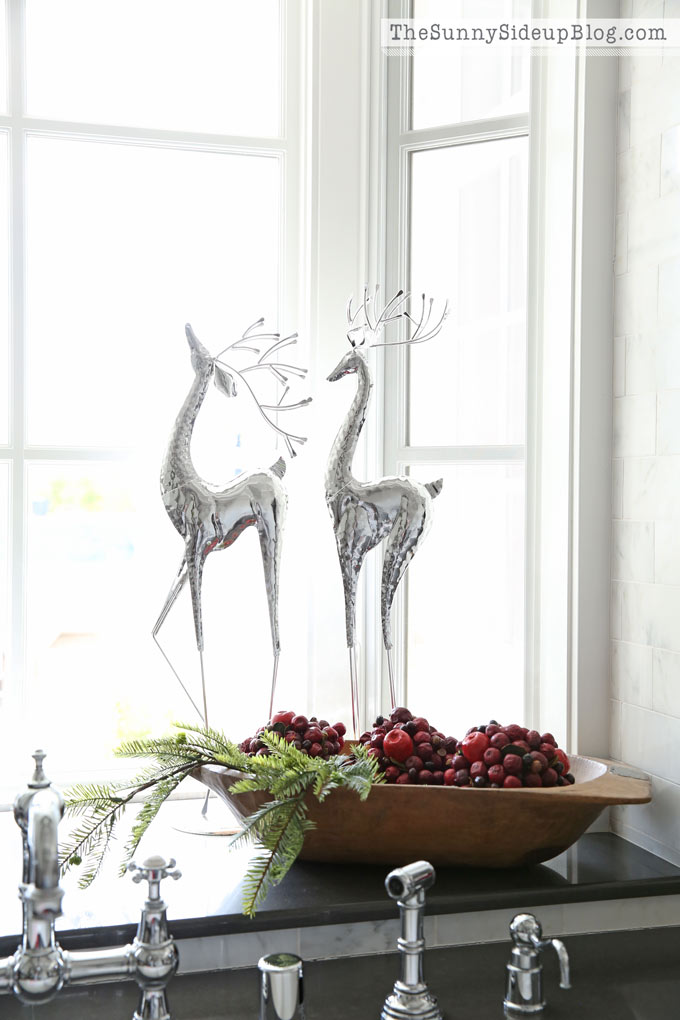 Another fun new addition is this mini found dough bowl.  I have the large dough bowl in my formal living room and love it so much I finally ordered the small size.  Each dough bowl is so perfectly imperfect!  I love them and have so much fun filling them with different things each season.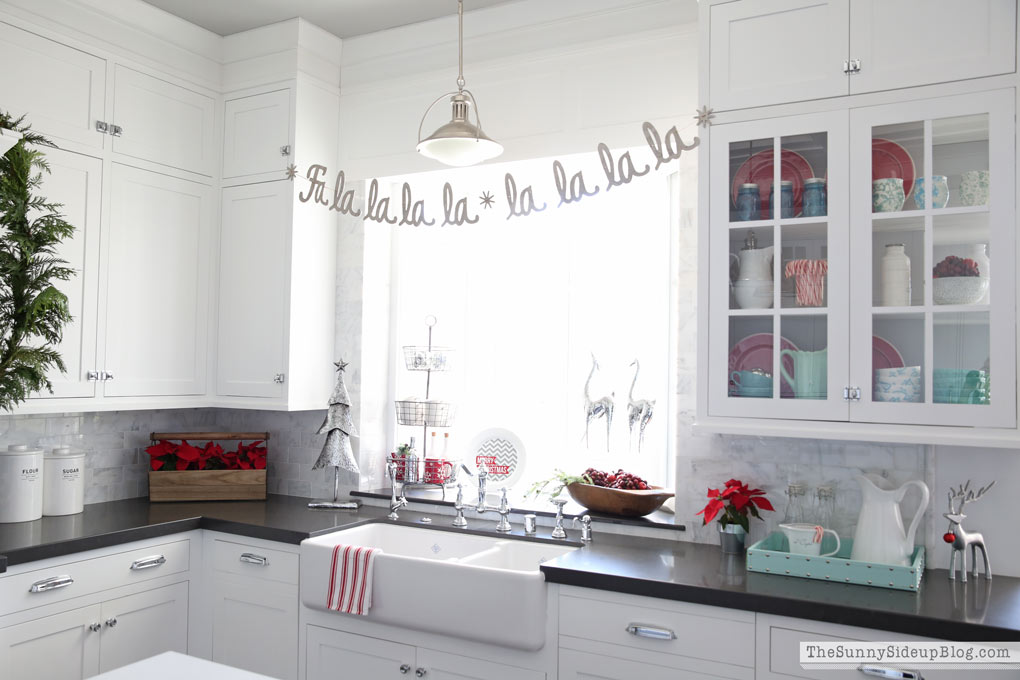 This side of my kitchen is feeling all sorts of festive!  I can't ever photograph my bay window very well.  It looks much better in person!  Wish you could all just come over to see. :)


Some red plates and candy canes was all it took to add Christmas to my glass cupboards!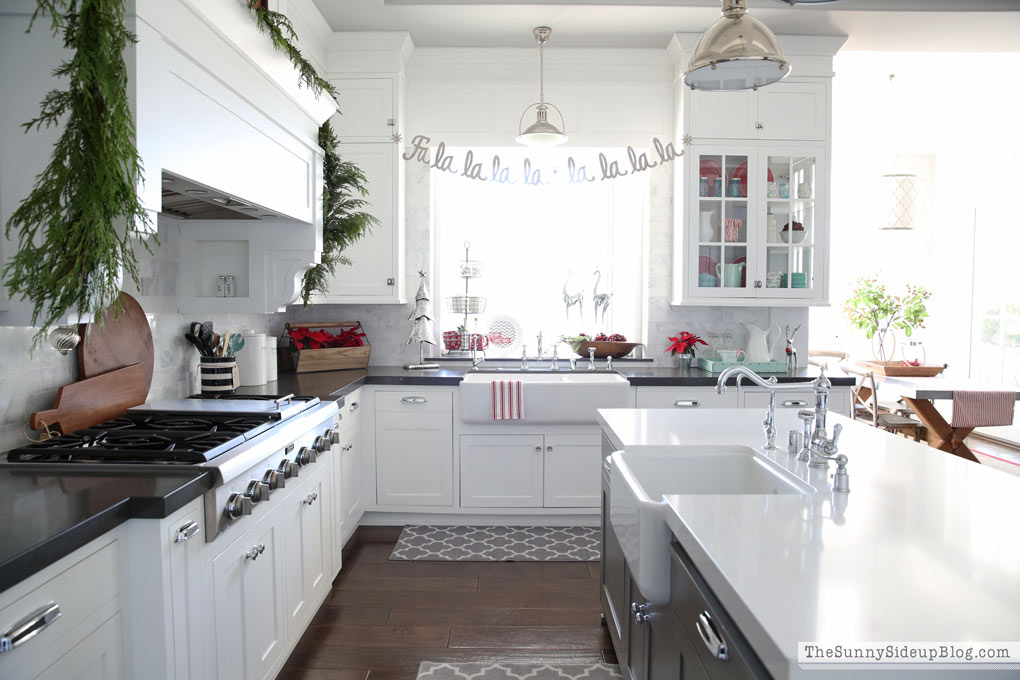 All of the red and silver is a happy sight to wake up to each morning.


I also bought a new rug for my nook!  I always take out my coral rug for the holidays (coral and red.. NOT a good combo!) and the past two years I've been hunting for a holiday rug.  I finally found it and I love this rug so much I'm debating ordering another one with a different color of border to keep during the rest of the year.  It looks so good in this space!  It's PB's Fireworks Custom Color-Bound Seagrass Rug in Cardinal Red.  It comes in different colors and it's custom because you can pick the size!  How perfect is that!?  Looks so cute with the red and white striped table runner I've had for years.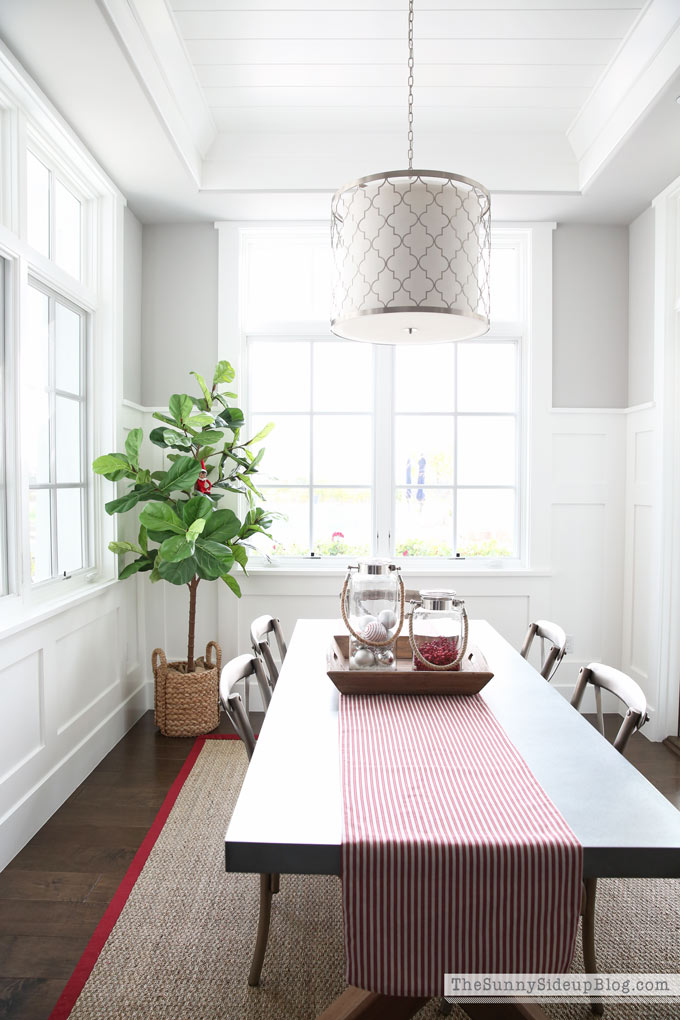 When we moved my faux fiddle leaf fig to put in our Christmas tree I needed a new place for my beloved plant.  It looks so good in this corner!  I'm not going to want to move it back.


The only snag I ran into is what to put on my table now that the fig is there.  I had this arrangement with my favorite lanterns last year and loved it, but when I tried to do the same this year the greenery looked so bad with my fig behind it!  Too many green leaves!  Amazon rainforest in the breakfast nook.  Just no. :)


So I swapped the leaves for a few ornaments until I can figure out a better solution.  The table top is a work in progress. :)


Our elf happened to be hiding in my plant the day I took these pictures.  I was going to move him, but then he'd lose his magic and I'd have to deal with the wrath of my three kids so.. hello from our elf named Joy who is keeping a close watch on behavior around here. :)


Butler's pantry is also feeling all sorts of festive!  Love my new Merry Christmas sign.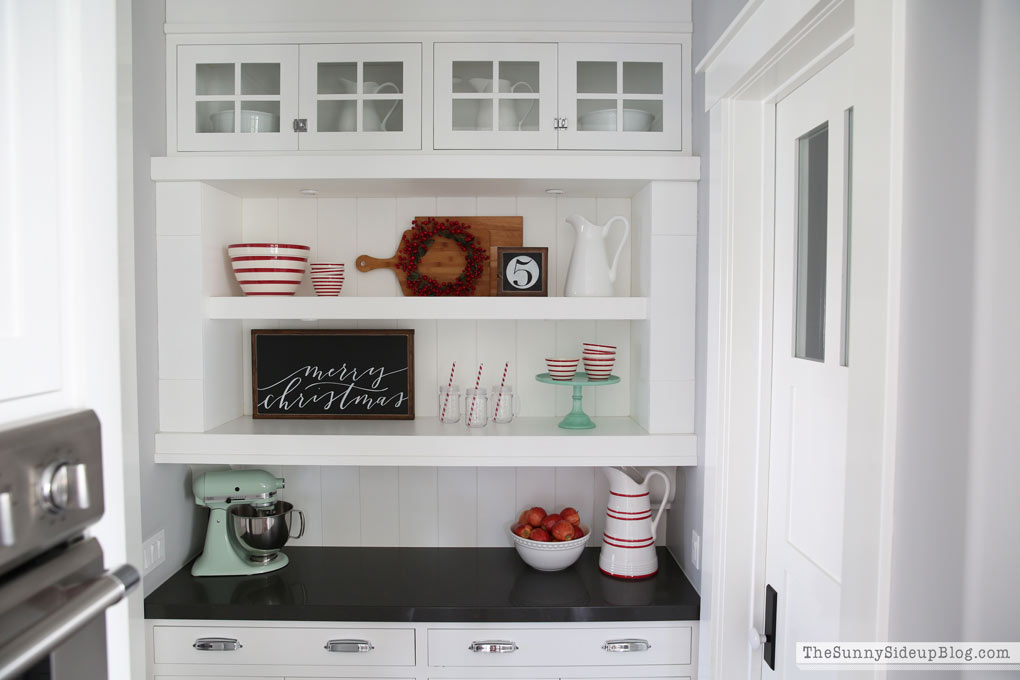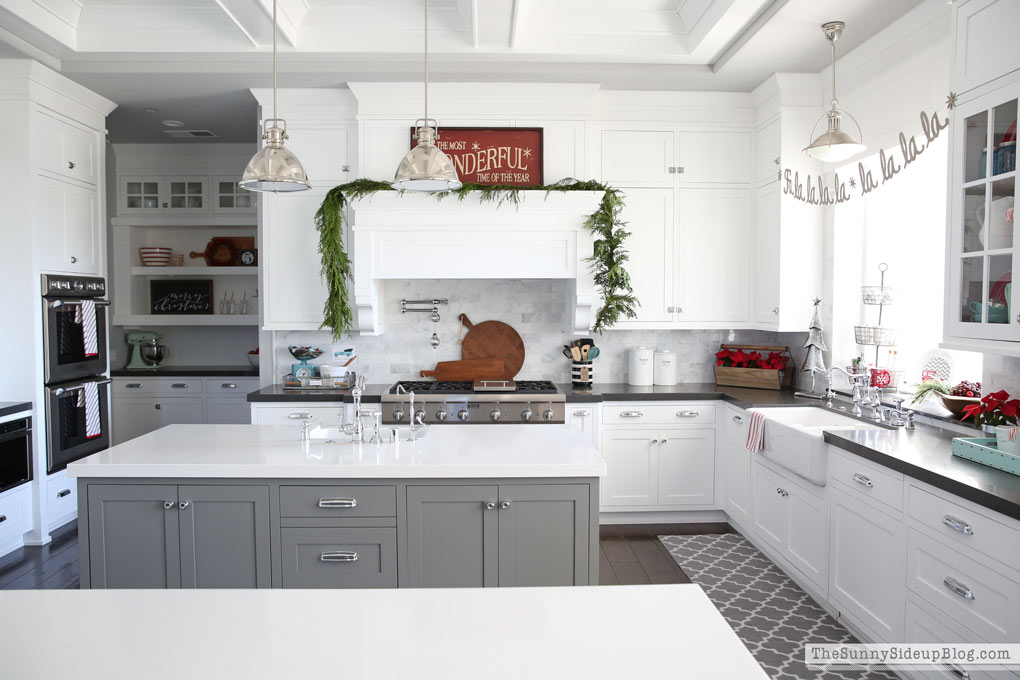 I tried to figure out a better solution for my oven hood than real garland because I hate the mess when it comes down, but I just haven't found anything I like as much!  Plus it makes the kitchen smell SO good.


View from our family room which is also decked for the holidays!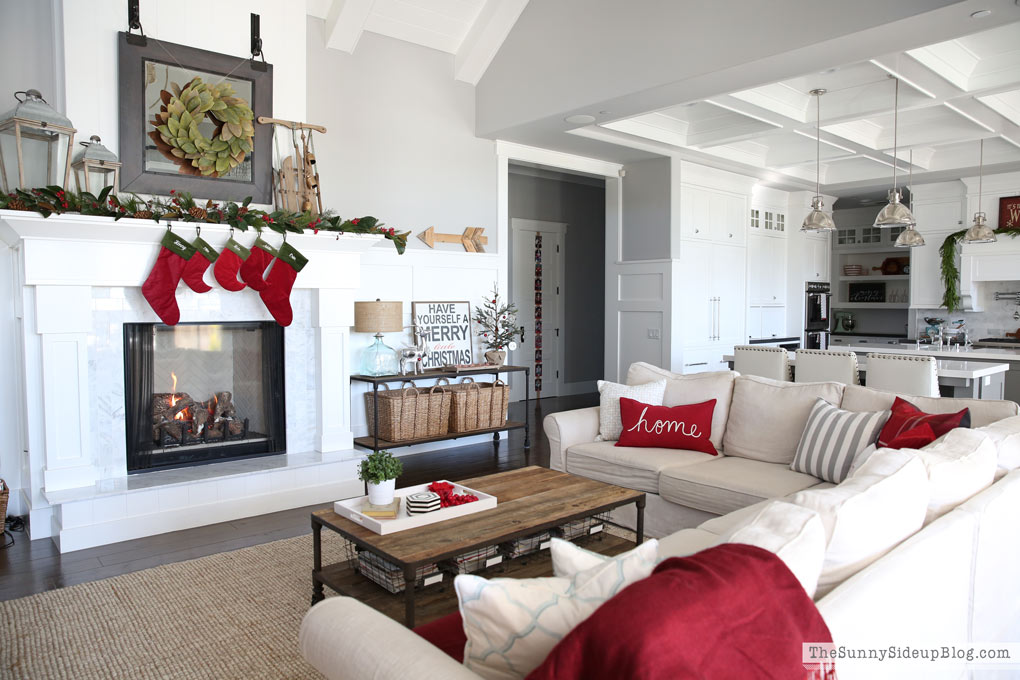 And that's a wrap on my kitchen Christmas decor!  Fa la la la la.. la la la la. ;)
SOURCES:





This week I'm so excited to be joining up with some of my blogging friends to share a part of our holiday home for the All Through the House Tour!
Check out their fun holiday posts below!  I can't wait to visit them all and be inspired. :)  Enjoy!
Wednesday, December 7th
Maison de Pax / In My Own Style / Willow Street Interiors
Making Home Base /Bless'er House / House by Hoff
xoxo, Erin