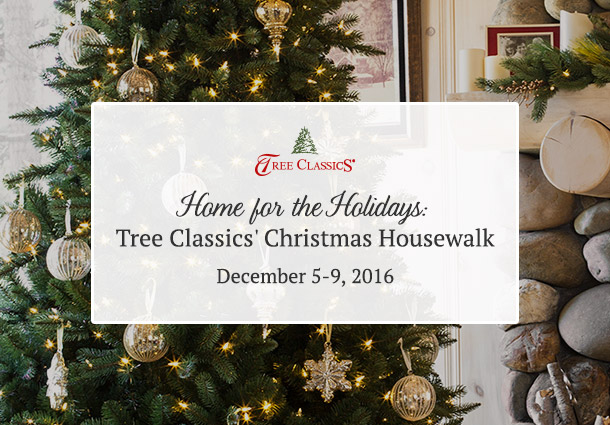 So excited to be partnering with Tree Classics for today's post!  I was asked to be part of their Christmas Housewalk and to describe my ideal Christmas.  My kids and I talk about this all the time!  While we love Christmas Day, it's more about the months leading up to Christmas for us.  Of course we love Christmas music, coming up with the perfect gifts for loved ones, and the decorating.. we really love the decorating around here. :)  But more than anything we just love the feeling in the air this time of year!  The feeling of Christ's endless love for each and every one of us.  A time to focus on others and to recognize and appreciate all we have in our lives.  A perfect Christmas for me is spending the months leading up to that special day making memories with my family, giving to others, and noticing and appreciating all of life's blessings.  Big and small.  Throw in a cozy pair of pajamas and It's a Wonderful Life and I'm a happy girl. ;)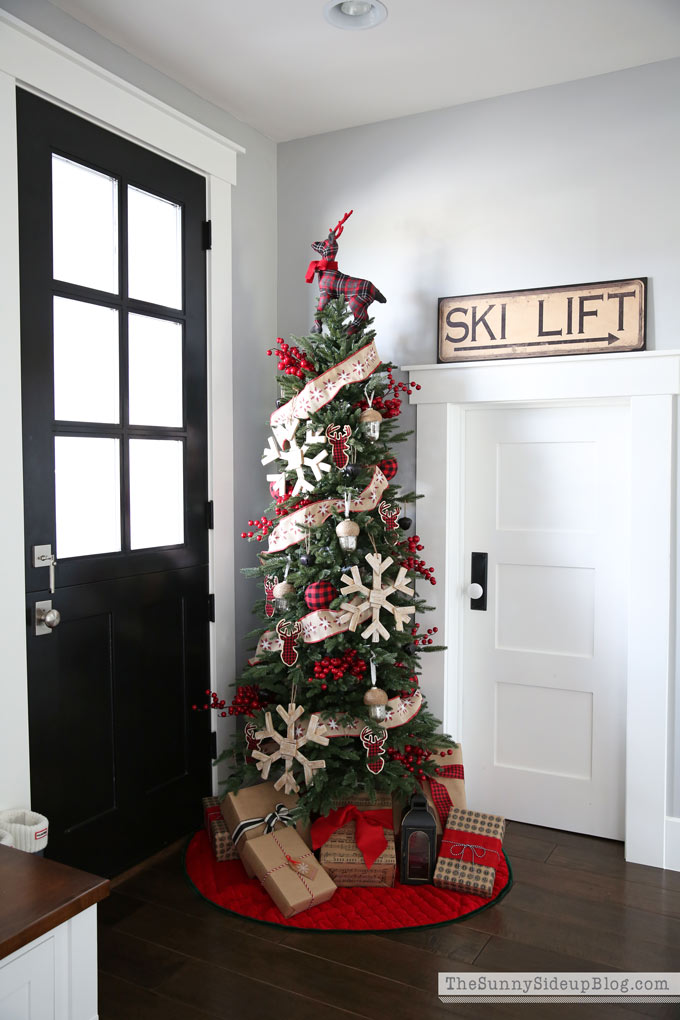 I'm so excited to show you how I've decorated our mudroom for the holidays!  Tree Classics let us pick out a tree to feature and I chose their Oregonian Slim Christmas Tree.  I was originally thinking of it for another spot in my house, but when it came and I assembled it I decided on a whim to try it in my mudroom in this space between our black dutch door off of our porch and our little mudroom closet.  Perfect fit!  It was like it had found its home.  :)  I love skinny trees.  I always have!  They are fun to put in unexpected places where space it at a premium and they are easy to decorate!  It doesn't take much to make them look full and festive.  This tree is absolutely darling.  So easy to set up and I love the look of the branches.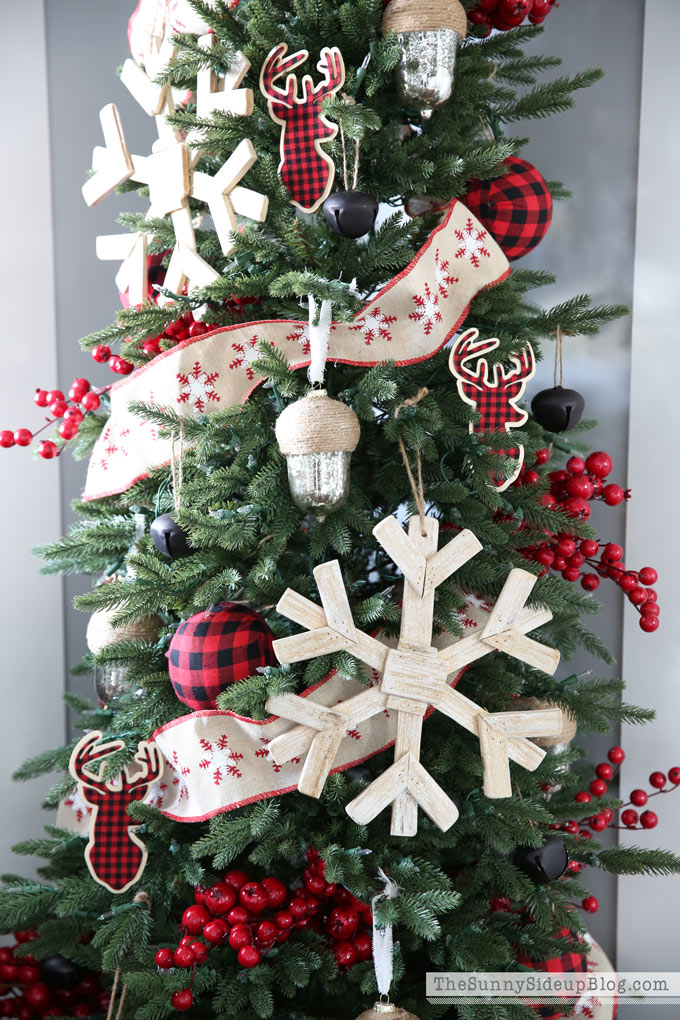 I had so much fun putting this tree together!  I'll share sources in an upcoming post but basically I just used red berries, snowflake ribbon, large wooden snowflakes, black bells, silver acorn ornaments and plaid balls.  Oh!  And little plaid reindeer I found at the dollar spot in Target. :)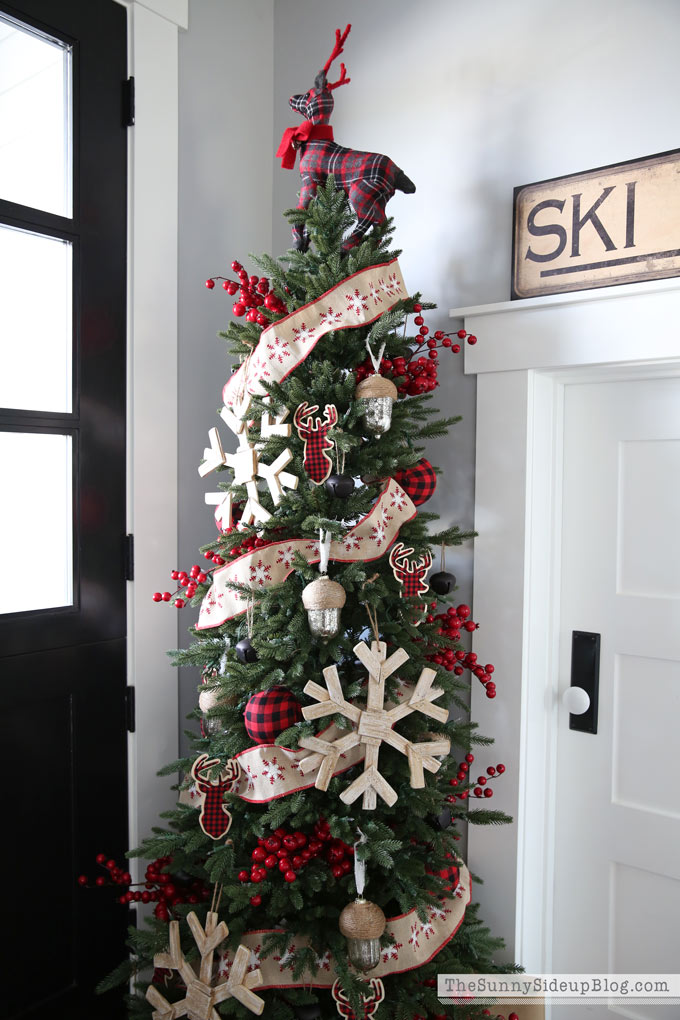 I used a cute plaid deer to top it all off because well.. why not.  :)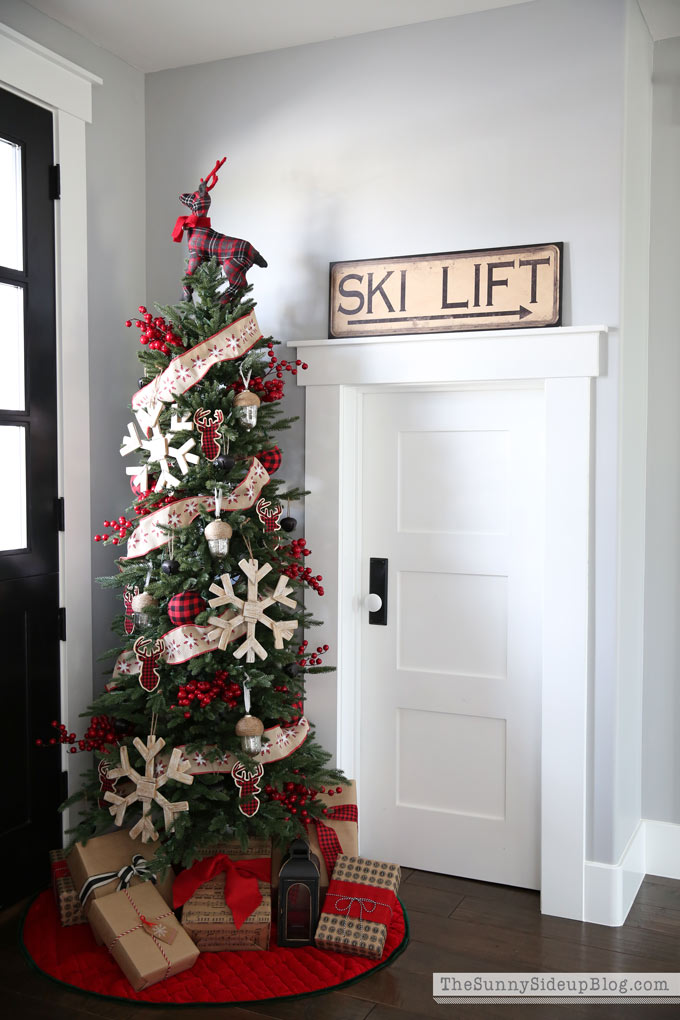 Tree Classics also sent me this red buttoned up quilted velvet tree skirt.  Love it!  It's so soft!  And if you just toured my family room Christmas decor yesterday you know how I feel about traditional Christmas colors.  #bringonthered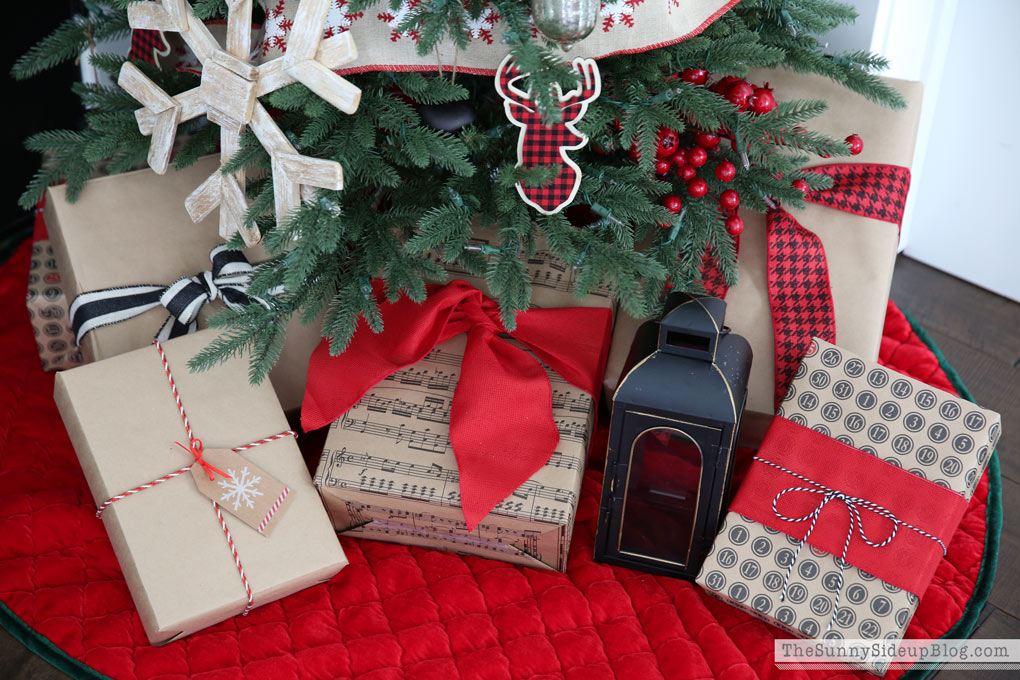 I've been collecting this fun wrapping paper for years and was excited to finally use it under this tree!  Plaid and black and white striped ribbon?  Yes please!   I also tossed in a little black lantern because well.. why not?  :)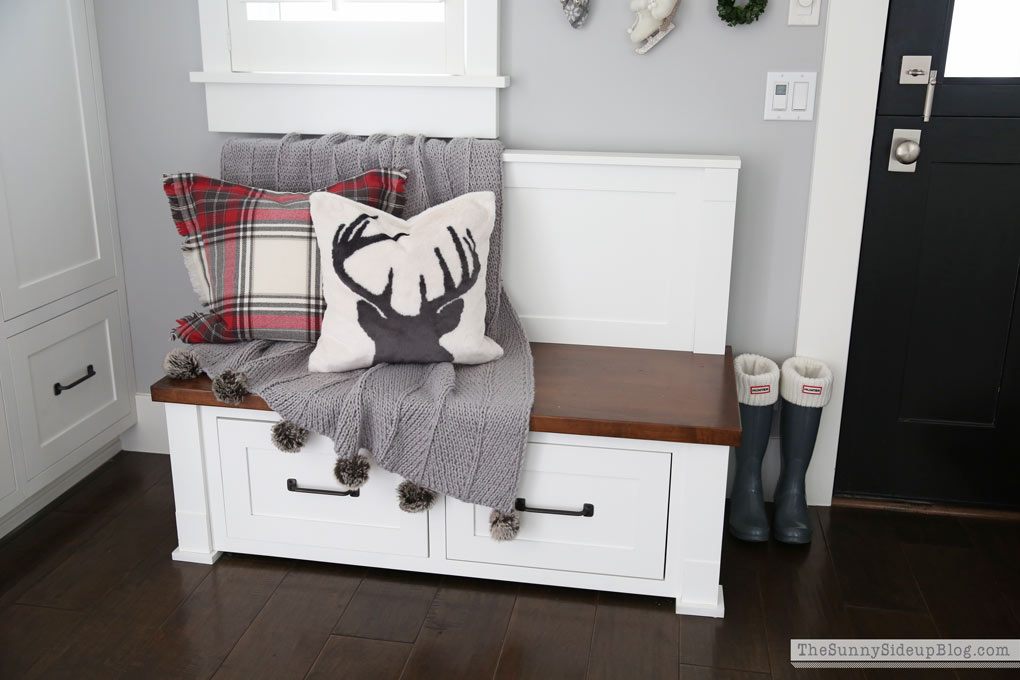 Here is a peek around the rest of the room!  A cozy throw and pillows make our little bench feel welcoming.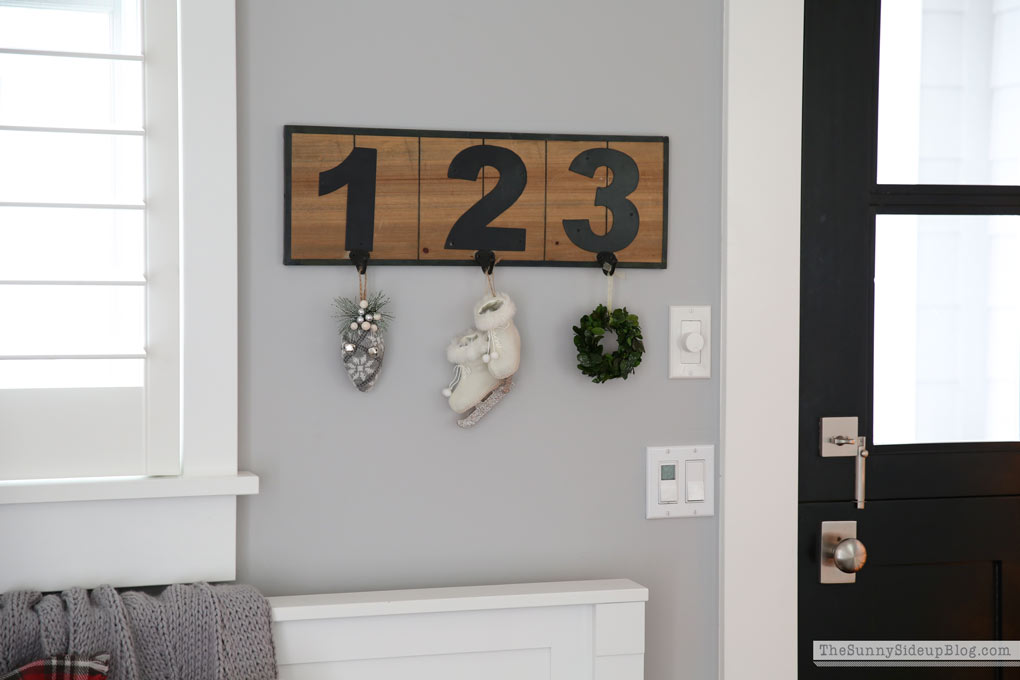 My 123 key holder is holding three random ornaments.  All unique just like my three kids.  (It's just not me if I don't add a small amount of sentimental sap to each post..)  ;)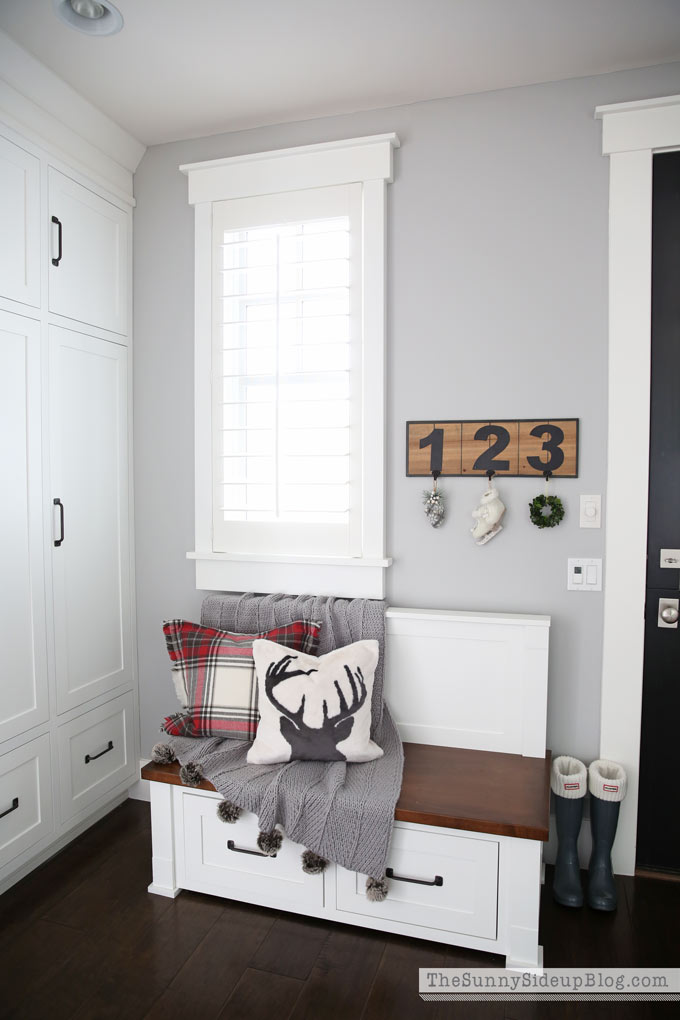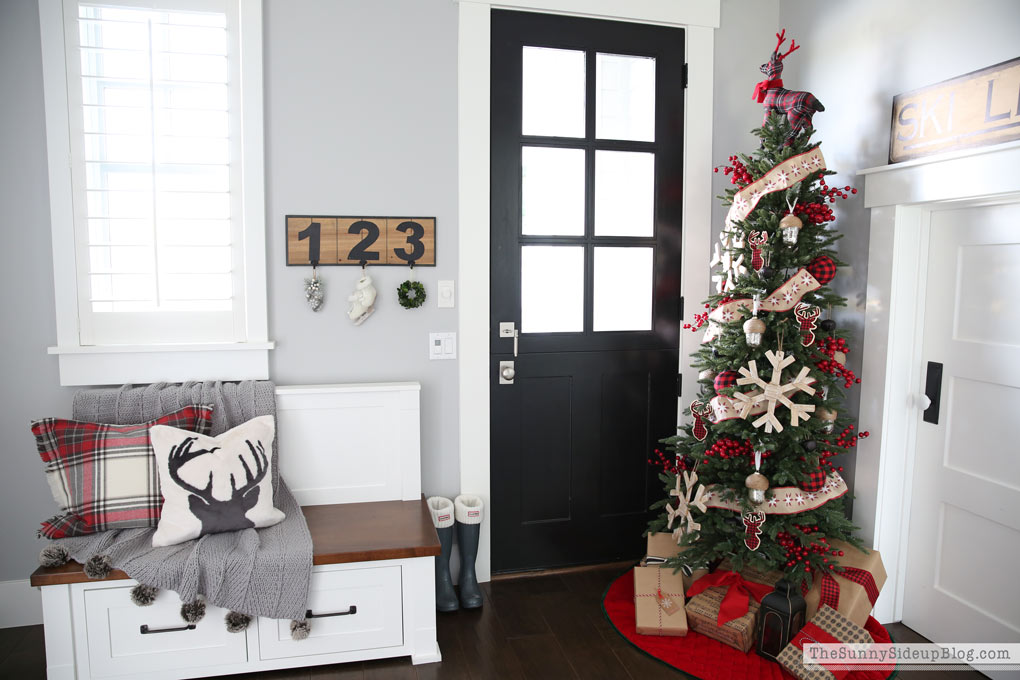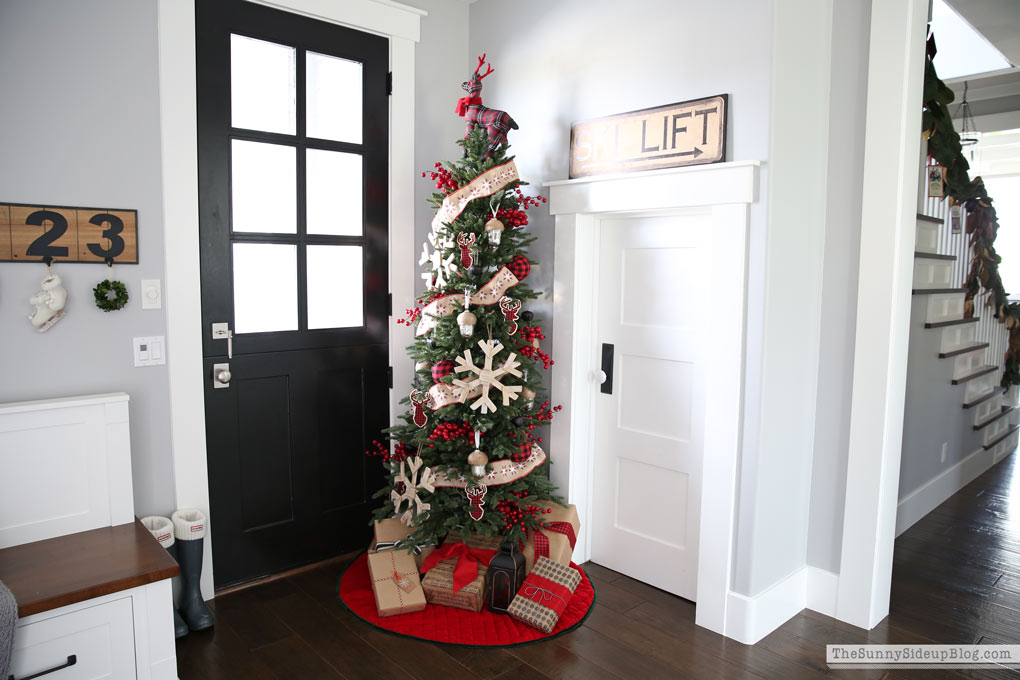 You can see a peek of my stair garland around the corner!  Coming soon with more decor to a blog near you. :)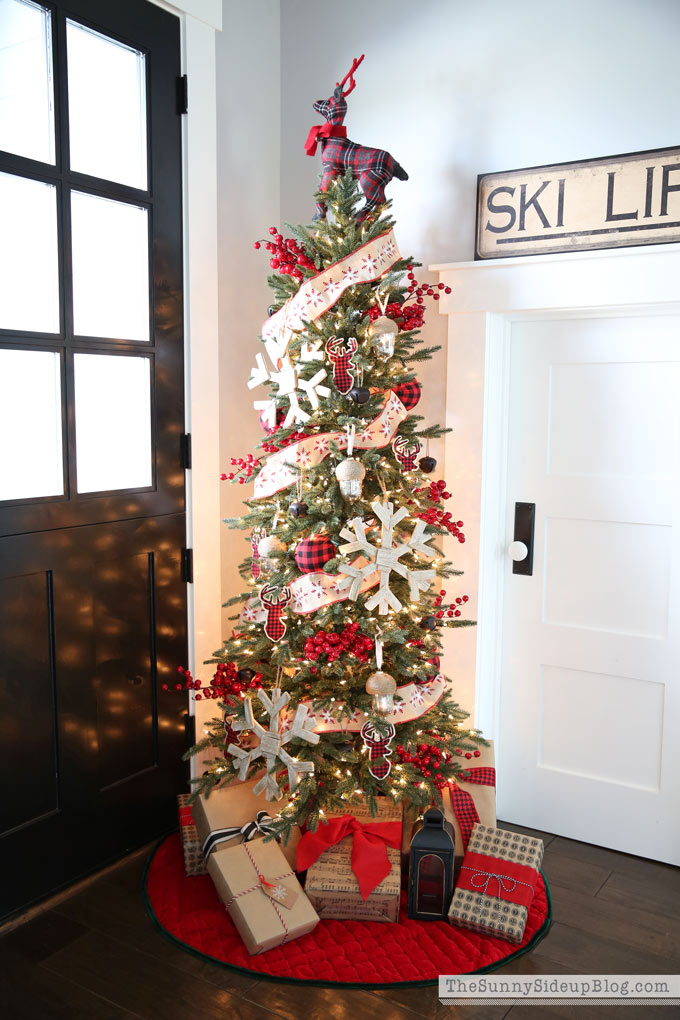 My favorite part of this little tree?  The lights!  I love the way it lights up our mudroom!  It has a lot of lights for such a skinny tree and they give off such a warm glow.   This mudroom is right off of our garage and our main family entrance into our home.  We are in and out of this room so many times each day.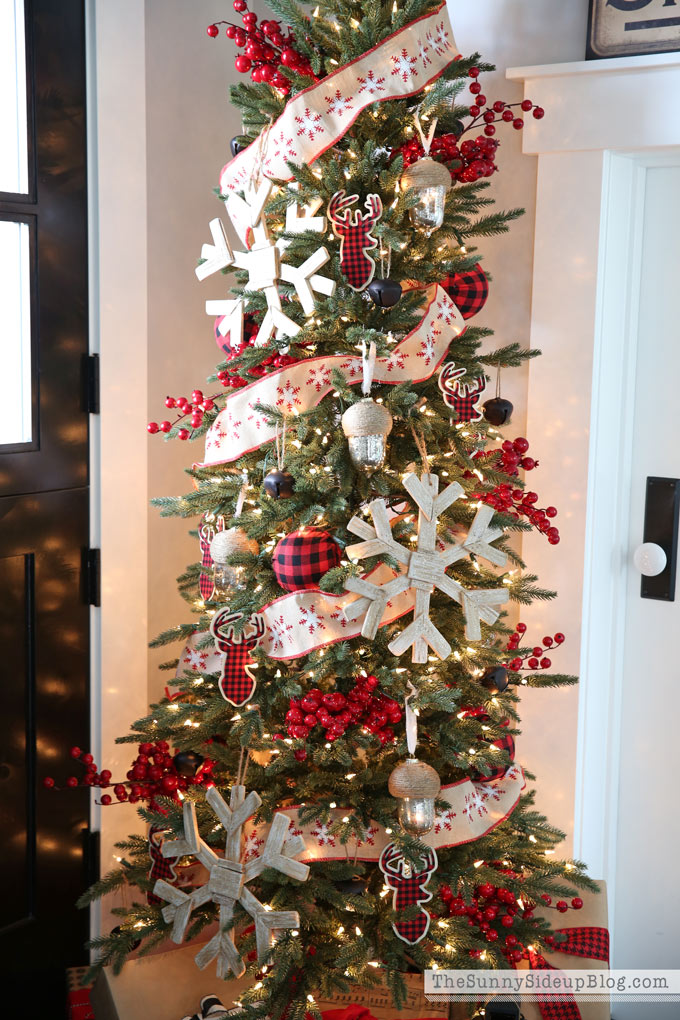 It just sparkles and makes us all so happy every time we walk in the door!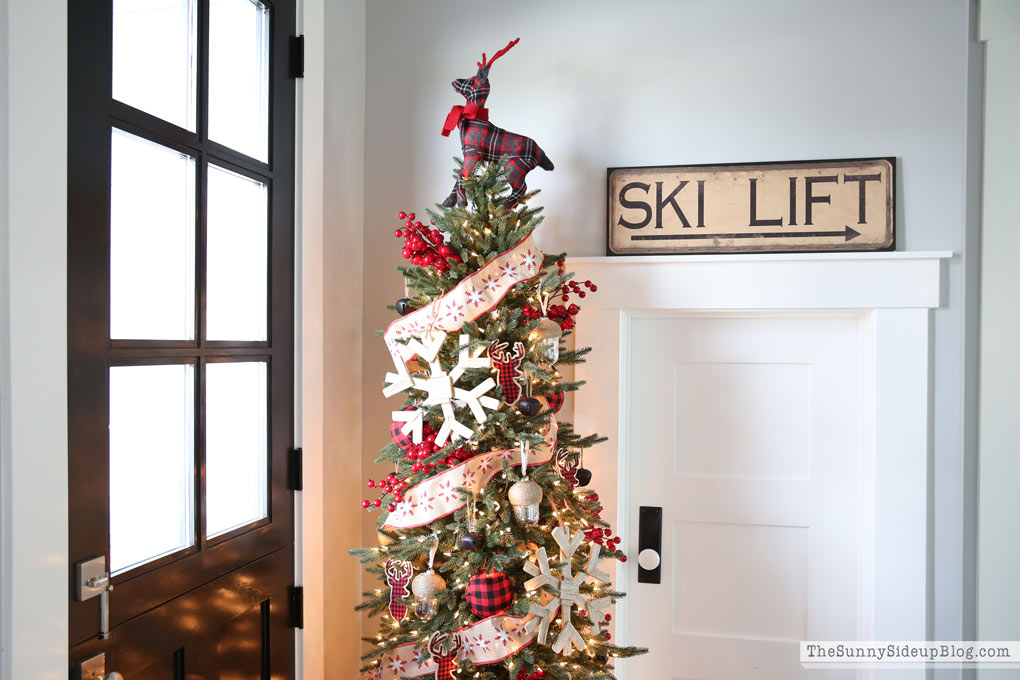 My long time favorite SKI LIFT sign completed the look in this room.  The arrow is actually pointing to our laundry room.  As close to a ski lift as we'll get in San Diego!  Our piles of laundry make a lousy substitute.  (Apparently it's just not me if I also don't attempt to add a cheesy joke in each post.. my husband will give me a hard time for that one.  He doesn't think I'm nearly as funny as I think I am… ha!)  ;)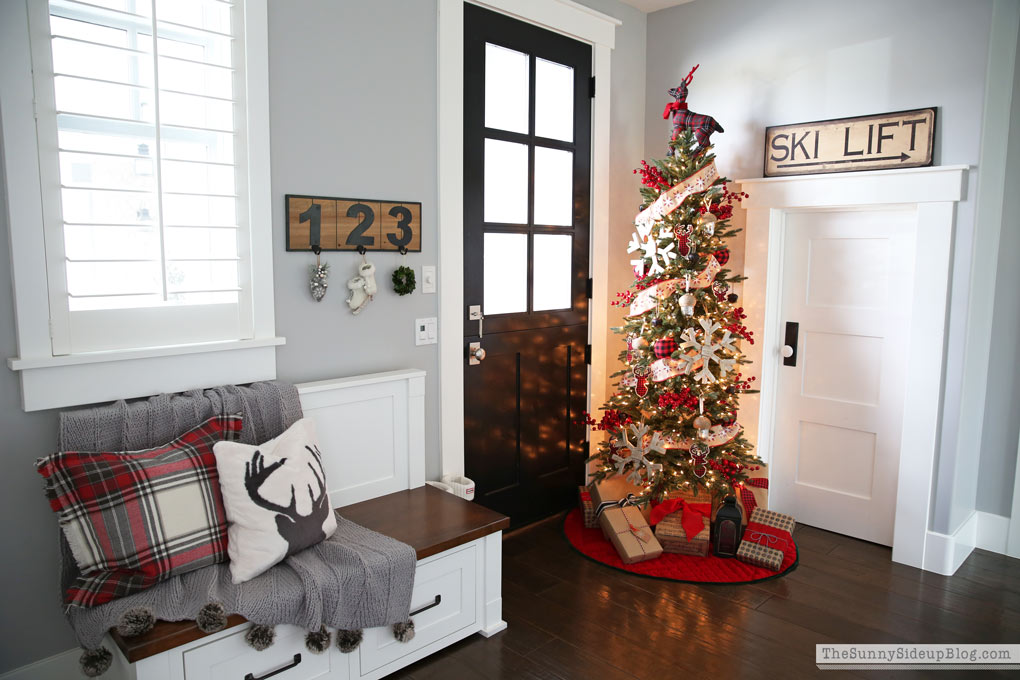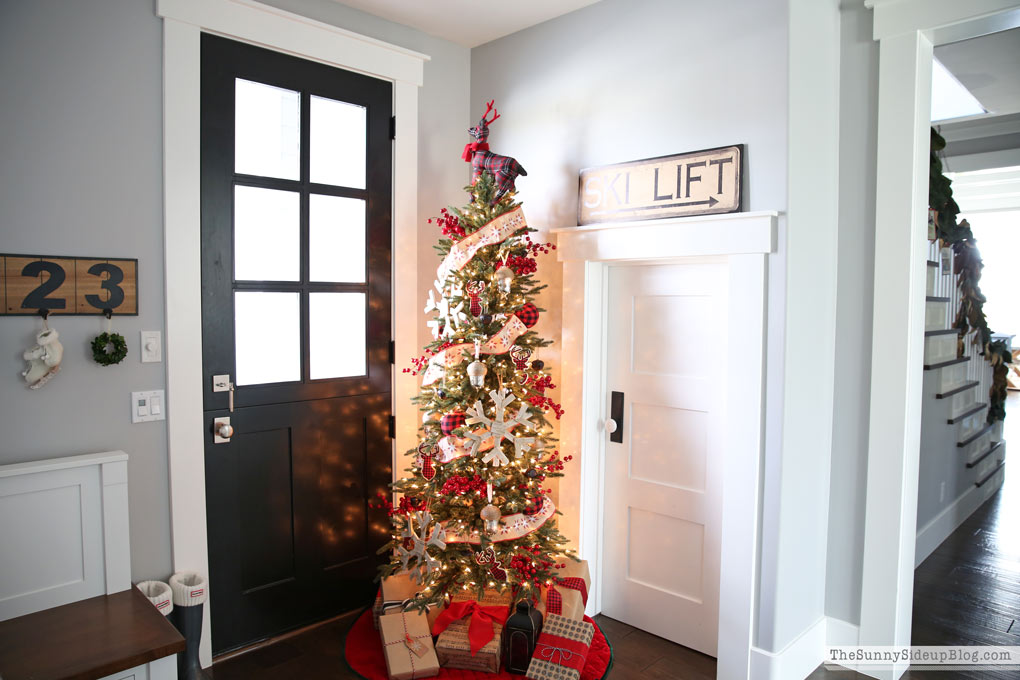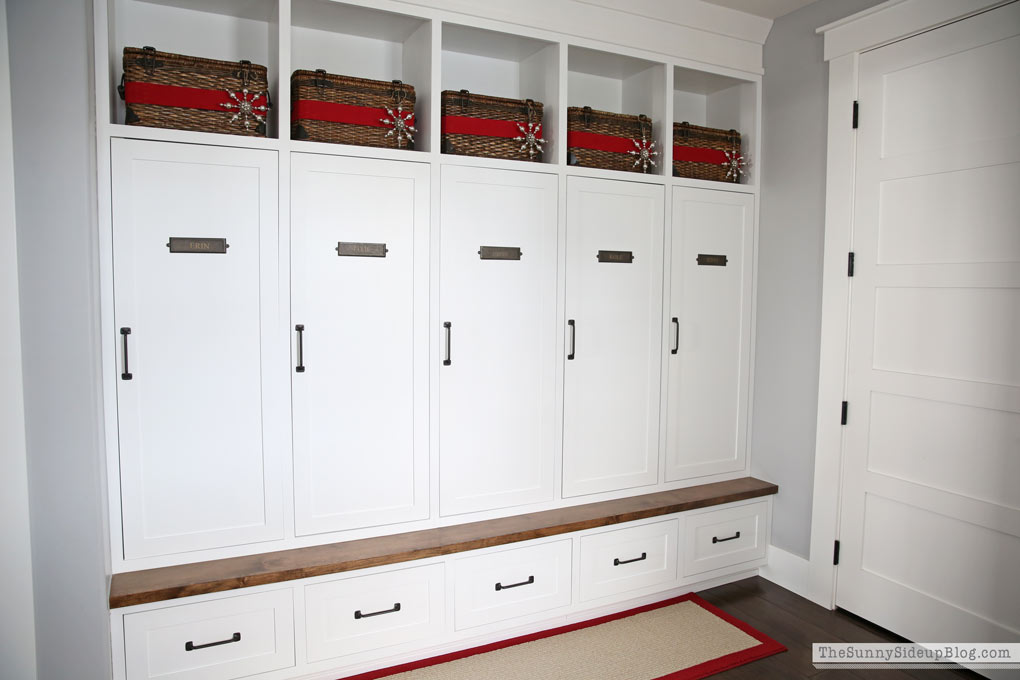 The rest of our mudroom is also decked for the holidays!  I added red ribbon and some favorite snowflake ornaments to my baskets.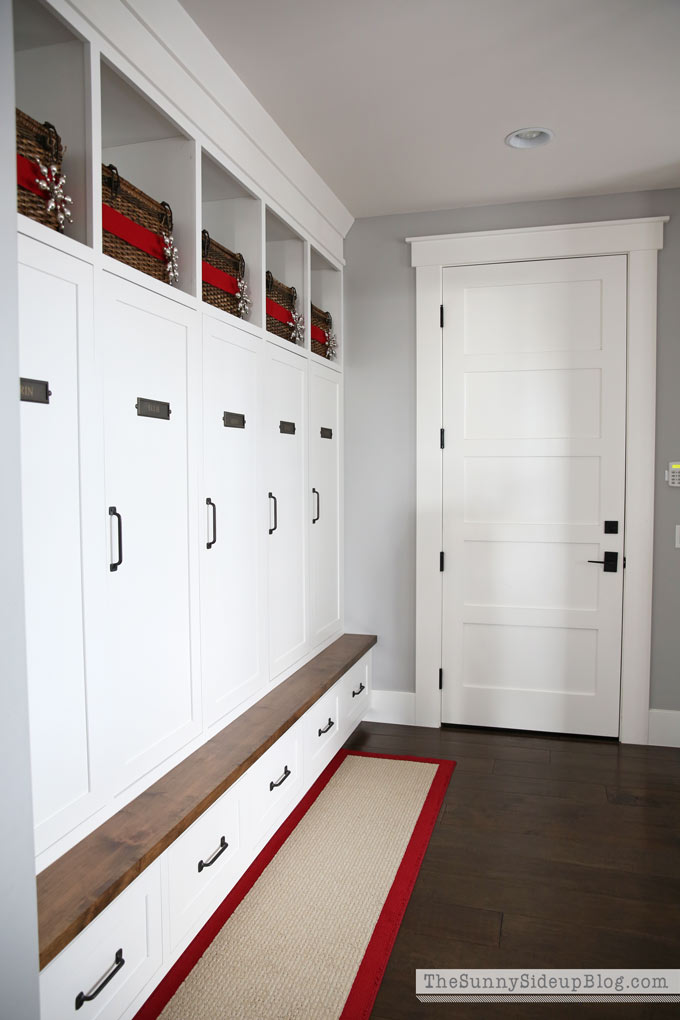 And found a new runner that is perfect for this space because it doesn't catch on our door!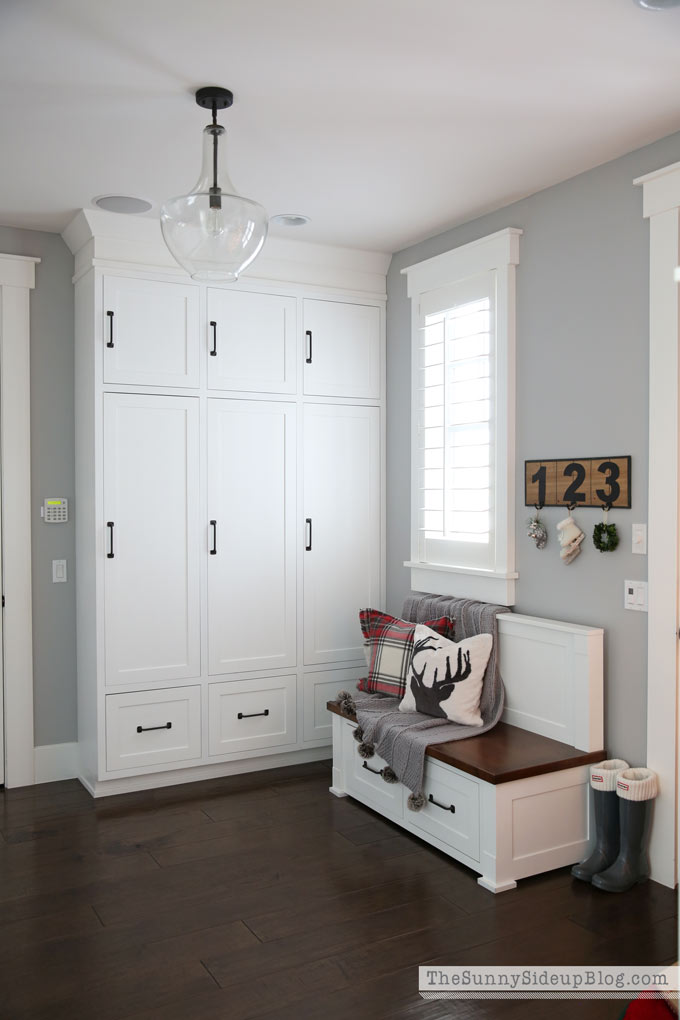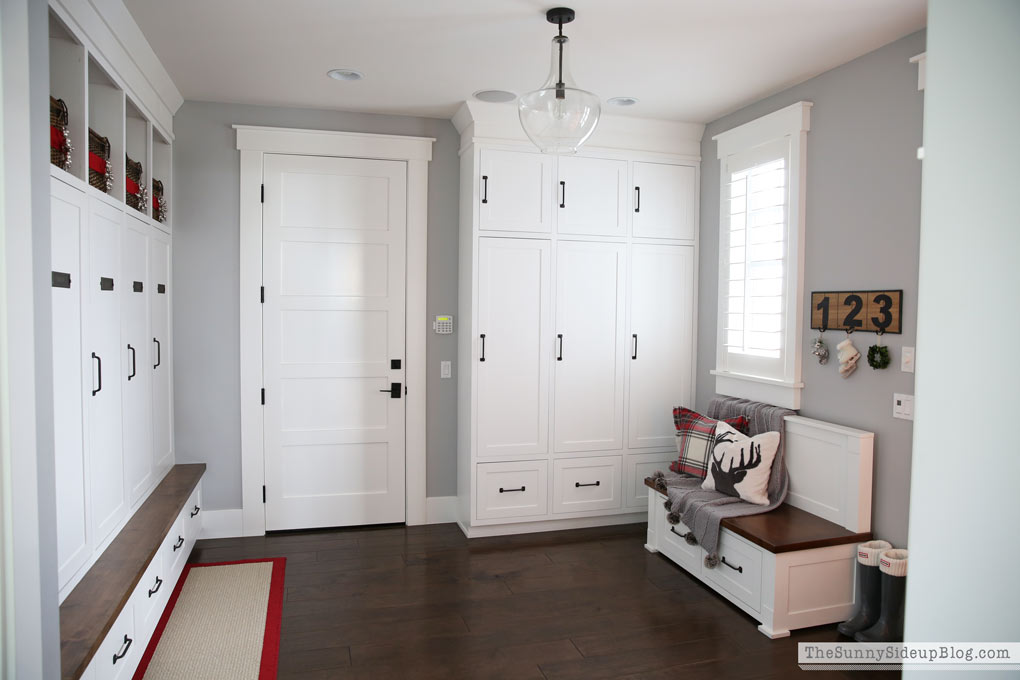 I didn't add anything else because this room is a dumping ground for back packs, shoes, papers, any and everything the kids bring home from school.  I wish I could tell you that having a set place for those things meant the floor in this room stayed perfectly clean, but not so.  At least with my crew.  The good news is that it's a breeze to pick up.  :)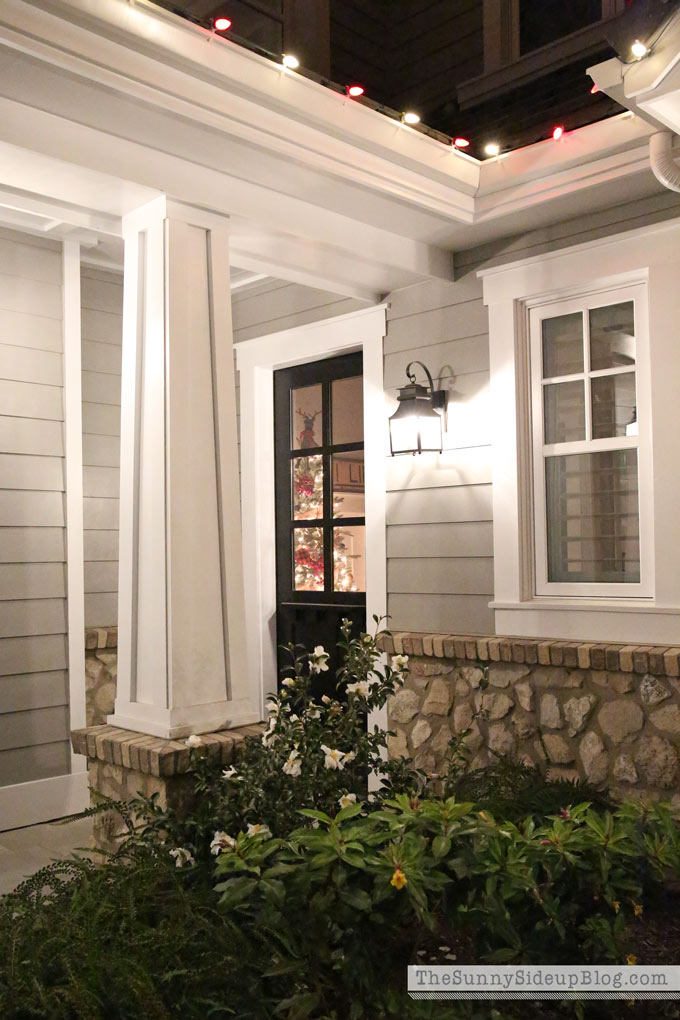 Another thing I've loved about my new slim tree is that it looks so pretty from the outside!  I love pulling up to my house and seeing it shine through our mudroom door.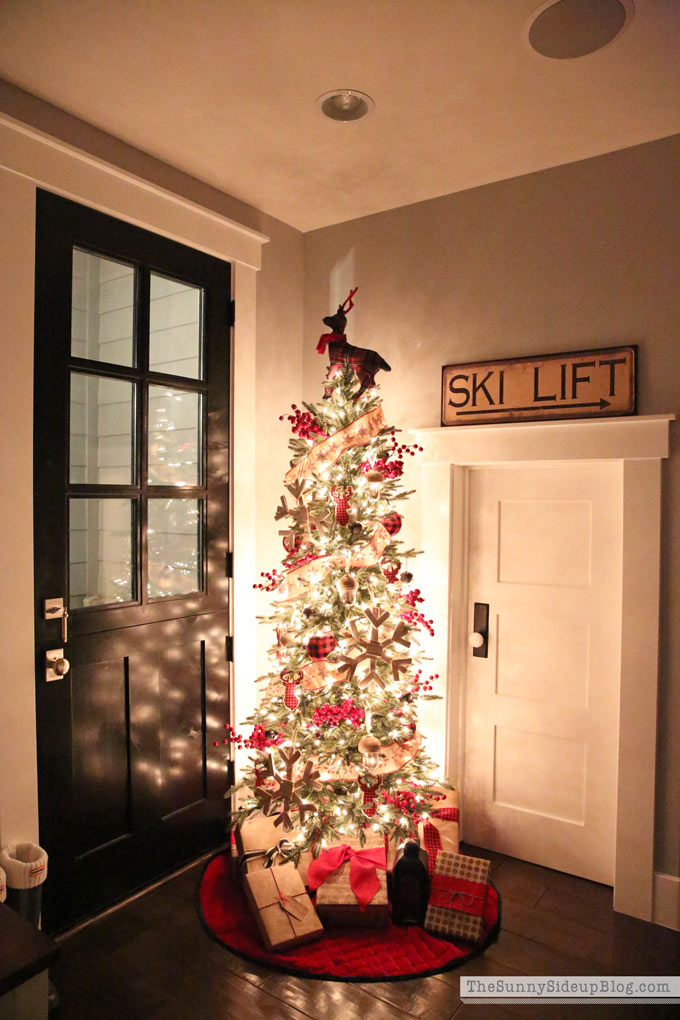 So pretty at night.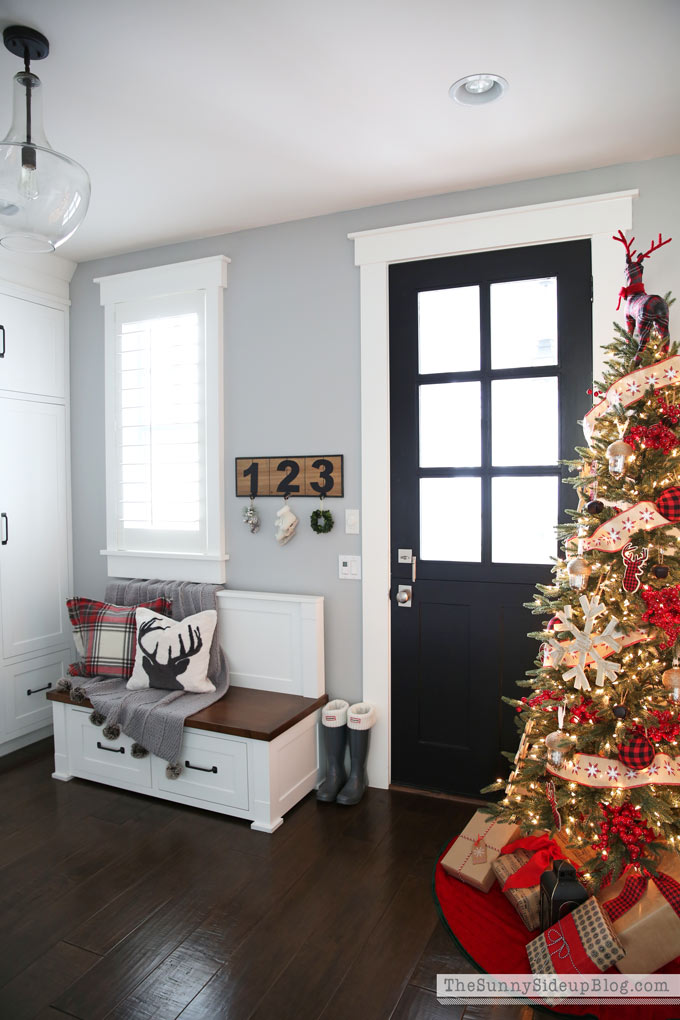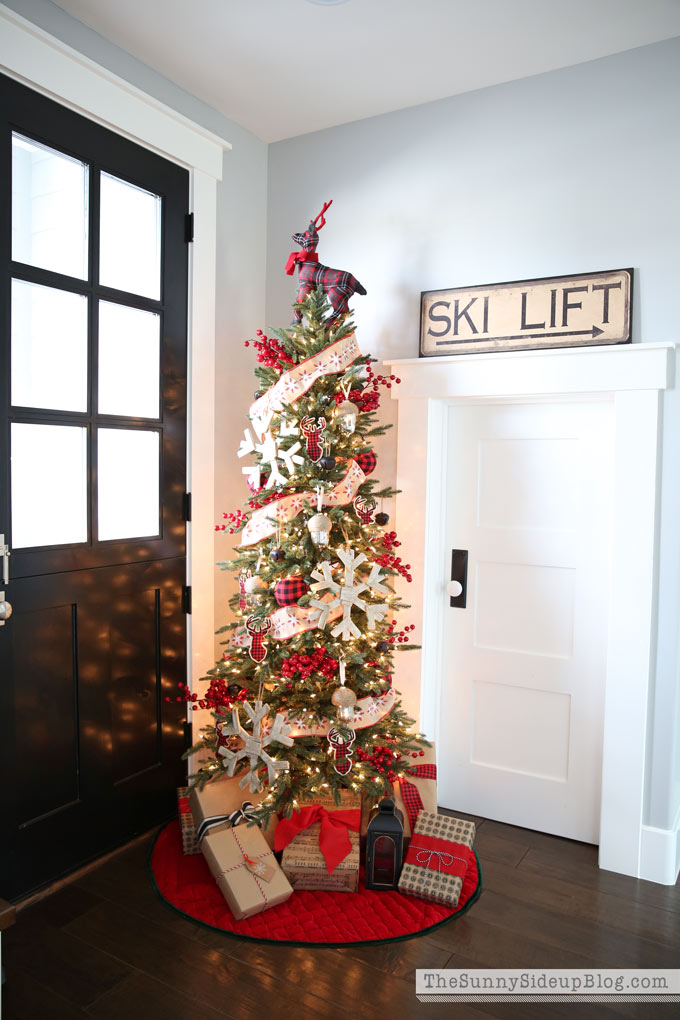 Thank you Tree Classics for adding so much Christmas cheer to our mudroom!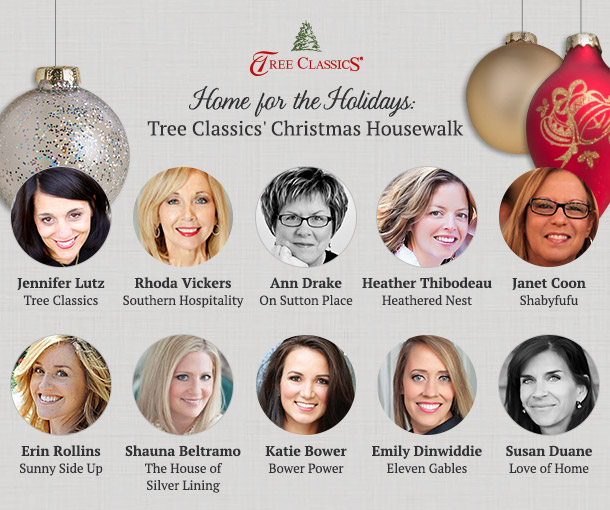 Make sure you check out the rest of the talented bloggers on this tour!  So excited to see what they did with their trees.  If you are new to my blog thanks for stopping by!  Make sure you sign up for my e-mail list so you don't miss a post!  Lots of fun decorating and organizing in our future. :)  Happy holidays!
December 5
December 6
December 7
December 8
December 9
xoxo, Erin