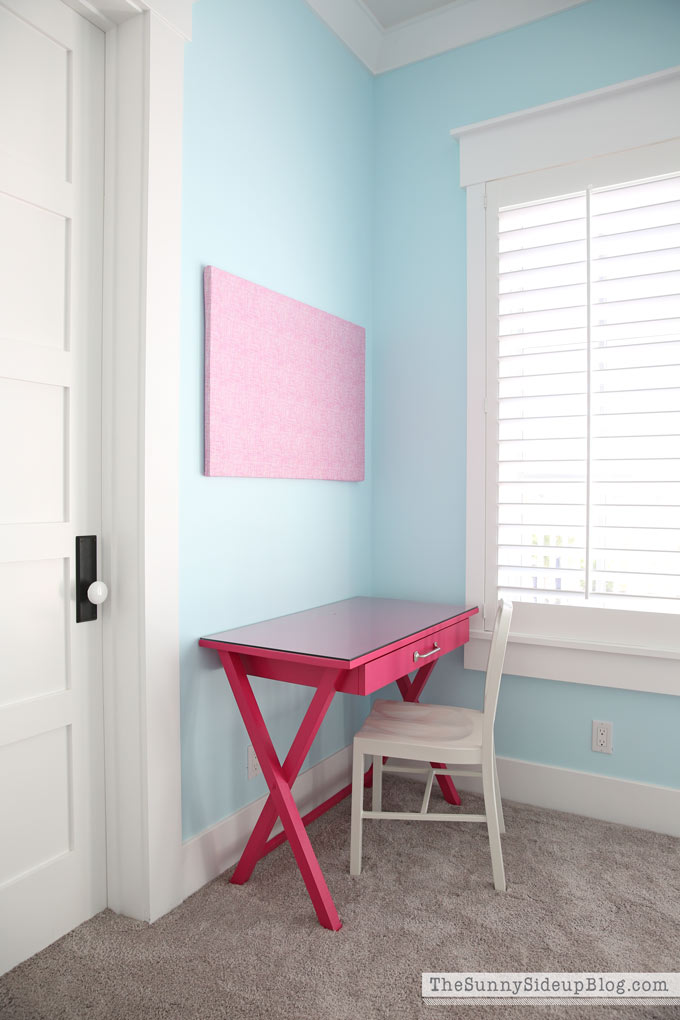 Hi friends!  You all aren't going to believe this.  I FINALLY took pictures of my girls' bedrooms!  Yes – I'm serious.  Don't fall off your chair. ;)  We've only been in our house for almost 3 years now!  I can't believe I haven't shared them already.  More on that soon!  Today I'm sharing one corner of their bedrooms (my girls' bedroom desks!) and the rest is coming. :)
*affiliate links used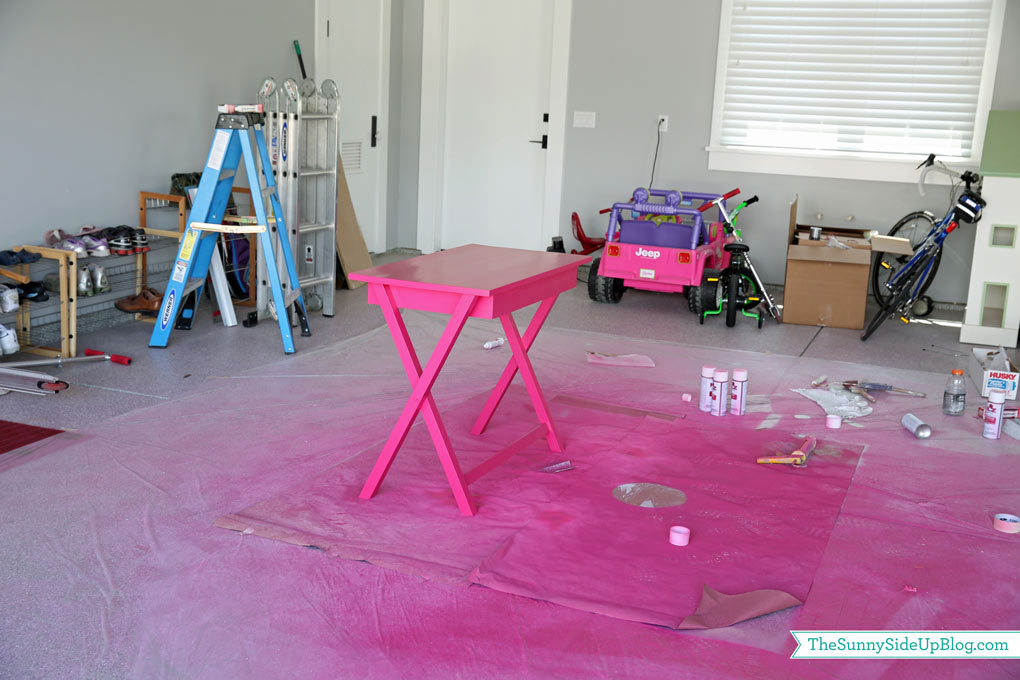 Some of you might remember me sharing this picture over a year ago.  My girls have corners in their rooms that we knew we wanted to use for a desk.  I found SO many cute desks on-line that I loved but none of them fit!  They were all too big for the small corners I wanted to put them in.  So I drew some simple sketches (with the girls input of course!) and then called my carpenter.  He made me a desk for each of their rooms and then my painter painted them for me in our garage.  We were feeling very Pinkalicious on painting day. ;)  It ended up costing me about what I would have paid to order one and I got the exact size and color we needed so custom desks for the win!


Love how they turned out!  The hot pink desk belongs to Addison.  She loves all things blue and pink.. obviously.  :)  Because the desks were painted and I knew how much of a beating they would take I called a local glass/mirror store (we ordered all of our mirrors and shower doors from them when we built our house) and had them make me some glass covers for the desks.  Now we don't have to worry about chips and scratches and being careful!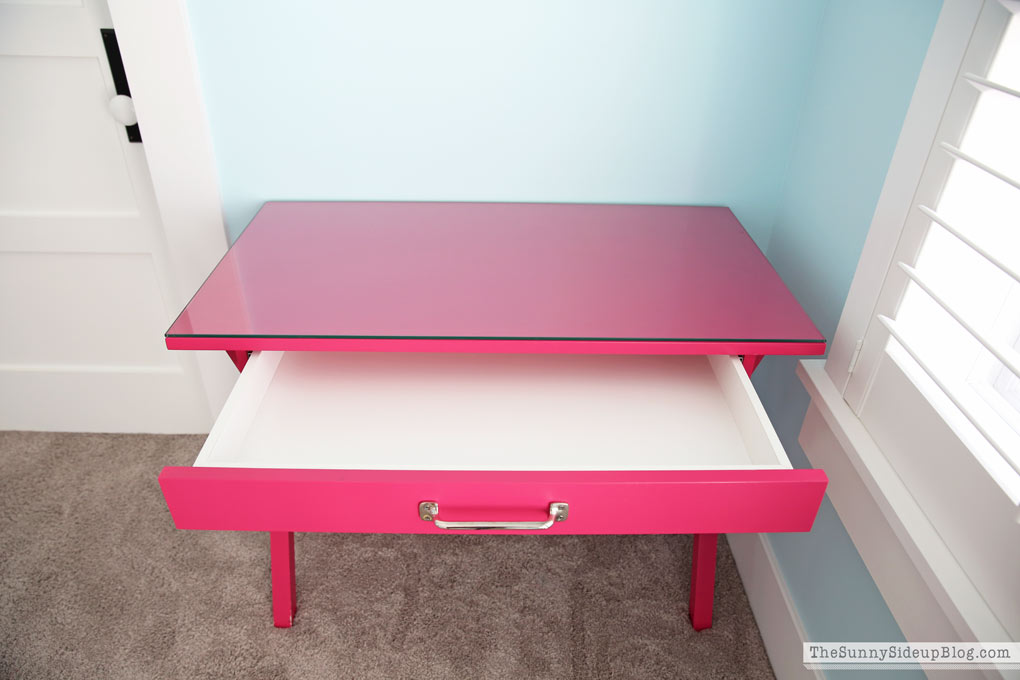 Because they are small desks I just had my carpenter put in one drawer.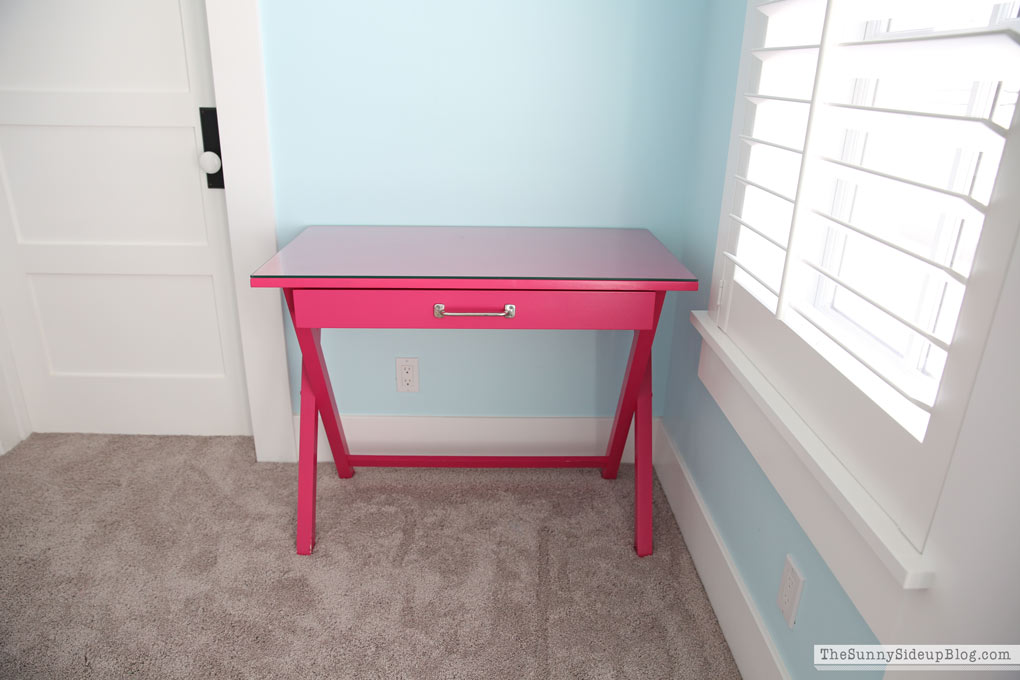 They turned out so cute and my girls love them!  Since then I have seen a few smaller desks on-line that might have worked.  These are some desk options I looked at and loved along with two smaller options that I discovered after we had the desks made: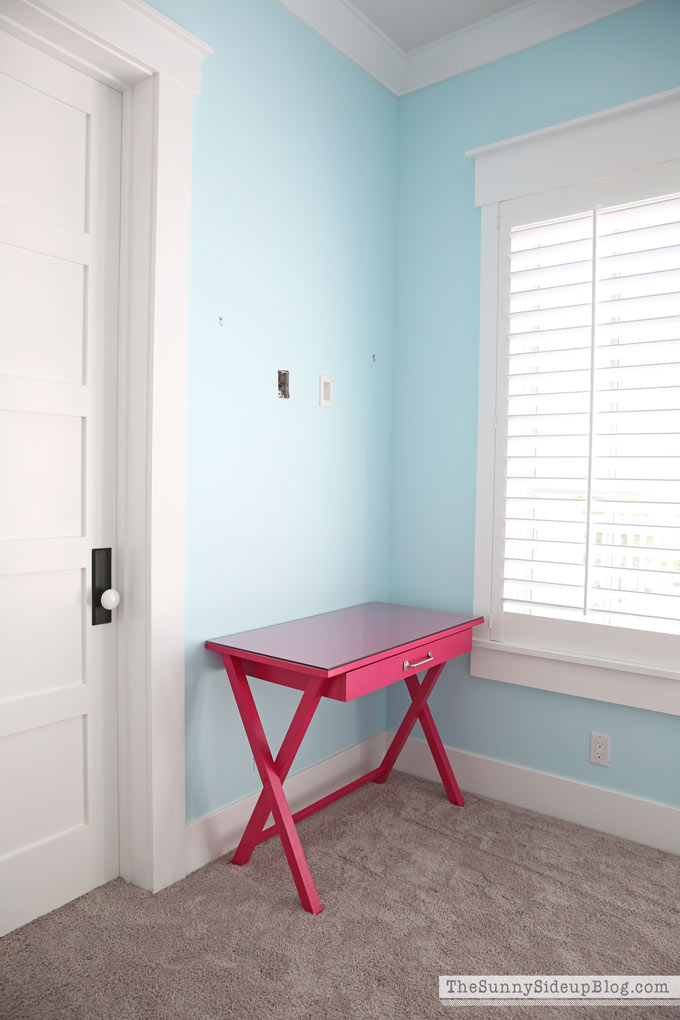 I love X legs on furniture and Addison was cool with whatever as long as the desk was pink.  Her sister tends to be a bit more opinionated!  So this pink desk is totally my style. :)  On the wall above their desks we had a TV outlet put in.  Not for my girls!  I'll never let them have TV's in their rooms.  But someday when they have moved out we may want to turn these rooms into guest rooms or something else and have a TV in them so we added outlets for later.  For now, I needed to cover the ugly outlets!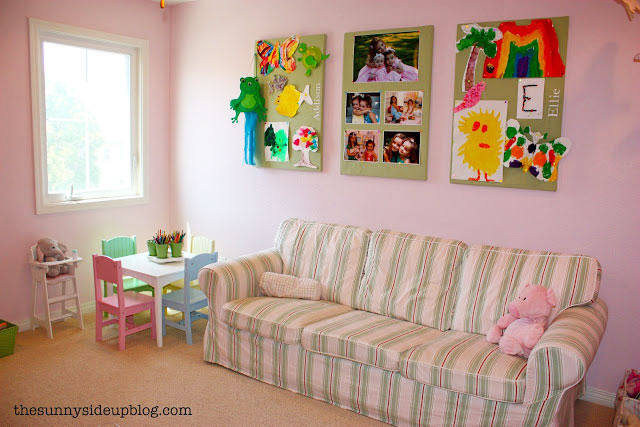 K.. if you remember this picture you have been with me a LONG time!  This is
my girls' little playroom in our previous house
.  Oh my word.. this picture brings back so many happy memories for me of two toddlers running around with curly hair in princess dresses. :)  See the green bulletin boards on the wall?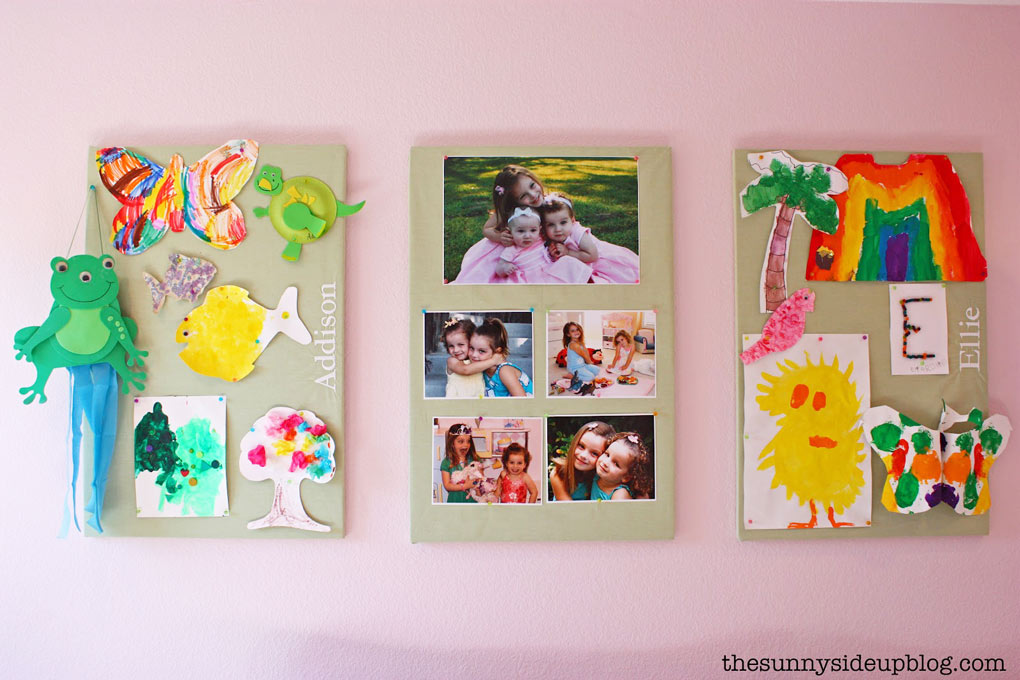 I ordered these years ago from
Pottery Barn Kids
to display their art work and pictures.    They are just bulletin boards with fabric over them.  I've always loved them and knew I wanted to re-use them somewhere in my new house.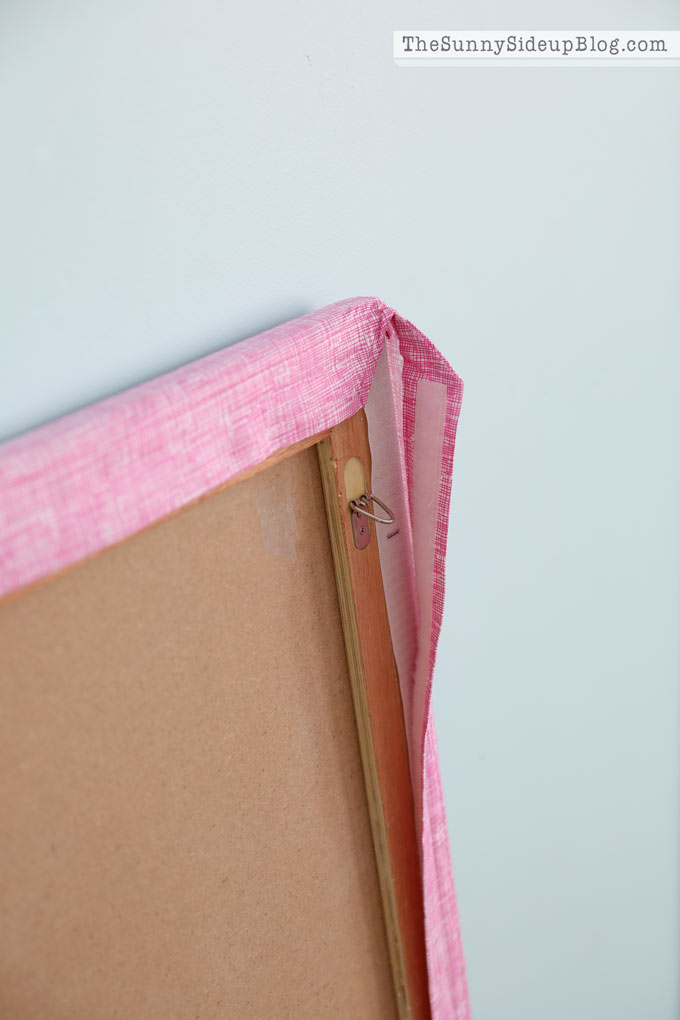 I measured the girls wall space above their desks and they fit perfectly!  I was so excited.  I picked out fabric that matched their rooms and had some cute covers made.  You can see how it is just attached with velcro on the back.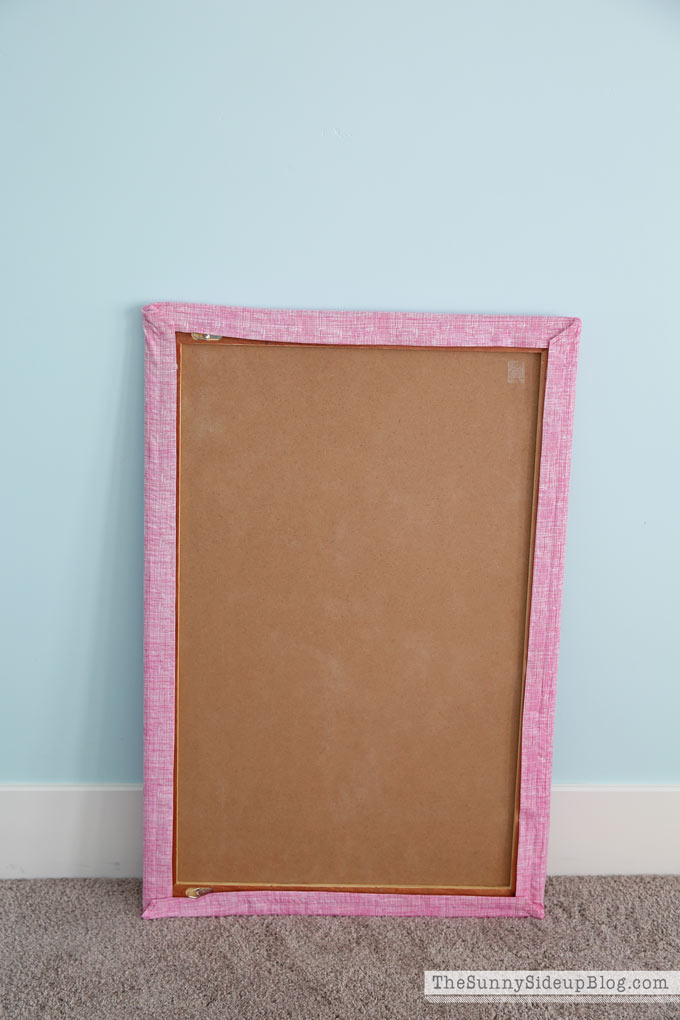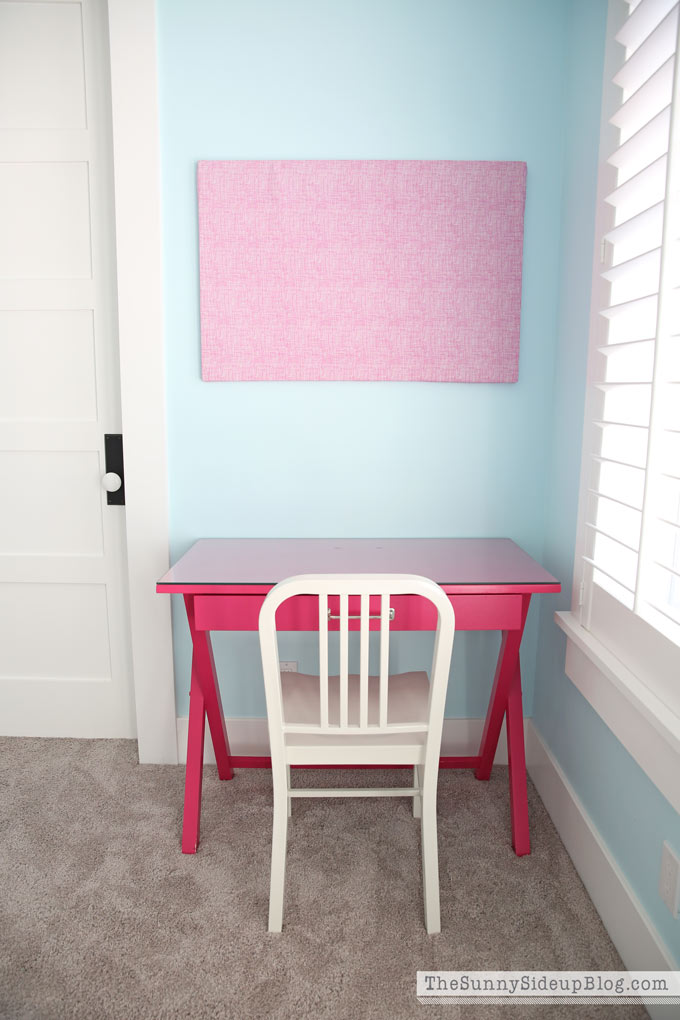 Perfect fit!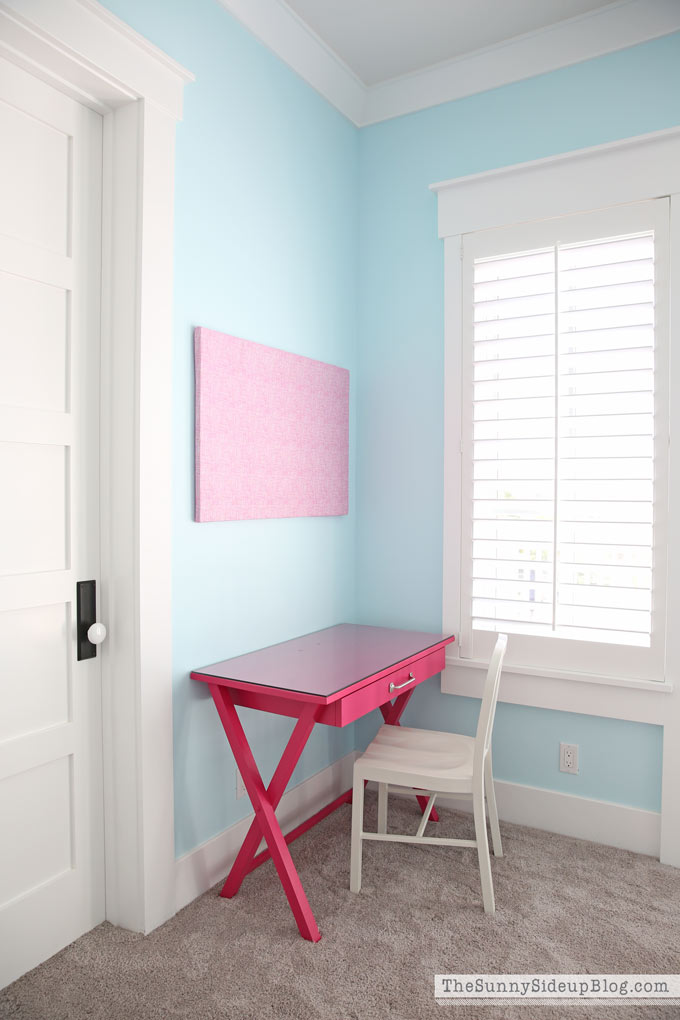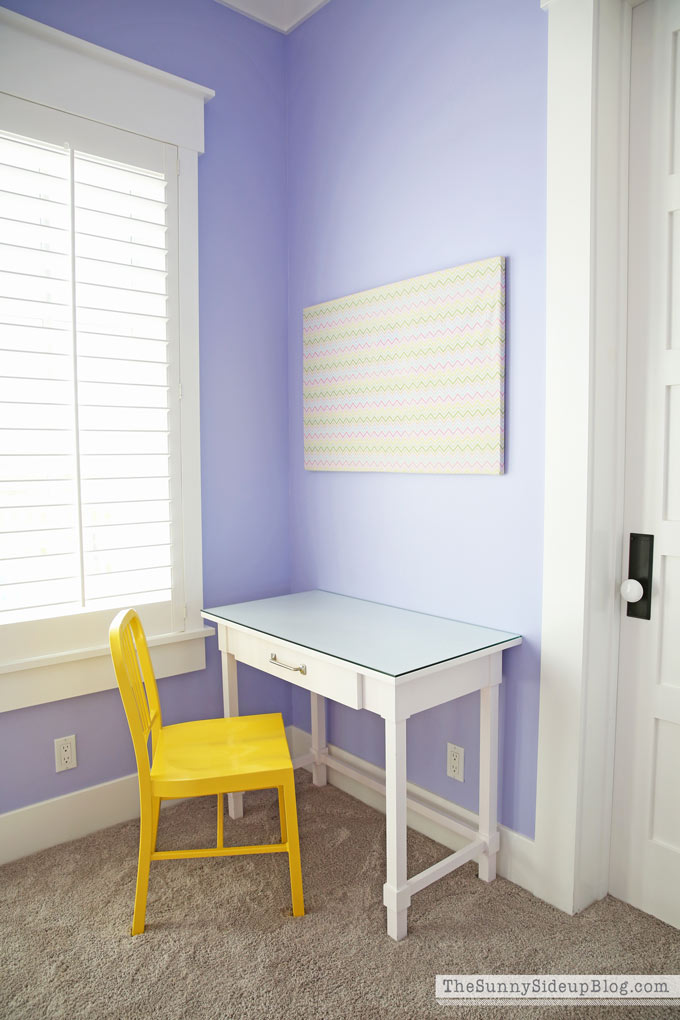 Ellie wanted straight legs on her desk so we added a little detail but kept them simple for the most part.  She wanted her desk to be white so we decided on a yellow chair to go with her room and add a fun pop of color.  It was tricky finding the bright yellow we wanted!  I ended up finding 
their desk chairs on Overstock
.  I wanted something simple with clean lines that would be comfortable for them.  I loved
this chair
, but it didn't look comfortable to sit in for long without a pad.  The chairs we ended up with are surprisingly comfortable for metal chairs!  They have a nice big seat and my girls really like them.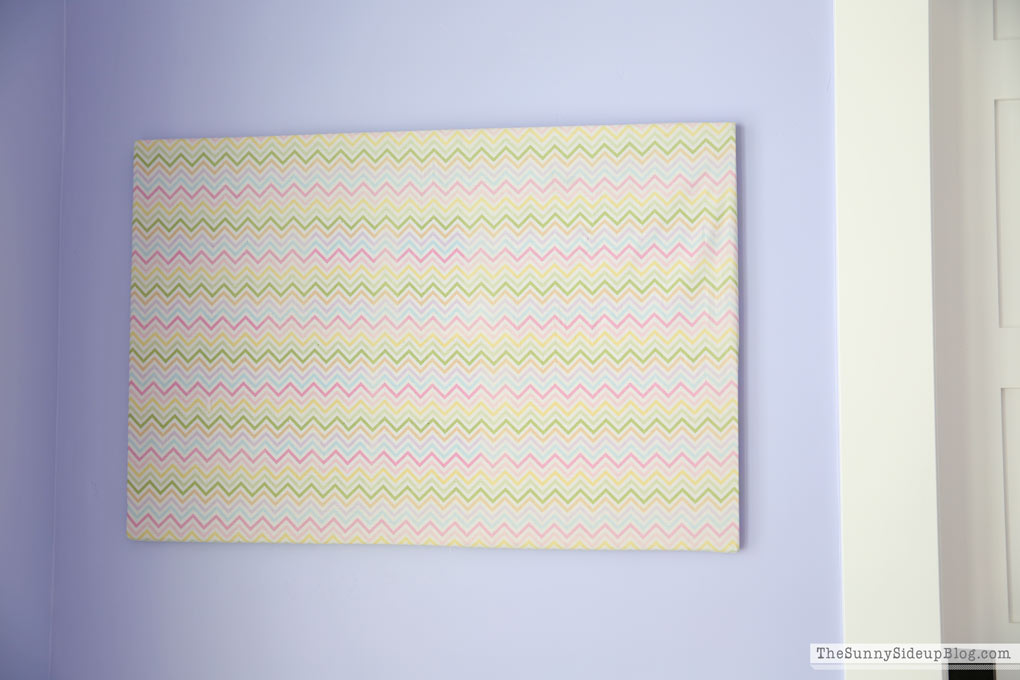 This is the same fabric as one of El's pillows on her bed.  This purple room color is hard to photograph!  Not my favorite, but Ellie loves it so much and that what matters. :)   (*I'll share all paint colors in their room posts!)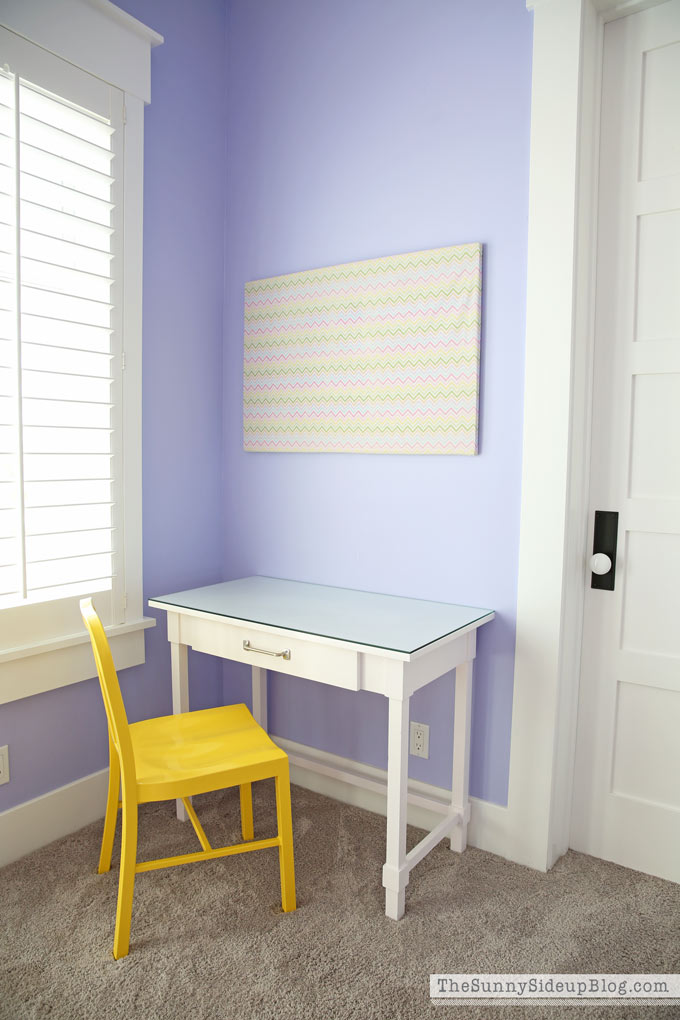 So there is a peek of one corner of their rooms!  Like I said.. more to come.
:)
xoxo, Erin