Happy weekend everyone!  What a week!  I had this post half way done and was planning on finishing it Thursday, until my 12 year old accidentally put her water bottle in her new backpack without the lid on tight right before dance and spilled the whole thing.  All over everything in her bag!  Her new binders, books, notepads, homework, etc.  You guys it was SO much water!  I felt awful for her.  All of her new book covers she had spent hours decorating.. everything was ruined and she was of course in tears.  SO!  I spent half the evening drying papers and books with my blow dryer while my husband stayed up until midnight with her to get her mostly dry homework done.
Plus earlier that evening I hit an all time low and burned a frozen pizza.  Just popped that baby in the oven and didn't turn on the timer.  I was running around helping kids with homework, cleaning, and getting ready to fly out the door for back to school night when I started to smell something not quite right..
That's just a small indication of how our week went.  Ha!  School has begun!  Thank goodness for a three day recovery weekend.  And for fun favorites I have to share with you today!  They are cheering me up immensely.  :)
(*affiliate links used)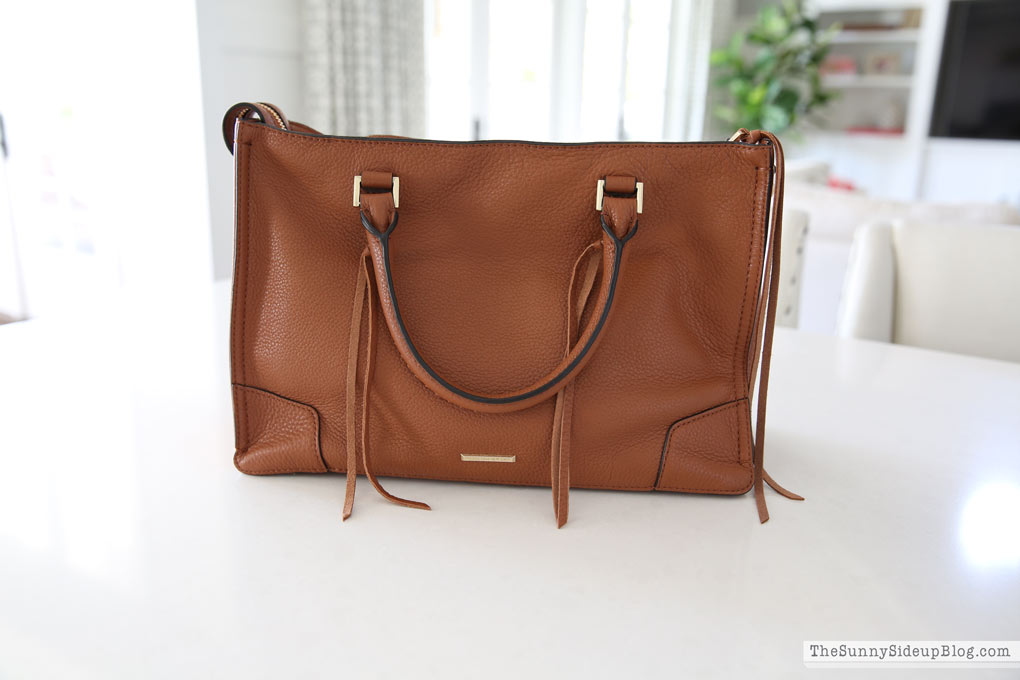 Let's start with my favorite, shall we?  I splurged on a new bag for Fall.  The one I originally ordered from the Nordstrom sale sold out so fast.  They sent me an e-mail a few weeks after the sale saying that it wasn't coming.  At first I was so bummed.  Until I found this Rebecca Minkoff Satchel.  LOVE!  Definitely a splurge.  Definitely worth it.  I know I'll use this for years.

This is a pic of the back of it.  I love the tassels!  It's so simple.  Both classy and casual so I can dress it up or down.  I got this almond color, but it comes in other colors and I equally love the vintage pink and the sandstone.  I had a hard time choosing, but knew the almond would work better with most of my clothes.  Love this purse!  Burned frozen pizza is just a distant memory. ;)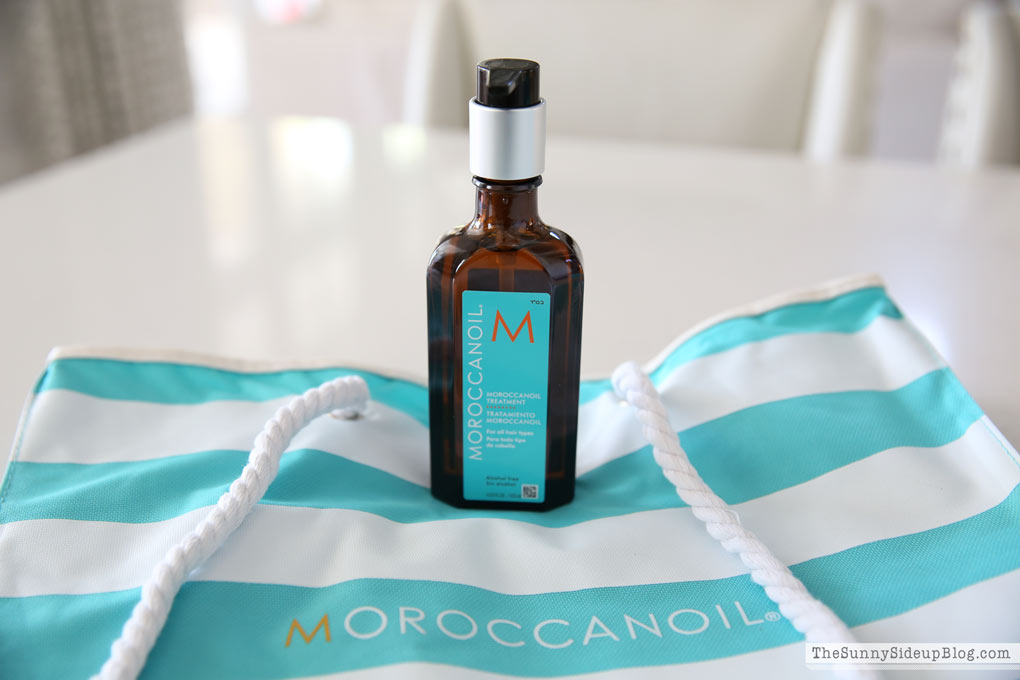 Stocked up on one of my favorite hair products.  Moroccan Oil.. I couldn't wear my hair straight in this city without it!  It's a little pricey but this size of bottle lasts SO long and it really is the best.  I put some on after I blow dry my hair and it just smooths it right out and helps so much with humidity.


This cute bag came with it and was a fun surprise!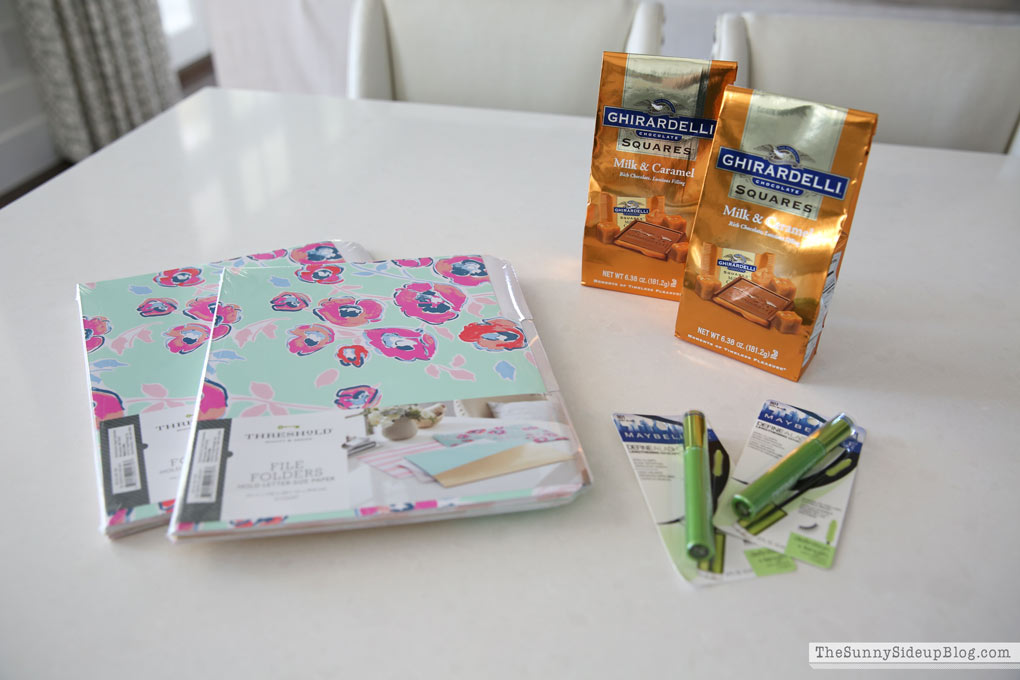 So many of my close friends have birthdays in August!  So does my husband so it was a busy birthday month.  A lot of times for my friends' birthdays I just round up some of my favorite things.  My favorite chocolates, my favorite mascara, and cute folders for paper organization.  Love it!  The only problem with this type of gift giving is that I have to really resist the urge to just keep it all for myself. ;)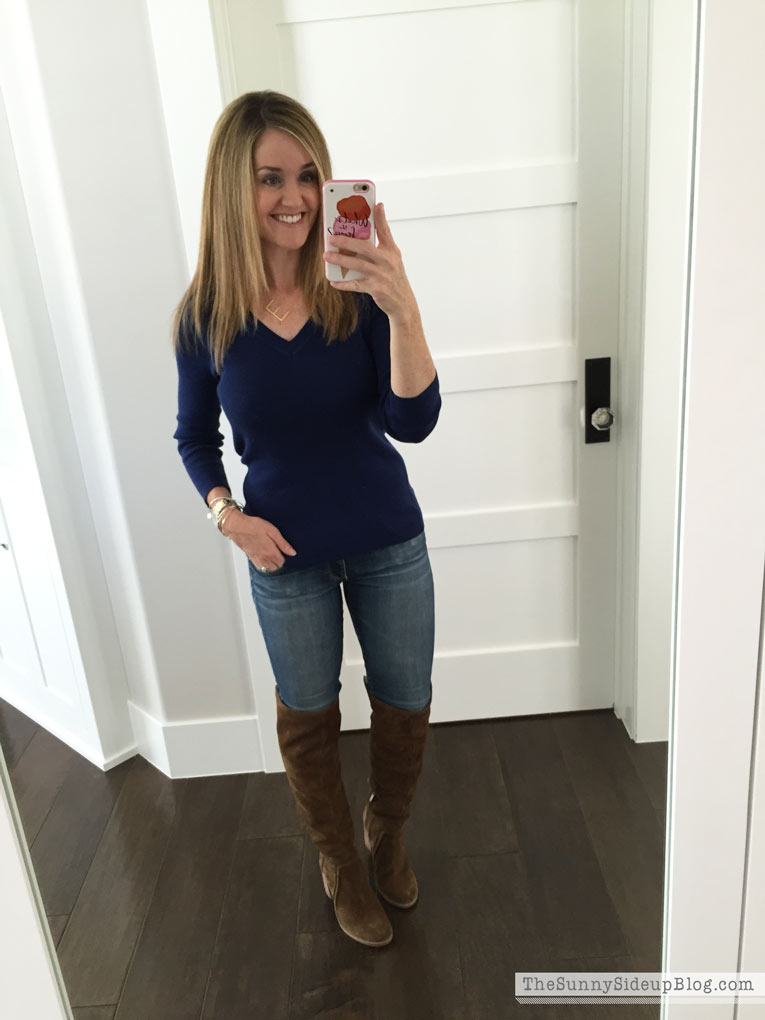 Ok!  Sharing some fun clothes.  Love this new v-neck sweater from BR.  It comes in so many fun colors and will be perfect for cooler days.  Wearing it with my favorite new boots from the Nordstrom sale!


And did you notice the fun necklace I'm wearing that's perfect for all v-neck tops!?  I had seen these monogramed pendant necklaces in Anthro and thought they were so cute.


But I didn't buy one at first.  Then I came home and for a week every time I'd put something on I'd think.. "wouldn't that monogrammed necklace look cute with this outfit?"  That's when you know you need to go back and just buy it.
So I did.
And I picked up a couple for Christmas gifts too.  Because I'm determined to have my shopping done early this year.  And because I really love this necklace.  I bought an E for my name, but a last name initial would be fun.  I have a bracelet I've worn for years with a "K" on it for my favorite boys (Kenny and Kole) and that's fun too.  Initials for the win!  I'm a fan. :)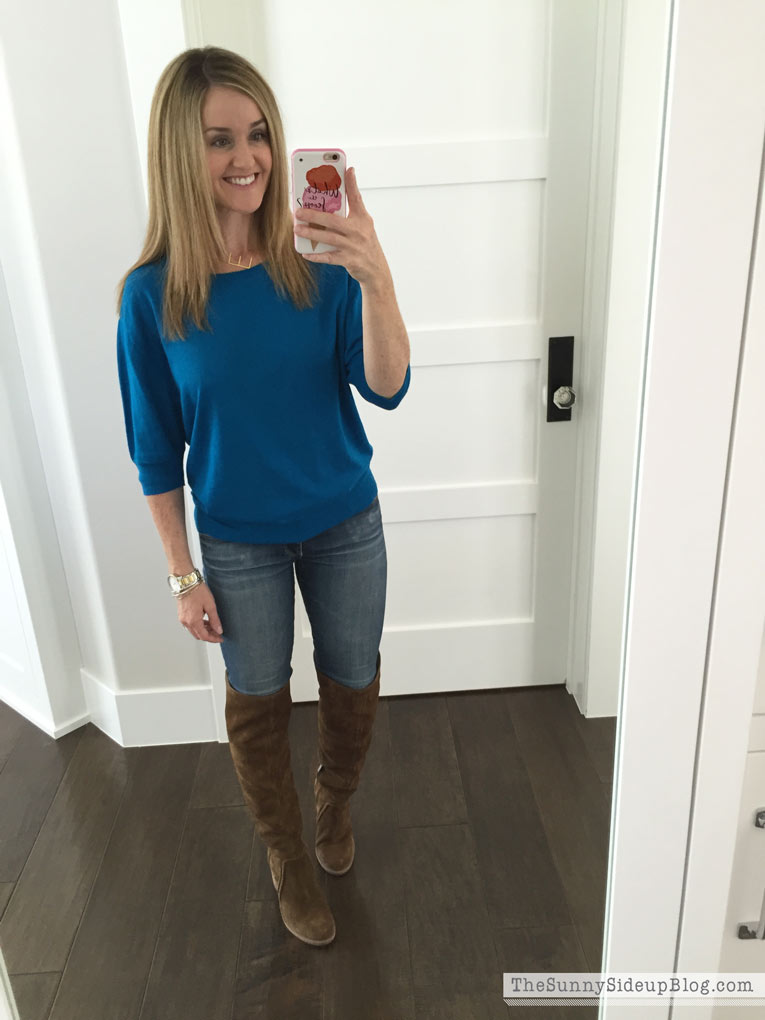 Love it with v-necks, but you can make the necklace longer or shorter so I also wore it this week with this Gap sweater and it worked.  It looks cute with everything!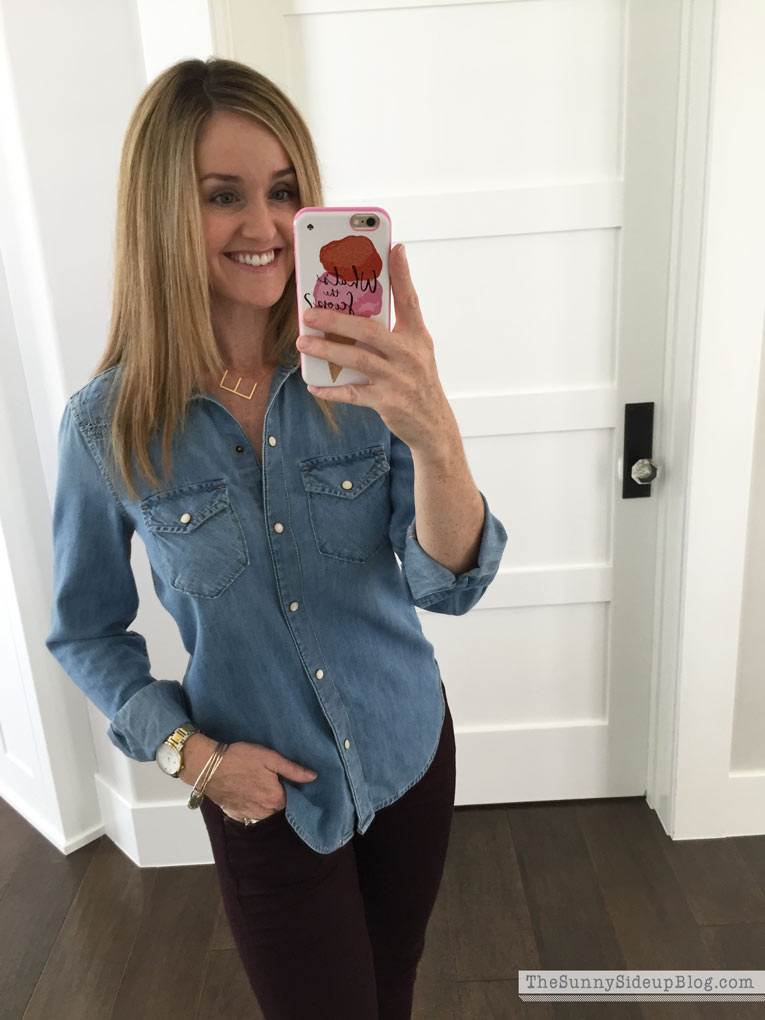 Speaking of Gap, the last time I was there I don't know what came over me but I wanted to buy everything denim!  For some reason all of the denim clothes were really speaking to me.  So I tried them all on.  Because when something is speaking to you, you don't want to be rude and just walk by.  Manners first.  Rule one of shopping. :)  This embroidered denim shirt came home with me.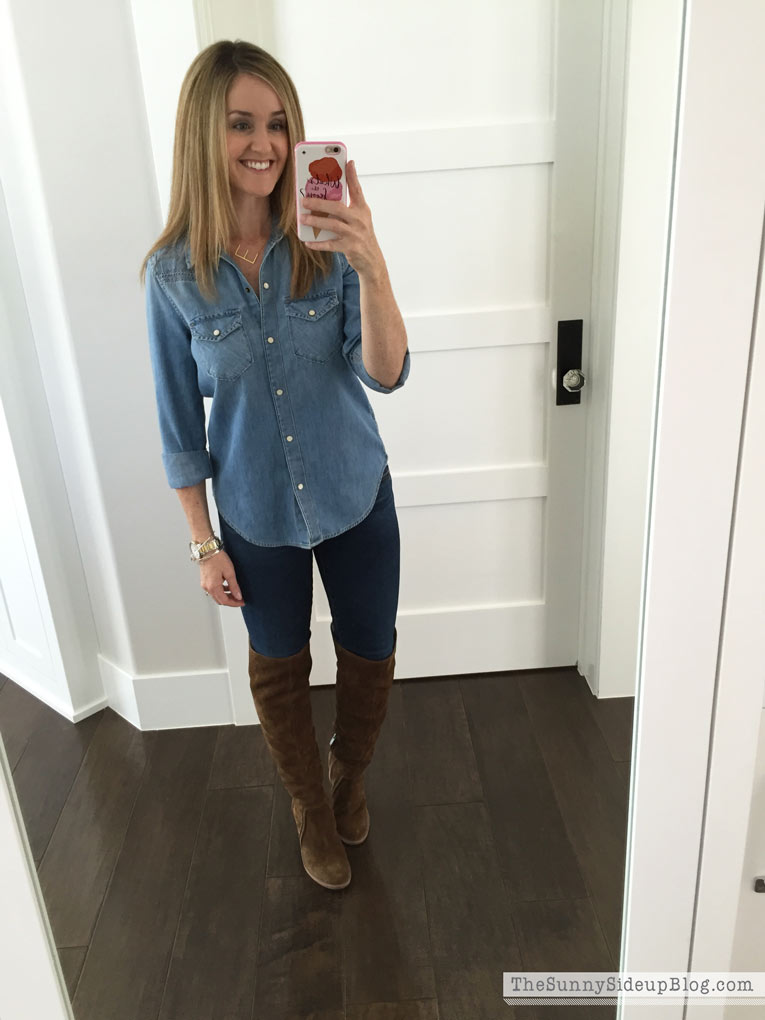 Love it with my new boots!  And I know!  It looks so.. western.  And I have to admit that I am not a country music fan.  Although I adore the song "Who I Am (Rosemary's Grandaughter)."  I can't listen to that song without crying!  And I had been listening to it (and tearing up) earlier in the week.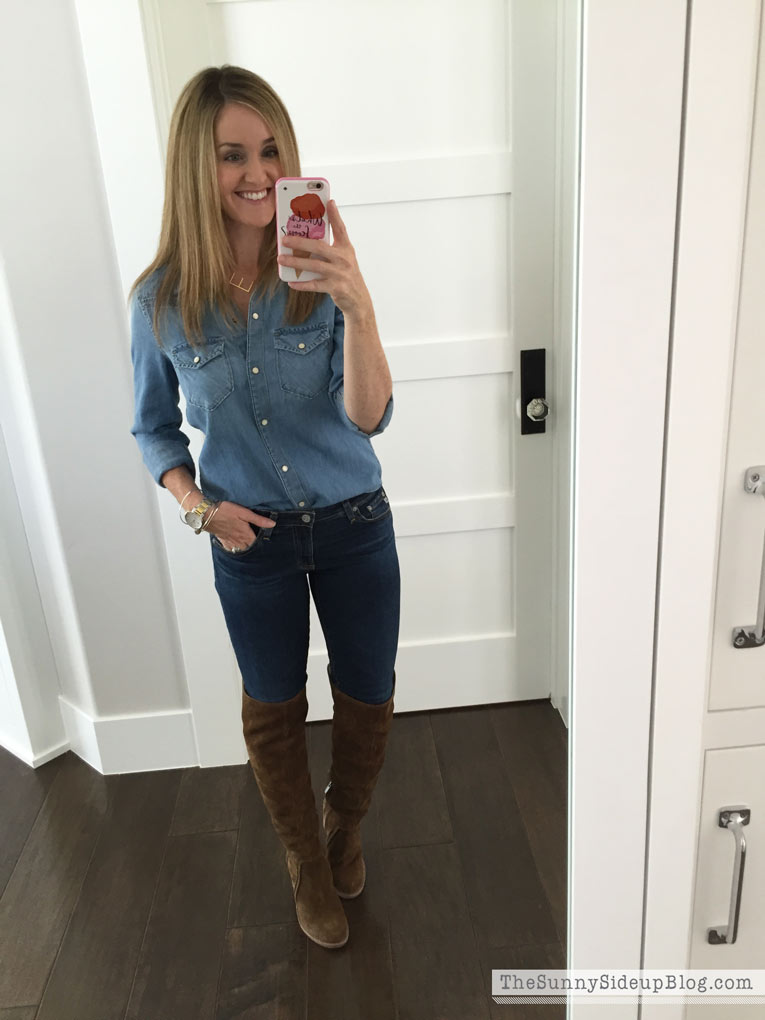 So maybe that's why I went on a western denim shopping spree?  (Cute tucked in or out!)  But look at all of the cute denim tops they have right now!  It's making a come back this year.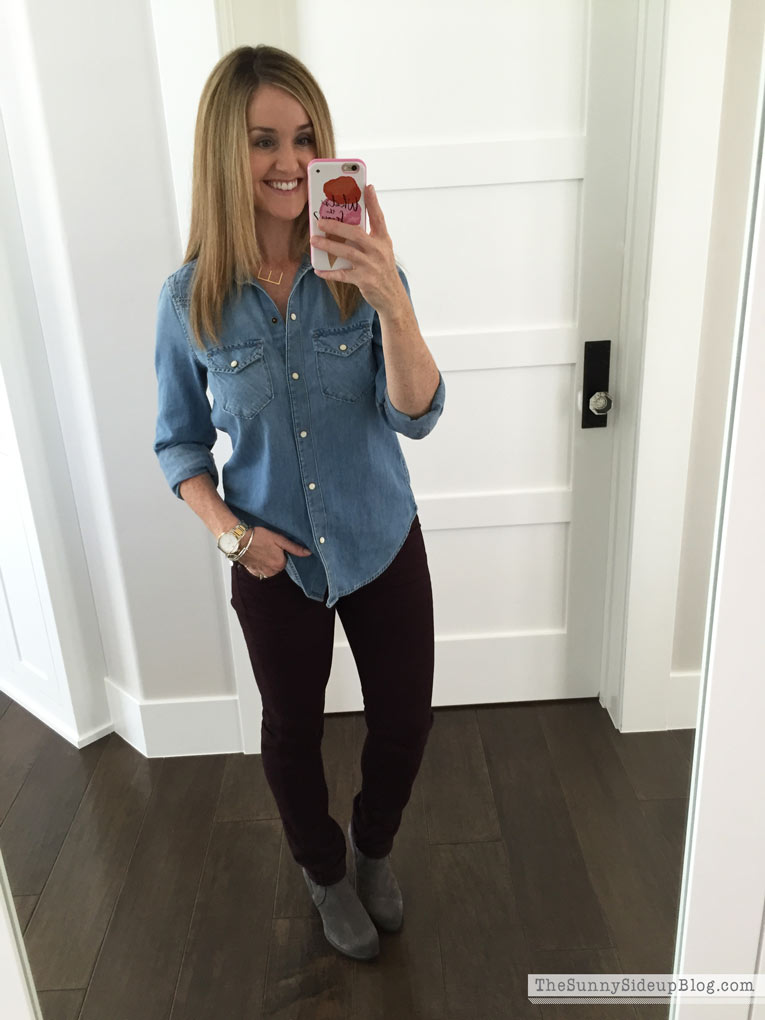 Also cute with my gray booties and maroon (hard to see the true color in this pic!) boyfriend jeans from the Nordstrom sale.

Another denim that I had to have.  These jogger pants!  Oh my word.. couldn't love them more.  Cute fit and so comfortable.


And they have pockets!  Which I love.  I'd order the green too if I didn't already have a similar pair.  I always gravitate towards clothes like this because secretly I wish I could live in my pajamas all day and pants like this feel like I'm pulling it off.  My shirt is an older one out of stock (similar here) and my shoes are almost sold out too.  But I adore these similar gray peep toe booties and am picking them up while they are on sale!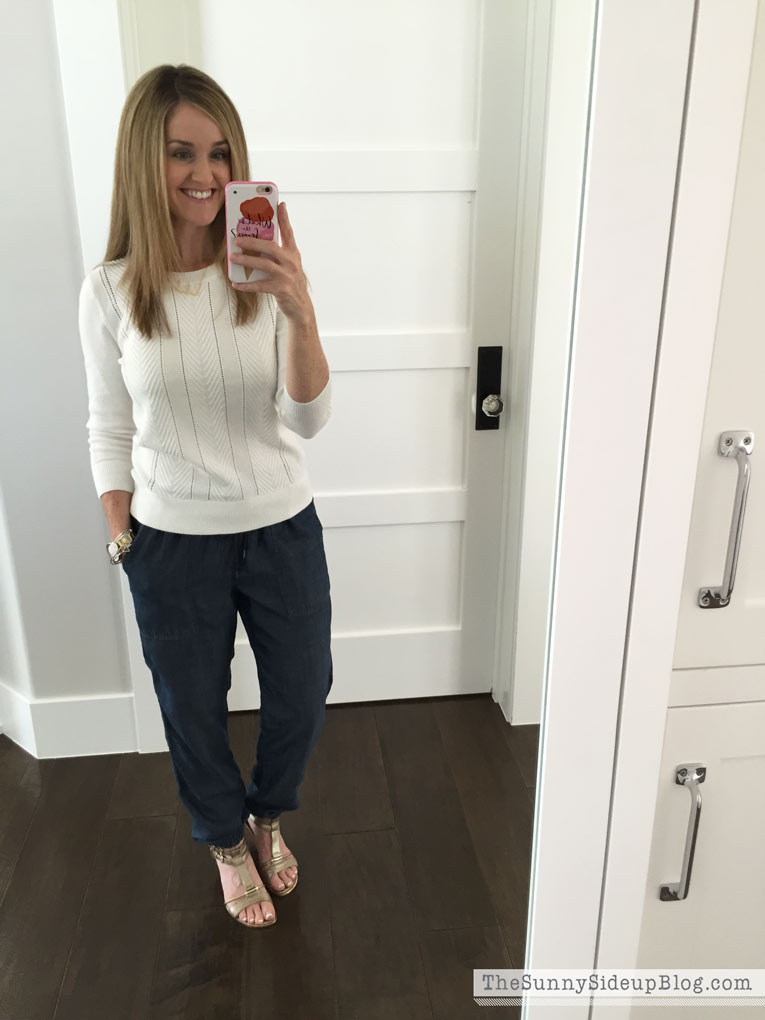 Wearing them a different way with my white sweater.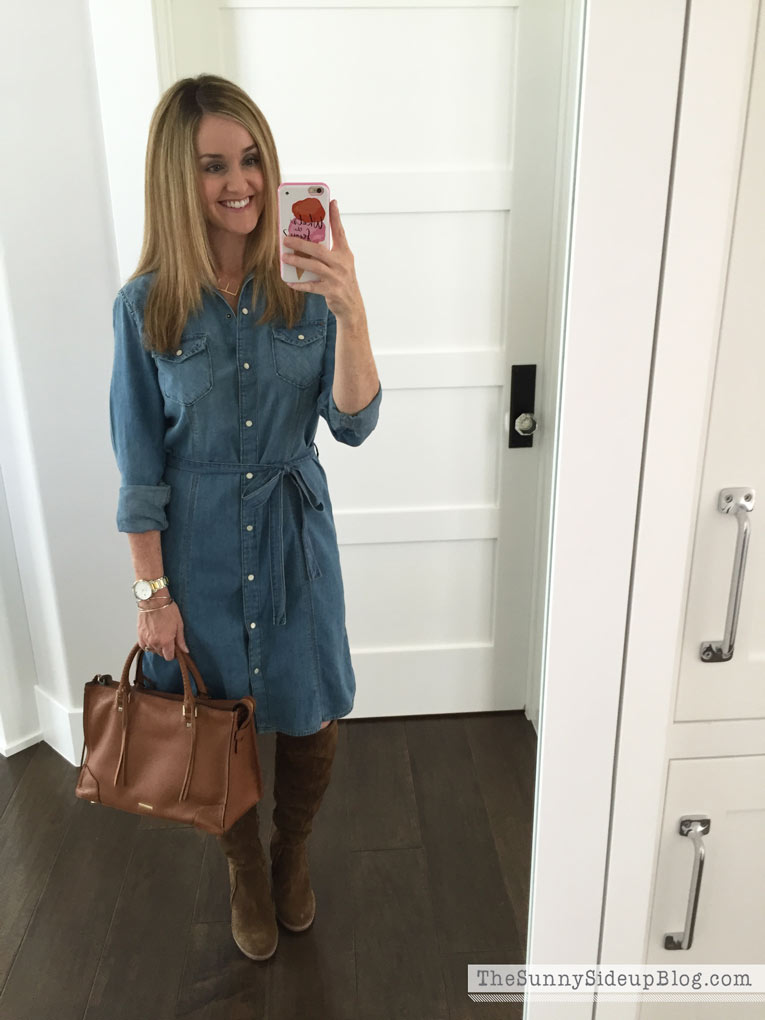 Ok.. last western purchase!  For now. :)  I couldn't pass up this darling denim shirt dress.  Just really comfortable and a very flattering fit.  I like that it's a bit longer – looks so cute with tall boots.  I liked it even better on me than on the hanger which is rare!  I tell you.. it was speaking to me!  :)  Fun with my new purse and necklace too.
The best part is that so many stores are having major Labor Day weekend sales so everything I just shared is all marked down.  Yea!  40% off at Gap and Banana Republic and Nordstrom has some fun things on sale too.  Below are pics of things I just shared and a few things I'm snatching during the sale!  I guess denim isn't the only thing speaking to me.. ;)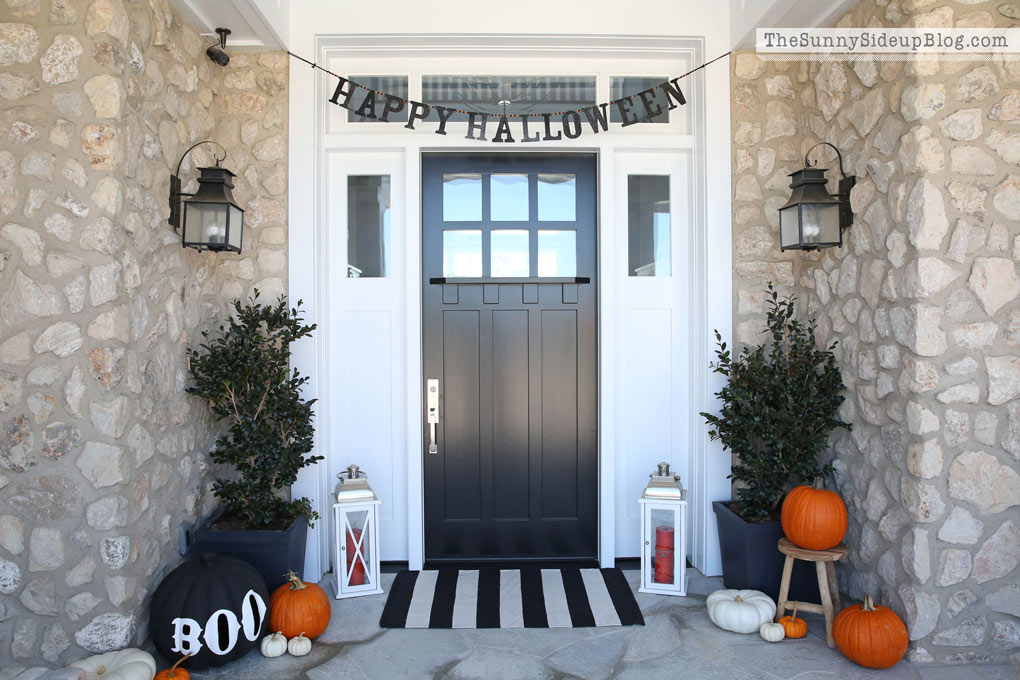 Today was a bit cooler (5 degrees but we'll take it!) and it made me so excited for Fall decorating!  I'm hoping to get started on my Halloween porch soon.  It probably won't be a lot different than
last year
, although my son wants it "spookier" so I'll have to try.
Last year I went with a more "happy spooky" approach you can read more about
here
.  It didn't quite cut it with my 6 year old.  So this year I'm letting him help pick a few things out.  I found several spider web options and let him choose his favorite.
He picked
this one
.  It's from Pottery Barn and it's huge!  I said..
"Pottery Barn.. huh.. good choice buddy."
:)
Right now it's sitting in my mudroom still in the box.  :)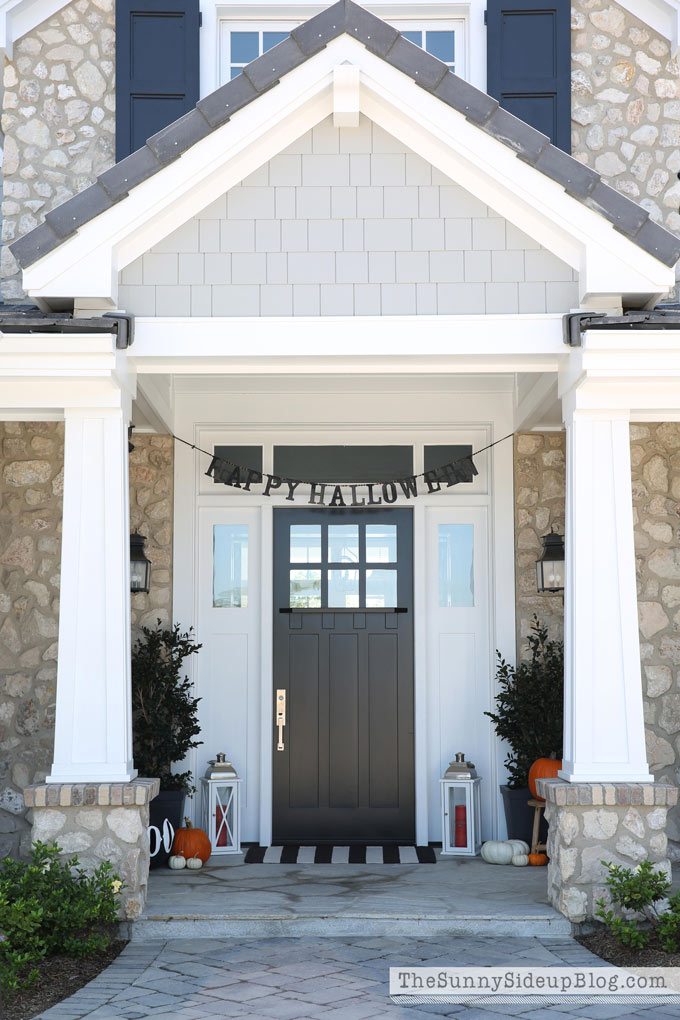 I adore
Pottery Barn
and
Pottery Barn Kids
Fall/Halloween Decor.  They go for that whole "happy spooky" look that seems to be right up my alley.  They are both doing their "Buy More Save More" sales for the weekend so I'm debating picking up
these lanterns
I've had my eyes on forever.  Wouldn't they look happy/spooky on my porch too?  :)

But before Fall decor begins here on the blog I made some major progress in the picture taking department last week and can't wait to show you!  Pool bathroom is first on the list.  So many of you asked to see it so it's coming soon!  To a blog near you. :)
Enjoy the rest of your weekend everyone!  I hope you are able to rest, shop some fun sales, and order out.  That sums up my agenda.
Because burned frozen pizza is for the birds.
:)
xoxo, Erin