First of all.. thank you thank you to everyone who left Paris advice!  I read every comment (so many great tips!) and my husband and I have been trying to plan so many things you all suggested.  CAN.  NOT.  WAIT.  :)  Thank you!  

K.  About a month ago I gave my fridge a good clean out.  This is the before pic.  Obviously. :)  To be honest with you all, these pictures I'm about to share aren't all that special or earth shattering.  In fact, I came close to just not posting them at all.  But then I thought about how for me, seeing pictures of a cleaned out space motivates me.  Even when the after isn't anything special or earth shattering.  So maybe these pictures will motivate one of you to clean out your fridge?  And maybe you will feel better after you do.  And that will make happy.  So I will now proceed with mediocre material. ;)
In my defense before I share with you everything in my fridge, I took these pics right after my girls had their friends over for a party.  Hence the reason we have 4 pizza boxes and cookie dough galore.  Usually we NEVER have those unhealthy things in our fridge. Ha.  ;)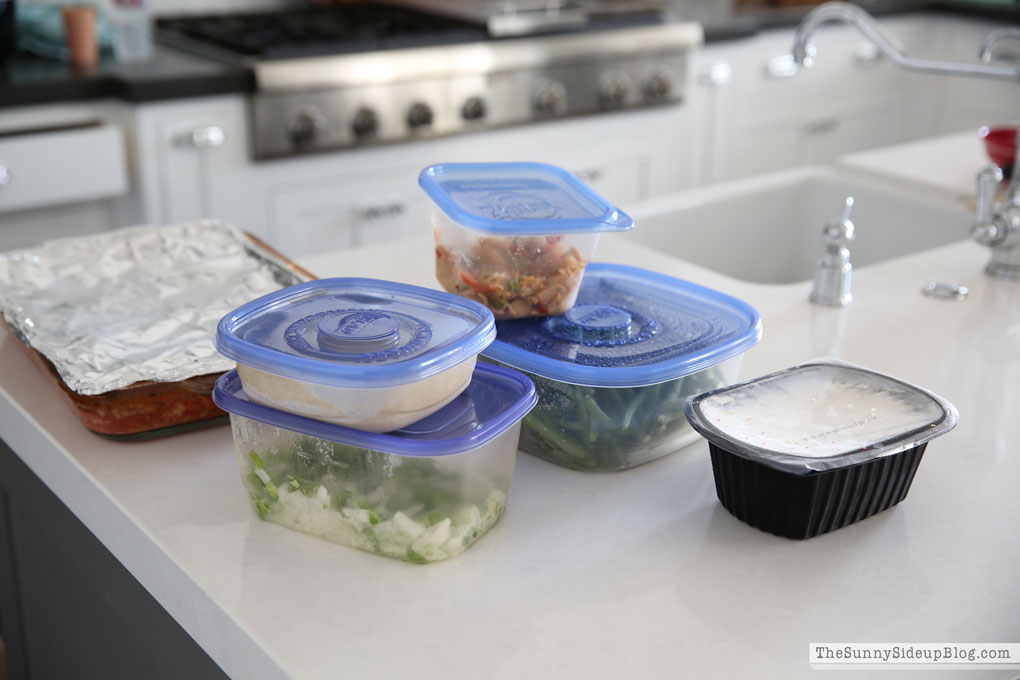 When ever I do a major fridge clean out I always pull every single thing out.  I work fast and toss everything that's garbage.  Then I put all of the leftovers that need to be tossed or put back on the island next to my sink.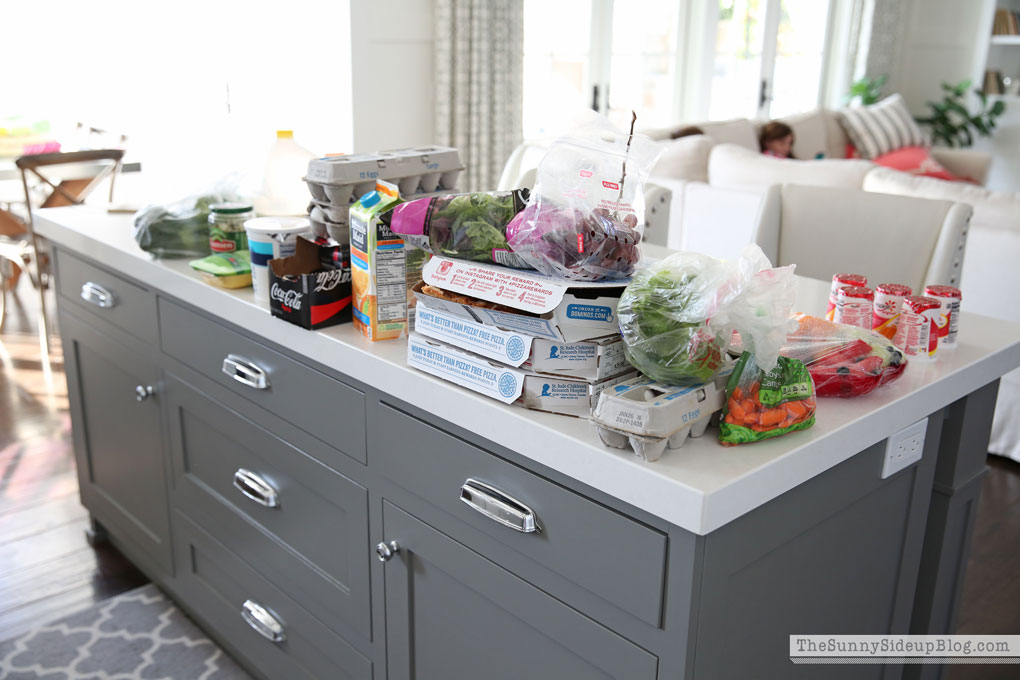 I set everything else I'm keeping on the other island.


Then I round up any fruit I have and wash it and put it in clear containers so it's easy to grab and eat.  We didn't have much left over after the party!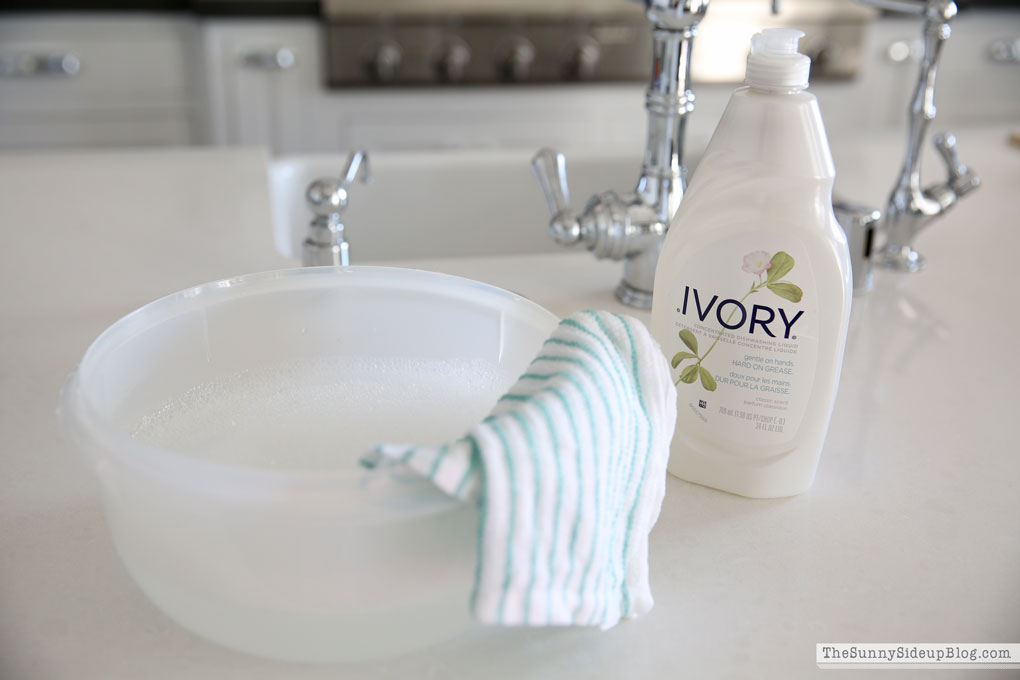 I fill up a small bowl with hot, soapy water.  I could use my sink, but like I said, I try to work fast when the fridge door is open so I like to have the bowl with me in the fridge.  That way I can clean my dish towel multiple times quickly while I wipe down every shelf and nook and cranny.  Yes!  Pull those drawers right out if you have to!


Then I put things back.  Like I said, this post is revolutionary. ;)   I don't use any containers or organizers in my fridge.  I've tried them before, but for me they just seem to get in the way.  I do better just trying to keep it cleaned out and full of only the things we use/need.  Consolidated those 4 pizza boxes down to 2.. nice.  I didn't have to cook for two nights.  :)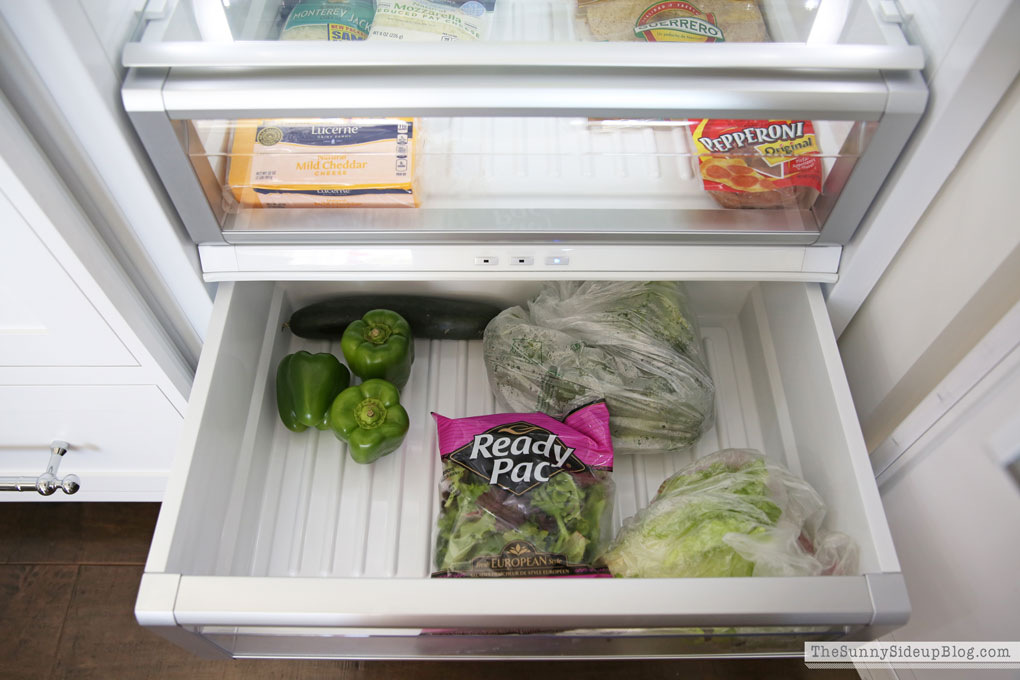 Here's another tip:  I always do a major clean out like this when I know I NEED to get groceries.  When I know most of the stuff in my fridge needs to go and it's time to get more food.  Doing it after a big grocery run just means you have more food to pull out and put back.


So clean!  And empty!  I got groceries later that day and put everything in its spot and my fridge was full and happy again.  And after eating more pizza.. so was I.
The best news is that I took these pics weeks ago and my fridge is still clean.  Once you do a major overhaul, it's easy to just keep shelves wiped off and things in their place.  Like I said, nothing earth shattering here.  But a clean fridge makes me happy every time I open it to feed my kids.  Which feels like somewhere around  24,865 times a day.  A good spot to have organized. ;)


I tried a new recipe last week.  It's called Tomato Parmesan Chicken and I found it here.  It was good.  Not amazing, but good and easy to make and 2 out of my 3 kids and my husband ate it.  Which means I'll make it again.  Here are step by step instructions if you want to try it.


It's one of those stir everything together and dump it on top of the chicken and then cover it with cheese recipes.


I always like those.  :)


Mine came out a little soupy so I think next time I try it I'll use less tomato sauce.  Or drain my tomato's better?  I'm sure all of you can make it taste amazing.  Good but not great is the norm around here when I'm cooking.  Which is why I'd rather just organize my fridge and eat leftover pizza.  :)


On another note.. I have been LOVING our light and sunny springtime evenings.  Even though it's still cool outside, the sunlight pours in all of my windows and makes 7:00 in the evening feel like 4:00 in the afternoon.  The only problem is that my kids' bedtime keeps getting later and later.  The 3 little people in our house wouldn't exactly call that a problem..
I've had so many questions about this table in my dining room nook and PB finally got it back in stock!  And it's on sale!  YEA.  Happy discovery a few days ago because I always felt bad saying they didn't carry it anymore (they didn't for a while!).  And yes.. I know it is an outside table.  That we have inside.  Story about that here and I've never looked back.  We love it.
(p.s.  My favorite chunky wool/jute family room rug is also on sale now!  Details on all of my rugs in this post.)
Ok.. clean out your fridge, cook some chicken.. or order pizza, enjoy the longer days, use outdoor furniture on the inside, and get your kids to bed on time.  I think that sums up today's post.
Insightful as always around here.
;)
Dining Nook Sources:  Abbot Dining Table, X back chairs, similar rug, similar wooden tray, clear Barcelona vases, faux plum blossoms, light fixture.
*affiliate links used.
xoxo, Erin