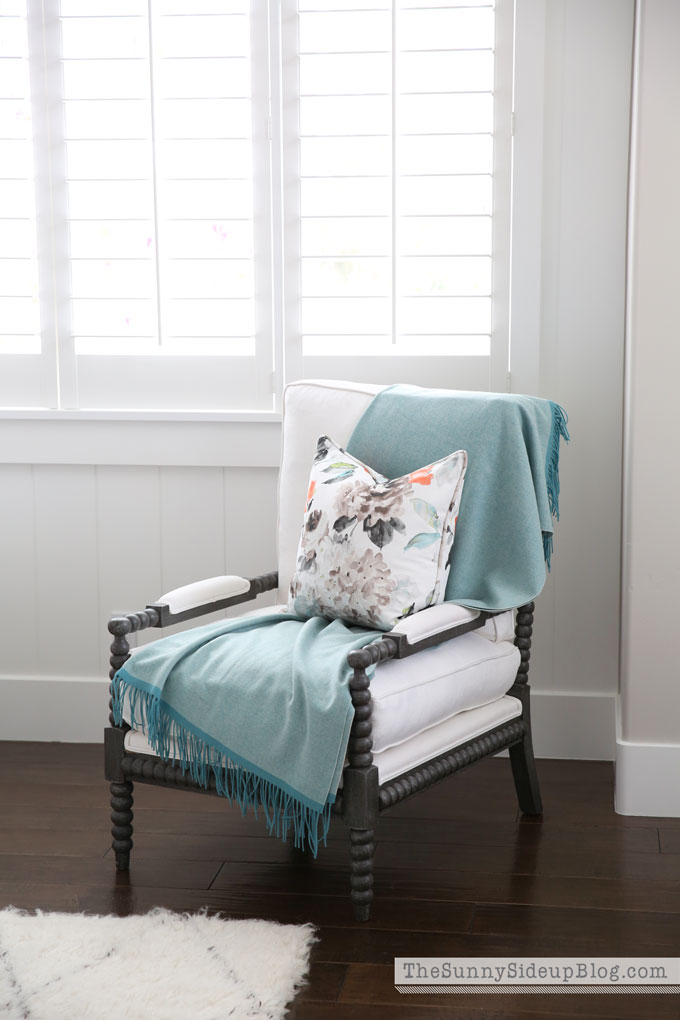 Friday is upon us once again friends!  Sharing a few favorites from my week!  In my last favorites post I shared this corner of my master bedroom.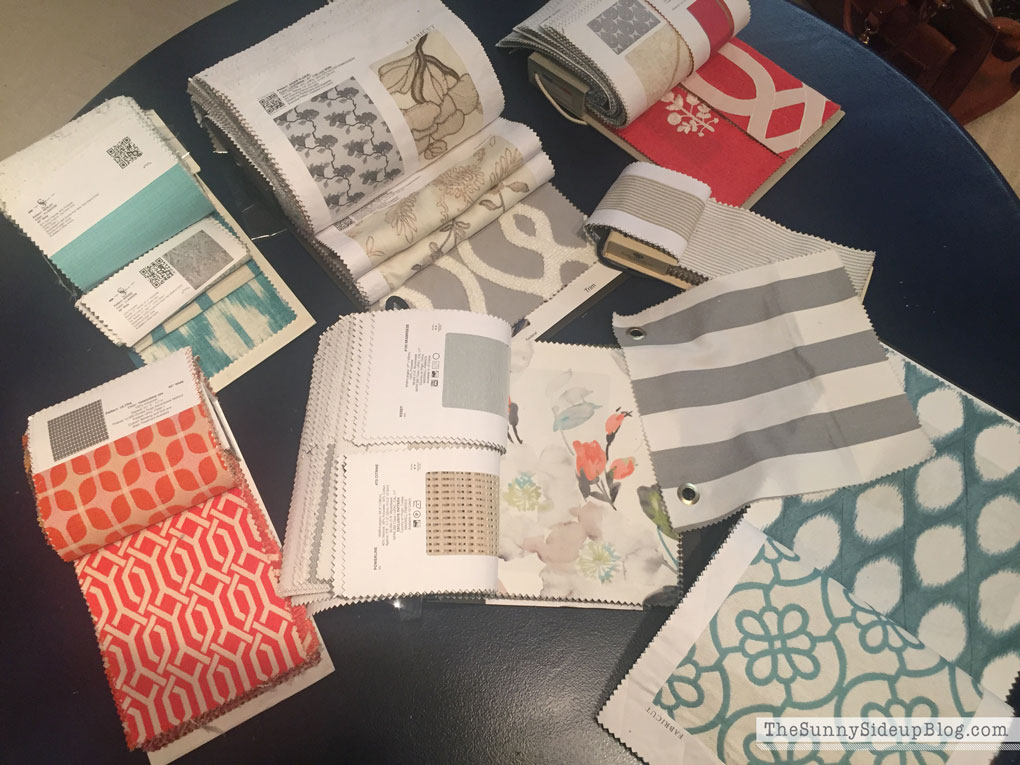 This week it was time to pick out drape panels!  These are the fabrics I narrowed it down to.  I love them all.  The room is grey/neutral with pops of coral and teal blue.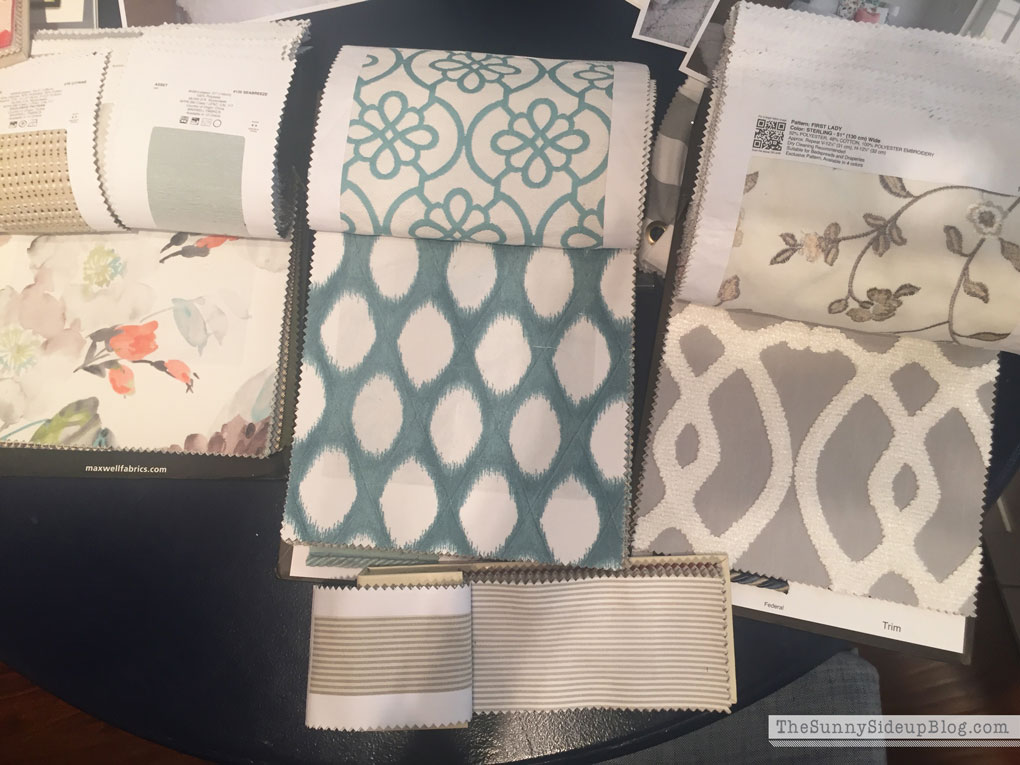 I finally narrowed those fabrics down to just these three choices.  The floral print on the left I'm in LOVE with.  It's the fabric of the pillow on my chair above and a few other pillows I already have in the room.  I could use it for drape panels also and move the pillows from the chairs to another spot OR keep the floral print pillows on the chairs and go with one of these other choices.  I usually like geometric prints better than florals for drapes, but I really love that fabric.  The middle teal fabric I also love, but maybe more for pillows??  They would be bold drapes!  I'm also crazy about the grey/cream fabric on the right and neutral is always a safe choice, but my walls are tan/grey so I'm wondering if they will get lost and blend too much.  Sorry.. I'm rambling.  These are the types of things I always debate when making decor decisions.  :)  Do you have a favorite that stands out?


K.. I have to tell you all about my latest favorite camera!  I have a large, nice SLR with multiple lenses that I use for all things blog.  I take lots of pictures every day and it's great.  But I don't like to take it places because it's so nice that I stress about something happening to it AND it's so big that it's a pain to carry around.  So for family trips and events and everything day to day I've been using my cell phone.  Which is fine, but I wasn't loving that the pictures I want to save and will cherish the most in 20, 40, 60 years (yes I'm going to live to be over 100) aren't great quality.  So my husband did a little research and surprised me for my birthday with this Canon EOS Rebel SL1 Digital SLR with an 18-55mm STM lens.  I love it!  It's an SLR so I can still adjust settings but it's SO small!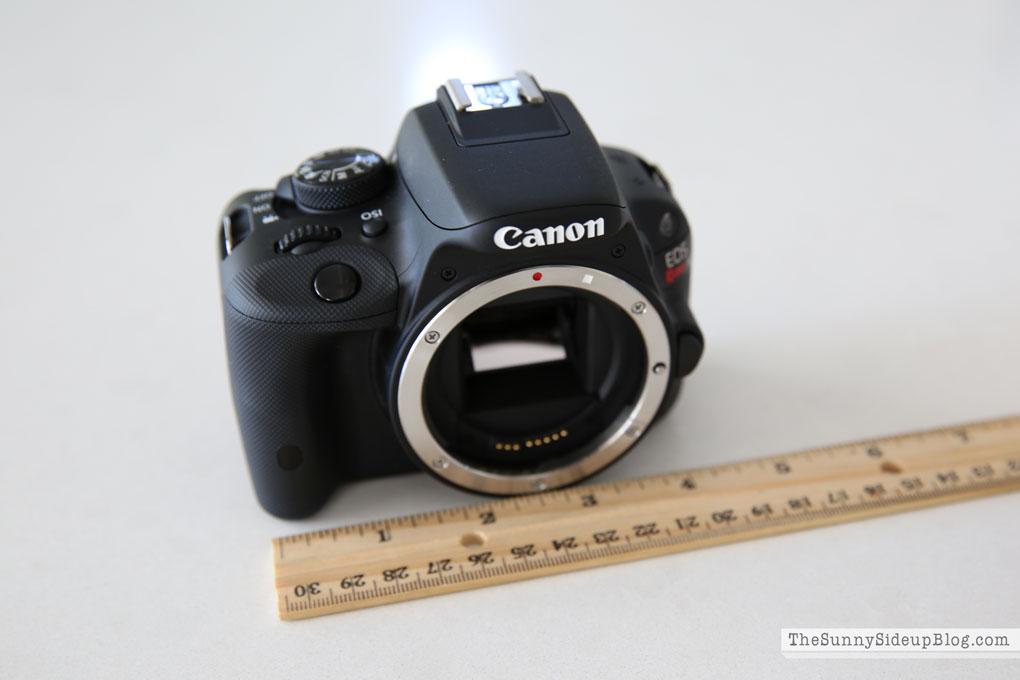 Just 4 inches and perfect to put in my purse and take around with me or travel with.  The picture quality is amazing and it's quickly becoming my go to every day camera.  New favorite for sure!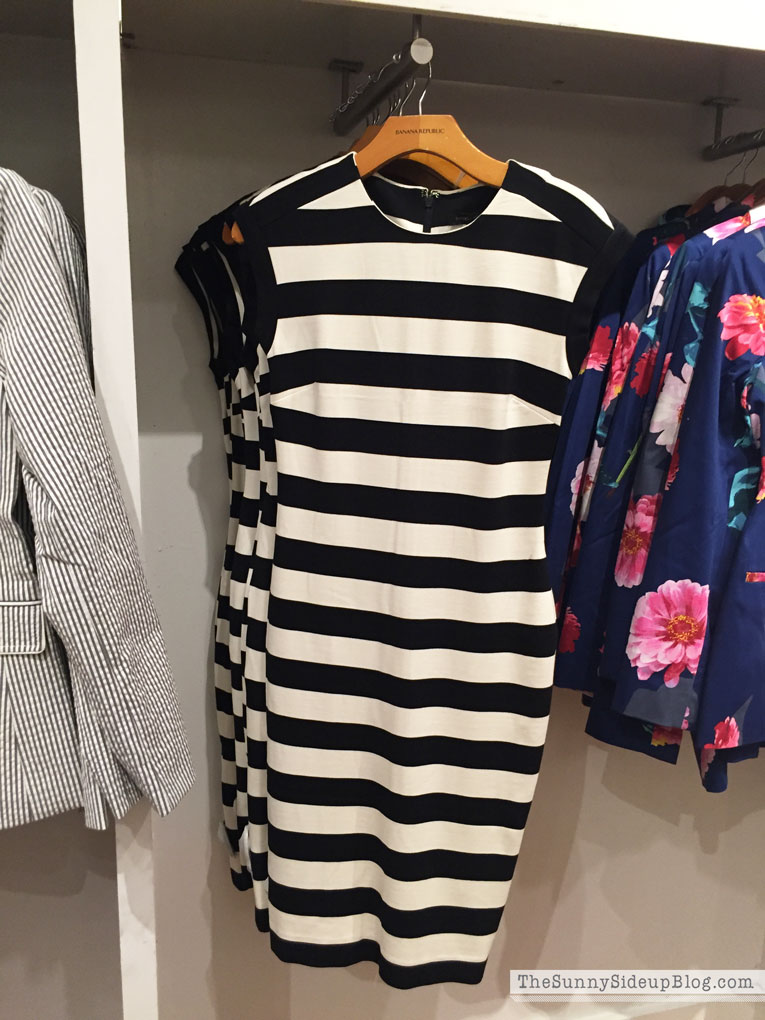 Just when I was about to ban myself from all things stripes I walked into Banana Republic and saw this dress.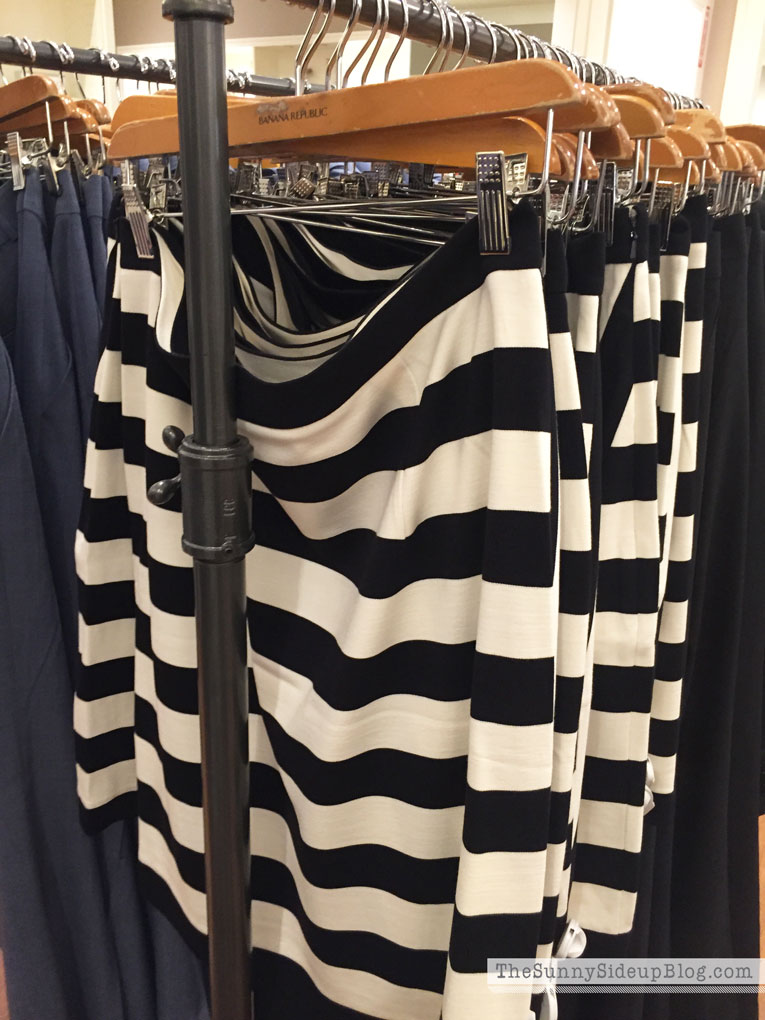 And this skirt.  Ahhh!  Of course I couldn't resist.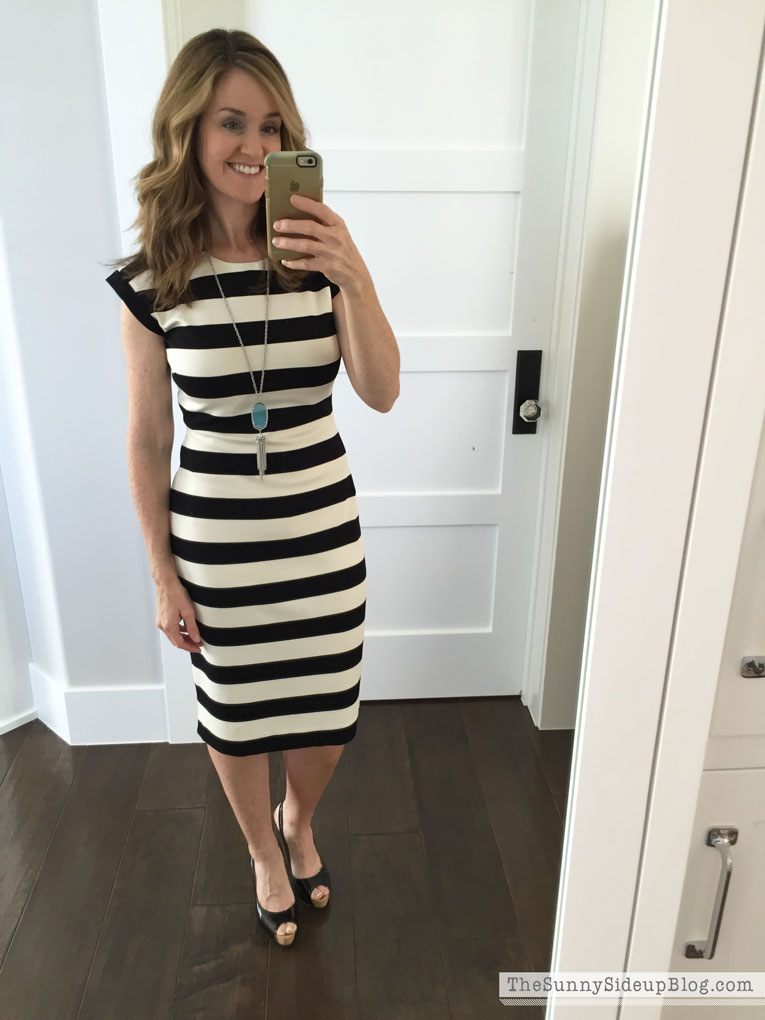 The dress had to come home with me.  I didn't have a choice really.  I have to tell you all why this is my all time favorite dress.  Aside from the stripes (which I obviously love) the material is amazing. It's really thick which is my favorite because sometimes dresses that are fitted like this are a little clingy.  Clingy thin dresses show things.  Do you know what I mean?  Maybe you have a perfect body so you don't.. ha!  Let's just say that three kids later I love a dress that has nice, thick material that glides over your body and makes you appear thinner vs. showing any and every imperfection.  Am I making any sense whatsoever?  I didn't think so. :)  Bottom line: it has a flattering fit!  I also love the length of this dress and how it hits just below the knee, but I'm laughing because when I came home and looked it up on-line I saw that it only fits me that way.  On the model on BR's website it's above the knee.  Nice!  So if you're like me and are 5'3 and a half (don't forget the half) it will be longer on you too. ;)  *Other than that it fits true to size.. a tad big so if you are in-between sizes, go down… another reason to like this dress. ;)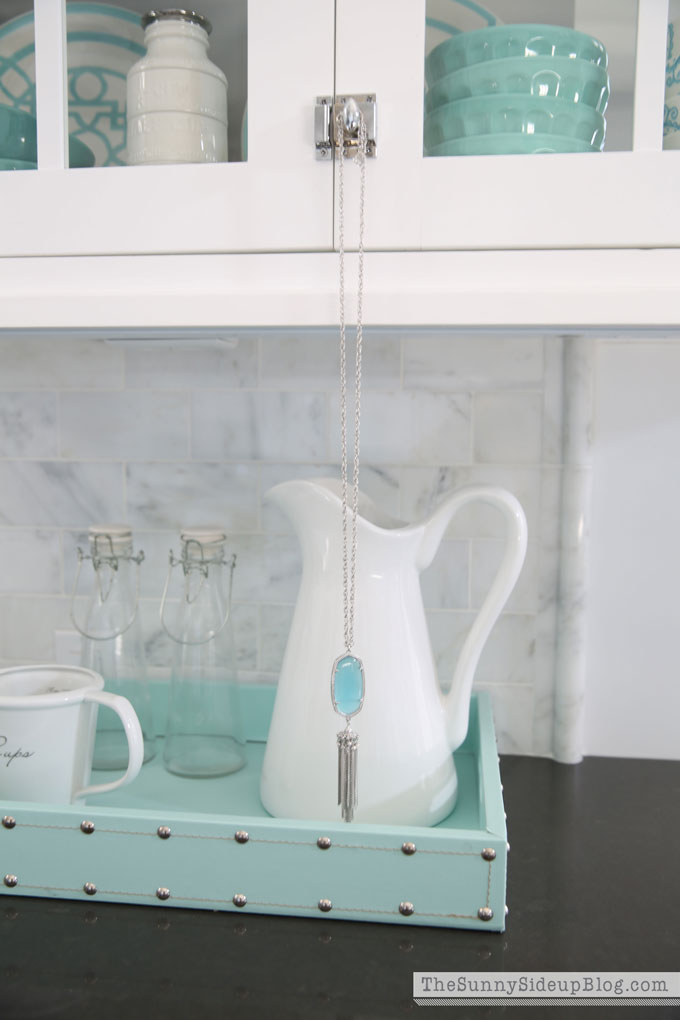 I wore it with my Kendra Scott Pendant necklace.  Wouldn't a coral necklace look good too?  Any color works so well with the stripes.  It will be fun to try different jewelry with this dress.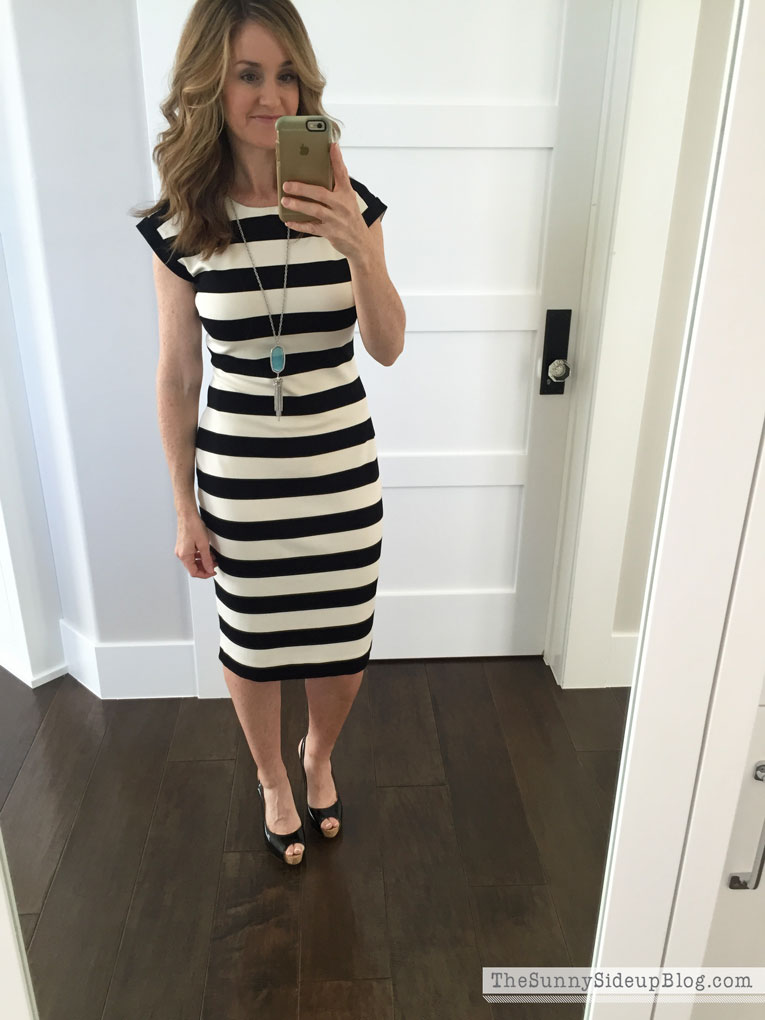 The dress is a little pricey (like I said, it's NICE material), but Banana is having their Spring 40% off sale right now!  Woot woot!  I'm wearing older black heels with it, but I think a bright, colorful heel would look so cute!


I have these Vince Camuto heels in the neutral on the left and love them.  I thought about ordering them in pink also to go with this dress.  I'm not much of a pink lover, but wouldn't I look so Kate Spade if I wore this dress with hot pink shoes? ;)


Lousy lighting for the next few pics I snapped in the dressing room!  I also fell hard for this green layered ruffle top. It comes in another fun color, but I can't pass up a good army green.  This blouse is so feminine and pretty!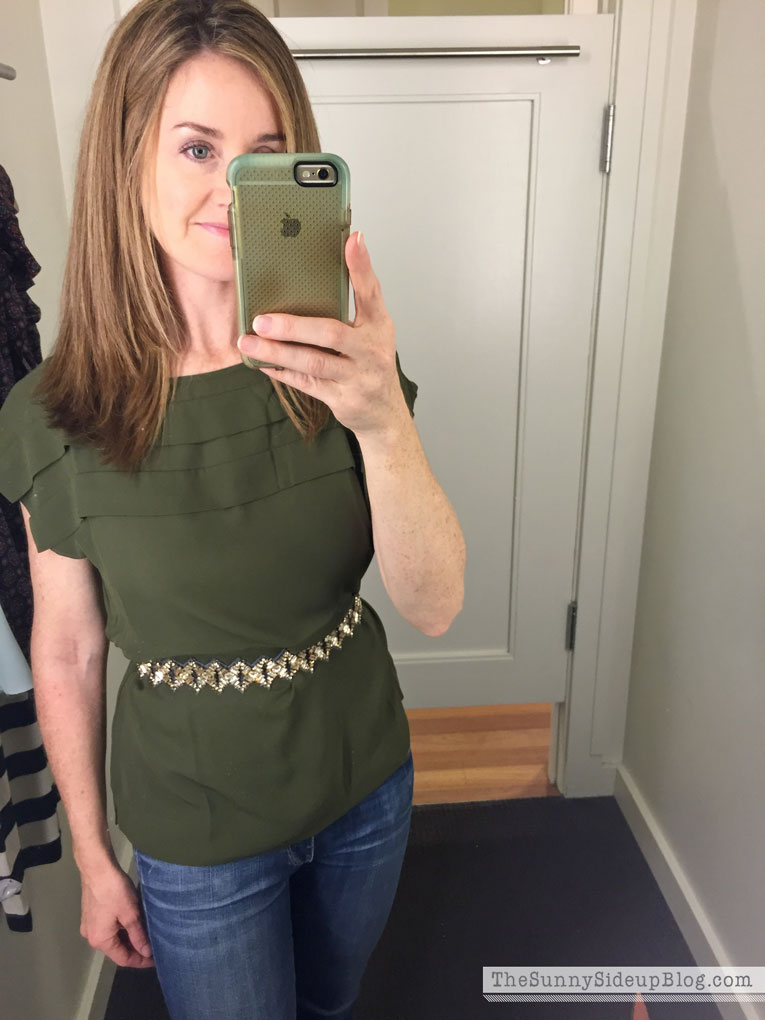 And how cute is it with this belt!?  Funny story.  I had this belt with me that I bought at Anthro but I took it to the mall planning to return it.  I loved it, but didn't have anything to wear it with.  I decided to try it on with this blouse in the dressing room for fun and wa-la!  Found a reason to keep my belt!  Love that I went to the mall to return the belt and left the mall with the belt and new clothes from BR.. ha!  So typical. :)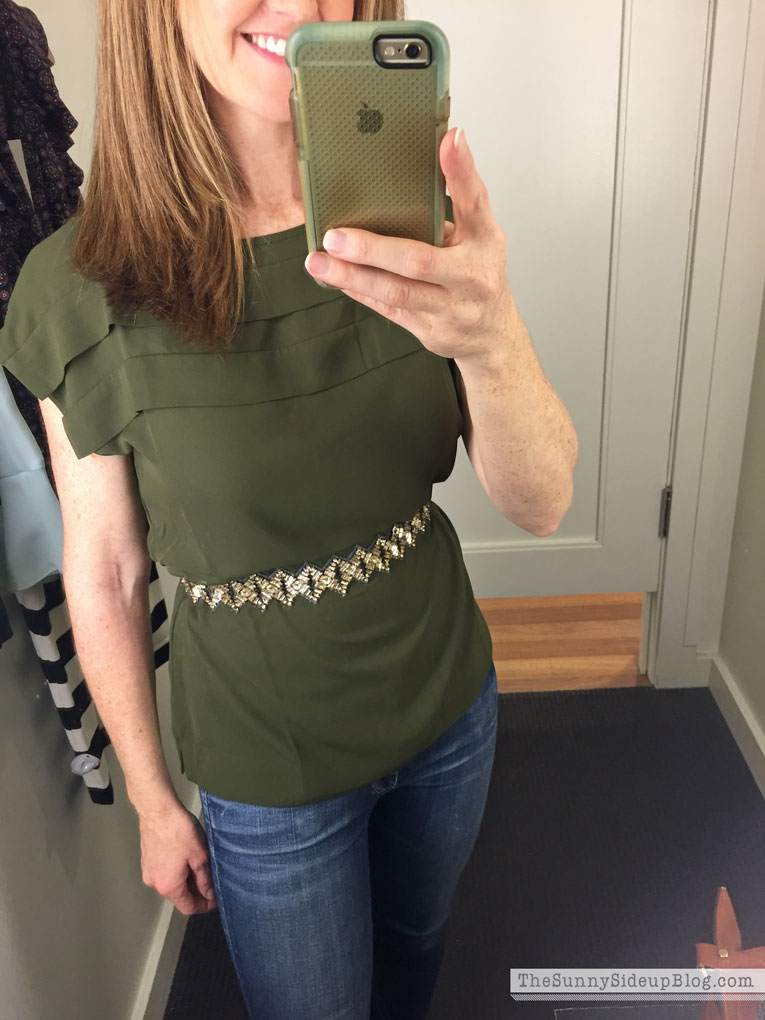 It adds a little style and shape to this blouse, right!?  I love it without the belt too.  Whether or not I wear the belt will be decided based on what I've had to eat that week.. ;)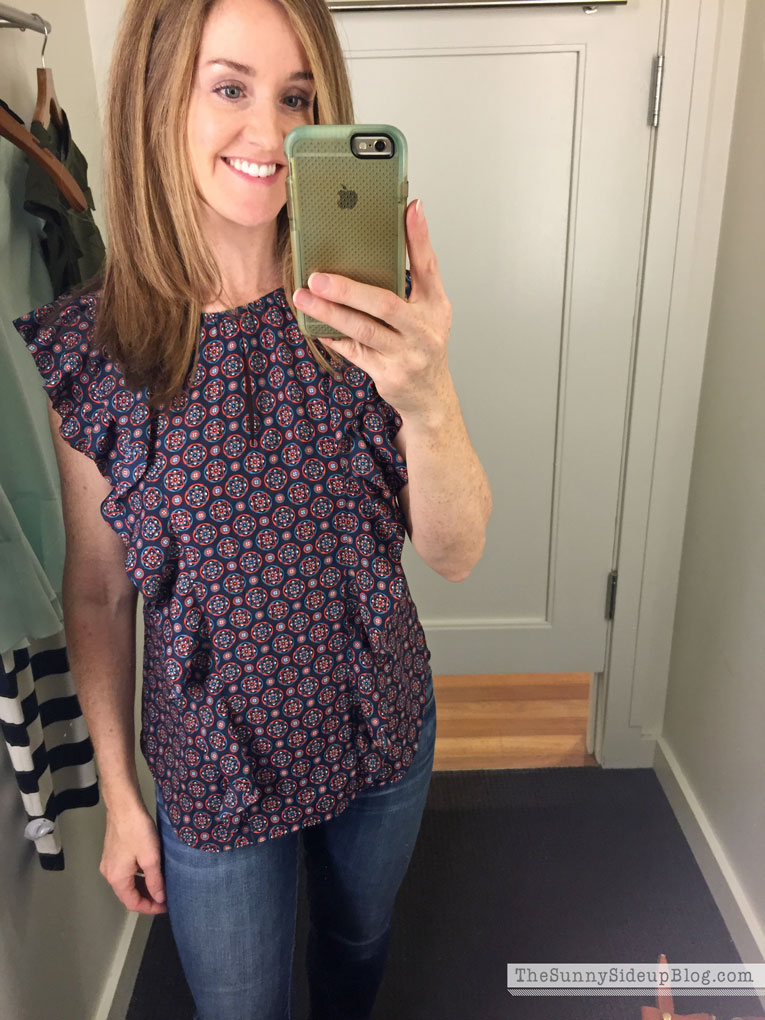 This is another fun Spring top I tried on.  I liked it, but I liked the striped dress better so I decided I didn't need this one.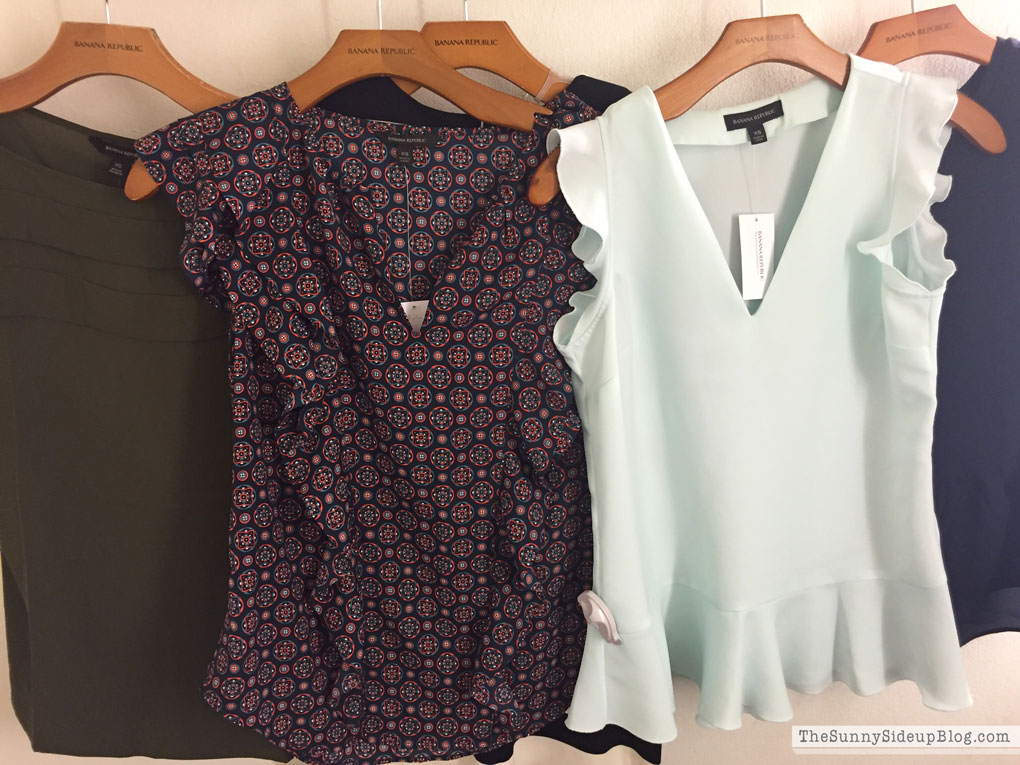 I really liked this soft mint ruffle tank too.  Might order that one this weekend because I'm wishing I would have bought it.  Banana has darling new things for Spring!  Such a fun time to spruce up your wardrobe.  *(Make sure if you order anything you use the code BRSPRING to get 40% off right now!)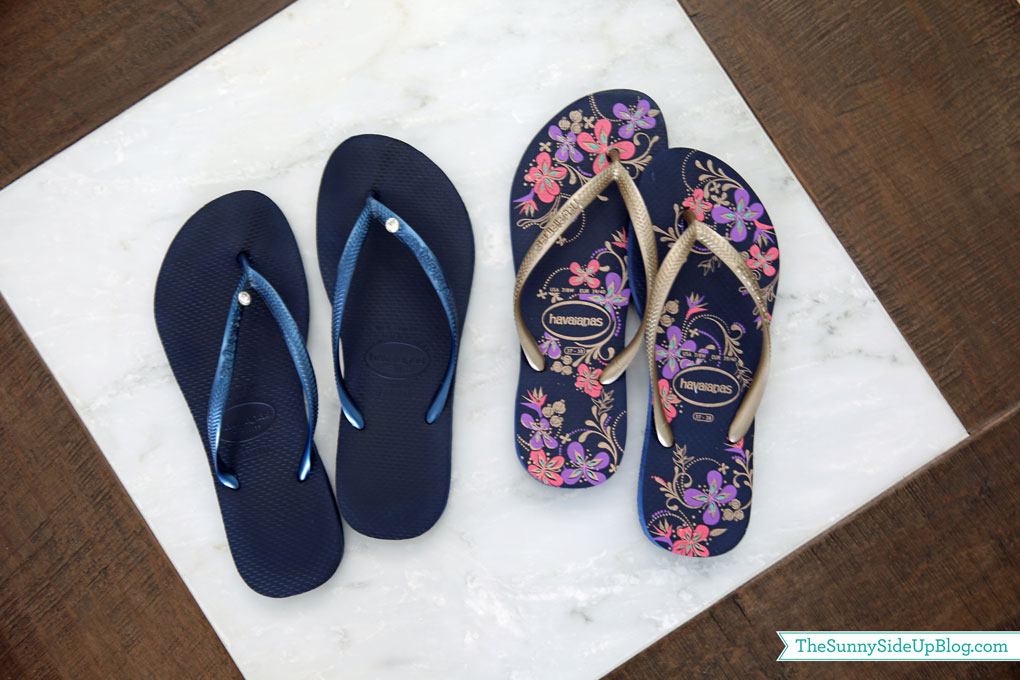 We've had warmer temps here this week and flowers are blooming!  Spring Break is right around the corner.  I pulled out a few past favorite things that I use often during Spring and Summer.  Havainas are my go to flip flops!  The slim fits are my favorite.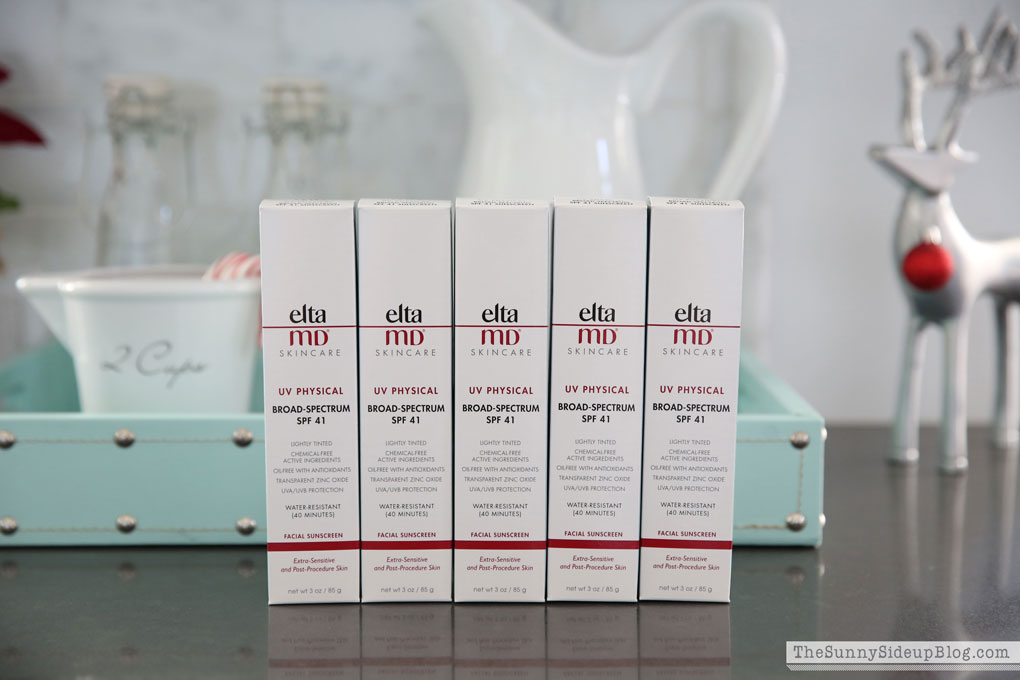 Of course my all time favorite sunscreen is a staple for me.  (I first shared this in my 2015 favorite things post.)  Especially when we are spending more time outside.  I put it on before my make-up every day.  If you don't wear a daily sunscreen, start!  Best thing you can do for your face.  This one is amazing.  It's tinted so it gives your face some color too.  Perfect to put on to head to the pool or beach!


I also just started using my favorite tanner again last week!  My legs are beyond scary right now without it.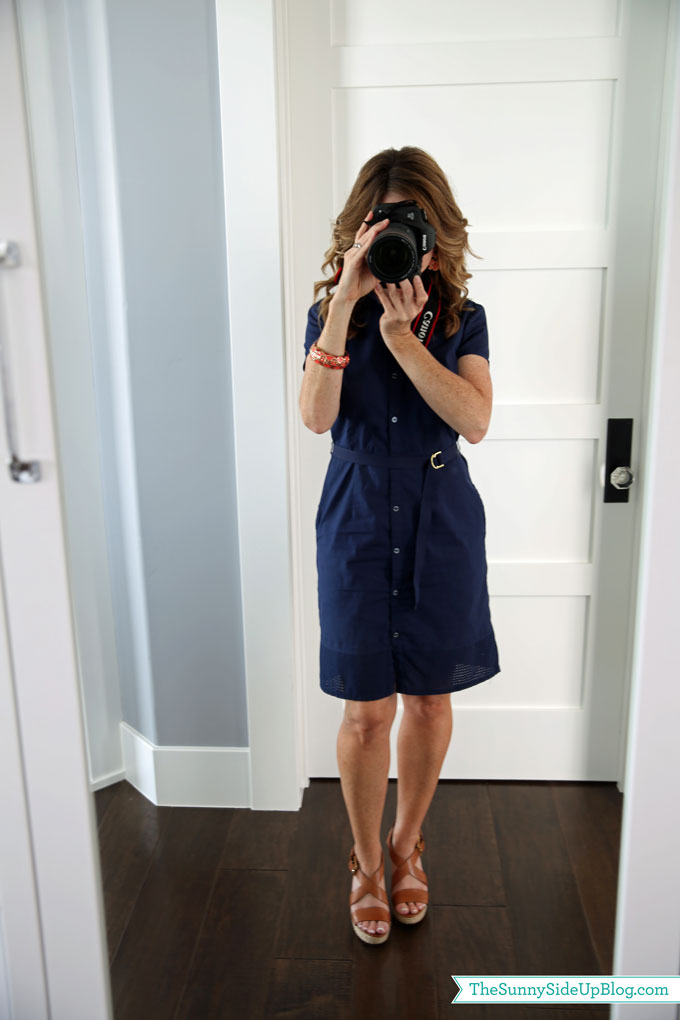 This picture was from a couple of summers ago.  You can tell I had been using the tanner on my legs!  Btw.. remember my all time favorite Michael Kors wedges I'm wearing?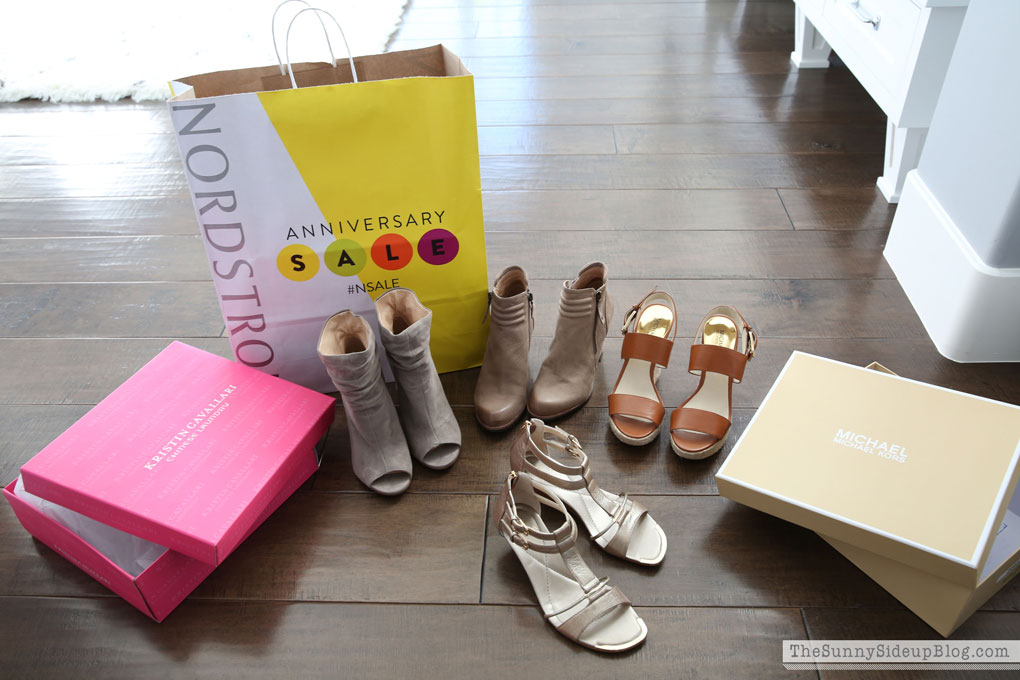 And how I bought the newer version of them last year at the Anniversary Sale.  And my husband said "don't you already have those shoes?"  And I said "what!? .. these are totally different!"  :)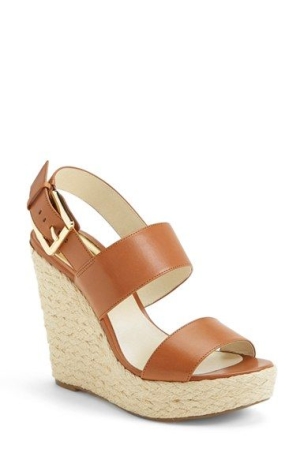 Different right!?  The second band is straight instead of criss crossed..  see.  :)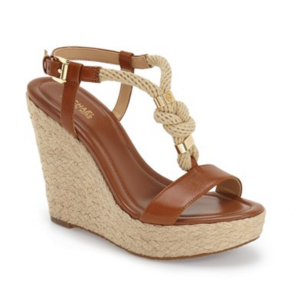 Look how cute this year's version is!  And totally different than my other two pairs!  Nothing like a good every day wedge sandle.  I LOVE them and am trying to figure out how to buy them and get them past my husband… ;)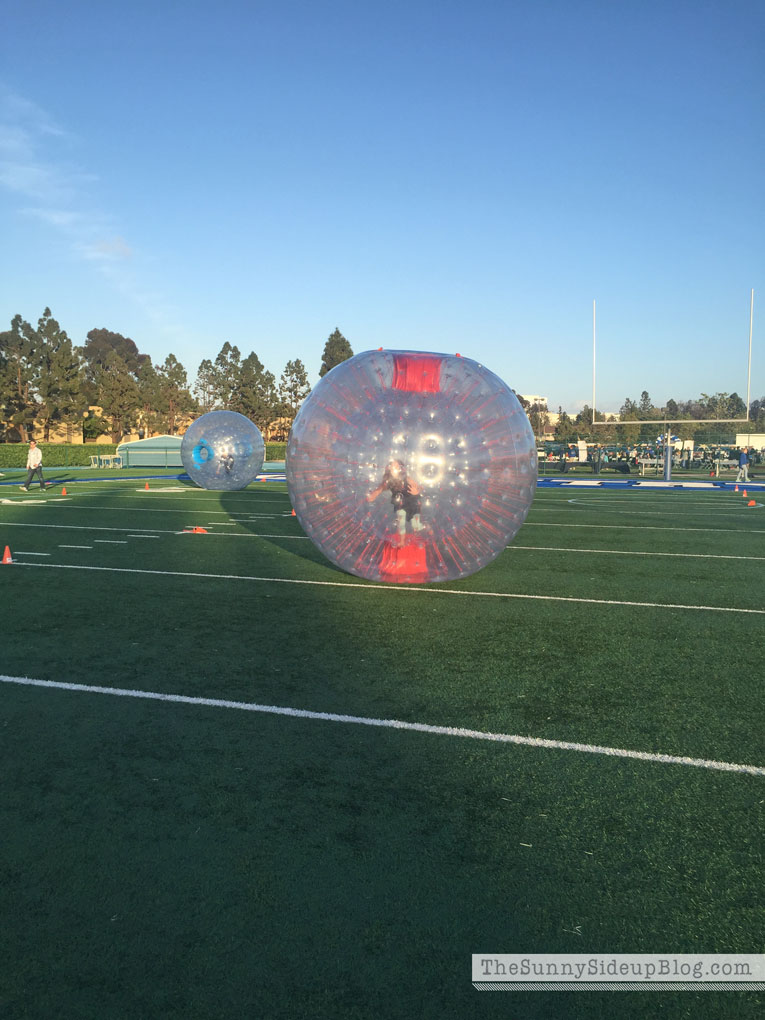 Last favorite for today.  That's my daughter in that rolling ball.  My girls had too much fun in playing in these this week!  I think we need one of them in our back yard.  Talk about a stress reliever.  ;)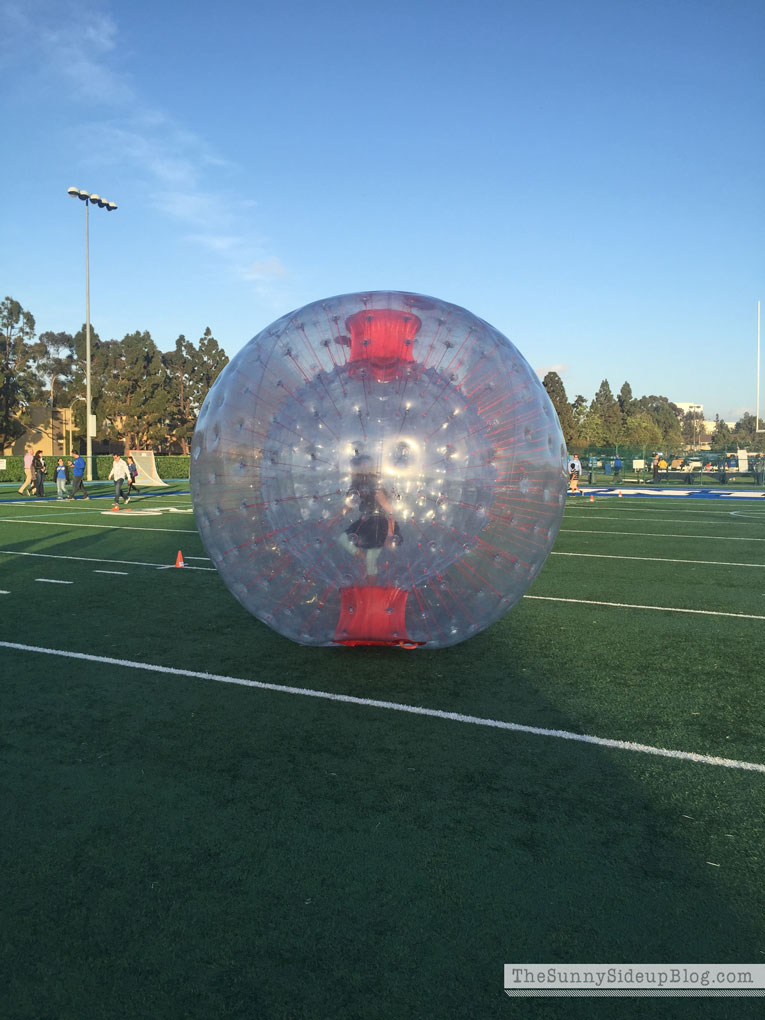 Enjoy your Easter weekend everyone!  Wishing you all a special day with the ones you love. :)
xo
xoxo, Erin