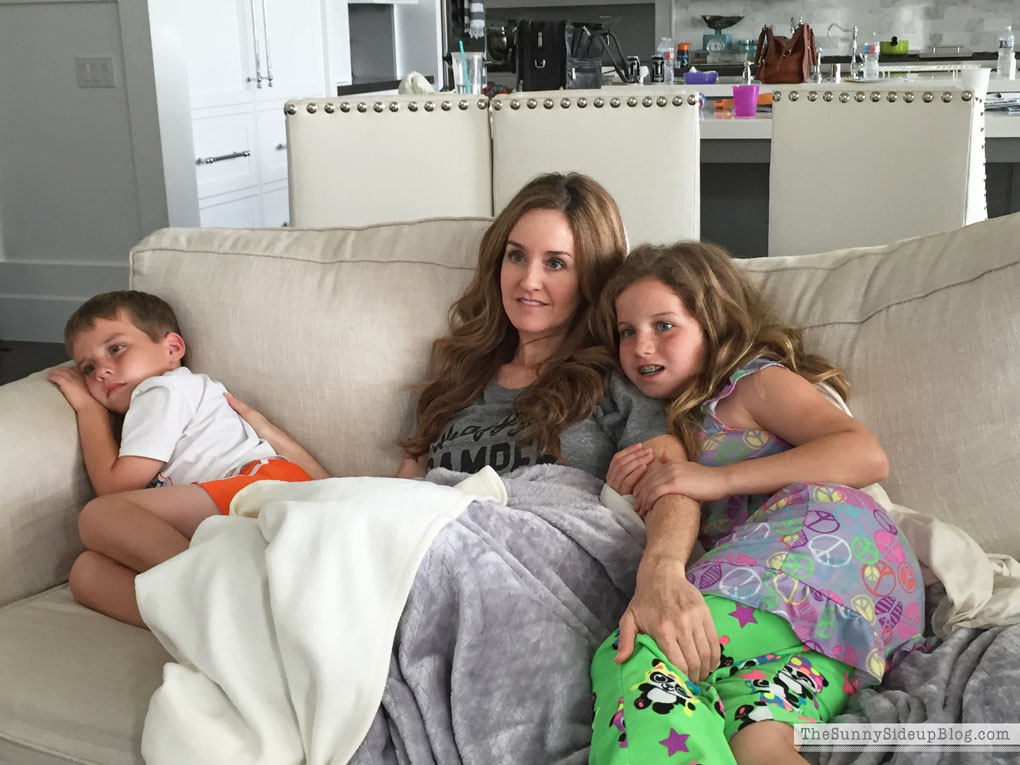 Happy Monday friends!  We've had a weekend of pj's and couch time with sick kids.  My kitchen is a mess, my bedroom is a mess and there is laundry piled so high I don't want to even go there.  El snapped this picture with her phone today.. she's actually feeling fine.  My two other little sidekicks shown here.. not so much.  Poor things.  Ad is doing much better but Kole will be home with me tomorrow and we are heading to the dr. first thing!  Never fun when kids are sick.  The upside is that we had a major Star Wars marathon (I think it was part of the love story when this picture was taken – those are the parts Ad and I perk up during) and I was able to get a new post ready for you.  It will be coming sometime on Monday so pop back in if you have time!  Tonight I'm off to bed.  I think I slept a total of 4 hours this weekend and this mom needs some rest!  Along with a fairy to help my sick kids sleep through the night and then magically whip my house back into shape.
On a quick side note:  I can't thank you all enough for your sweet words on the blog, Instagram and Facebook about my office decor post!  It was so fun hearing from so many of you!  Makes me want to do a room reveal every day!  But then I wouldn't just be sleep deprived.. I'd be dead. :)  Seriously though.  Thank you.  You are all so supportive and kind and I've always known I have the best blog readers in all of blog land.
Back soon to talk about garage organization!  Oh yes.. it's time. :)

Free printable of the paint colors throughout my home!
Enter your name and email address to get instant access to my paint colors along with other free organizing printables. More will be coming soon!
Exclusive to subscribers!