I filed away the new house stuff and switched out the colorful tabs for these plastic pocket dividers.  I just love dividers with pockets.  Aren't they fun!?  Do they make you as happy as they make me?  If I ever feel stressed or sad I just head to Staples and wander up and down the isles looking at all the different folders and pocket dividers.  Before long, I'm happy again.   My own personal upper.  :)
Nothing in my house was safe!  #everythingisbetterwithalabel
He clearly knows the way to my heart.  :)
I divided my binder into categories that make the most sense for me.
Things I'm always working on!
(I use a separate planner for my schedule but you could include that in the binder too.)
My first category is just blank paper for TO-DO's.  I've used lots of fancy printables, planners, and lists in the past for my to-do's but I've learned that what works best for me is just a running list on plain paper that I can cross off as I complete things.  I always need a place dump my brain!  This list is never too crazy long because I have the other categories for breaking down things I'd like to get to at some point.  This page is just for the day to day immediate to-do's.  Phone calls to make, e-mails to send, things to get done that day.  The paper I'm using (also Martha Stewart collection) has an edge that tears off.  I use this to write my grocery list.  Then when I'm going to the grocery store I can just tear it off and I don't have to take the whole binder or to-do list with me.
I also still use my sticky tabs that I shared in my previous time management binder post.  (Sticky tabs are right up there with pocket dividers for me – love them!)  Whenever I need to buy a lot from various stores I get out the sticky tabs and place them all on one paper.  Then I can just grab the note I need when I'm heading to a specific store.
The next tab is for my BLOG where I keep a list of post ideas/plans (I have pages and pages!) and a calendar that I need to schedule posts on but can't quite ever make happen.  We'll see if this new binder inspires a little post scheduling.  :)
The next tab is a favorite!  ORGANIZE.  I keep my "to-organize" lists in this category and turn to it often to see what I need to be working on next.  (I wrote a post on making an effective "to organize" list here.)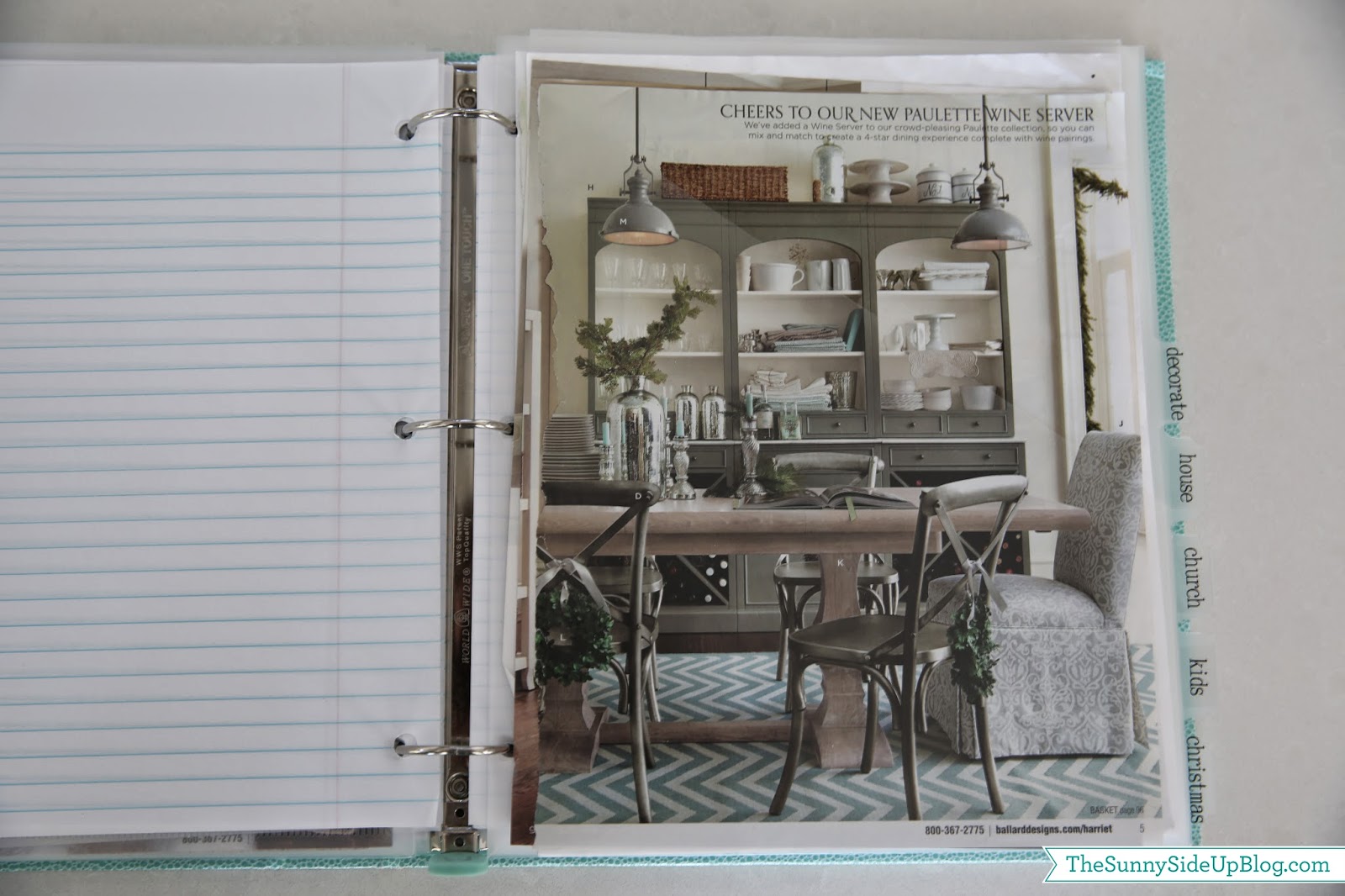 And then I keep running lists of things I'm working on around the house.  I have so many fun things to show you all!  Coming soon to a blog near you.  :)
The CHURCH tab holds everything I need for my current calling in our church.  I'm the secretary of our Young Women program which means I'm in charge of all things scheduling and calendar.  Up my alley much?  :)
These girls have so much going on!  I created this calendar on-line in January and made copies for all of the leaders.  Now when I send out my weekly e-mail updates of what's going on for the girls it's so easy.  All right in front of me.
The KIDS category of my binder is usually over flowing and I have to clean it out the most.  I try to only keep what I really need at the moment in this binder and everything else for the kids gets filed in my office.
And yes!  I have a tab for CHRISTMAS!  I can't help it.  I love to stash away ideas for the holiday season all year long.  Aside from inspirational decorating pics I also keep a list that I write after Christmas each year of things I want to do better for the following year.  Things like "order Christmas cards in JULY so I'm not stressed about them in November!"  Better get on that.  :)
So that's it!  Obviously this binder is custom for me and my needs, but hopefully it still gave you some ideas for how you could make something like this work for you.  You can also see my previous Time Management Binder for a few more ideas.  So happy to have a place to dump everything on my mind and keep it all organized in one place.
p.s.  Here's a quick shot of what my Time Management Binder currently looks like.  Kole got a hold of it and added some bling.  It entertained him for 15 minutes straight which is pure gold around here so I certainly wasn't going to stop him.
:)
Happy summer organizing!
xoxo, Erin