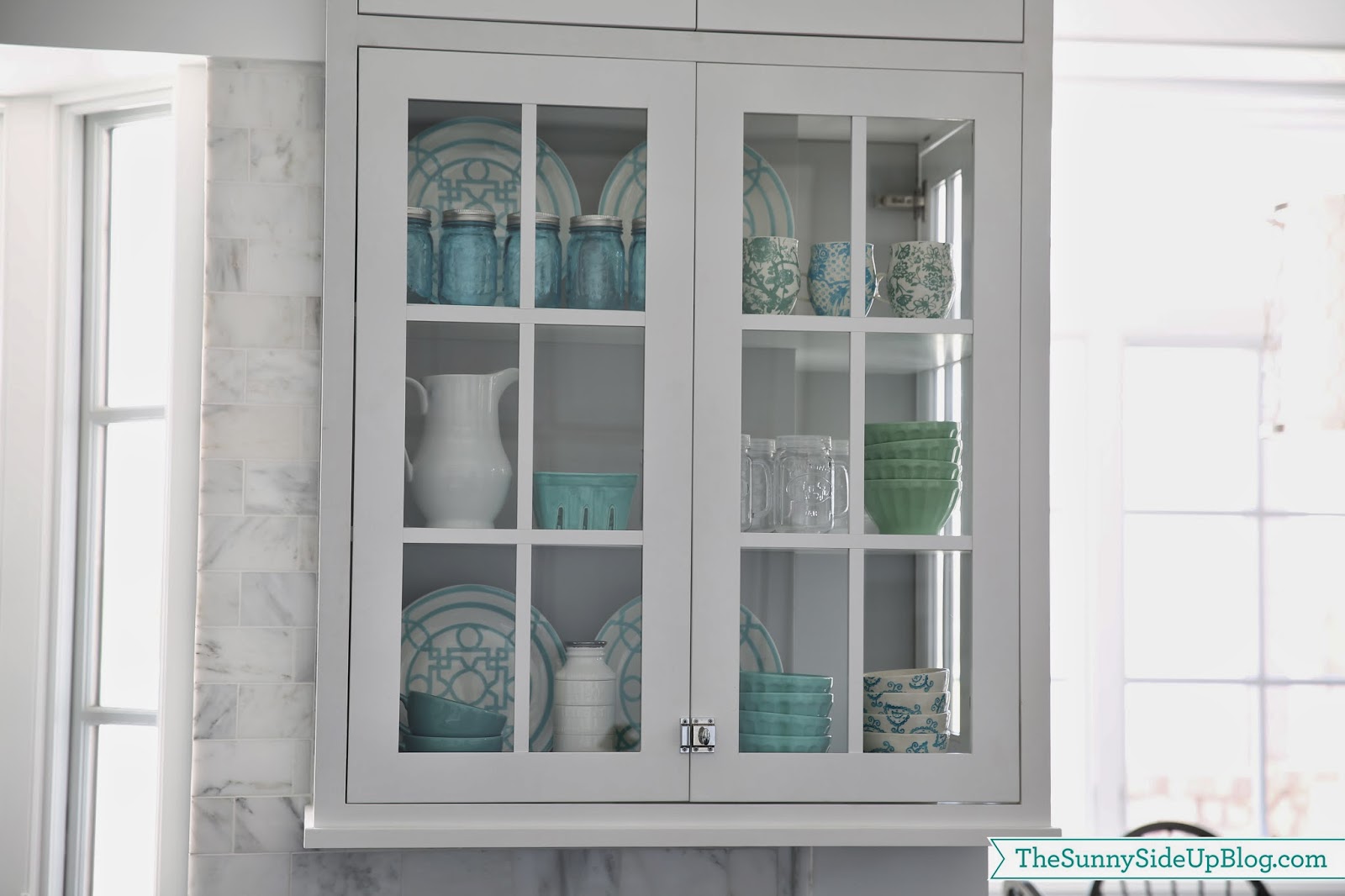 Sharing my glass kitchen cabinet shelf decor today! I've been sticking with an all blue/green theme until I figure out what other colors I want to bring into this space. For now I'm kind of enjoying this look.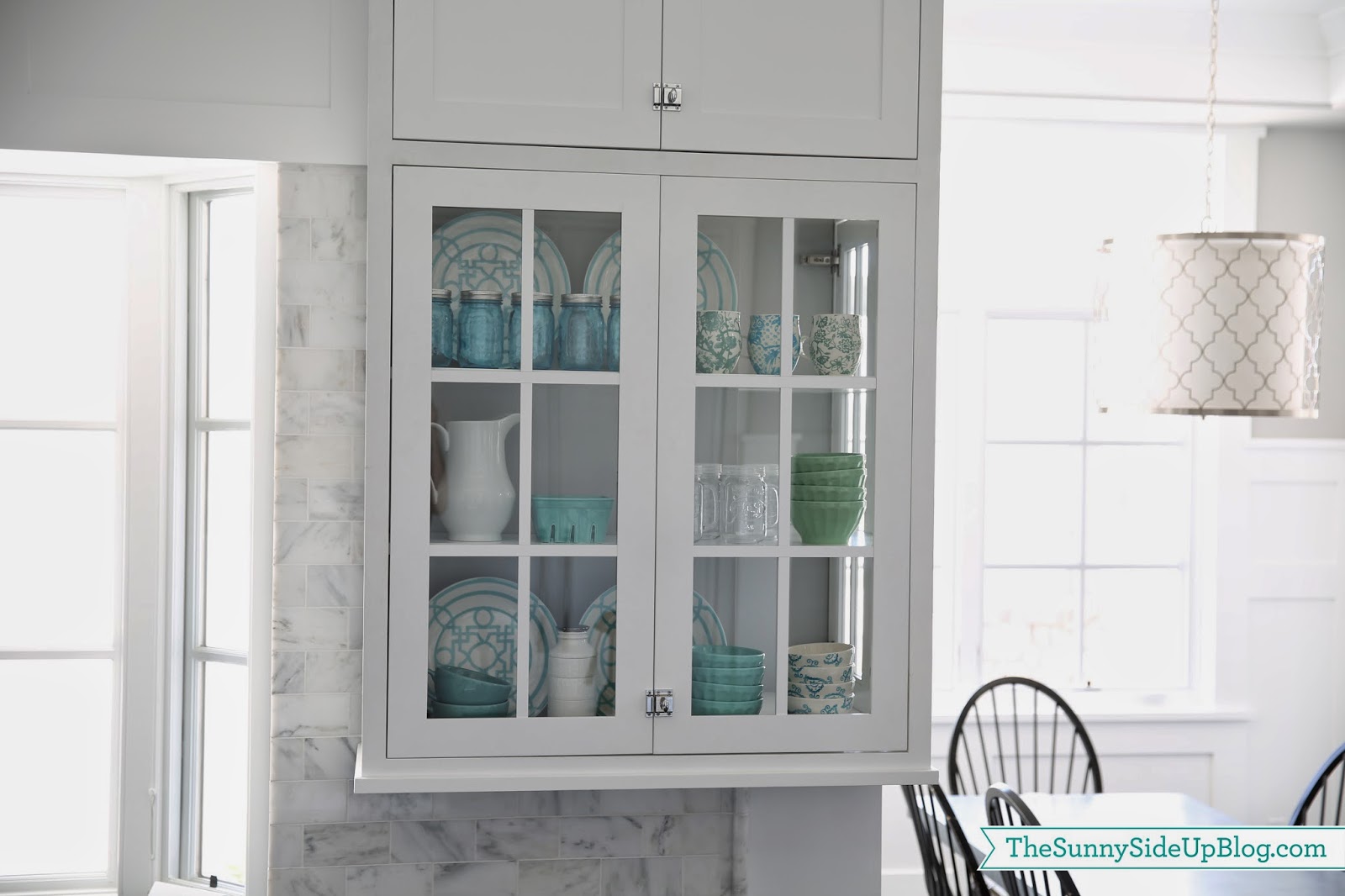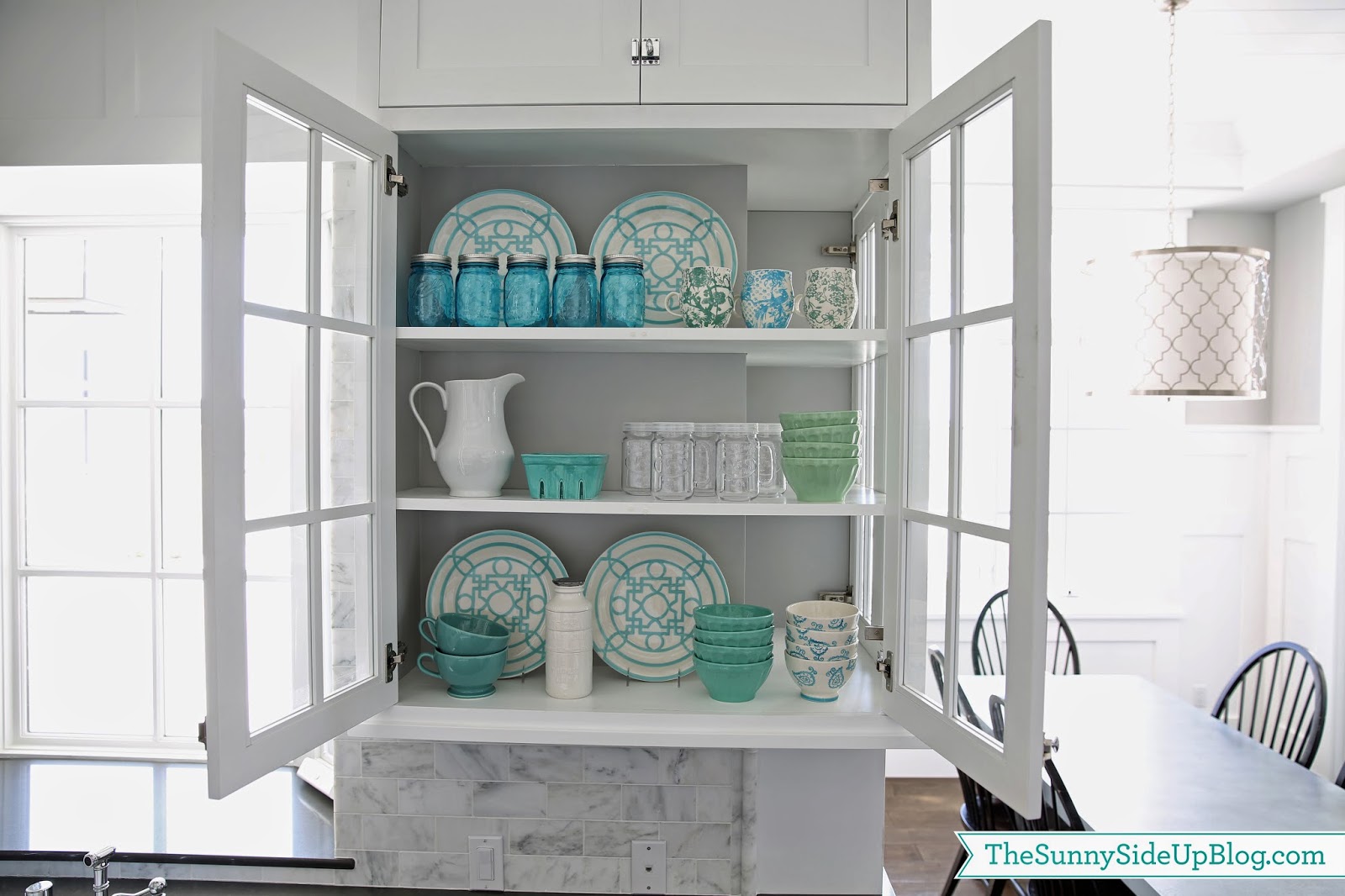 Here's a shot with the cupboard open so you can see what I tossed in here for now. All of the dishes I already had except the turquoise mason jars on the top shelf. I found those at the craft store for 10 bucks. Score! I love mason jars.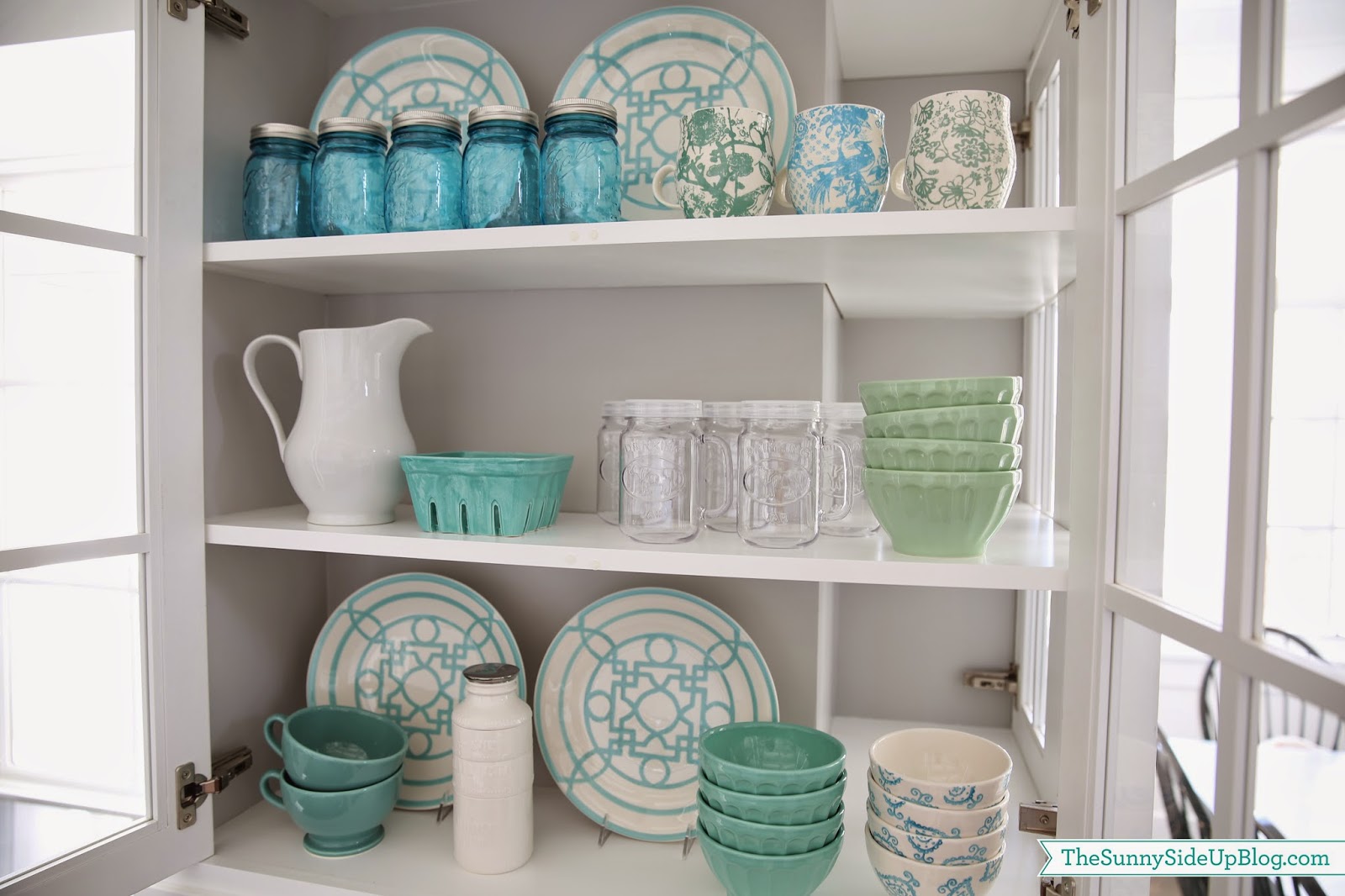 The clear mason jars with handles on the middle shelf are from
my hot chocolate station
last December and the kids love drinking out of them. They look like glass but are really plastic so I love the kids drinking out of them too. :) We use all of the bowls but everything else is just for fun.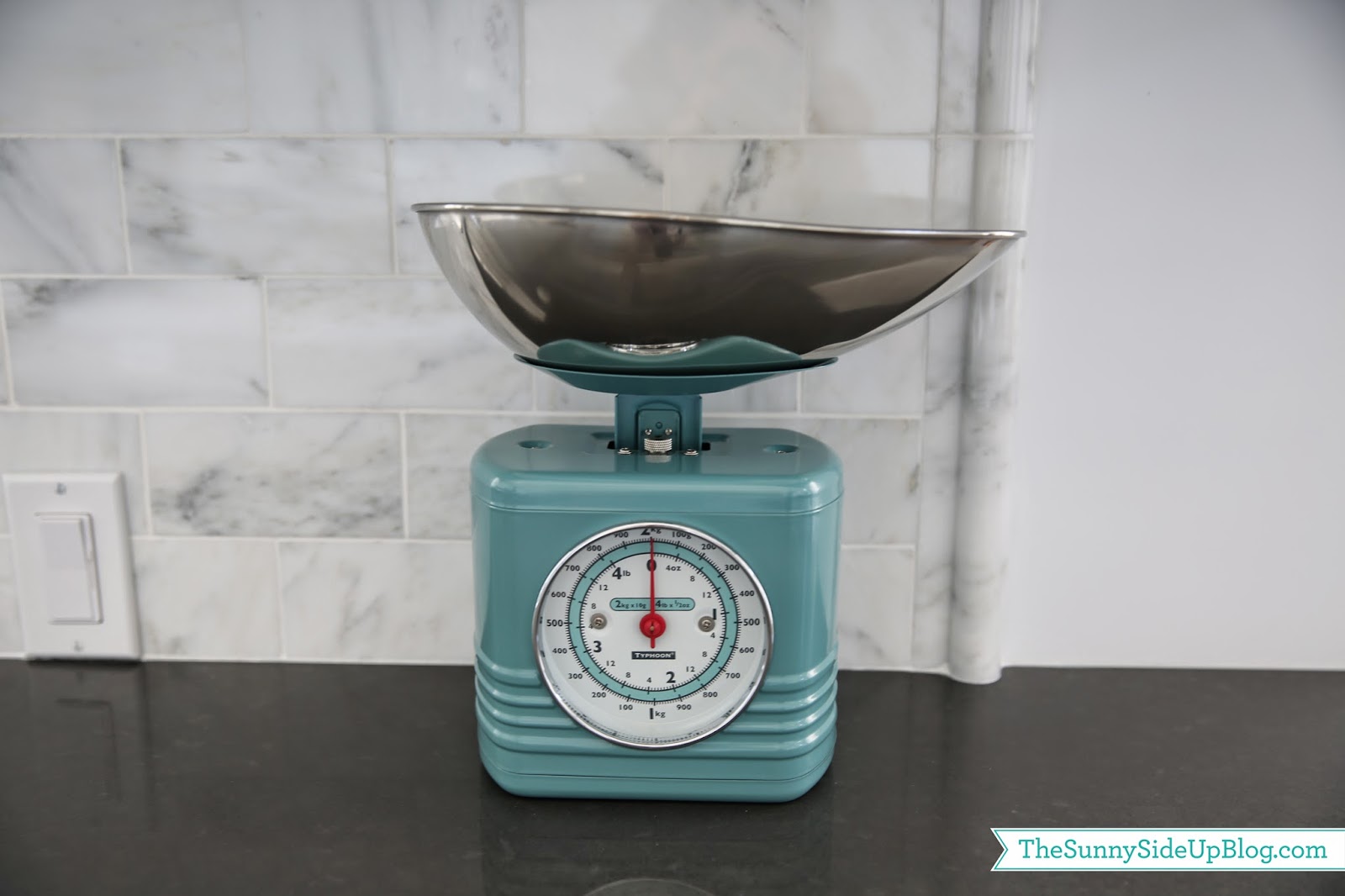 Speaking of fun! I also added this cool vintage looking scale to my kitchen decor. I wish I could say I discovered it digging through an antique store or in my great great grandma's attic. But no. It was on sale in the home department at Nordstroms. :) Kenny came home and saw it and said "what in the world do we need a scale in the kitchen for?" I quickly tossed in some grapes and told him I needed to start weighing our food. Duh.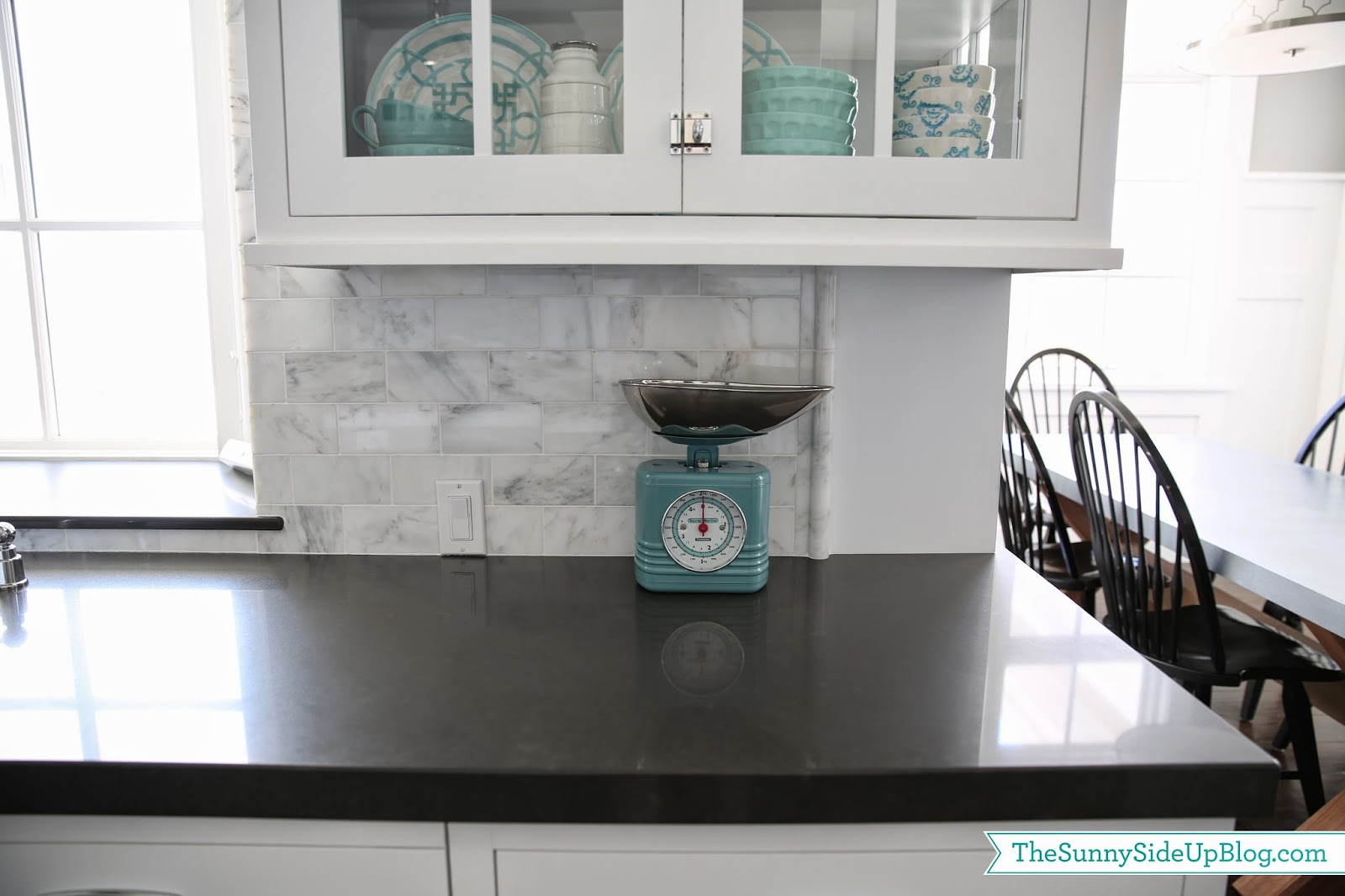 Wanna know why I really bought it? Besides for food weighing of course.
I can totally see red Christmas ornaments sitting in the top of it in December! Won't that be pretty!? Next to the grapes. ;)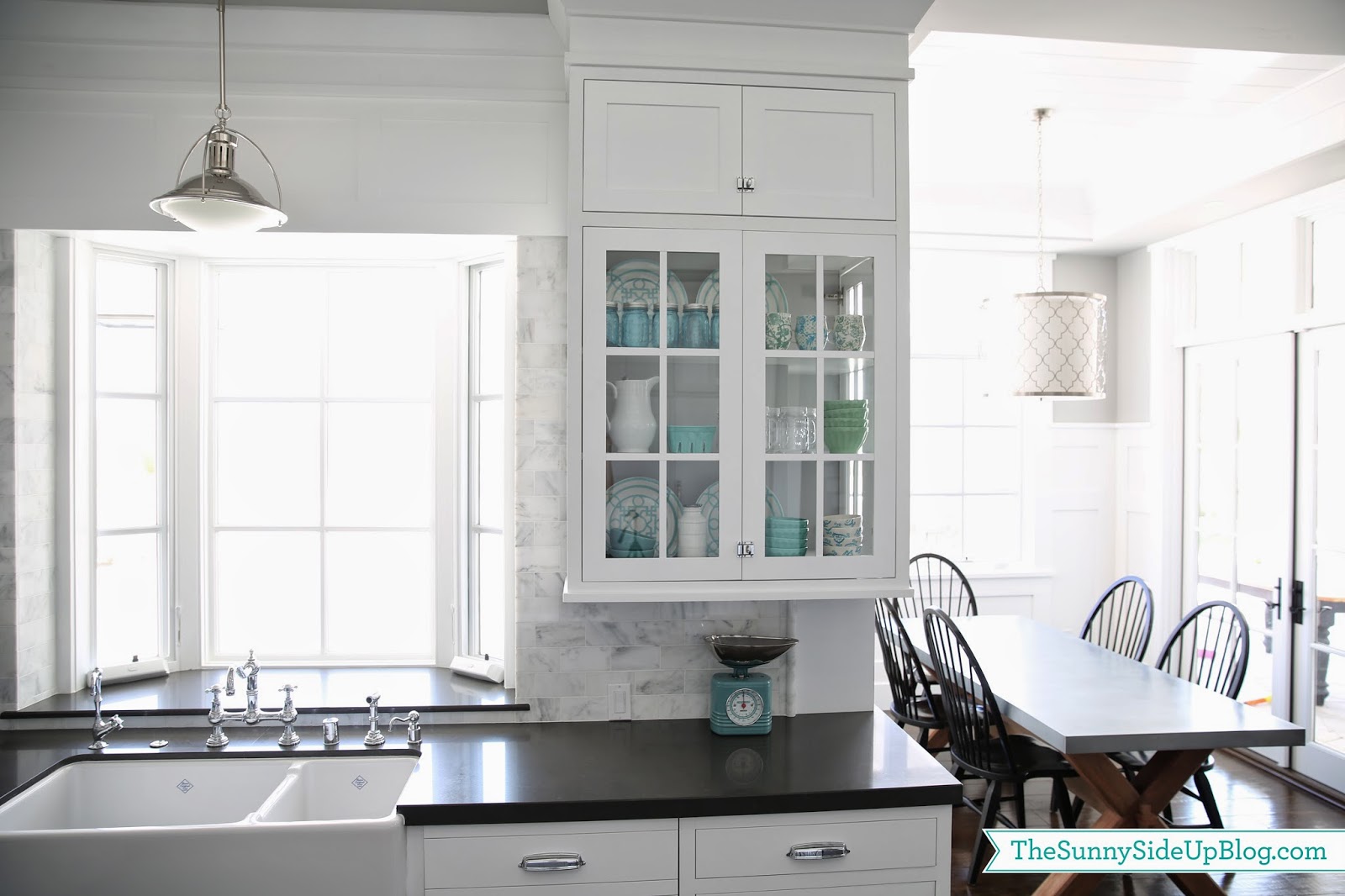 My scale is a little lonely right now. I need to add a colorful bowl of fruit or something next to it.
But first I have to figure out chairs for that table. The old black chairs are haunting me.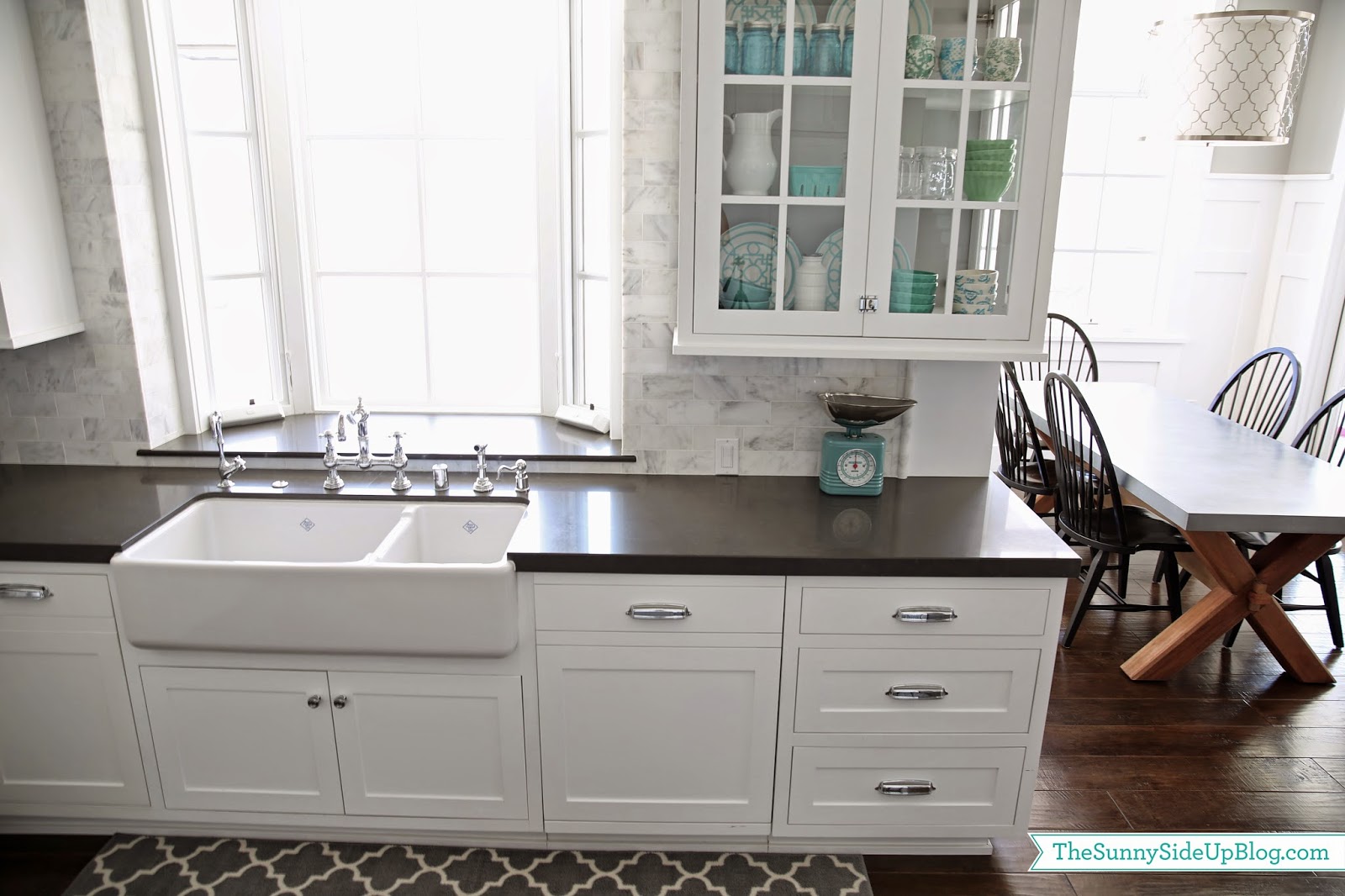 They call out "we don't belong here" all day long.
But I'm getting distracted. Back to the shelf. :)
Fun to have some color in the kitchen! Even if it is all the same color. :)
I picked up this almost too bright aqua trey and a couple of glass bottles at Target. I'm probably moving them at some point but this is their home for now.
Did I ever show you guys the little indent I had my cabinet guys put in my oven hood for salt and pepper shakers? So fun, right? I saw it in a magazine years ago and was so happy I remembered to tell my cabinet guys to do it. Handy to have the salt and pepper so close when I'm cooking! I have lots of fun little things like that around my kitchen that help me keep everything organized.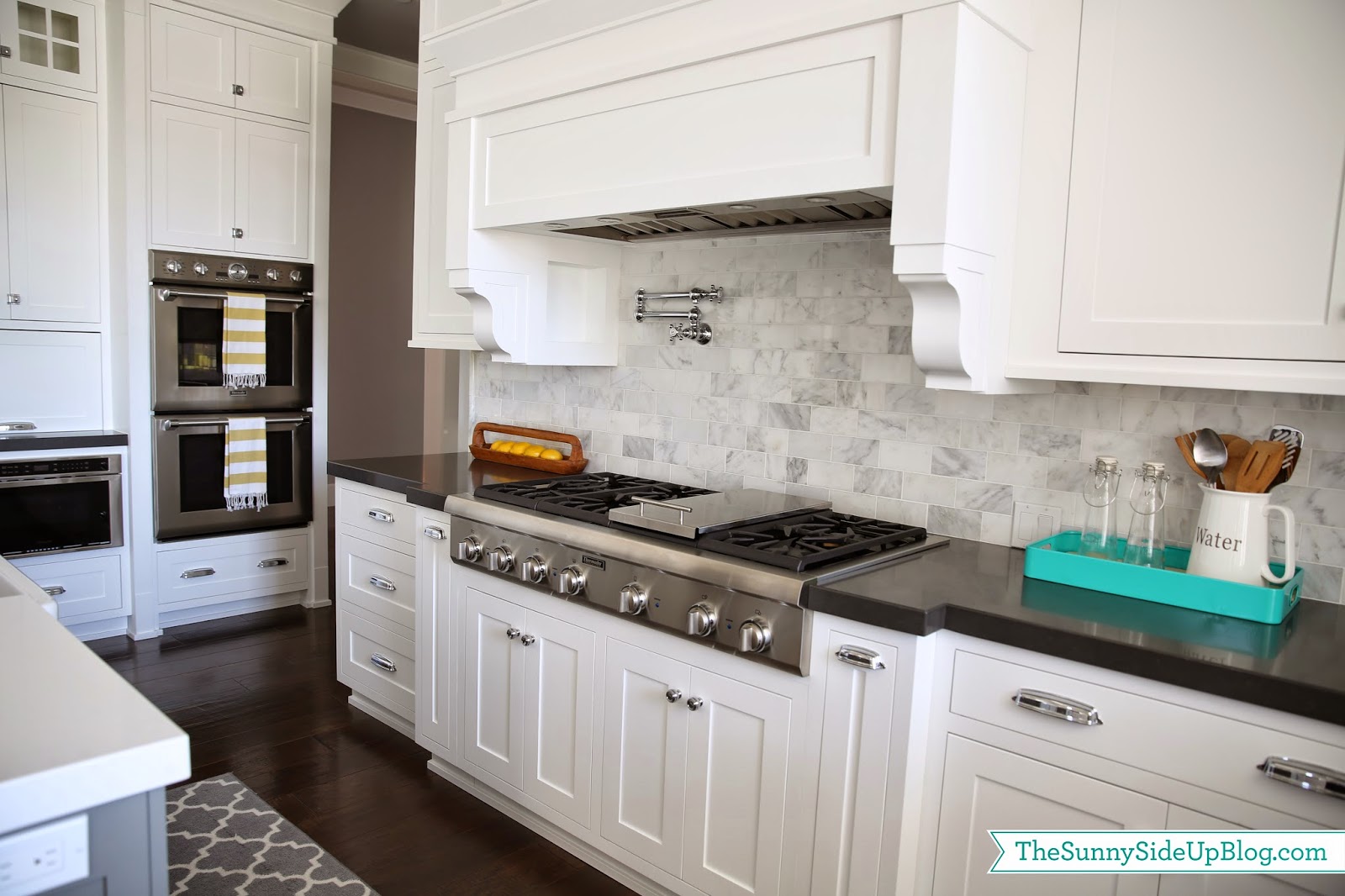 At some point I'll do a full kitchen post. As soon as I come up with the hours it's going to take me.
I'll have to stop wasting so much time weighing our food.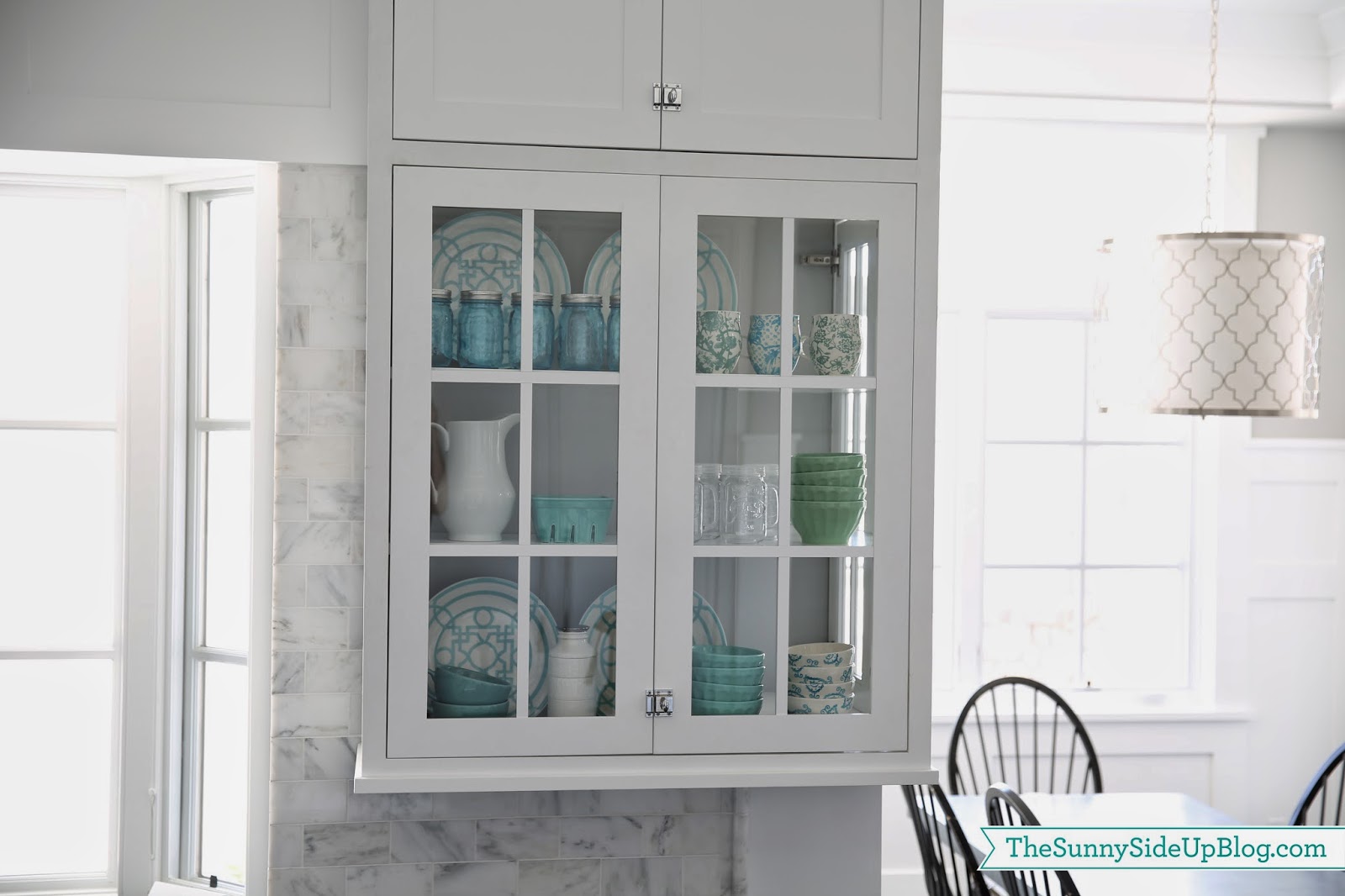 And styling and re-styling my kitchen shelf.
:)
xoxo, Erin