On to my post! I've made some serious progress in the formal dining room that I'm excited to show you!
Now I have the bench, pillows and chairs. It's starting to look like a real room!
I had a high back bench made to go along one side of the table. I always pictured a fabric bench in this space and I'm so happy with how it turned out! I would never do something like this in our main eating space, but for the formal dining room I think we'll be ok. The bench has scotch guard on it and this room is for mostly adult dining. And just to be safe I don't think I'll ever sit on my bench to eat since I'm worse than the kids when it comes to spilling/breaking things! True story. I will just admire my bench from afar. ;)
I also chose fabric for some fun pillows to go on the bench and chairs. I lined them up and took some pictures so you can see the fabric better. I decided to go with a grey/yellow/navy color scheme for this room.
I adore all of these fabrics and couldn't choose between them! So I just ordered a pillow in each one. Best way to solve DMD (decision making disorder). :) I'm so happy with how the pillows turned out! They are my favorite part of the room. I love them in the dining room but also know that they will be fun to move around in other rooms over time.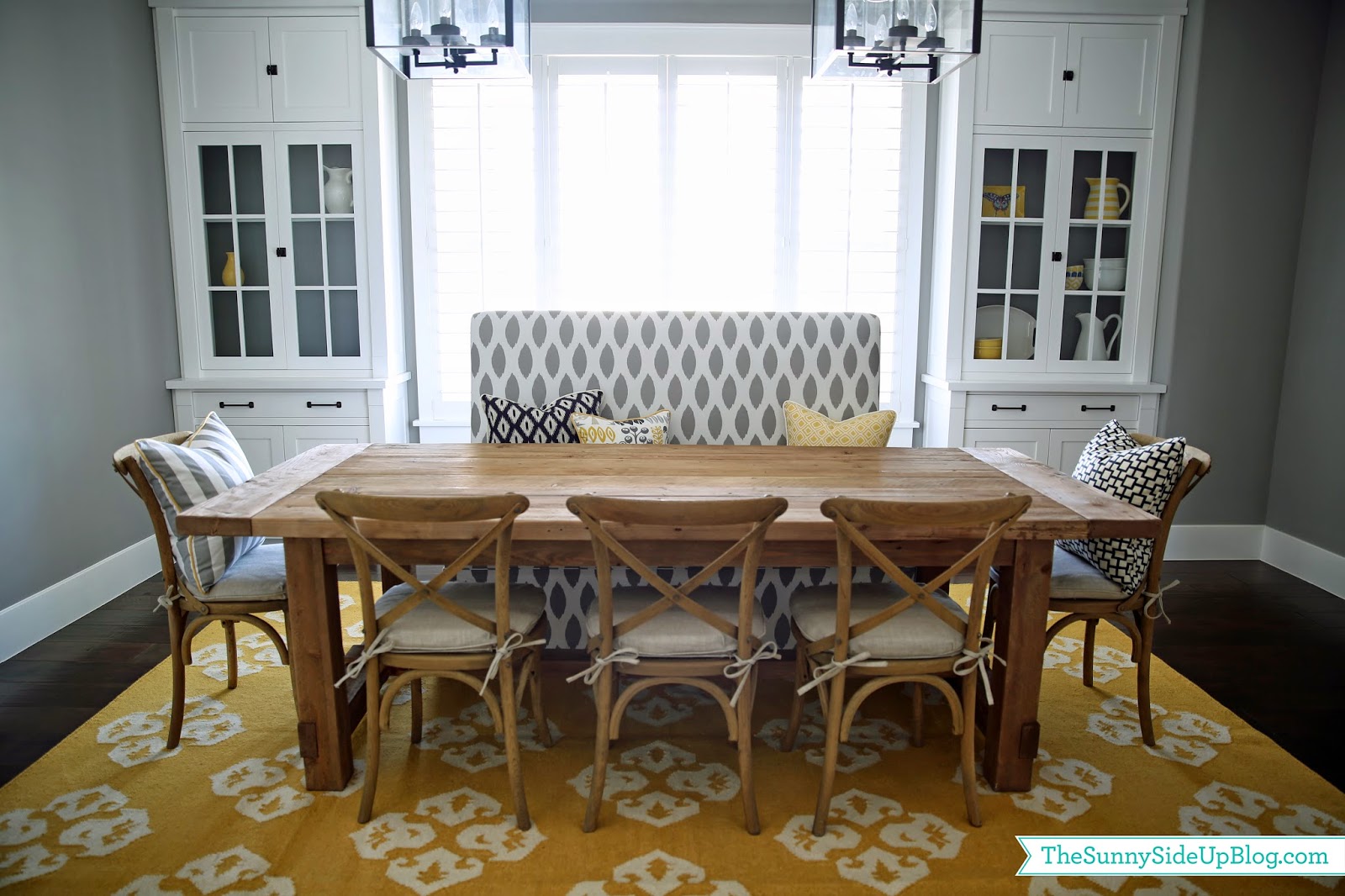 The chairs are from Restoration Hardware and my original plan was to order five of them – three to go across from the bench and two extras for when we extend the table. Then I was going to put two different chairs on the ends of the table. Here are a couple I was considering…
But now that the bench is here I'm wondering if it will look too busy to switch up the end chairs? The bench and pillows sort of steal the show which makes me think maybe I should just order two end chairs like this…
that go with the original set instead. What do you think? Keep all chairs cohesive and let the bench stand out? Or go with different end chairs so it has more of an eclectic look? Would love to hear your opinion if you have one!
These shelves aren't styled yet. I just started putting a few things I have in them that go along with the rooms' colors and might work in the space. These shelves will be fun to play with!
So nice to finally see some color in my house. I smile now every time I walk by this room.
Which is about 100 times a day. :)
Now I just need some delicious food to serve in my new dining room!
Let's not hold our breath on that one.
:)
xoxo, Erin