Time for another update on how my family room is coming along!  Sometimes it feels like it isn't coming along.  This room has been harder for me to decorate than I thought it would be!  Finding a rug has not been easy.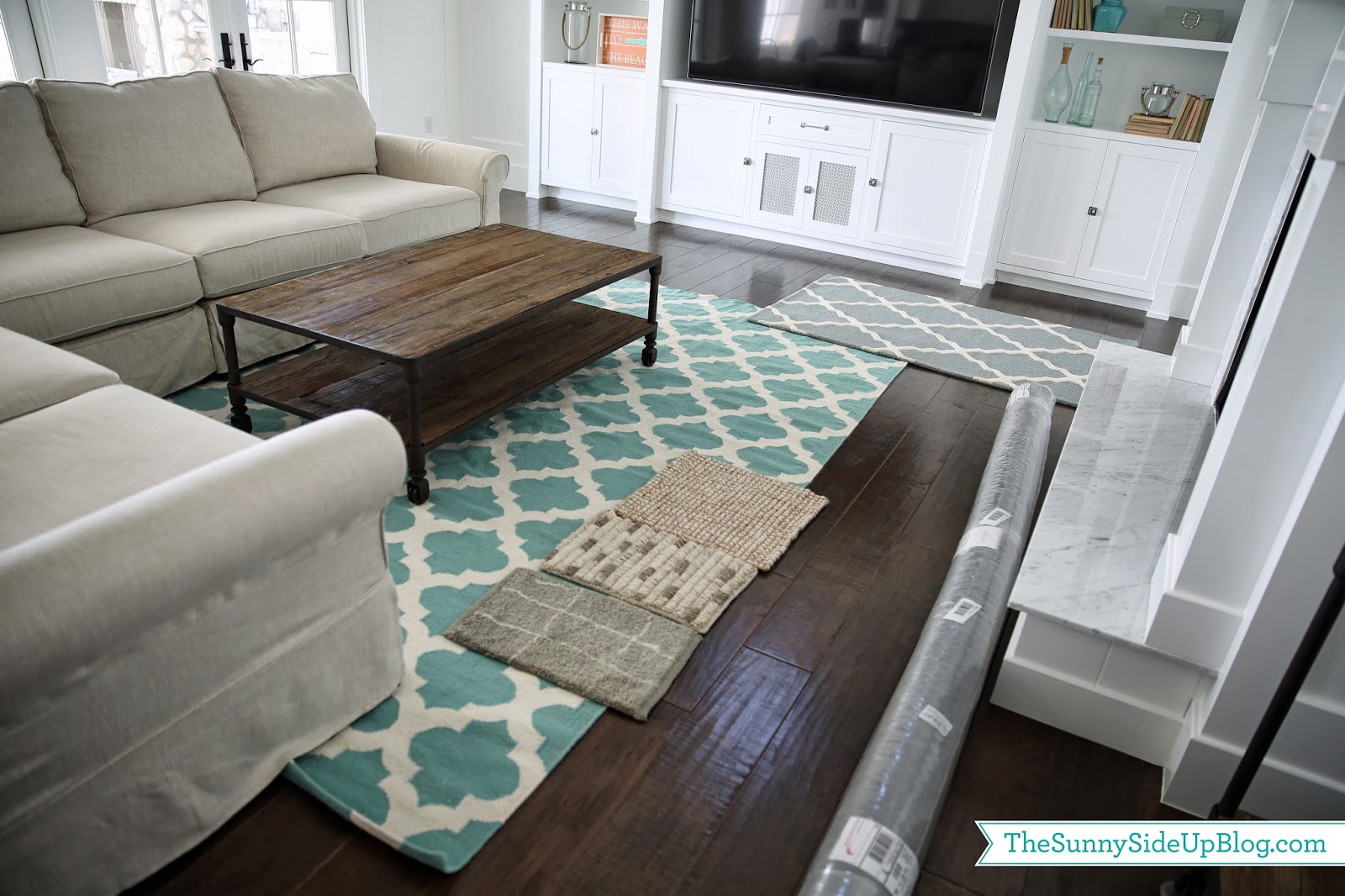 This rug was another option I was considering.  I ordered a smaller size to just see how it fit in the space before I ordered the big one (a tip to save money on shipping both ways).  Much softer, but I didn't love the shade of blue.  So back to the store it went!  A lot of things have been going back to the store around here lately.  Trial and error!
Because the blue patterns weren't working for me I went to Restoration and Pottery Barn and pulled some neutral patterns that might work.
So for a while my family room floor was a lovely hodge-podge of rugs.
Reminded me of a patch work quilt.
While the great rug debate was going on some fun mail showed up at my house.
Remember this console table to the right of the fireplace?
My baskets arrived!  I ordered these fun baskets to put on the bottom shelf.  I have loved these for a long time and knew while we were building I would find a place for them somewhere in my house! (Baskets are from Restoration Hardware – shock I know.  Sort of love that place.)
I tried out my yellow lamp on the console (I've had this lamp for years) and I love the look of a lamp in that spot, but I don't love the yellow or the light shade in this space (the shade doesn't pop enough against the white) so I found a new lamp for that spot that I'll share soon.  The rest of the table top will be fun to accessorize!  Although with what I don't know yet.  Aside from loving the look of the baskets, I also wanted them to hold our blankets.  We all love to curl up under blankets when we watch TV and I needed a place to hide them all.
Although a certain someone keeps taking the blankets out of the baskets…
and piling them up in a corner of the couch.  He loves them all out in a big pile!  Drives me nuts.
Probably wouldn't drive me nuts if our blankets were pretty blankets that worked well with the decor.  But my husband's beloved Charger blanket?  Not so much.  :)
Back to the rug…
Because I was worried about the room being too busy once other patterns are introduced I decided to try a more neutral rug in this space.  This is Pottery Barn's chunky wool and jute rug.  While it isn't what I originally pictured for this room, I think it looks really good.  It's a combination of the color of my couch and my table.  Plus it's SO soft.  It doesn't look like it would be, but it really is!  Nice and thick and comfortable.  It will hide everything my kids dish out.  (* Post Update!  You can see how this space is decorated now here and read more about my rug in this post.  It's my favorite and I now have it in two rooms!)
I was going to put a jute rug similar to this in my dining nook under the table, but if I keep this in the family room I think I'll add a colored/patterned rug in the nook instead.
Even though I really like the rug in this space and it meets all the criteria of everything I was looking for, it feels so bland to me right now!  Because it is bland.
I'm trying to be patient waiting for some pattern and color.  :)
I tried putting my glass bottles above the TV but I'm not sure if I like them there?
Here's a peek of things to come for this room…
The grey/cream fabric on the left is what I chose for my drapes.  I'm really nervous about them.
I love the fabric, but I know drapes will completely change the look of the room so I hope I like the change!  It's always hard to picture something like that for me and custom drapes aren't something I can return.  (We had to order custom because the doors/transoms are so tall.)  I don't do well without knowing I have the option to return.  :)
Here are my pillow fabrics.  (I crossed out the one on the far right because we were considering that for a rug for a while – ordered a sample and didn't like the look of it at all).
 Here are the pillows/drapes together.
To be honest, I originally pictured brighter colors in this space, but everything really colorful I've tried just hasn't looked right.  For whatever reason more neutral/soft colors look better in this room to me so I am playing with brighter colors in other rooms.  I do love the pillow fabrics and I'm excited to have pillows on the couch!  One more thing for Kole to pile up and move around.  On second thought… maybe I'm ok without pillows for a while…
In my last family room post I mentioned finally deciding what to do with the left corner of the room.
I ordered a chair!  And I love it and it comes on Thursday.  So I will share it soon!
I'm anxious to see how this rug works with the drapes and pillows and chair.
Then I will decide if it's for sure a keeper.  But so far so good.
Whew!  That was a long post.  With decor posts this long, don't be surprised if I change my mind on furniture/accessory selections by the time I'm done typing.
:)
xoxo, Erin