Last month when we were visiting family in Utah after our ski trip I decided to shop my mom's house a bit for decor. Do you ever do that? Shop your mom's house for items she's dying to get rid of and just doesn't know it yet? And you're graciously there to take those items off of her hands? Well. I'm a pro at it. :) Started in college when I used to shop her pantry for food and her bathroom cupboards for Paul Mitchell hair spray. Good times.
(Love you mom.)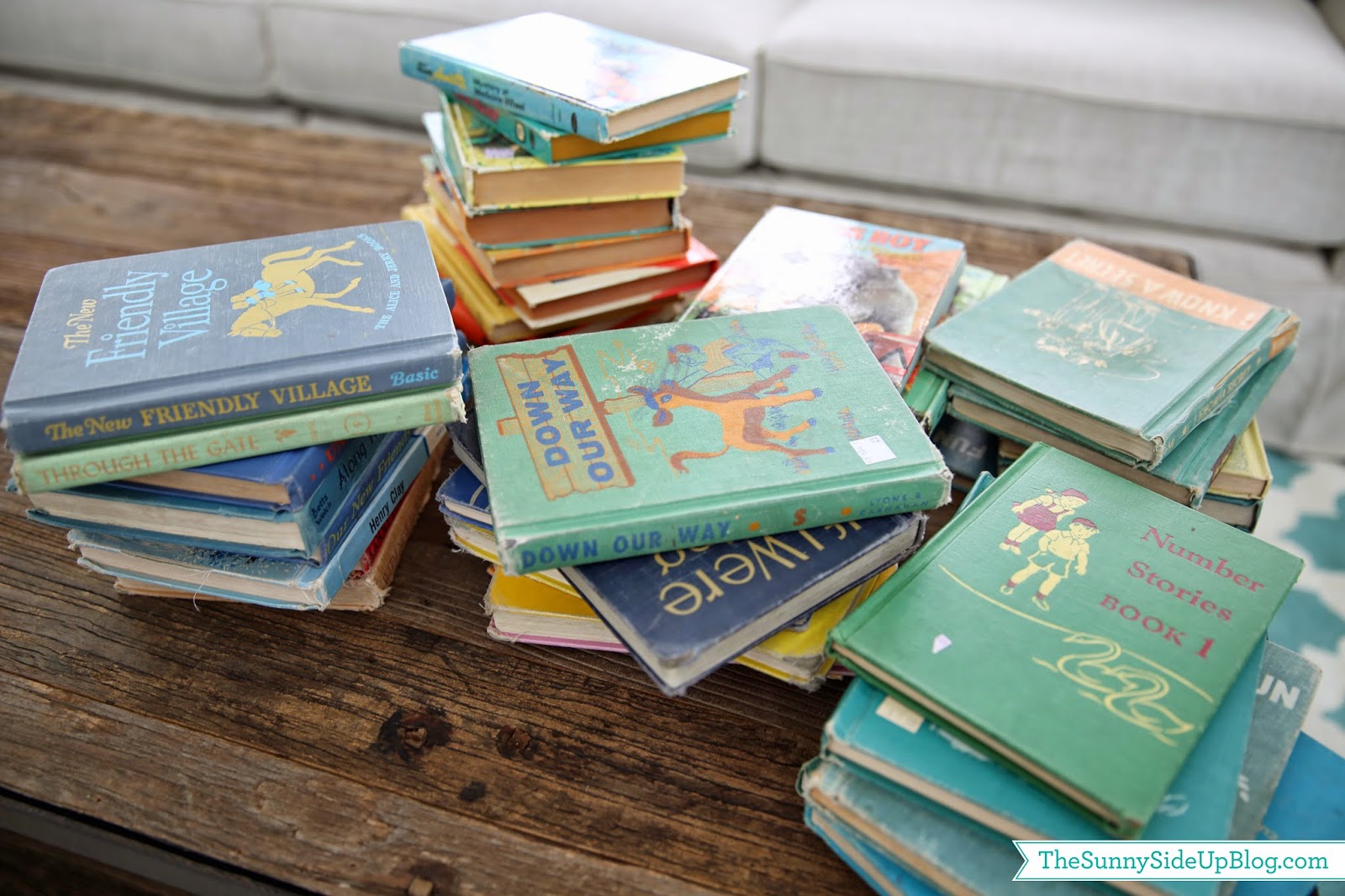 Anyway, I was peeking around in one of her storage closets and came across part of her vintage book collection. My mom has collected old children's books for years and seriously has enough to fill a bedroom. She is an educator and lover of children's books (we have a lot in common!) but she especially adores books from her childhood and her parents' childhood. Growing up I always thought her book collection was so strange. What in the world would she ever DO with all of those books? They were so tattered and OLD looking. But I suddenly saw that old book collection with new eyes. They are so tattered and OLD looking. How incredibly cool! And vintage! And stylish! Suddenly I knew exactly what she needed to do with all of those books. Loan them to me! :)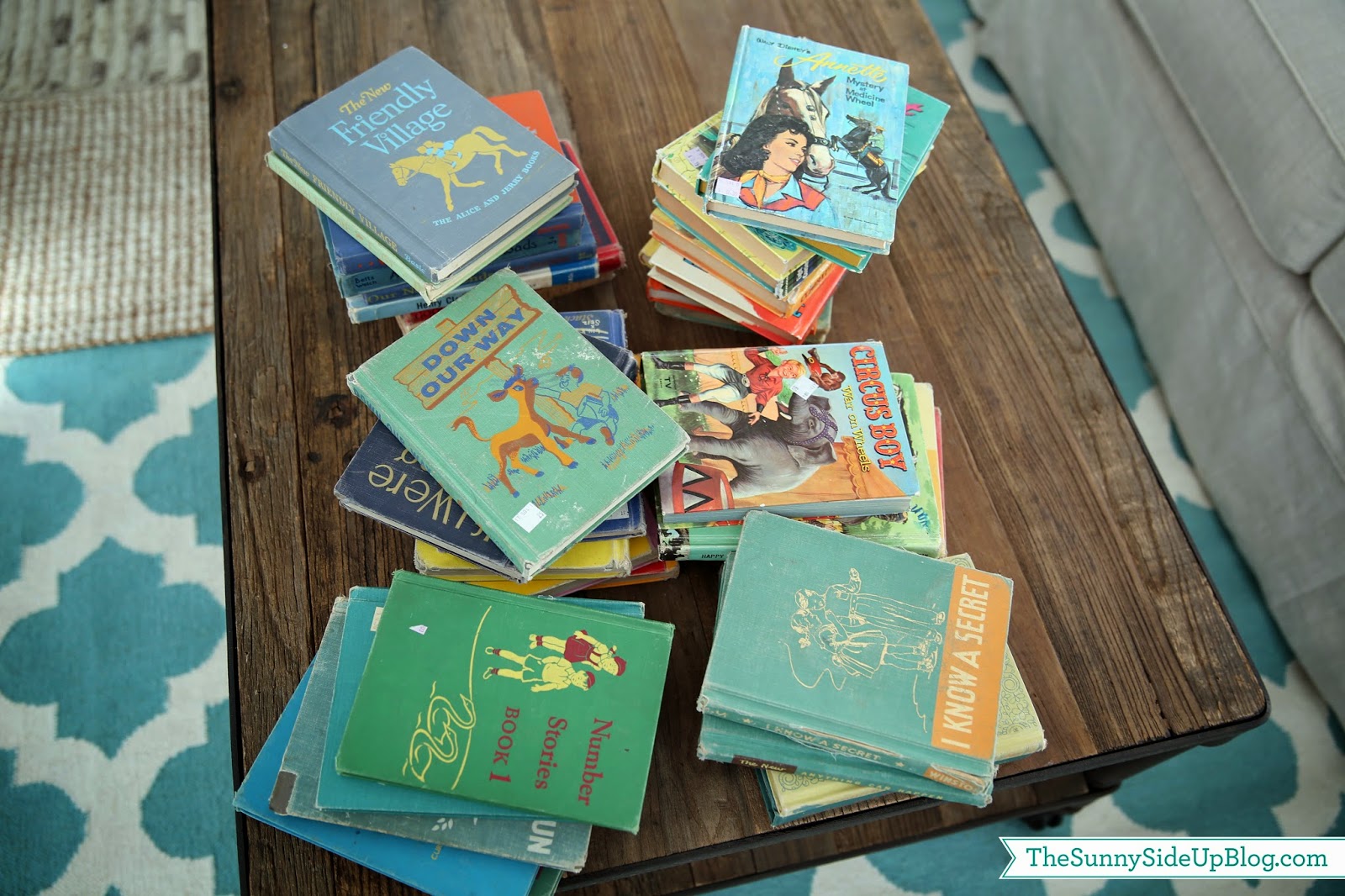 So I rounded some up and after telling my mom how cutting edge she was without even knowing it, I convinced her to let me take them home. Back at my place I spread them out on my coffee table and knew they would be perfect to add to my media cabinet shelves. (p.s. – in this picture you can see a peek of a rug I tried in this space, but it's already returned and back to the store. Rug update post coming soon!)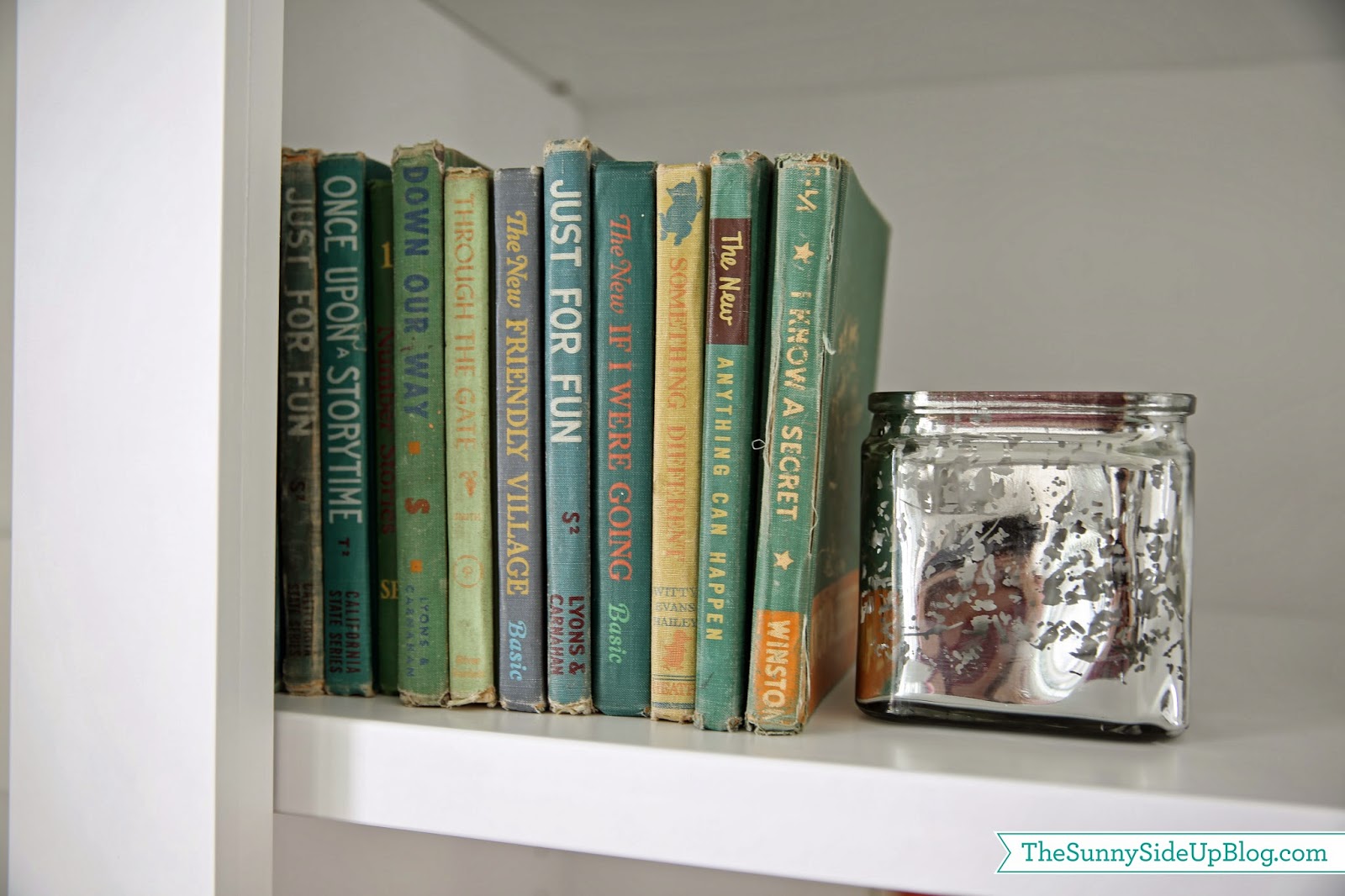 I grouped some of the books together but when I spread them out on my shelves I wasn't loving the colors. I tried to select covers with blues/greens in them (the look I'm going for), but the soft faded colors just made things look drab.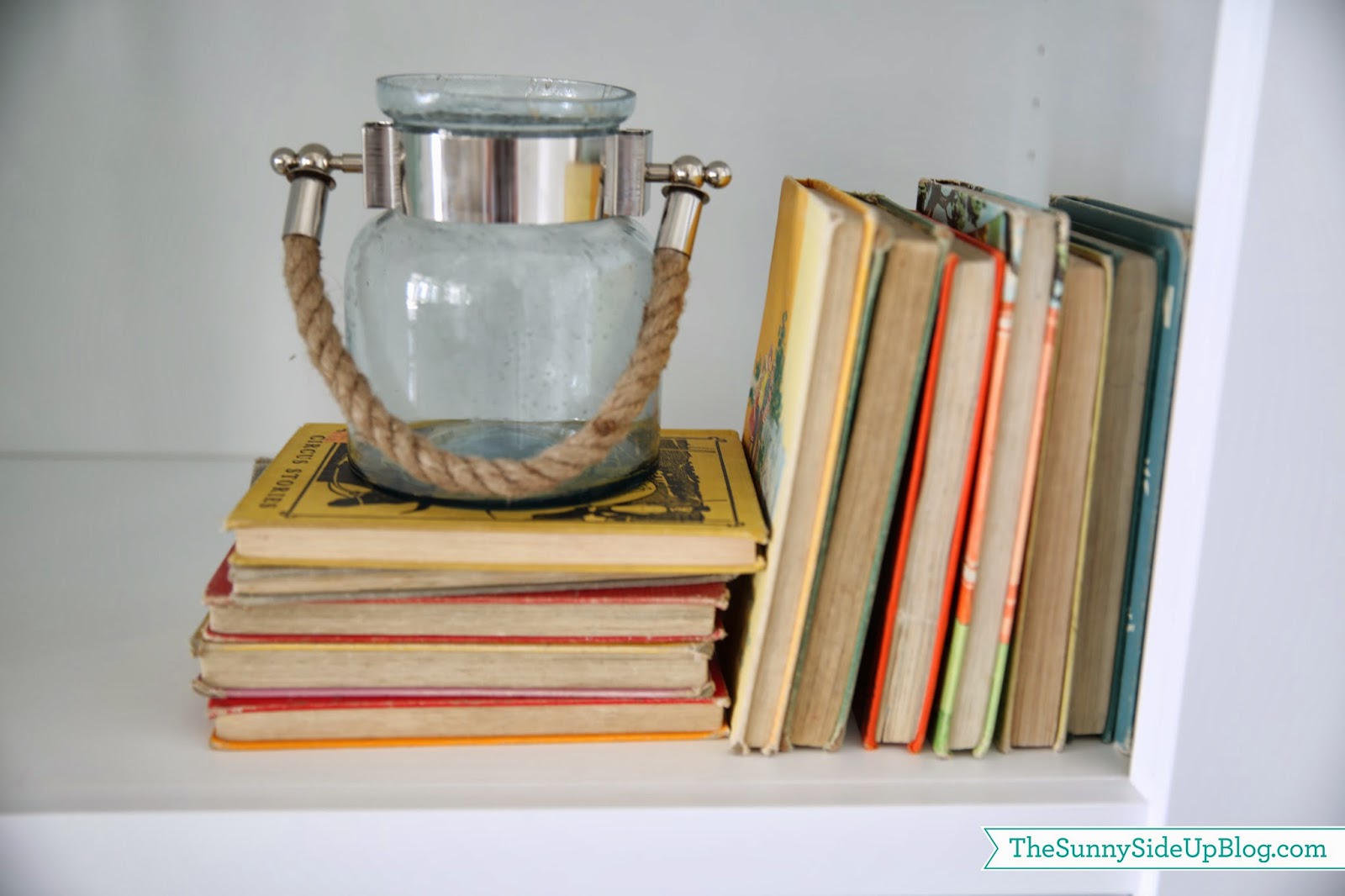 So I turned them around. And I love the look! The tan, worn pages add the exact character and cohesiveness I was looking for.
So I placed a few here…
and I placed a few there…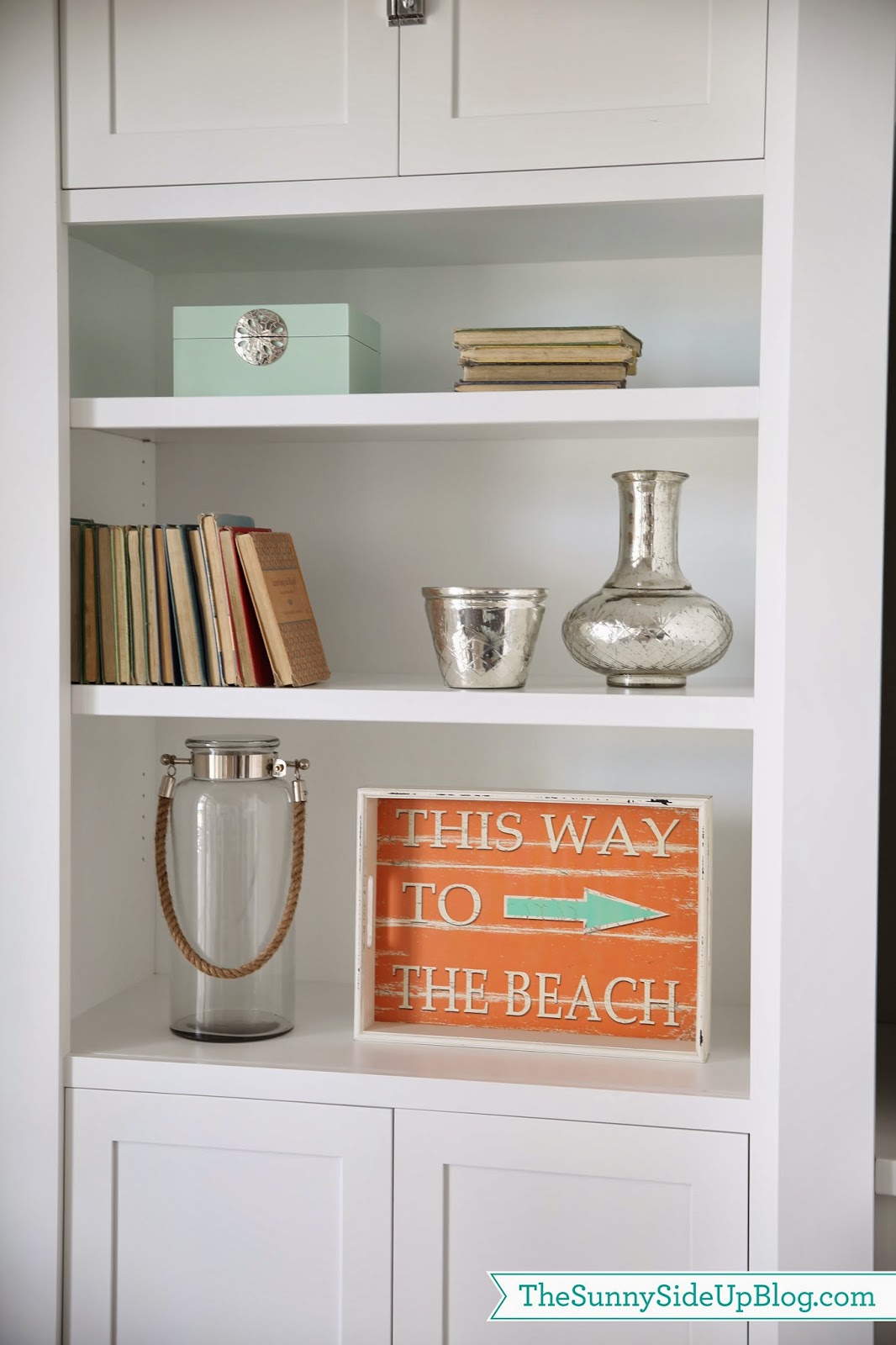 And while these shelves are still bare and nowhere near styled (just playing around for now with things I already have) I do think the vintage books add such a nice touch and are here to stay.
Moral of this story is to:
A) Try turning books around to style bookshelves (it keeps things simple and cohesive and less cluttered).
B) Shop your mom's house for decor. You never know what treasures are lurking in her closets.
C) Decorate with things that mean something to you. Now I feel like I have a piece of my mom in my family room with me all the time.
Answer?
D) All of the above.
The End.
:)
xoxo, Erin