Not much time to post tonight. After a typical afternoon/evening of new house issues, helping the girls with homework, Kole's therapy, cooking dinner, dinner clean-up, and the bedtime routine I was feeling a bit depleted. Today was definitely a Monday! (Anyone else feeling it?) I knew I had a good hour before bed and I could either plop down in front of the TV and blog OR take a nice hot bath. Hmmm… what to do with my precious hour of free time….?? Then Kenny came home with the new Star Trek movie and just like that – decision made. Time for a bath. :) Even though I'm short on blog time I wanted to pop in to answer a quick question and share something fun I found on Pinterest. I'm working on a Q & A but thought I'd share the answer to this question I received on Facebook last week since it's similar to other e-mails I've received.
"I miss Fashion Fridays! Maybe instead of clothing fashion you could do a post on home fashion with ideas of how you plan to decorate your new home??? Pretty Please!!!"
First of all – thank you so much. Such a kind question. :) Let me tell you – building has been a big time commitment (way bigger than I ever imagined!) and while I've loved a lot of the process, I've definitely had to let a lot of things go. My house is a mess every day. Seriously. Drawers may be organized, but the floor and counters are covered. Boxes are strewn about everywhere – some half packed. The laundry? Done twice a week if we're lucky (I used to be so good about doing a load a day) and a home cooked dinner is hit and miss. Of course my blogging time has been limited as well. I take a lot of pics of the house and then don't have time to post them. Plus it has been hard to share a lot of new house pics throughout the process because so much of the house is constantly covered up and a dusty mess. I promise that once the house is finished and we've moved in, I will share a lot more house pictures. I'll have more time to share decisions I've made along the way once I'm done making all of the decisions. :) I'll also share a lot of fun decor pics along the way while I begin decorating. And of course, I'll share lots of the organizing going on as well! (So excited for that!) I'm hoping that when this process is behind us I'll have more time to blog in general and I'll be able to bring back post topics like Fashion Fridays, gift ideas, etc. now and again. SO the answer to this question is YES! FOR SURE! Just give me another month or so to finish building and to move. Then I will bore you all to death with home decor pics. :)
As far as fashion is concerned, currently I'm running around most days in jeans and flip flops with paint all over them. Nothing too fashionable about that. :) So here is something I found on Pinterest to give us all a little fashion fix!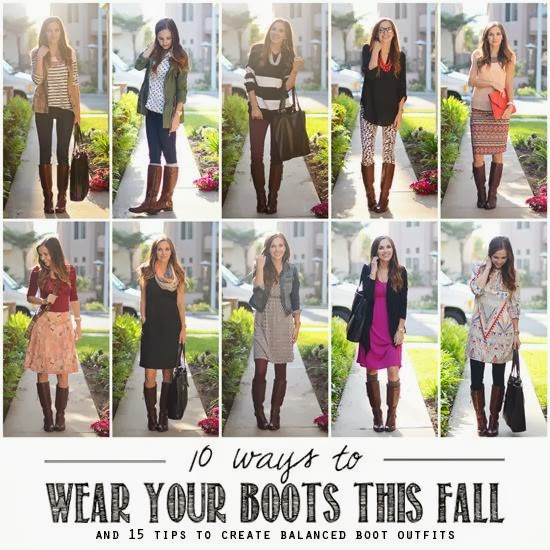 YEA! Boot season is upon us! Check out this post for 10 fun ways to wear your boots this Fall.
It gave me a lot of great ideas.
Can't wait to blow the dust off of mine.
:)
Happy beginning of Fall everyone!
xoxo, Erin