K. You all know my deep, undying love for planners. I'm so obsessed with planners that I tend to switch them up often. Always coming up with new systems to attempt to organize my time better.
For years I used my Time Management Binder and it worked so well for me. I still use the sticky note shopping list system! So easy to grab a sticky note and head to the store.
I also like all of the happy colored tabs.
And the notepad in the back for additional notes. Moms always have additional notes.
Monthly calendar spread.
And a section to the side of each month for goals. I like that. I always have a few things I try to work on each month. Little things like drink more water, etc. Plus I jot down goals I've set for the kids so I remember what I'm working on with them for the month. (Yes – I set goals for the kids too – they love me for that.) Example: El – master multiplication fact sheet in under two minutes. Ad – finish all books on reading contract. Kole – pronouns (speech therapy goal). And Kenny – hang wet towels up after shower. Kidding. I don't write a goal for Kenny. I just politely remind him. Daily. ;)
Here is the section that I am really loving and the reason I chose this planner.
I love seeing the week laid out in front of me.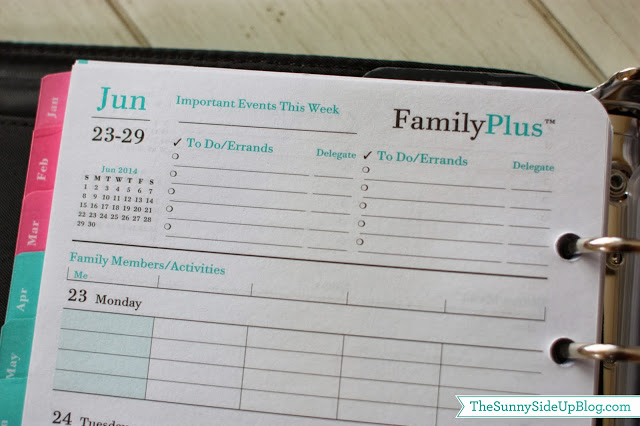 It has a small section at the top for to-do's.
Room to write down important appointments/activities for each day of the week.
Or the weekend.
And a big section in the middle where you can write the weeks' dinner menu. LOVE this. I am really trying to plan our dinners a week at a time because I don't have time to run to the grocery store as often as I used to. Even if our meal for the evening is chicken nuggets and corn on the cob – writing it down and making sure I have everything ready a week at a time has been a big time saver for me lately.
This is my planner right now. I recognize it looks ridiculous with everything blocked out so you can't read it. I had no choice since I work for the CIA and my daily assignments (a.k.a missions) are top secret. You can see how I am using the left side for appointments/activities and the right side for meal planning and notes. I divide my notes into two sections (CIA agents do that) – a section for miscellaneous to-do's and one for house stuff that needs to be taken care of ASAP. Anything house related that needs to be done but not right at this second goes into my notebook. Which I appropriately refer to as "the motherload."
End of story is that I'm really loving my new planner! It's a great solution for busy moms (and anyone else trying to save the world). Plus you can get it for a great price. You can check out the details (and other fun planners) at Day Timer.
Happy planning! And happy Friday.
:)
xoxo, Erin