Grass. In the backyard! Hands down the most exciting thing for me to date with our building process. Big patches of grass for my kids to play in. I've dreamed of this day for quite some time! Forever actually. Well, ever since I started having kids which feels like forever. :)
Here's a pic I took just a day or two before the grass arrived.
When our backyard was land of the pavers.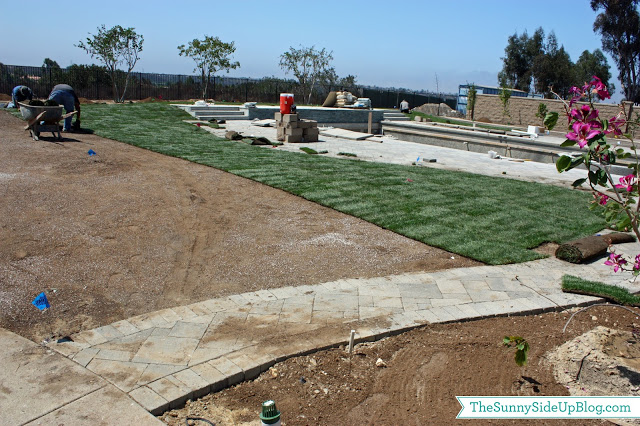 And here they are installing it!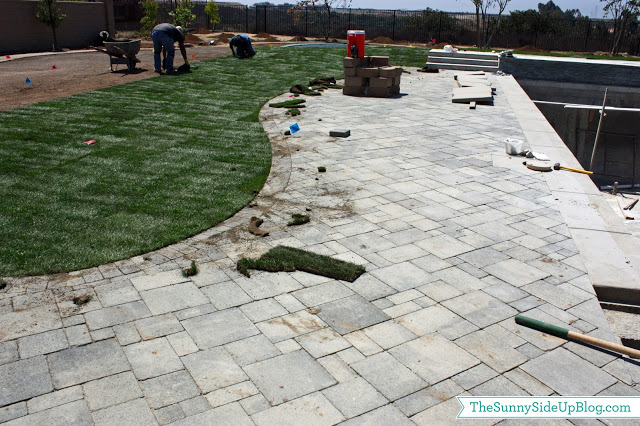 Isn't that grass beautiful!? Of course I took a picture or two. Or maybe two hundred.
My kids were using their little bike path tonight! Now that the grass is in it's finally clean and safe for them to ride around on.
Exterior is still a work in progress. Not much has happened with it lately since all efforts have been focused on wrapping things up on the inside. Balconies still need to be painted (they prepped them today), shutters haven't arrived yet (I'm so anxious to see pops of black on the house!), outdoor entertaining area has a ways to go, and there are still a lot of minor finishing touches. Trampoline also isn't finished. (I've had several questions on how my landscaper is doing the in-ground trampoline so I'm going to do a post explaining it all at some point when it's completed.) There are a few things we are still adding to the backyard before it's all said and done, but oh my word. Grass. Room for the kids to run and burn off all of their endless energy! I don't think my excitement for this stage could be matched.
Well. On second thought. There might be three other little people who are equally as excited. :)
p.s. A few more outdoor lights were installed today (ignore the dust! it's everywhere!) and we started lights and fixtures inside. So fun seeing the house finally starting to come together. I can't wait to show you all! :)
xoxo, Erin